Rick & Val Van Unen's 1973 Camaro
By Nick Licata   –   Photography by Wes Allison
It's no secret that the second-gen Camaro (1970-1981) typically plays second fiddle to the more popular first-gen Camaros (1967-1969), although the second-gen's first three production years are still very desirable for many Camaro enthusiasts. Just like every other muscle car from the late '60s and early '70s, prices for these gems continue to climb year after year.
Rick Van Unen has owned many hot rods and muscle cars over the years, but he just couldn't stop thinking about a '72 Camaro he owned over 20 years ago. "I really miss that split-bumper RS car. It had a built 400ci small-block and a five-speed Doug Nash transmission," Rick recalls. "Thinking about that car so much over the years, it had me keeping my eyes open for another one."
Rick's friend and GM engineer, Mark Romans, informed him of a '73 Camaro up for sale that featured an array of modern upgrades, most notedly a supercharged L99 engine. It also had a manual transmission, which was a good selling point for Rick, as he prefers shifting on his terms. Intrigued by the Online photos, Rick called the seller who was highly motivated to move the Camaro, as retirement and a new house in Florida were in his sights. The car was in Sacramento, California, which was only about 75 miles north of Rick's home in Ripon. "Romans was involved in the restoration so I knew it was done right, which gave me absolute confidence I was buying a great car," Rick divulges. "The car appeared to be in great condition just as the owner and Romans had described. It looked even better in person."
After purchasing the Camaro, it didn't need much, but Rick added a few things like fresh tires and a new battery then sent it to a dyno shop for a proper tune, which revealed an impressive 640 hp to the tires.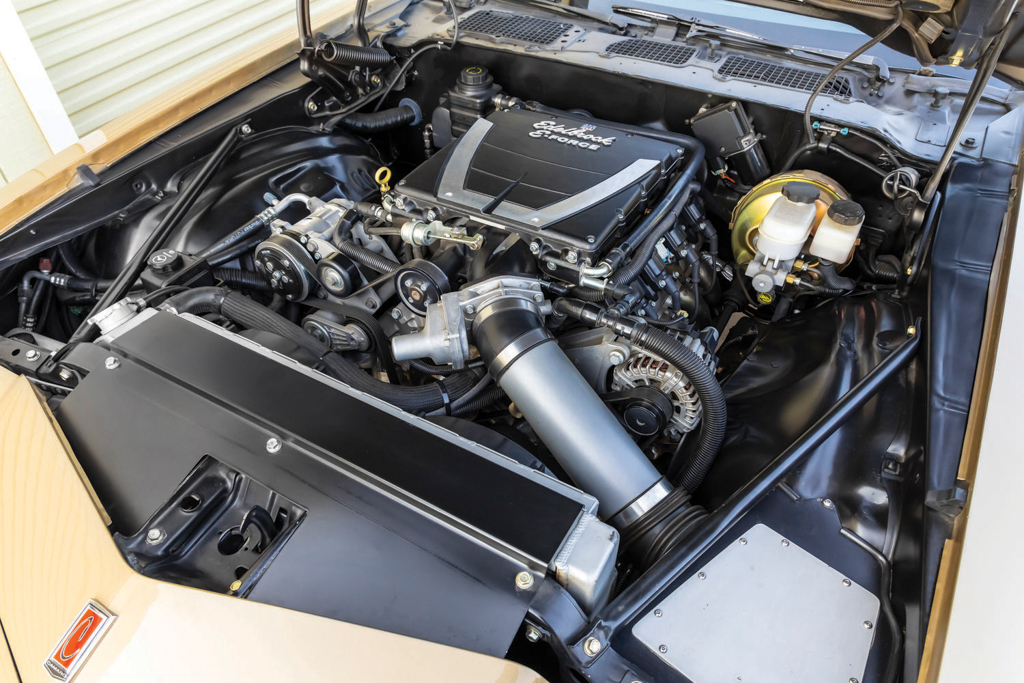 Check it out: Anthony Cacioppo's 1971 Camaro is Almost Above the Law
That tire-shredding power comes via a mostly stock 376ci Chevrolet L99 stuffed with an LS7 cam and topped with an Edelbrock E-Force supercharger. The engine sits in a very clean, no-frills engine bay and gulps air through a K&N element and evacuates spent fuel through Hooker 1 7/8-inch headers, 3-inch stainless steel exhaust, and Borla mufflers. The system announces the car's presence well before its arrival, but Rick says it's not obnoxious at low-rpm cruising, although it sounds badass when he gets on it.
Rick prefers the driving feel of a manual transmission, and this F-body came equipped with a sturdy TREMEC T56–a popular piece that features an overdrive for exceptional low-rpm highway driving and the strength to handle every bit of the power generated by the supercharged powerplant. A Strange 9-inch rearend equipped with 3.55 gears, limited-slip posi, and 33-spline Strange axles hardly break a sweat when Rick unleashes the car's power potential.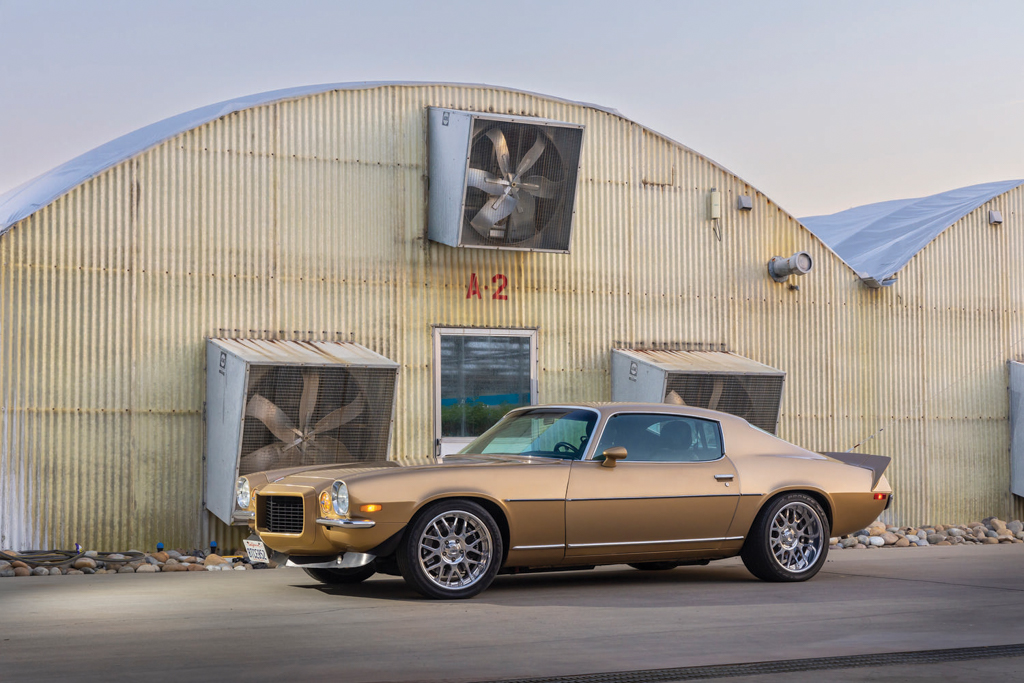 Up front C6 spindles and SPC lower tubular control arms provide a mean stance and are dampened with single-adjustable QA1 shocks for an improved handling. Out back a set of Rancho leaf springs buddy up with a pair of Koni shocks. Stopping power comes via a set of 13-inch Corvette disc brakes up front with GM discs out back. A GM brake booster provides a smooth pedal with minimal effort, and a Baer proportion valve divvy up brake pressure between front and rear.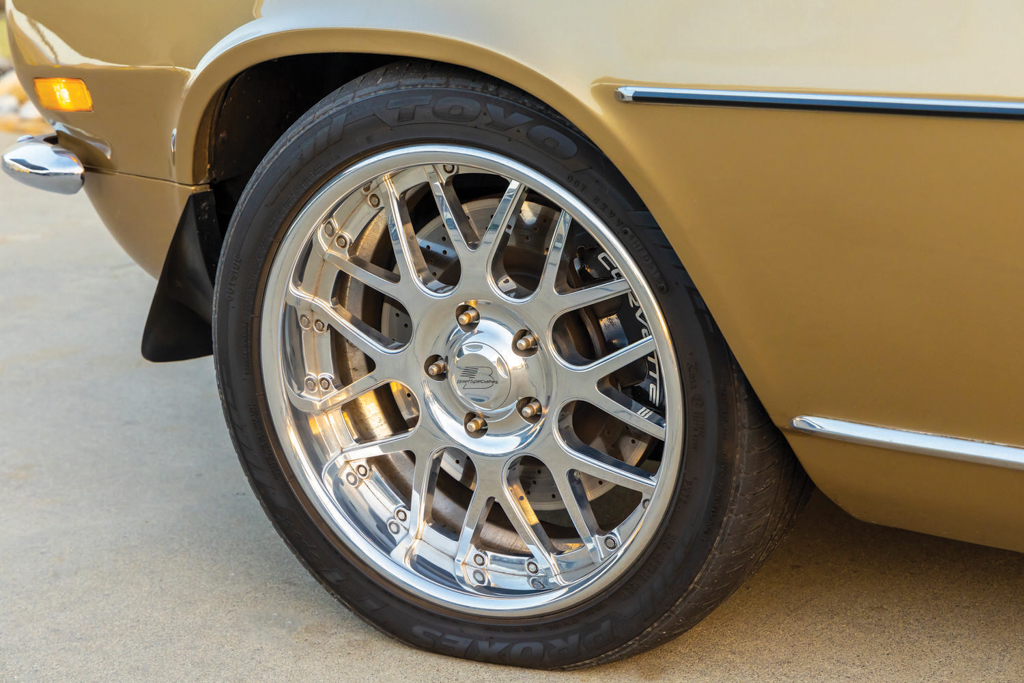 Those shiny rollers are 18-inch Billet Specialties Turbo wheels wrapped in Toyo Proxes rubber (235/45R19 front, 275/40R18 rear) for a low-profile look and proper road-gripping performance.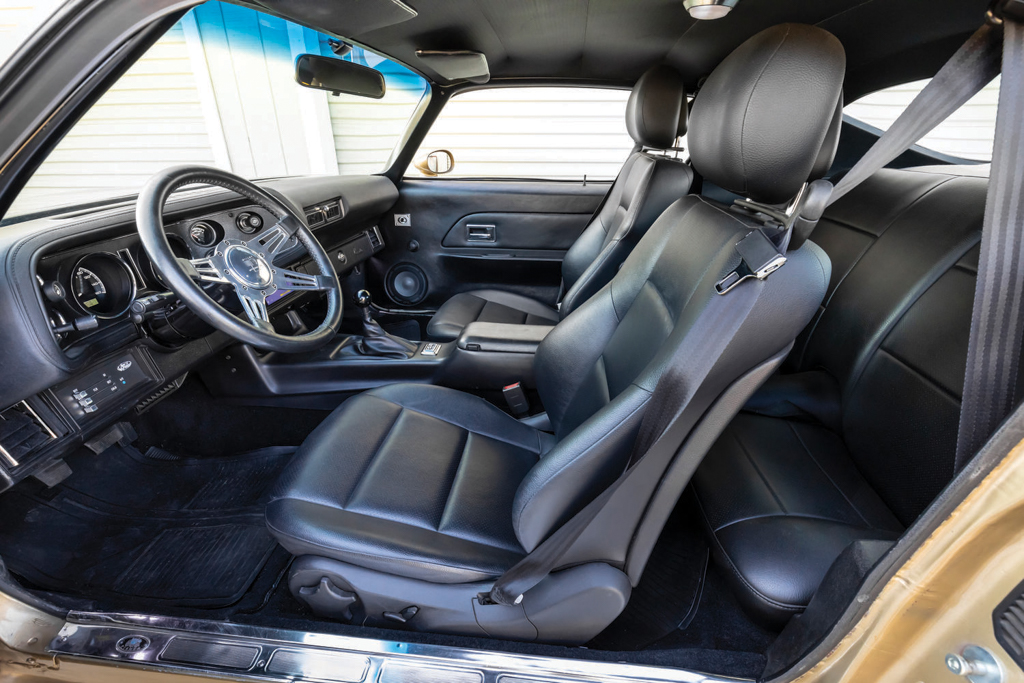 The interior features a conventional-looking yet modernized scene utilizing Dakota Digital gauges in a Dakota Digital stock reproduction insert, and a Billet Specialties steering wheel sits atop a factory steering column. To keep Rick cool, a Vintage Air HVAC system offers a year-round comfy climate. The square weave carpet is from Classic Industries and the black leather bucket seats are out of a Mercedes and even have seat heaters, because, why not?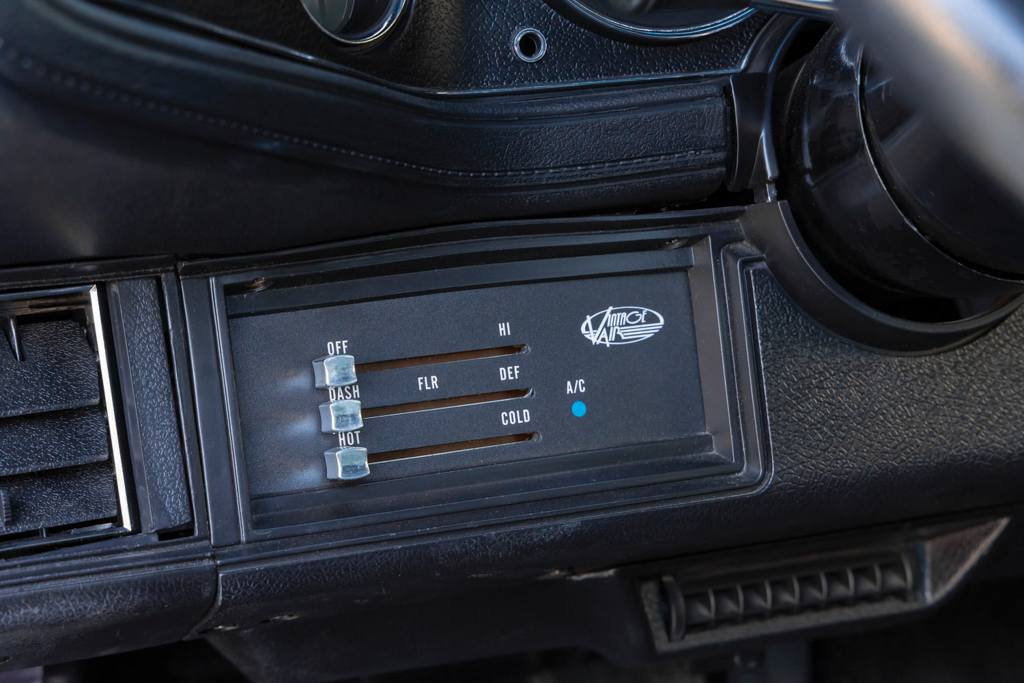 Don't Miss This: 1,700 HP 1969 Camaro Built For The Street And Drag Strip
Jason Cho of Ripon brought in a sound system consisting of a Panasonic head unit backed up by Rockford Fosgate amps and an army of speakers spread throughout the custom door panels, dash, and package tray along with a hidden sub in the trunk.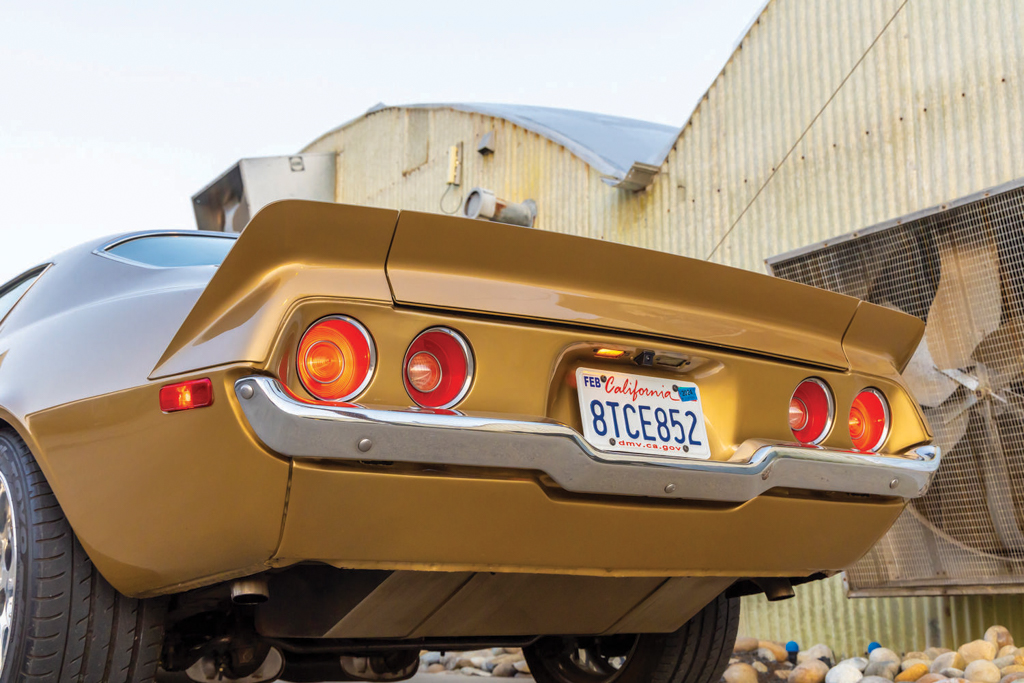 What makes this car stand out is not only the stellar bodywork and PPG BMW Bronze paint applied by Rocket Rick in Reno, Nevada, and the tall rear spoiler and split-bumper front end, but it's the protective side molding and door edge guard moldings that caught our eye. Those bits typically end up in the scrap pile, but in this case, details were integral to the restoration process that went into this unique F-body. Even the front license plate is in the factory location, something most early second-gen Camaro owners tend to forfeit knowing local law enforcement usually looks the other way when it comes to these vintage muscle cars.
Rick's gone through the whole muscle car building process a number of times and admits this one was bought pretty much done. "Compared to building a car, I found this experience to be much less stressful," Rick confesses. "It's a lot easier on my not-so-patient personality, especially as I've gotten older."
"My wife and I love taking it to local car shows, and I especially like the experience of driving a manual transmission," Rick adds. "I have yet to take it across country like we've done with my other classic cars for two reasons: One, my wife gives me a break driving but she prefers an automatic over a manual, and second, we tend to load up a similar amount to what Hannibal packed to cross the Alps, and it just don't fit."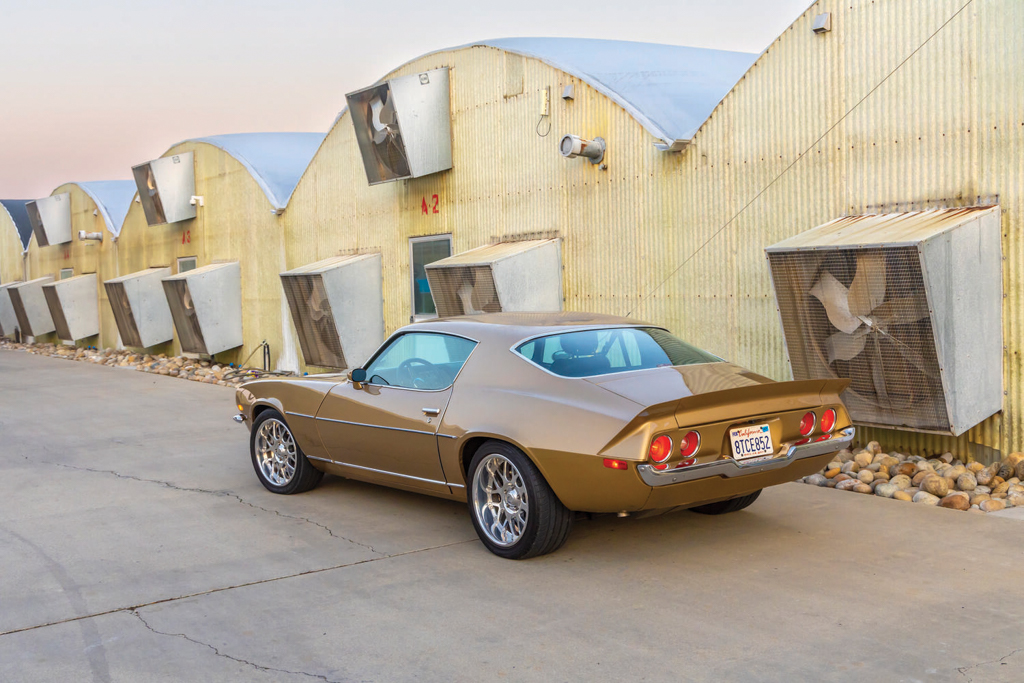 Rick reveals that this car goes through rear tires more often than it should and points to a lack of appropriate-sized rubber out back as the main culprit. Good thing mini-tubs and wider tires are on the list of sooner-than-later upgrades to help contain all that fun-loving torque. Until then Rick will do his part in keeping the local tire shop in business. He's a giver like that.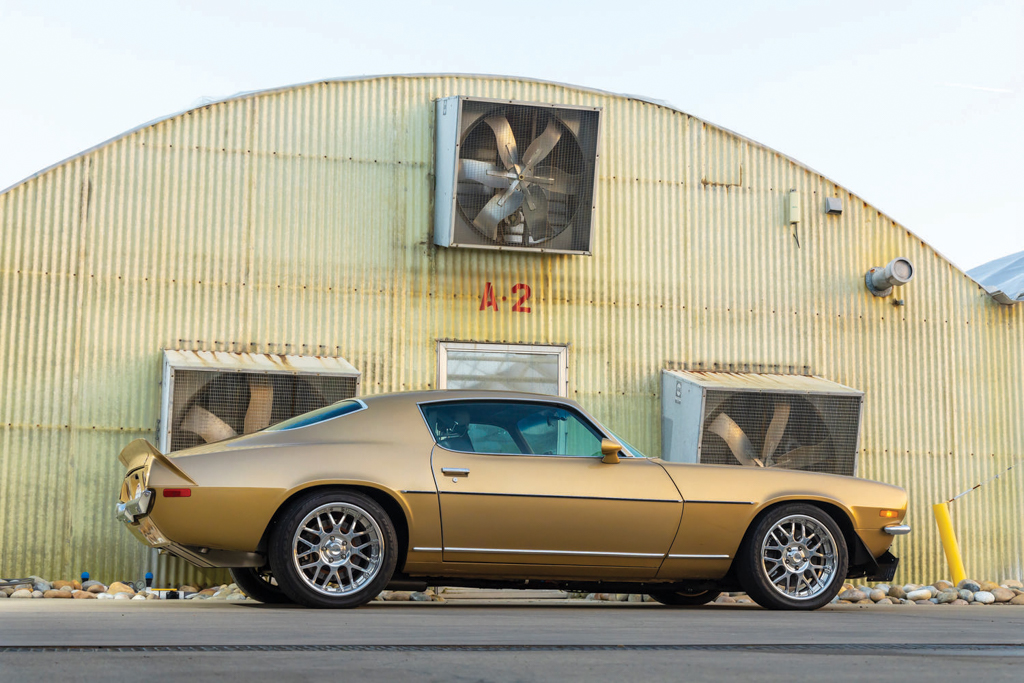 TECH CHECK
Owner: Rick and Val Van Unen, Ripon, California
Vehicle: 1973 Camaro RS
Engine
Type: Chevrolet Performance L99
Displacement: 376 ci
Induction: Edelbrock E-Force supercharger, K&N element
Exhaust: Hooker 1 7/8-inch headers, custom 3-inch stainless steel exhaust, Borla mufflers
Ancillaries: Griffin aluminum radiator, Chevrolet performance accessory drive system, MSD wires, Detroit Speed wiper motor
Output: 640 hp, 545 lb-ft
Drivetrain
Transmission: TREMEC T56
Clutch: GM
Rear Axle: Strange 9-inch, 3.55 gears, limited-slip differential, Strange 33-spline axles
Chassis
Chassis: Stock
Front Suspension: C6 spindles, SPC Performance lower tubular control arms, QA1 coilover shocks, Strange springs, rack-and-pinion steering
Rear Suspension: Rancho leaf springs, Koni shocks
Brakes: GM Corvette 13-inch rotors, six-piston calipers front, GM 12-inch rotors, four-piston calipers rear, GM master cylinder and booster, Baer proportion valve
Wheels & Tires
Wheels: Billet Specialties Turbo (18×8 front, 18×9 rear)
Tires: Toyo Proxes; 235/45R18 front, 275/40R18 rear
Interior
Upholstery: Black square weave carpet, custom door panels, custom center console
Seats: BMW black leather
Steering: Stock steering column, Billet Specialties steering wheel
Shifter: Late-model Camaro
Dash: Stock, Dakota Digital Bezel
Instrumentation: Dakota Digital VHX
HVAC: Vintage Air
Sound System: Panasonic head unit, Rockford Fosgate Amp, Rockford Fosgate speakers (6.5-inch in door, 6×9 in rear package tray, 10-inch sub in trunk), installed by Jason Cho (Ripon, CA)
Exterior
Bodywork and Paint: Rocket Rick Car Show Painter (Reno, NV)
Paint: PPG BMW Bronze Gold
Grille: Stock
Front Bumpers: Stock
Rear Bumper: Stock