The American Tri-Five Association Event Sets Record Number of Entries, Expands to Three Days, a '57 Chevy is Given Away, and All Survive a Thunderstorm … Now That's Excitement
By Brian Brennan – Photography by the Author
The Danchuk Tri-Five Nationals promoted by the American Tri-Five Association and hosted at the historic Beech Bend Raceway in Bowling Green, Kentucky, made an amazing comeback after the suspended 2020 event. While the rest of the country is getting back on track the Tri-Five Nationals decided not to wait around and started up with a "bang." There was a record 2,813 entrants, it was expanded to three days, the Golden Star Giveaway '57 Chevy was a hit, and even Mother Nature's wild Saturday thunderstorm couldn't dampen the spirits of the participants.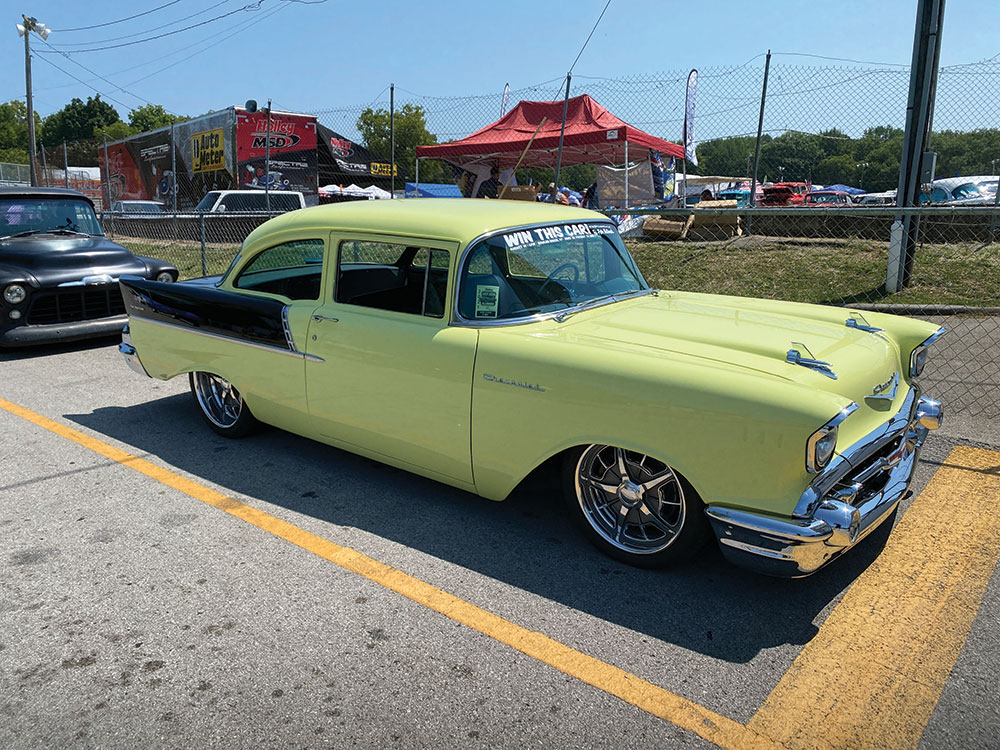 There were dozens of awards handed out, with the Top 25 and the Tri-Five of the Year (awarded to Tim Helms of North Carolina with his two-tone, light and dark brown '55 Nomad) being the biggies. To this Modern Rodding, Classic Truck Performance, and All Chevy Performance joined in on the celebrations by handing out awards of their own. For those of us at Modern Rodding it was particularly fun presenting a Top Gasser award to Lyle Thurman for his '55 Chevy. Plus the Modern Rodding Top 5 was also awarded. These five Chevys truly are amazing examples, beginning with Tim Helms' two-tone brown '56 Nomad (also the Tri-Five of the Year winner), closely followed by Larry Olson's black and white '56 Nomad, Curtis Atkins and his blue and white '56 sedan, Gary Brown with his truly original green '56 sedan, and lastly, Jennings White with his bright red '57 sedan. These proved to be MR's picks for outstanding efforts.
Read More: Everything You Need To Know About Brake Fluid For Your Hot Rod
Sensing that the previous year's canceled event would really stoke the coals, the American Tri-Five Association opted to expand from a two- to a three-day event beginning on Thursday and running through Saturday. Mother Nature did try and mess up the closing Saturday afternoon happenings but rodders being rodders stuck it out and were rewarded with seeing the event to the end and to be around for a chance to win the Golden Star giveaway '57 Chevy built by Woody's Hot Rodz. (They've done so for each of the now six Tri-Five Nationals.)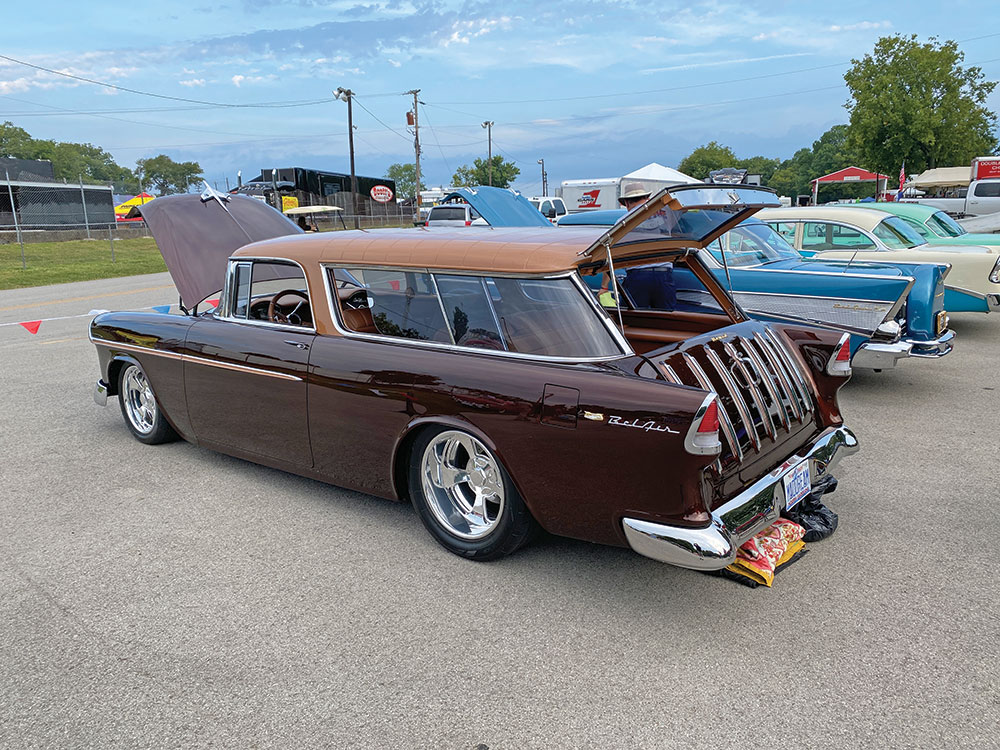 Of course, there's always plenty to see and do. Remember, you are in the hometown of Chevrolet's Corvette and nearby, literally, is the factory, the museum, and the test track, all of which have goings on for out-of-town car guys and gals to enjoy. The driving events at the Tri-Five Nationals are fairly wide in scope. Of course, there are lots, and we do mean lots, of drag racing on the historic quarter-mile that's Beech Bend Raceway. Next up there were driving events at a portion of the Corvette test track as well as drives around town. If you are more in the mood for tracking down door handles, emblems, or classic car gearboxes then you will find yourself wandering the swap meet for hours on end. It's a large swap meet so come prepared to do a fair amount of walking, you'll probably need to make several trips back to your basecamp and, of course, bring lots of "fun tickets" to purchase all of those must-have hot rod parts.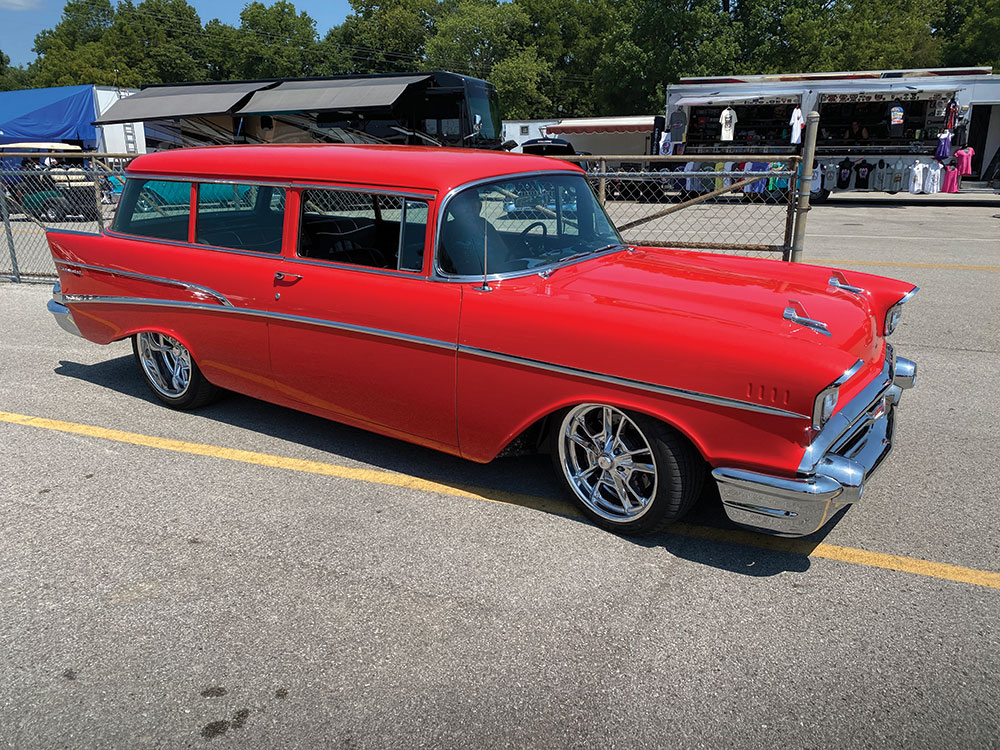 A national event wouldn't be a national event if there weren't a sizable sampling of products available for hands-on evaluation on Manufacturers Row. Here, the row is actually a circular collection within the "bull ring." (The bull ring is used for asphalt short track roundy-round racing.)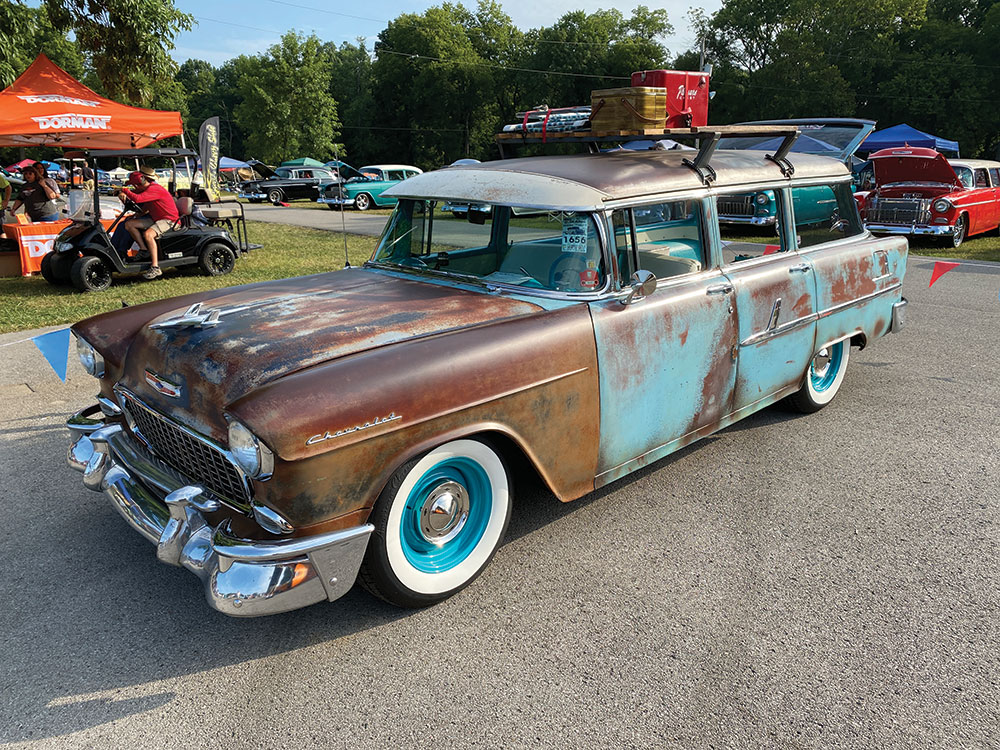 Given there were literally 2,500-plus Tri-Five Chevys, and that includes cars, trucks, and Corvettes, it took most of two days to see them all. During our daily walks (for the record over 12,000 steps per day) we came across two Tri Five Chevy that were particular favorites. One we've already mentioned in Missouri's own Lyle Thurman's '55 Chevy Gasser titled "Claudhopper" and the second is a garage-find '55 Chevy that was a street-driven show car with more chrome than we've ever seen on a car of that period. It now belongs to Shane Weckerly of Bowling Green.
Read More: 52nd Annual NSRA Street Rod Nationals 2021
'55 Chevy Gasser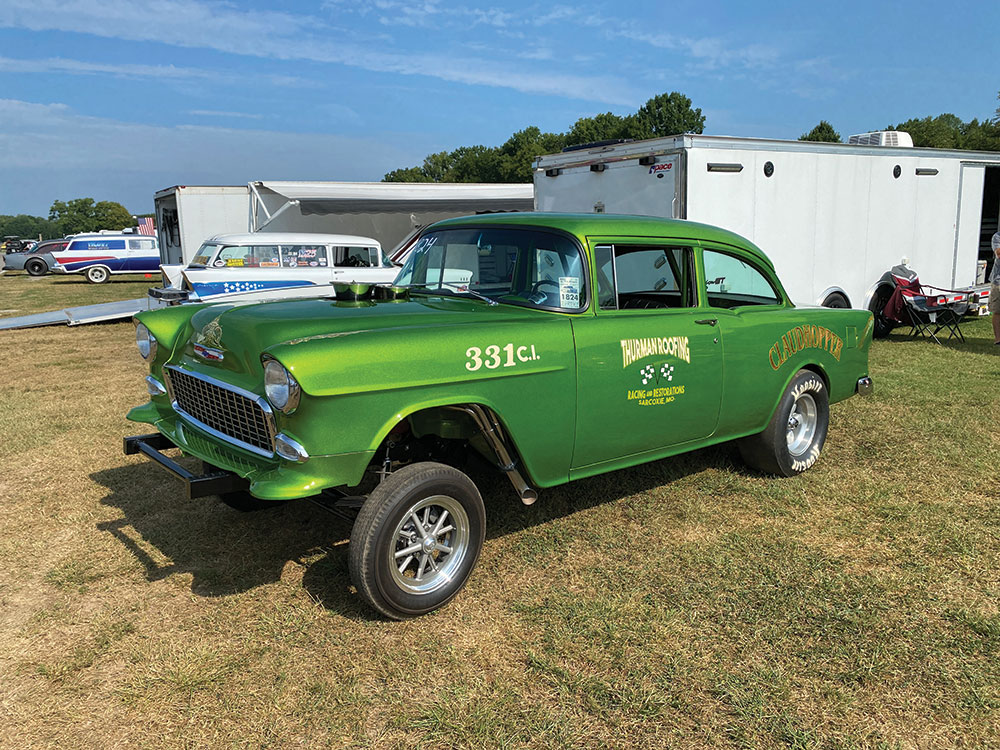 Taking home Modern Rodding Top Gasser honors was Lyle Thurman of Missouri for his '55 Chevy (Claudhopper) painted in Eastwood Gasser Green by John Newton who handled the paint and the mechanics. It's powered by a traditional Gasser V8 in a 331-inch small-block Chevy that's pumped full of fuel via an Edelbrock sbc tunnel ram topped with a pair of Holley 650 four-barrels. Exiting the spent gases are the obligatory side exit exhaust from Doug's Headers.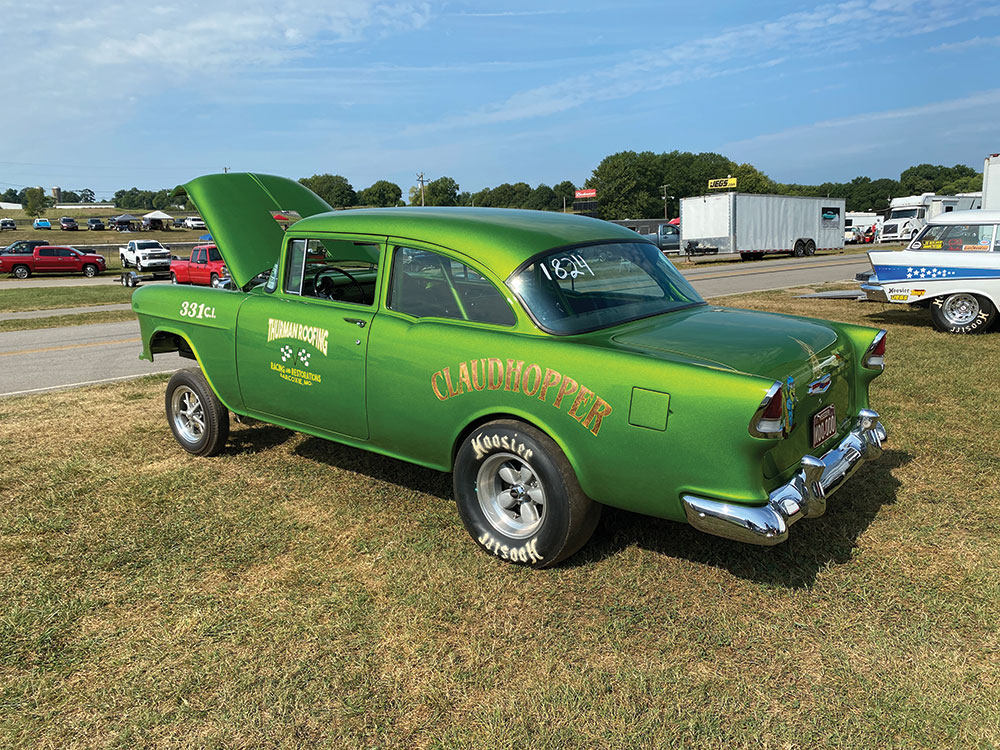 A Gasser wouldn't be a Gasser without a solid axle and our winner has a Ron Pope front axle controlled through a Vega steering box and brought to a standstill by Wilwood brakes with drilled rotors. From here ET 10 spoke wheels up front and American Racing five spoke wheels in the back. Front rubber is Firestone 5.60-15 while the rear rubber is the essential Hoosier 29/10-15 slicks, putting the power down is the Dana 60 rear axle filled with 4.56 gears and drum brakes.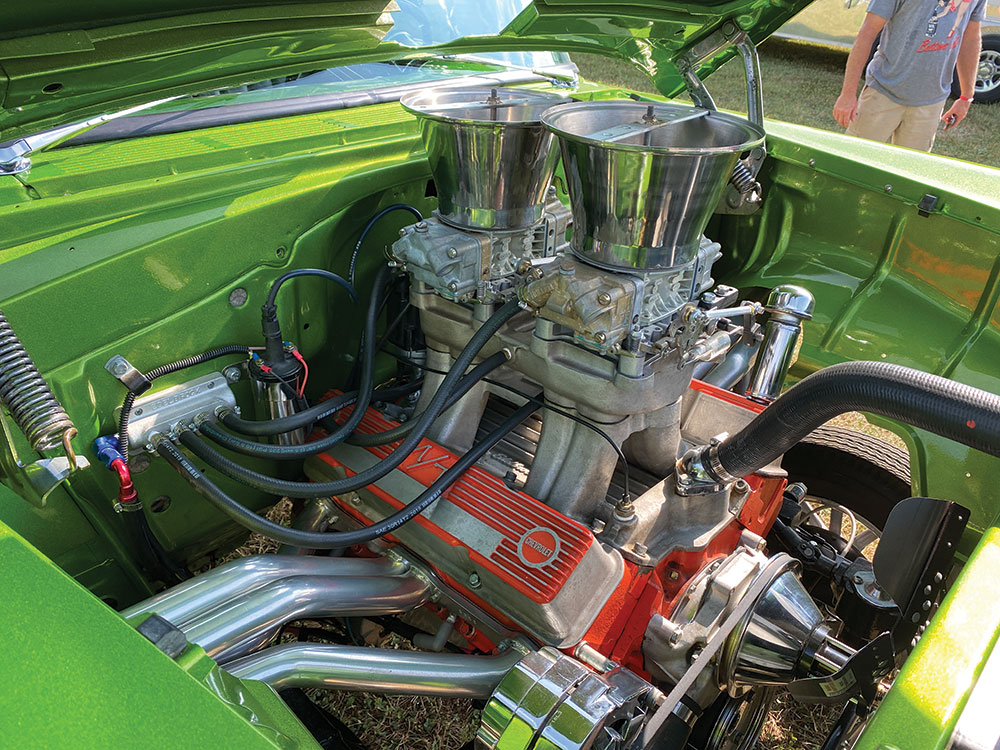 Inside you will see the mandatory rollbar, bucket seats split by a Hurst shifter, and rear seat delete. The stock dash features a radio delete with stock instrumentation but the always-necessary column-mounted tach. When it comes to Gassers this one has it all.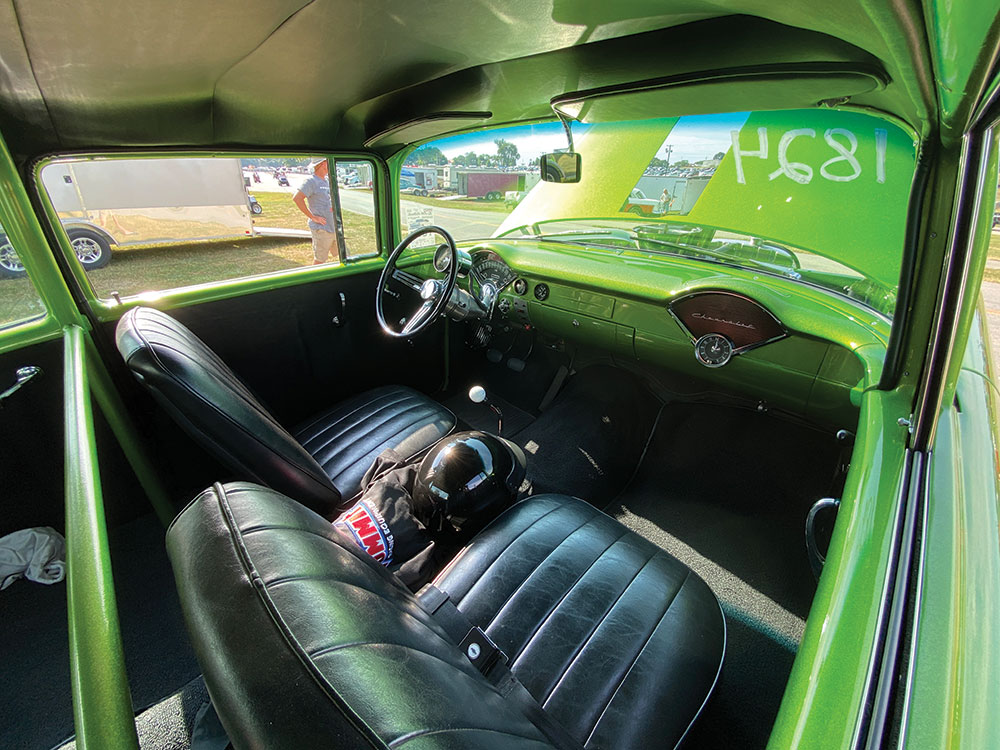 '55 Chevy Survivor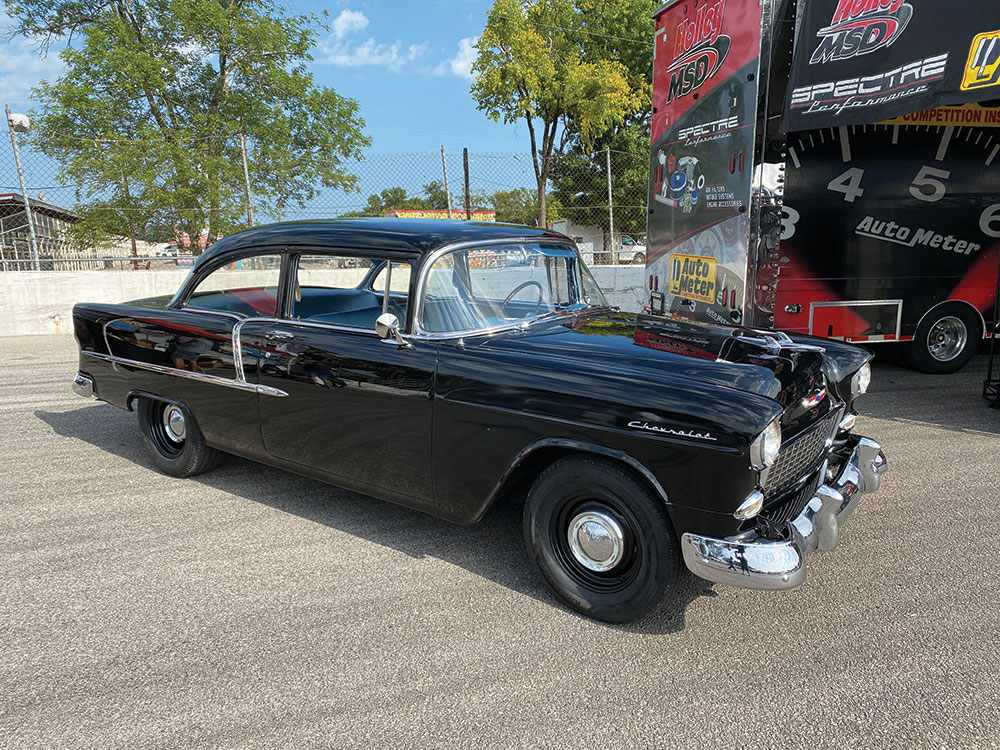 There's always one that catches your eye and you think, "I would drive that home right now." Well Shane Weckerly had such a moment when he came across this once full-on show car that clearly cornered the market on chrome and was a show car for much of its early life. It was back in 1970 and 1971 where it took home Best Chrome and Best in Class awards. Then it went into hibernation from 1972 until 1981 where it was shown once more at McCormick Place in Chicago. Afterward it was back into story until the mid '90s.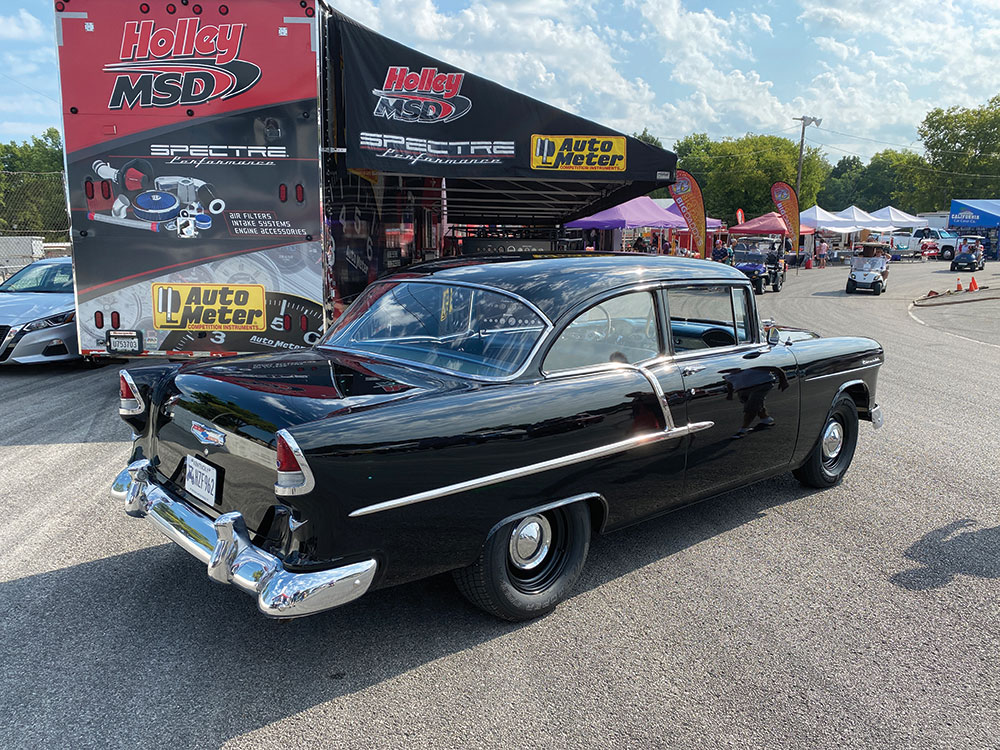 Between then and April of this year it changed hands multiple times until Shane drove it home. The '55 still has its 54-year-old lacquer paint, chrome, and interior. It was back in 1965 that then 15-year-old Randy Shannon purchased the car and removed the 13,000-mile original 6-cylinder and 3-speed transmission. In their place a '60s Corvette 350-horse 327 sbc and a Muncie 4-speed transmission was dropped in.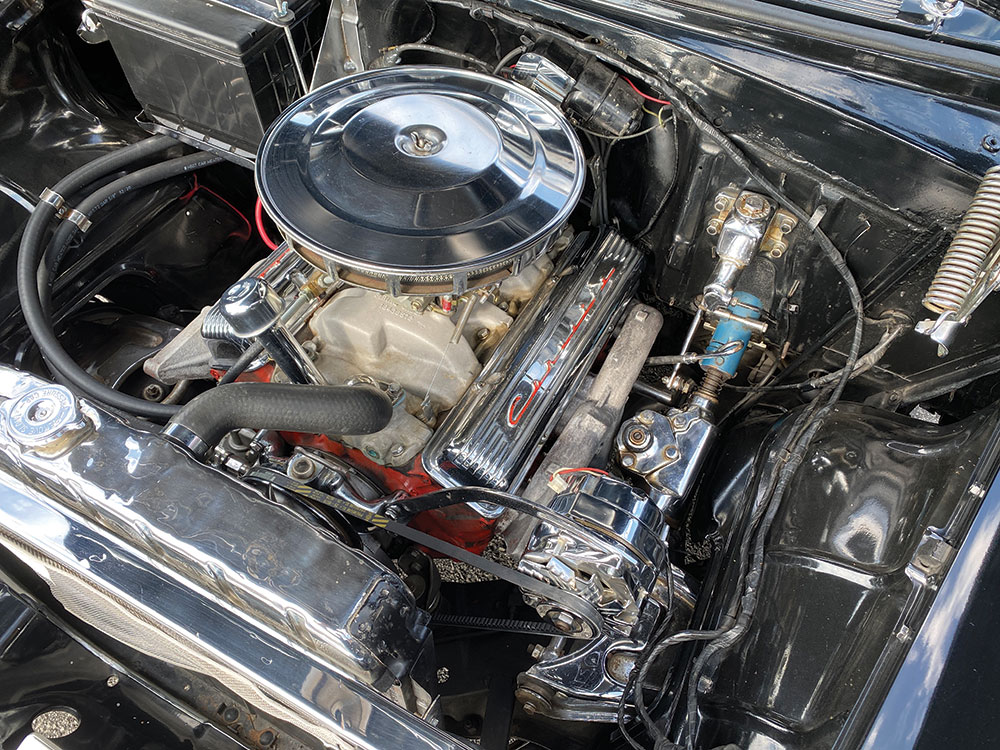 Back in 1967 Randy had the '55 resprayed in its original back lacquer, which it still wears today. A few years later in 1969 Randy dismantled the car and spent upwards of $6,000 on chrome (remember, that's in 1969 dollars). It was at this time that the interior (seats and headliner) were redone in vinyl to match their original style, while the door panels and dash remained original. There were a number of other refinements, which included a Wonderbar radio and a '65 Chevelle wooden steering wheel that both still reside within.
Read More: Modern Tech For Vintage Engines: PerTronix Flame Thrower Distributors
What makes this survivor so cool is to stand and stare and just imagine the stories this show car could tell of all those people who walked by decades ago. There they stood amazed at all of the chrome and great detailing to make this award-winning show car.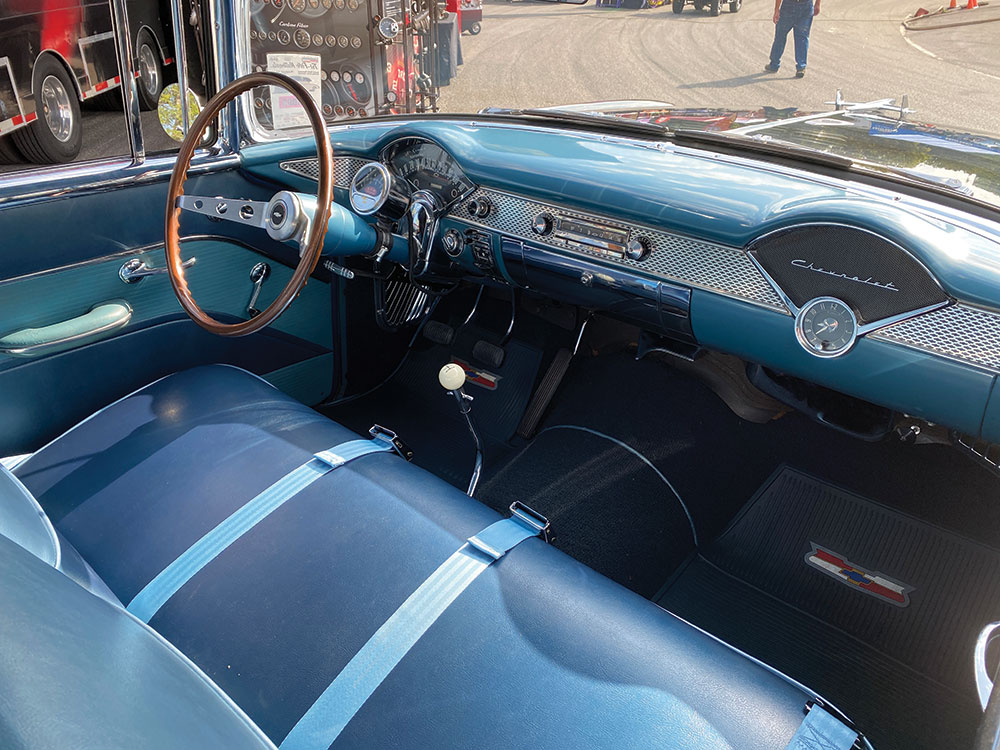 Well, there you have it. The 2021 Danchuk Tri-Five Nationals that had something for everyone, at least those who are Tri-Five Chevy aficionados. Make sure to set aside the second weekend in August next summer and take in the Tri-Five Nationals–it's worth the drive. MR