… Getting Back To Hot Rods
By Brian Brennan – Photography by the Author
Surpassing the half-century mark is a big deal in any one of life's ventures. This is especially true with the 52nd Annual National Street Rod Association's Nationals, a four-day event from Thursday through Sunday of the first full week in August each year. Since 1997 it's been held yearly at Kentucky Exposition Center in Louisville, Kentucky.
For the most part, the NSRA, its events, and we rodders have overcome the many pitfalls heaped upon us during 2020, so now it's time to move forward. While the pandemic of 2020 piled mountains of woes on individuals and businesses alike, the NSRA, and rodders alike, were able to work our way through the malaise of pitfalls, not the least of which was the COVID-19 virus.
While the majority of hot rod events in 2020 were postponed or canceled, the NSRA was able to pull off the 51st Street Rod Nationals, but it too struggled. As 2021 came around the outlook was optimistic, but not without its problems for the 52nd annual get-together. It's been said that, "Patience, persistence, and perspiration make an unbeatable combination for success." (Napoleon Hill) Keeping this in mind, it can be said that the NSRA displayed these qualities in "spades" producing the 2021 NSRA Street Rod Nationals.
Read More: The 51st Annual NSRA Street Rod Nationals Lookback: From a Trucker's Eye!
It wouldn't have taken long for someone to realize that come Saturday afternoon the registered car count, according to the NSRA was 8,988, could be seen from one end of the fairgrounds to the other. Along with many hot rods (of all years and makes) there was a very "healthy" number of local spectators, several hundred commercial exhibitors, 68 new products unveiled in the display area (5,614 products have been unveiled in this area since 1978), Classic Instruments Pros Pick (originating in 2016), Vintage Air and their 29 Below (originating in 1986), and many more of the established favorites we have all come to enjoy at the Nats each year.
A newcomer to the Street Rod Nationals was the inaugural NSRA Cacklefest (organized by Dave Huber and Charlie Myers), always a crowd favorite regardless of the venue. One only has to check out social media to see how well it was received. There was also a great deal of live entertainment throughout the weekend supplied by the 10 bands, playing under the "big tent" to go hand-in-hand with good weather, a full swap meet area, and 12 educational seminars held over two days. Coker Tire sponsored one of the seminars and yours truly along with Will Posey of Big Oak Garage sat on the tire and wheel panel hosted by Tommy Lee Byrd of Coker Tire. As always, these seminars are educational and entertaining for all.
While all of this was proceeding, simultaneously there's the old "standby" of the Michigan Hot Rod Association with their Rod Repair Shop in its 49th year, always there to help rodders with mechanical mishaps. It's a secure feeling to know there's help in the form of expertise, tools, and hands-on assistance. Another of our favorites is the NSRA Safety Inspection that promotes safe vehicles, which is good for all of us all the time. It has been around since 1980. The Safety Inspection crew is at all NSRA events and will perform the 23-point inspection free of charge on your hot rod. They will show you where you got it right and where you may have gotten it wrong. But they will also tell you what needs to be done to make it correct. It's worth the peace of mind for all of us to take our cars through the inspection service. According to the NSRA, their latest figures (close of 2019) show that nearly 500,000 street rods have been through the safety inspection (it requires approximately 600 volunteers to perform this service nationwide) and is the way to make our hobby better.
New Products Award Winners
Every year special recognition goes to those companies that come up with expressly beneficial products for our industry. There are five categories, the first four range in pricing: Up to $200, $201 to $1,000, $1,001 to $5,000, and $5,001 and Up. The fifth category is a Safety Product award for any priced item that enhances the safety of any street rod.
Read More: Less is More: LS Swapped 1967 Chevelle
This year Classic Performance Products was a double winner, and we believe this is the first time for Classic Performance Products to be acknowledged. In the Up to $200 category, Classic Performance Products took home Best New Product honors for its Universal Fuel Tank Return Fitting and in the $201 to $1,000 category took home Best New Product honors for its Mustang II Spindle and Hub Kit. Other Best New Product winners included Classic Instruments in the $1,001 to $5,000 category for its '33-'34 Ford Instrument Cluster and Nate's Hot Rod Garage (another first-time winner) in the $5,001 and up category for its Independent Front Suspension Early Ford Axle. The fifth and significantly influential new product award is for the Best New Product Safety for Wilwood Brakes Electric Parking Brake Kit.
Congratulations to all of these companies for their imagination, production capabilities, and delivery of new products that move our industry forward and enhance the safety of our industry.
Pros Pick Presented by Classic Instruments
Since 2016 Classic Instruments is the proud presenter of the Pros Pick that's held at each of the NSRA events throughout the year. There are a handful of judges who are invited by Classic Instruments to take part and walk the Pros Pick area on Friday and select the 12 cars or truck that they believe to be representative of expert design, construction, and implementation. From here the Classic Instruments representatives and the NSRA staff compile the votes and recognize the 12 winners with a beautifully crafted award made solely for this competition. The Street Rod Nationals 2021 is no different but from what we have seen the competition is definitely a notch above.
This year the 12 recipients are Terry Markee (#3404) from Jonesville, Wisconsin, for his blue '36 Ford cabriolet; Phil and Deb Becker (#6499) from Dwight, Illinois, for their Nardo Gray '32 Ford Victoria; Lon and Mary Clouse (#5051) from Cedar Rapids, Iowa, for their Marsh Green '41 Willys coupe; Johnny Hall (#6873) of Lizella, Georgia, for his Washington Blue '32 Ford Tudor sedan; Al Adams (#8373) of Knoxville, Illinois, with his green '40 Ford coupe; Thomas Morgan (#5206) of Gonzales, Louisiana, with his Sage Green '30 Ford Model A Tudor highboy sedan; Gary Corkel (#5909) of Middletown, Delaware, with his Oceanic Blue '32 Ford highboy roadster; Brian and Charlene Baker (#7473) of Bellefontaine, Ohio, with their vintage maroon '50 Plymouth business coupe; Jeff Betz (#2497) of Clinton Township, Michigan, with his ceramic gray and black '57 Chevy 150 wagon; Clayton Bond (#7192) of Olive Hill, Kentucky, with his black '66 Chevy Malibu; and Dickie Stevens (#2316 and #7344) of Isola, Mississippi, who apparently was a double winner with his Sea Mist Green '56 Chevy convertible and black '34 Pontiac five-window coupe.
Read More: Modern Tech For Vintage Engines: PerTronix Flame Thrower Distributors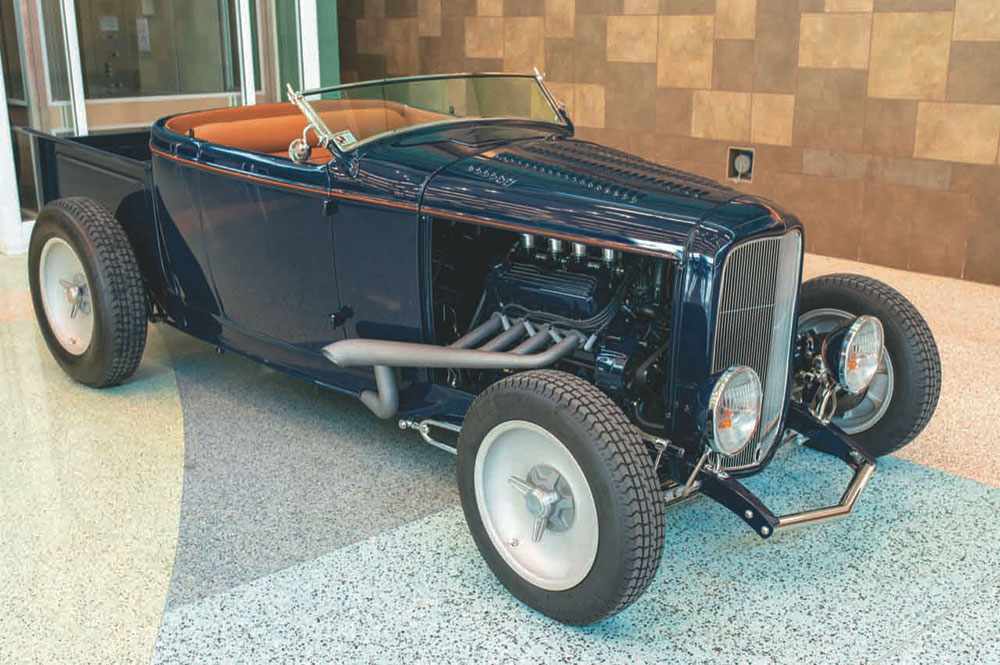 NSRA Giveaway Car
The National Street Rod Association gives away a professionally built street rod every year at the Nationals. This year was no different. One Off Rod and Custom in Middletown, Delaware, was the builder of record for this year's event and they brought out a '32 Ford highboy roadster pickup. The classic, state-of-the-art roadster pickup will be given to a qualified, registered participant of the 52nd Annual Street Rod Nationals, and you won't believe the rest of this story.
In the category of "Sometimes truth is stranger than fiction," the winner of the giveaway '32 Ford roadster was none other than Dickie Stevens of Isola, Mississippi. Does his name sound familiar? Well, if you have read this far then you must have noticed in an earlier paragraph that Stevens has already enjoyed the Street Rod Nationals 2021 success. Not once but twice as a Classic Instruments Pros Pick winner with the two cars he brought to the Street Rod Nationals 2021. To end up winning his name had to be drawn out of a barrel with literally thousands of other numbers, which is just plain staggering. Hey, when you are on a roll, roll with it!
Congratulations to Stevens and when, by the way, are you going to Las Vegas?
Builders' Showcase
The Builders' Showcase (originating in 2006) featured 35 cars and trucks. Here's a quick look around at some of the great cars that appeared in the main foyer, which also serves from year to year as a great place to come in, sit down, and get out of the heat. It's also the area that you will go to find any one of the dozen informational seminars.
The likes of Adams Hot Rods with a gray '32 Ford highboy roadster was on hand along with Mike Goldman Customs and their Marina Blue (or very close) '65 Chevy Chevelle, and Josh Deavers Customs and Color with their '34 Ford highboy closed-cab pickup. In the restoration and great memory category is the green '68 Chevy Camaro from Customs by Kilkeary, while GTS Customs was on hand with the iconic hot rod look with their '32 Ford highboy roadster complete with wires. Borneman's Blast From the Past Shop had a black '55 Chevy Bel Air on hand while a blue '52 Chevy 3100 pickup was present from Rides by Wright, complete with wide whites. From the world of full customs was a Sage Green–painted Zephyr-esque '46 Ford business coupe from Live Free Fabrication. Lastly, there was a great example of a Candy Red '39 Olds coupe 60 series from Rod's Restoration Wizards.
Read More: This Hemi Powered 1950 Plymouth Coupe is all Business
There can be no doubt that the NSRA Street Rod Nationals is coming back stronger than ever and the "fire" is still there for all of us to have fun with cars. We did notice the continuing upward trend of more and more post '48 cars and trucks attending. This is good as the younger generation can build those hot rods nearest and dearest to their hearts. We also noticed younger local families attending, another good sign that the hobby is resonating with future participants.
There's always plenty to do on the Kentucky Expo Center fairgrounds during the event, whether you want to be outside or inside (where there's the world's greatest air-conditioned building!). Afterhours there's plenty of nightlife and for those who just want to pull up a lawn chair and watch the cruising along Phillips Lane; it is fascinating, to say the least. Here the locals really put on a show!
Well, if you have never been to the NSRA Street Rod Nationals it's definitely a rodder's "bucket list" item. Make plans to attend and if you are thinking about next year just remember it's the first full week in August, the 4-7, 2022. Let's all plan on seeing each other in Louisville, Kentucky. MR