Part 1: The Art Morrison Enterprises GT Sport Chassis for Your 1959-1964 Chevy
By Brian Brennan – Photography by Tim Sutton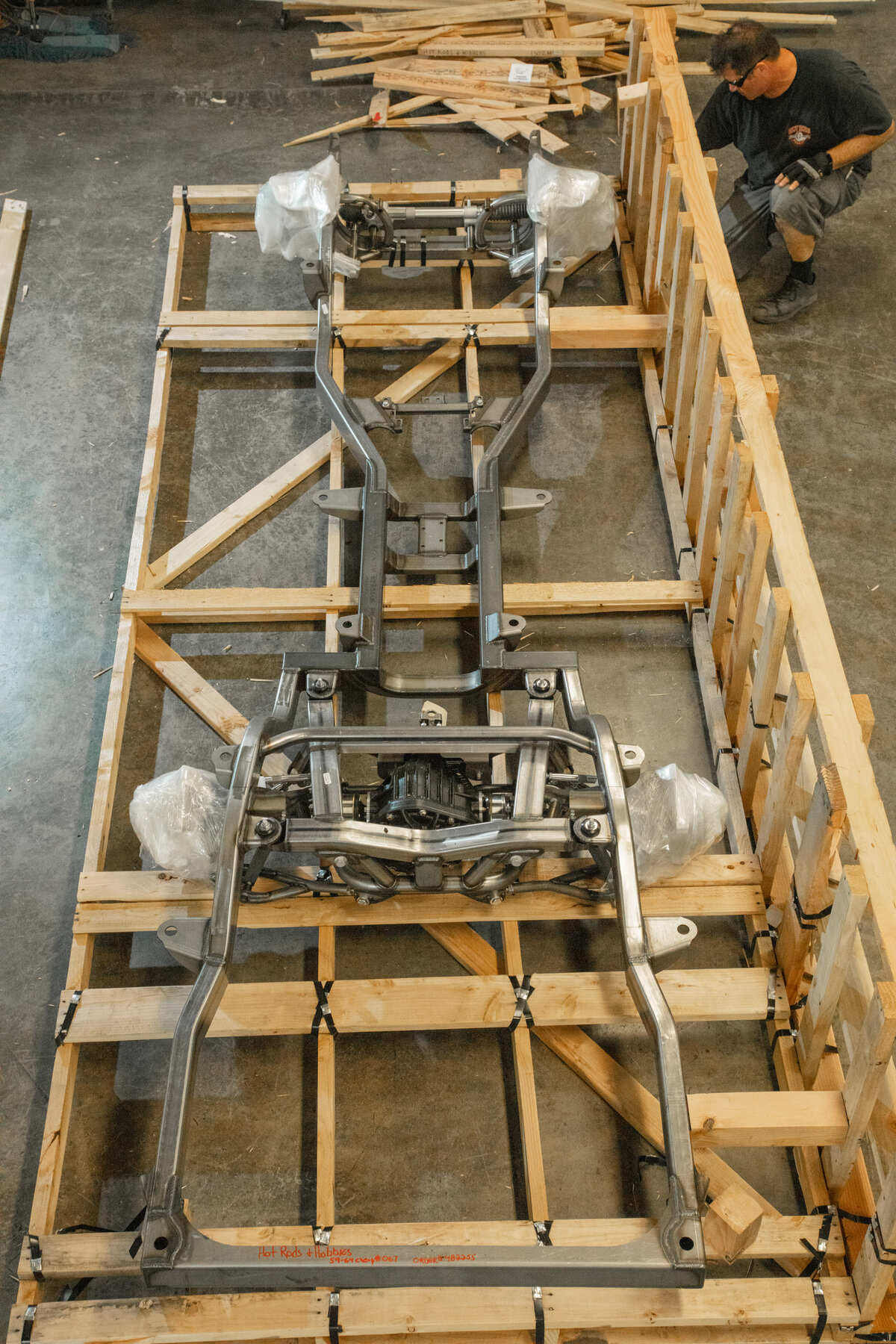 It's been 17-plus years since Art and Craig Morrison of Art Morrison Enterprises (AME) drove south in their patina 1955 Chevy outfitted with their initial GT Sport chassis. Art and Craig brought it around to show off their enthusiasm in the hopes of getting the auto magazine world excited. Well, they did and it did. Nearly 20 miles of 2×4-inch rectangular tubing and 1,700 Tri-Five chassis later, AME is an established, and we might say iconic, brand within our industry. I still remember Art telling me, "It was a blast to drive and we looked for every offramp and onramp we could find just so we could enjoy the thrill and sit back and giggle."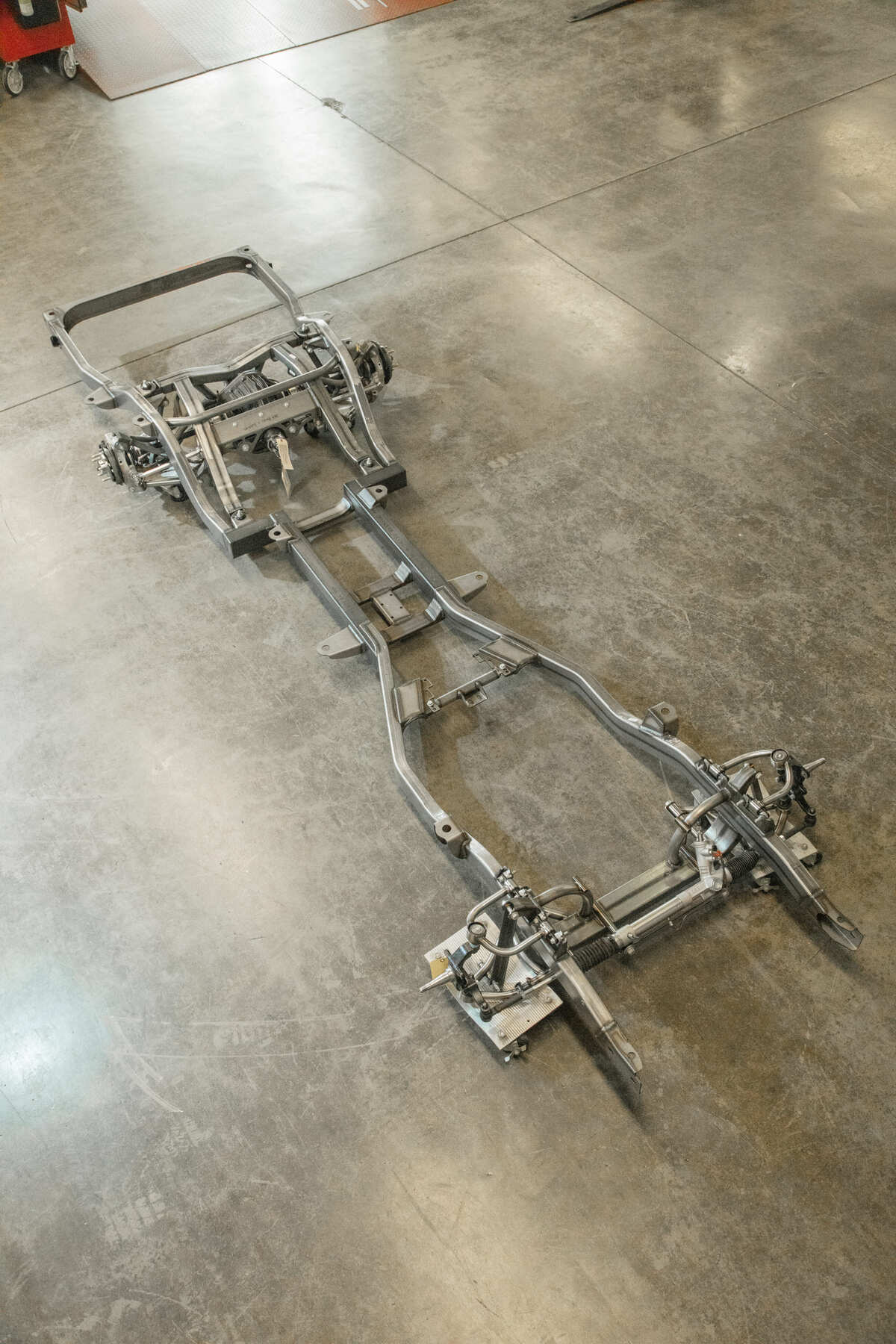 That was back around 2003; here we are in 2020 and AME offers far more than "just" a Tri-Five frame. The list is extensive but one that's growing in popularity by leaps and bounds is the GT Sport Chassis for the 1959-1964 Chevy. (There are differences between the 1958 and subsequent years through 1964. The AME Chevy GT Sport will not fit 1958 Chevy cars, El Caminos, or wagons, resulting from different chassis needs and wheelbase dimensions. However, you should check with AME as they will build you a chassis for these applications.)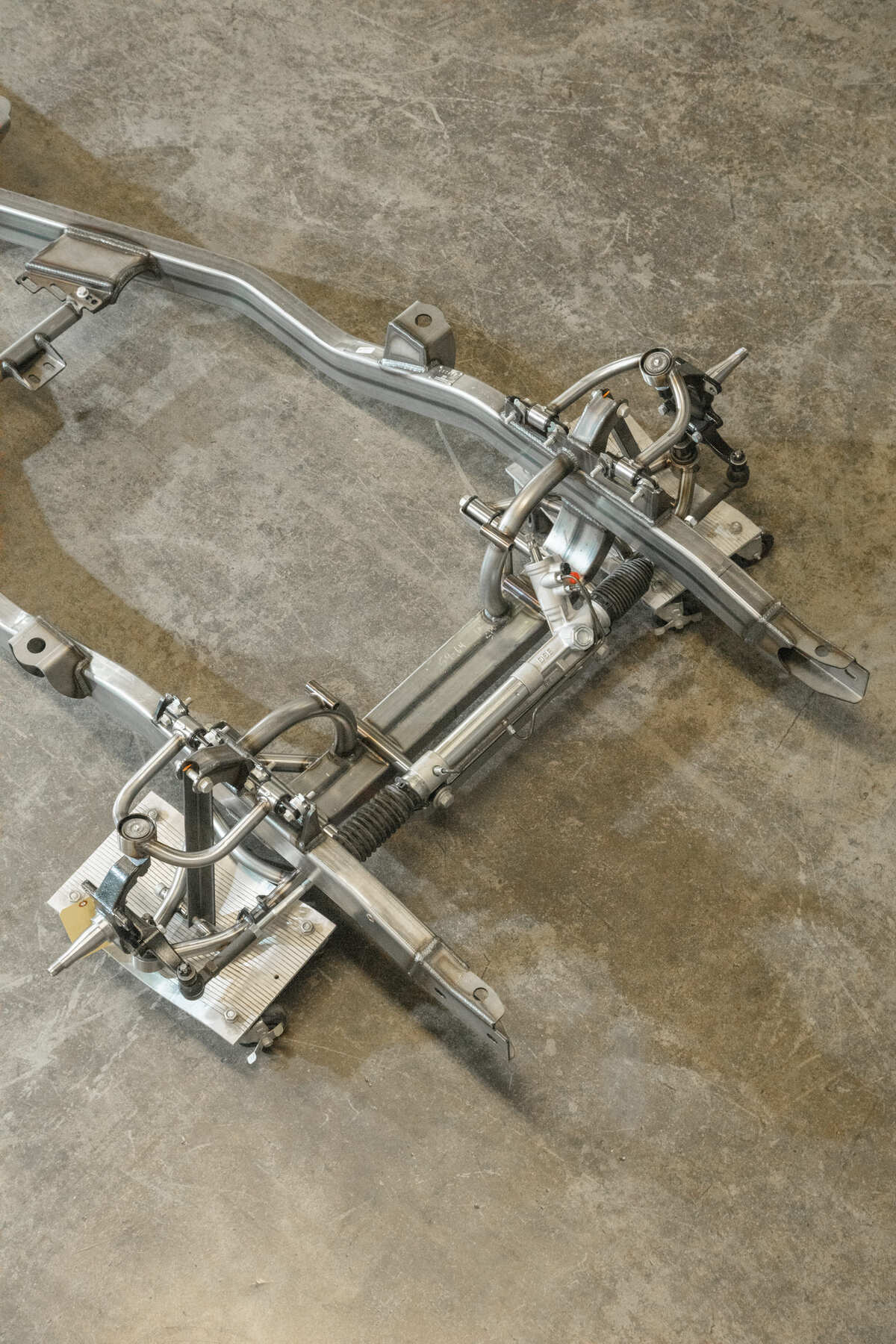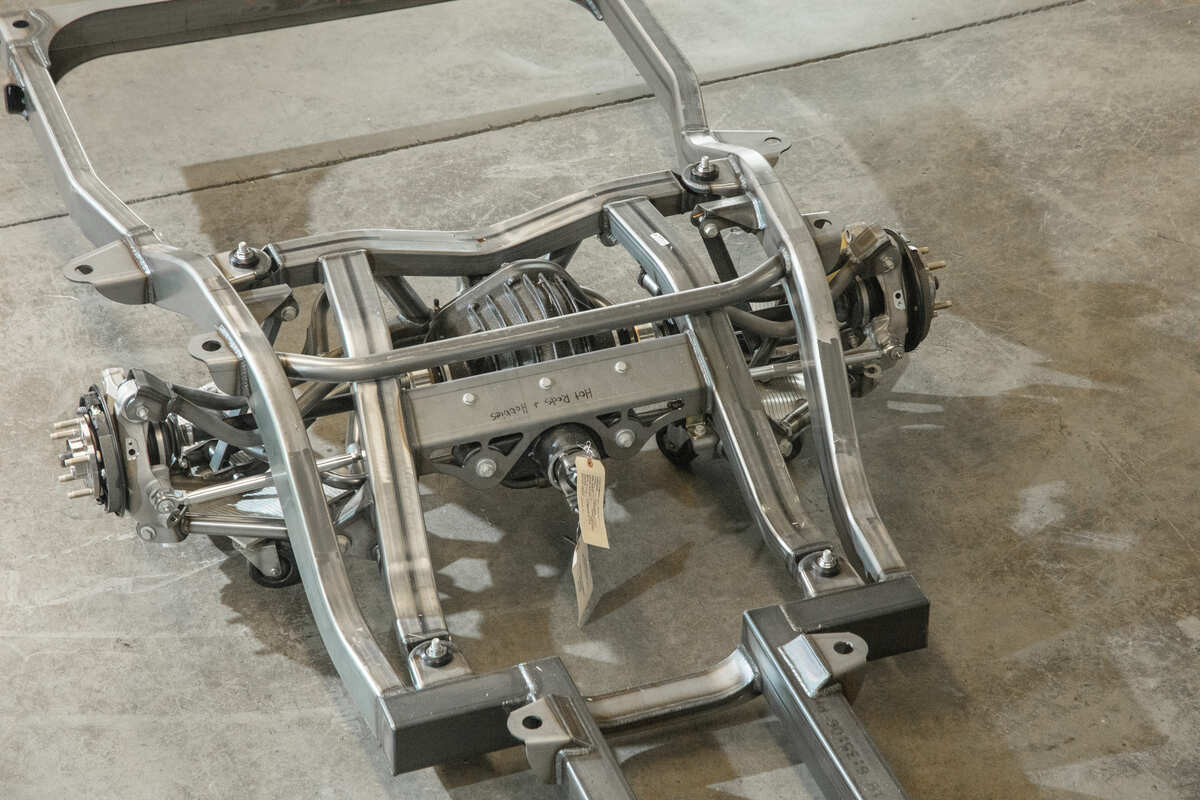 Our goal was achieved when Tim Sutton (photo eye extraordinaire) was speaking with Scott Bonowski of Hot Rods & Hobbies (Signal Hill, California) about some upcoming feature cars when Sutton noticed a 1961 Chevy Impala convertible off to the side of the 13,000-square-foot shop. Next to it was this rather large shipping crate built around what was clearly a fullsize car chassis and also packed with a number of boxes that contained such items as a Wilwood spindle and brake package (14-inch rotor), Strange Engineering coilover shocks and rear differential, and AME engine and transmission mounts. It's also fitted with an AME rack and pinion steering (20:1), which is the "everyday" street steering. Ol' Eagle Eye Sutton also noticed this frame was equipped with the optional IRS. Bonowski is no stranger to installing the AME chassis so we knew we were in the right place to get our job done.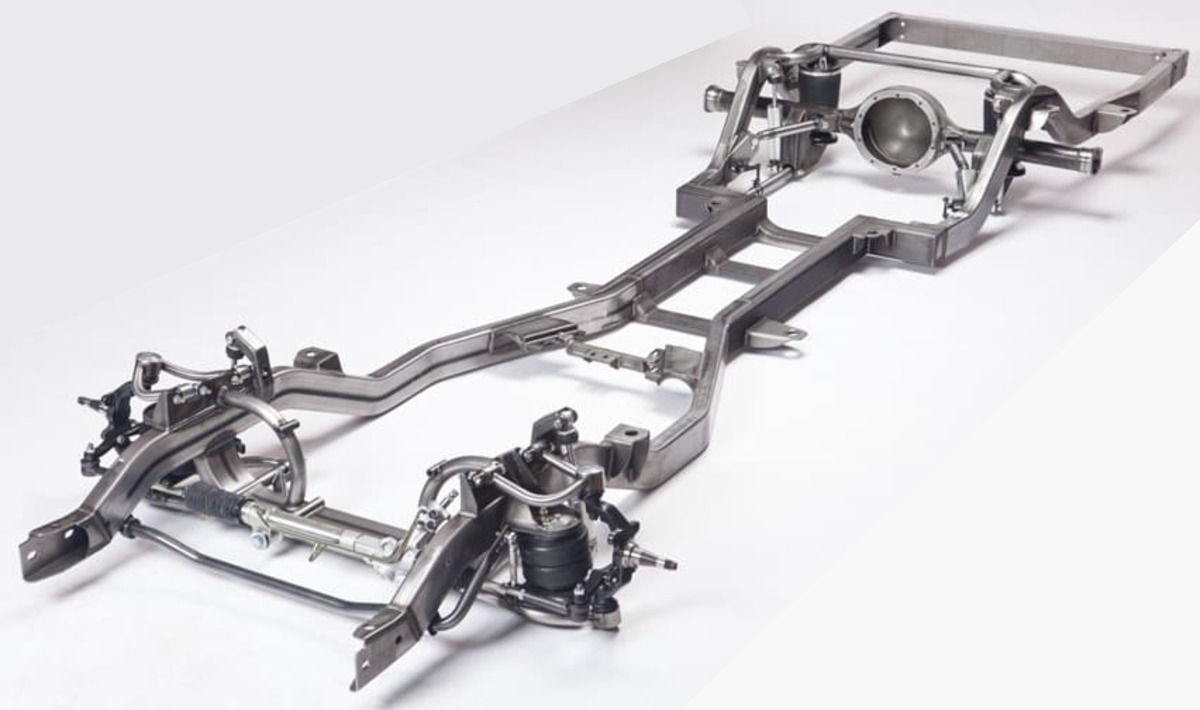 This is a two-part series, with the first part dealing with the chassis itself, while the second part will deal with getting the car prepped and how the body is fitted to the chassis. Bonowski was now in possession of all of the AME pieces and his customer had just dropped off a 1961 Chevy Impala convertible, so it was time to begin. It should be noted that this "drop-top" is going to have a potent V-8 residing between the 'rails and as such the rearend was upgraded to a stout Strange Engineering S60 (Dana 60) third member to handle the thoroughly massaged LS7 by Wegner Motorsports that's topped with a Whipple supercharger. The V-8 will then be matched to an ATD-prepped 4L80E.
This GT Sport bolt-on chassis, designed specifically for 1959-1964 Chevrolets, is direct from AME. There are some points that you should be aware of before ordering, as they will help you to make the "right" decision before fitting your Chevy to the AME chassis.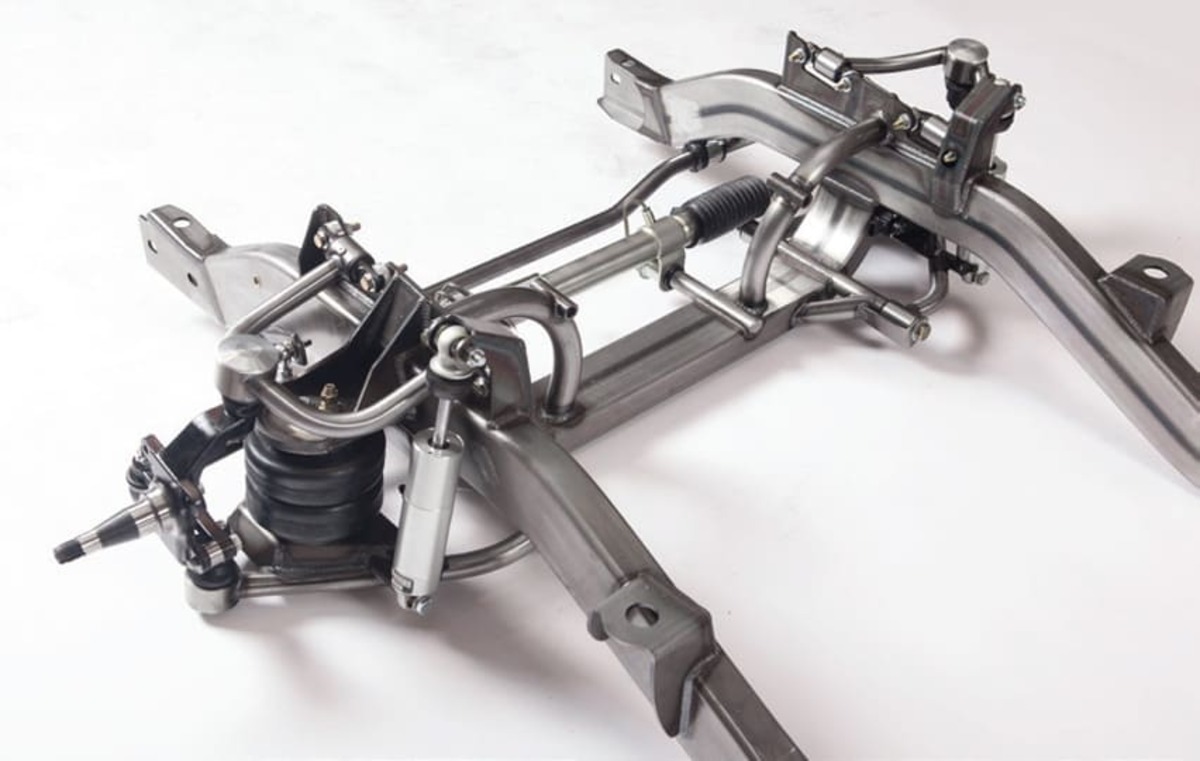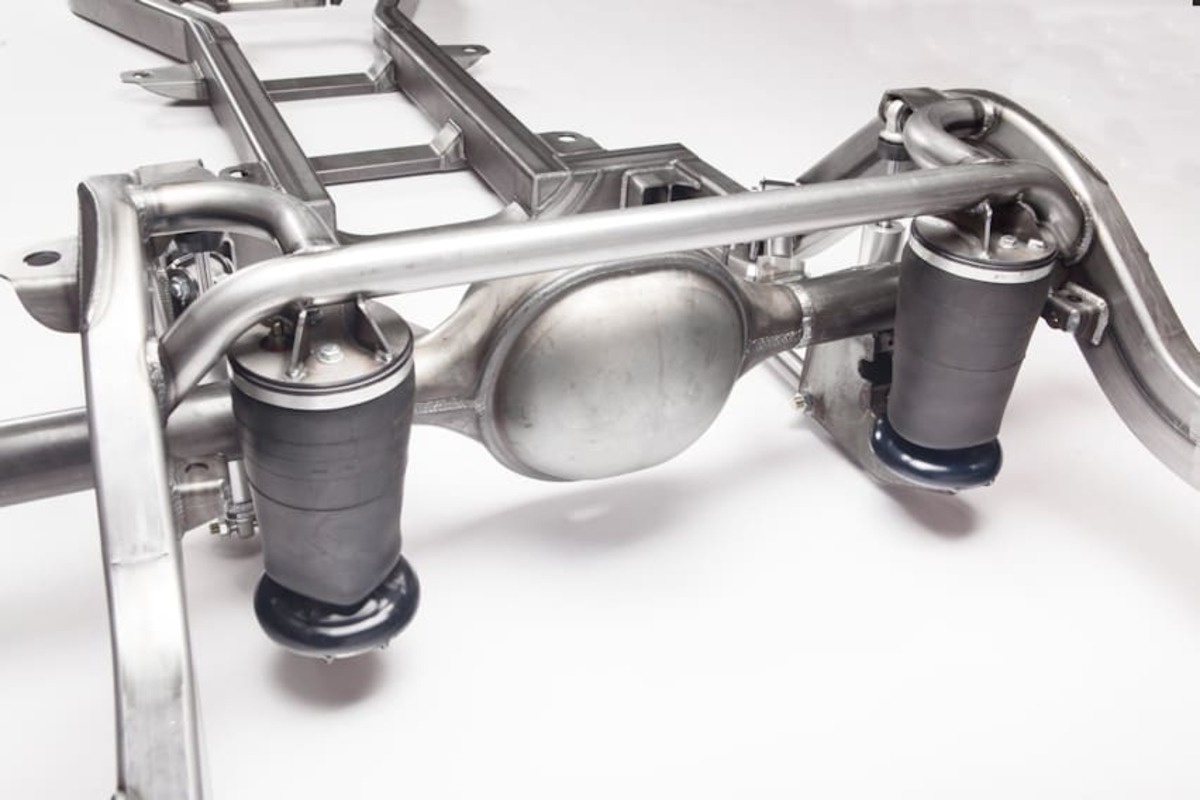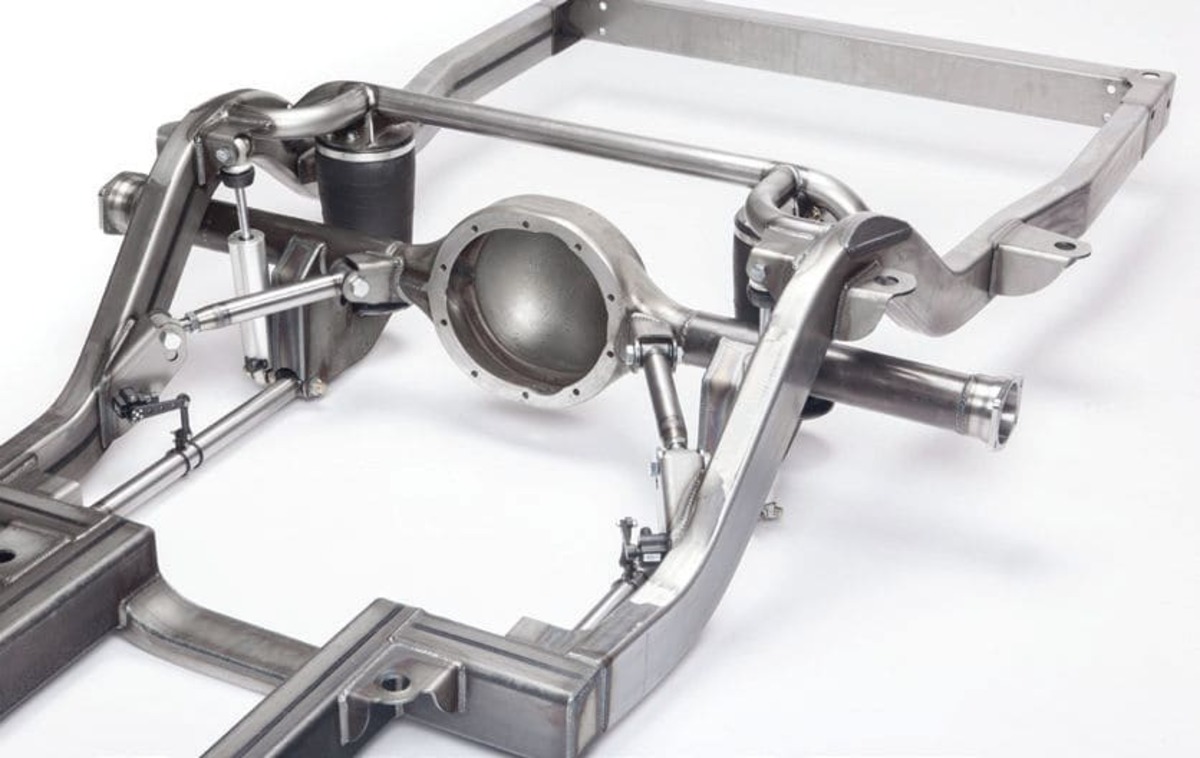 Wheel and Tire Clearance
The wheel and tire clearance is something to pay particular attention to as the 1959-1960 cars have more room because of the fender bulge. The 1961-1964s have a narrower bulge, thereby giving you less room. Knowing this beforehand, you can work with AME to make sure you have the maximum wheel and tire combo. According to AME, the maximum tire width to fit in the factory rear tubs is 305 mm for 1959-1960 cars. For the 1961-1964 cars you'll need a 295mm tire to fit within the factory front wheeltubs. Speak with the Morrisons and they will "strongly advise" that you fit the body to the chassis and check all clearance issues before ordering wheels … measure twice, cut once!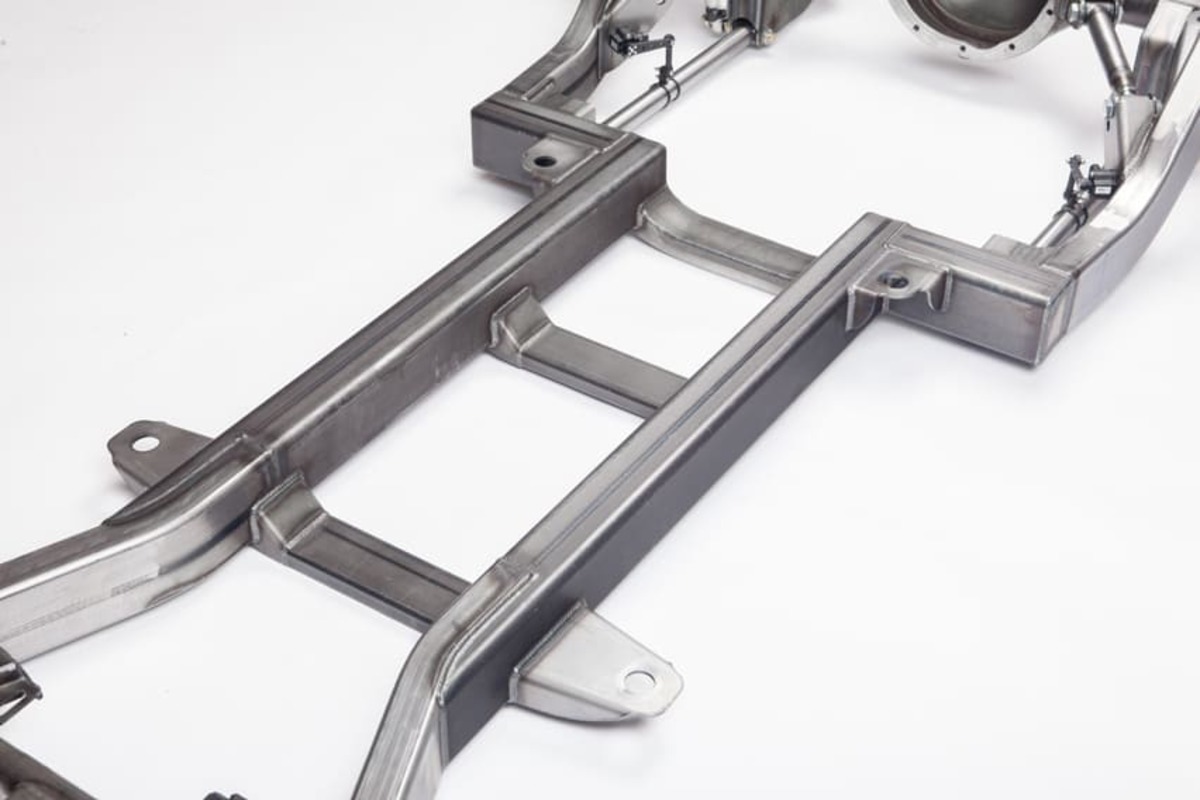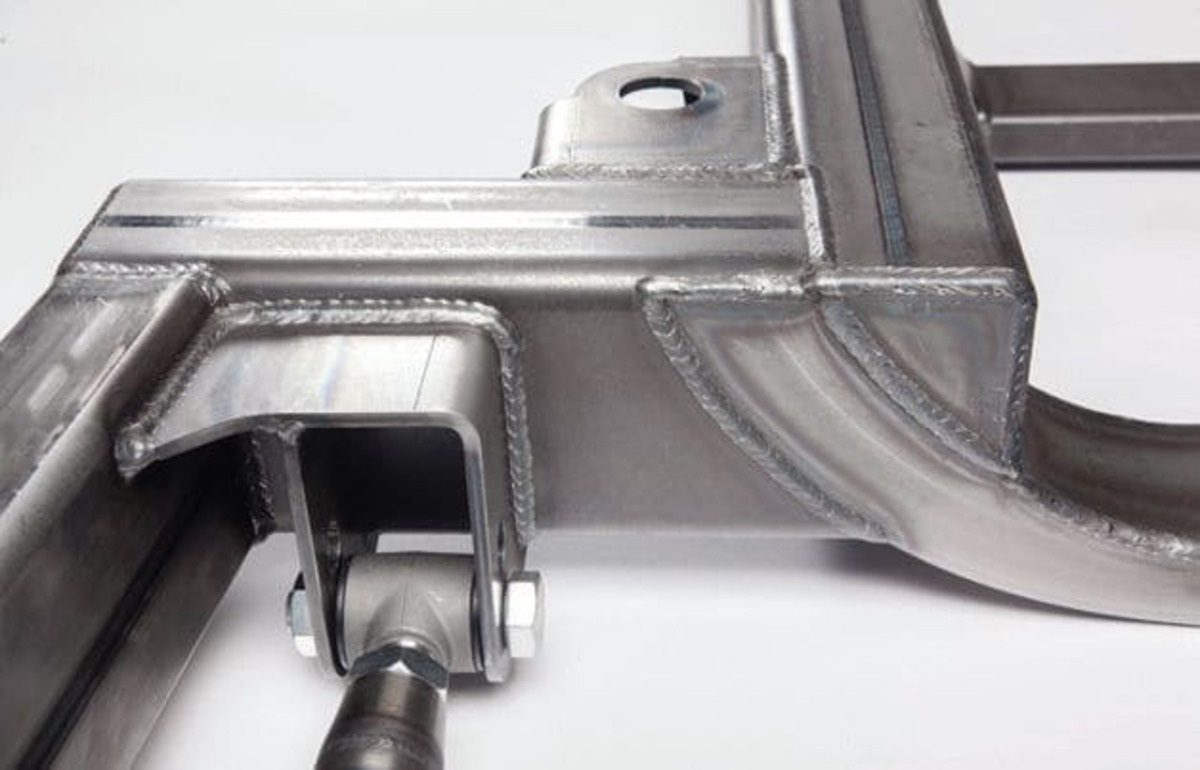 Brakes
AME specializes in Wilwood brakes and as such their products will fit AME chassis configurations. With a factory wheelwell, you can use 15-inch diameter or larger wheels for the AME 60-1/2-inch track width or the 61-1/2-inch track width.
Wilwood 11- and 12.19-inch rotors will work with the 60-1/2-inch track and wheels that are 10 inches wide with a 6-1/2-inch backspace, 9 inches wide with 5-3/4-inch backspace, and 8 inches wide with a 4-3/4-inch backspace.
Wilwood 13-inch and 14-inch rotors will work with 61-1/2-inch track and wheels that are 10 inches wide with 7 inches of backspace, 9 inches wide with 6-1/4-inch backspace, and 8 inches with 5-1/4-inch backspace.
AME also wants to remind you that all wheels must have wheel-to-brake caliper clearance of 0.080 inch.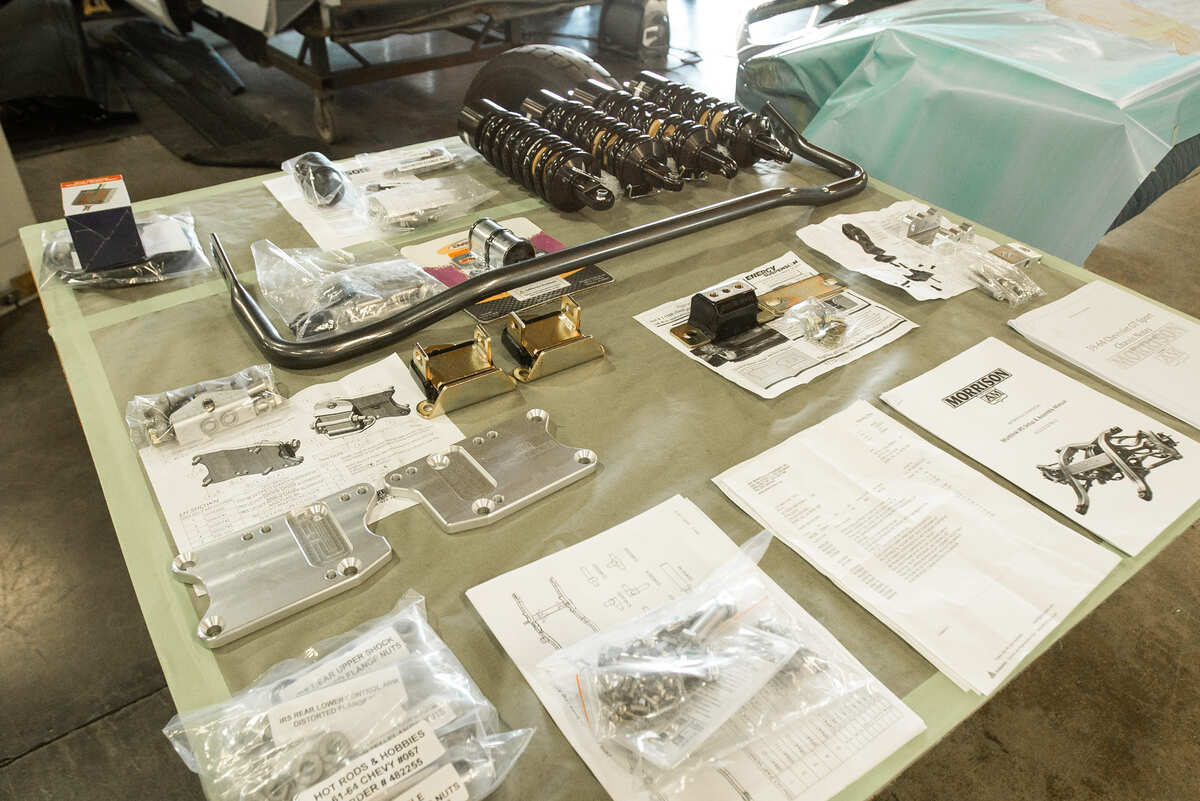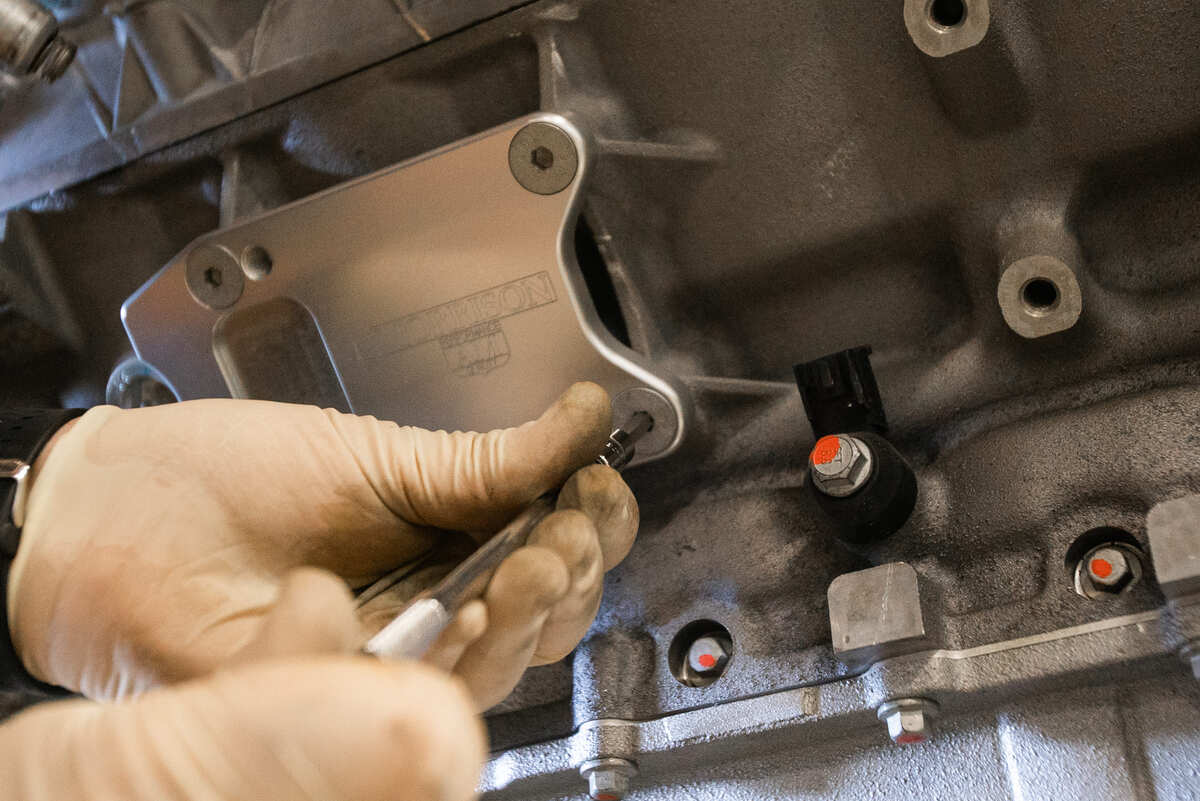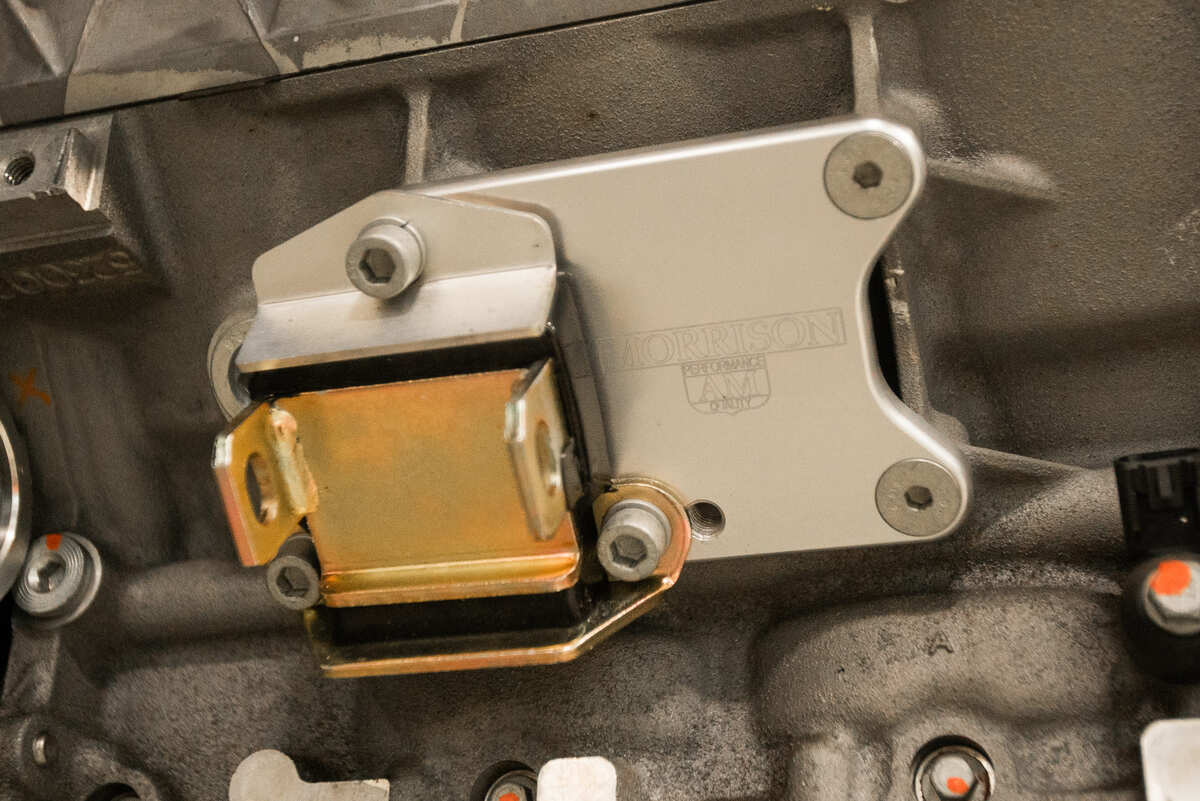 Axle Housing
The AME standard housing is the 55-inch width while there is a 53-inch housing suitable for larger offset (deep dish) wheels. Other aspects of the AME housing is the use of a centered pinion and the use of large axle (Torino) bearings. The centersection itself has optional features and this will be driven by the horsepower that your ride will be producing.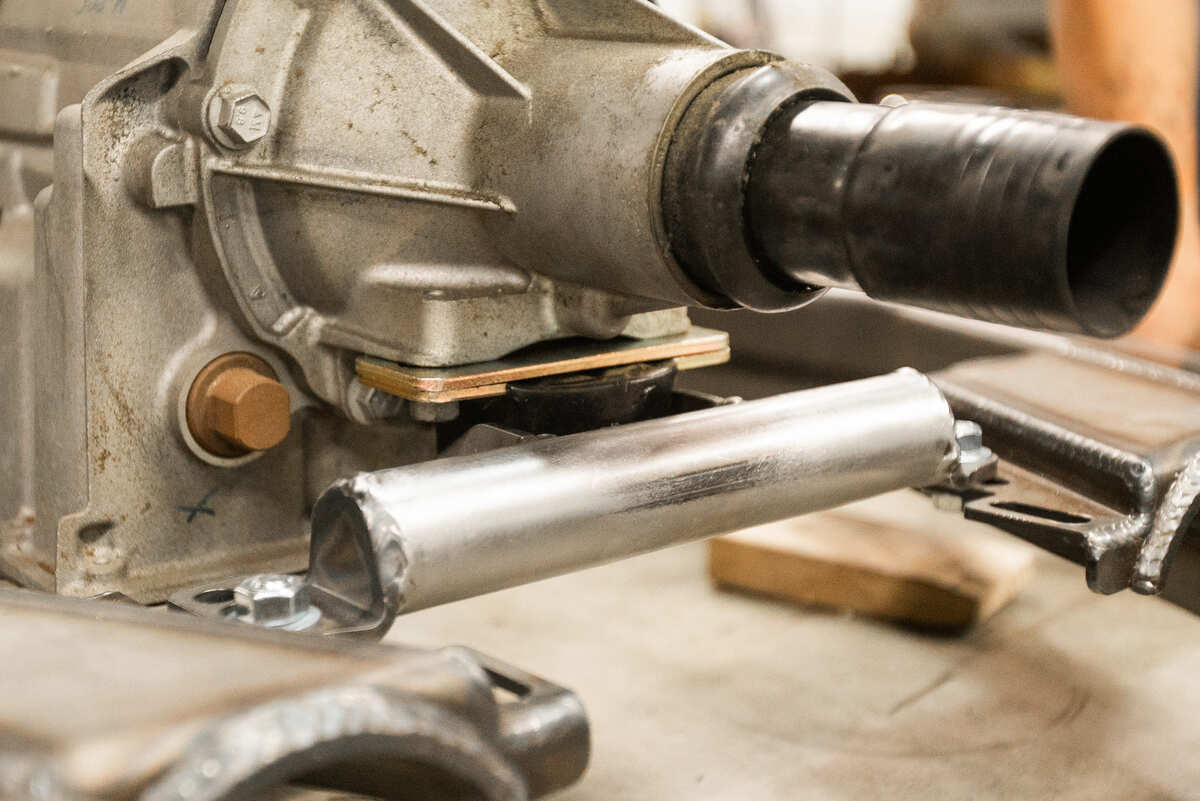 Wheelbase
It should also be noted these cars have a stock wheelbase of 119 inches and that's the objective of the AME chassis. Yes, there are aesthetics that builders take into consideration when wishing to have the wheel and tire fit within a specific area of the wheel opening but now we are getting into customized fitment. That's on you should you wish to deviate from the factory 119-inch wheelbase.
Shocks, Springs, Sway Bar & Suspension Links (Things That Go Bump in the Dark)
You are going to have an IFS but you may opt to go with a solid rear axle or an IRS. To this you may also be considering whether to use coilover shocks, coilover suspension link, coilover with sway bars (front and/or rear), air suspension springs, air suspension shocks, air suspension link, or air suspension with sway bars. These are some of the combinations you will give consideration to before ordering your chassis. The type of car and driving will determine what's best for you and AME can help you through this process.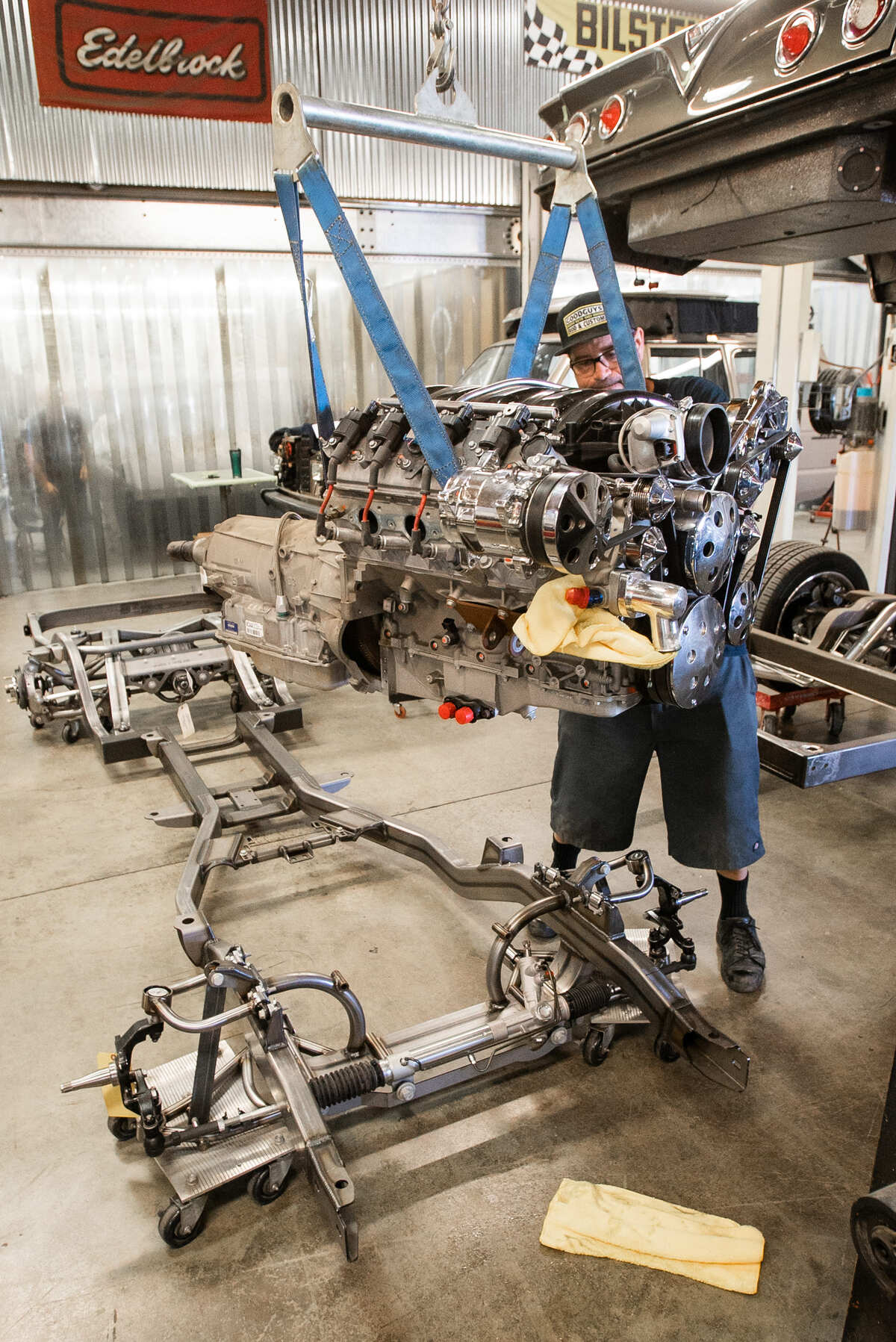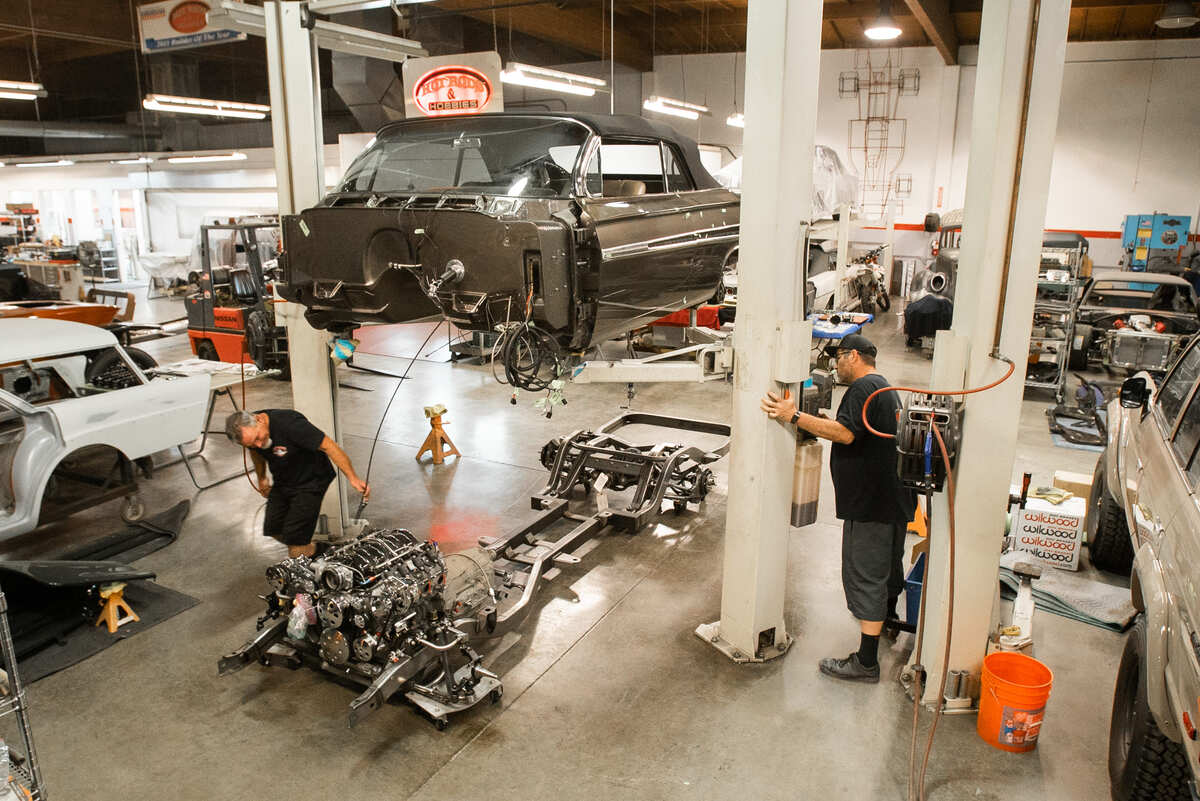 Engine Placement
Here AME tried to achieve the best possible scenario by looking for the maximum amount of hood clearance, while making sure the suspension and steering components were in a favorable location. For the 1959-1960 cars, the AME engine position is located ¼-inch forward and 1-5/8-inch higher than factory position. For the 1961-1964 cars, the engine location is 3/8-inch forward and 3/8-inch higher than factory. As is always the case, never "slam" your hood shut until you have looked, measured, and looked and measured again … remember, look twice, close once.
Body Mounting
It was AME's intention to use stock body mounts. The 1959-1960 cars use the 1959 Impala hardtop mounts and the 1961-1964 cars use the 1961-1964 convertible mounts. It should also be noted that AME wanted added body stiffness and as such they built into the GT Sport chassis an additional two body mounts per side (total of four). AME offers the body mount and hardware kits with the additional mounts to work with their chassis. Should you wish to use an aftermarket urethane bushing kit, the one designed for 1959-1964 convertibles should work just fine.
There are a handful of body/floorpan modifications that will need to be made to your car in order to bolt onto the AME chassis. There are detailed instructions available from AME on how to achieve this. One notably trans tunnel fitment issue will arise should you be using a TREMEC T56 or a 4L80E automatic. But, as mentioned there are instructions for this.
Gas Tank, Driveshaft & Pinion Angle
The gas tank mounts directly behind the rear axle housing and can create a packaging dilemma, especially when using the optional AME Triangulated 4-Bar Suspension with coilover shocks and inside the frame exhaust routing. This gas tank will not fit with the Air Spring Triangulated 4-Bar Suspension or the Multilink IRS. Should you find yourself using one of these, as in our project with the Multilink IRS, other provisions will have to be arranged. In our case the gas tank is still under the trunk floor but the flooring itself was slightly elevated to overcome the IRS to tank clearance woes.
Remember, these cars utilize the two-piece driveshaft and as such AME has taken this into account and offers a carrier bearing and carrier bearing adjustable billet mount. The bearing AME offers is an upgraded replacement bearing for the 1958 (yes, 1958) through 1964 Chevrolet cars and for 1958-1972 Chevrolet and GMX pickups. There are other points of emphasis on the driveshaft components and AME will provide you with this information.
Whether you use a single or two-piece driveshaft, when it comes to setting the pinion angle you don't want to screw up. Now, should you go with your own driveshaft, or not, you will want to get the pinion angle correct and to do this it's recommended to use a digital protractor to measure the angle in degrees. AME offers a digital protractor (PN 17171700) to measure the pinon angle but a magnetic type will work as well. The pinion angle once "roughed in" can be adjusted through the tie-rod ends located on the upper and lower rear suspension links. The objective is to remove any driveshaft vibration due to pinion angle.
Wrapup
There's a long way to go but for now we have our chassis picked out, we will get the powertrain positioned, and be prepared to drop the body on.. Next time, in Part 2, we will lower the body onto the chassis and begin hooking up all the good stuff. MR
Sources:
Art Morrison Enterprises
(800) 929-7188
www.artmorrison.com
Hot Rods & Hobbies
(562) 424-9425
www.hotrodsandhobbies.com