Roadster Shop's CNC-designed SPEC-Series frame brings the Squarebody Chevy into the 21st Century
By Ryan Manson – Photography by the Author
Building a custom, classic truck begins with the proper chassis. The foundation of your build needs to properly represent the intent of said build. For example, if you're building a '60s Ford truck and your vision calls for a truck that lays rocker, you're going to be hard-pressed to make that happen with the stock twin-I beam suspension design. More than likely, that stock Ford chassis is going to need to be heavily modified. Labor is time, and time is money. On the other hand, if your build simply calls for an upgrade in brakes, suspension, and steering with perhaps an engine swap upgrade, rolling out the old in exchange for the new in one fell swoop might make the same amount of sense. With 40 plus years of use and abuse under these trucks, there's no doubt you're likely to find some kind of damage, modifications, or other "previous owner-made repairs" that will need to be fixed before the modifications can even begin. So, whether your build calls for some serious modifications to the frame, a handful of stock upgrades, or you'd rather just have the piece of mind that comes with a brand new chassis, swapping out that old twisted frame for new might just make the most sense. And it's probably cheaper than you think!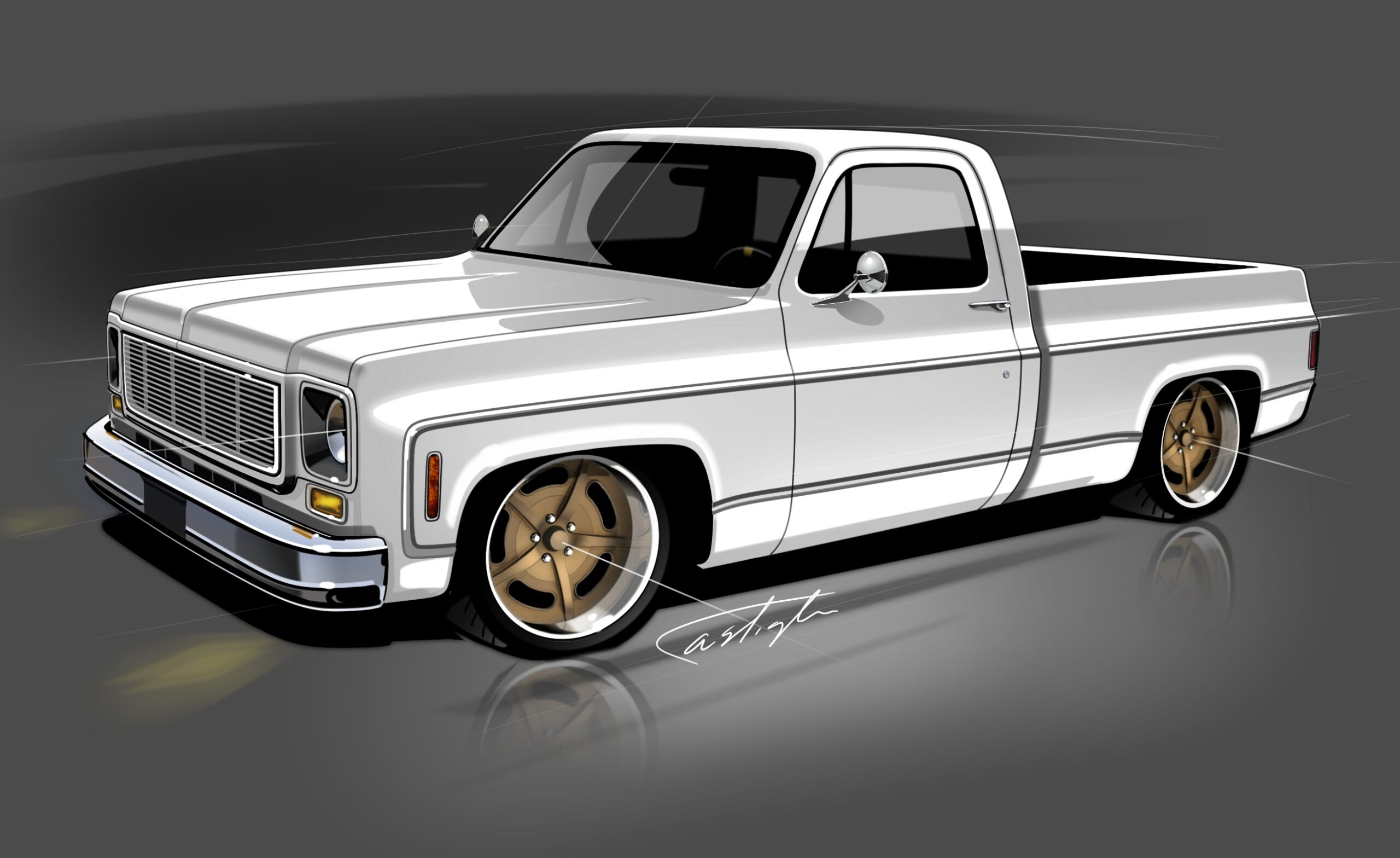 When we started our Squarebody build, our intentions landed us squarley in the "multiple modifications required" class. Stock, these trucks ('73-87 Chevy C10s) are notorious for their bulldozer-like qualities of the front crossmember when lowered any more than a few inches. We didn't want to have to revisit our mini-truckin' days avoiding every Botts dot and approaching every driveway at a 45-degree angle so as to avoid ripping out the suspension from under the truck. We also wanted to upgrade the suspension and brakes to something a bit more akin to our driving style and to properly support the supercharged LT1 engine planned for the build. After a conversation with Phil and Jeremy Gerber at Roadster Shop, it became clear that their SPEC-series chassis would be perfect for our C10 build.
Using CNC-based technologies, Roadster Shop designs and manufactures chassis that are lighter, stronger, and easier to assemble than those of the past. This allows the crew to design a chassis with a clean-sheet mindset, drafted specifically for a particular end goal as opposed to trying to modify an existing design to do something it was never meant to do. The SPEC-series chassis are assembled using Roadster Shop's exclusive CNC laser cut framerails contoured and joined using a series of interlocking keys and slots that, once formed to shape, ensure proper alignment of the frame sections and provide for a consistent welding gap. This procedure not only speeds up manufacturing but results in a stronger, lighter chassis with no kinks, bends or stressed areas that are prone to flex. This streamlined approach to frame manufacturing results in lower costs without sacrifice.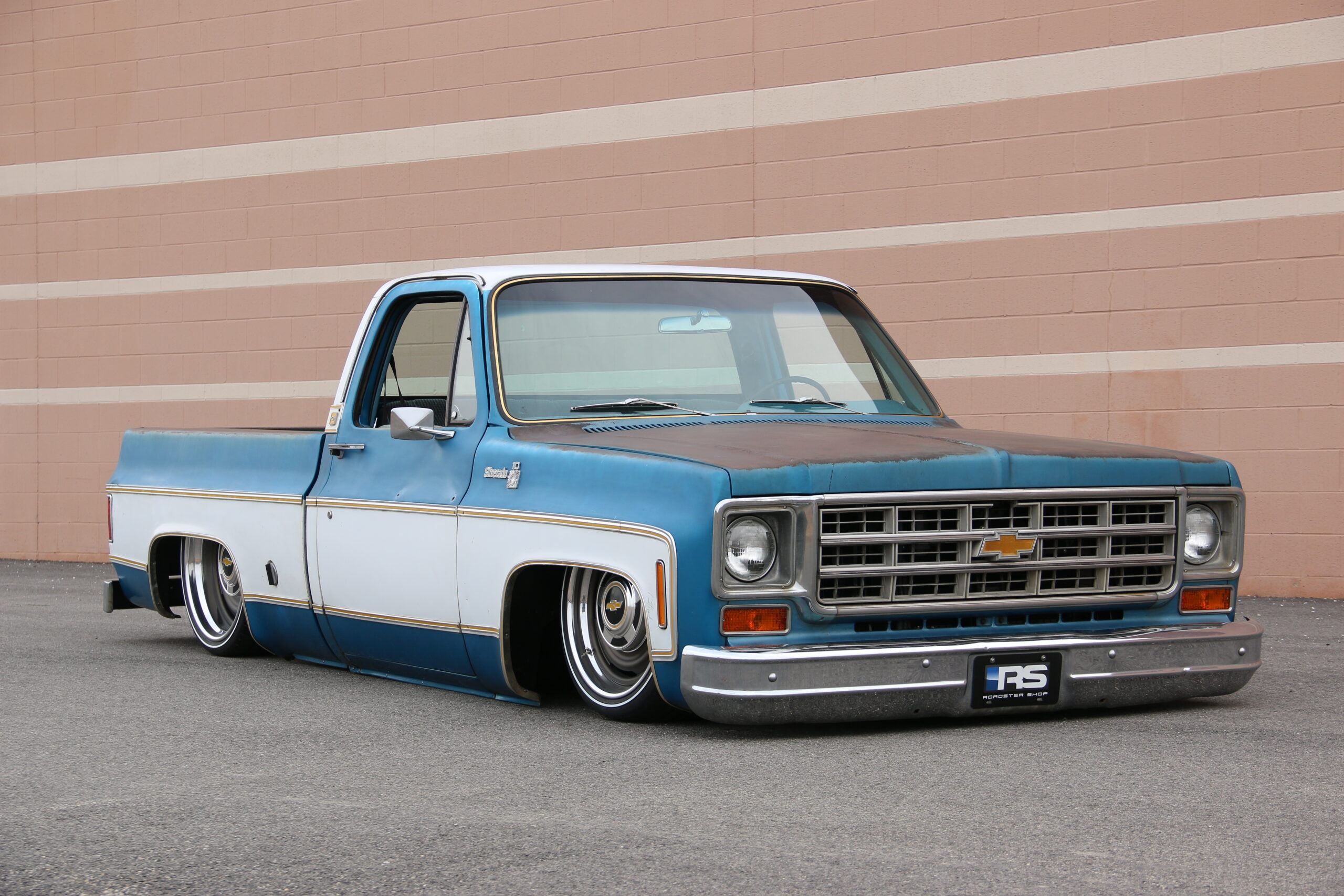 In addition to these modern manufacturing techniques, the Roadster Shop's engineering department took things a step further, by fully integrating a number of upgrades into the chassis design, namely, getting things nice and low. Lowering a stock-style chassis can result in a ride height where the suspension components were not originally designed to function, putting increased stress on items such as ball joints, shock mounts, and tie rods. Bump steer and incorrect camber and alignment situations are also common problems on extremely low applications. The crew were well aware of this, designing the one-off IFS and rear suspension system of their SPEC chassis for the ultra-low crowd. With stepped framerails, front and rear, Roadster Shop designed their new SPEC chassis for an aggressive 4.5/5-inch raked ride height whether equipped with air bags or coilover springs. Sprung on springs, the static ride height of a SPEC chassis puts the truck nice and low while still maintaning the aibility to drive it like a normal truck. Equipped with ride height-adjustable air bags allows the chassis to lay rocker when fully "aired out", putting the pinch weld of the truck's body literally in the weeds.
With the height requirements set in stone, or rather programmed into their CAD program, the engineers at The Roadster Shop set out to design a double-wishbone IFS setup using in-house-fabricated upper and lower control arms mated to Wilwood Pro Spindles. Eccentric adjusters are utilized on the upper control arms to make alignment adjustments quick, easy, and accurate. Sprung options include an air bag setup or a more traditional coilover shock. A front-mounted power rack and pinion and aggressive sway bar ensures the function of the front end reflects the form. Out back, a parallel 4-bar setup is utilized, mated to a 9-inch Ford rearend housing. Both upper and lower 4-bars are poly bushed, while the heavy duty lower 4-bar features eccentric mounting to make wheelbase and pinion angle adjustments quick, easy, and accurate, just like the front upper control arms. And like the front suspension, the guys designed the rear to perform just as well as it looked, with the allowance of a 12-inch wide wheel equipped with a 345-series rear tire.
At this point, we were sold on the Roadster Shop's SPEC chassis and placed an order on the spot. We knew we wanted to build something that could put those high and mighty muscle car guys in check and that it would require more might than, well, muscle. While the Supercharged LT1 should be more than enough to power our Squarebody, we wanted to be certain that the backbone of our C10 could effectively put the power to the pavement. Given the background on what The Roadster Shop guys put together in the form of their SPEC-Series chassis, I'm feeling pretty confident that it will live up to our every expectation. CTP
Sources:
Baer Brakes
(602) 233-1411
www.baer.com
Eddie Motorsports
(888) 813-9353
www.eddiemotorsports.com
Roadster Shop
(847) 949-7637
www.roadstershop.com
Summit Racing
(800) 230-3030
www.summitracing.com