This 1931 Ford Tudor sedan Started Out as a Restoration but Ventured Off That Path
By Brian Brennan – Photography By Don Kates
The consensus is: Know what you want to build before starting. It will save you time, effort, and a great deal of money! Tim Garner of Wyoming was looking for a Deuce for his dad when he stumbled across this 1931 Ford Tudor sedan online. It was a stocker at the time and the intent of the original owner was to build a restoration. Tim had other plans. Before rolling it off the trailer Tim was ready to begin the 5-inch top chop. It was then just a matter of time before this 1931 Ford sedan was turned into a chopped-and-channeled hot rod.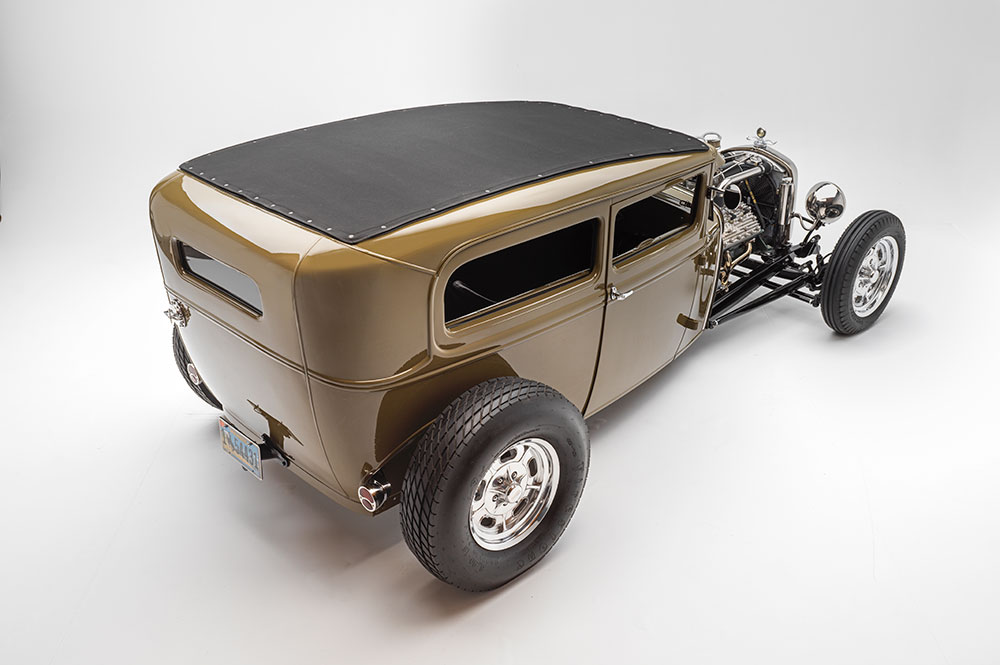 It should be noted that the Model A Tudor sedan was in such great shape that all the sheet metal, grille shell, and headlights are original. Being a bodyman and painter by trade Tim knows a great deal of what it takes to chop and channel any hot rod. Beginning with a 1931 Ford Tudor sedan body, Tim now removed 5 inches from the top and, in turn, channeled it 4 inches. The channeling took place over a Boling Brothers 4-10 frame (4-inch drop in front and 10 inches in back) that's designed for building a channeled car that's to be low but functionable. The frame is a "stretched" stock Model A wheelbase going from 103 to 107 inches.
Read More: Hot Rod Model T: 1926 Ford Tudor Sedan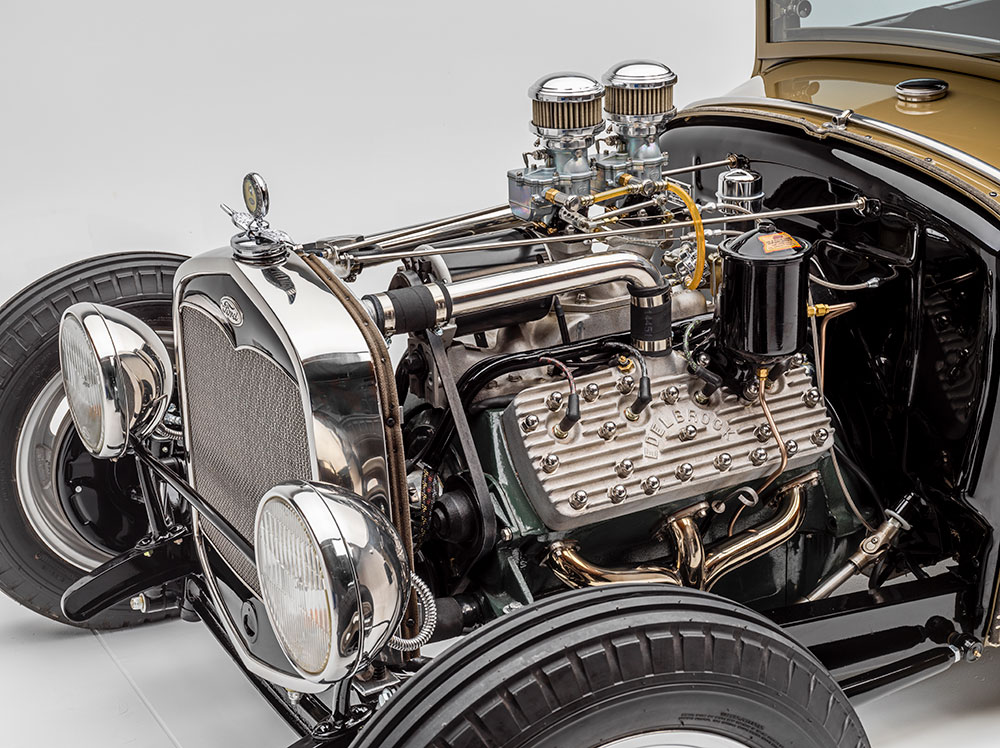 The Boling Brothers 4-10 frame is ideally suited for channeled applications. It enlists the use of a short pair of split wishbones anchored by a SO-CAL Speed Shop 4-inch drop solid I-beam axle. From here a pair of painted SO-CAL Speed Shop tube shocks, a pair of early Ford spindles (1937-1941), a Panhard bar, Borgeson Vega-style manual steering, a reversed-eye Posies leaf spring, and Boling Brothers Lincoln drum brakes are employed. These early Lincoln drums are also used in back with the Ford 8-inch rear end that's filled with 3.70 gears, sprung with Aldan coilovers, and located via a four link kit. At the corners you will see a set of Rocket Racing wheels and Firestone/Coker rubber. The wheels measure 16 inches in diameter with 5.00-16 in front and 8.90-16 diamond pattern Dirt Track tires.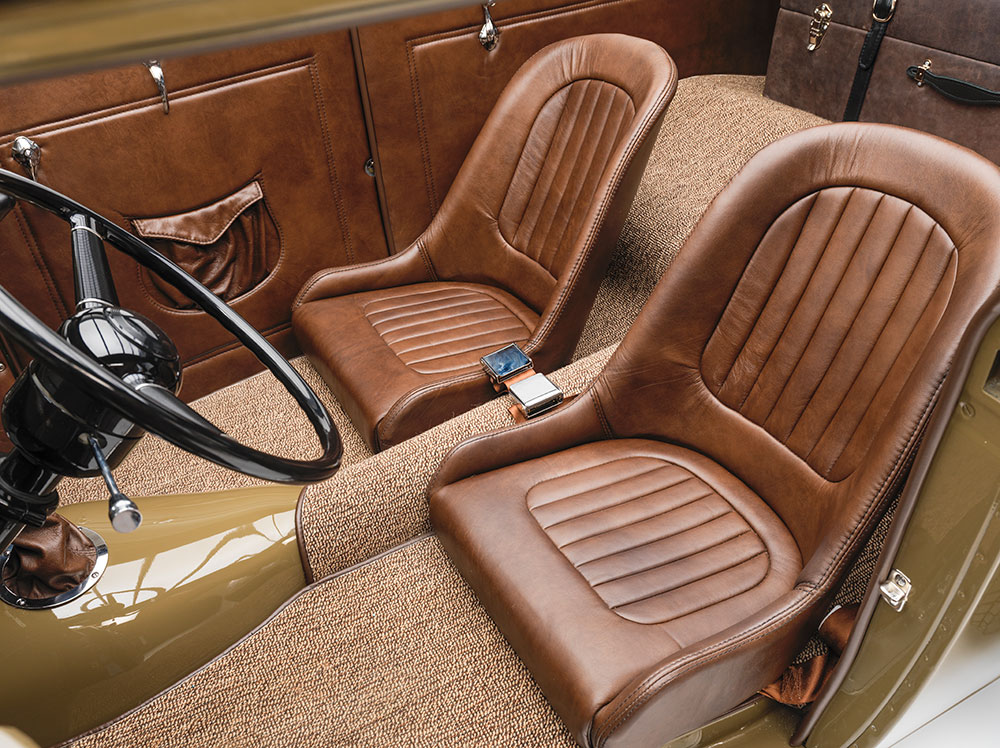 Dropped between the 'rails is a 1940 flathead Ford engine that's bored 0.030 inch where the machines work and assembly was handled by Vince Fankhauser of Wyoming Performance. Inside you will now find forged aluminum pistons, Scat crankshaft and rods, and an Isky 400 Jr. cam. Visible are the Edelbrock heads, held in place by ARP head studs, and the Slingshot-style dual carburetor intake that's topped with a pair of Stromberg 97 carburetor, operated by a Lokar throttle cable, covered with a pair of OTB air cleaners. The exhaust system is based on Speedway Motors stainless steel headers that exit into 2-inch stainless steel tubes, which in turn run through a pair of Smithy mufflers. Firing the fuel load is a Stromberg E-Fire distributor, 12V coil, and vintage-style cloth spark plug wires. Quick note: Stromberg E-Fire distributor comes in one of four front-mount distributors for the 59A Ford Flathead engine; the 11A-style three-bolt (1932-1941) and 21A-style two-bolt (1942-1948) with 12V negative or 6V positive ground. (Editor's Note: On an e-Fire distributor cap, look closely at the bottom of a Stromberg distributor cap, in the 6 o'clock position, and you'll see a small vent hole. Why? As a spark jumps the rotor to plug wire contacts a small amount of ozone is created inside the cap. Think humidity, such as in England or anywhere here in the U.S. near water. Ozone is conductive and corrosive by nature and can lead to misfires or rough idle. Or in a form of poetic justice in tech writer Ron Ceridono's case, his Flathead stopped. The vent hole allows the ozone gas to escape, thereby solving the problem before it gets started. —B.B.)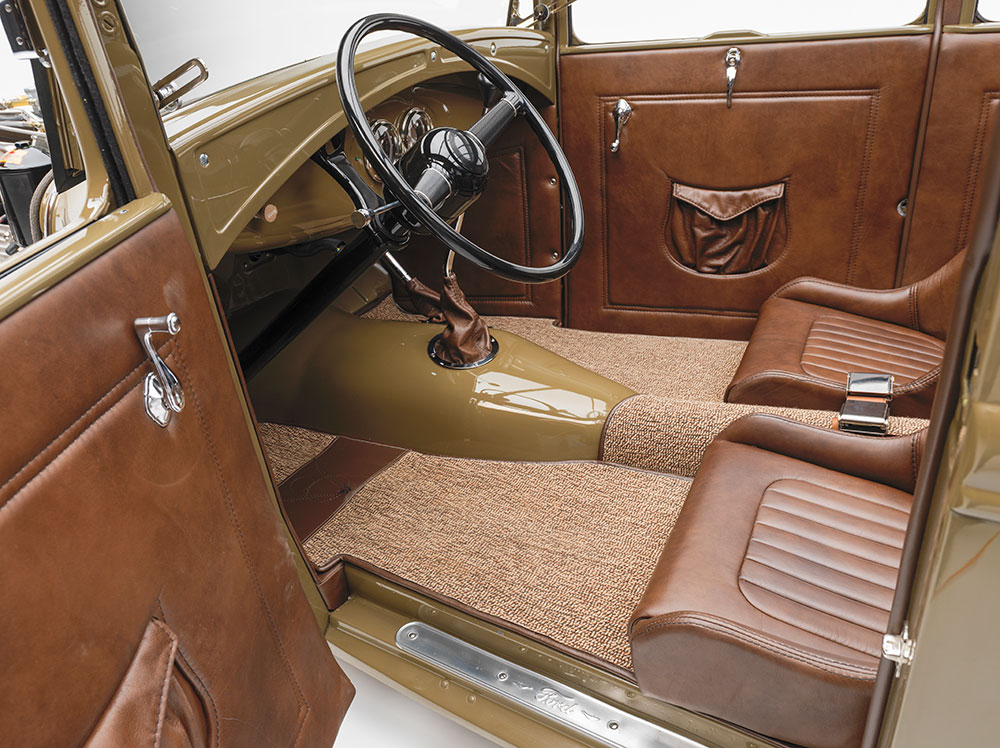 Other engine accessories include a smooth aluminum water pump and electric fan cooling the custom-built Griffin radiator. There's also the Powermaster duo of an alternator and starter. Next is an XS Power battery mounted inside the steamer trunk located in the back seat area. Matched to the Flathead engine is a C4 Ford transmission that's run through its gears by a Lokar shifter with the power delivered to the rear end via a Denny's Driveshafts tube.
Read More: Ford Highboy Coupe With Plenty Of Attitude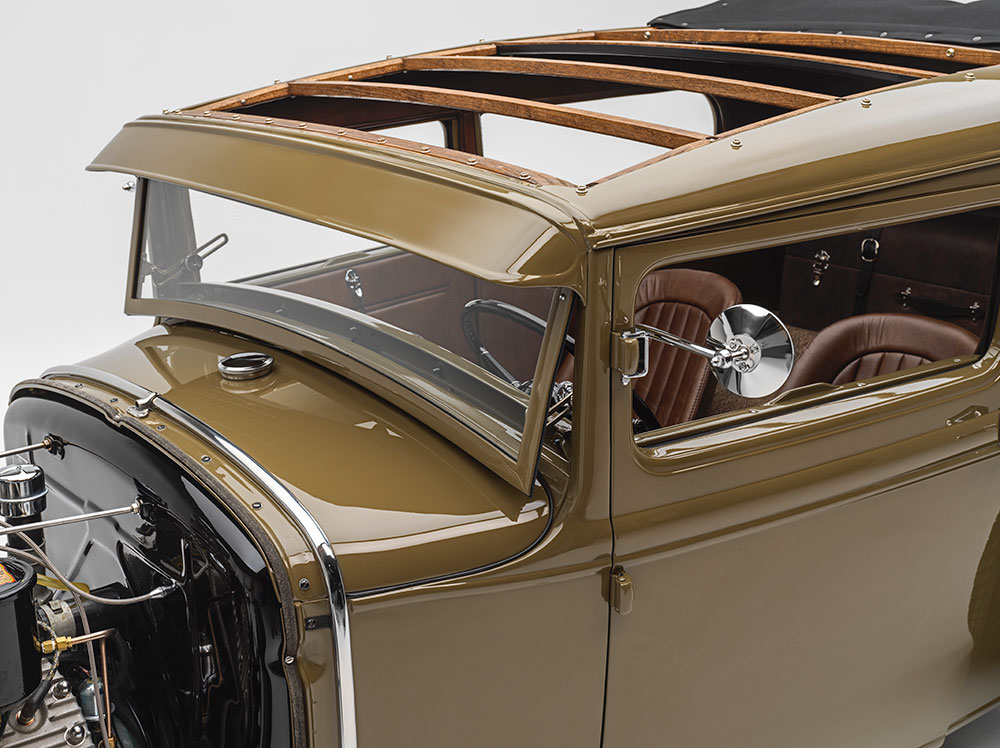 As mentioned earlier, the body began life as a 1931 Ford Tudor sedan that was chopped 5 and channeled 4 inches. The Tudor runs sans hood and fenders, while Tim handled the body- and paint work. He used a custom mix of brown and green hue from Axalta to achieve the final color. An interesting touch is the roof. As we all know Model A roofs are made up of a wooden frame, chicken wire, and then material on the outside. Here, Tim redid the top after contacting Ford Wood to use original material and configuration and then stained and varnished it as it's totally visible. From here modern convertible top material is used along with marine industry seals and then snaps shut. He tells us that it seals very well. Lighting is original—literally the headlights are from the day the Tudor sedan rolled off the assembly line. The taillights, while Model A, are doubled up—one per side.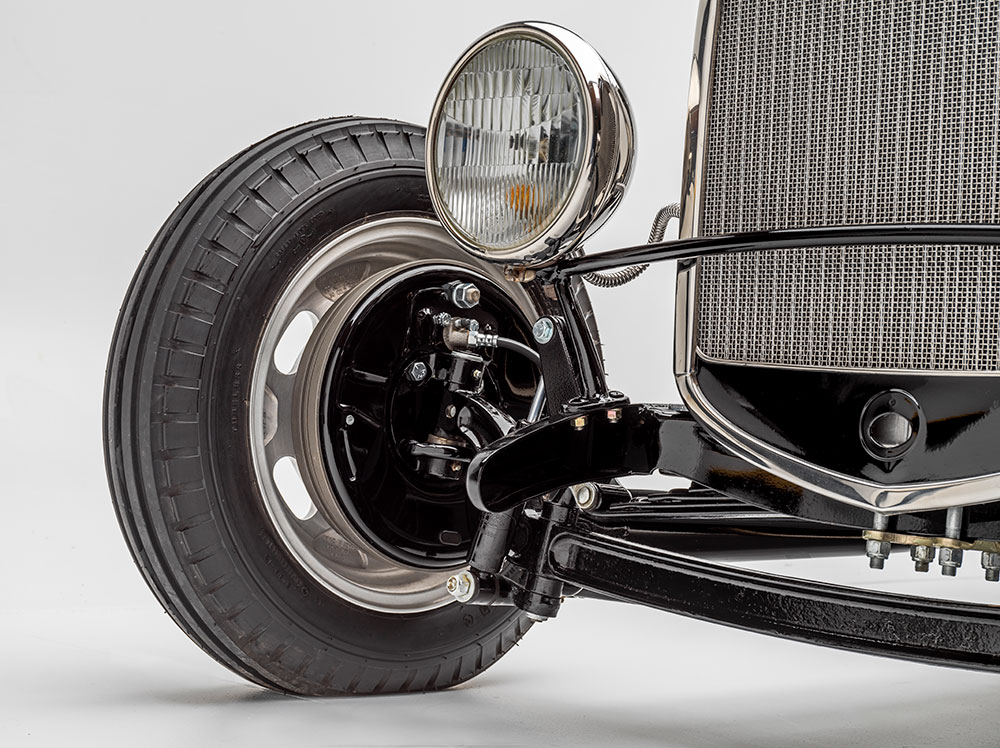 Inside, the 1931 Ford dash was mildly reworked to account for a center-mounted ignition key, diodes for turn signals and high beam, and a complement of Classic Instruments. The headlight switch is dash mounted to the far left. All the necessary wiring was handled by an American Autowire harness placed into position by Tim himself. The Flaming River steering column is twisted into action by a '40 Ford steering wheel. Note the use of a Lokar shifter. Sam Parson stitched the pair of Speedway Motors aluminum bomber seats in a brown Relicate leather as are the kick and door panels, while the carpeting is a mocha square weave. Note the transmission tunnel, while partially carpeted, is also metal finished and painted in body color.
Read More: Classic Car Restoration: 1931 Model A Ford
Well, now that this project is wrapped up, maybe Tim will have time to finish the 1961 Chevy Impala convertible he has promised Staci, his wife! A true hot rodder should always have multiple projects on tap. MR