Richard Johnson's '69 Camaro Carries Plenty of Old-School Style
By Nick Licata – Photography by Jason Matthew
"It all started when my son, Rick, and I got inspired after visiting Muscle Express in Jupiter, Florida," Richard Johnson recalls. "My longtime friend Danny was building Camaros, Chevelles, and other vintage Chevys and stuffing them with LS engines. He asked when I was going to build one for myself. I thought about it for a bit and knew my son was good at LS wiring and ECUs, and with Danny's connections it made sense, so I said 'Let's do it!'"
Richard, a machinist from New Fairfield, Connecticut, knows his way around vintage muscle. His forte is restoring numbers-matching cars with traditional small- and big-block engines and stock suspension bits, so this project would take him down a slightly new road.
Richard found a '69 Camaro through his buddy John Curra. It was an all-original, green six-cylinder car that had been sitting in a garage for over 30 years. If there was anything positive about the COVID-19 pandemic it's that it provided Richard with the free time to dedicate seven days a week to work on the car. "I installed new quarters, Detroit Speed mini-tubs, two new fenders, and a cowl hood," Richard says. "I got everything lined up and ready for bodywork and paint in a short amount of time."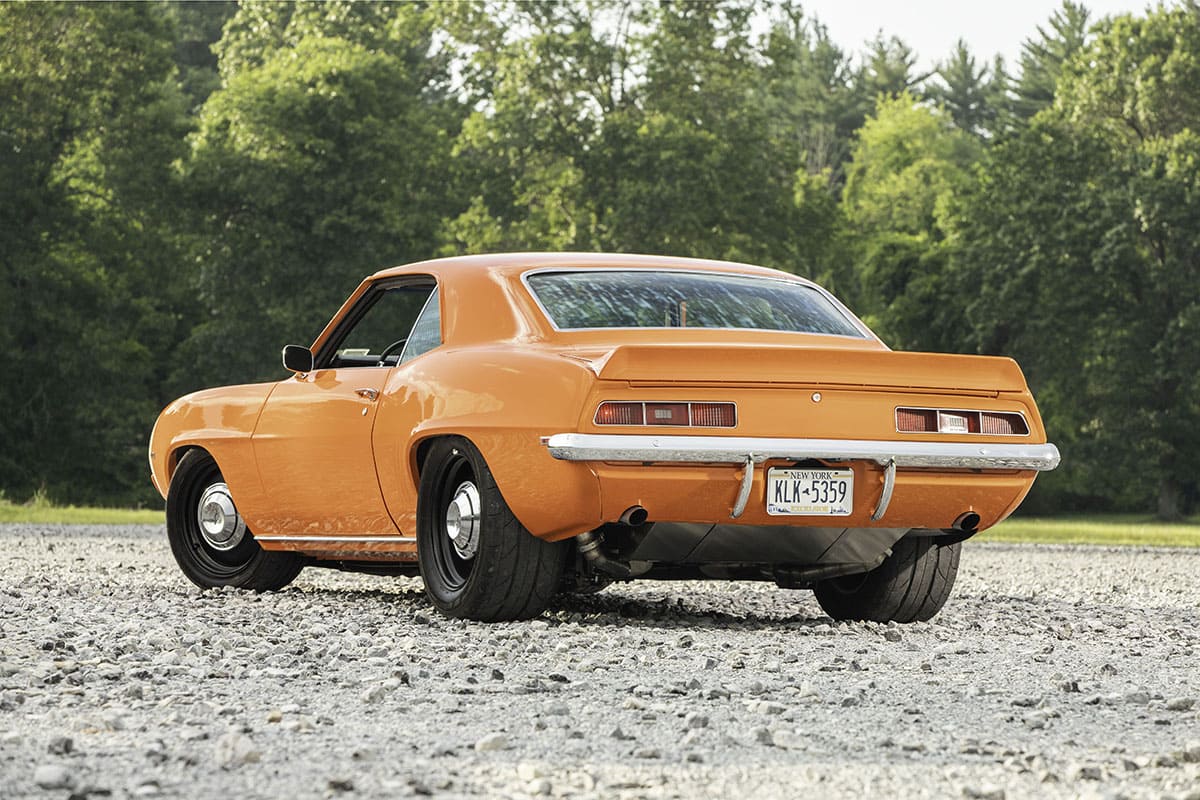 Nick Barreia out of Mahopac, New York, primed and sanded the body to perfection then sprayed the shell in Omni Hugger Orange pigment. Due to Richard's deep roots in period-correct restorations, he had Tommy Forrest (The Artist) stop by to lay down the DX-1 white stripes for some old-school performance flair. From there, Barreia hit the car with three coats of clear then wet-sanded and polished the Camaro to a mile-deep finish. While that was going on, Tennessee Chrome Plating restored and polished the door handles, side mirrors, rear bumper, and other bits to a like-new condition.
With the body looking stellar, Richard then ordered up a Roadster Shop (RS) SPEC chassis. "I wanted to check out their shop, so I loaded up my trailer and headed to Mundelein, Illinois, for the 22-hour round trip," Richard says. "The Roadster Shop's Phil Gerber was kind enough to give me a shop tour, and I have to say seeing their facility in person was well worth the trip. That place is top-notch."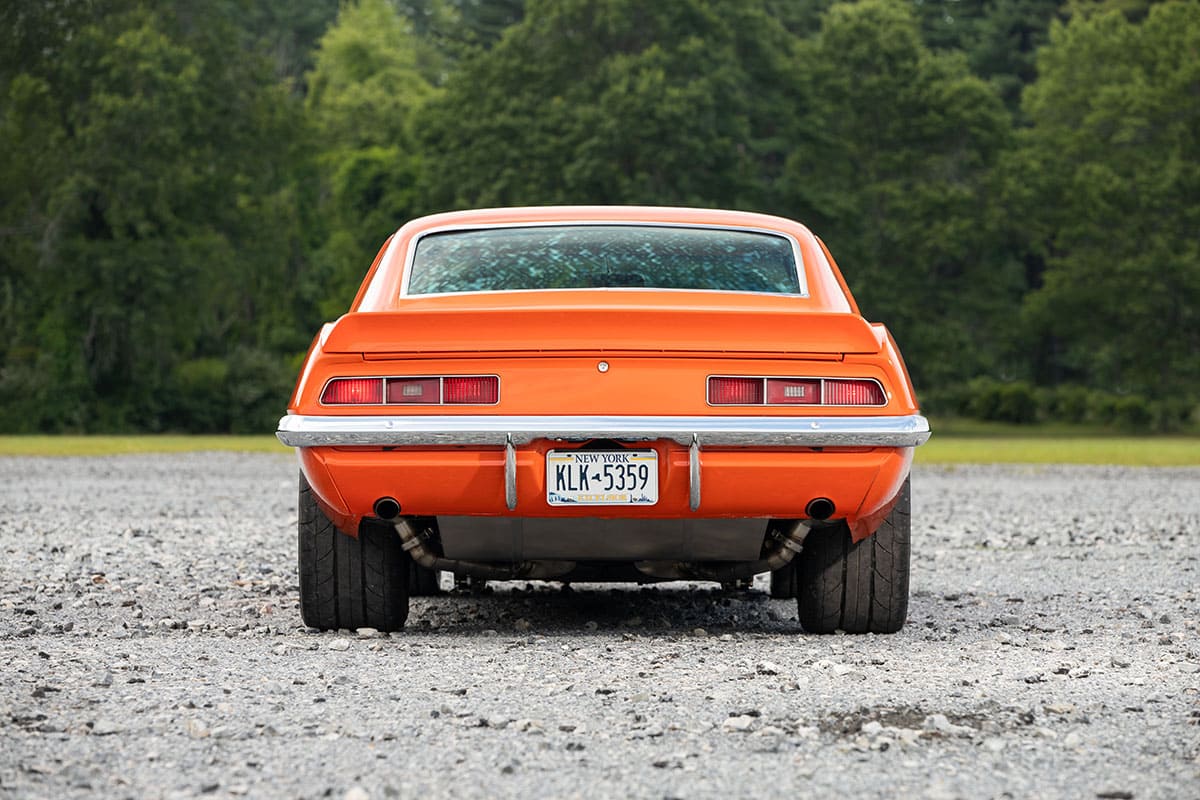 The RS SPEC chassis came loaded with Strange single-adjustable coilover shocks up front with Wilwood Pro Spindles to not only to get the correct stance but for a lower center of gravity, enabling enhanced handling performance. Out back, the four-link suspension system also employs Strange single-adjustable coilover shocks. A four-piston Baer brakes setup with 11-inch rotors take up residence on all four corners. Richard chose a Right Stuff brake booster for the ideal pedal feel, while a Wilwood adjustable proportioning valve gets the front-to-rear brake bias just right.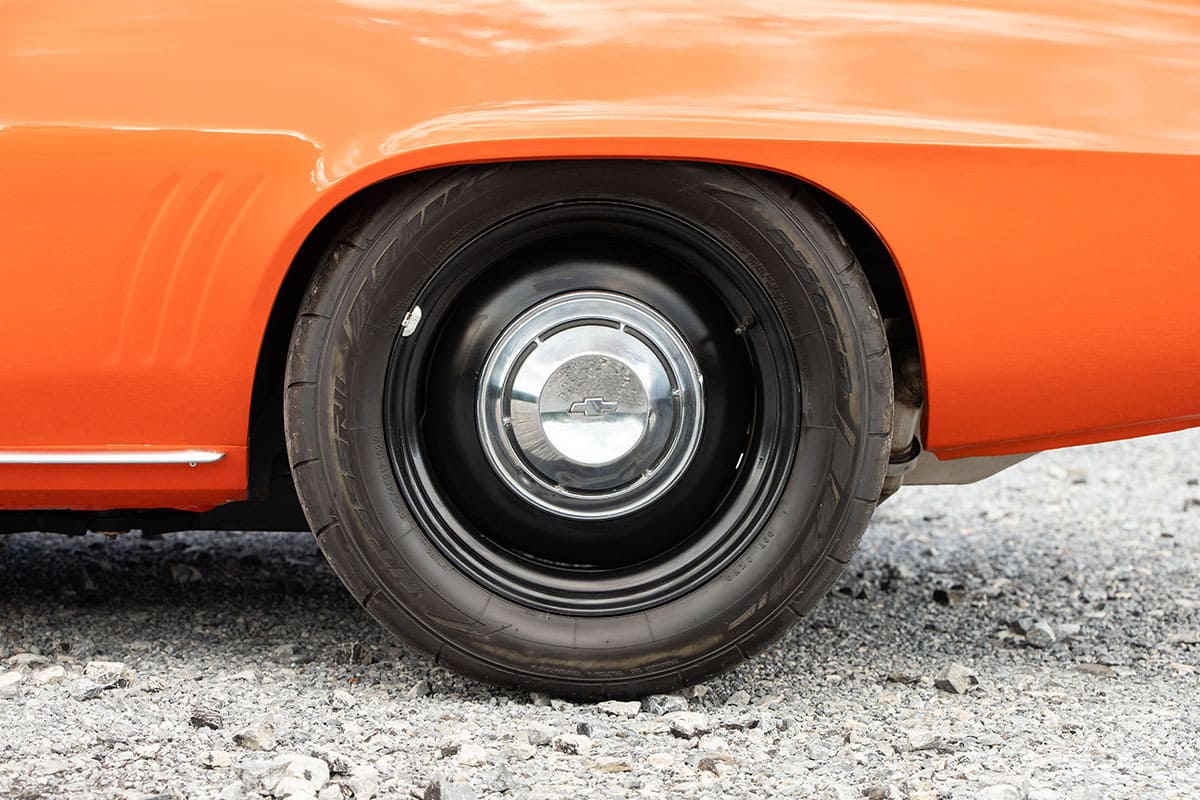 Once more influenced by his restoration background, Rick went with a set of U.S. Wheel OE Series 657 wheels all around (17×8 up front and 17×10 out back) wrapped in Nitto NT555 R11 rubber (245/45R27 front, 305/45R17 rear). The stock-looking wheels give the car a slightly denounced attitude, while the contrasting stance sends a clear message that this car means business.
Carrying through with the LS platform for power, Richard went to Chevrolet Performance and ordered up an LS 376 (6.2L) crate engine. It's a perfectly capable mill to fit his reliability and performance needs. For improved airflow and a more boisterous tone, Rick bolted up a set of Ultimate Headers 1 7/8 headers and let Al Bonamici, also known as The Mad Scientist, from VRD Customs weld up a custom 3-inch exhaust topped with a pair of Borla ProXS mufflers. Richard gives props to Bonamici for making his exhaust system look like "a work of art." A Vintage Air Front Runner accessory drive system looks tidy behind the DeWitt's aluminum radiator.
An over-the-counter GM 6L80E transmission and 3,000 stall torque converter readily accepts the power generated by the perky LS and sends twist to the Strange 9-inch rearend packing a Truetrac posi unit with 3.71:1 gears and 31-spline axles. It's a solid foundation that has the utmost strength and quality with the ability to deliver uneventful highway manners and the capability to get this Camaro out of the hole in a jiffy.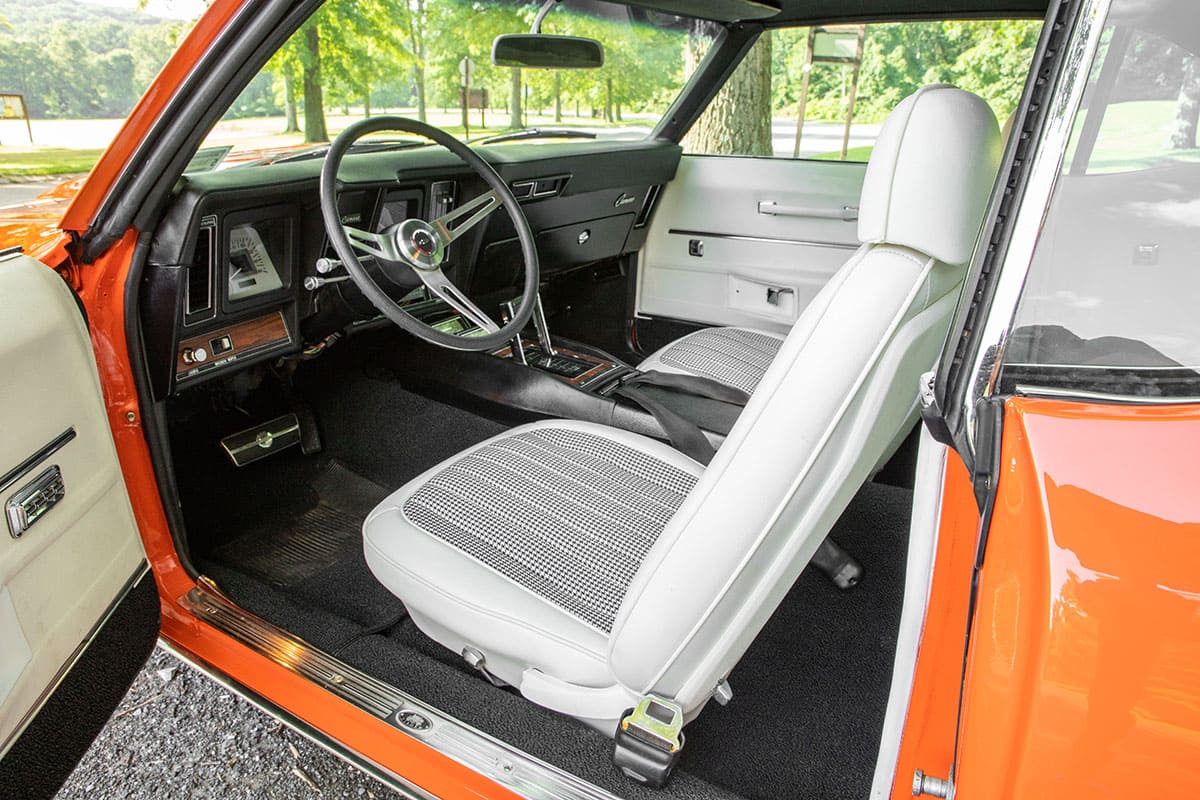 Continuing onto the car's business center, the interior pulls ingredients from the car's stock exterior appearance where Richard, with the help of Al Knoch, did the renovation process using factory-style white door panels, black carpet, then garnished the bucket seats in white and black houndstooth coverings. Barely stepping away from the stock vibe, Richard loaded the factory dash and center console with Dakota Digital VHX gauges. The Vintage Air control panel propped in the factory location conforms with the car's original-looking theme. It's all connected via an American Autowire harness.
Richard's '69 Camaro might come off as just another lowered F-body, but a closer look reveals a no-nonsense approach to building a muscle car with unmatched quality that could easily get overlooked at first glance, while a good walk-around reveals numerous crafty nuances that set this car a good distance from every other Hugger Orange first-gen Camaro.
So far Richard marks driving the car and showing it at the Syracuse Nationals as a highlight and he enjoys driving it on a regular basis. With that said, he claims building a car like this takes teamwork and would be remiss if he didn't thank everyone involved. "My two sons, Matt and Rick, were a huge help, as was Al Knoch, Nick Barreia, Tommy Forest, Al Bonamici, and Danny Giustino. Without them, this car would have never come together with the quality and craftsmanship it has, especially in the span of just one year."
ACP
TECH CHECK
Owner: Richard Johnson, New Fairfield, Connecticut
Vehicle: '69 Chevy Camaro
Engine
Type: Chevrolet LS3
Displacement: 376 ci
Compression Ratio: 10.7:1
Bore: 4.065 inches
Stroke: 3.622 inches
Cylinder Heads: Aluminum L92-style port with 68cc chambers
Rotating Assembly: Nodular iron crankshaft,  Powdered metal connecting rods, Hypereutectic aluminum pistons
Valvetrain: Stock GM LS3
Camshaft: GM Hydraulic roller, (0.551/0.522 lift, 204/211 deg. duration at 0.050)
Induction: Stock LS3 with Spectre element
Assembly: GM
Exhaust: Ultimate Headers 1 7/8 to 3½ collector (coated by Central CT Coatings East Hartford, CT), 2½-inch custom exhaust by VRD Customs, Borla Pro XS mufflers
Ancillaries: Vintage Air Front Runner accessory drive system, Rick's polished stainless steel fuel tank, DeWitt's aluminum radiator, all stainless plumbing
Output: 430 hp at 5,900 rpm, 425 lb-ft at 4,600 rpm
Drivetrain
Transmission: GM 6L80E, GM 3,000 stall converter
Rear Axle: Strange 9-inch, Truetrac posi, 3.70:1 gear ratio, Strange 31-spline axles 
Chassis
Chassis: Roadster Shop SPEC chassis
Front Suspension: Strange single-adjustable coilover shocks, Wilwood Pro spindles, rack-and-pinion steering, stabilizer bar
Rear Suspension: RS four-link, Strange single-adjustable shocks, stabilizer bar
Brakes: Baer 11-inch rotors, four-piston calipers front and rear 
Wheels
Wheels: U.S. Wheel OE Series 657, 17×8 front, 17×10 rear
Tires: Nitto NT555 R11; 245/45R17 front, 305/45R17 rear 
Interior
Upholstery: Black loop carpet, stock door panels by Al Knoch
Seats: Vinyl with white houndstooth cloth inserts by Al Knoch
Steering: ididit column, Classic Industries three-spoke comfort grip steering wheel
Shifter: Stock GM Horseshoe
Dash: Stock
Instrumentation: Dakota Digital VHX with console gauges
Wiring: American Autowire
HVAC: Vintage Air 
Exterior
Bodywork and Paint: Nick Barreia
Graphics: DX-1 Stripes by Tommy Forrest
Paint: Hugger Orange
Hood: GM Cowl
Glass: Auto City Classic (Isanti, MN)
Grille: Stock
Bumpers: Custom-painted steel front, stock rear
Chrome Plating: Tennessee Chrome Plating (Elizabethtown, TN)