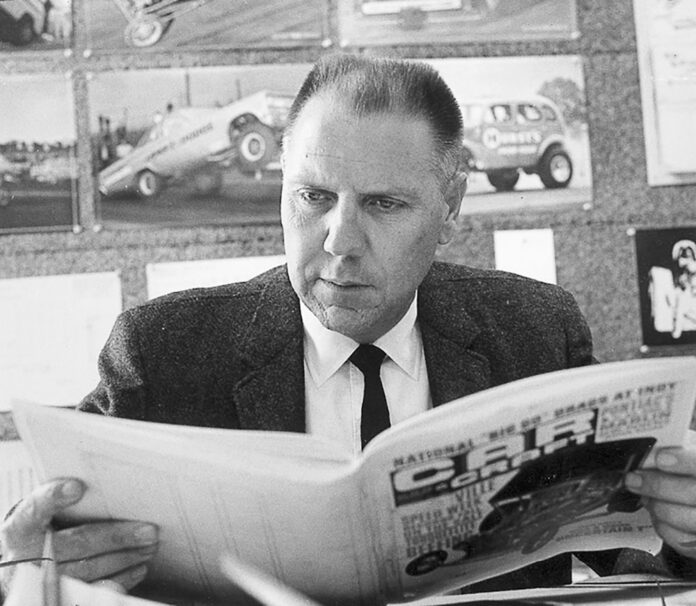 Part 2: The Early Days of Racing So-Cal Speed Shop & the Performance Industry
By Greg Sharp – Photography Courtesy of the Greg Sharp Collection
"We were so disappointed the streamliner was wrecked for a while we weren't going to do anything" he recalls. "We were so saddened by what had happened at Daytona." Dailey had been in a coma for 30 days but eventually recovered.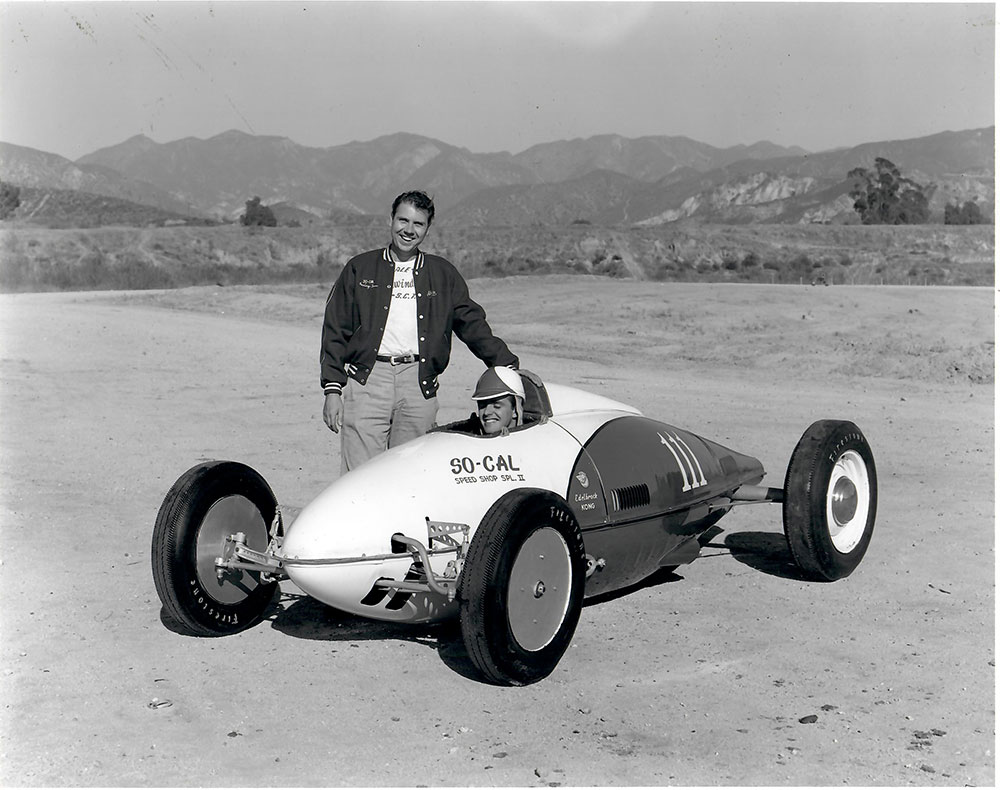 Of course, another streamliner could have been built but it would have been much more expensive than the original. One day Alex Xydias looked up in the rafters and saw the old belly tank body, so he decided to go belly tank racing again.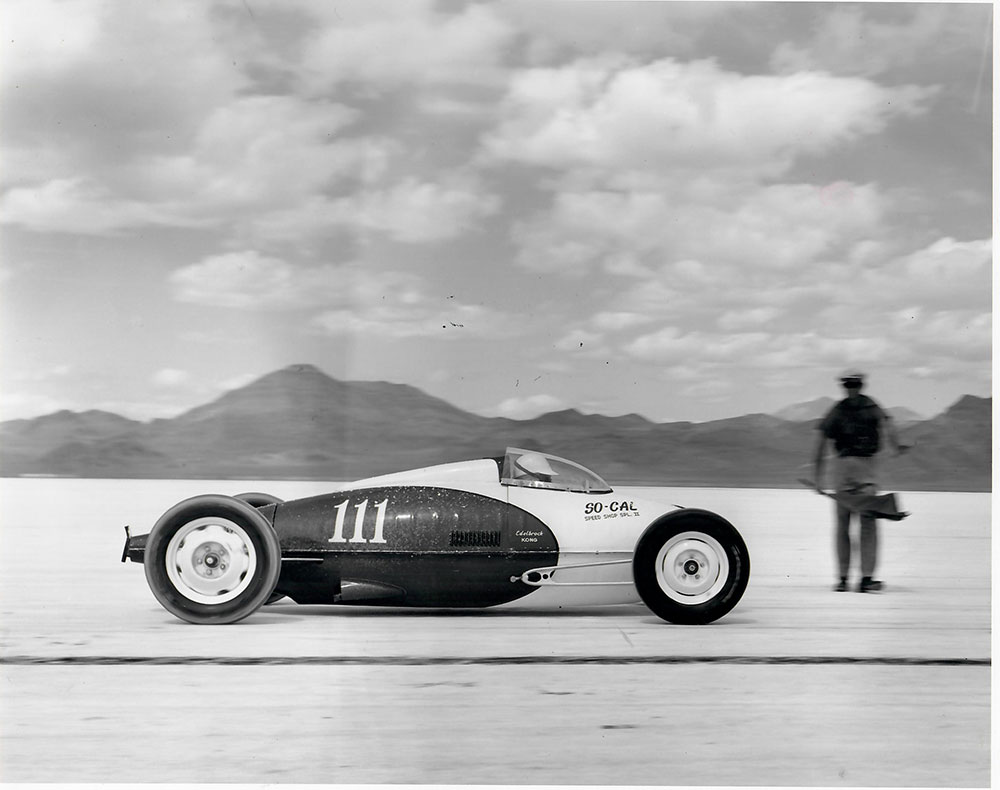 Dave DeLangton worked at the shop and was assigned to build the chassis. Despite the streamliner's success, Alex had always been a little embarrassed that it was based on a Model T frame. DeLangton formed a new frame from 10-gauge steel bent into U-shaped 'rails. The rest followed normal hot rod practice. In front was a Model A axle with a transverse spring dampened by Hartford friction shots mounted parallel to the axle. Out back was again a Ford rear end with a Halibrand quick-change bolted directly to the frame.  DeLangton was a bit of a weight freak and drilled lightening holes everywhere, including the brake backing plates. In keeping with the clean, neat image of So-Cal, most removable parts were cadmium plated; a fairly new process at the time. The tank itself was cut to allow the car to sit lower and a plexiglass canopy from a racing plane was added along with a P-38 steering yoke. War surplus was still very much a part of hot rodding.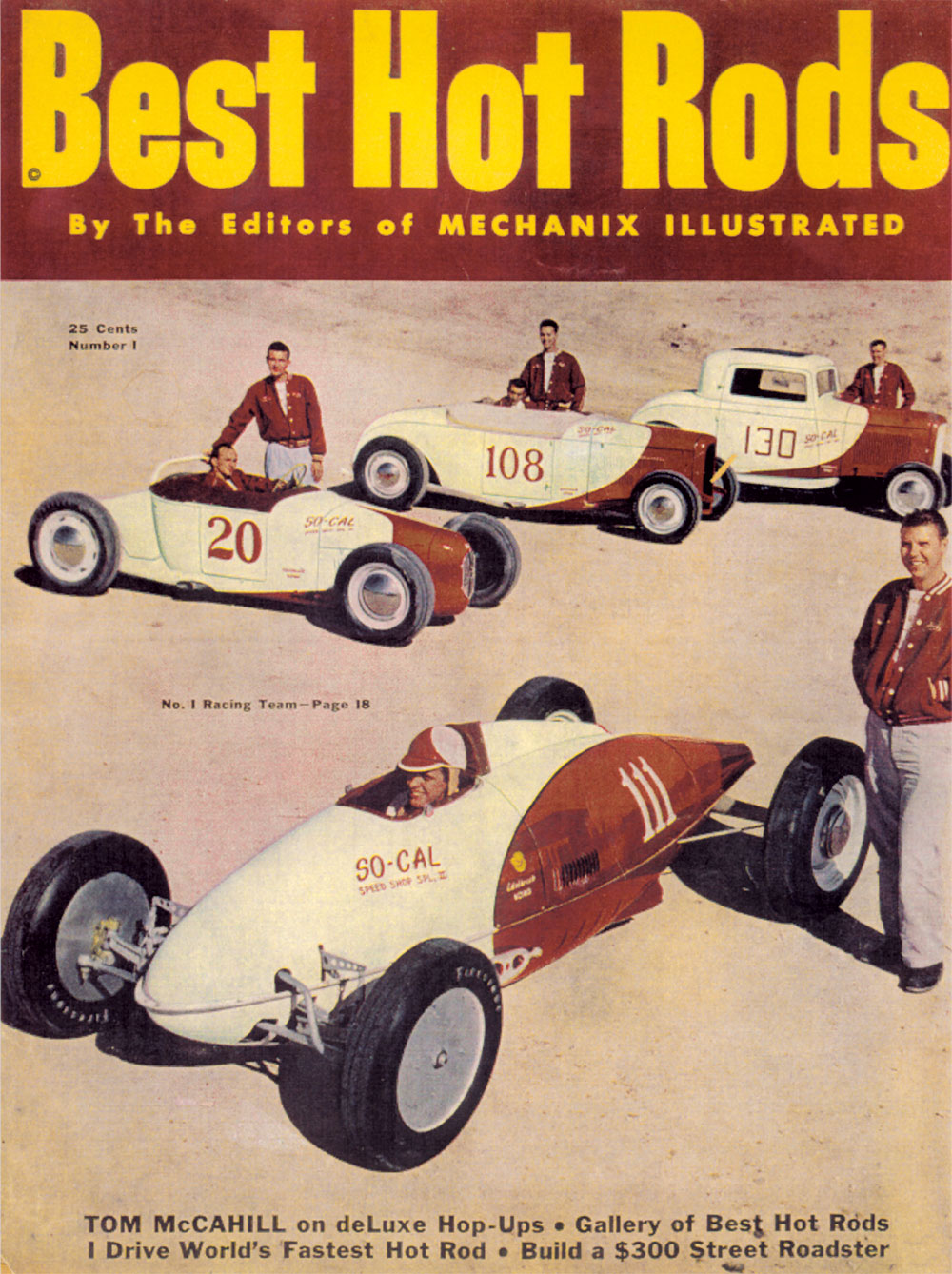 Although the streamliners were getting most of the attention by 1952, the closest competition of the entire event was the duel between the Alex Xydias and Clyde Sturdy lakester and that of Hooper and Brown. DeLangton had been drafted to fight in Korea and Clyde Sturdy had replaced him on the team. As usual, Alex brought three different flatheads for entry in three classes. The Hooper lakester was powered by a Ray Brown Chrysler Hemi. A sign in the back window of Alex's pickup read "God Bless the Flatheads!" This would be the showdown between the Ford Flathead and Mercs that had been the staple of hot rodding for decades and the new overhead valve engines from Detroit.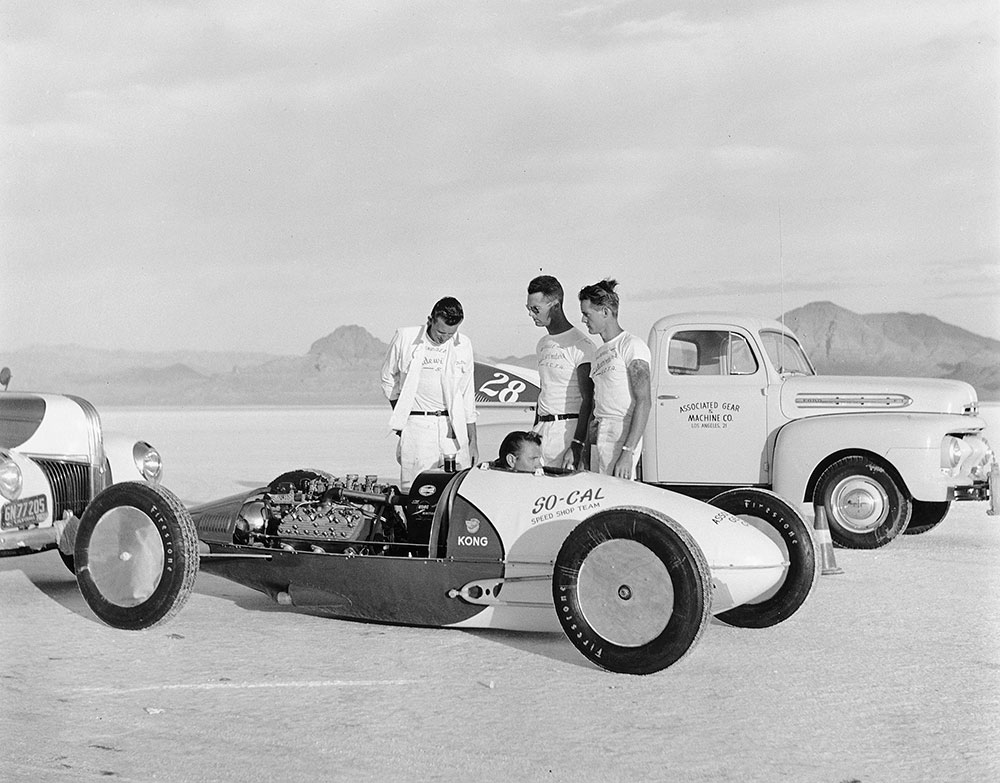 Read More: Racing History: Alex Xydias The Man Behind The Famous So-Cal Speed Shop
Early in the meet, Alex captured the "A" Lakester record at 152.43 mph using the little V8-60, and the "B" Lakester record at 181.085 powered by a 259-cid Merc. The big Class "C" engine was a 296-cid Merc.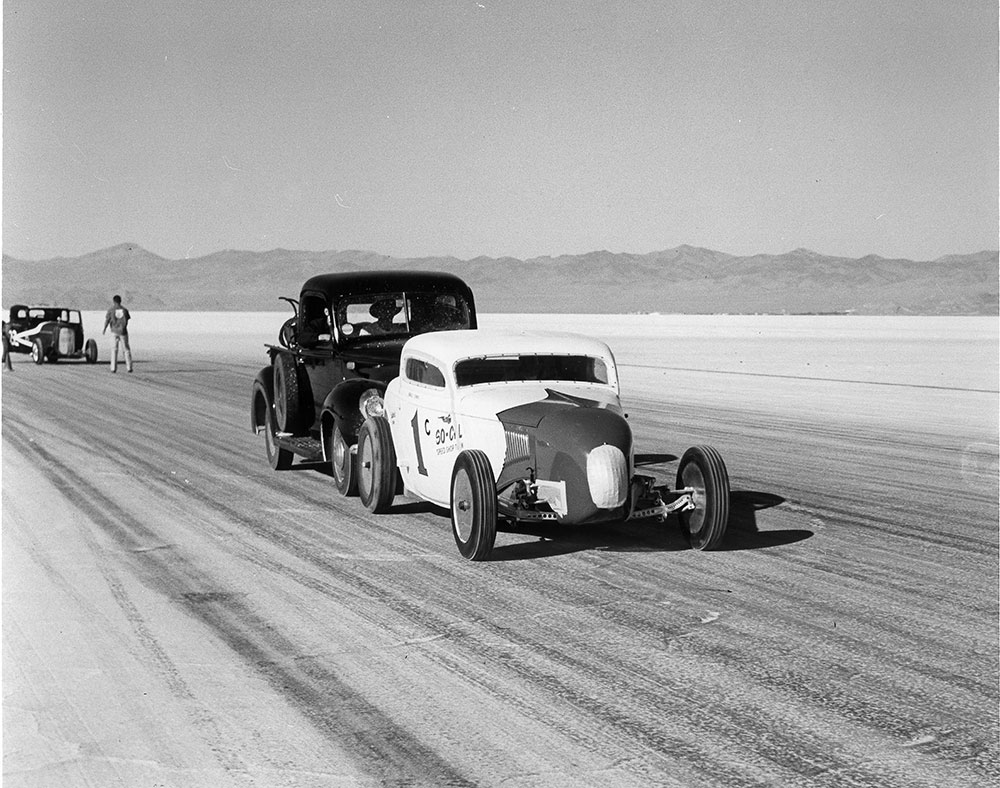 Brown built a 302-cid destroked Chrysler engine to fit in the "C" class. Both cars made many runs down the salt with less than 1 mph difference in speed. Bobby Meeks slowly increased the nitro percentage, finally stopping at 40 percent. The back-and-forth battle continued until Sunday, the final day of the meet. The final run was Sturdy's turn to drive, but he told Alex he was too nervous to drive. Alex protested but climbed back in the tank. Entering the traps, the tach stopped climbing. The mighty Ford Flathead had burned a valve. They gave it their all but the Flatheads could do no more. As it turned out, Alex and Sturdy set the fastest qualifying speed of 198.34 mph (almost 200 mph with a normally aspirated flathead in an open-wheel car!) but the Brown-Hooper tank set a two-way average record of 197.88 mph.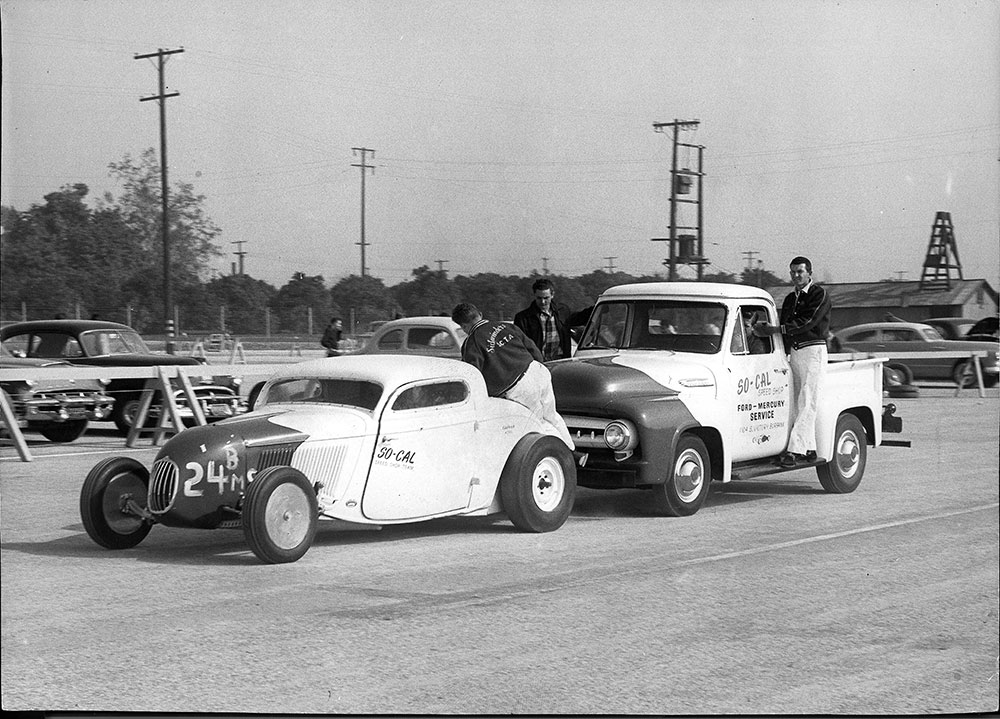 Despite missing out on the "C" record, the 1952 Bonneville Nationals was very successful for So-Cal. They won three First Places for the fastest qualifying time in each class, two records, and the best appearing car and crew. A total of six trophies with one car at one meet. Sturdy bought the lakester and continued to run it with his own engine until it was no longer competitive.
Meanwhile, drag racing was becoming popular and, besides, you could go to drag races every weekend instead of once a month at the dry lakes or once a year at Bonneville. Alex decided he wanted to build a dual-purpose coupe, one that he could use for drag racing as well as the dry lakes and Bonneville. Jim Grey and Russell Lanthorne from Oxnard had built a chopped 1934 Ford 3-window coupe with a genuine Frank Kurtis race car nose and powered by a six-cylinder GMC. Running it at the 1951 Bonneville Nationals, they turned a 153.061-mph average, finishing Fifth in their class behind Dawson Hadley in the former Pierson Brothers coupe.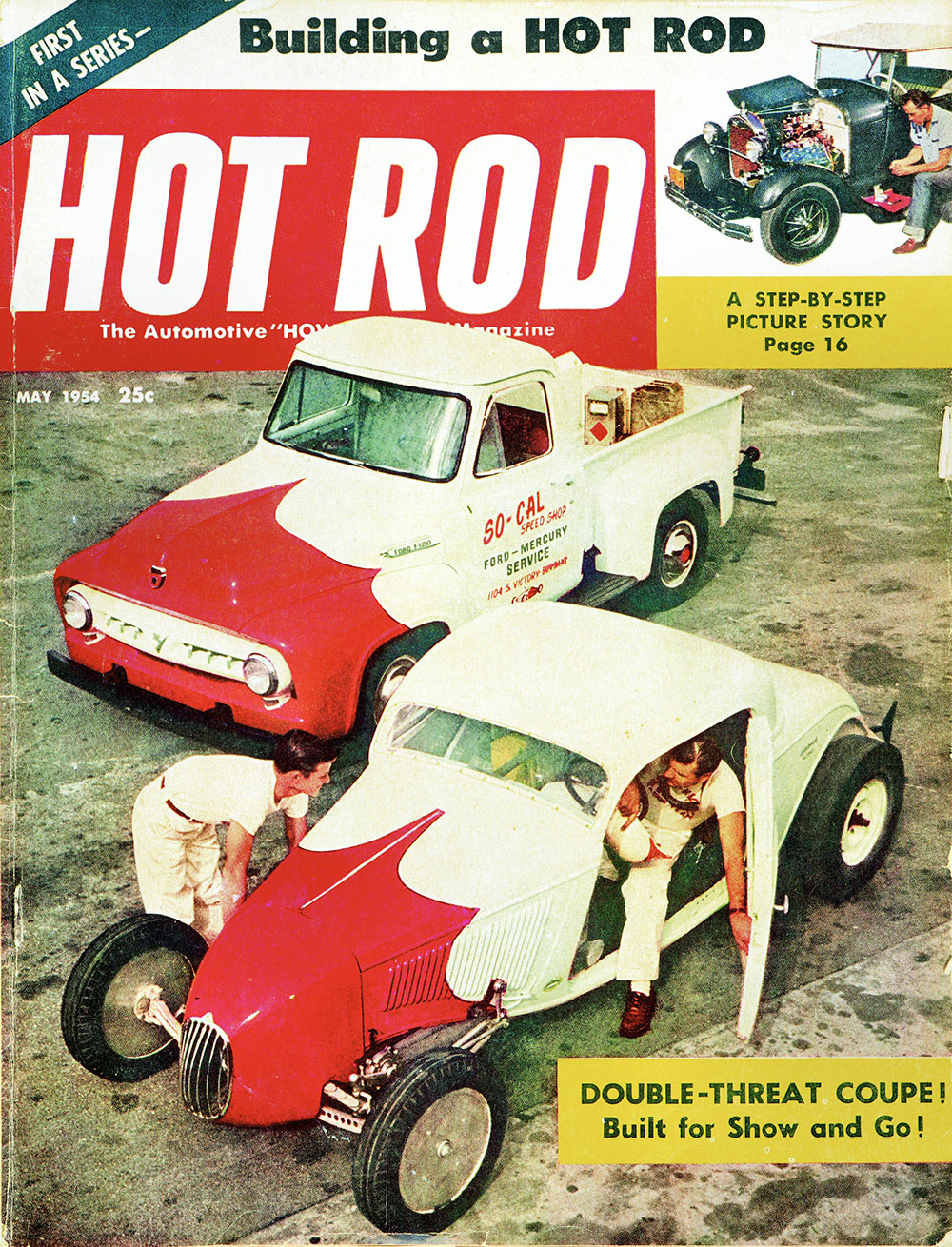 When the Grey and Lanthorne coupe came up for sale Alex bought the car because "what really interested me was the opportunity to not have to start from scratch." What followed was an interesting arrangement. Buddy Fox and Tom Cobbs had captured the 1952 SCTA championship and the right to carry the No. 1. But they needed a new car to house their unique front-mount blower setup engineered by Cobbs. Alex agreed to loan them the '34, provided it was run as a So-Cal team car, but carrying Fox and Cobbs' No. 1. At the 1953 Nationals, the So-Cal team impressively carried No. 1 on the coupe and No. 2 on the belly tank.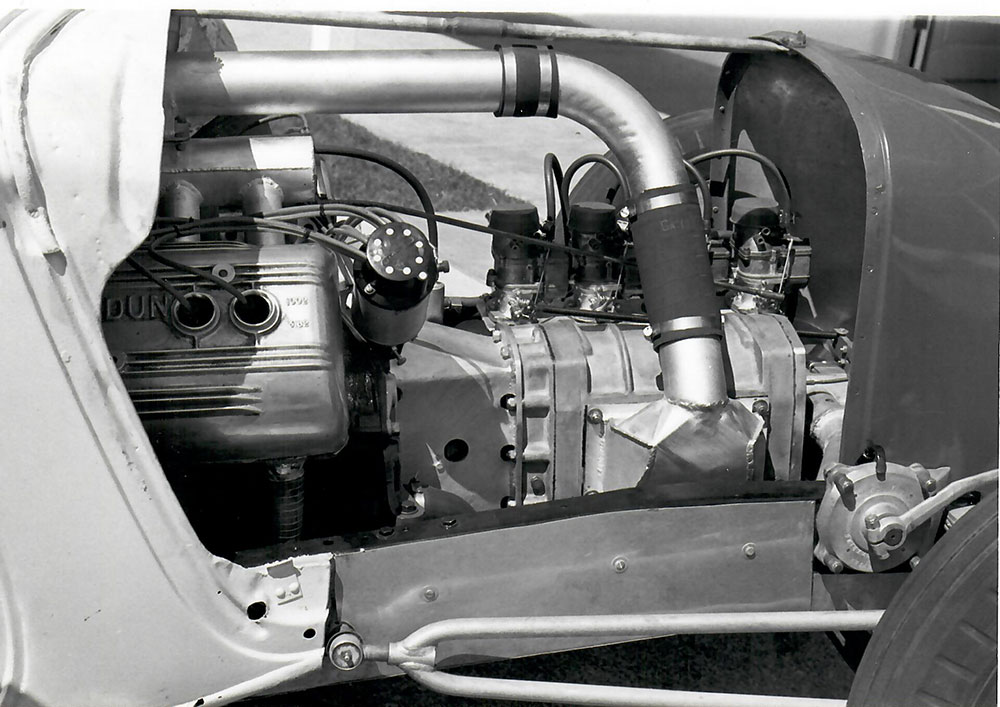 At the 1953 Bonneville Nationals Fox and Cobbs won the "C" Competition coupe class, qualifying at 173.07 and a record two-way speed of 172.249 mph. Alex reclaimed his coupe, gave Cobb his blower back, and he and Buddy went drag racing. With the unblown Flathead at Pomona, the B/Modified Coupe turned 121.16 mph—a full 15 mph faster than anyone had gone in the class.
Read More: Ford Never Had This in Mind When Designing the 1971 Ford Ranchero
In the meantime, Alex purchased a brand-new set of ARDUN heads from a customer. As you can certainly sense by now, he was a hard-core Ford fan, and the ARDUN heads gave him the opportunity to be dragged, clawing and scratching, into the overhead valve era but still remain loyal to the Flathead. Another customer had a 4:71 blower for sale and Alex put it and the ARDUN heads out of sight behind the counter.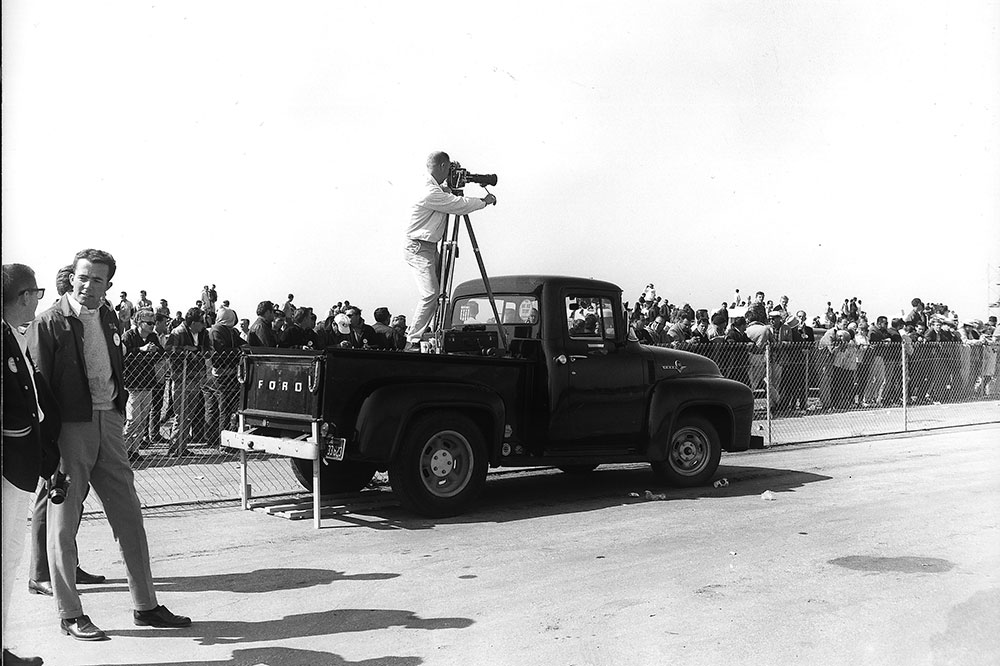 Alex's team worked on the coupe every night at Fox's place in Santa Monica to get it up to So-Cal standards. Sometime after the coupe was photographed for the May '54 cover of Hot Rod as the "Double Threat Coupe"—the team's unprecedented fifth such appearance—the top was re-chopped, giving the coupe an even sleeker profile and making the back window nothing more than a mail slot.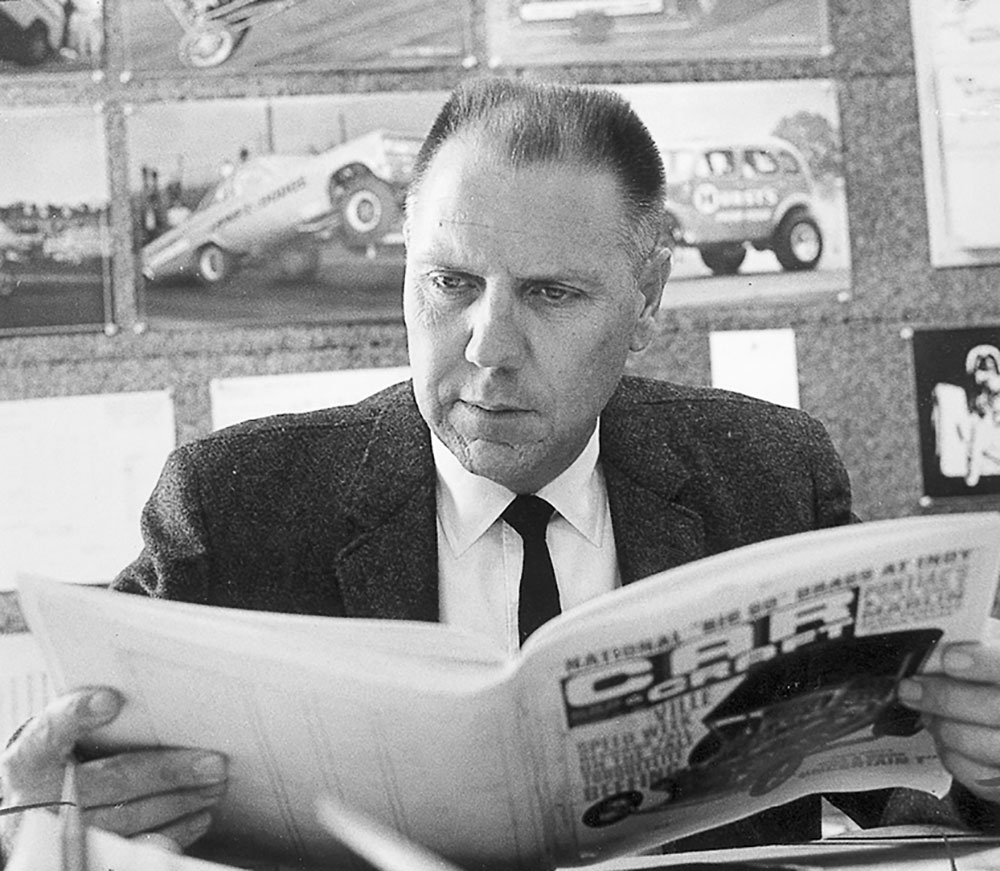 In Hot Rod, Bob Greene epitomized the style, class, and performance of Alex's So-Cal team. He wrote: "Owner Xydias, who is better known to his friends as 'The Greek,' can be credited with having done more toward improving the appearance of car and crews in the field of hot rod competition than any other participant. The red and white cars he sponsors, in addition to his own, with their white-clad crews have become a familiar part of the West's outstanding hot rod sports events." This certainly reinforced the cover story on the 1952 Best Hot Rods published by Mechanix Illustrated, which referred to So-Cal as the "No.1 Racing Team." Uniforms were fairly common in the circle track world—especially at the Indy 500, but were virtually non-existent in hot rod racing until So-Cal did it. At the time the team consisted of Fox and Cobbs, Bill Barker, Keith Baldwin, Bill Dailey, Clyde Sturdy, Loren Miller, and Dave DeLangton.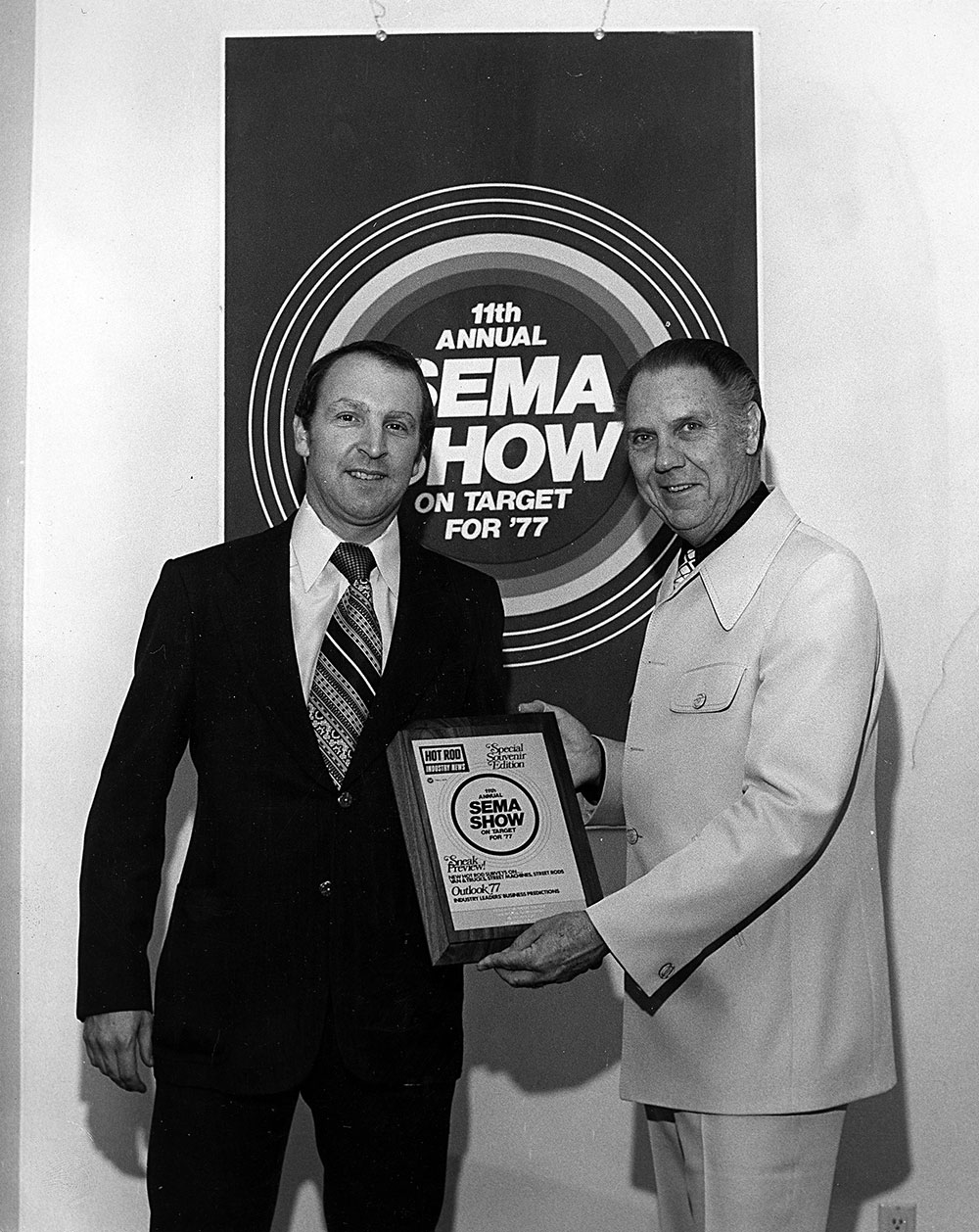 The coupe was finished in time for the 1954 Bonneville Nationals using the ARDUN heads together with the Cobb front-mount blower setup—but barely. A pass up and down Sepulveda Boulevard proved that it would run and it was off to Utah. Attempts to run on the salt were met with popping and banging and not much else. A twisted blower driveshaft and a bad condenser in the magneto made for a very disappointing debut, turning just over 170 mph.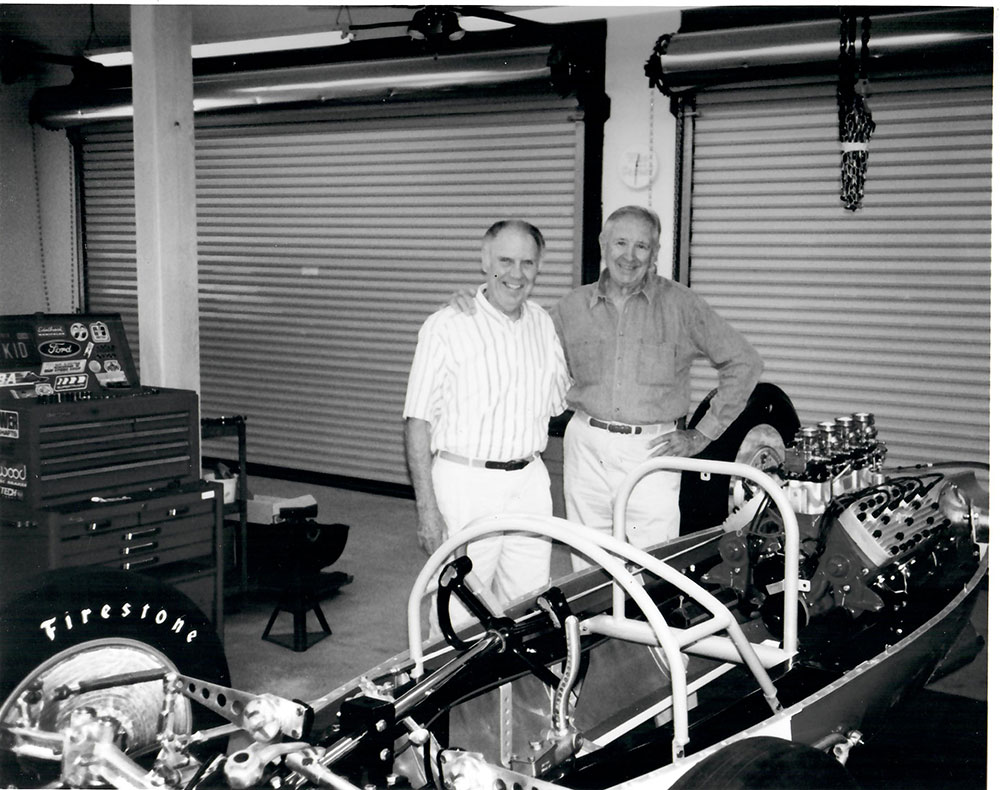 But there was still drag racing. With the tuning, problems worked out it was back to Pomona. Running 10 percent nitro (which seemed pretty risky at the time) and long tube headers the blown ARDUN made such a distinctive noise that everyone turned to see what it was. On its first pass, Alex bumped the record to 132.79 mph. "The crew was jumping up and down and I was just stunned at the performance!"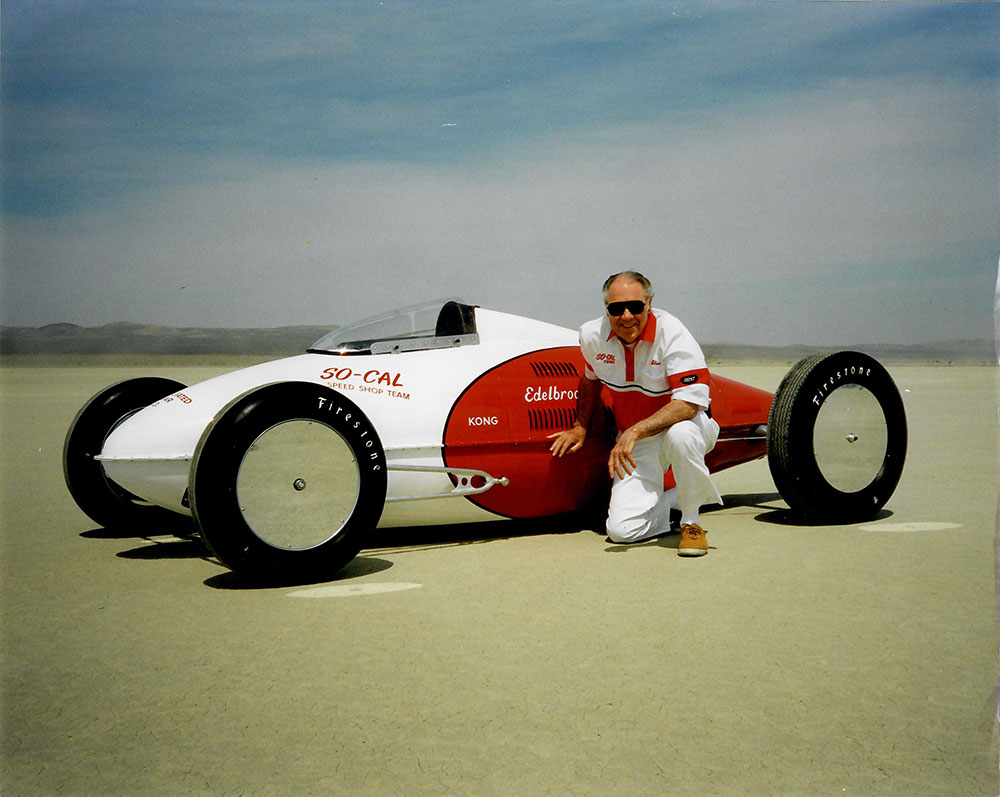 Then a large dose of reality set in. DeLangton (Alex's brother-in-law) was back from Korea and really wanted to drive. He was part of the team and worked part-time at the shop so it made perfect sense. He drove the second run turning 128. DeLangton told Alex that he wasn't winding it tight enough in Second gear. Alex liked to have the engine pull in high gear.
Read More: Classic Car Restoration: 1931 Model A Ford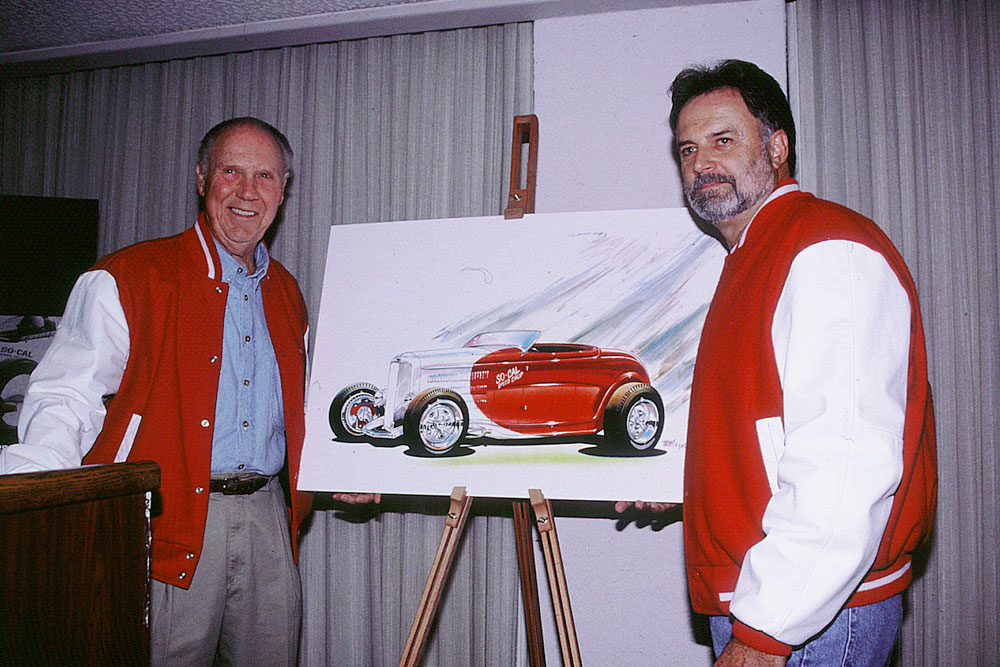 On the next run, DeLangton wound its way out in Second and when he went to shift the clutch exploded right through the bell housing. With no engine to slow it, the coupe continued on down the 'strip. Some of the pieces cut a fuel line, starting a fire and burning DeLangton so badly that he jumped out of the car while it was still moving. For the most part, safety equipment was a result of the tragedy. Fire suits were nearly a decade away and DeLangton had nothing on but a T-shirt. He was rushed to the hospital with third-degree burns everywhere. He died in the hospital four weeks later. Ironically, DeLangton was an L.A. County fireman. Alex was devastated. He went from the euphoria of breaking the record to the worst moment of his life in less than an hour. He was through with racing.
Almost following in his father's footsteps. Alex began filming auto racing events. Using a war surplus 16mm camera carried in an ammo box, he filmed races from Sebring and Daytona Beach to Bonneville, Pikes Peak, and the National Drags. He recalls it as being hard work. He had to spend hours driving to the race then film the entire event, turn around and drive home, then spend hours printing and editing the film. Obviously long before live racing was shown on television or the Internet, the movies were shown at local theaters, high school auditoriums, and occasionally local TV stations. His productions were very professional but it didn't take long to realize that he was ahead of his time and people wouldn't pay to watch racing movies. One film in particular, however, stood out. Produced in 1964 The Hot Rod Story was done in the style of On Any Sunday and narrated by Alex himself. The film still holds up very well today and opens with Alex stating, "This is a story about a climb up the mountain of respectability, skill, and creativity." While he was on the road filming, he virtually turned over operation of the Speed Shop to Keith Baldwin, and when Baldwin left Alex closed up shop for good.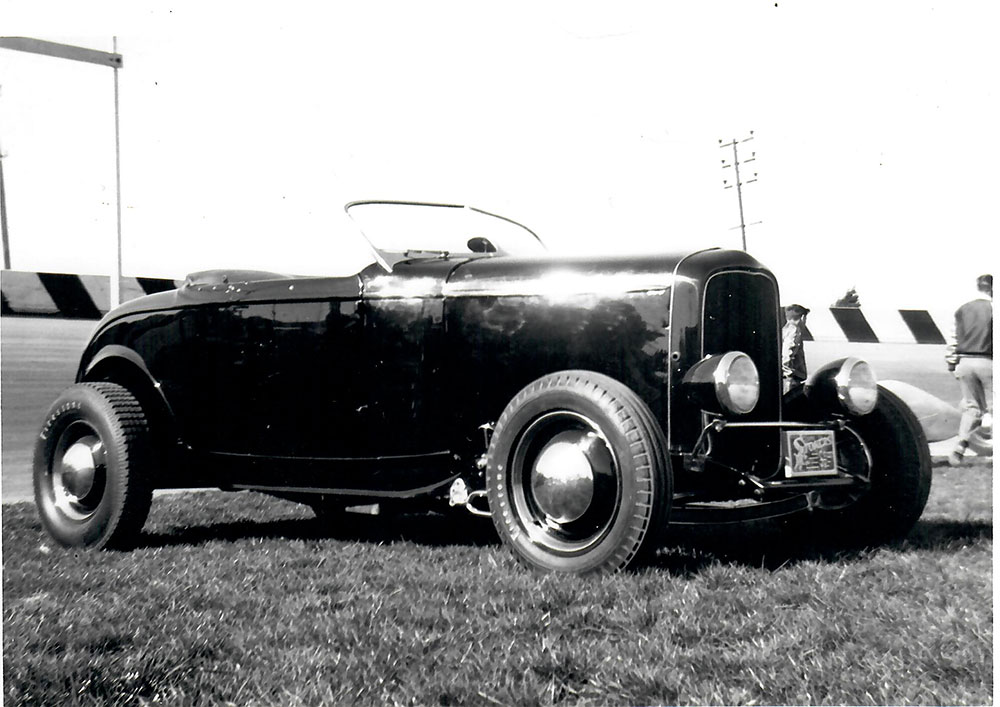 In 1965 he was named editor of Petersen's Car Craft magazine. Announcing his arrival, Editorial Director Dick Day wrote: "Too many of the veterans and pioneers of the sport the name Xydias will have a familiar ring as a guy who was one of the most colorful competitors of the postwar years at the Southern California dry lakes. The So-Cal racing team was a monogram that only appeared on hot rods of championship stock."
He stayed at Car Craft about a year before moving over to Hot Rod Industry News, Petersen's trade publication, as editor then publisher. During his tenure, he was director of some of the earliest trade shows that became the SEMA (then Speed Equipment Manufacturers Association) Show, now one of the world's largest such exhibitions.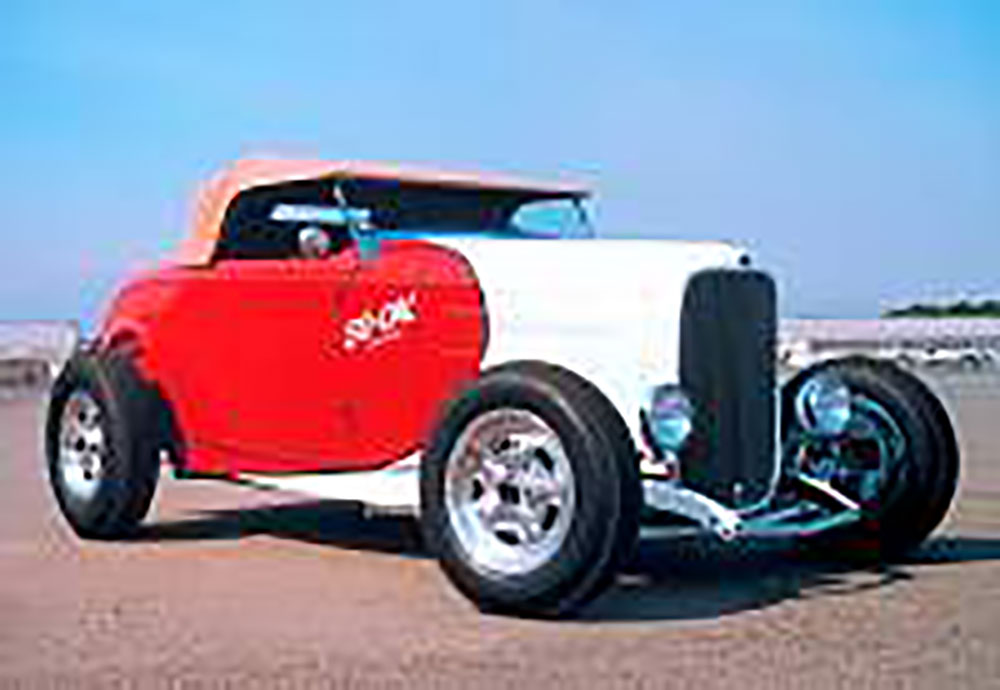 Ironically (again!), one of Alex's first editorials at Car Craft was on the subject of racing safety. "SEMA, composed of over 40 (!) leading speed equipment manufacturers, has formed a technical and safety committee. I couldn't help but get excited about this project." Unfortunately, as Alex was only too aware, advances in safety were rooted in tragedy.
Following his 12-1/2 years at Petersen, he teamed with Mickey Thompson to produce the SCORE Off-Road Equipment trade show. In 1987 he sold the rights to the show and retired. Sort of. He kept the So-Cal name alive by holding reunions of former staffers and customers and publishing commemorative catalogs. Three decades after closing So-Cal, Alex joined former So-Cal team member John Wolf to race his Modified Roadster at Bonneville. In 1994 at the age of 72, he legged Wolf's '27 T down the salt to the tune of 176 mph on a licensing run.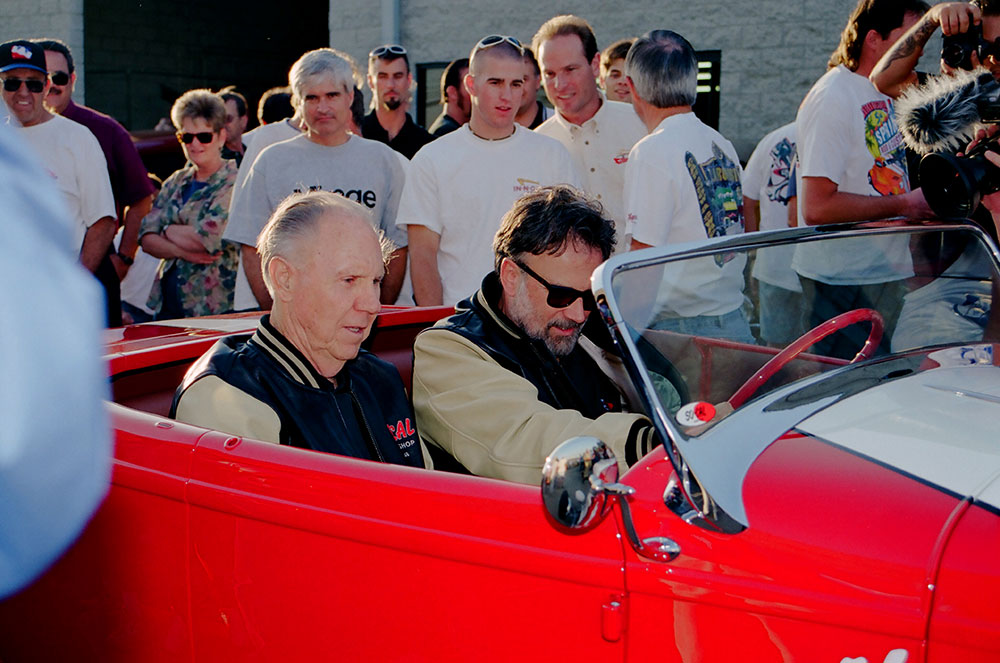 Then Bruce Meyer came along. In the early '90s, he commissioned Pete Chapouris to restore the So Cal Belly tanker, which began a sequence of events, resulting in the rebirth of the So-Cal Speed Shop. As Alex put it so eloquently, "Wow!"  Sometime after the restoration, Chapouris who had been in the hot rod business using several different names came upon the bright idea of combining forces with his fellow Greek, Alex Xydias. The two had hit it off famously during the tank's restoration and had a nearly father-son relationship. Plans began to fall into place, and in 1997 at the NHRA Museum's California Hot Rod Reunion in Bakersfield, California, a news conference was held to announce the new SO-CAL (all upper case) was born. More hot rod shop than speed shop, the facility in Pomona turned out many notable projects, including the restoration of the Doane Spencer and Bob McGee '32 roadsters, the Duffy Livingstone road race "T," AMBR winners, and a couple of customs for ZZ Top's Billy Gibbons.
A huge client called General Motors was looking for a way to publicize its new Ecotec four-cylinder engines and decided on Bonneville as a showcase. They contracted SO-CAL to build a Saturn Ion, a modern belly tanklike lakester, and a Chevrolet Cobalt SS. All, with accompanying trucks, were turned out in the familiar red-and-white SO-CAL pattern. They were so successful that Chevrolet ordered up a chopped, channeled, and lengthened Chevy HHR SUV to continue the effort.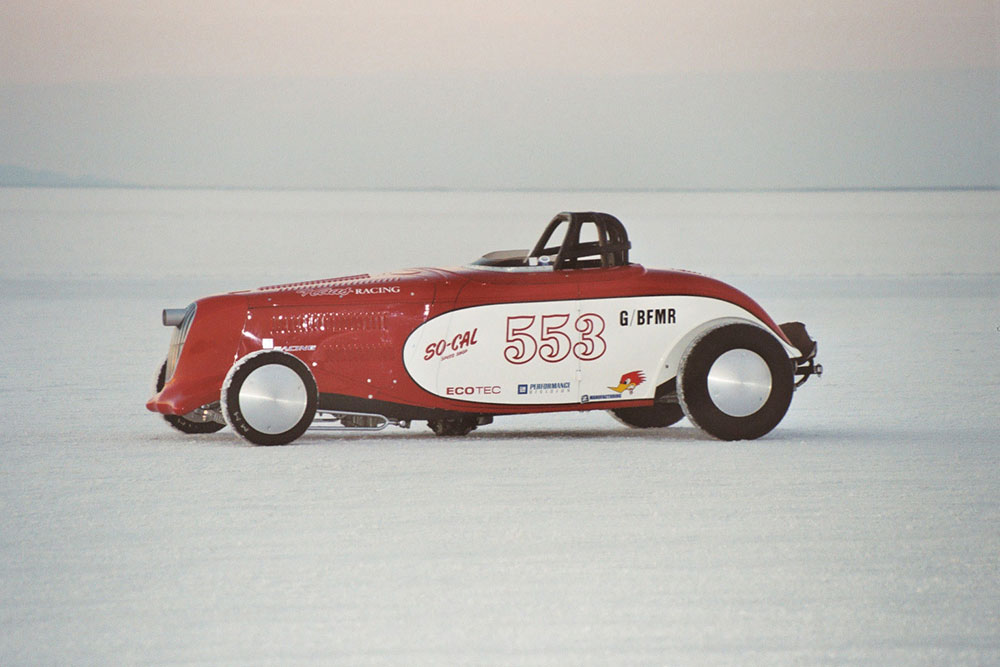 Toward the end of the first decade of the 21st century, the economy tanked. Obviously "extras" like an extravagant hot rod project are among the first things to go when money becomes tight. Things got tough for SO-CAL and downsizing and realigning the focus on parts and pieces seemed to help. In January 2017 a devastating blow was dealt with the sudden death of Pete Chapouris due to a stroke.
Of all the many honors and Halls of Fame Alex has received, perhaps he is most proud of the Alex Xydias Center for Automotive Arts located at the Pomona Fairplex. Since most high school auto shops are nonexistent, the center was opened in 2012 with two-year programs for students to receive hands-on education and develop skills for a viable career in the automotive industry. It was named in his honor as the best and most inspirational name that could be attached to it. After Chapouris' death, the Pete Chapouris Welding Center was added to the title and curriculum.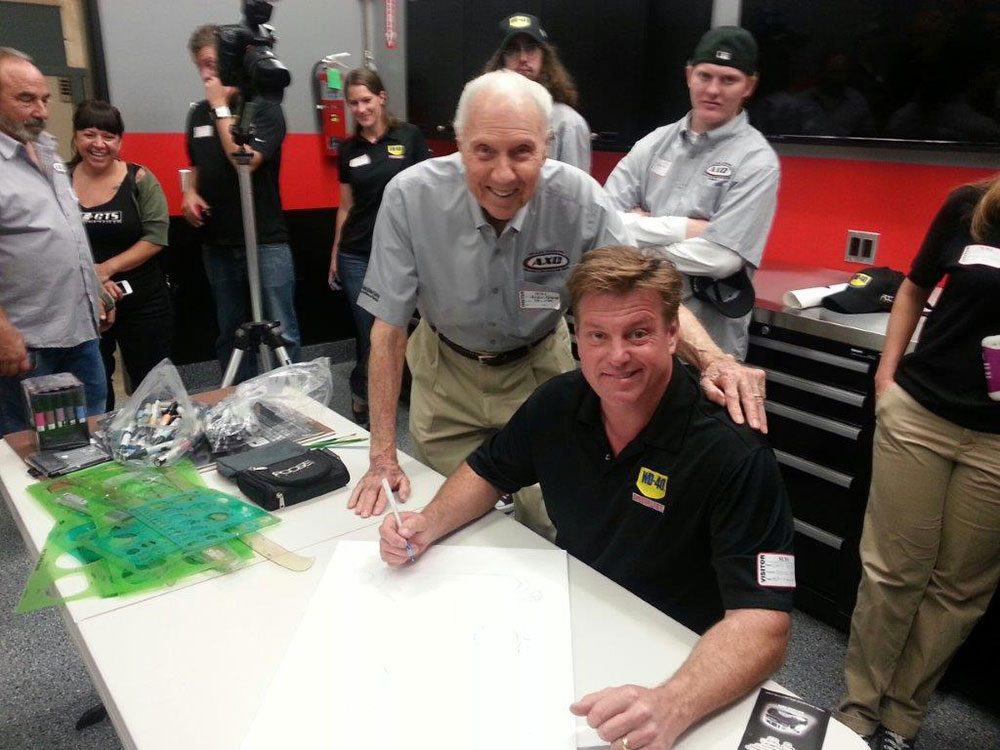 Recently, the dormant SO-CAL received a new lease on life. A new company called PC3 Holdings was founded by longtime aftermarket industry executive Tom Longo and the Chapouris family. After consulting with his family, Alex sold the rights to the SO-CAL name nearly 75 years after its founding. As always, Alex is very enthusiastic and optimistic about the resurrection and plans to continue as a consultant to the company he founded three-quarters of a century ago! MR