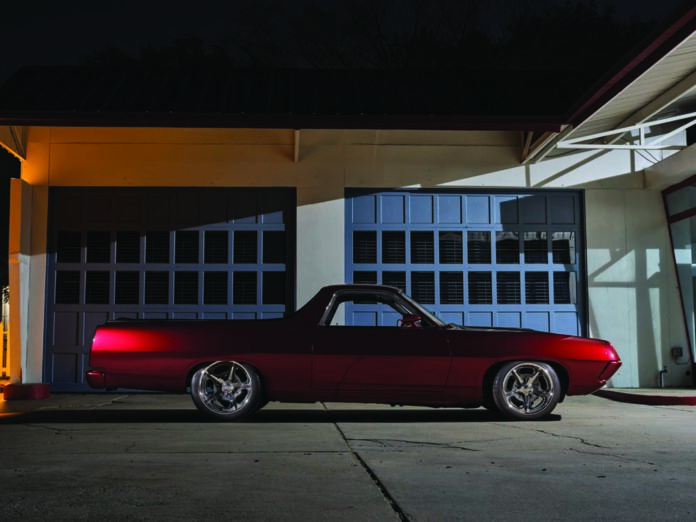 Dark Maroondy Pearl "El Ranchero," a reimagining of a 1971 Ranchero
By Brian Brennan – Photography by John Jackson
How often have any, or maybe all, of us started in one direction only to make an unsuspecting turn midway through our journey? Such was the case for Mike and Lynn Connor of Tennessee and their 1971 Ford Ranchero.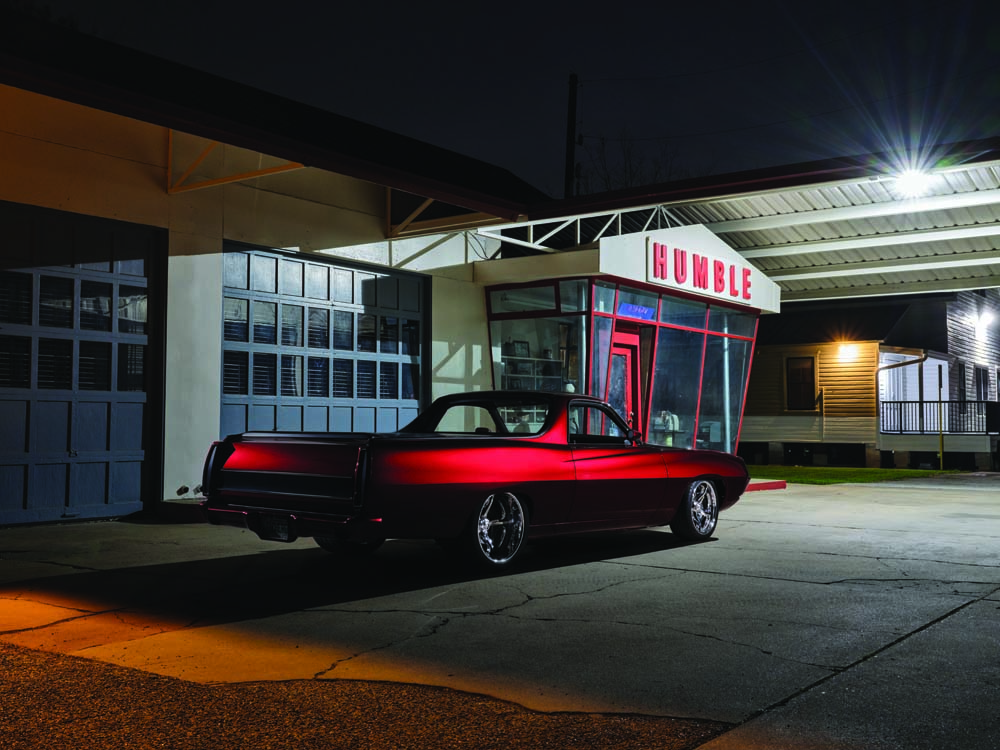 It was back in 2013 that the Connors were alerted a friend was selling his 1971 Ranchero, piquing Mike's interest. It seemed like a cool hot rod project, so a deal was struck and to its new home went the Ranchero. What was to be a mild-mannered rebuild turned into something more—but that wasn't the end of the story.
Another friend of Mike's was a longtime dirt track racer and metal fabricator. This led to a series of suspension upgrades, including a fresh Mustang II Independent Front Suspension, a narrowed rear end filled with Strange Engineering goodies, and then the two of them designed and built their own 4 link rear suspension. From here a freshened-up 351 Windsor and overdrive transmission was added.
Read More: Classic Car Restoration: 1931 Model A Ford
Next up, the unsuspecting "turn" arises mid-project. After the suspension upgrades and other mods were completed, it was off to the paint shop, which should have been a very happy day. It was at this precise moment that Mike was informed his 1971 Ranchero was "too far gone" for final paint and something else would have to be done. Probably not the most fortuitous time to find out that your pride and joy isn't paintable and, we might add, not the end of unforeseen "lane changes"! Mike did round up another 1971 Ranchero but now it's 2015 and two years have gone up in smoke. (We won't mention the lost time—labor and budget.)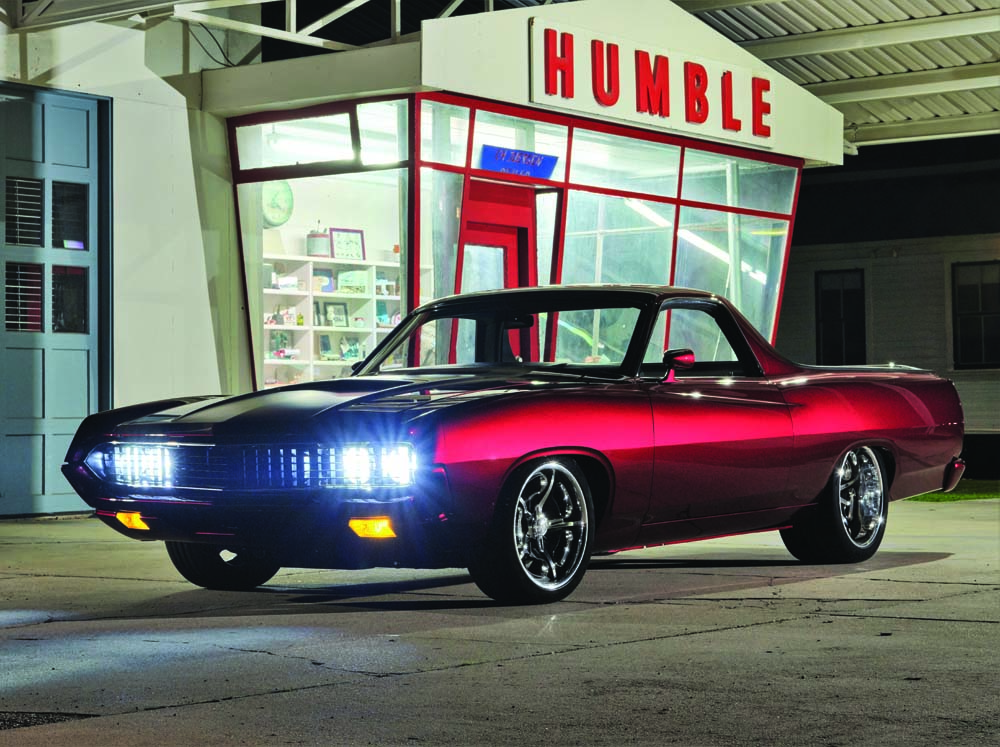 Mike brought both Rancheros home where he relocated parts from one to the other. In what has become a story we hear far too often, the original shop now had control of the second Ranchero with its fresh parts and in 2017 informed Mike that they were closing their doors and, "… to please come and get your car out of our shop. …" Not cool, but what were Mike's choices? Remember, four years have now passed and Mike still doesn't have the freshened-up 1971 Ranchero he was hoping for to drive around with Lynn.
A great deal of bodywork and other sheet metal work was initiated at this point. The Ranchero sat in primer, an aluminum bed cover in its beginning stages was visible, an egg-crate grille had been mocked up, and the exterior door handles were shaved. One modification though was a good one and would be kept. The Ford Ranchero B-pillars weren't deemed attractive enough for this ride so fresh B-pillars were made that were aesthetically pleasing, like the El Camino B-pillar. As any hot rodder has learned, one change leads to another. The factory bedrail and roof moldings were no longer usable and would need replacing. It was at this time that Randy Borcherding of Painthouse (Cypress, Texas) came onto the scene. Mike was introduced to Borcherding by another good friend of Mike's, Jan Van Kooten of Stitch by Stitch Designs in Cookeville, Tennessee. Taking Keith Kaucher's original artwork and then modifying it to fit the new dream it was back out into the shop. Borcherding bestowed the name "El Ranchero" upon his latest project, paying homage to both the Ranchero and the El Camino.
With Kaucher's "ink to paper" ideas in hand, Borcherding and everyone at Painthouse began at, where else, the front by finishing up a Torino GT frontend, complete with hood scoop and hidden headlights. From here the obligatory "tucked" front and rear (with custom license plate position) bumper treatment was initiated, giving it a cleaner appearance.
According to Borcherding rodders might not notice the external trim but it's most assuredly not stock. The factory trim fits but it doesn't really fit. Knowing this, Borcherding began the tedious task of making the freshly created trim fit. In the back, there's an aluminum bed cover that's actuated via a remotely operated electric motor. Inside the bed area, it's carpeted with the same interior carpet and it's painted in a matte finish body color, same as the underhood.
Read More: How To Build Exhaust For Your Classic Ford
The body has undergone a handful of well-thought-out changes to enhance the already strong appearance of the 1971 Ranchero. Borcherding opted to make a pair of custom LED taillights that fit into the end of the two quarter-panels and in so doing solved two problems: the factory lenses are very good looking and they are nearly impossible to find. Stitch by Stitch not only handled the upholstery but also came up with the hand-molded bed and roof moldings, handmade bedrail inserts, tailgate molding (one piece), and interior moldings were created out of brass. According to Borcherding a great deal of credit goes to Van Kooten. "He came to our shop, stayed at our home, and worked for a week to create molds (on the body) and hand pours the shapes needed using some high-end manufacturing resin. Once the shapes were created, we then body worked, refined, sanded, and painted the moldings to fit the vehicle. Van Kooten came up with the resin-based idea and it has worked splendidly to date, despite our heat, humidity, and the rare Houston-freezing, several-days-long snowstorm."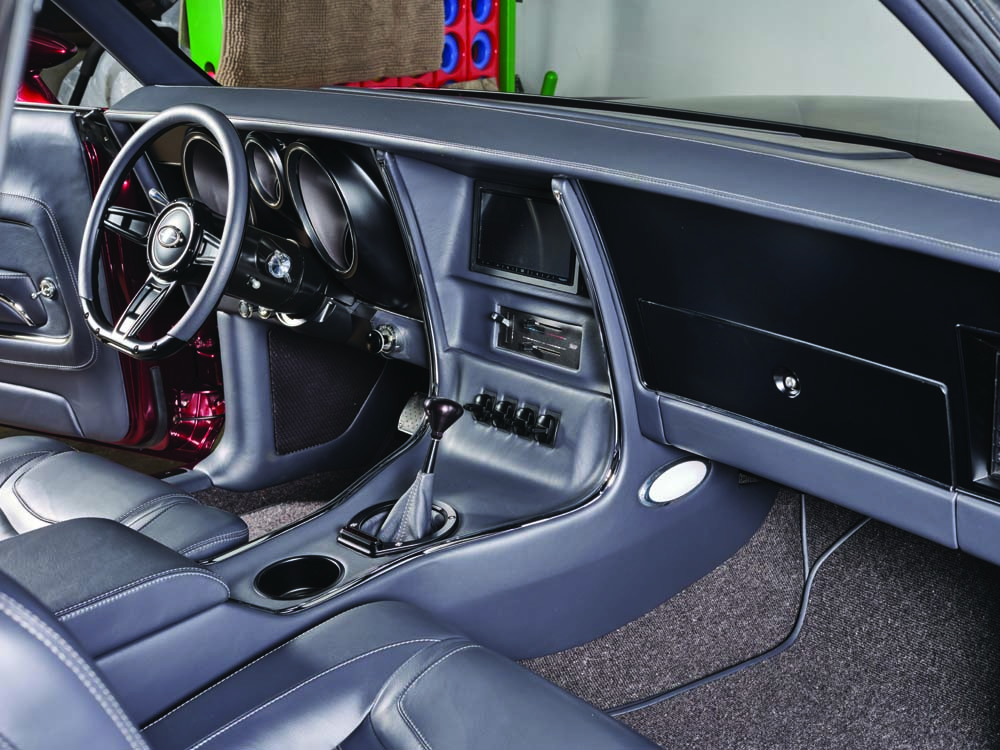 Once these pieces were fitted, they were sent off to Advanced Plating for chrome.
After Painthouse was finished with the neverending block sanding, the custom-created PPG Deltron basecoat color called Dark Maroondy Pearl was applied. According to Borcherding, it's a two-stage PPG basecoat/clearcoat, very easy to spray and match. This was followed with six coats of DCU2021 urethane clearcoat shortly followed with lots of wet sanding and polishing with Griot's Garage Stuff. The engine and bed area are also body-color but the matte finish was achieved by applying PPG matte clear (D8115). There's a wide matte finish stripe on the hood achieved by spraying on more custom-created paint, this time Gray Pearl titled Greyt 8. This color was also used on the bed cover and handmade bedrail moldings, the engine, and transmission. The handmade air cleaner is also painted in the same color but this time finished off in a DCU2021 gloss to give a shiny appearance. On the flipside, PPG epoxy primer was used along with U-POL Raptor Liner and then a satin black PPG finish.
The power for the 1971 Ranchero comes by way of a 351 Cleveland punched out to 408 inches and fed by a modern Holley Terminator electronic fuel injection, an MSD ignition, and topped off with a custom air cleaner made at the Painthouse. The exhaust system is based on a pair of Doug's headers flowing into 2-1/2-inch custom stainless steel tubes with electric cutouts and completely wrapped using Heatshield Products Lava wrap, all completed by the Painthouse. More accessories include a pair of SPAL electric fans, a March alternator, and a pair of Optima YellowTop batteries located in the bed. Backed up to the Cleveland is a Ford AOD transmission and this combo ushering the 450 hp and some 450 lb-ft of torque back to the Ford 9-inch rear end equipped with 3.25 gears. Corralling this power is a stock frame that's outfitted with a Mustang II Independent Front Suspension, rack-and-pinion, and features QA1 coilovers in the front and rear, Wilwood Pro spindles, and a pair of Wilwood 13-inch rotors, 4-piston caliper along with a Wilwood master cylinder, and factory pedal assembly. A set of Schott Accelerator wheels are covered with Michelin rubber, measuring 235/40R18 and 345/30R19 at the corners.
Read More: Reimagined 1932 Ford Roadster Pickup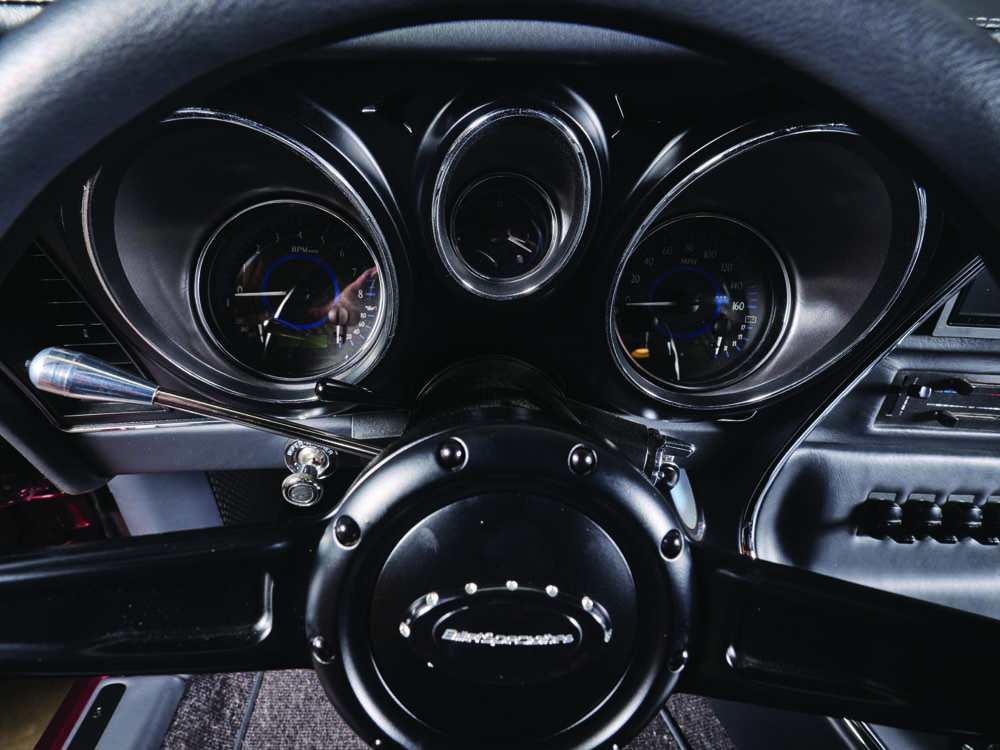 The interior was handled by Van Kooten, owner and craftsman of Stitch by Stitch. Van Kooten covered the interior and custom seats in Moore & Giles gray-colored hides. He also made the center console, complete audio, and handmade brass and chrome moldings. A German square-weave carpet was selected (also in the bed area) for use inside. A narrowed 1971 Mustang dash is utilized while the Ranchero cabin is incorporated with a headliner and visors that tuck up along with the hidden sound system. Dakota Digital VHX gauges, an American Autowire Highway 22 Plus system, and a Flaming River steering column with a Billet Specialties leather-wrapped wheel are also deployed. A little closer look and you will see the Classic Auto Air A/C and the March serpentine belt system with a Billet Specialties manifold on the compressor.