Alloway's Hot Rod Shop Built The Way Ford Should Have
By Brian Brennan   –   Photography By John Jackson
Illustration By Erick Brockmeyer Design
The Fairlane has a long history at Ford. Beginning back in 1955, by its fourth generation (1962-65) it had begun to settle into its calling. It was Ford's new intermediate-size passenger car. But there were more exciting times on the horizon. It was also ideally placed to compete against GM's A-body and the Plymouth Belvedere. And when we say compete, we mean "compete" at the dragstrip where "win on Sunday and sell on Monday" was taken to heart. Displayed before you is Gary Brown's '63 Ford Fairlane built at Alloway's Hot Rod Shop. It may not be what one would have found at the dragstrip, then or now, but it most assuredly will hold its own against anything on four rubber tires in these days.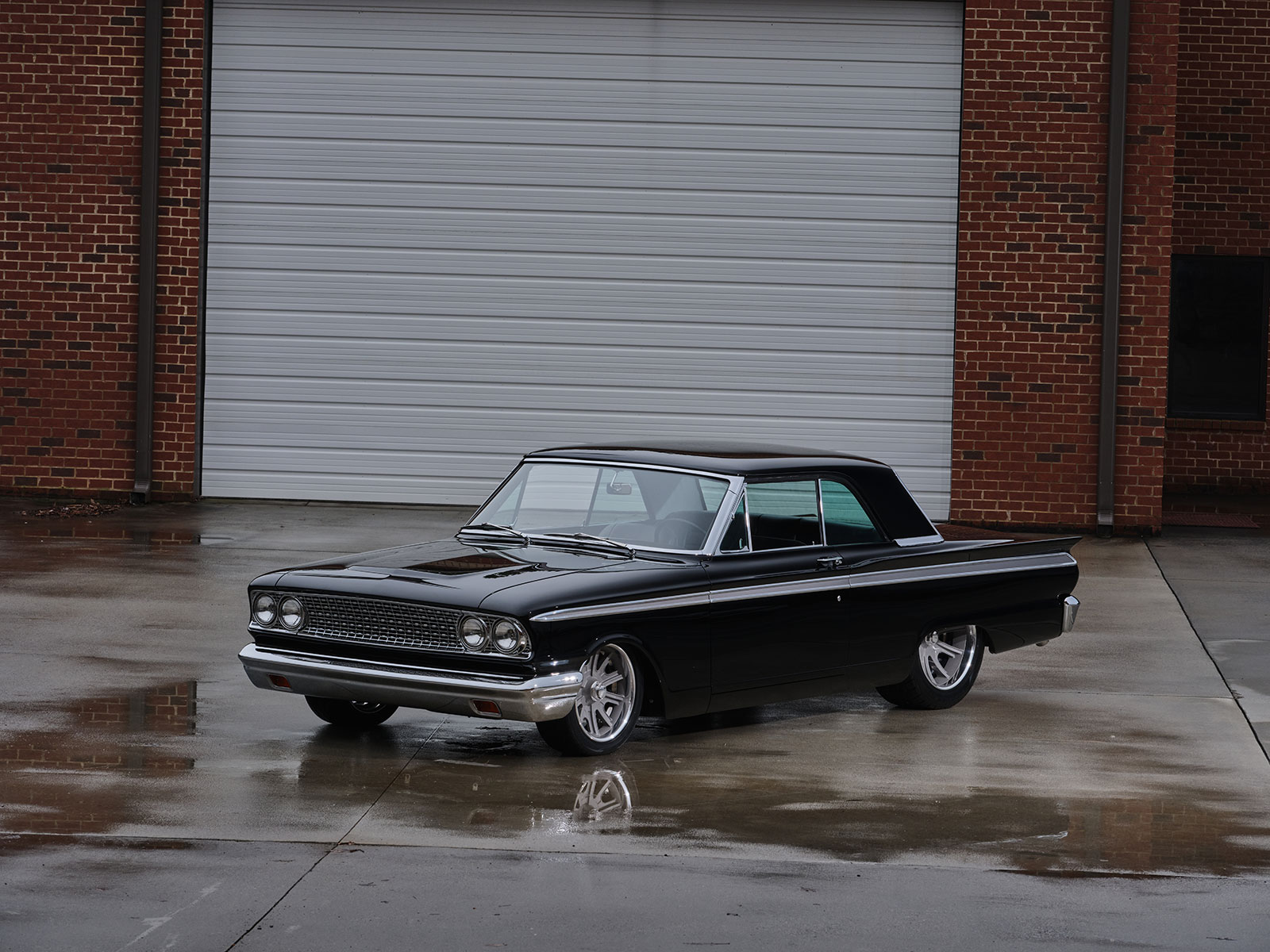 It was late in 1963 that Ford introduced its "revolutionary" 271hp small-block Ford V8 engine at 289 ci. It wouldn't be until 1969 that the Fairlane received the ultimate bump in cubic inches and horsepower in the form of a 428ci V8 Cobra Jet of a Super Cobra Jet.
Read More: 1932 MyWay: Kugel's Tailor Made Ford Roadster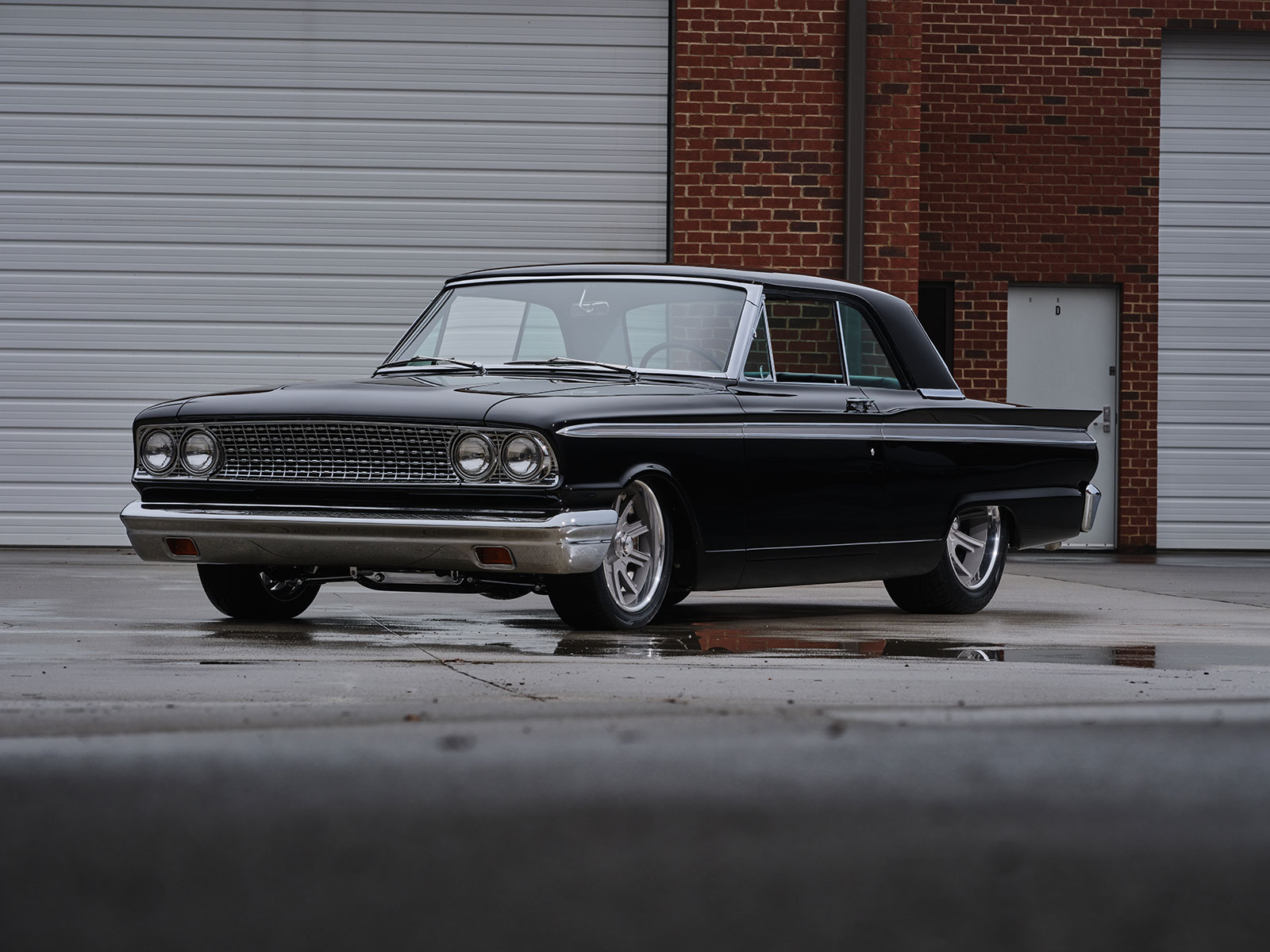 Come 1963, the Fairlane Sport Coupe models came with a center console, which according to records was a holdover from the '62 Falcons, with subtle changes making it similar to the Galaxie. More '63 changes saw front end styling, again, like what was happening with the Galaxie. However, the rear sheetmetal/trim retained the small tailfins and the round taillights.
If we look closely at Gary's '63 Fairlane we can see that Alloway's retained much of the stock sheet metal appearance. It should be noted that Alloway's Hot Rod Shop lengthened these rear wheel openings to fit the massive rubber. Additionally, approximately 4-inch-widened wheeltubs were fabricated and then added to house the wheel-and-tire combo. Alloway's Hot Rod Shop's bodywork tandem of Scotty Troutman and Jeff Plemons handled the sheetmetal prep. From here Plemons pulled the trigger on the spray gun, applying the "Alloway standard," PPG Deltron NXT 9700 black. (In the world of color not much changes at Alloway's Hot Rod Shop. Alloway is fond of saying, "If you find something that works, why change?")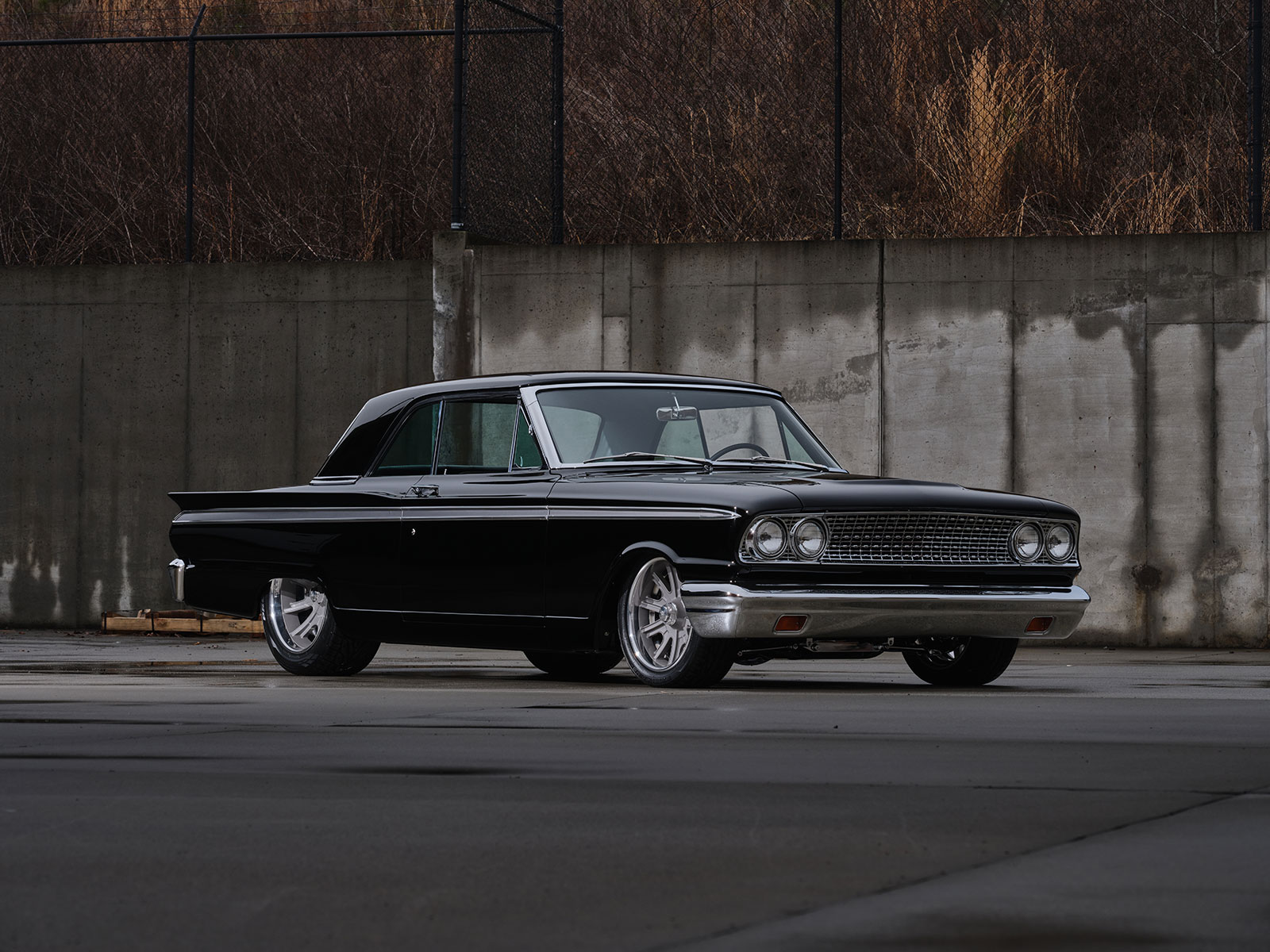 Slid under the Ford Fairlane body is an Art Morrison Enterprises custom-made chassis to Alloway's Hot Rod Shop specs that features a few tweaks. The 115.5-inch wheelbase is stock, but the front track hub width runs 54 inches (narrower than stock), accommodating the Wilwood 13-inch rotors and six-piston drilled-and-slotted rotors (Forged Narrow Superlite 6R Big Brake Front Brake kit). This allows for a front tire bulge width of 61.25 inches thereby accepting the AHRS custom wheels made by Billet Specialties. They measure 17×7 in front with a 4.5-inch backspace and are wrapped with Toyo Proxes 215/50R17 rubber. The front suspension is based on an Art Morrison Sport Independent Front Suspension with Wilwood drop spindles, Detroit Speed rack-and-pinion, Strange coilovers, and an AME sway bar.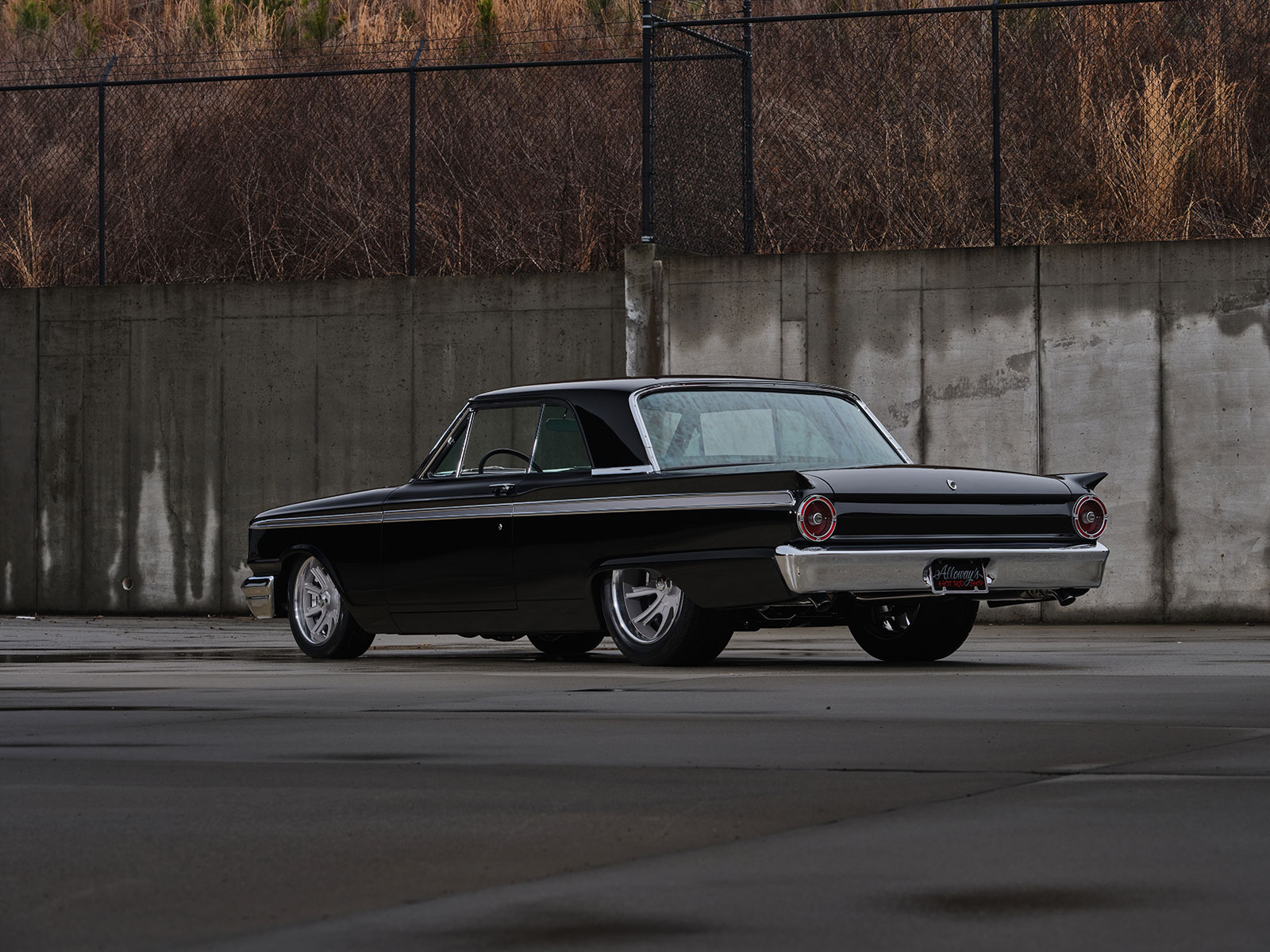 Read More: Bodenhamer's Deep Blue Bel Air
In back the Currie 9 inch rear end axle housing, stuffed with limited-slip 4.56 gears and 31-spline axles, has an approximate width of 45-1/8 inches. It is held in position by the AME four-bar system and their Panhard bar as well as a pair of Strange coilovers. It too uses a Wilwood brake system based on the Forged Narrow Superlite 4R Big Brake Rear Parking Brake kit. This allows for an impressive 63.875-inch rear tire bulge width, which in turn will provide room for the remaining pair of AHRS custom-made wheels by Billet Specialties that measure 20×10 and are fitted with Toyo Proxes 295/50R20 rubber. All the braking is operated by a Wilwood master cylinder with accompanying hydraulic master for the clutch system.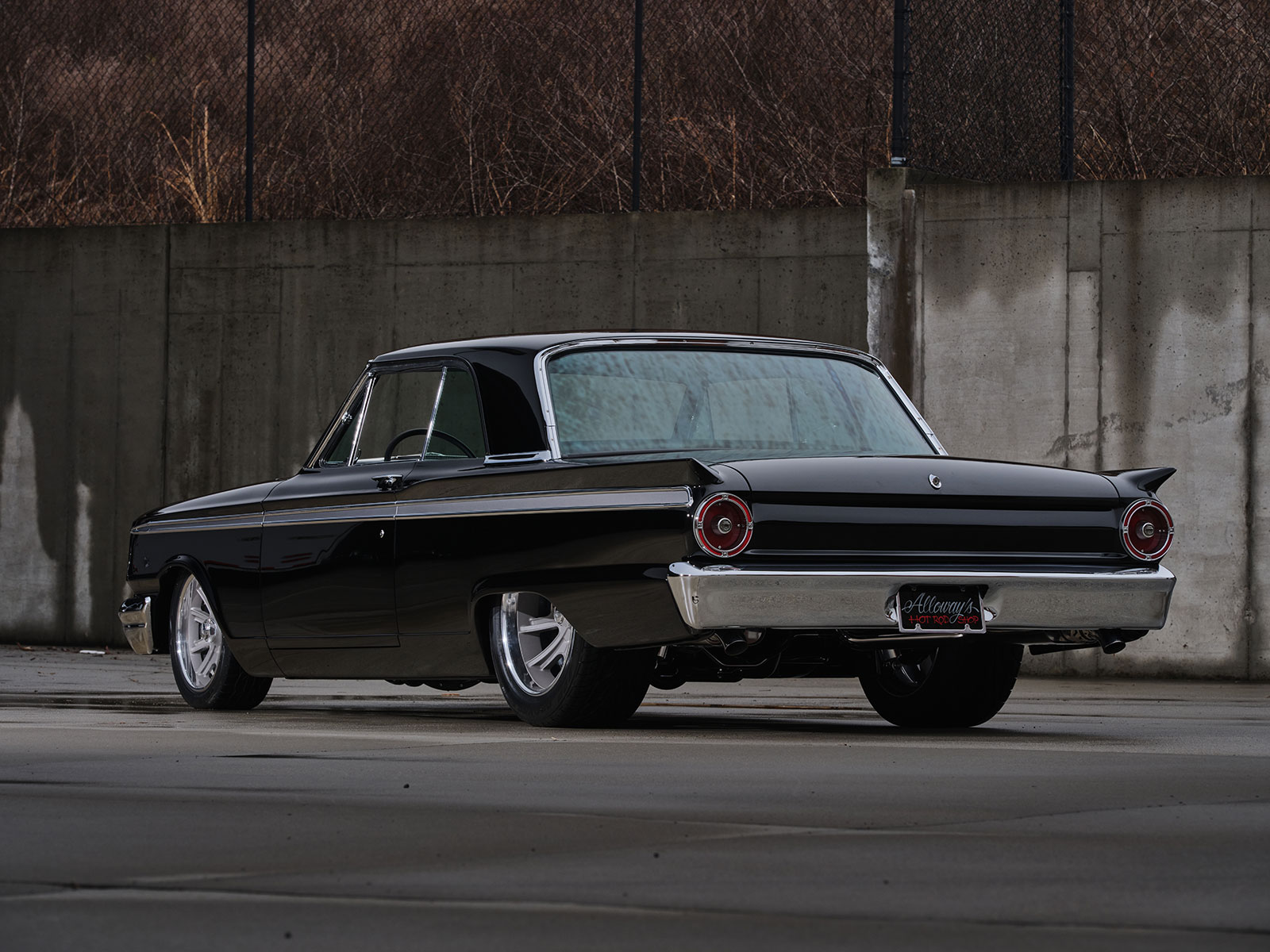 Let's now peek underhood. We mentioned earlier that the '63 Fairlane came with all sorts of engine possibilities back in the day. But we are talking about today and the potential for potent V8s is considerable. Gary and Alloway opted to go for big power but do it with a true iconic Ford powerplant–the Boss 429 engine. In so doing they turned to Jeff Taylor of Jeff Taylor Performance—now that's hot rod power through and through. We should point out it's an original Boss 429 engine externally with some modern internal pieces to enhance power and reliability. When Taylor was finished, the Boss 429 engine is now a Boss 500 and produces 1,000 hp. Externally Taylor used a Boss 429 iron block, aluminum heads, and intake. Inside there is a modern solid roller cam and 12.0:1 pistons. Using this much compression requires the continual use of race gas. Taylor points out one of the advantages of using race gas is the preservation of carburetor gaskets. When dealing with a motor that spends much of its life "resting" in a garage, today's gasoline will cause deterioration of carb gaskets whereas the "purity" of race gas is more ideally suited for long storage. There is no mistaking a Boss 429 when looking at the distinctive valve covers, which are in this application's original factory. The finned air cleaner mounted on top of the pair of Ford four-barrel carbs came from Goddard Industrial. Feeding the race gas to this monster V8 engine is a stainless steel Rock Valley tank.
Read More: A Closer Look At Jack Chisenhall's Champ Deuce
Other engine go-fast items include an MSD distributor and coil along with Taylor spark plug wires and a Powermaster starter and alternator. From here Barillaro Speed Emporium fabricated a set of custom stainless steel headers that link to 3-inch stainless steel custom exhaust tubes that work with a pair of stainless ATAK Borla mufflers. Backed up to the Boss 429 engine is a TREMEC TKX 5 speed manual transmission as part of an American Powertrain package, which includes an American Powertrain shifter along with a Centerforce clutch and pressure plate.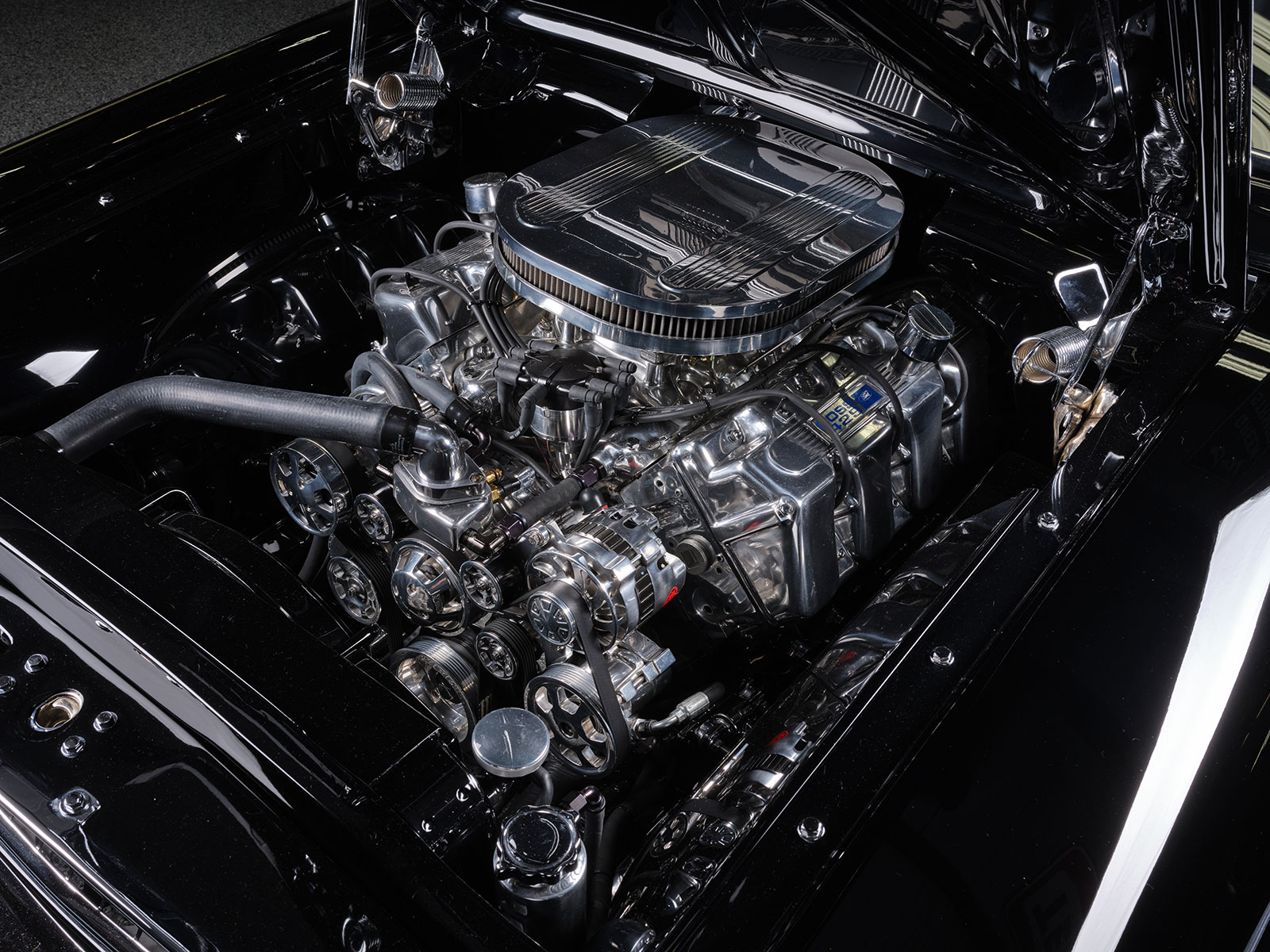 Inside the Ford Fairlane steel dash is fitted with stock-appearing gauges redone by Classic Instruments with a combination of a large speedo and tach followed by a single-large cluster that houses the oil, fuel, temp, and generator (now alternator) functions. The tilt ididit steering column is dressed with a Lecarra by Lokar drilled two-spoke and leather-wrapped wheel. Steve Holcomb of Pro Auto Interiors was tagged with building out the control room. While the white headliner is the factory-appearing perforated hole style, the carpeting is a black Daytona weave all positioned by Holcomb. Holcomb also received the nod to make the center console with the center trim piece to give the appearance of an early factory unit. The console does have a leather-wrapped console storage box, center-mounted floor shifter, and the Vintage Air AC registers mounted to the head of the console. The radio and speaker package are original factory. (We believe a real hot rod makes its own music and that comes from under hood.) The front buckets are '64-66 T-bird wrapped in Moore and Giles black leather (used throughout), again by Holcomb with the rear bench seat fully fabricated at Pro Auto Interiors. Getting all the hot rod's electrics to work properly AHRS used a Painless Performance Products fuse panel and from this point the shop handled the individual wiring. Supplying the juice is an AC Delco battery mounted on the passenger side of the trunk with a master "kill" switch.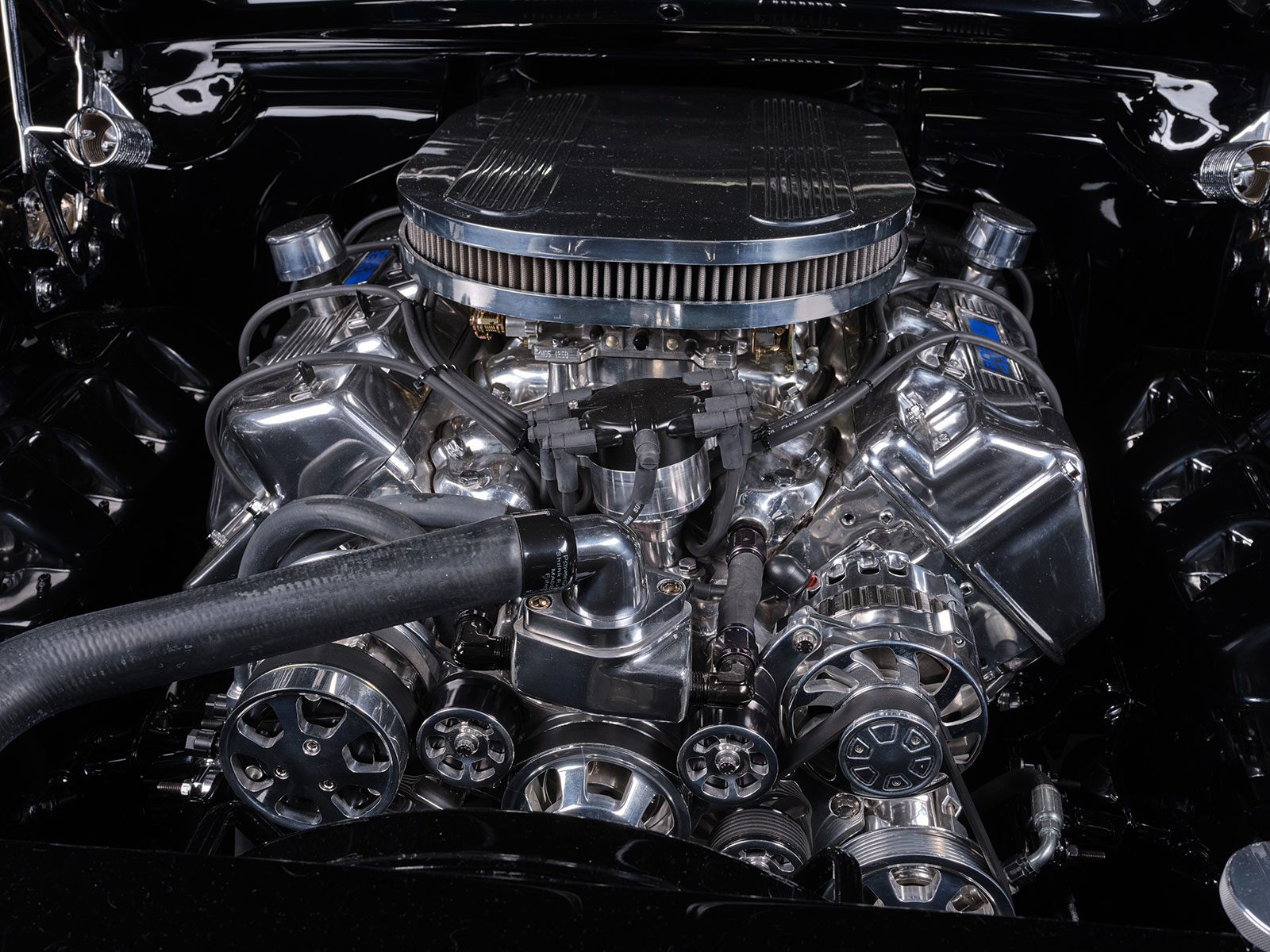 Read More: Road Race Ready 1963 Ford Falcon
There's no denying that the Boss 429 powered '63 Ford Fairlane deserves its Pro's Pick garnered at Goodguys Columbus. Should you get a chance to see this hot rod make sure to stand back and listen to the oh-so beautiful sound coming from the "underhood stereo." It truly is worth the effort. MR