"The "Grand Daddy of Them All" Continues to Grow
By Brian Brennan   –   Photography By the Author   –   Videography By Ryan Foss
The 73rd Annual O'Reilly Grand National Roadster Show (GNRS) held at the Pomona Fairplex in Southern California is still "The Grand Daddy of Them All!" of indoor car shows. While it's true that it is the kickoff of the indoor car show season, with some 600-plus cars and trucks (competition, display only, and the Suede Palace) under roof, there were another 900 or so cars and trucks that partook in the outdoor show. Yep, the GNRS is two shows in one, each bringing plenty of excitement and entertainment to those who attend. It is well located in SoCal, making it an easy drive for thousands of rodders to attend.
The outdoor show is in its 16th year and is referred to as the "Annual Grand Daddy Drive-in" held all three days. They are parked around all the show buildings as well as filling an adjacent parking lot. It should also be noted that this year the area between Building 7 and 9 was reserved for custom trucks that were part of the Keep on Truckin' exhibit that took over Building 9 and included over 100 trucks with provenance from years past. This exhibit was sponsored by LMC Truck and Modern Rodding's sister publication Classic Truck Performance.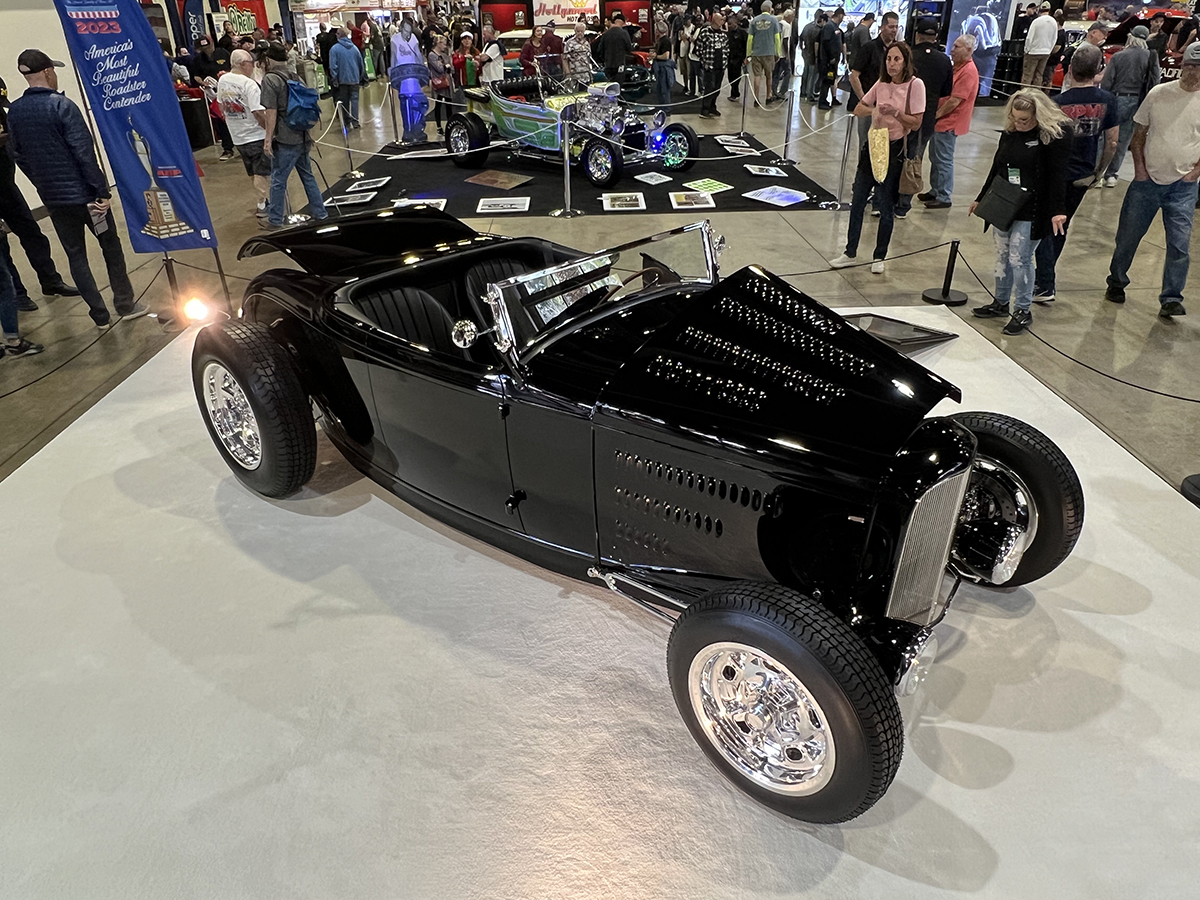 Other noteworthy building exhibits included Building 4 and 6. Building 4 held the America's Most Beautiful Roadster competitors and the iconic 9-1/2-foot perpetual trophy all vying for the title, trophy, and the $12,500 check, all made possibly by ARP.
In competition were Sandy Chadd and her Rad Rides by Troy–built '32 Ford Muroc highboy roadster, J.F. Lanier and his '29 Ford highboy roadster with a cool "welcome young rodders" theme, Jack Chisenhall and his '32 Ford highboy roadster with a definite "competition flavor," Ken Sapper and his bright red '32 Ford highboy roadster out of Dominator Street Rods, Jon Hall with his truly striking '27 Ford lakes-style fenderless roadster out of Greening Auto Company, local rodder Steve Schmidt with his '32 Ford Muroc full-fendered roadster, another local rodder Danny Hyde with his '36 Ford roadster that started life as a five-window coupe, Scott Williams with his '32 Brookville-bodied Ford roadster built on a theme many of us will remember (the Tom McMullen roadster minus the flames), and the Joe Kugel Brookville-bodied '32 Ford full-fendered roadster complete with, you guessed it, a Kugel Komponents independent suspension.
Taking home, the AMBR honors for 2023 was the Chisenhall '32 Ford roadster and the goodies that accompany the title. There was no denying that this year the competition was topflight for the AMBR award as there were multiple cars that could have won, but as the saying goes, "There can be only one Number 1."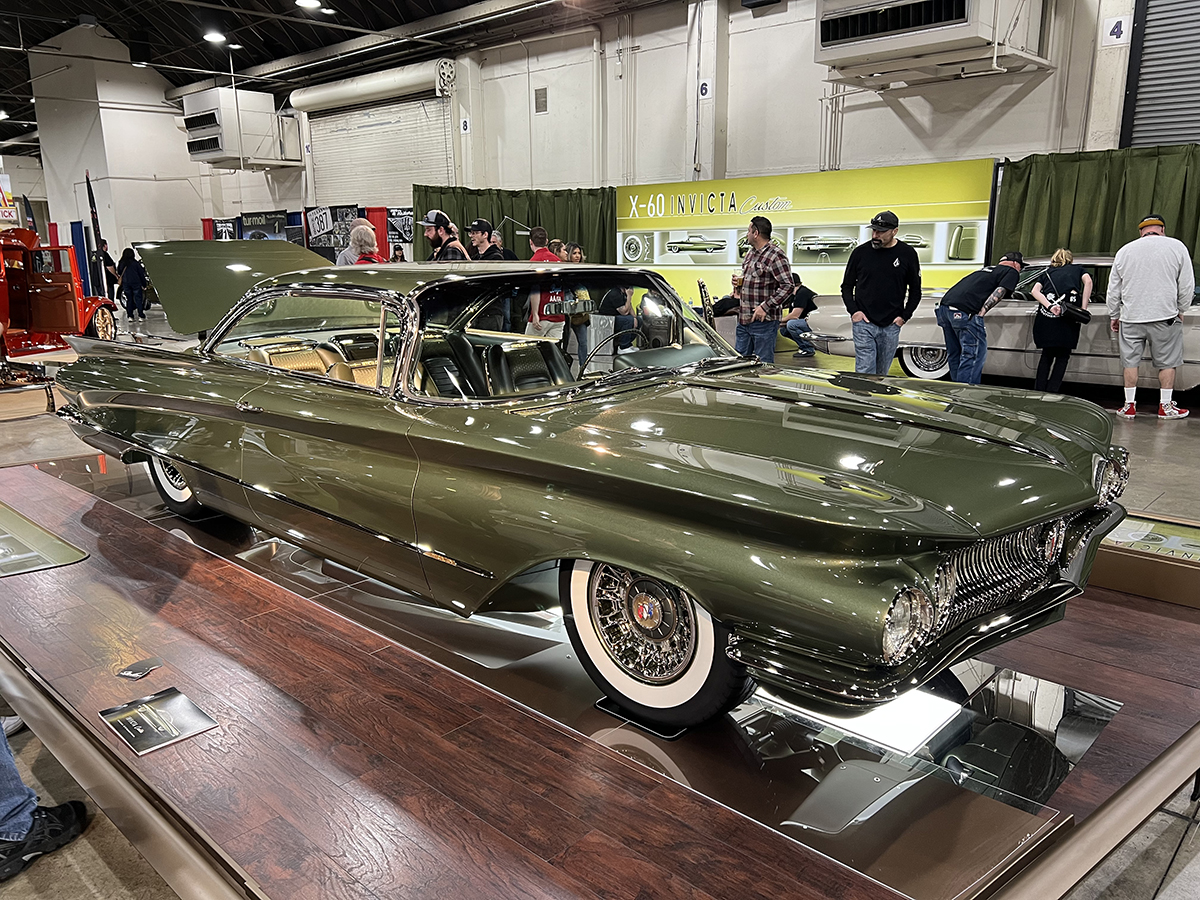 Other points of interest in Building 4 were the '23 T-bucket originally built by Andy Brizio back in 1968 and now owned by his daughter Terri Hollenbeck, the wife of noted hot rod painter Darryl Hollenbeck. Hollenbeck took home the Bruce Meyer Hot Rod Preservation Perpetual Trophy for the T-bucket as well as a class award. This year the GNRS Builder of the Year exhibit honored Mike Filion of Pro Design Hot Rods from Lake Havasu, Arizona.
Moving over to Building 6, it is rapidly becoming the "place to be" with the Al Slonaker Memorial Award now housed in this building. There were 11 competitors for the Slonaker all looking to take home the beautiful perpetual trophy, supplied by ARP along with the $12,500 check to the winner.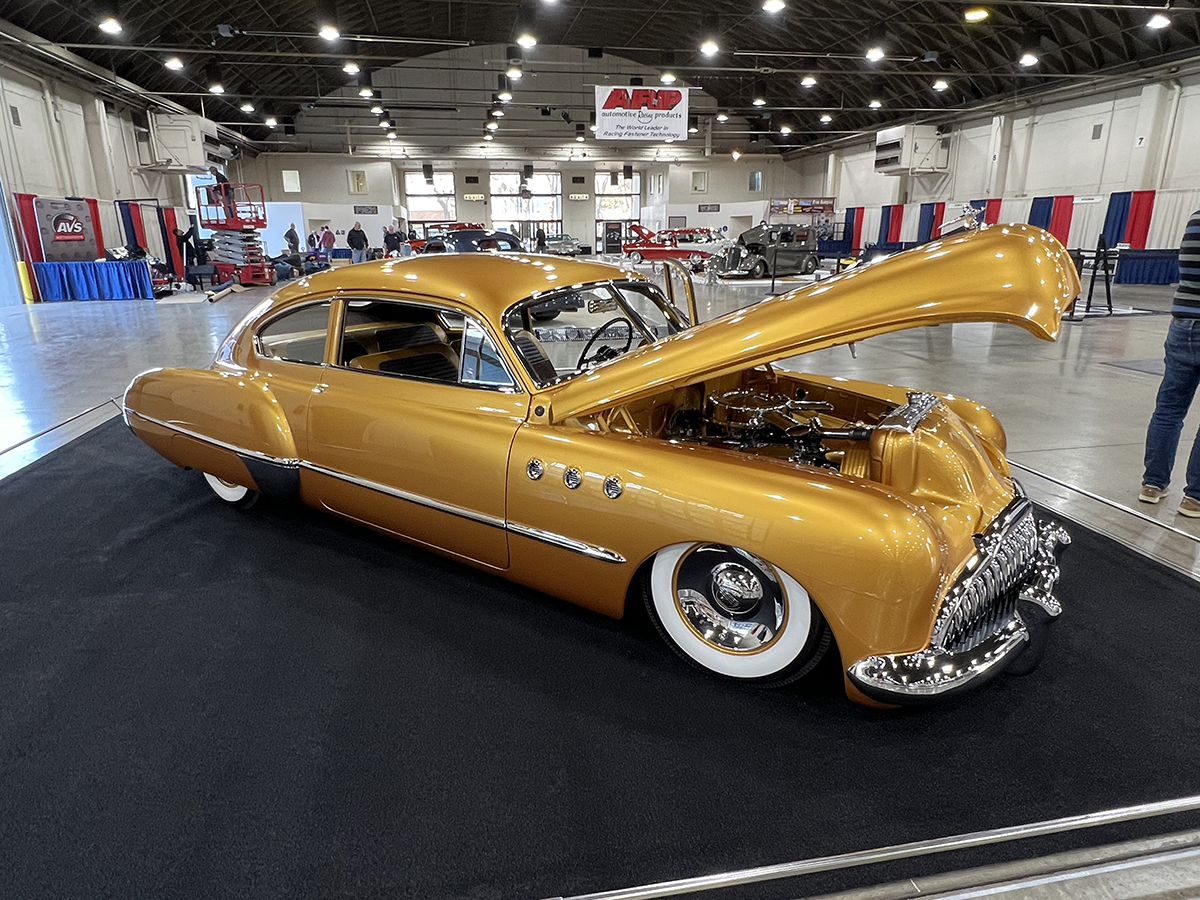 Competing this year were Carl Akins and his '32 Ford coupe, Bruce McDowell with his '34 Ford coupe, Thomas Bengtsson and his '57 Chevrolet Bel Air, longtime hot rodder and multi-award winner in Ken Reister with his '56 Chevrolet Nomad, Neil Braun and  his '37 Buick coupe, Danny Schaffer and his '67 Ford Mustang, Steve Schock with his '32 Ford coupe, Dennis Kilpatrick and his '29 Ford coupe, Cody Walls with '49 Buick Sedanette that readers of Modern Rodding should recognize from previous tech stories, Lori Mabe and the '34 Plymouth four-door sedan, and George and Angela Eliacostas with their '60 Buick Invicta.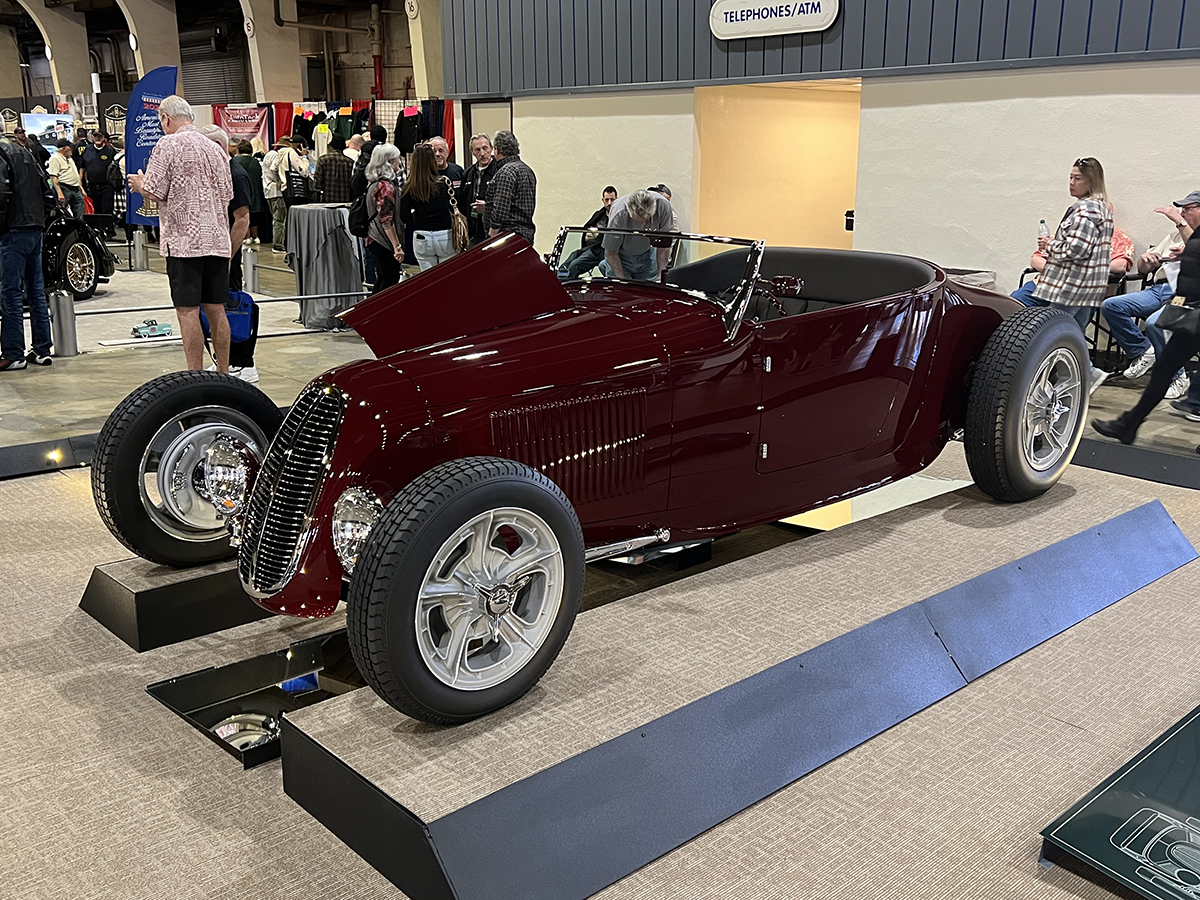 The Eliacostas's '60 Buick took home the Slonaker trophy, and rightly so. It was built at Cal Automotive Creations by the Andy Leach crew. Back in the day this was a beautiful car; our hats are off to congratulate Leach and crew for taking a great-looking car and making it better.
More excitement could be seen in Building 5 as it was the Custom Room where the handiwork of Gene Winfield and George Barris were on display, along with many other fantastic-looking customs. One could see customs and traditional hot rods with styling from the '50, '60s, and '70s.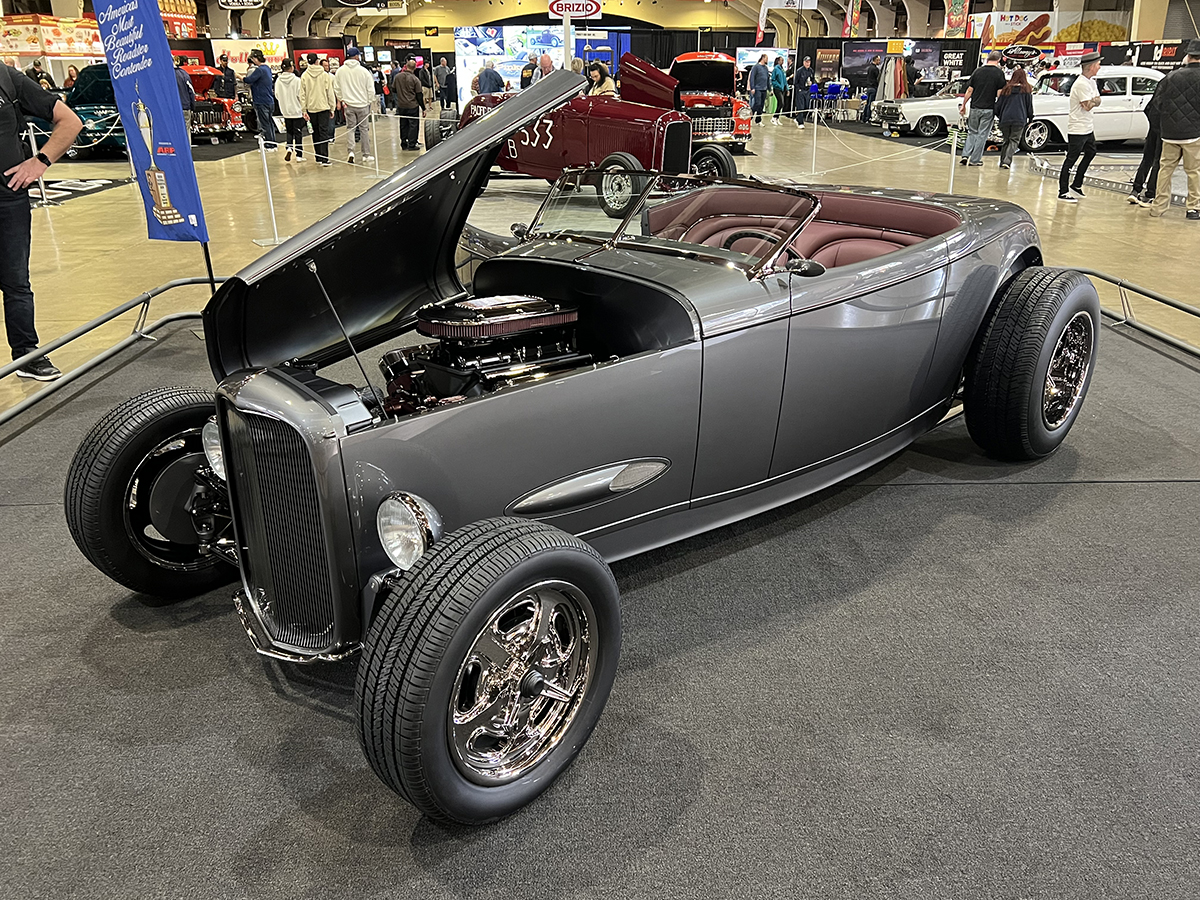 Building 10 once again was home to the Suede Palace (the Quonset building leftover from World War II). This has proven to be another show within a show and has for years been a destination for traditional rodders, as always there were traditional rods and customs mixed in with rockabilly bands continually playing music throughout the weekend. Saturday is their special moment as the custom handmade trophies are handed out by different car clubs for their favorites. MR