Battle in Bama is Taking the Gulf Coast by Storm
By Shawn Brereton   –   Photography by the Author
Living near the Gulf of Mexico people get accustomed to storms. As the sun heats the water it begins to evaporate, creating clouds. When clouds build skyward, the instability creates a thunderstorm. Throw some other conditions into the mix and you've got yourself a hurricane. You may not see it on the radar, but the Battle In Bama 2022 Hot Rod, Truck, and Bike Show, presented by Ultimate Audio Fabrication, has hit hurricane status.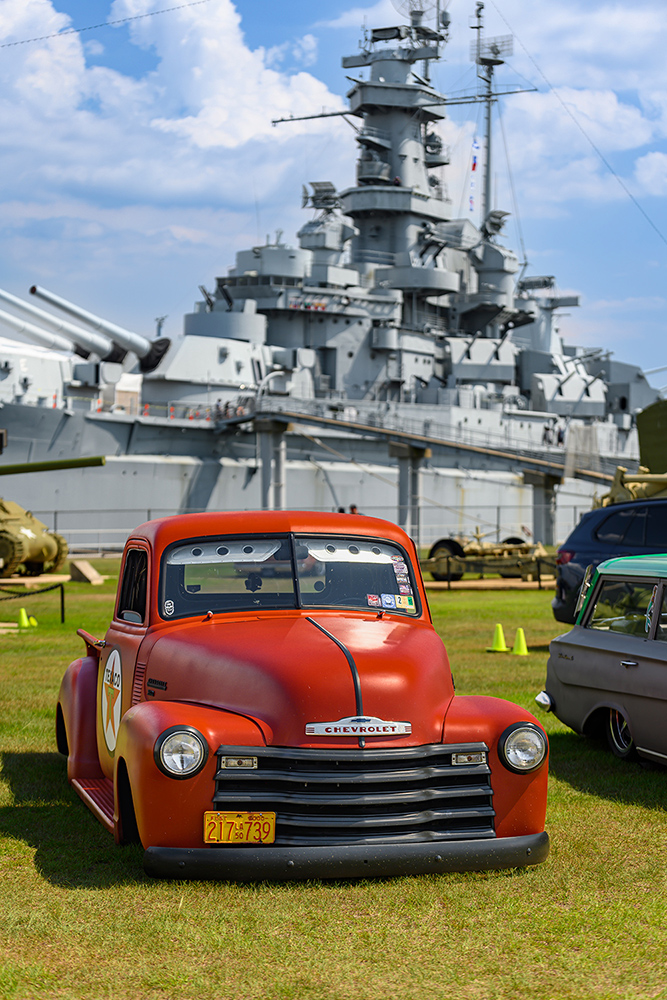 Every May in Mobile, Alabama, the three-day Battle in Bama event has become one of the premier shows on the Gulf Coast in just seven short years. The setting is epic! The showground is right on Mobile Bay at USS Alabama Battleship Memorial Park where the "Heroine of the Pacific" is permanently docked. Throw in some planes, tanks, and a submarine, and you couldn't ask for a more stunning backdrop for an auto show. Scenery aside, the show could stand on its own merits, even if it took place in a junkyard.
Read More: Hot Rod Homage: Guzzo's 1967 Ford F100
Every year on January 1 pre-registration opens on the website (battleinbama.net), but you better be quick. Capped at 1,300 vehicles, it has sold out for the past four years, so don't even think about registering at the gate. Vendor spaces are also snatched up quickly—it is that popular of a show.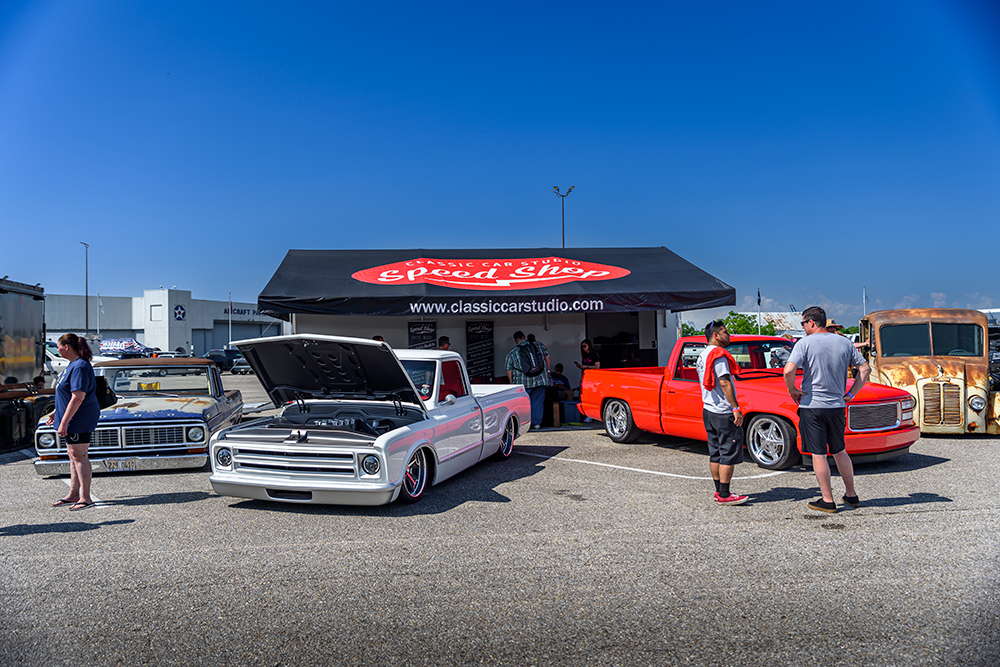 The key to Battle in Bama's success is the variety of vehicles. It is an open show, so spectators are guaranteed an eyeful of automotive excellence. However, we were obviously after the classic trucks, and this show leans heavily in their favor. Like many in his age group, promoter Craig Rowley came up through the mini-truck ranks and then graduated to full size, so he receives a lot of support from them.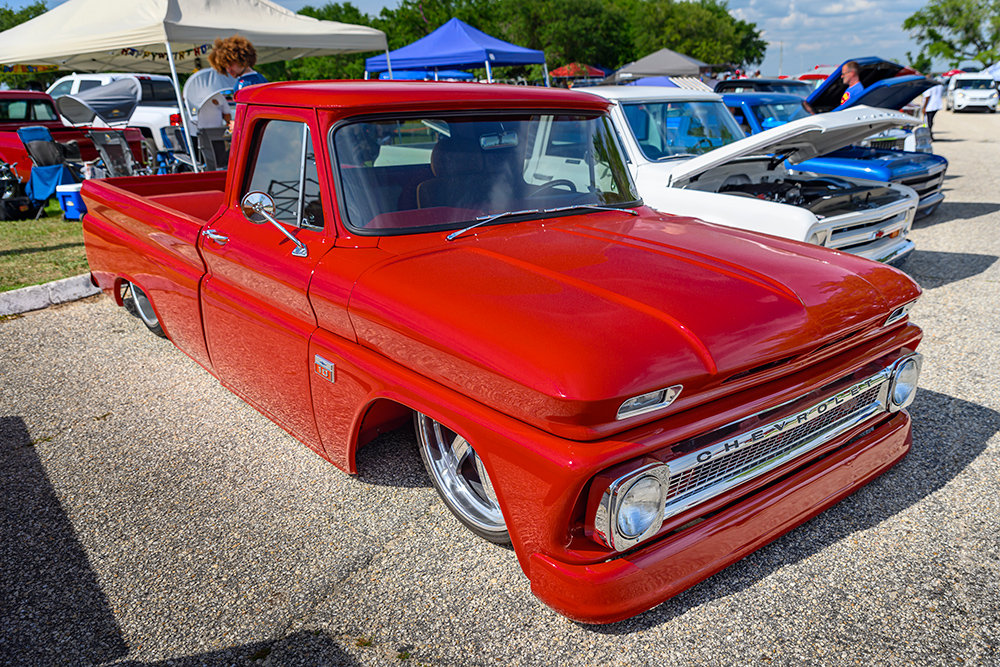 Battle in Bama caters to the truck community. They embrace truck clubs, allowing them to set up tents and park together. Also, there are special parking areas and truck-specific awards. The show's vibe is open and inviting. Things get kicked off on Friday morning as vehicles from far and wide arrive throughout the day.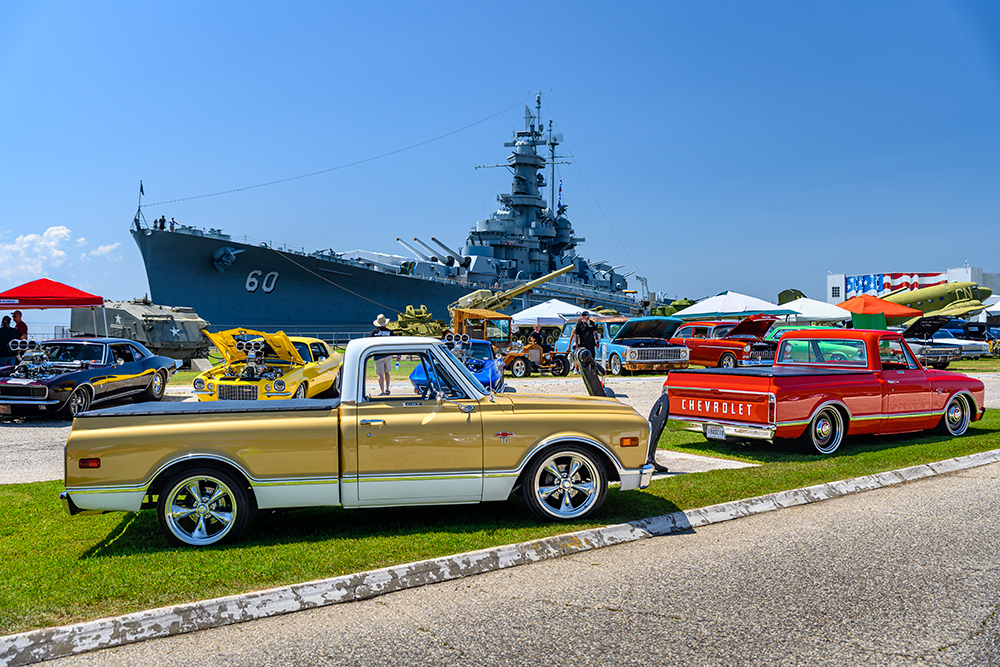 The highlight is the Friday night kickoff party where the first 300 registered participants receive an armband to access the battleship for "Tacos on a Battleship," catered by La Cajita Mexican Restaurant. The ship is open for tours throughout the night and then the giveaways start. Everyone has a chance to win tons of different prizes, including many handmade works of art, like pinstriped skate decks and even hand-painted wooden deck chairs. Participants are also asked to bring items to donate to Campfire Shenanigans for extra tickets.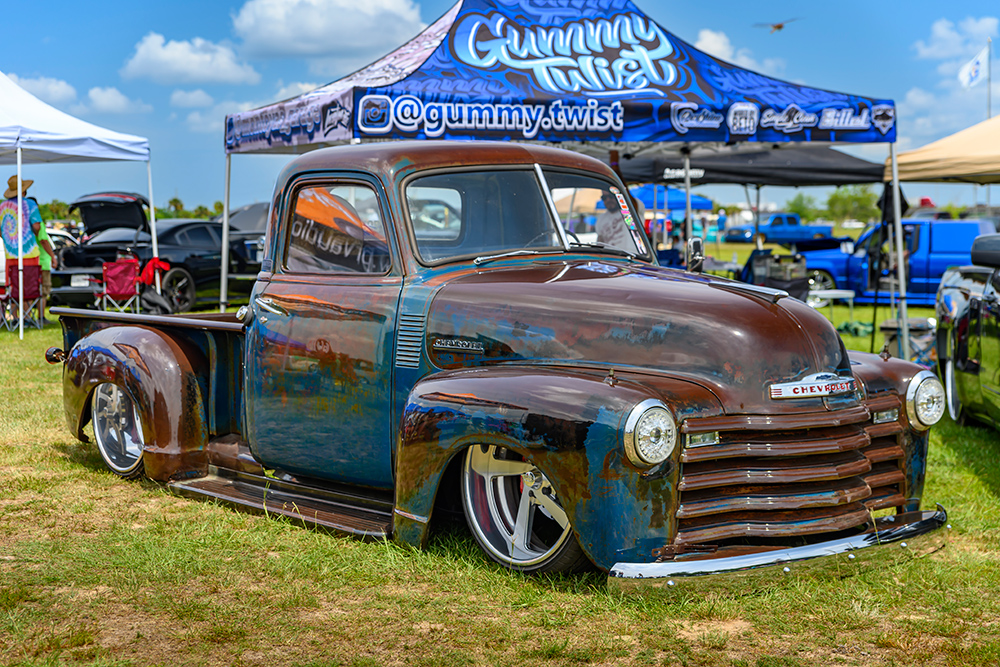 Predictably, Saturday is the biggest day, and this year was no exception. With only one way in and out of the venue, Battle in Bama made significant changes to get participants in quickly. Registration packets sent ahead of time notified everyone to have their wristbands on and registration stickers already affixed to the windshield to be able to drive right in. This helped immensely, but there was a long wait in traffic later in the afternoon for spectators.
Read More: A Family Affair–1948 Chevy 3100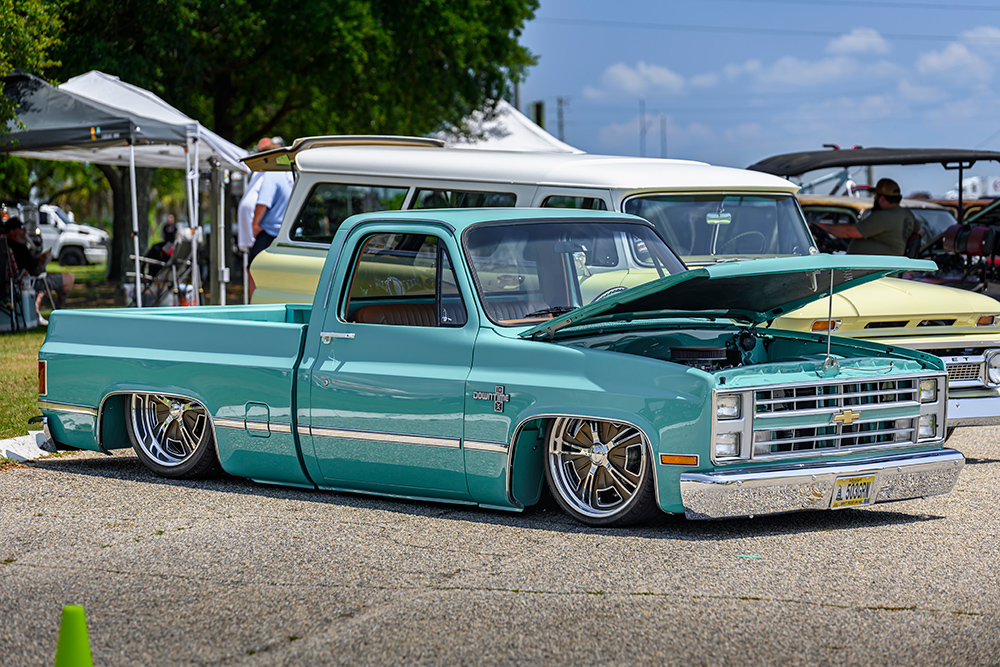 Two specialty parking areas, C10 Row and OBS Takeover, featured some high-level builds of those particular models picked out by the Battle in Bama staff. Southern trucks usually tend toward the bagged, closed hood, cruising-style builds, but there was a lot of performance thrown in this year. Superchargers and turbos gave a little extra oomph, while coilovers replaced airbags on a few of the rides. LS and Coyote swaps were evident all over the grounds as more aftermarket companies continue jumping into the mega-hot classic truck market, offering parts to help the hobbyist.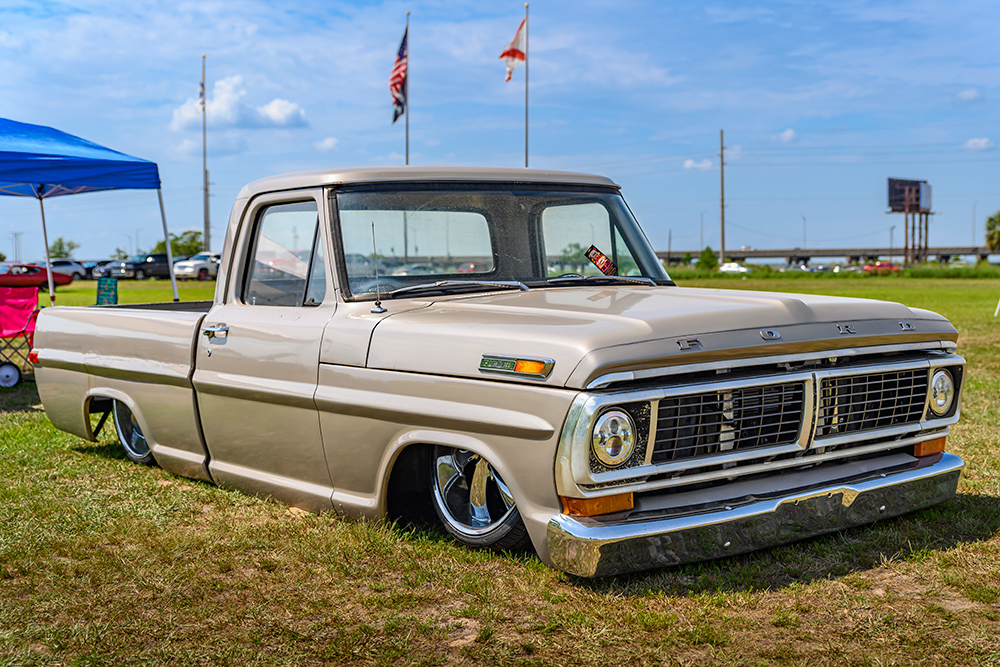 As previously mentioned, vendor spaces filled up as fast as participant registrations, with a few heavy hitters onsite to show off their wares. LMC Truck had its semi truck onsite giving away free hats and catalogs to prospective customers. Auto Metal Direct was there to show off new sheet metal offerings, while AccuAir Suspension was busy answering potential buyers' questions. Wheel companies, such as Forgiato, Amani, and Intro, had displays to help finish off the look of your ride.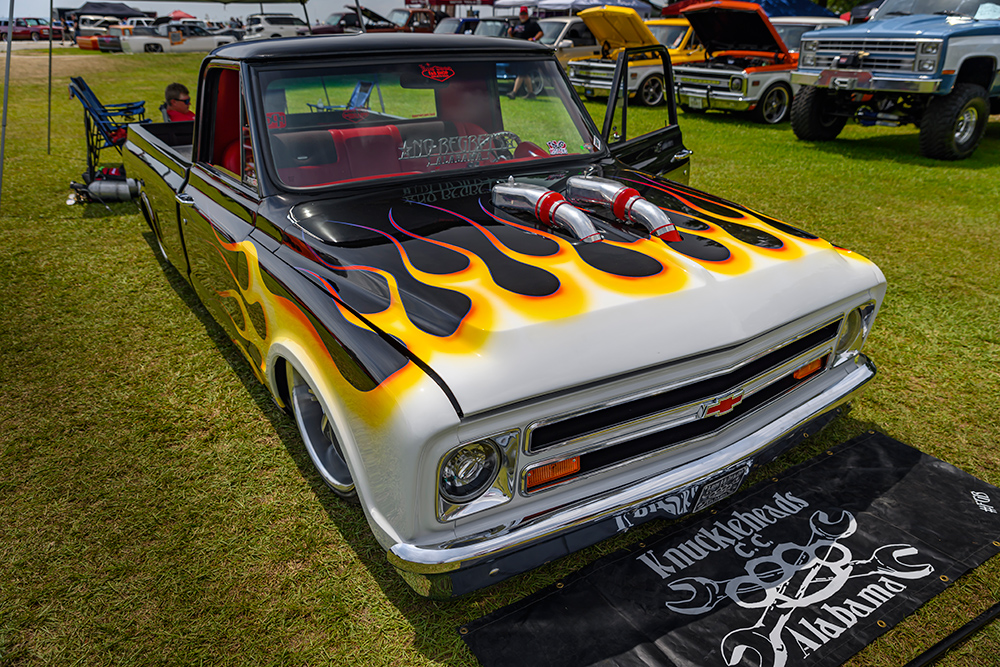 Despite the hurricane references above and the weather threat in the area, Battle in Bama 2022 was unscathed by rain. It's no secret that classic trucks are the hottest part of the automotive hobby right now and show no signs of slowing down. Luckily, events like Battle in Bama offer a place for like minded individuals to converge, communicate, cooperate, and appreciate each other's builds in an inviting, laid-back atmosphere.
Read More: Is It Better To Repair Or Replace A Fender?
When a show is run as well as this one, it's no wonder people are scrambling to be part of it. Online registration for the May 5-7, 2023 show will open on January 1 on battleinbama.net. If you want to eat tacos on a battleship, we suggest you make your first resolution to log in that day and become a part of the show that is blowing up the Gulf Coast like a hurricane!