Lou & Deborah Guzzo's Coyote Swapped Ford F100, Built For The Roads Ahead
By Fuelish Media
Sometimes there is more than one driving force behind building a full custom vehicle. Lou Guzzo of Livermore, California, had the lifelong passion of hot rods, autos, and interesting machinery of all types propelling his latest '67 Ford F100 project. Although his interest in all things cool helped get the build started, it was ultimately the memory of his beloved wife, Deborah, who helped push the old truck's progress far past the finish line.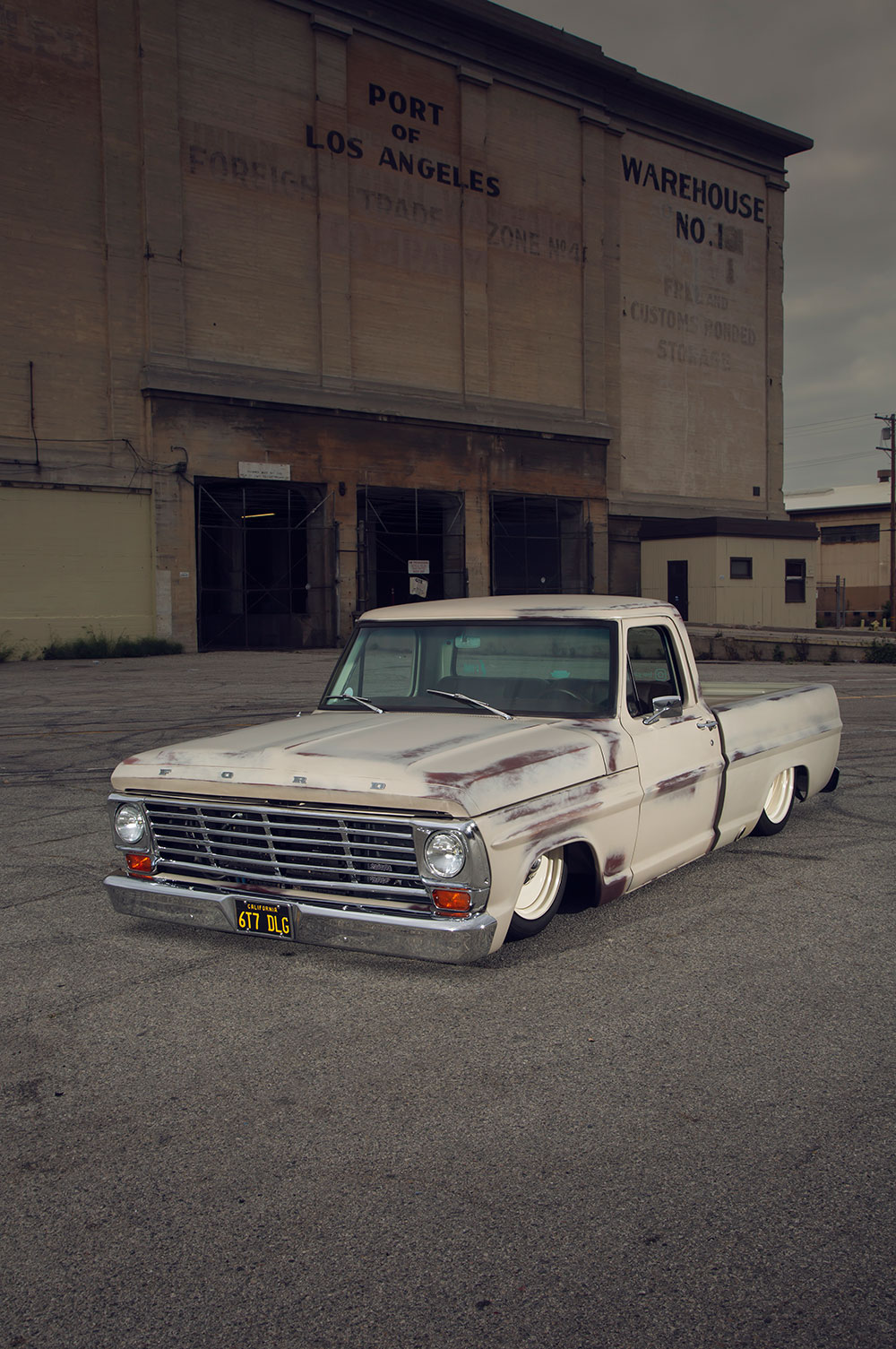 Back when Lou first purchased the truck, it was in decent shape to start with. It had a 6 cylinder engine with a 4 speed transmission behind it but had a broken rear axle. Being the hands-on type of guy that he is, Lou quickly fixed the damaged axle and then planned on bagging the truck himself in the garage. Lou also happens to be the type of guy who likes to actually drive his custom vehicles. With this build being his first vehicle on air ride, he felt it best to order a fresh SPEC Roadster Shop chassis to give the old F100 an ideal foundation to build upon.
Read More: Sepulveda's Snow White 1957 Chevy 3100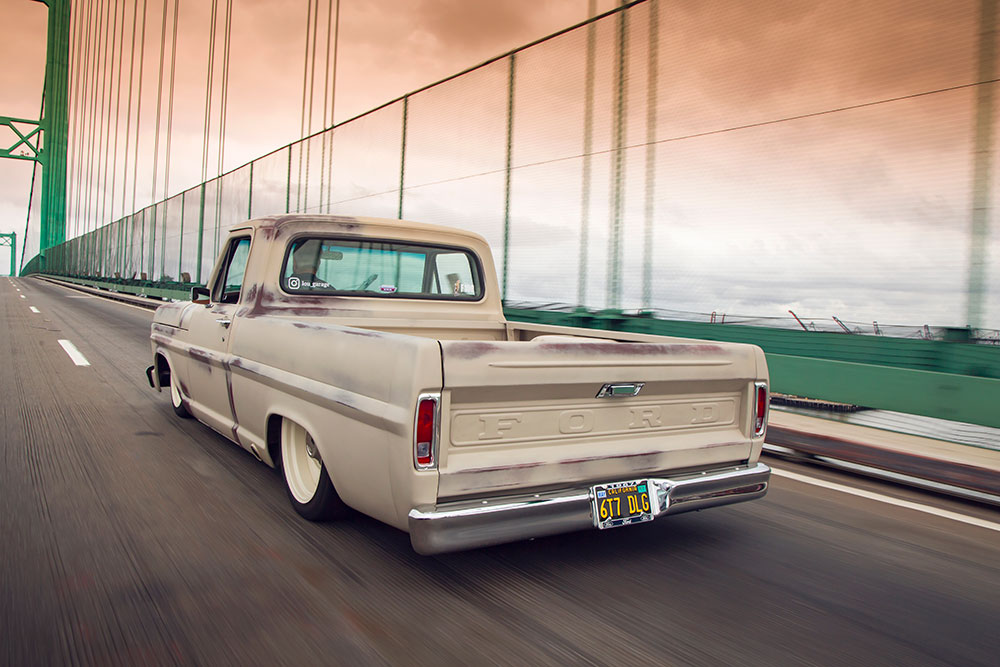 To add to that already brilliant start, Goodyear air bags, QA1 shocks, and an AccuAir air management system were added to the mix to allow for seamless control over the ride height settings. For this being his first bagged truck, Lou showcased his superb taste for only the very best in air suspension components. To capitalize on the Ford's much lower stance, a set of staggered 20×9 and 20×11 D Town Detroit Steel wheels along with 245/45R20 and 315/35R20 Toyo tires sealed the deal on the killer rolling chassis.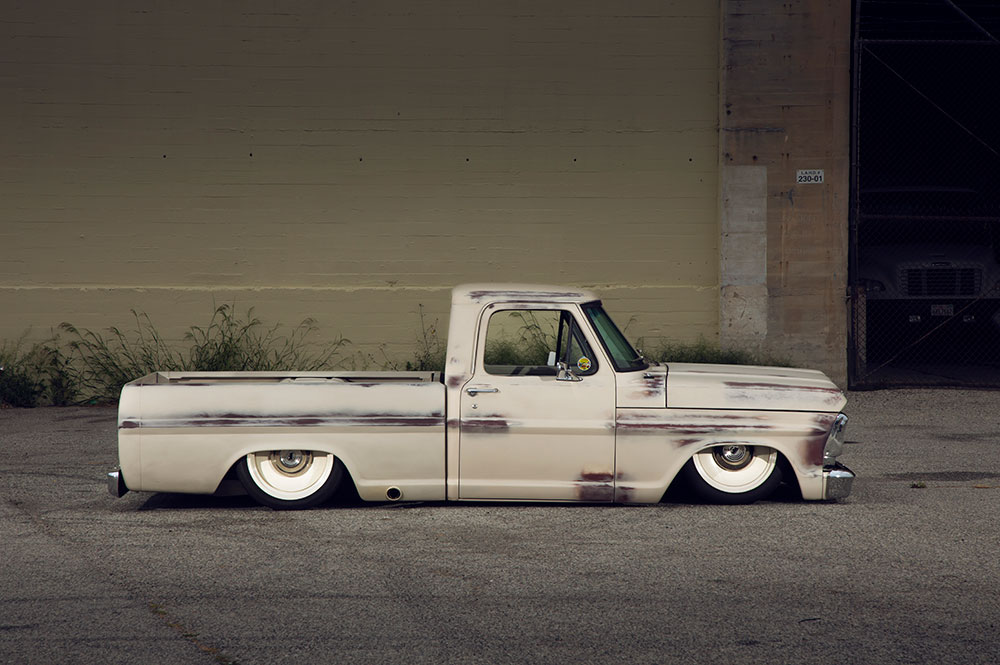 Before we get too much further into this story, let's take a second to recognize that Lou is a career mechanic who started out with training by GM. He worked 15 years at the dealership level and ended his career at a major transportation agency. Naturally, he brought his expertise and attention to detail from his workplace to his own personal garage when working on his F100.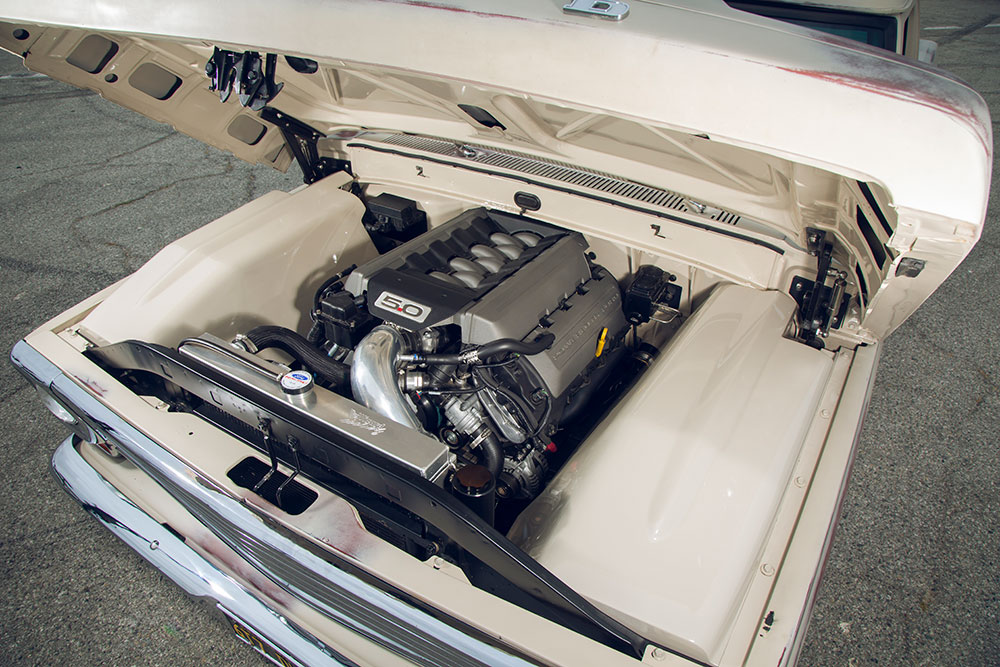 With that being said, Lou had a very direct and effective approach to dealing with the truck's existing powertrain—ditch it altogether. After going all-in on the new chassis and air suspension system, he figured the truck would be better served with an upgraded powertrain combo. The Ford Performance Gen II 5.0L Coyote engine and 6R80 transmission he selected were the exact replacements he was after. The power plant would give him the excitement and dependability he was looking for backed with an automatic transmission that would cater to Lou's favorite pastime—cruising, and lots of it. While the engine was left mostly in stock condition, a Wizard radiator, Spectre air intake system, and a 2.5-inch exhaust system, complete with Borla mufflers installed by Livermore Muffler, did promote enhanced performance right out of the gate.
Read More: Pate's Passion: Ice Blue 1961 Ford F100
Before Lou planned to drive his truck anywhere, he was set on getting the exterior façade looking just right. To help with this, he enlisted the help of his good friend Tommy Byrne to not only straighten out and prep the Ford's panels for paint, but to also add a few unique touches along the way. Underhood, the guys placed a set of Slosh Tubz into place, and while body mods were kept relatively mild, Lou had a special request before any paintwork would commence—a one-off, side-exit situation for the exhaust. The guys utilized a flange piece off of a differential to achieve the desired results that adds a unique yet subtle touch to the F100's outer landscape. When that mod was complete, Lou then reached out to LMC Truck to order factory replacement front and rear bumpers as well as outer mirrors for good measure.
When the time was finally right to discuss paint options, Lou was looking to remain within the realm of understated simplicity. With that fresh on the mind, the guys selected a nice shade of Tamco beige, sprayed it, and strategically sanded it down to give the Ford a faux patina finish to create a bit more depth to its curb appeal. The bed floor was raised with ease thanks to a replacement floor panel from Evolutionary Rides. This relatively effortless addition to the truck made for a handy, hidden storage space for Lou to stash cleaning supplies and personal items, which now comes in clutch when he's out on the road—more on that in a bit.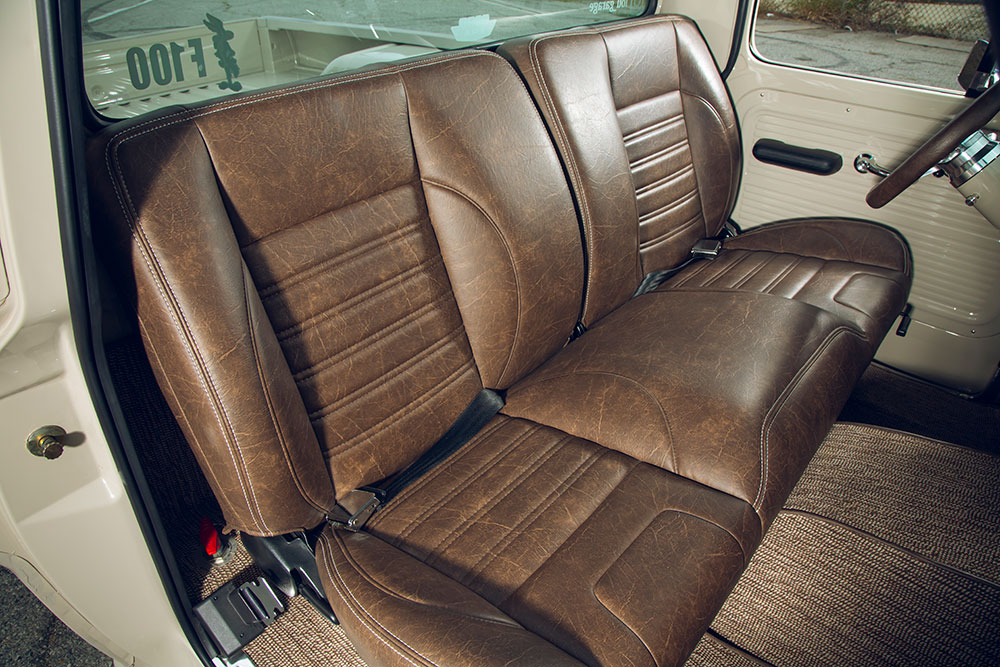 Since Lou really did plan on putting in a good deal of seat time when his F100 was ready for the road, he made sure to outfit the cab space to suit his desired style and comfort needs. While on the topic of the seating situation, Lou decided on a prefab bench seat from TMI Products, as well as their matching dash pad. Even though Lou is a very capable wrench, custom upholstery work is not one of his specialties, but he was more than capable of quickly modifying and installing the bench frame for a quick and easy seating solution. Other notable cab amenities that complement the new bench include a Forever Sharp steering wheel, Dakota Digital gauges, a Vintage Air climate-control AC system, crisp Mercedes weave carpeting, and a whole assortment of finishing parts sourced from LMC Truck and Fat Fender Garage.
Read More: Keeping Your Classic Truck Cool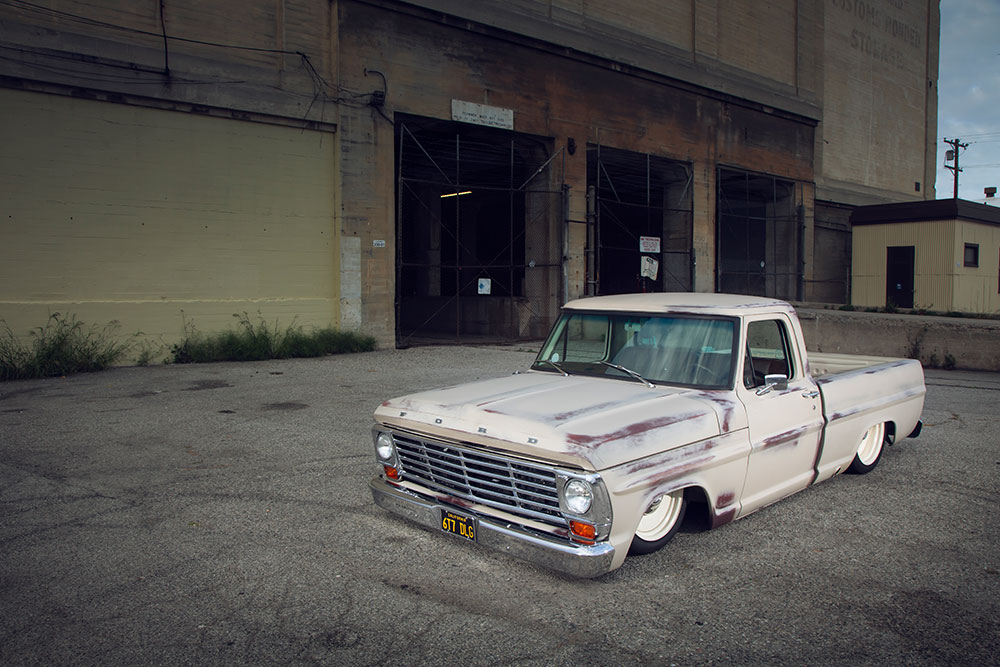 In just under two years, Lou finally had the F100 finished. It had all the details and features he'd need to embark on a very important journey to him. You see, Lou lost his wife to cancer not too long ago, and to honor her he dedicated the truck to her memory and has taken to the road to visit shows way outside of his local Northern California circuit. In fact, he has his eyes set on the entire USA and already has two round trips to the Grand National F100 show in Pigeon Forge, Tennessee, under his belt.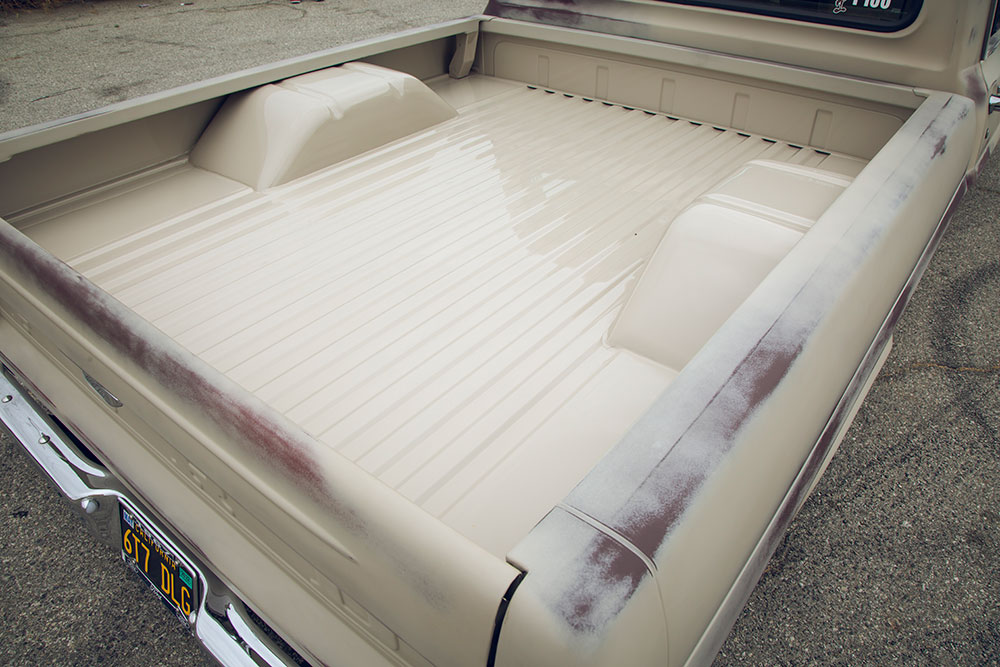 Since Deborah was born in 1967, that special number along with her initials have been stamped into the Ford's license plates. The way Lou sees and feels it, her spirit is always cruising right there with him every mile of the way, and who could fill in as a better guardian angel? With the start of a fresh show season, Lou is once again ready to hit the road again this summer. With no regrets in his mind or heart, and his sights set on the road ahead, you can bet that he'll be adding a healthy amount of miles to the odometer with his F100 riding low and his head held up high.