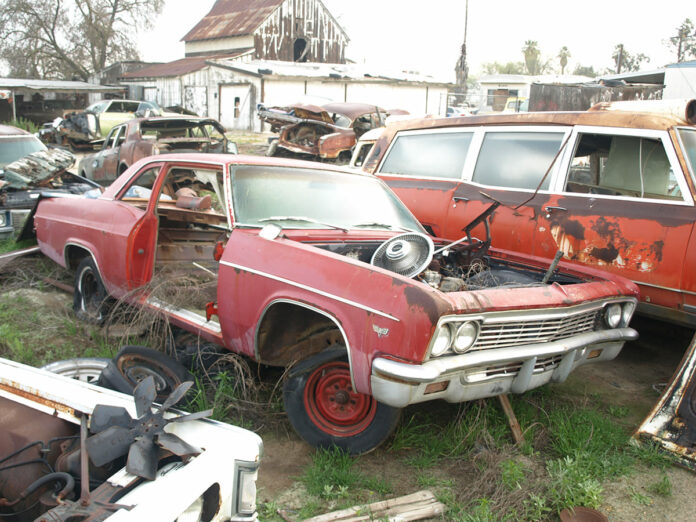 Small-Block Smoggers
By Steve Magnante – Photography by the Author
It's no big secret that when Ed Cole and his band of mechanical geniuses designed the original '55 Chevy small-block V-8 there was little–if any–concern given to minimizing exhaust emissions. Times were simpler and though major cities like Los Angeles experienced greenish clouds of incredibly unhealthy, noxious smog on a regular basis, little was done to address the fact that autos emit plenty of pollution.
So, in steps Uncle Sam to lend a hand with a series of increasingly stringent mandates forcing Detroit (and the imports) to clean up their respective acts. But, get this, before the U.S. government got serious in 1970 with the formation of the Environmental Protection Agency (EPA), five years before, in 1965, California led the charge with a mandate for new '66 cars to get clean or stay out of the state. By 1967, California's Air Resources Board was created and began its watchdog action.
In this month's Bowtie Boneyard we're at Turner's Auto Salvage in Fresno, California, where a pair of '66 Chevys exhibit some of the first emissions control equipment seen on American cars. If these items look strange to '66 Chevy experts, it's because they only appeared on California-bound models. The rest of the nation enjoyed less-complicated engine bays for a few more years.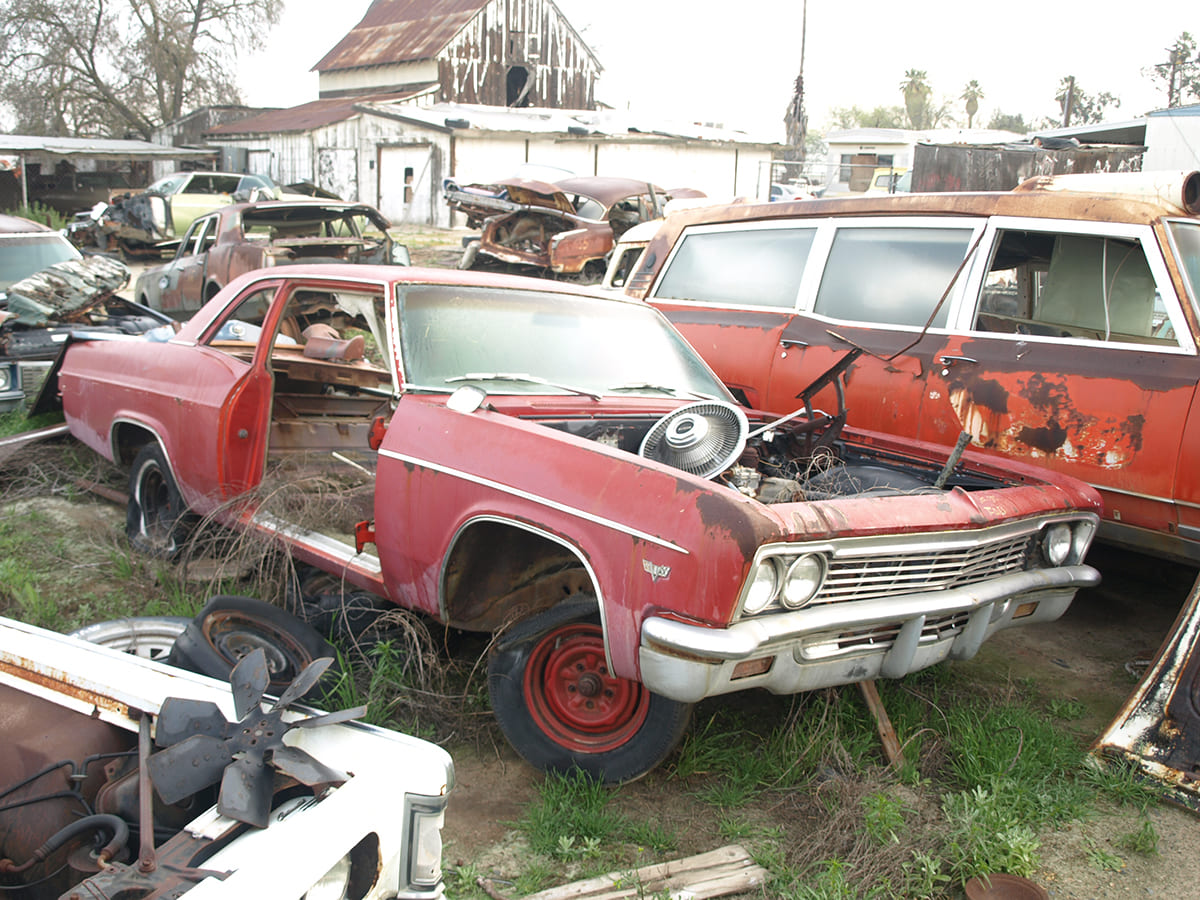 This tidy '66 Bel Air two-door pillar coupe seems to be wearing its original coat of Regal Red paint. But the paint code on the trim tag does not read the expected RR (for Regal Red) but rather OO, which doesn't appear in the '66 Ditzler Paint code index. Looking a bit brighter than Regal Red, it's likely the OO paint code signifies a specially ordered, brighter shade of red. Perhaps this was fire department car.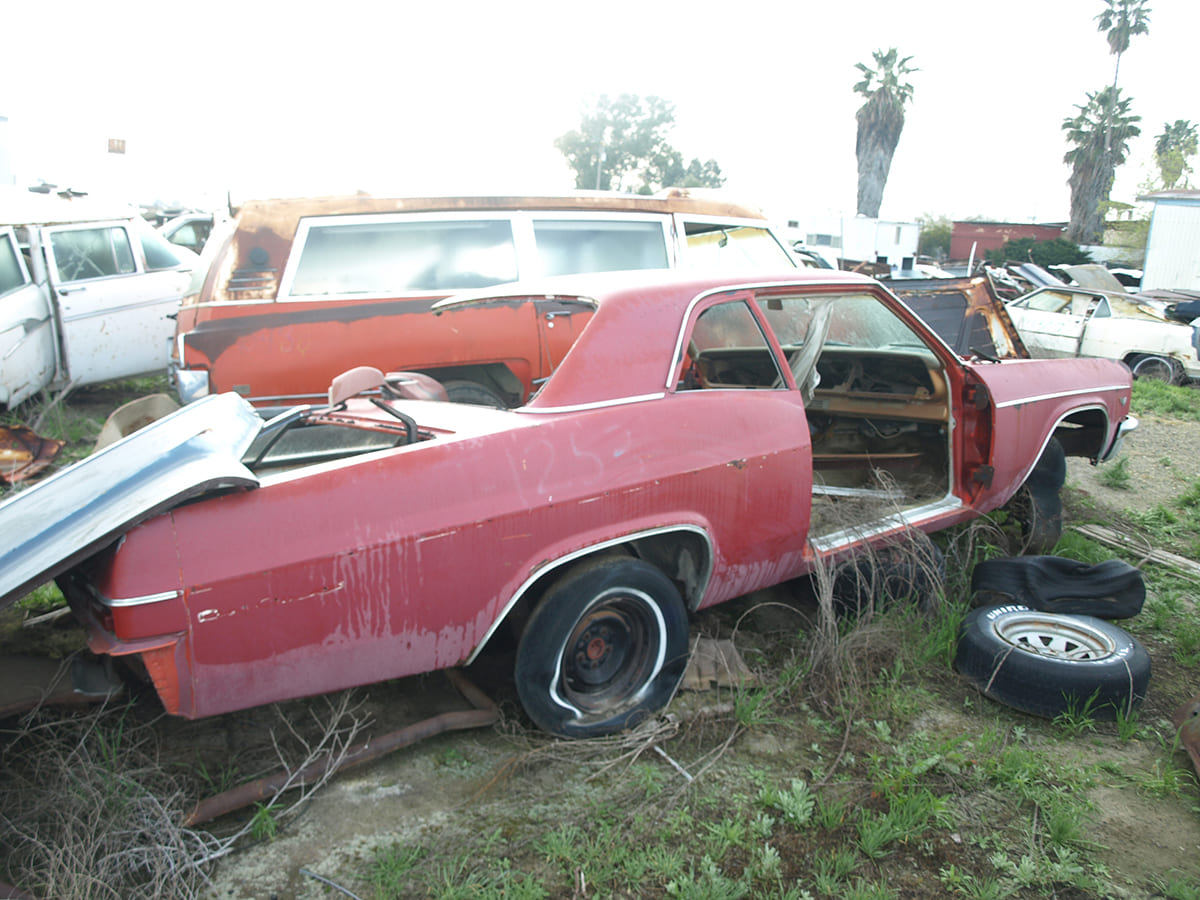 This would have made a great L72 427 clone (1,856 real L72s were built in 1966), but the dangling roof panel reveals that the entire driver side body panels have been slashed away. Squint and the rear tire's distorted sidewall resembles a wrinkle wall drag slick … if you're as sick as we are.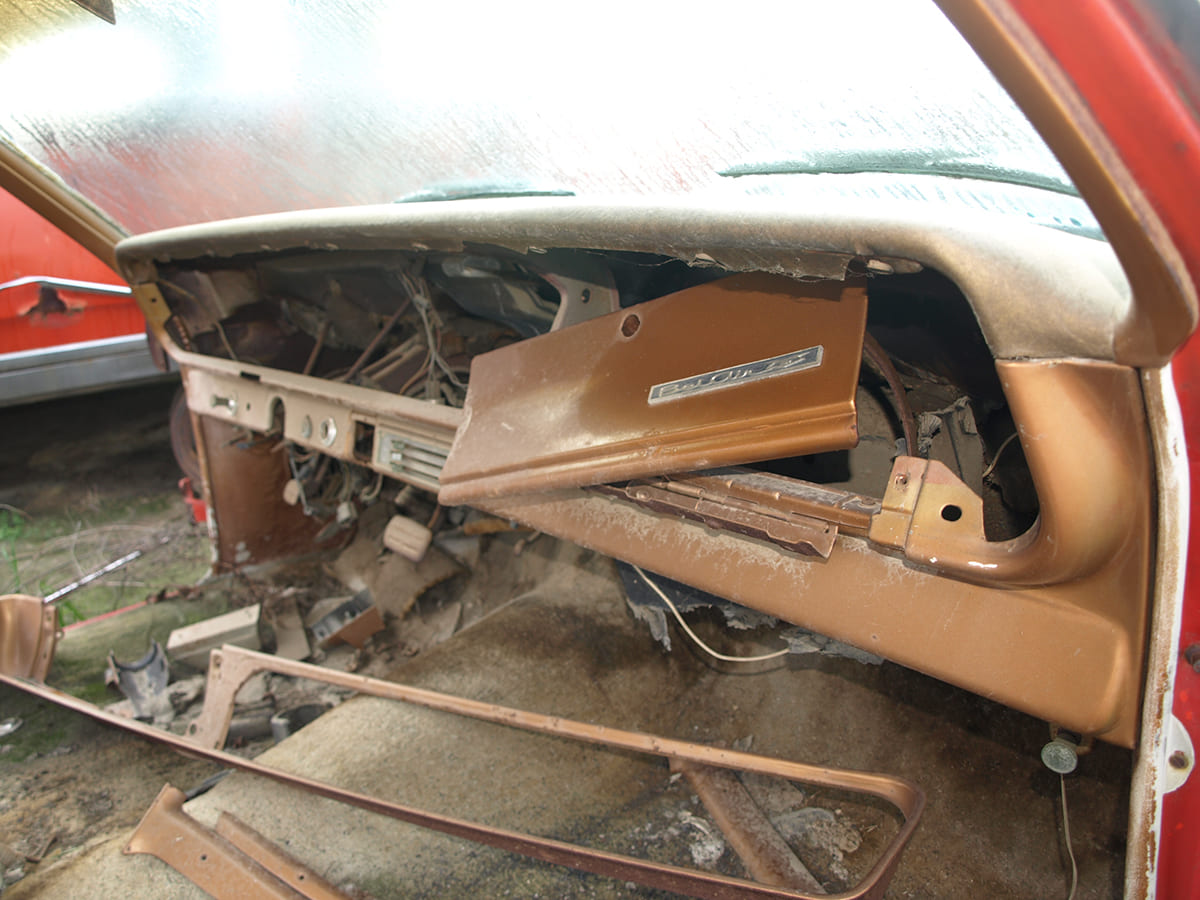 Inside, the wide brake pedal and smooth transmission tunnel hint at the automatic transmission below. Though midsized Chevelles didn't offer the three-speed Turbo 400 until 1967, it was available in fullsize Chevys as early as 1965 but only with big-block engines. This Bel Air has the optional M35 two-speed Powerglide, a $182.98 upcharge over the base three-speed manual transmission.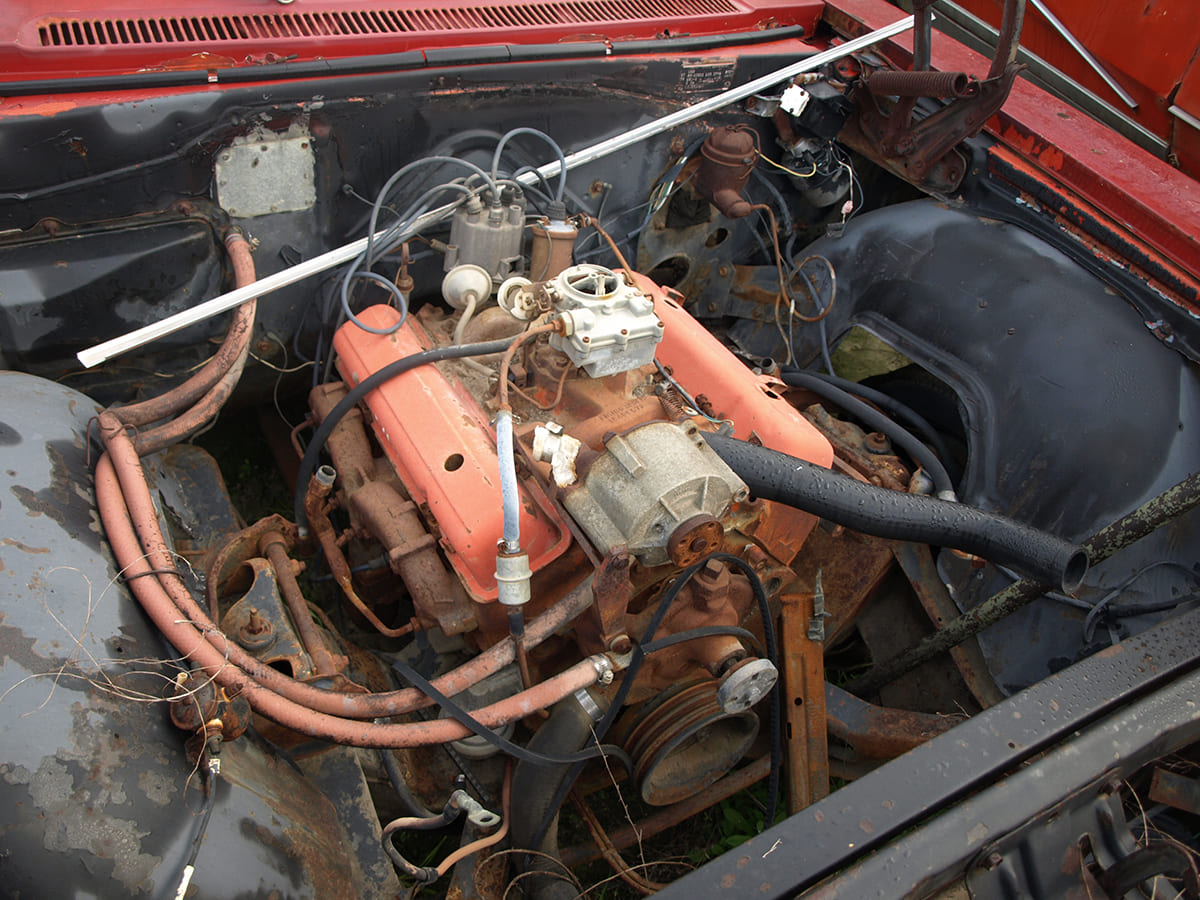 Here's the weird smog stuff. The aluminum unit that resembles an alternator is actually the beltdriven (missing) K19 A.I.R. (Air Injection Reactor) rotary vane-style smog pump. California-bound Chevys were all equipped with this $44.75 add-on. The single Rochester Dual-Jet two-barrel carburetor identifies this small-block as the base 283. The optional 327s were only offered with four-barrel carburetion. For $52.28 the four-barrel-equipped L77 283 bumped output from this two-barrel unit's 195-220 hp. Yes, these engines also got smog pumps for 1966.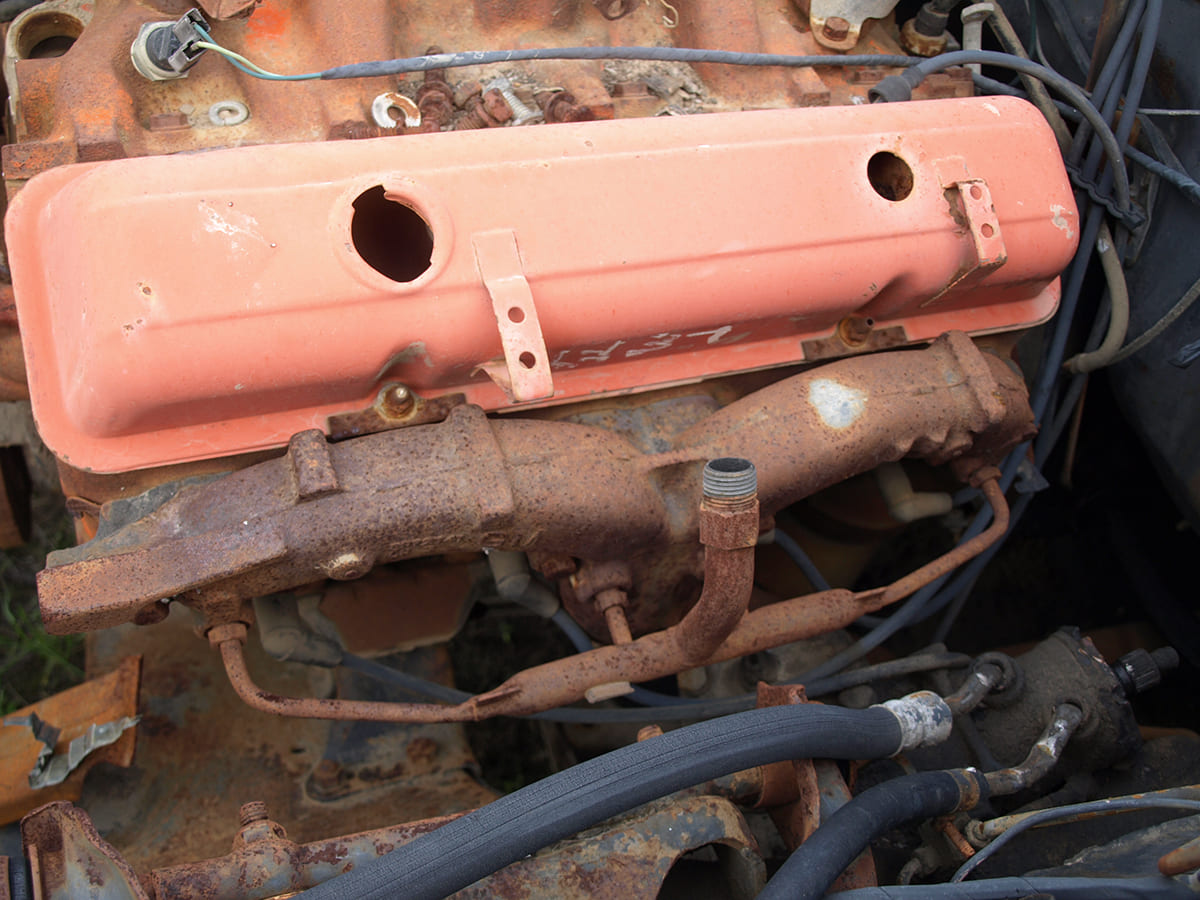 The K19 A.I.R. pump pulls air from within the air cleaner housing and injects it into the specially cast ram's horn exhaust manifolds via external steel tube plumbing. Upon contact with the hot exhaust gases, the incoming airflow triggers additional conversion of otherwise unburnt hydrocarbons, thus cleaning up the exhaust flow before exiting the tail pipe.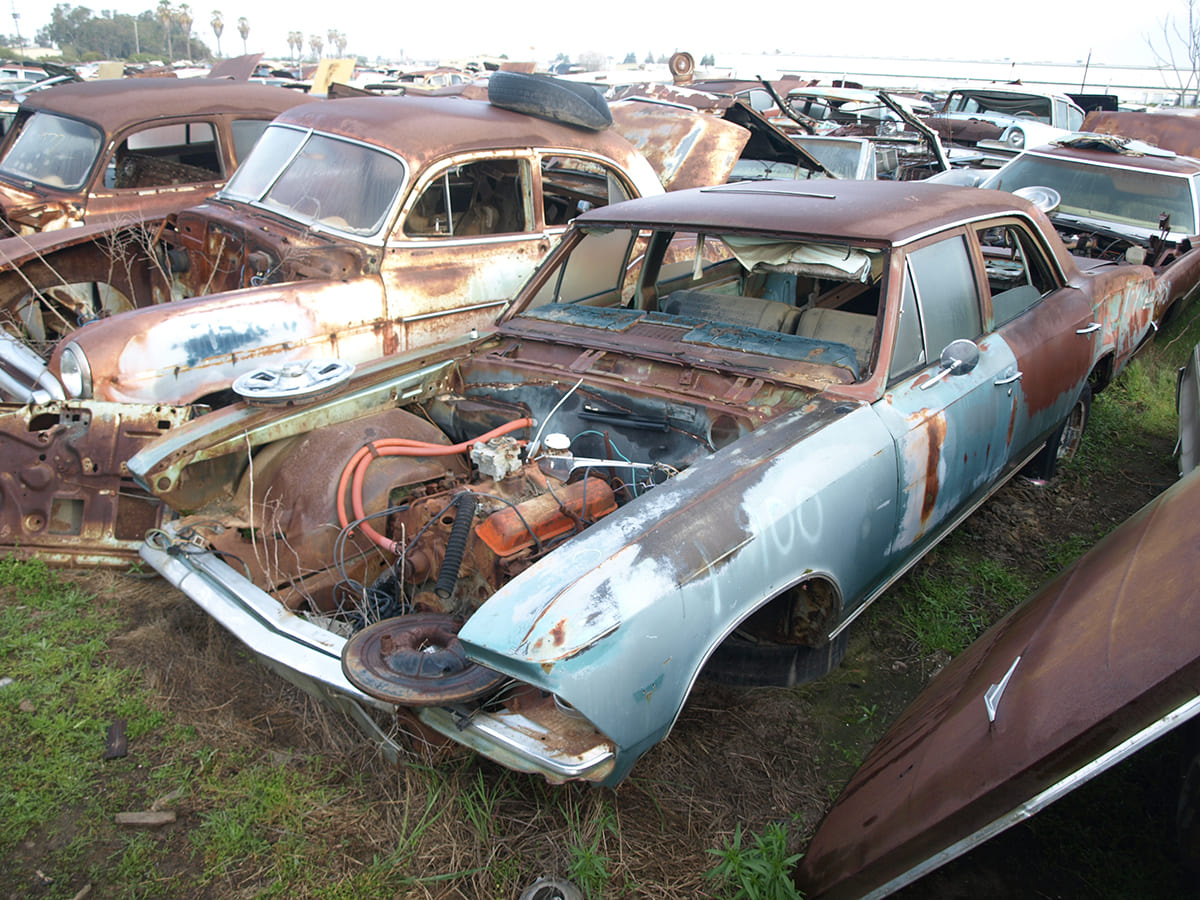 Another '66 Chevy with debut edition K19 A.I.R. equipment, this Chevelle Malibu four-door sedan still wears its faded K-code Artesian Turquoise paint. The missing "Vee" emblem's ghost on the front fender indicates base 283 two-barrel V-8. Optional 327 small-blocks would have had metal "327" badges added above the "Vee."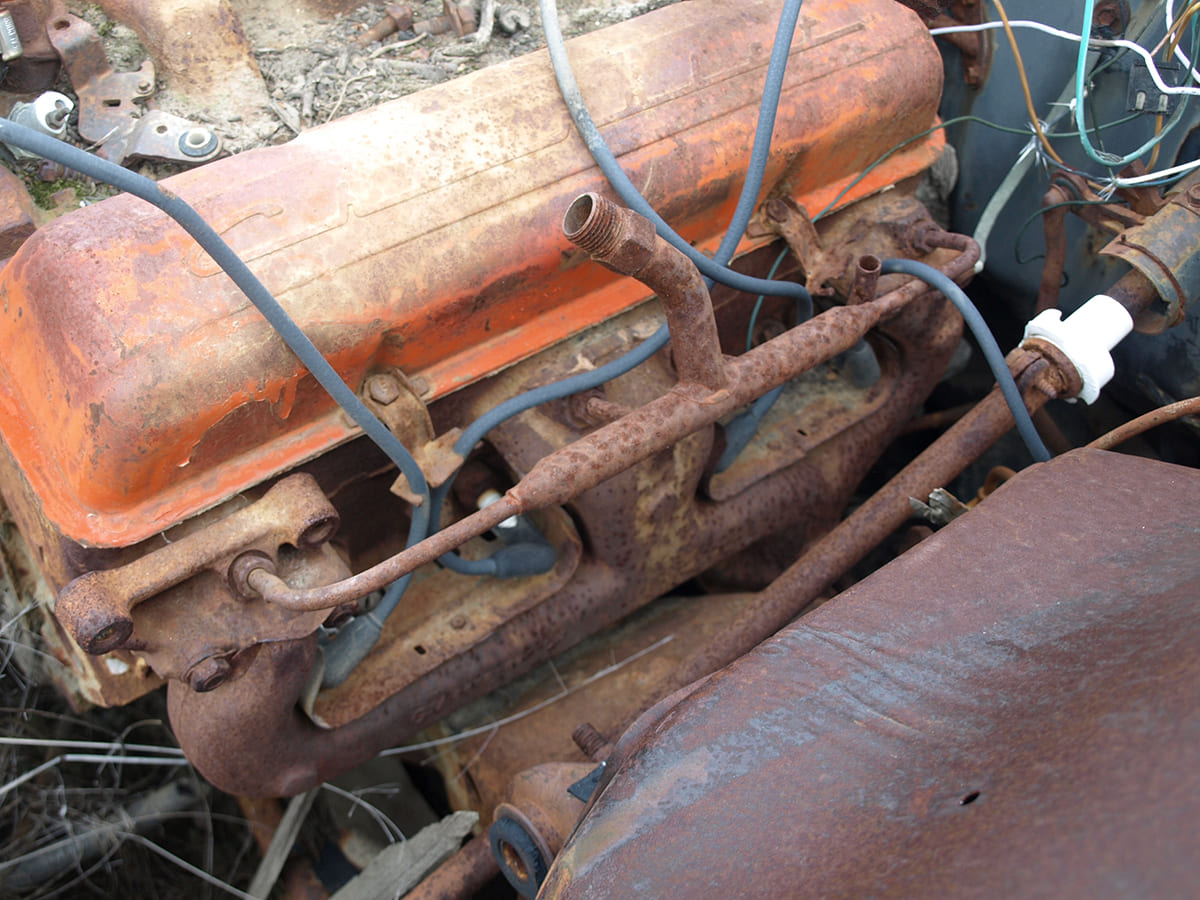 The Chevelle's 283 exhaust manifolds differ from the Bel Airs in their "W" configuration. Note how the spark plugs and wires are far more accessible than with the traditional (since 1957) "ram's horn" exhaust manifolds seen on the Bel Air. Also, note how the A.I.R. plumbing shoots the air stream down into the center of each exhaust port. The Bel Air's ram's horn setup is plumbed to admit air horizontally at the base of each exhaust port.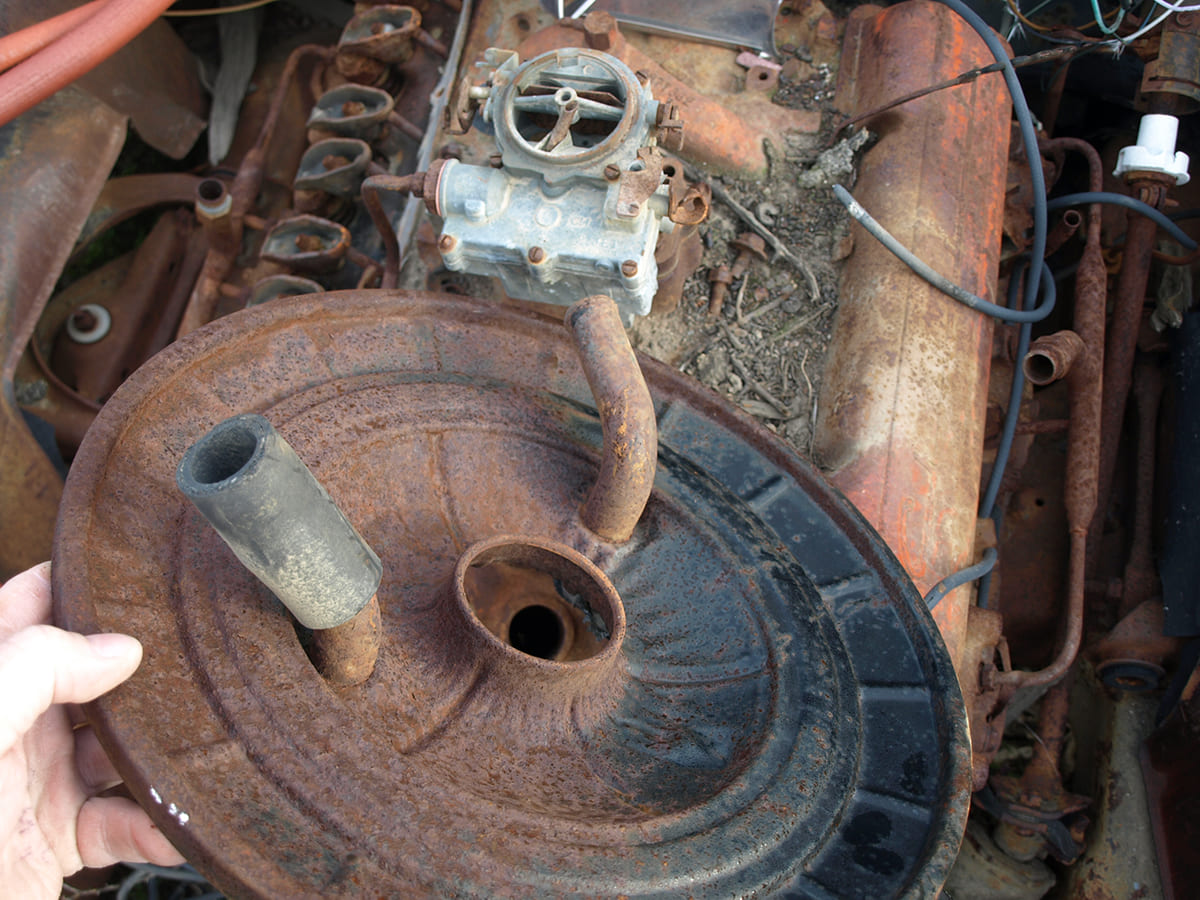 The base of the silenced, single-snorkel air cleaner features two integrated metal tubes that allow the A.I.R. pump to draw filtered air from inside the housing. The clean air enters the A.I.R. system's rotary vane pump at normal atmospheric pressure but gets a slight boost in order to enter the exhaust manifolds and overcome exhaust pressure. Drag racers have learned to adapt these A.I.R. pumps for crankcase scavenging and reduced windage in the block.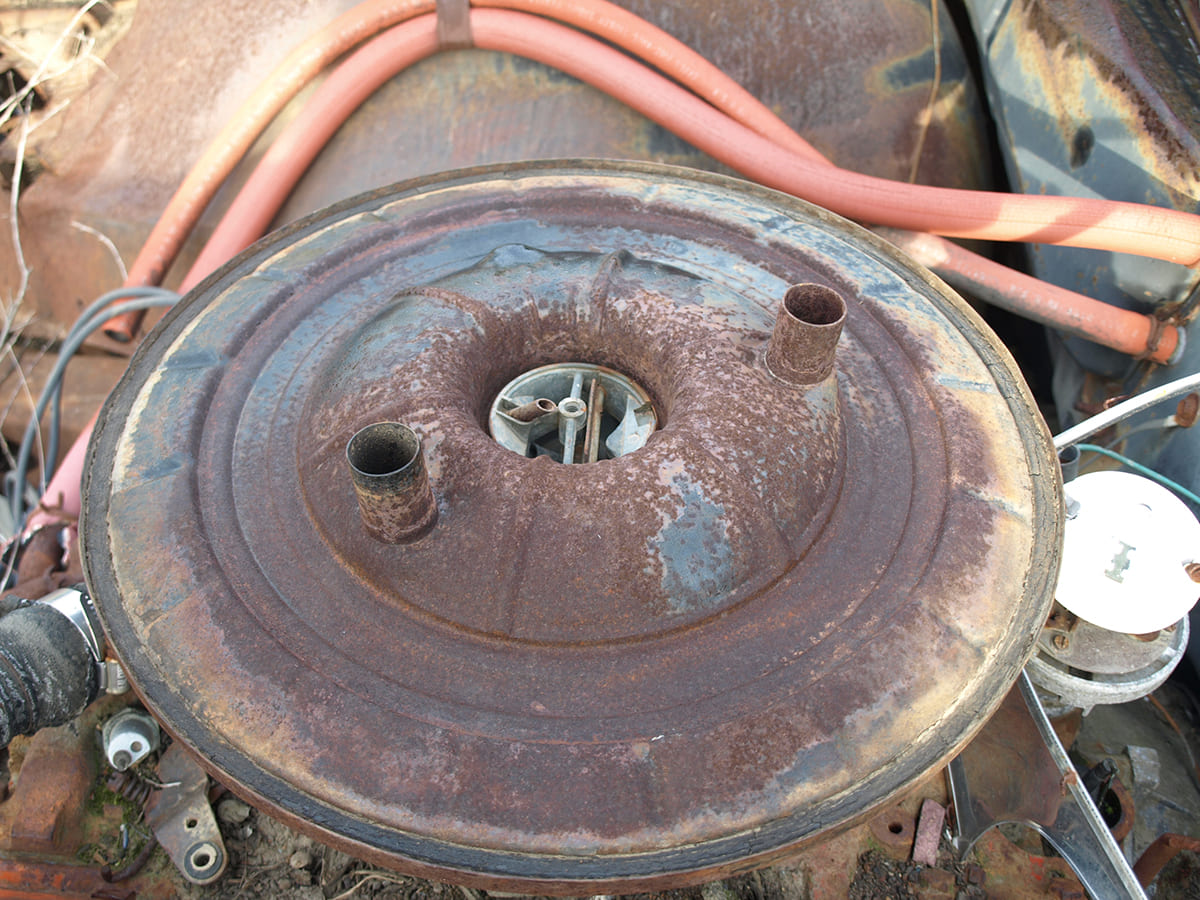 Permanently affixed to the baseplate, the twin air entry tubes resemble chimneys. GM designers situated them inside the perimeter of the circular air filter element to assure access to clean, filtered air. Folks seeking to restore California-sold '66 Chevys (and Fords and AMCs) have to locate this obscure hardware if 100-point accuracy is required. The air injection equipment used by Ford and AMC were called "Thermactor Exhaust Emission Control System" and "Air Guard System," respectively.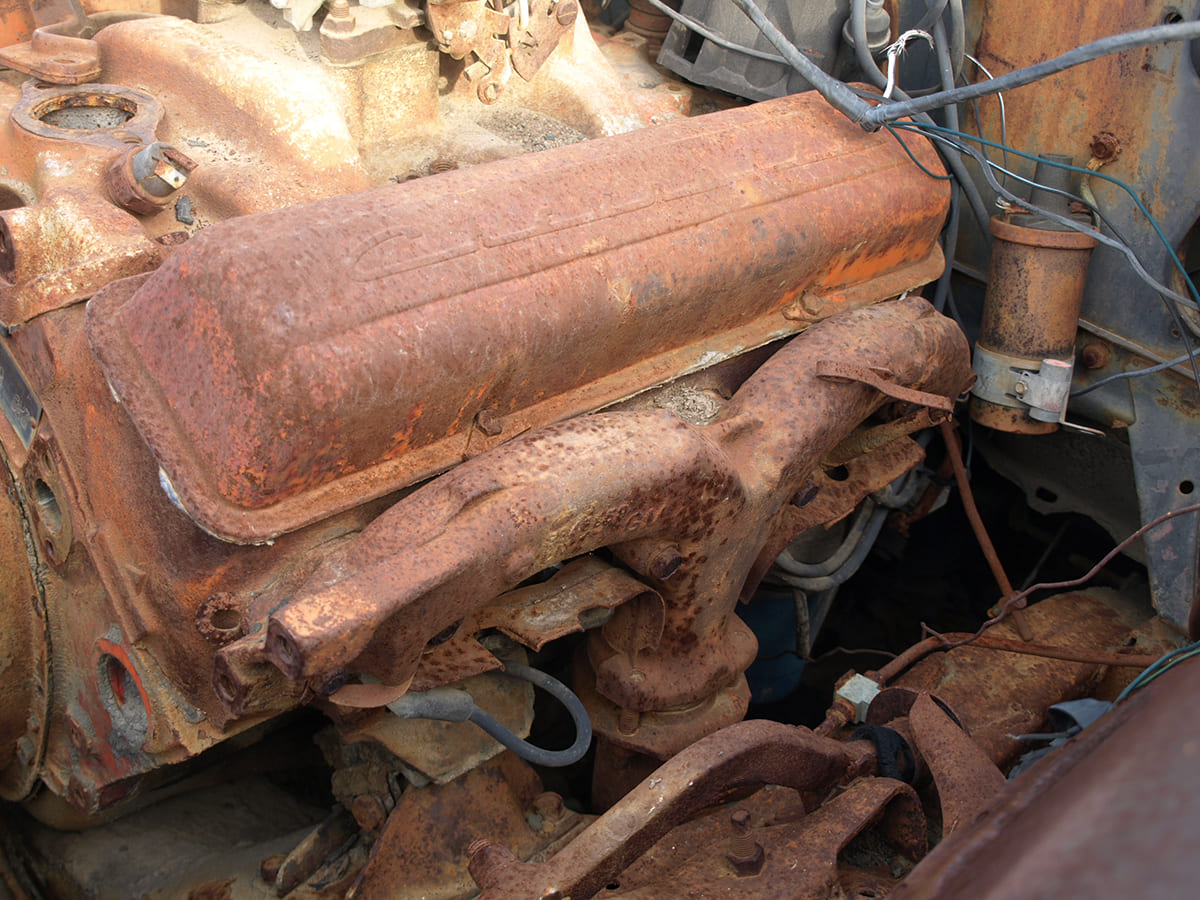 DeFor contrast, here's a traditional ram's horn exhaust manifold. Note absence of integrally cast threaded bosses for A.I.R. plumbing.