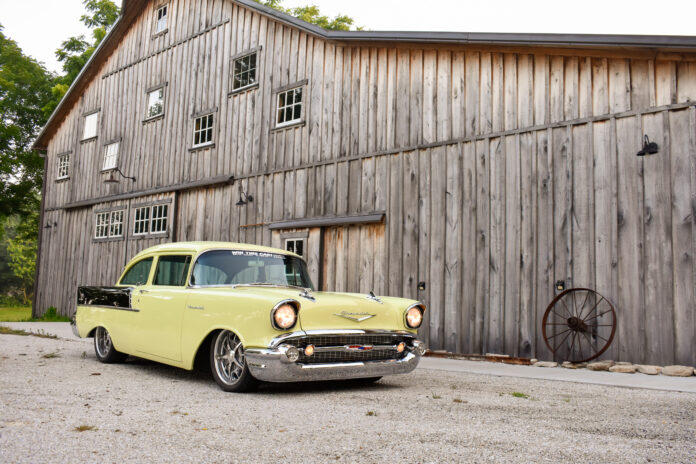 Someone is going home this summer with this 1957 Chevy 150 built by Woody's Hot Rodz (WHR) as it will be given away at the 6th Annual Danchuk Tri-Five Nationals, held August 12-14. One might imagine driving home two cars could be a real "pain" but we are also thinking this hard luck tale is one all of us would gladly endure.
By Brian Brennan – Photography by Gabrielle Sauerland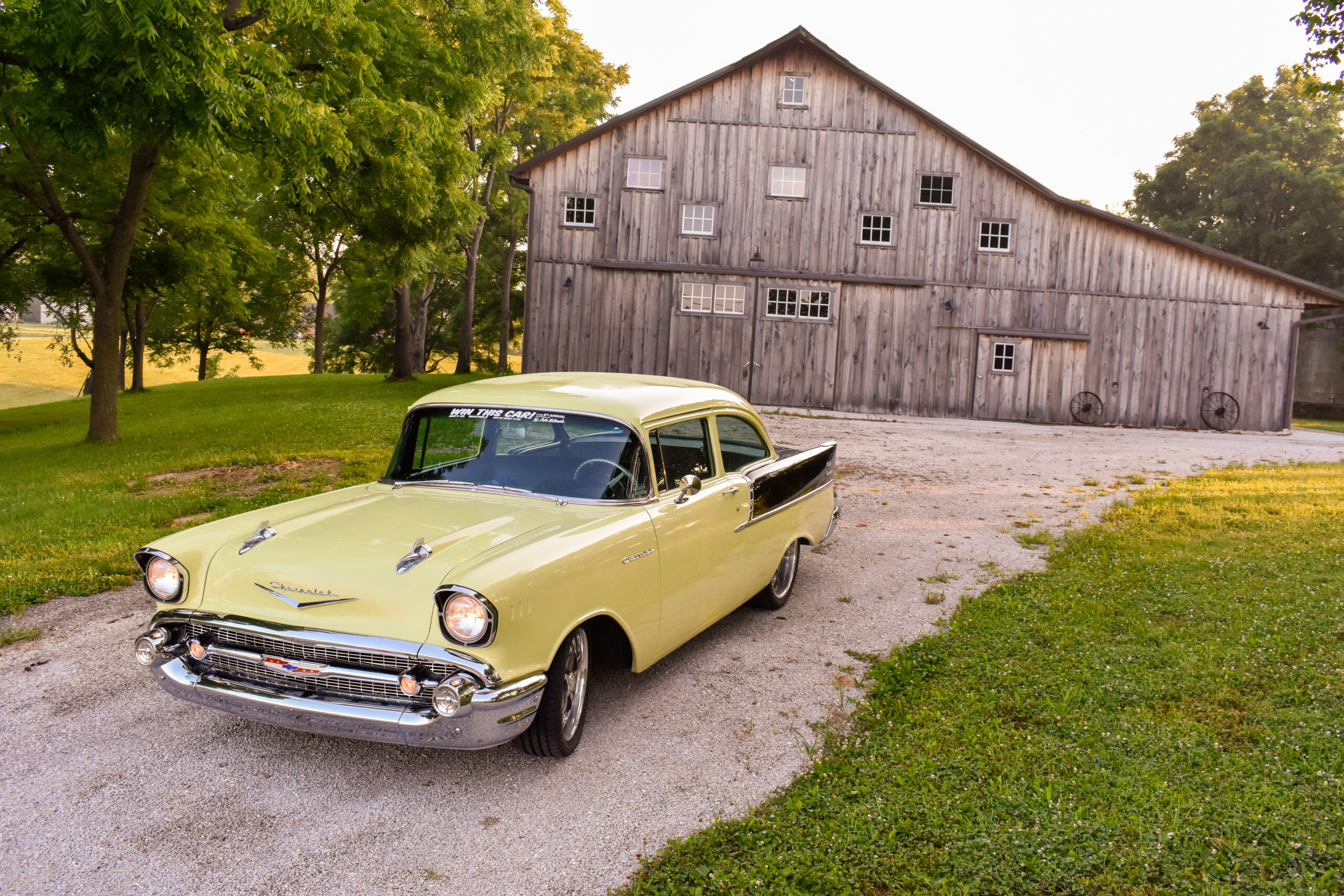 It's summer, which means hot rods, sun, and fun with cars. It's been a year where the majority of us were locked up, confined, shut down, shuttered, boarded up, or in some form or fashion put on "ice" and we are now ready to get out and have some fun.
Each year the American Tri-Five Association holds their Danchuk Tri-Five Nationals in Bowling Green, Kentucky, at the iconic and most assuredly historic track Beech Bend Raceway. Steeped in tradition, the facility represents what's good with having a weekend of fun at an event.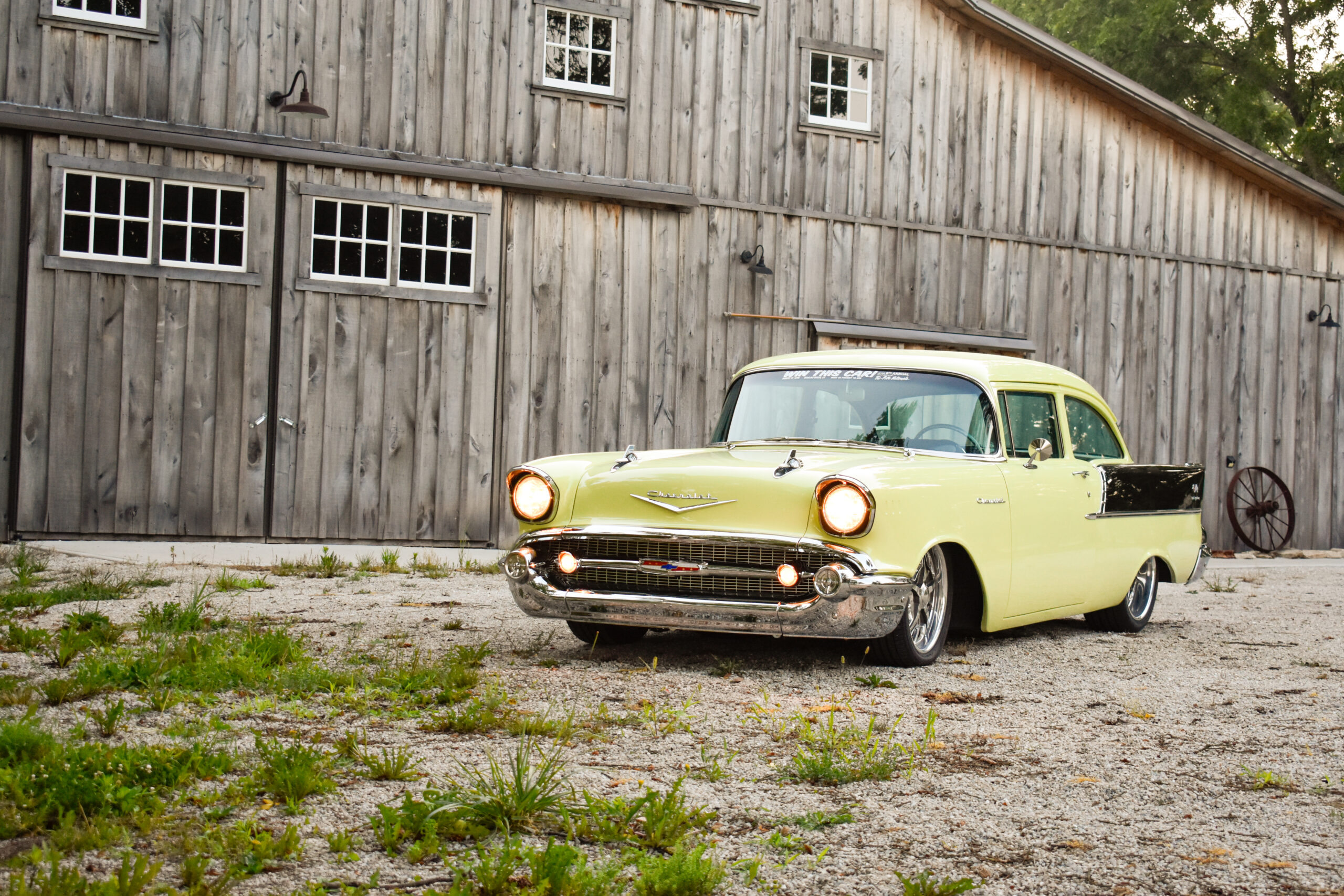 If you are wondering if this was to be last summer's giveaway grand prize you would be thinking in the correct direction. COVID-19 got everyone off track but now it's time to unveil the 1957 Chevy 150 built at WHR in Lawrenceburg, Indiana. Constructed from unsullied Golden Star Classic Auto Parts (GSCAP) sheetmetal and an equally brand-new chassis from WHR it was built in 12 weeks. It sat during the hiatus but the time was well spent applying final touches, making it ready for this summer's Danchuk Tri-Five Nationals.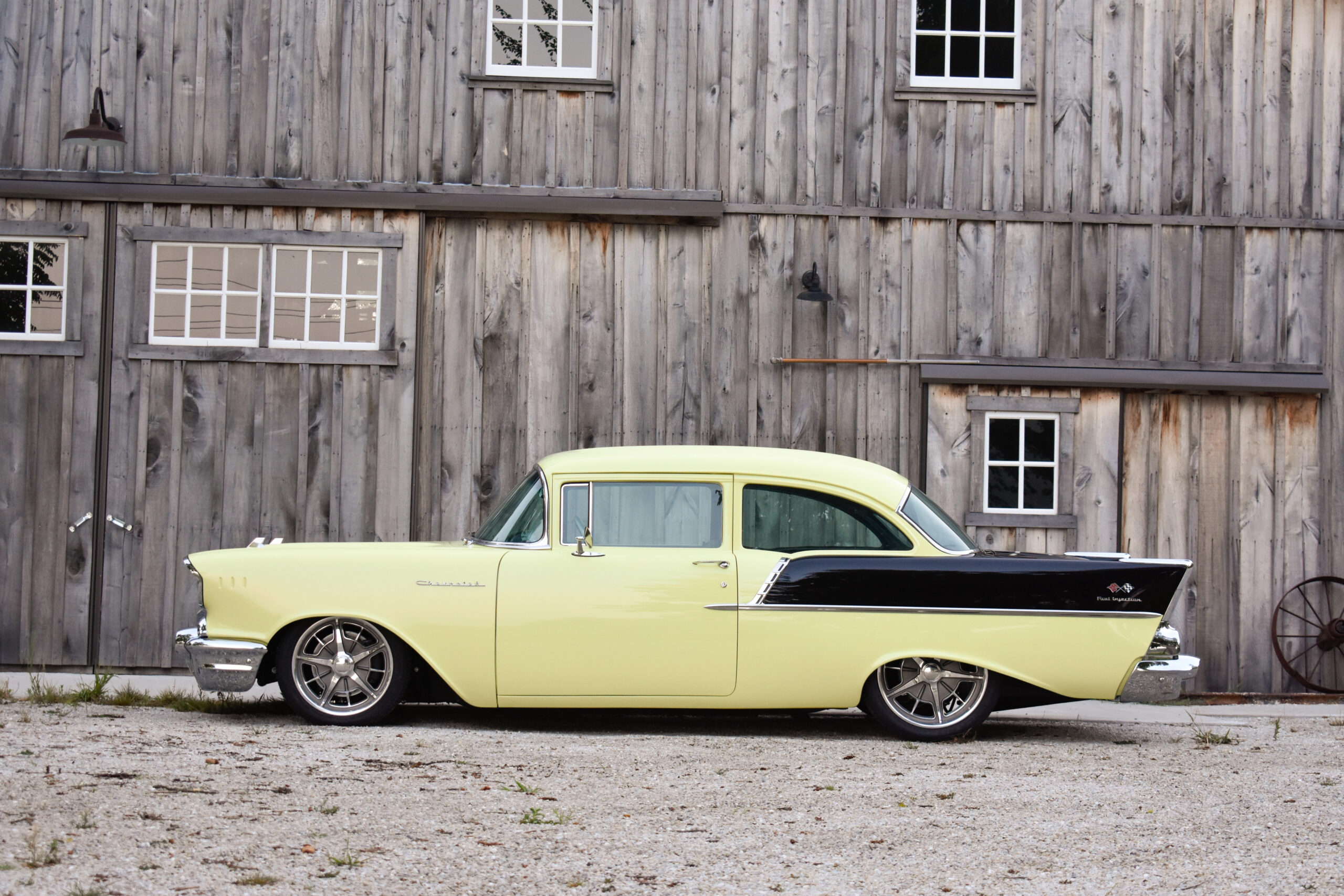 The Axalta Onyx Black and Colonial Cream was generously applied over the final sheetmetal and bodywork at WHR under the watchful spray pattern of Brian Graber (longest tenured employee at WHR at 16 years). One of the nifty external touches to the GSCAP sheetmetal is the OE-looking "Fuel Injection" emblems on the rear quarter-panels as well as the Route 66 150 side trim. The GSCAP newly minted metal is stock in all of its appearance but it's what's underneath the skin that one has to pay close attention to the detail to realize this is both a freshly minted 1957 Chevy but also one that sports loads of modern-day hot rod technology.
This 1957 Chevy 150 is most assuredly fuel injected, not the mechanical Ram Jet from decades past but rather a brand-new LS376 (6.2L) Connect and Cruise package from Ed Rinke Chevrolet Buick GMC. The backend of the powertrain is a 4L70E trans, also from Ed Rinke, finishing out the C&C package. But we are not about to leave out the attention-grabbing accessory that makes the fuel injection on this V-8 something special.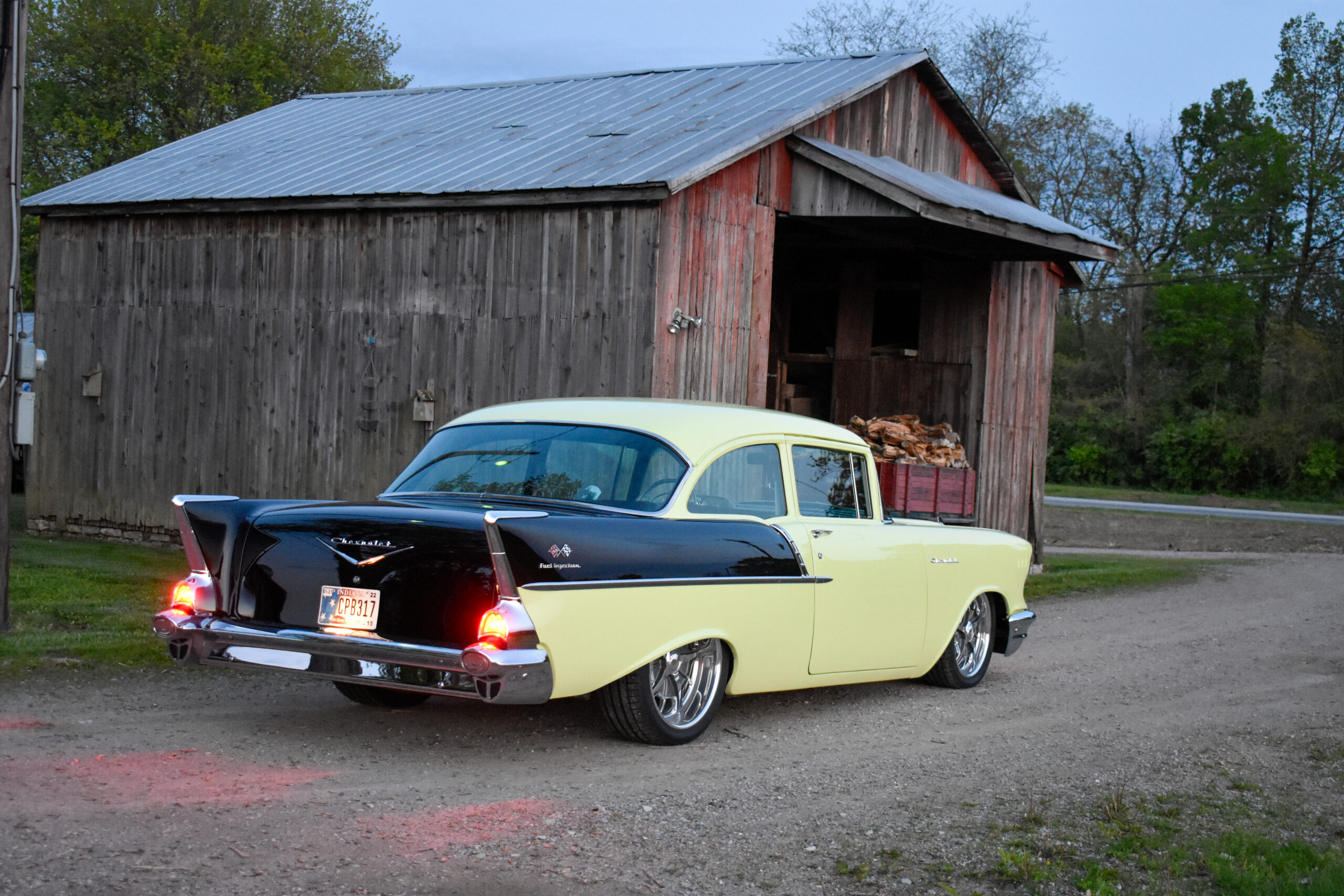 Resting on top of the LS is an LS Classics Series from Lokar Performance Products, which gives you all of the performance you would expect from an LS V-8 but with a vintage look. To be specific, the fuel injection is reminiscent of 1957 fuel-injection package one might have found on a 1957 Chevy of the day. This modern EFI brings back all of the vintage looks of the original mechanical fuel injection but the performance is oh-so modern and powerful. More engine goodies include a Holley Sniper in-tank EFI fuel pump that feeds the Holley Terminator X-Max with spent gases running out of the Hooker cast exhaust manifolds that butt up to WHR-fabricated 2-1/2-inch exhaust tubing linked inline with a pair of Hooker Comp Turbo mufflers. A fun accessory is the Delco Tar Topper replica battery that gives a thorough taste of a vintage engine compartment but with the capability of meeting today's electrical demands. Other engine dress items to continue the vintage look is the LS Classic faux distributor and coil kit.
Check out this Father-Son 1957 Chevy 210 with 427 Big-Block Chevy Power
The WHR chassis is based on one of their newly produced frames, powdercoated by Creative Finishing, that utilizes a John's Industries 9-inch rearend with 3.50 gears and 31-spline axles, also from John's, along with a Cincinnati Driveline driveshaft. Resting behind the Mattson radiator is a RideTech suspension based on tubular A-arms, spindles, ShockWaves, and RideTech MuscleBar sway bar. The eye candy and the stopping performance aspect of the front and rear suspension rests in the Classic Performance Products (CPP) Big Brake kit.
It utilizes a 13-inch cross-drilled, gas slotted and zinc-washed rotor that's mounted to its own hub and is mated up to a C15 caliper that utilizes a pair of 52mm pistons. Bringing all of this to bear is the CPP HydraStop hydraulic assist system providing plenty of comfortable pedal pressure yet more than enough power to stop quickly. Holding this ultimate-performing chassis off of the ground are a set of Schott Split-Window Cover-Loc wheels measuring 18×7 in front and 20×8.5 in the rear, while you will find Falken Azenis FK510 rubber 225/45ZR18 and 255/40ZR20 fore and aft.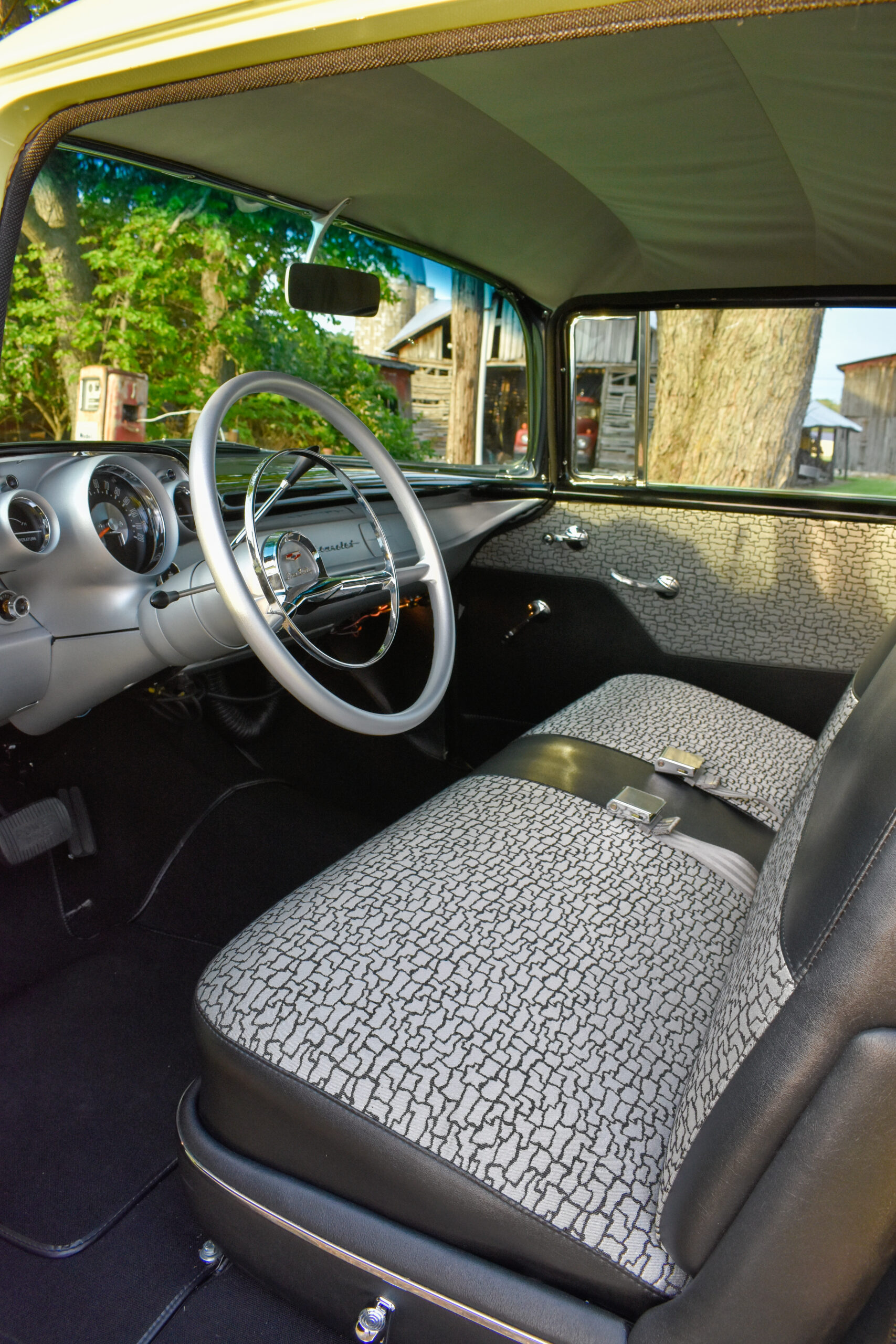 Inside the otherwise stock-appearing interior, the first thing you may notice is the rear seat delete package from WHR, while the front bench is from Ciadella stitched in a period-correct pattern, Cobblestone, and colors. Wrapped around the interior is OE green-tinted glass from Auto City. The dash, another stock-appearing item, complete with its radio delete panel, is painted in an accent gray and encases a set of Dakota Digital RTX gauges wired into use via an American Autowire Highway 22 Plus kit by the staff at WHR. Although there's a radio delete panel there is a stereo; good vibrations always go hand in hand with a hot rod, and it's a Custom Autosound Secretaudio system neatly tucked under the front bench seat along with a subwoofer. Two tweeters are hidden in the base of the rear utility shelf. The steering column comes from ididit while the wheel itself is an American Retro 15-inch (cut down from the original 18-inch) 1957 Chevy 150 wheel.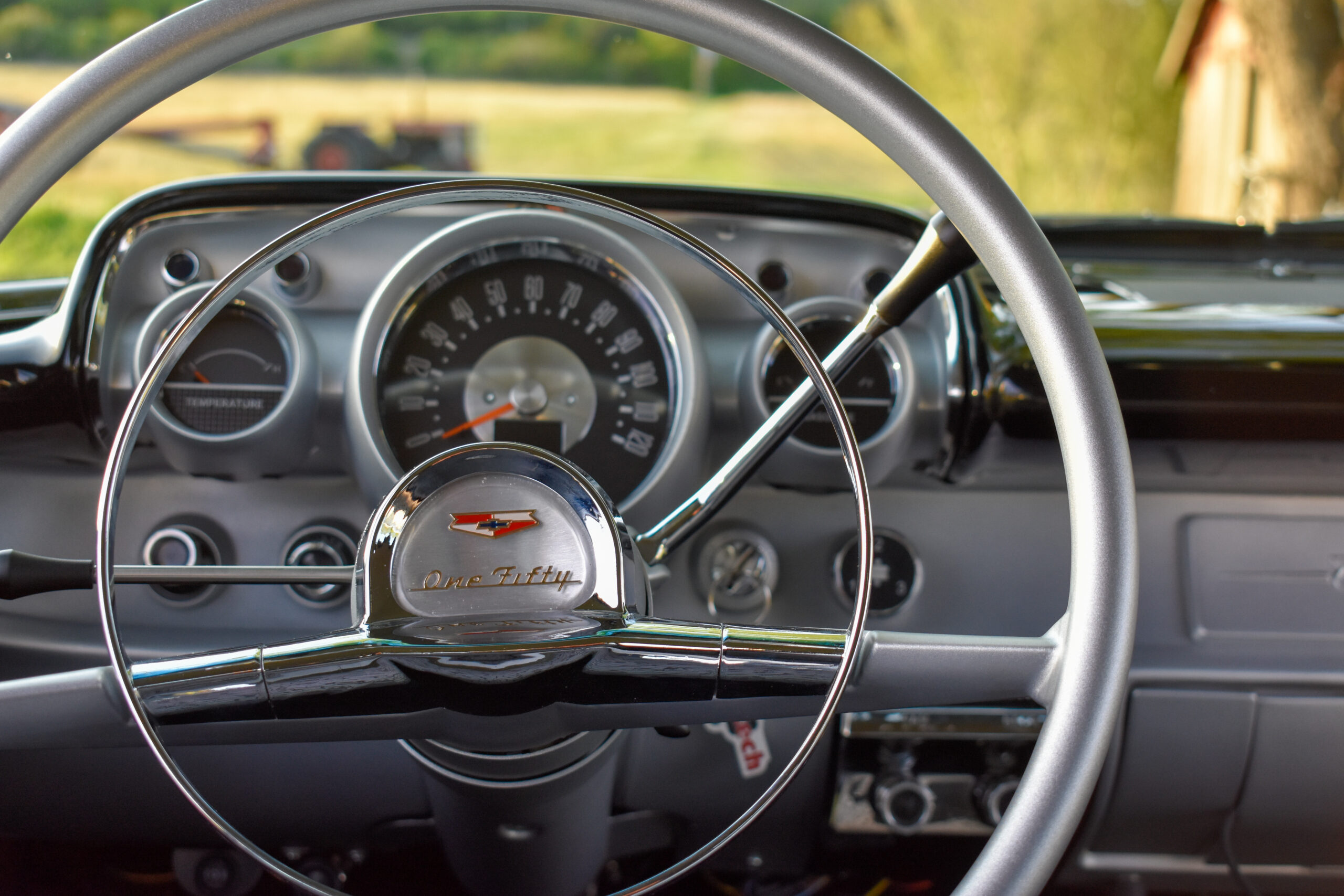 That's one heck of a car for any rodder to win at the 6th Annual Danchuk Tri-Five Nationals, hosted by the American Tri-Five Association.
In order to win, you must attend the Tri-Five Nationals. Read more about the contest here and register for the Tri-Five Nationals here.
(Editor's note: Should you attend the Danchuk Tri-Five Nats, be on the lookout for any number of awards that Modern Rodding, Classic Truck Performance, and All Chevy Performance will be handing out. Yep, we are going to be there and join in the fun ourselves.)