Cameron Smith's Missouri-Built 1967 Chevy C10
By Fuelish Media   –   Photography by the Author
It's very rare for someone to have the opportunity to take ownership of his or her personal grail truck right away—but Cameron Smith got close. "I'm all about trucks," he says. "The '67-72 Chevy C10s are my favorite models, but the '67 small window is by far the ultimate of them all for me." While the opportunity to purchase a '67 eluded him for quite some time, he did get to spend some time with a '70 Chevy pickup before getting the truck you see on these pages.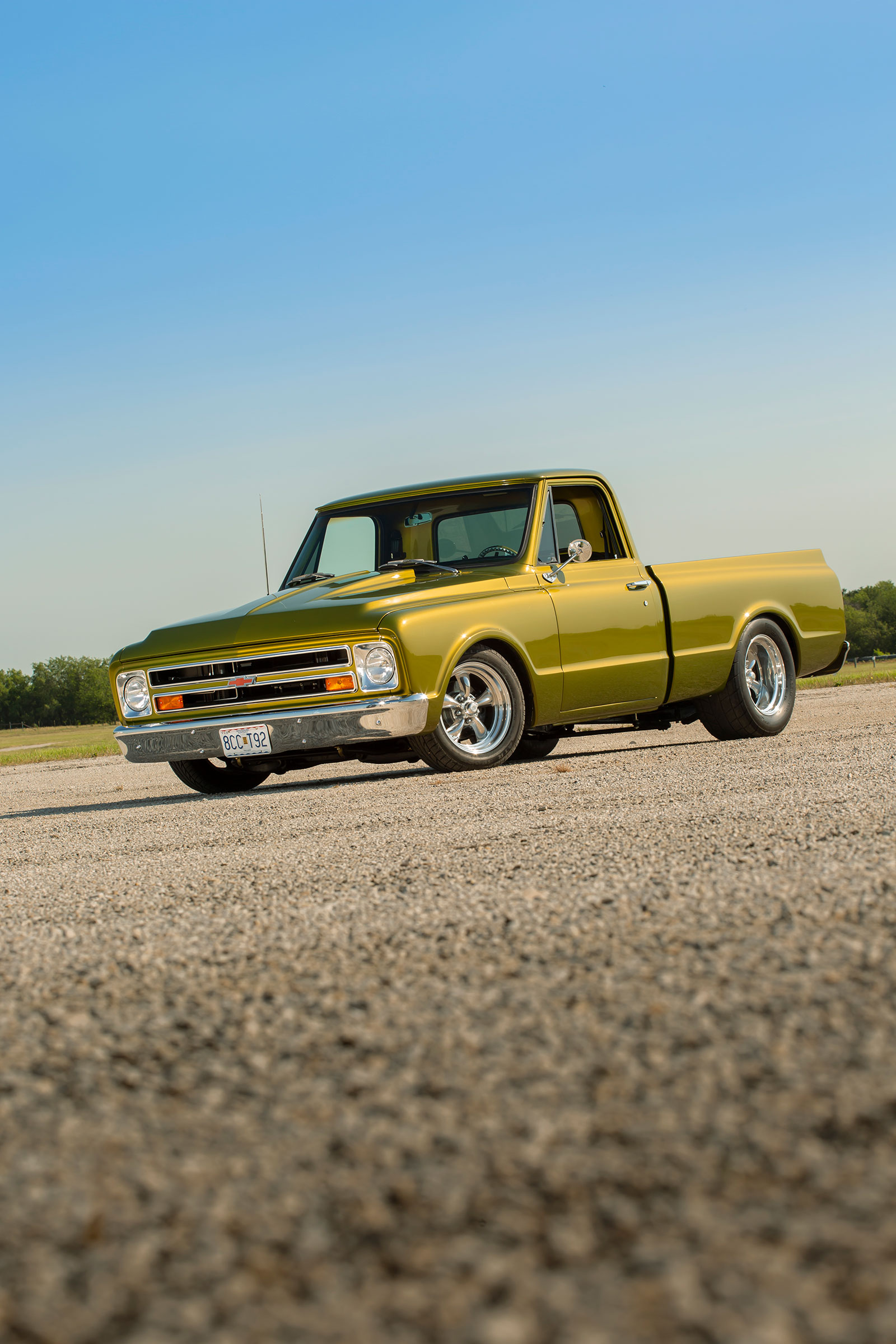 "I really started the search for my '67 back in 2012," Cameron says. "I found it about four hours away in the Kansas City area. When I bought the truck, it had already been restored but probably not touched since sometime in the '90s, so it was a bit dated. The truck was complete, had current tags, and was being driven up until the time I bought it. I just couldn't wait to tear into it."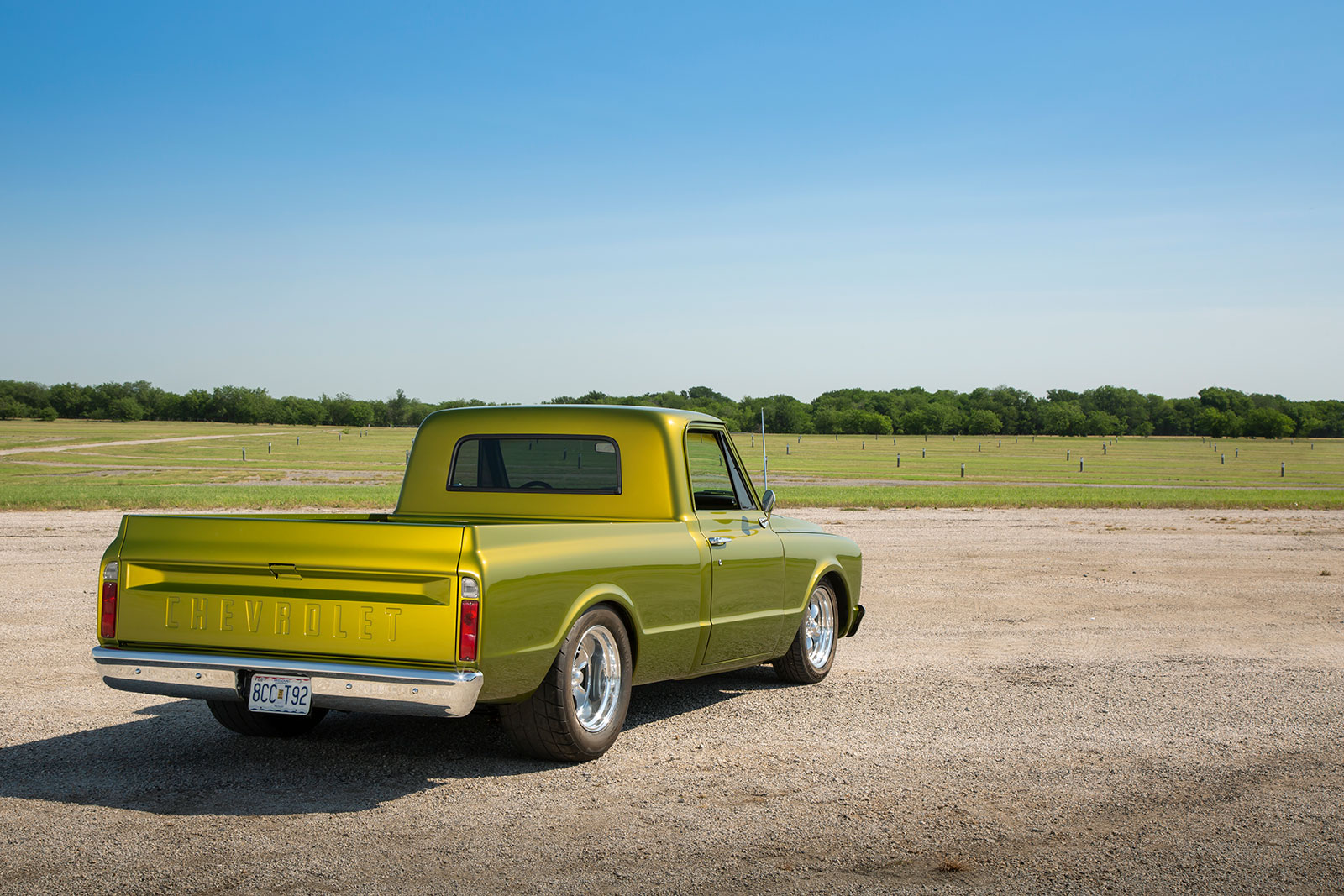 Cameron wasn't messing around with this truck. Since he finally had his hands on the exact truck of his dreams, he had already planned on this being his first full frame-off restoration project even before the truck was in his driveway. Now, he envisioned doing as much of the disassembly and reassembly process on his own (with some help of friends and family, of course). Cameron knew he would need assistance here and there from local talent to bring the whole project together, but he had enough experience with previous projects (namely his '70 C10) to give himself a good head start.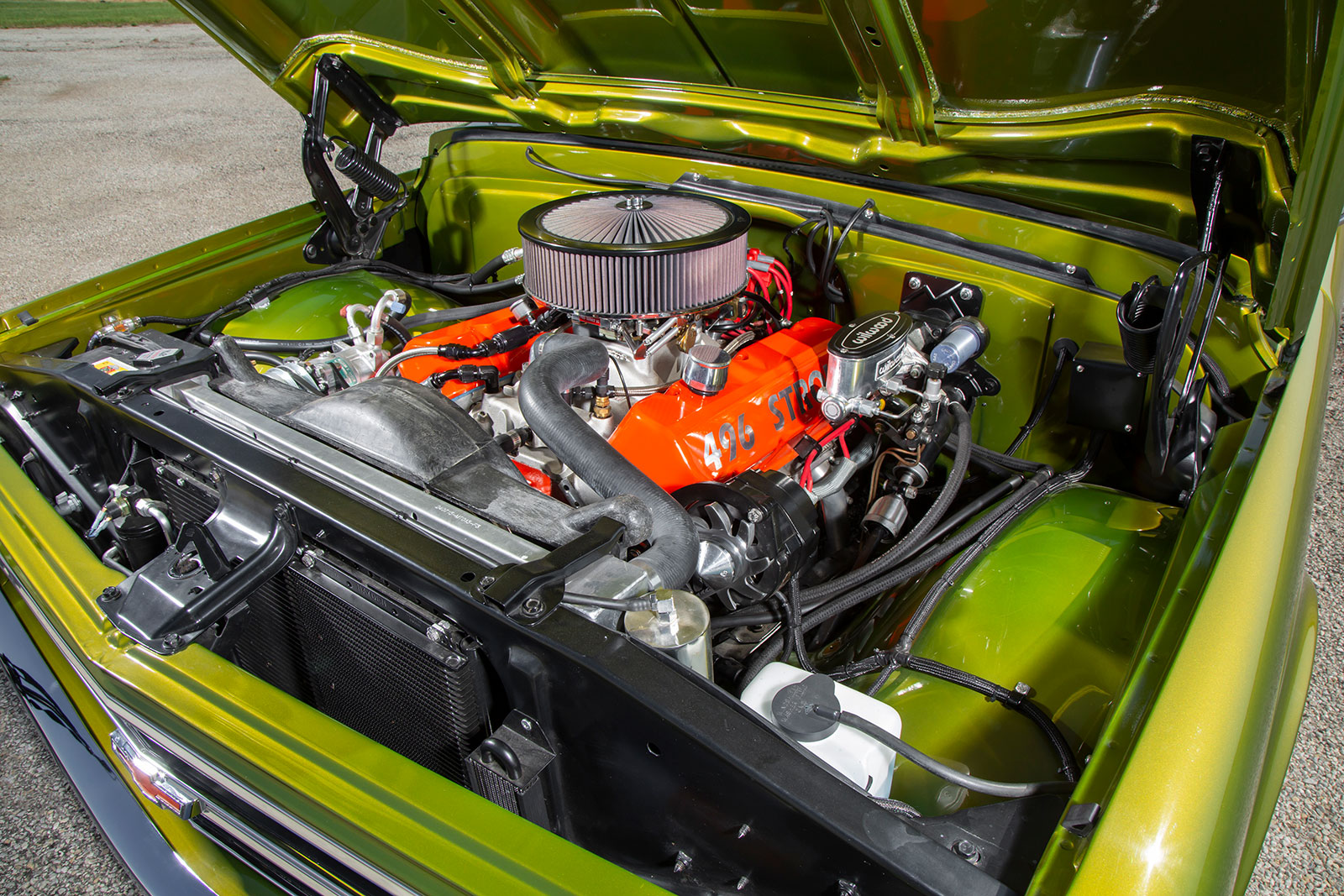 Read More: BBT Fabrications Built 1956 F100
First things first, the truck had to be torn down to the frame rails. Next, he upgraded the factory front A-arms with GM '73-87 ball joints and tie rods before grabbing a set of Classic Performance Products drop springs and drop shocks with reinforcement brackets, as well as Belltech drop spindles for an easy 5-inch drop in the front. Cameron was able to rebuild the factory tilt automatic column and shortened it 3 inches for future interior clearance and added a front sway bar from a GM '73-81 1-ton pickup.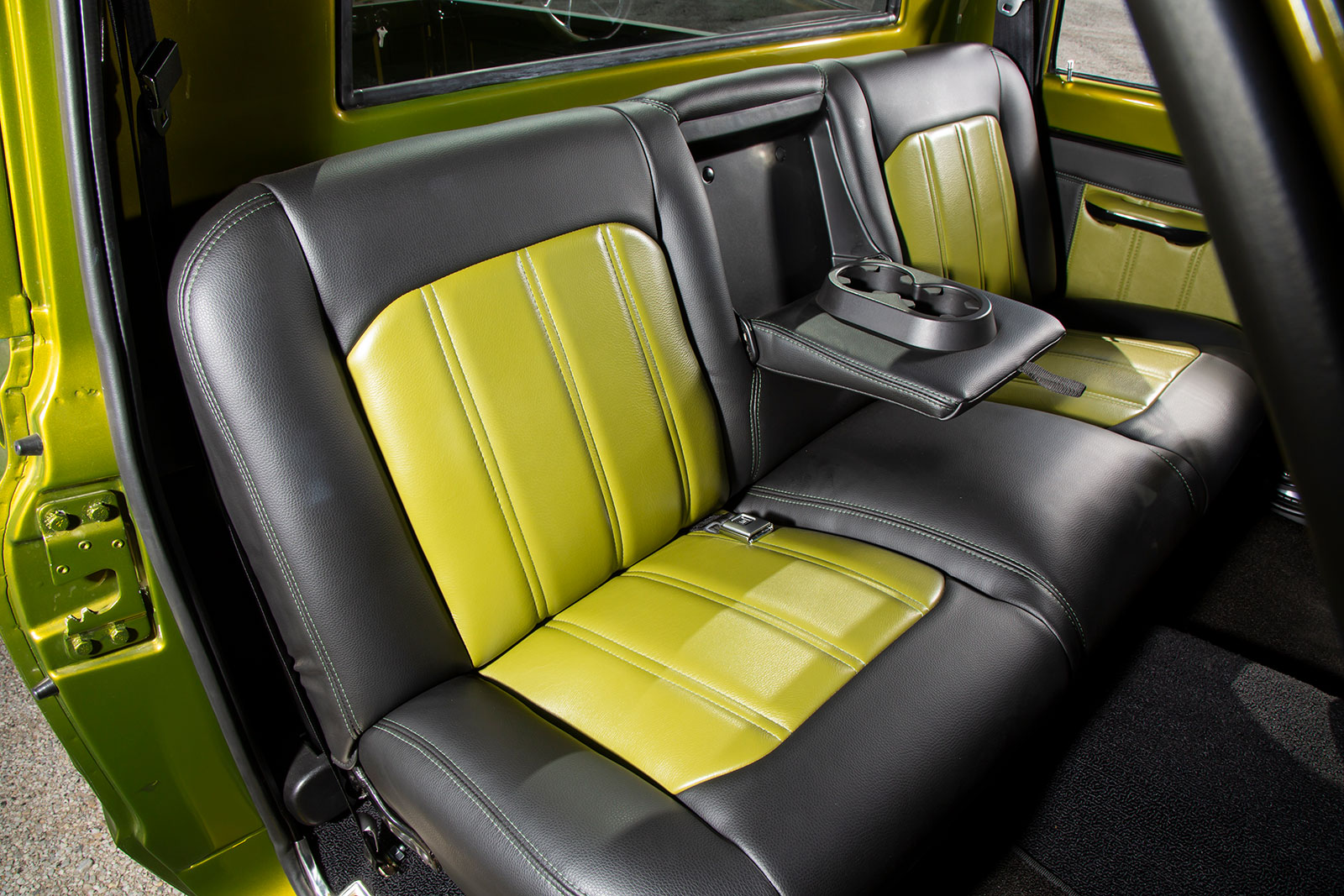 At the rear, Cameron started by reinforcing the stock trailing arms, again sourcing Classic Performance Products for 4-inch drop coils, shocks, and sway bar before fabricating custom 2-inch aluminum blocks for a 6-inch drop without the need for a C-notch. The braking system was upgraded to GM front and rear disc brakes with slotted-and-drilled rotors, an '05 GM 2500 HD Hydro-Boost booster with a custom pushrod for the factory '67 brake pedal. A Wilwood brake master cylinder with proportioning valve was also included in the new setup for superb stopping power. To complete the new rolling chassis, a set of 17×7 and 17×11 Racing Torq Thrust II American Racing Wheels and a combination of 225/55-17 Achilles ATR Sport tires and 390/40-17 M&H Racemaster drag radials made for respectable track-ready rolling gear.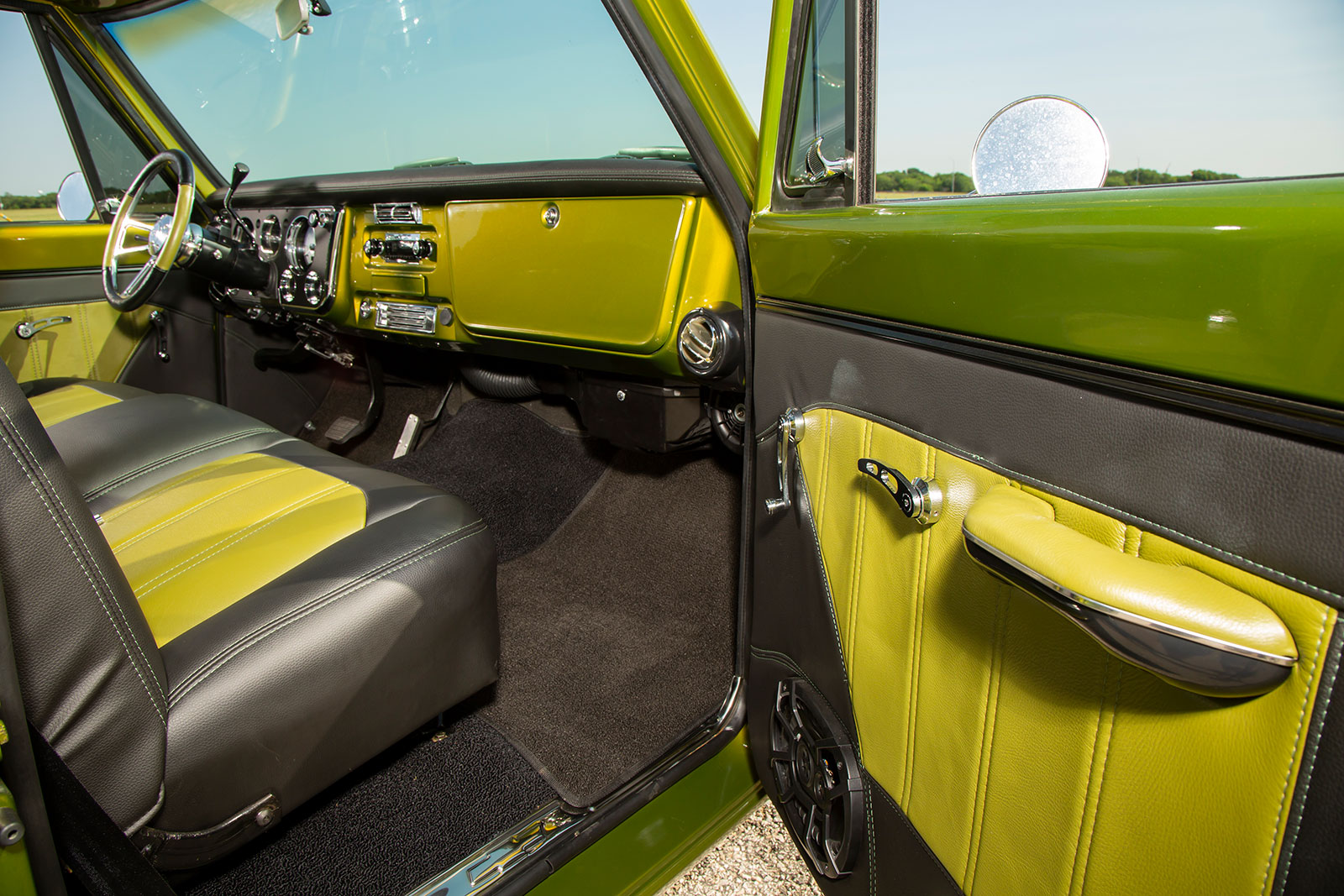 The next phases that came were just as exciting as the suspension alterations. Cameron first yanked the 305 engine the previous owner installed (the '67 was originally equipped with a six-cylinder from the factory) and began building a new powerplant to wedge in between the frame rails. He started mocking up the engine bay and making modifications to fit a future '72 GM Mark IV 496 big block. After acquiring all the engine components, Cameron had Northwest Motor Machine assemble the long-block so that he could finish the assembly and transplant it into its new home.
Read More: Mooneyes Hot Rod Custom Show 2022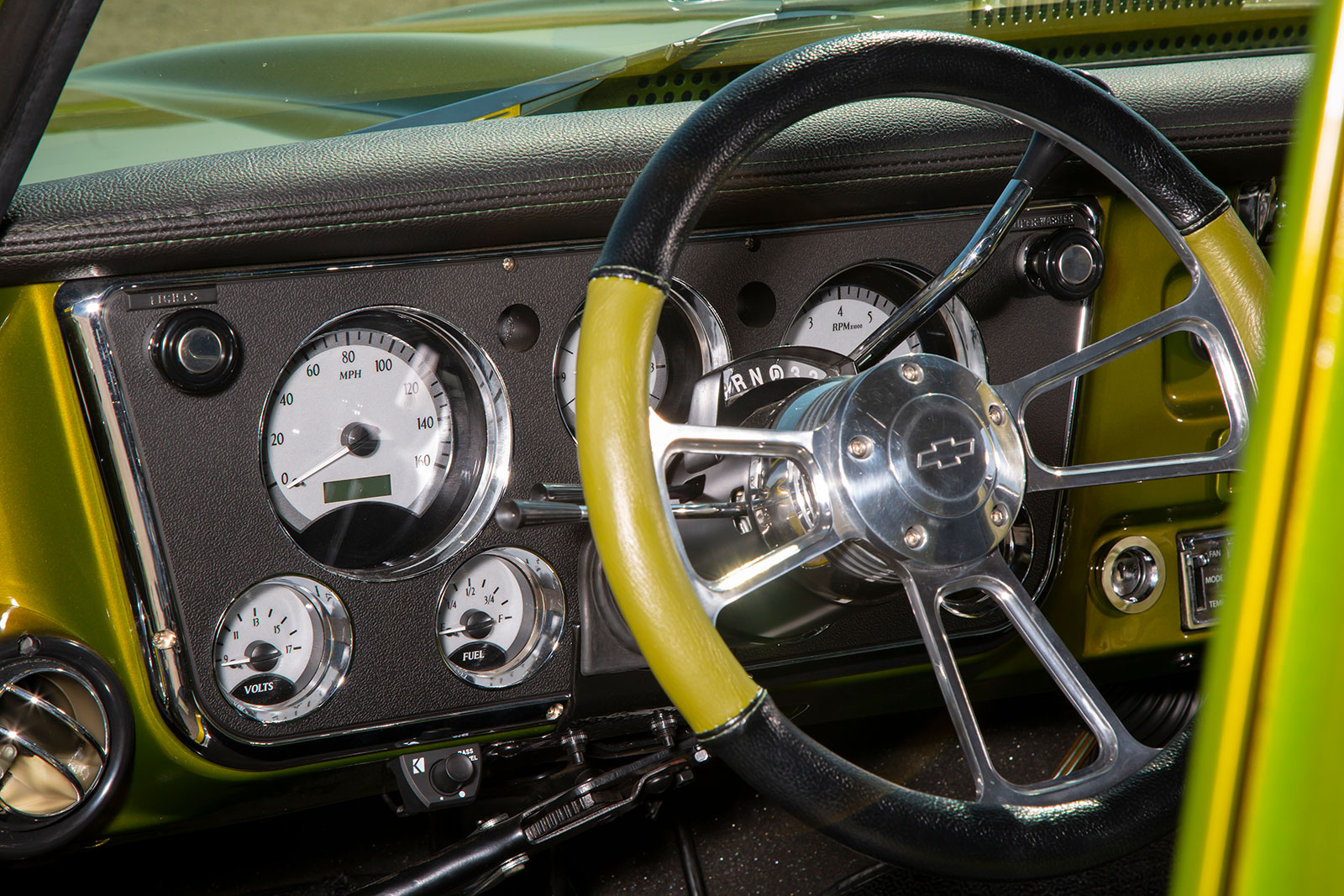 The new mill was outfitted with an abundance of upgrades in the way of a forged stroker Scat crankshaft and Scat pro comp rods, forged high-performance Wiseco pistons, Tommy's custom cams, Race-Rite oval-port aluminum Brodix heads, Comp Cams Ultra Pro rockers, Hi-Flow Weiand water pump, Champion radiator, Tuff Stuff bullet alternator, Performer RPM Air-Gap Edelbrock intake manifold, and a Venom II Pro Systems carb, just to name a few additions—whew!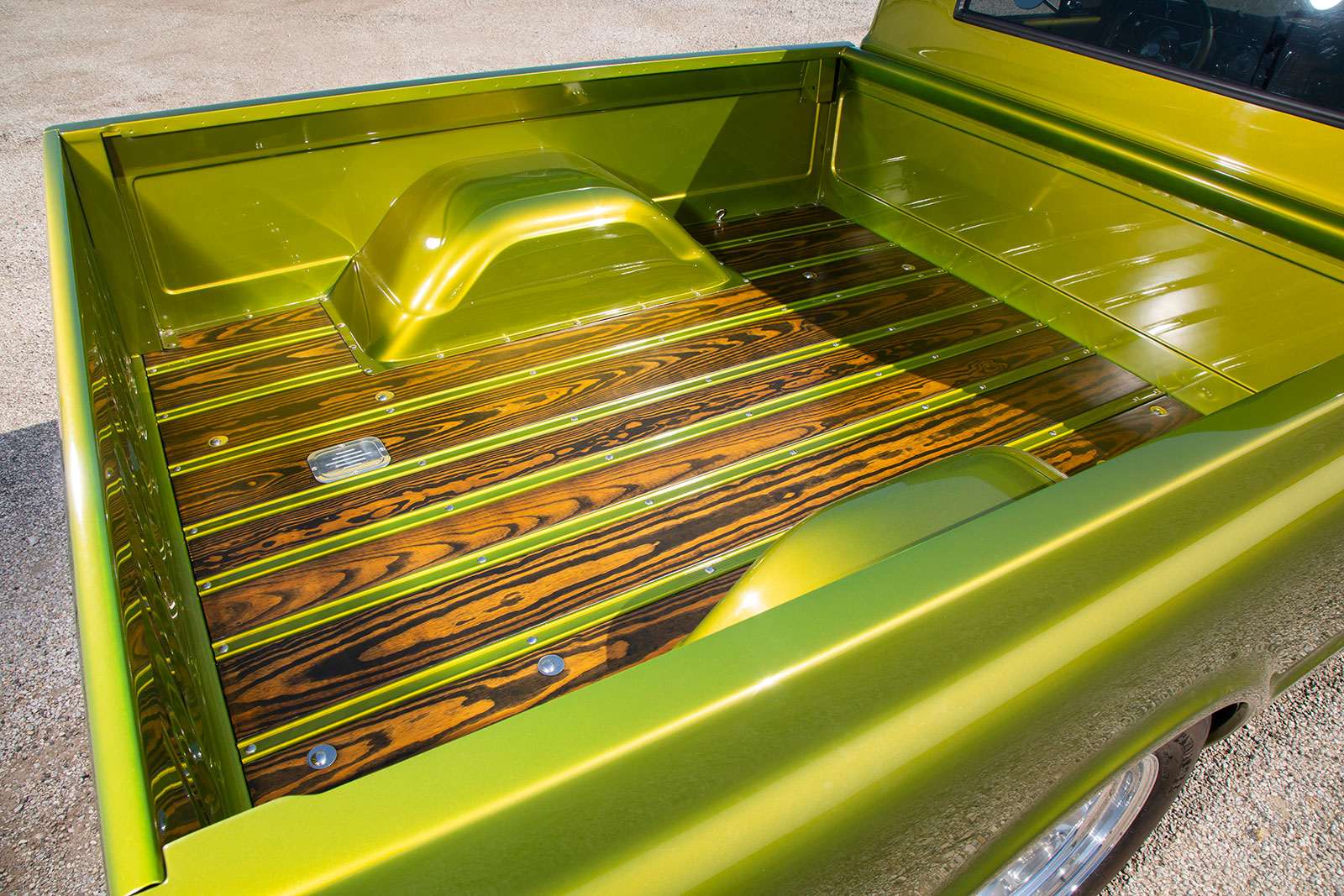 Of course, Cameron didn't stop there, as he had a better breathing system planned for the new engine that started with Elite Camaro 1 3/4-inch Hedman headers that led into 3-inch aluminized steel exhaust tubing and exited through a Flowmaster 40-Series muffler. The engine was then topped off with a K&N air filter and custom aluminum valve covers for a nice touch of contrasting color.
The next order of business was to figure out what transmission to mate to the Mark IV 496 big block. Family Transmission of Carthage, Missouri, came through the clutch with a GM 700R4 transmission unit that was then heavily upgraded with a PATC MegaRaptor-2 10.5-inch billet torque converter. The case was fully polished, and the unit was packed with billet internals. A steel custom driveshaft was also fabricated with upgraded U-joints and billet yoke for good measure.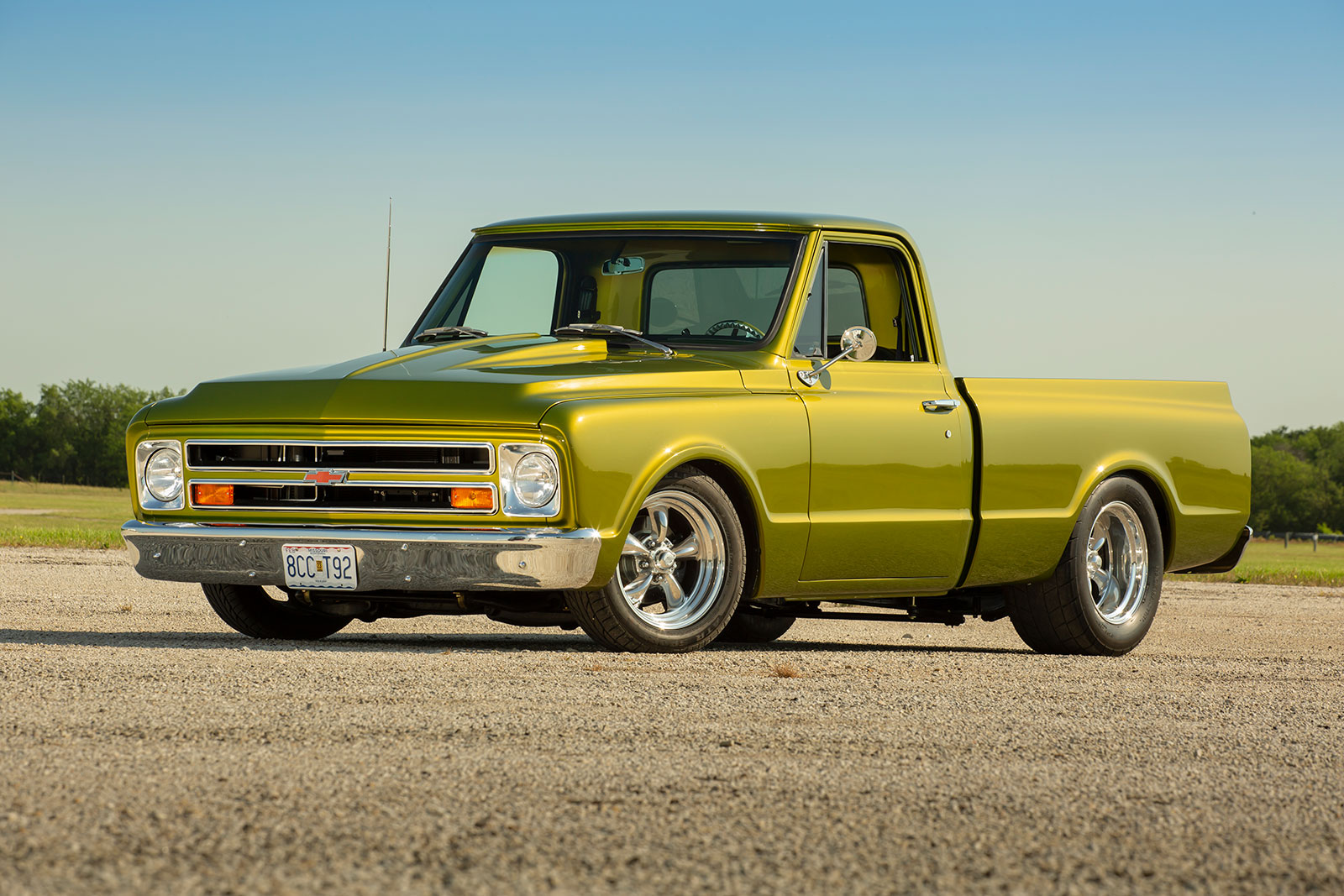 When it came time to focus on the C10's body- and paintwork, Cameron did most of the metalwork prep, such as smoothing the firewall, widening the rear wheel tubs, pre-fitting the sheetmetal, work in a 2.5-inch steel hood cowl, installing the 19-gallon aluminum Boyd fuel tank, and coming up with a one-off wood bed floor. Once the guys decided on the paint color of choice, Rust2Rodz proceeded with the final finishing, filling cab seams, reworking the cowl hood for fitment, and laying down the Axalta Chrysler Rescue Green, which was cleared and left to dry. Once the paint was sprayed, the truck returned home for assembly of the original replacement headlights, taillights, outside mirrors, grille, and trim; wood floor, glass, front and rear chrome bumpers, and door handles were brought in to freshen up the Chevy's appearance.
Read More: Ron & Carnock Creations Built 1950 Studebaker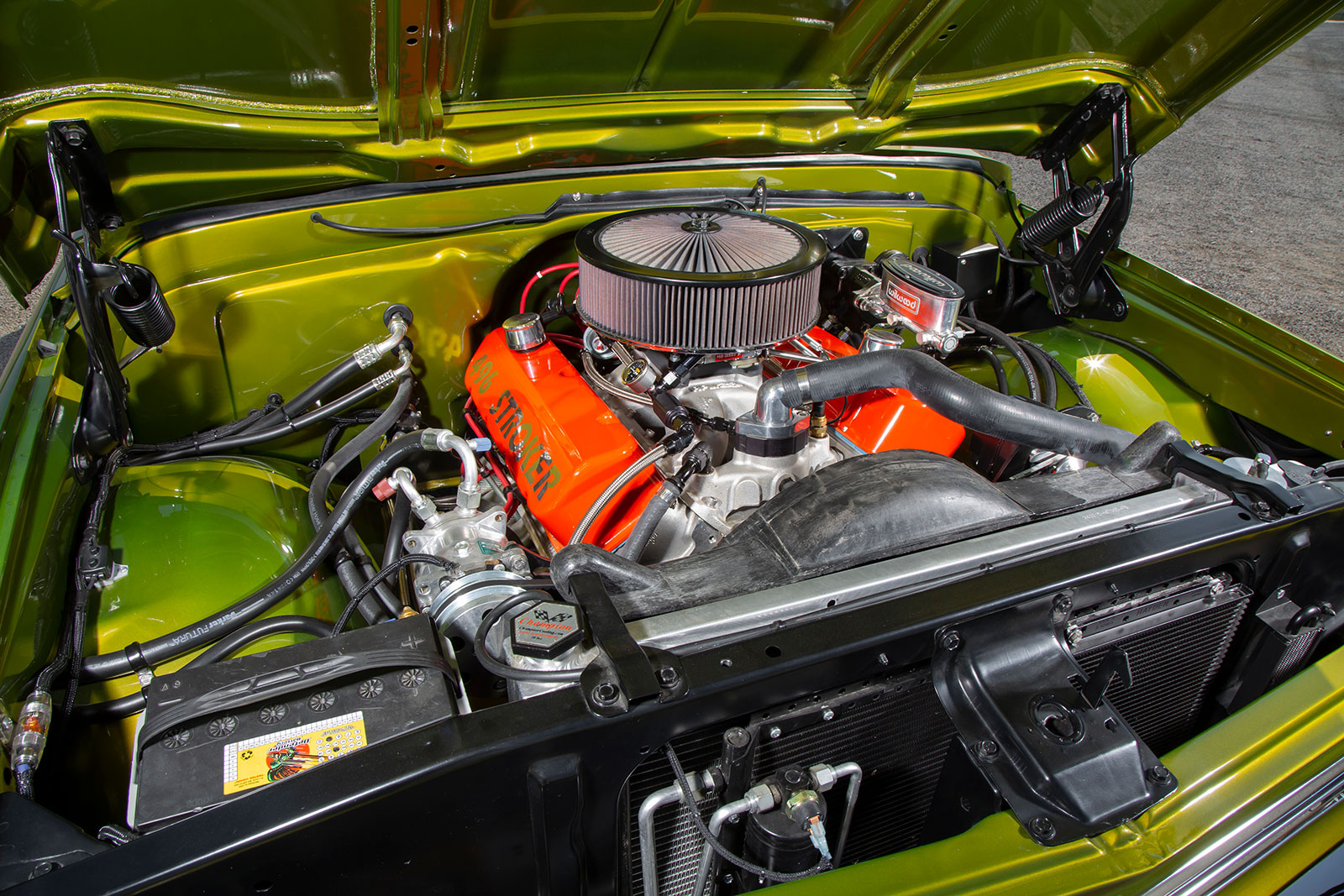 Inside the cab, SW Custom Interiors of Nixa, Missouri, took Cameron's interior design and cooked up black vinyl and green leather upholstery to recover the original bench seat so that he could install it back into the truck. Matching door panels and a fresh dash pad were also stitched up for well-balanced styling to the interior. A late-model Tahoe armrest with cup holders was then joined onto the original '67 seat frame to give Cameron the modern convenience of cruising comfortably with his refreshing beverage of choice. Dakota Digital VHX gauges were imported into the dash, as was a Vintage Air SureFit AC system and RetroSound head unit to deliver the tunes. To build upon the audio system, Cameron wired up Kicker front and rear speakers and a subwoofer for full-range sound quality.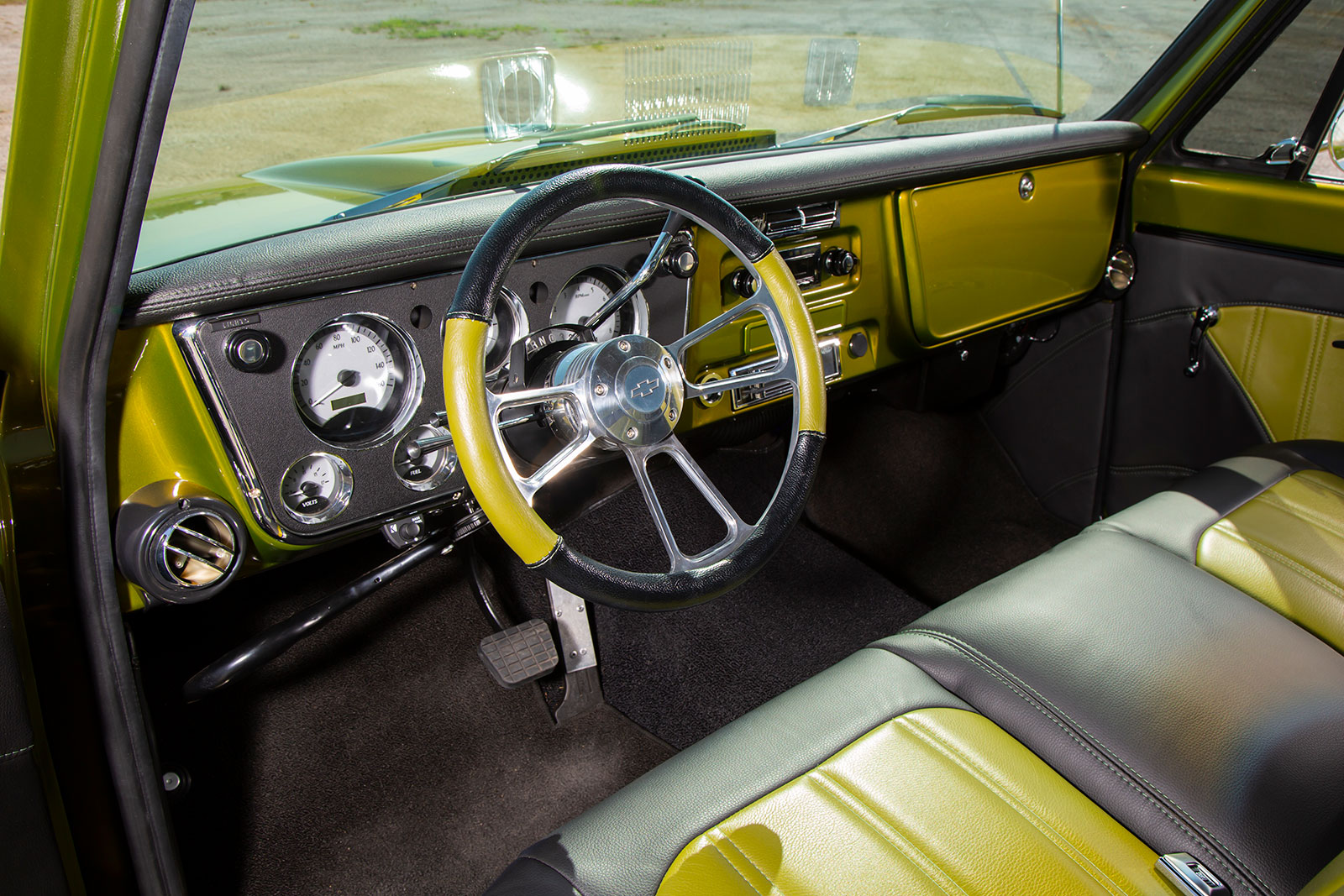 "My '67 C10 was an eight-year build from when it was running and taken apart to when it was put back together and driving again but better than ever," Cameron admits. "Every aspect of this truck was either repaired, improved, replaced, or modified. Most parts couldn't just be bolted on, as everything needed to be test-fitted first and finessed into position. Watching the truck go through the various stages in my shop and created by my hands makes me become part of the truck. After having the truck finished and driving it around for a couple of years now, there are still things that I am working out. It is a blast to drive and there is no replacement to the sound of that roaring 496 big block. This project has given me the chance to educate myself through research and built friendships through communicating with other truck enthusiasts out there. Also, the most important thing I took away from the process is to build your truck for yourself the way you want it."