Kerry Wienke's 1956 Ford F100 Went From Rusty Relic to Show Truck
By Rob Fortier & Kerry Wienke   –   Photography by John Jackson
Once a utilitarian workhorse now a stunning feature truck churned out by BBT Fabrications, Kerry Wienke's 1956 Ford F100 is truly a work of functional art. Here to tell the family tale in his own words, Kerry fills us in on the history and evolution of his now-family-heirloom 1956 Ford F100: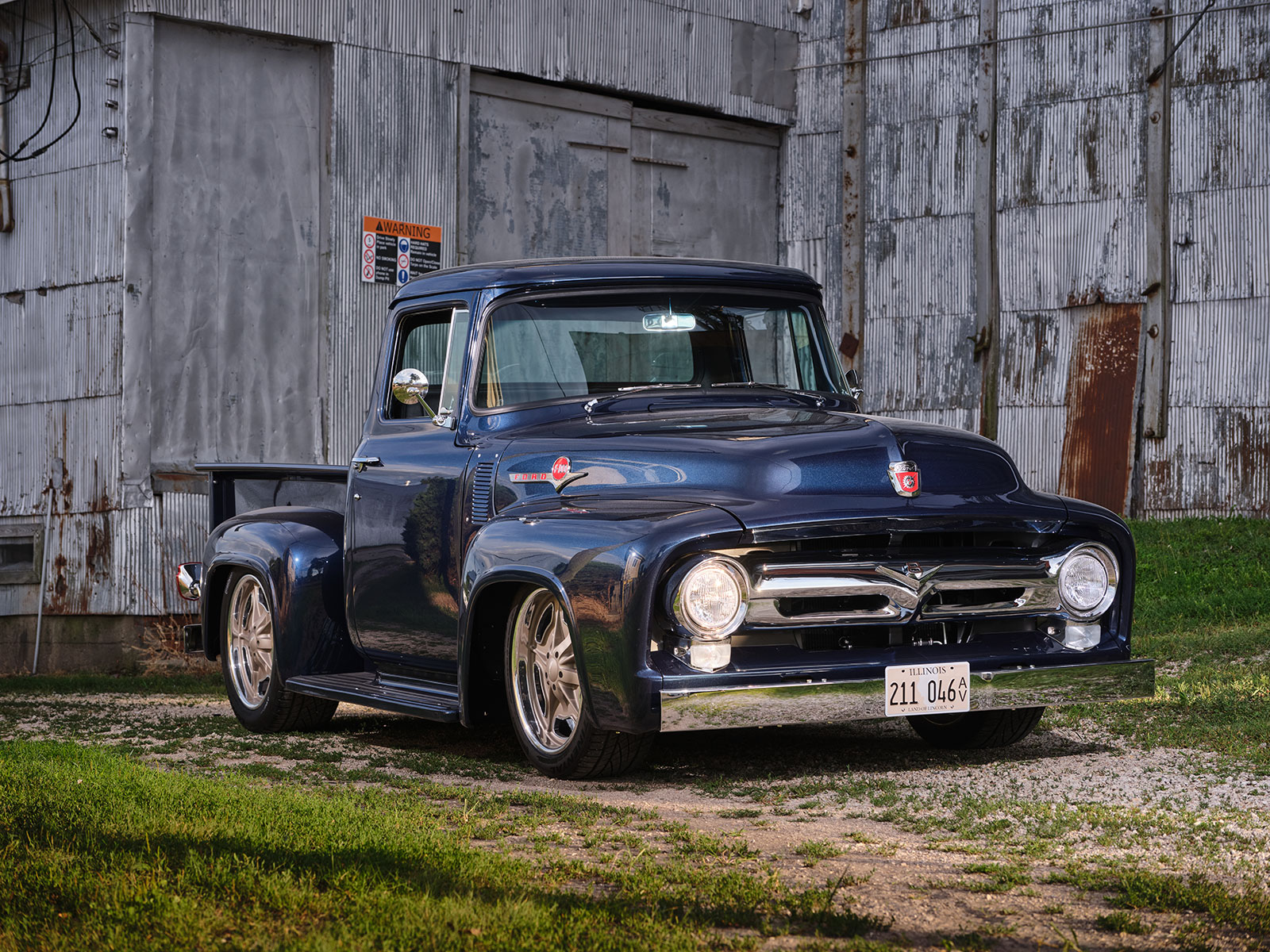 "Pickups were a big part of growing up on a family farm. Everyday life involved the 'work truck' and there was a connection beyond its utilitarian function. We had several trucks over the years, but one stands out more than the rest: My older brother's 1953 Ford F100. When he brought it home (and despite it being clad in primer) it was love at first sight. The truck has been on my shortlist of favorite vehicles since that day. It was the second generation of the Ford F-series but first with the F100 designation. It featured an entirely new chassis, more powerful engine, better towing capacity, and larger cab, but for me it was as much about styling with its big, rounded fenders and hood.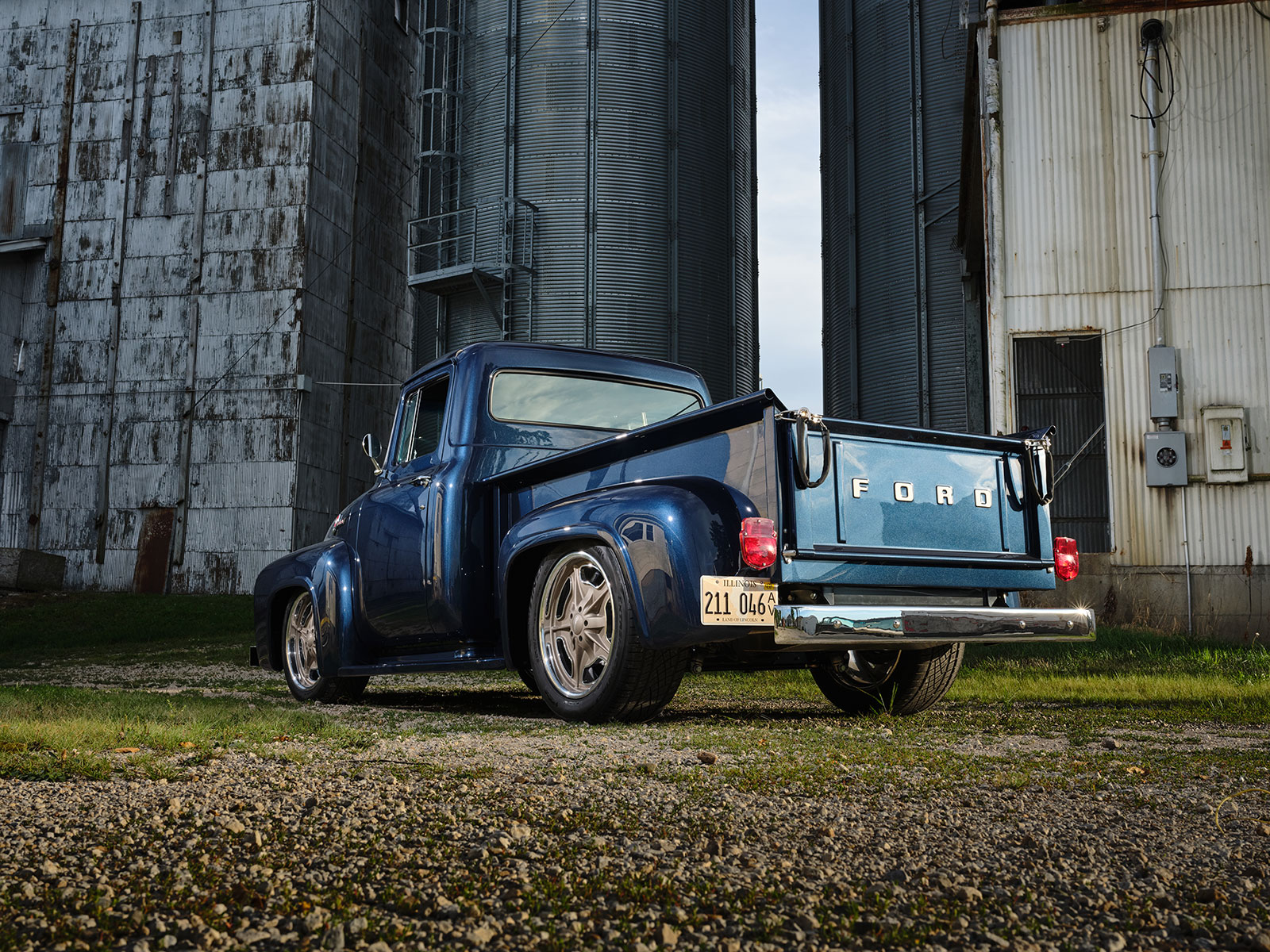 Read More: Brian Schutte's 1951 Chevy Truck Gets A Custom Bed Floor
"I have been in pursuit of an Effie for several years. My goal was a '56 (last year of the body style) with its one-year-only features including wraparound windshield, vertical windshield pillars, restyled grille with recessed headlights, 12V electrics, and 'high dial' instrument cluster that sits above the dash. The hunt ended with an eight-hour trek for an estate auction featuring two 1956 F100s. Bidding on the first truck went above my budget.  I was successful on the second, with my high bid being the exact dollar amount of my limit. It was meant to be.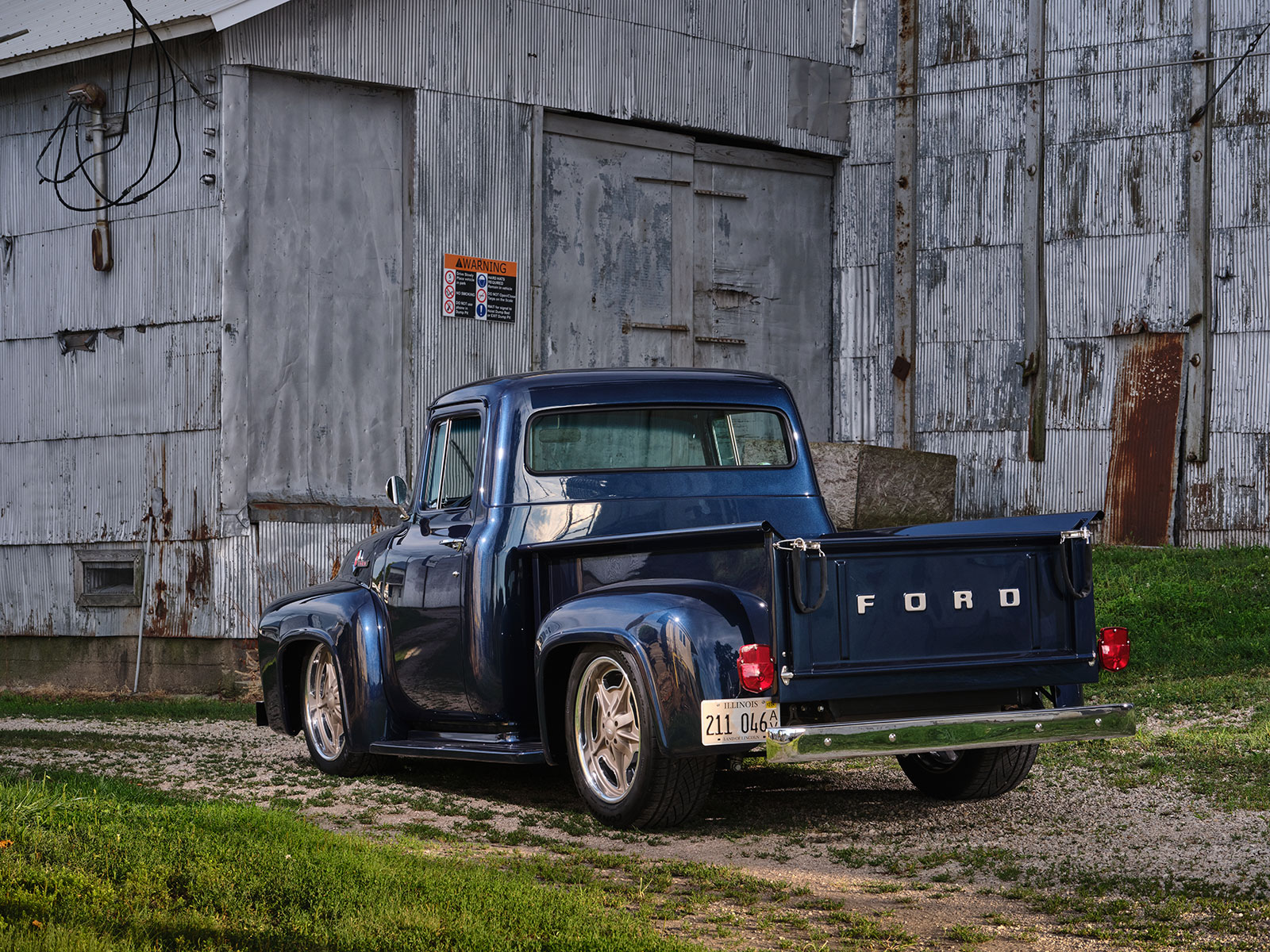 "The F100 wasn't perfect by any means, but it was a starting point. Past restoration projects gave me an idea of the work, time, and cost involved. I enjoyed the opportunity to build the chassis and drivetrain with help from my younger brother and make parts runs with my parents. Just like the good ol' days. The truck is a nod to my family and farm heritage, a tribute to my older brother (who [died] at a young age) and a dream finally come true.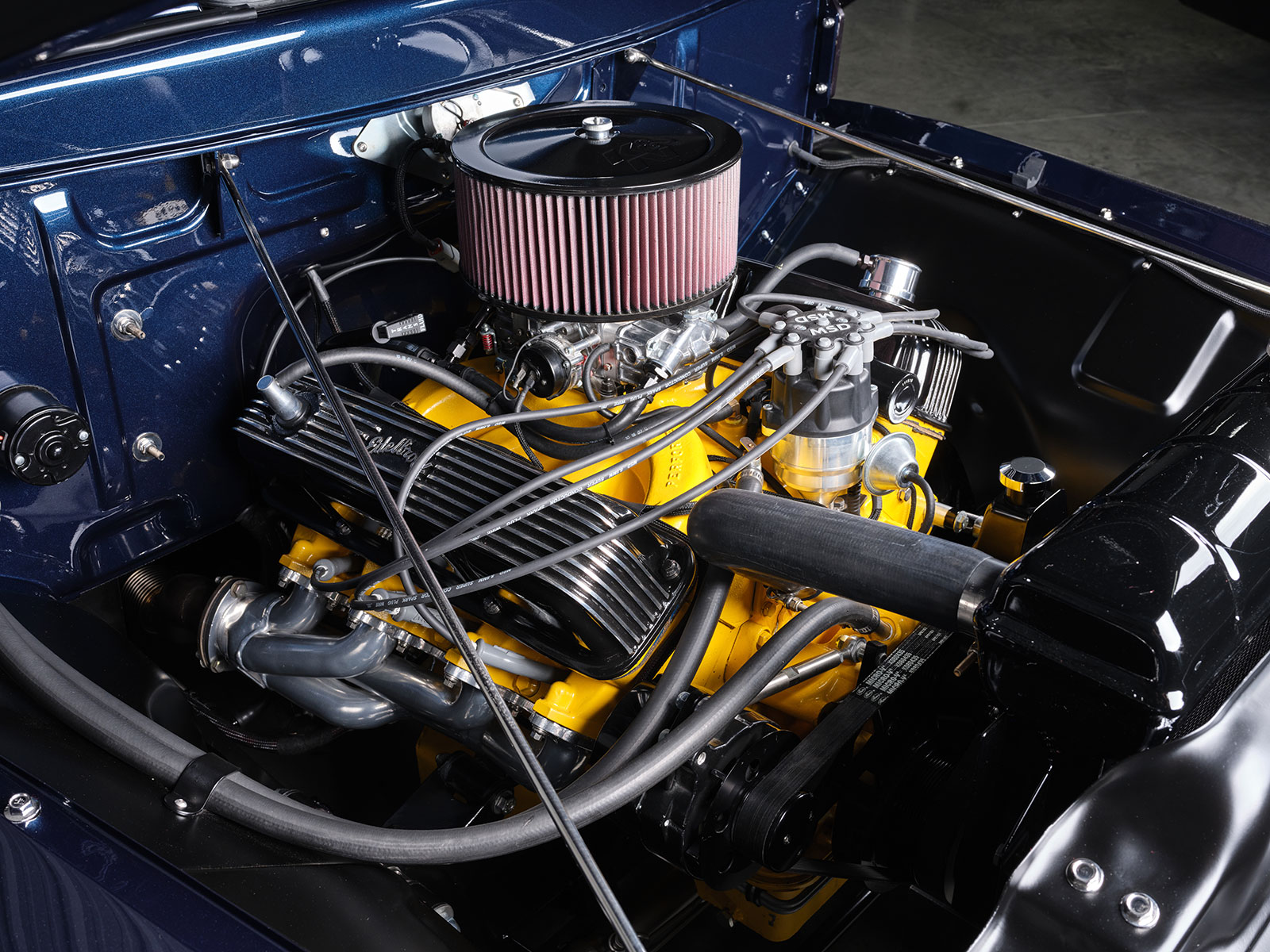 "This particular truck was manufactured in Norfolk, Virginia. It left the factory with a 'Power King' Y-block 272 V8 but few other options. The last owner was a farm equipment dealer who traveled the south regularly. His family said he had a habit of bringing home cars, trucks, and tractors from his many trips. He repurposed an old sewing machine factory in Steeleville, Illinois, to house his extensive collection. Family members had few details about the F100's history but a note included with paperwork indicated the truck had previously been located in Birmingham, Alabama.
Read More: THE ULTIMATE OLD SCHOOL 1969 FORD F250 HIGHBOY
"Sixty-plus years had taken its toll on the truck. The body needed a lot of metalwork, and the running gear was tired as well. I decided a new chassis facilitated upgrades to modern components, including suspension, steering, brakes, and drivetrain.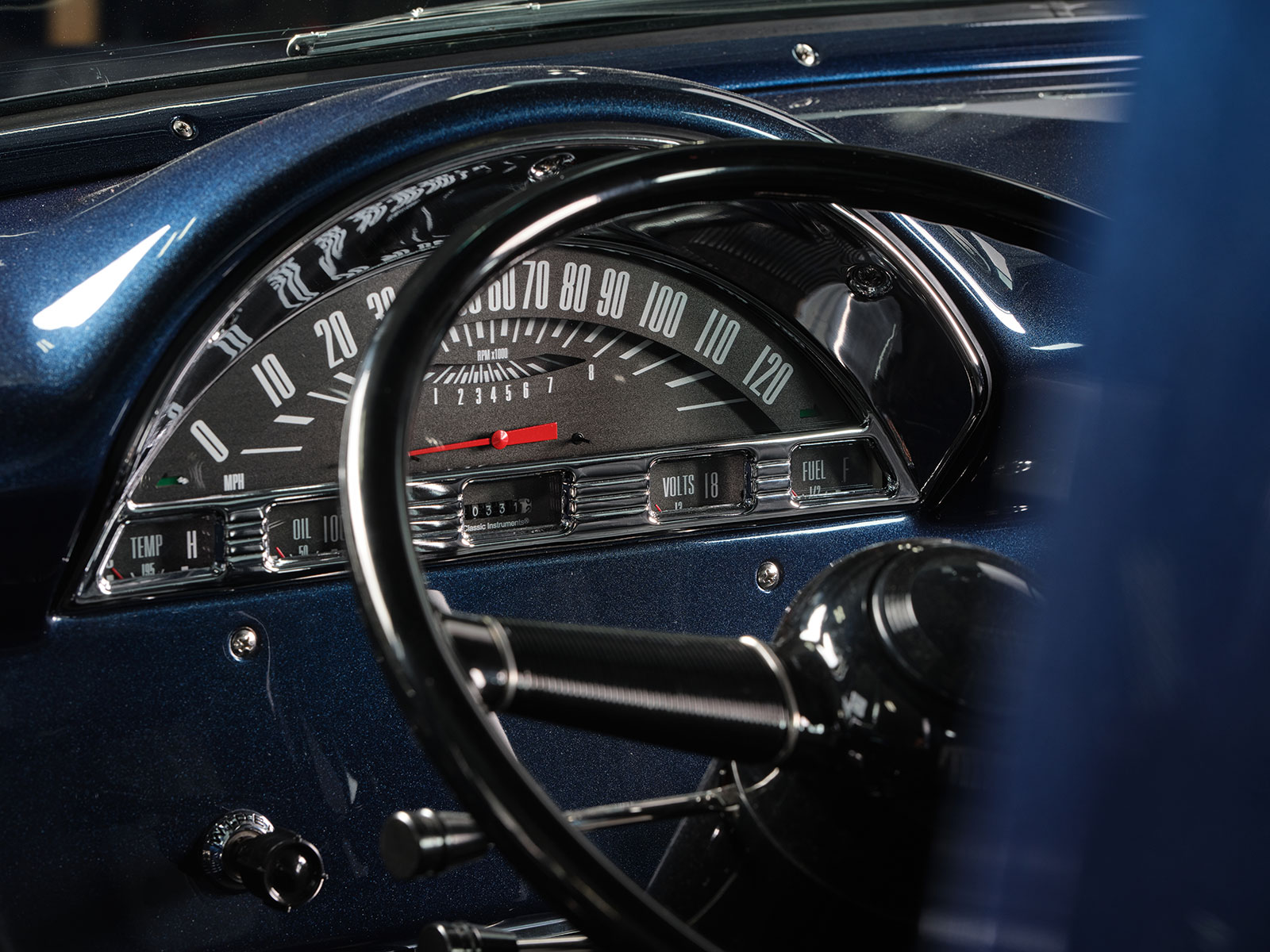 "While probably considered old-school, the carbureted Ford big block FE increased horsepower 318 percent from the factory engine (rated at 167 hp). Mating an overdrive transmission to a block that predates AODs was accomplished through Wilcap's adapter plate and flywheel setup. Paying homage and keeping with the overall theme (low-frills/sleeper), the engine was painted yellow like the original, the oil-bath air cleaner was abandoned for one with similar dimensions, and the high-flow radiator maintained the '50s-era-style large domed upper tank.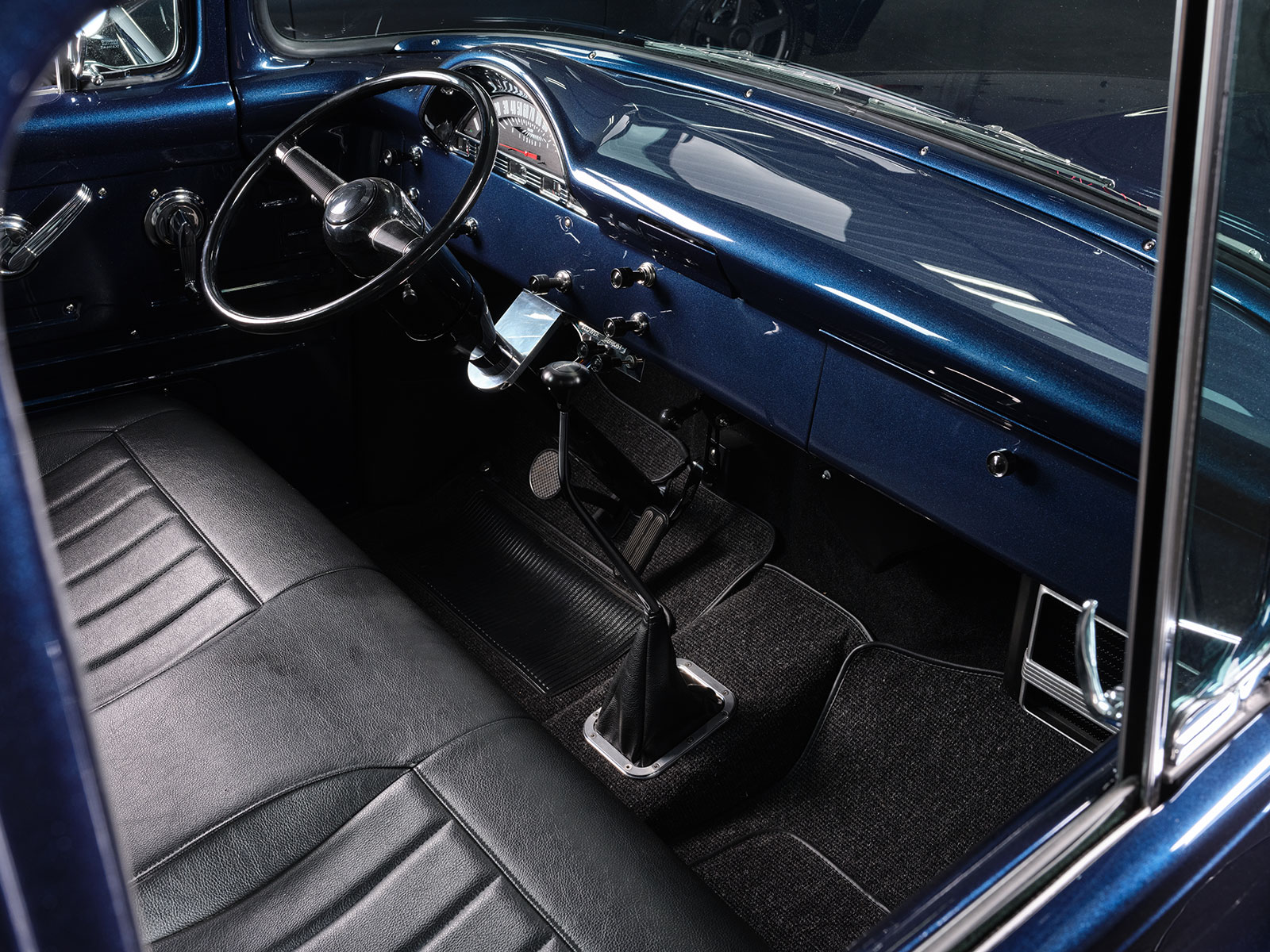 "Other than lowered stance and larger wheels I wanted to keep the original vibe of the truck's exterior. Same for the interior. Modern gauges resemble the stock instrument cluster and the stereo system (Fusion digital media receiver, Rockford Fosgate amp, Focal 6-1/2-inch component front speakers, Focal 6×9 rear speakers, and Kicker 8-inch subwoofers) was tucked away out of sight. Simple, clean, and uncluttered like it came from the assembly plant.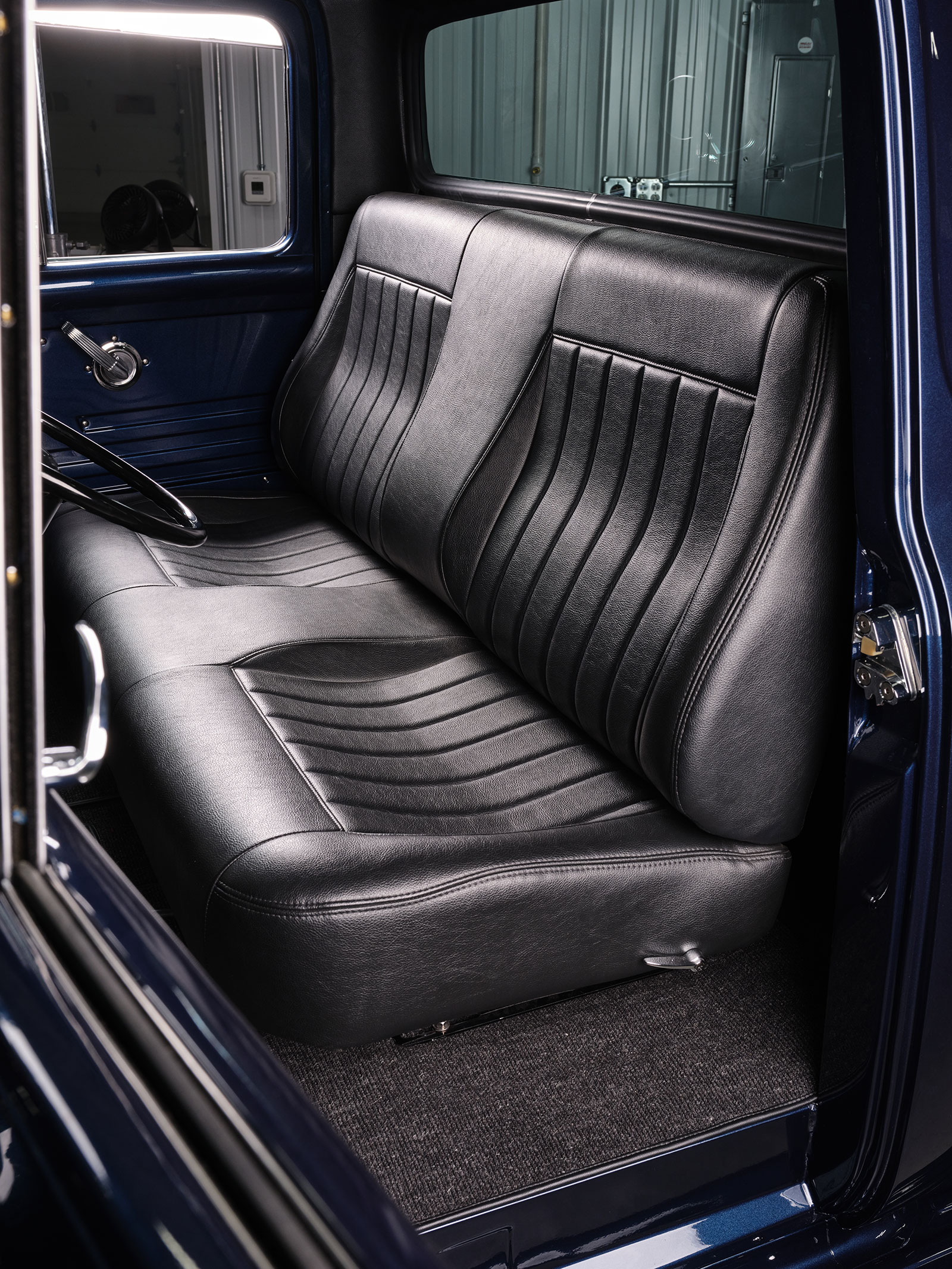 The truck was built to drive. The F100 maintains its classic look and feel while touting performance upgrades. I couldn't be happier with the final results and the opportunity to work with so many talented individuals during the process."
Read More: Vantasy: 1969 Dodge A108 Custom Van
That "lowered stance" Kerry referred to was accomplished by BBT Fabrications (Mahomet, Illinois) swapping out the Effie's original chassis for a complete roller from Total Cost Involved—that not only included TCI's proprietary four-link and stainless Independent Front Suspension but also a quartet of Ridetech coilovers and Wilwood brakes. The "larger wheels" are E85s Budnik wheels, powder coated with machined and polished lip/windows wrapped in 20-inch Continental tires. And that "old-school" 390 Ford big block FE is in actuality a 445ci stroker (by Woody's Automotive Machine) equipped with Trick Flow heads, Edelbrock intake manifold, MSD ignition, Sanderson headers, and a Borla exhaust.
The weathered old exterior was brought back to life by BBT Fabrications, while Relic Restomods in Richmond, Illinois, handled the PPG Envirobase Blue Jeans Blue metallic finish. Lastly, after an array of modern amenities were added (Classic Instruments gauges, Ididit steering column with '40 Ford 15-inch wheel, and Snowden bench seat), Bohde's Custom Auto Interiors in Ligonier, Illinois, finished off the interior in classic black faux leather.