Dave Bartlett's 1950 Ford F-1
By Chuck Vranas – Photography by the Author
Nothing helps generate a true appreciation for classic trucks better than spending your formative years with them in a natural environment where they're being used every day to their fullest extent. For Dave Bartlett of Nantucket, Massachusetts, growing up on the picturesque New England Island created a fusion of history and agriculture for him every day since he can remember. It's easy to see that his passion for old trucks translated perfectly in the creation of the stunning 1950 Ford F-1 laid out across our pages.
With Bartlett's Farm spanning seven generations back to the early 1800s, it's the oldest and largest family owned farm on Nantucket. You can only imagine the amount of commercial vehicles that have worked the well-over 100 acres of open fields for growing produce and flowers. Since Dave grew up as a family member of the farming operations, he regularly tended to various chores while also honing his farming skills on a daily basis. Growing older, it was only a matter of time before he was driving the farm trucks and operating various types of equipment.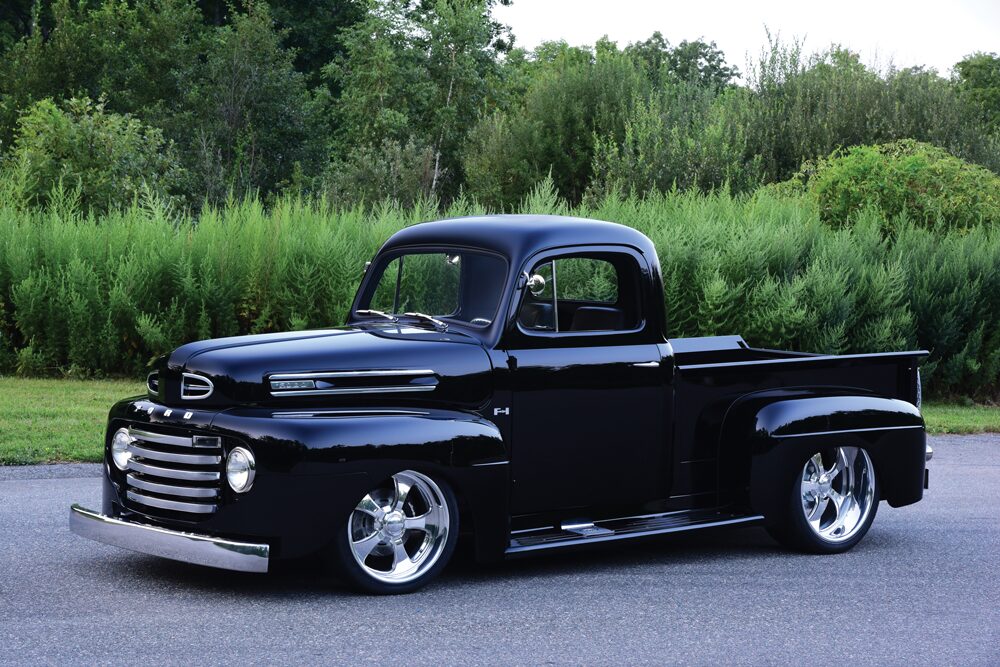 Read More: Bobby Alloway Rounded Up Leftover Hot Rod Parts and Built This 1932 Ford Highboy Roadster
By the time he secured his license it wasn't long till a 1964 Ford F-100 followed him home to act as his daily driver. Soon after, others arrived, including a Ford F-250 Camper Special and a 1965 Ford Econoline pickup. Thinking back, though, he always held a deep appreciation for first-generation Ford F-1 trucks with their classic postwar styling. Dave finally made the decision to start the search for a Ford F-1 project to act as a base for a new build to rise from. He eventually found what appeared to be a suitable 1950 Ford F-1 candidate on eBay.
After winning the auction he swapped cash for keys and waited for the truck to be delivered. As expected, the original Ford flathead V8 powered hauler was a decent driver, however, it was evident that it had seen plenty of tough use through the decades.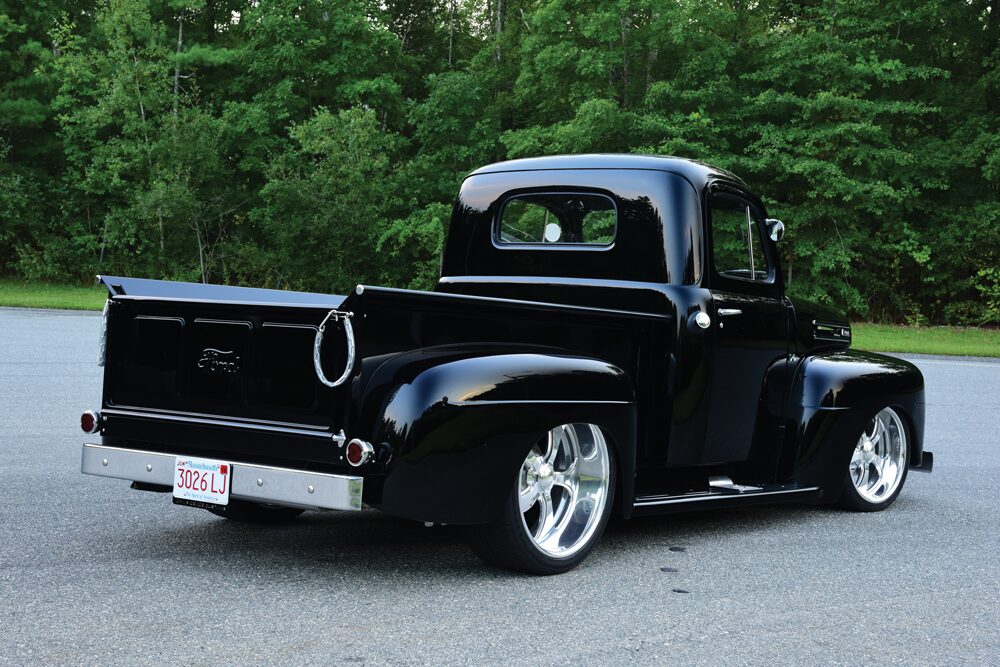 With a plan in mind to freshen up the driveline and suspension along with restoring the exterior to a high standard it wasn't long till he met with Chris Cerce of Chris Cerce Customs in Taunton, Massachusetts, to discuss the build. The pair shared many of the same ideas for blending the truck's iconic style with a newfound stance matched to a distinct driveline, so a deal was made to bring it to the next level.
Getting started, it was obvious that the tortured factory spine wasn't up to the journey so a call was placed to TCI Engineering for a freshly designed custom chassis. For rock-solid integrity, 8-inch-tall, fully boxed frame rails were tied together by a custom center section and crossmembers. Out back, a Currie Enterprises Hot Rod 9 inch rear end spins 3.70:1 gears linked to matching 31-spline axles. It's cradled in place by a TCI Engineering four-link matched to RideTech ShockWave 7000 series shocks, Panhard bar, and anti roll bar.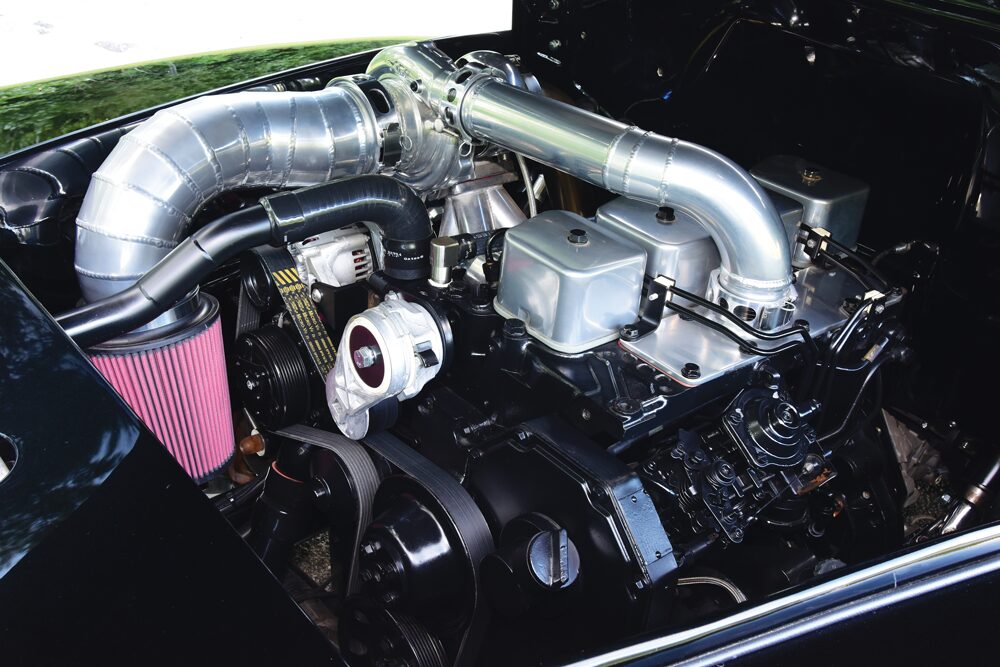 When it's time to carve the curves, TCI Engineering's Independent Front Suspension features their exclusive tubular upper and lower control arms with custom fabricated spindles, RideTech ShockWave HQ 1000 series shocks, and anti roll bar. For plenty of stopping power a Wilwood dual power master cylinder moves juice through stainless steel brake lines to matching 12-inch drilled-and-vented rotors with four piston calipers at each corner. For just the right amount of dazzle, a set of Schott Americana model 20×9 front and 22×12 rear wheels are capped by Nitto NT555 Extreme ZR rubber, sized P240/35R20 and P285/35R22, respectively.
Read More: Hot Rod Model T: 1926 Ford Tudor Sedan
Wanting to add a twist when it came to deciding on a driveline, Dave made the decision to bring the truck to an entirely new level. Opting out of the basic small block V8 offerings, he instead leaned to his agricultural background to turn up the heat with a turbo-punch. He commissioned the team at RCS Diesel Service of Ludlow to build a Cummins 4BT turbo diesel. Starting with a 1991 cast iron block, it was massaged and packed with a factory refurbished crankshaft and rods linked to forged aluminum pistons bumped by a stock cam.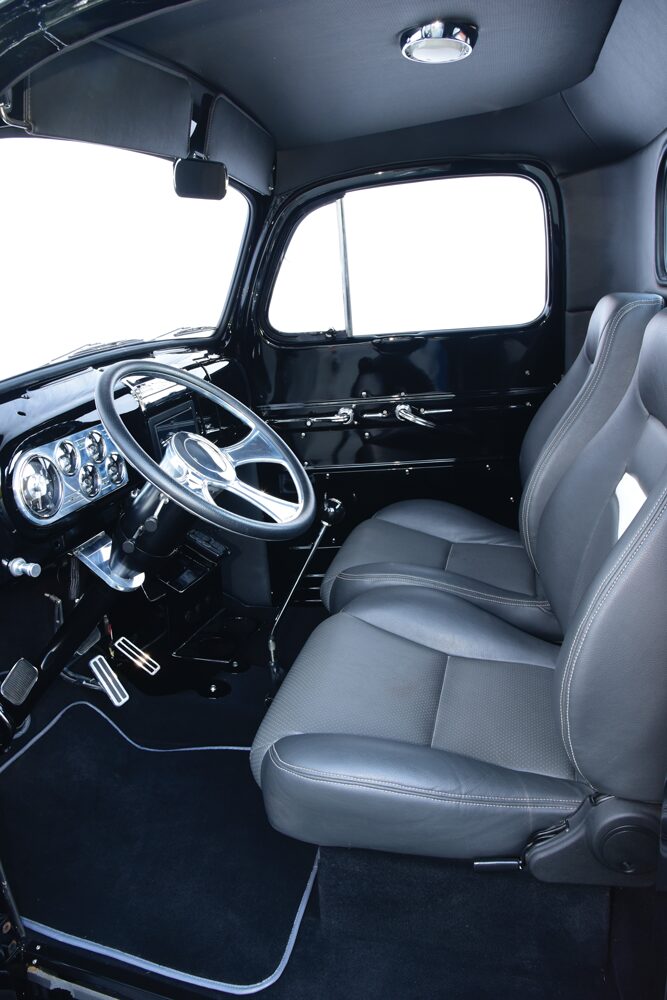 Topside, a factory cast iron cylinder head makes seamless power while a custom intake manifold by Chris Cerce Customs lights the fuse on the factory direct injection while a wicked 62mm billet turbo adds the final punch. There's plenty of deep breathing through custom fabricated plumbing, complemented by a polished valve cover, Powermaster alternator, and custom radiator. A stock ignition lights it up while a custom exhaust header moves gases through a 3-inch stainless exhaust pipe, all by Chris Cerce Customs. Pushing the goods rearward, a TREMEC T56 6 speed transmission connects to a driveshaft from Brookline Machine. The combination is good for a solid 300 hp and 600 lb-ft of torque at 6,000 rpm.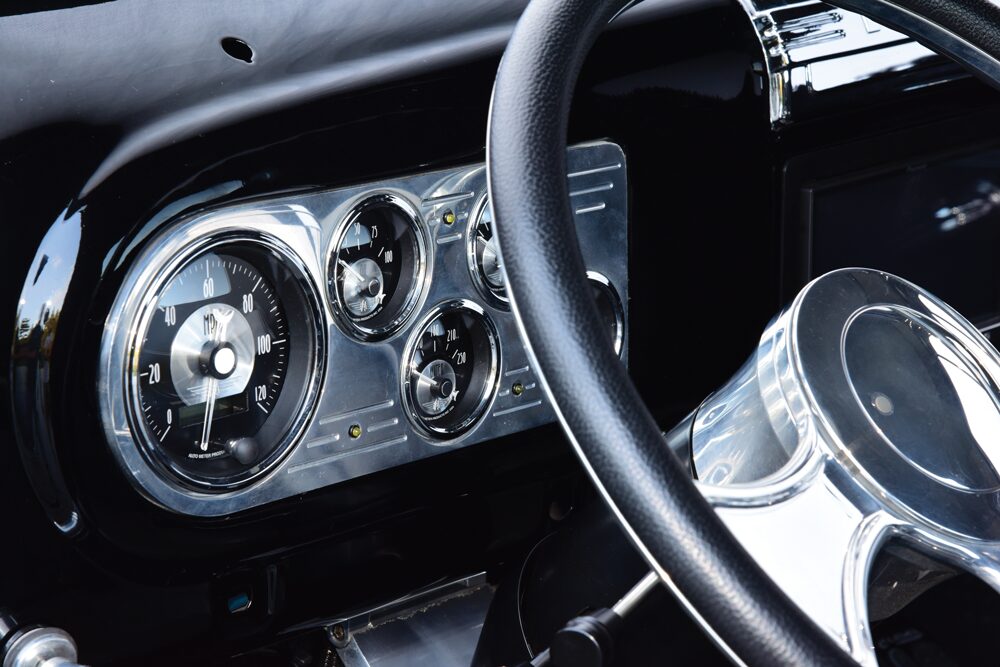 We all know the sad truth far too well when getting something back from being stripped since it uncovers decades of abuse and hidden secrets. In the case of Dave's cab and bed, it was obvious that the team at Chris Cerce Customs would have their work cut out for them in breathing life back into it. What followed included fabricating new floors, rockers, cab corners, and lower A-pillars.
They followed by fashioning new door bottoms, lower fender sections, and dog legs. With the cab, bed, and tailgate gapped and metal finished, everything was then prepped for paint. Finally, a dramatic coating of PPG Custom Vibrance Black Pearl brought everything to life. Completing the reassembly, chrome from D&D Chrome Plating of Providence, Rhode Island, adds a perfect balance of grace accented by an oak bed with stainless strips.
Read More: Ragtop Hot Rod Restoration: A Supercharged Flathead 1939 Ford Convertible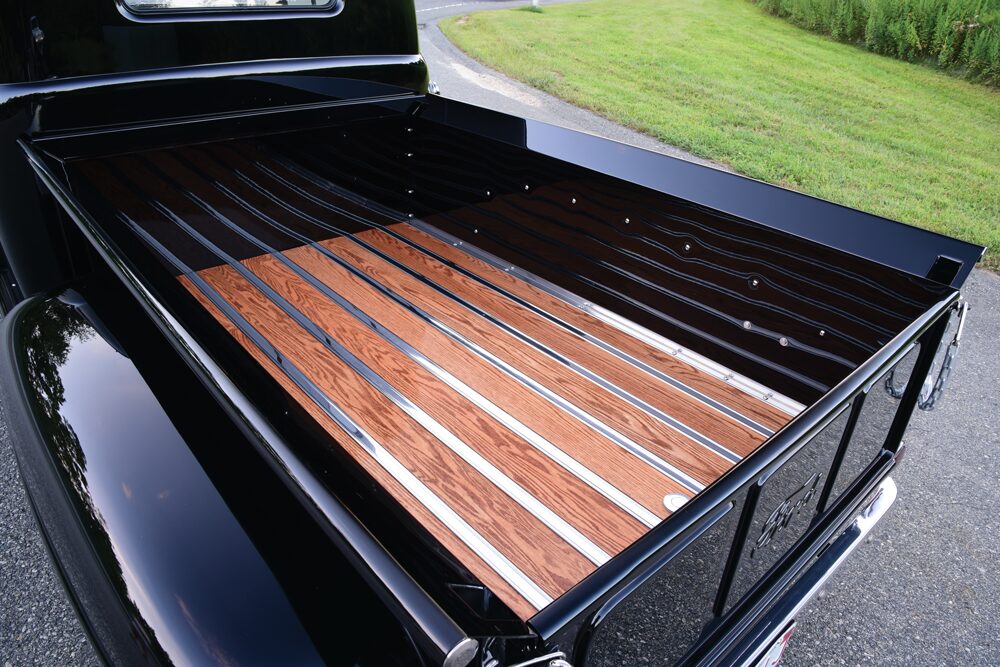 Wanting to bring the same amount of allure to the interior started with the factory dash packing Auto Meter gauges to track the vitals while an ididit tilt column stages a Billet Specialties steering wheel. Vintage Air supplies a cool breeze with gears moving through a Billet Specialties stick, all brought to life through a Ron Francis wiring kit. Carello Auto Upholstery of Warwick, Rhode Island, wrapped a pair of Scat Bucket seats in a combination of black and gray leather while also fashioning the side panels, headliner, and complementing plush black carpeting. This Ford F-1 brings endless style to the table fused with a hearty kick of turbo diesel power, and to us that's just plain wicked!