By Brian Brennan – Photography By John Jackson
You build enough projects and you end up with leftover parts—lots! Most of us can't part with these remnants so we store them away on a back shelf, in an outdoor storage unit, in the farthest reaches of our garage, or someplace where we won't forget them, which we do almost immediately. We instinctively know should we not use these hot rod parts and that someday they will make great currency for something that we will need from another rodder who has stored their excesses.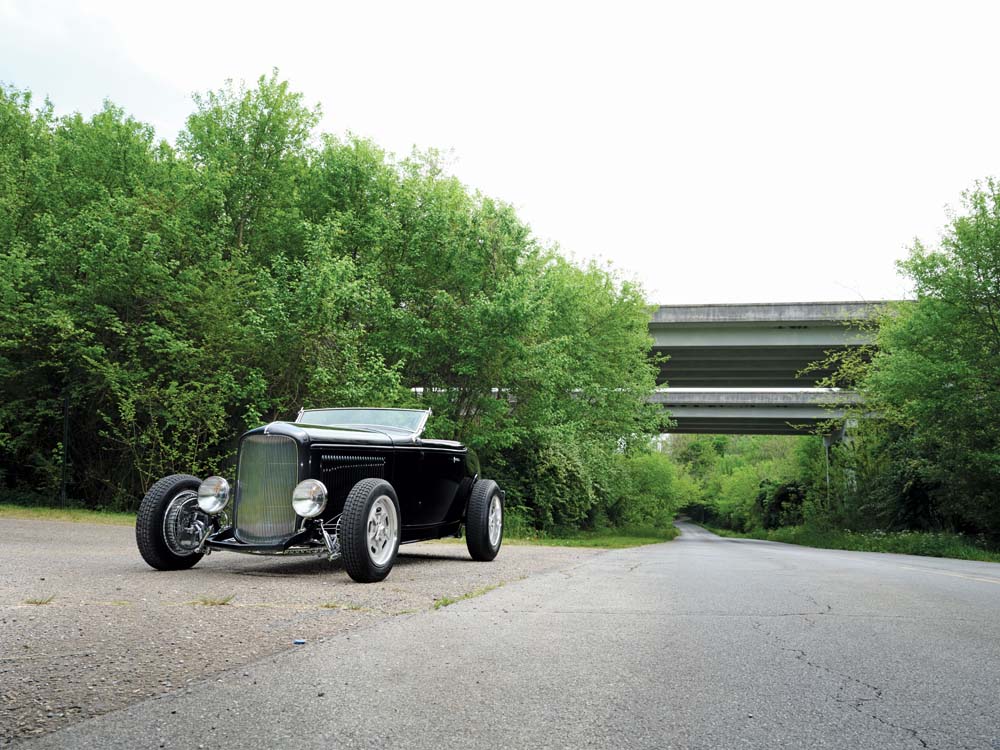 This past year, 2020, was most unusual and many of us had time on our hands that we wouldn't normally have enjoyed. Plenty of us worked on our current rides, plenty of us started new projects, and that's where this story leads us. Bobby Alloway's latest ride is a 1932 Ford highboy roadster that was literally built from decades of surpluses.
Read More: Pieced Together '34 Ford Highboy Coupe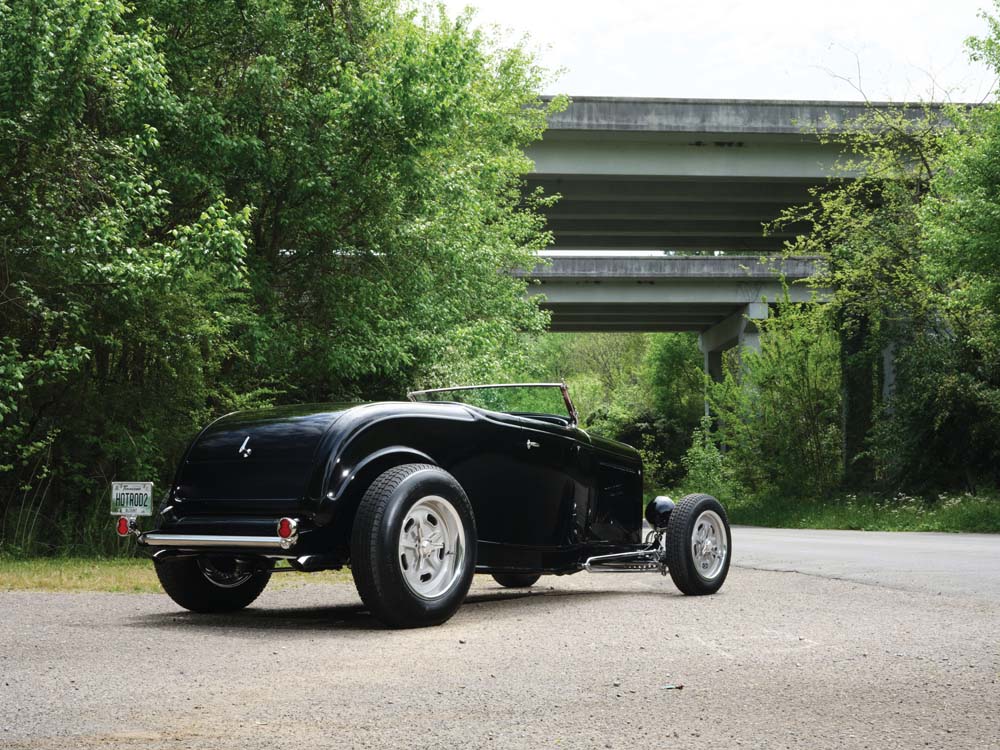 Bobby Alloway's name should ring a bell with hot rodders as his Louisville, Tennessee, shop, Alloway's Hot Rod Shop (AHRS), has seen pass under its rollup doors all manner of hot rods, from street rods to muscle cars to street cruisers. Keeping the staff working during the pandemic created "fill in" time in between customer projects. Bobby decided he wanted a mellow 1932 Ford highboy roadster and now was the time to build it. He still has his 1933 Ford coupe that has been with him since the '80s, and we wouldn't be surprised to find out that he has one of his proprietary SpeedStar roadsters holed away.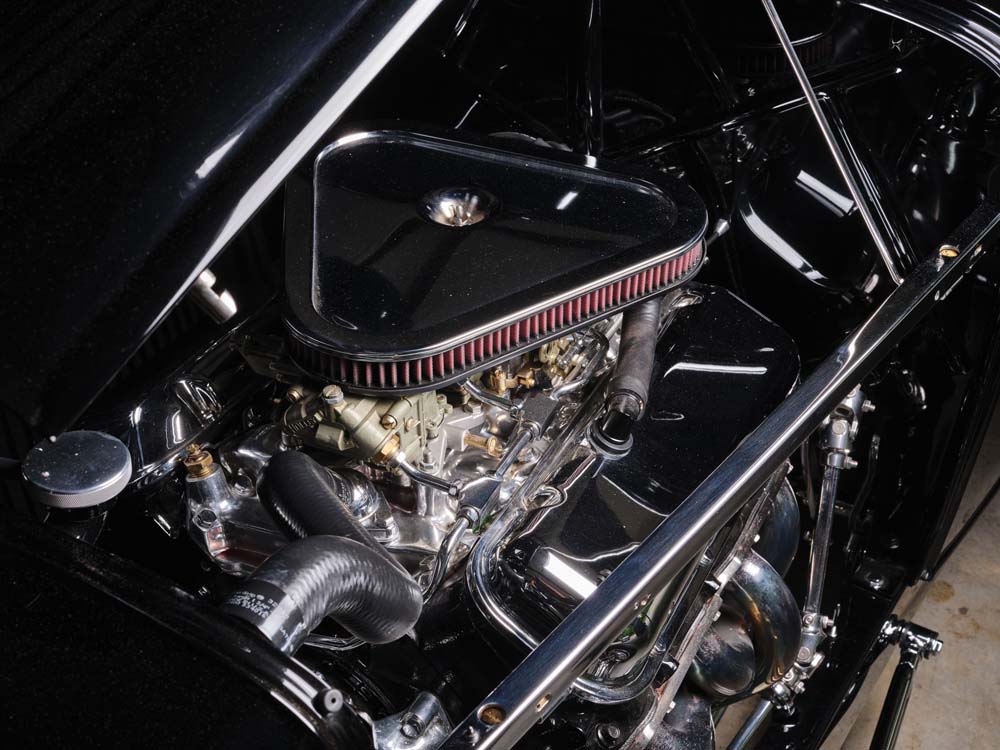 Imagine yourself working on cars with a staff turning out a half-dozen or more cars per year and you can see that gathering surplus hot rod parts occurs quickly and in quantity. Bobby's latest ride is a 1932 Ford highboy roadster centered around a Brookville body that was parked in a storage garage—a past project that didn't come to fruition. With body in hand, he rounded up a Hotshoe Hot Rods "C"-notched set of boxed framerails that was stretched 3 inches, again from the farthest reaches of his storage containers.
To this Bobby gathered forgotten parts that included a Pete and Jakes Hot Rod Parts chrome-and-drilled I-beam axle, tube shocks, and early Ford spindles. To this a pair of Functionally Fakes (looks like Buick finned brake drums while hiding Wilwood Dynalite calipers and rotors) were added that he had purchased from the original company long before becoming a SO-CAL Speed Shop staple. In back a Currie Hot Rod Housing (centered pumpkin) and 31-spline axle package (Timken tapered bearings), drum brakes, Aldan coilover shocks, and Pete and Jakes four-bar make up the rear suspension—again, from a forgotten project. A Wilwood master cylinder is used to initiate the braking process.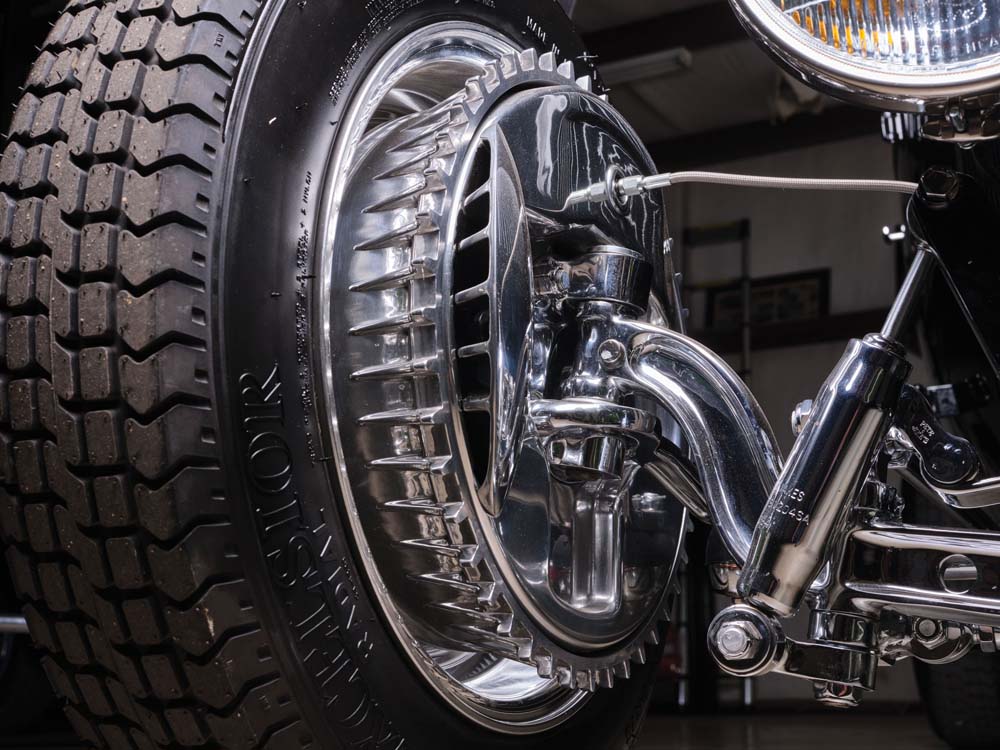 Holding this highboy up are a set of E-T Wheels Sebring wheels and Coker Excelsior vintage-appearing rubber. The wheels are 16s in the front and 18s in the back with 5.00R16 and 7.00R18 rubber.
We've mentioned the Brookville body and it should be noted there are but a few changes. You might notice that the rear corners of the body are extended down some 2 inches to fill in around the edges of the Tanks 1932 reproduction gas tank. There's also the use of an extreme laidback windshield from Rodwell's Rodware. These beautifully shaped windshield posts with glass are the result of Dick Rodwell's craftsmanship and years of design efforts by Stanley Wanlass.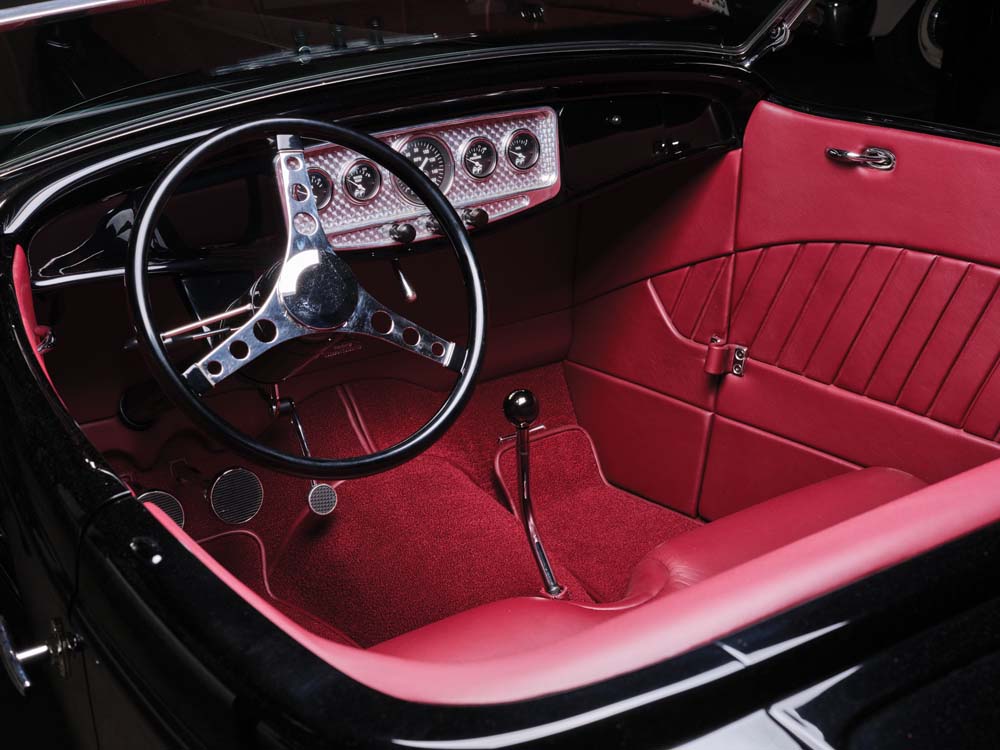 While technically the hood (a Rootlieb 25-louver) isn't part of the body, it's stretched 3 inches as is the frame (wheelbase), has a working cowl vent, and the grille shell (housing a Steve Long radiator and trimmed with a Jim Wrench grille insert) is chopped 2 inches. Why? When standing to the side of the roadster you realize that if the radiator and shell aren't chopped the nose of the car would appear to be running "uphill" because of the wheel/tire rake. Now the highboy roadster has a very appealing stance and the proportions look proper. The headlights are 1933 Ford commercial lights while the taillights are Johnson's Hot Rod Shop redesigned 1932 Ford taillight assemblies that are mounted directly to the rear spreader bar by Alloway's Hot Rod Shop.
Read More: How To Increase Horsepower With Proven Bolt Ons For Your LS Engine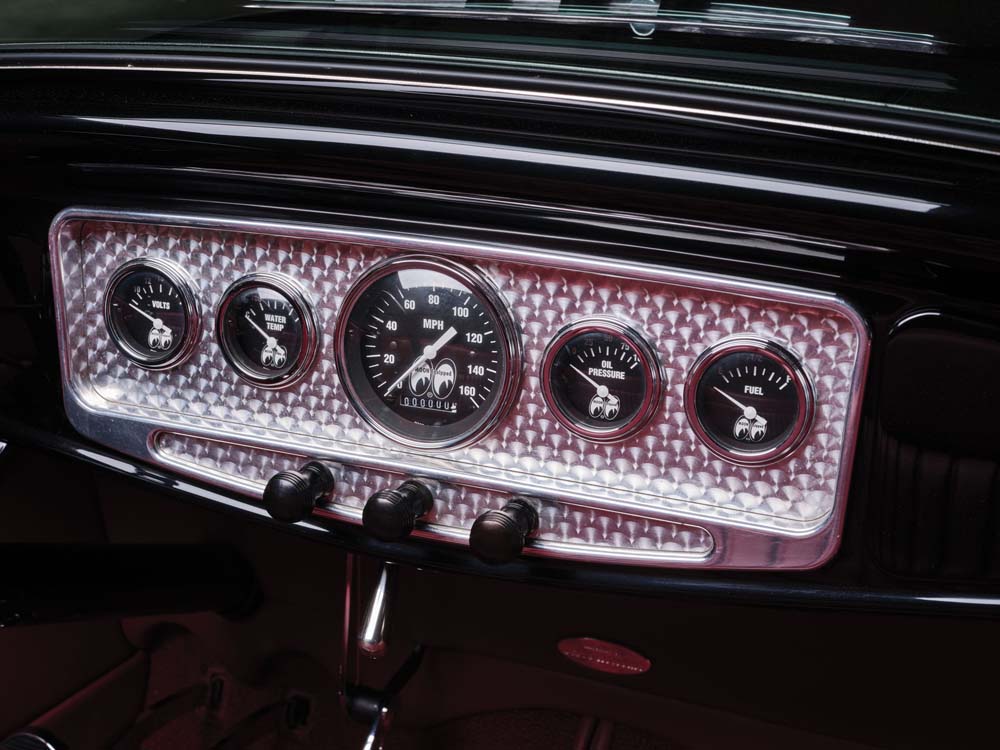 There are two absolutes in the world of hot rods according to Bobby: black is beautiful and big block engines come standard. All of the sheetmetal and bodywork was performed at Alloway's Hot Rod Shop using PPG 9700 Black basecoat with 2002 clear protecting and providing the medium for the final polishing efforts. Speaking of all things bright and polished, Dan's Polishing handled all the chrome and polishing on this hot rod roadster as he does for most all of Bobby's projects.
When looking at an Alloway build you can just about bet the mortgage that underhood will be a big block Chevy. This 1932 Ford highboy roadster holds true to form. Since the earliest days of rodding Corvettes and hot rods have gone hand in hand. Many of the parts from these potent street machines were swapped over to hot rods, giving the owner/builder of his early hot rod the utmost performance he was seeking.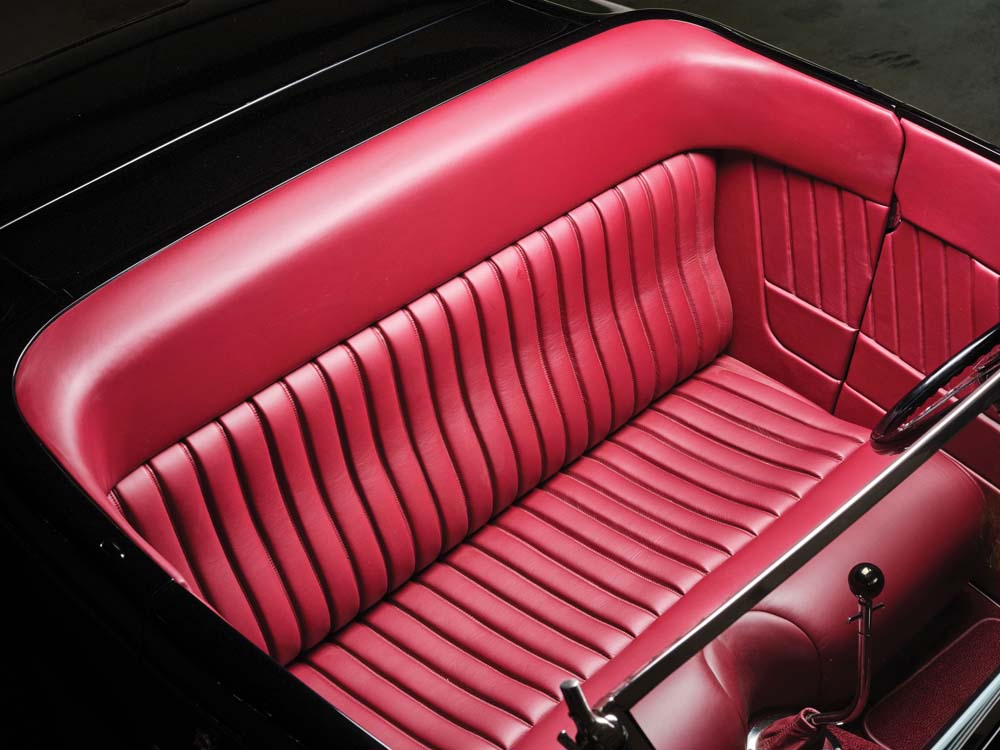 Under the stretched Rootlieb hood is a 427 big block representing a vintage 1968 L71 V8 sporting 435 hp. The 427 big block shows off the proper lowrise intake manifold topped with Corvette Tri-power—a pair of Holley R3659A for the front and rear carb and a Holley R4055A for the center carb. Of course this big block Chevy was reworked and now sports 550 hp. Look around and you will see Sanderson headers that run back to the Borla Pro XS mufflers through a stainless system fabricated by Barillaro Speed. Other goodies include a Powermaster alternator, Cooling Components electric fan, a polished factory water pump, and an MSD ignition system with Taylor wires.
Read More: How To Build Exhaust For Your Classic Ford
Inside the interior shows off the handywork of Steve Holcomb of Pro Auto Custom Interiors done in Moore & Giles Mulberry hue leather. The Deuce dash is outfitted with a Lokar engine-turned insert showing off a limited run of Classic Instruments Moon Equipped gauges that were originally minted in the early '90s. Yes these gauges had been sitting for nearly 30 years before they were pulled into service. Also visible are the three pedals and a Mustang shifter that operate the American Powertrain–supplied TREMEC 5 speed and the ididit steering column with the cutdown Lecarra C1 Corvette steering wheel. Although you can't see it, it's still cool to mention. The door panels have hidden pockets that pop open to hold necessities such as registration and insurance paperwork, sunglasses, cell phones, and the like.
Well, there you have it. With some extra time and a closet full of hand-me-down hot rod parts look what one hot rodder built. Maybe you have the makings for your next project sitting on a back shelf. MR