By Scotty Lachenauer – Photography by the Author
Hot rod builder Mike Swaney didn't think twice about gifting his 14-year-old son Brad with the rusty 1971 Chevy C10 he had lying around, as well as the cruddy pile of Chevy C10 parts that went with it. It had sat dormant for way too many years and he just figured his mechanically competent teenager could throw it all back together for some basic transportation. Even good ol' Pop would have a hard time believing what the very needy pickup would metamorphosize into under the direction of his talented son.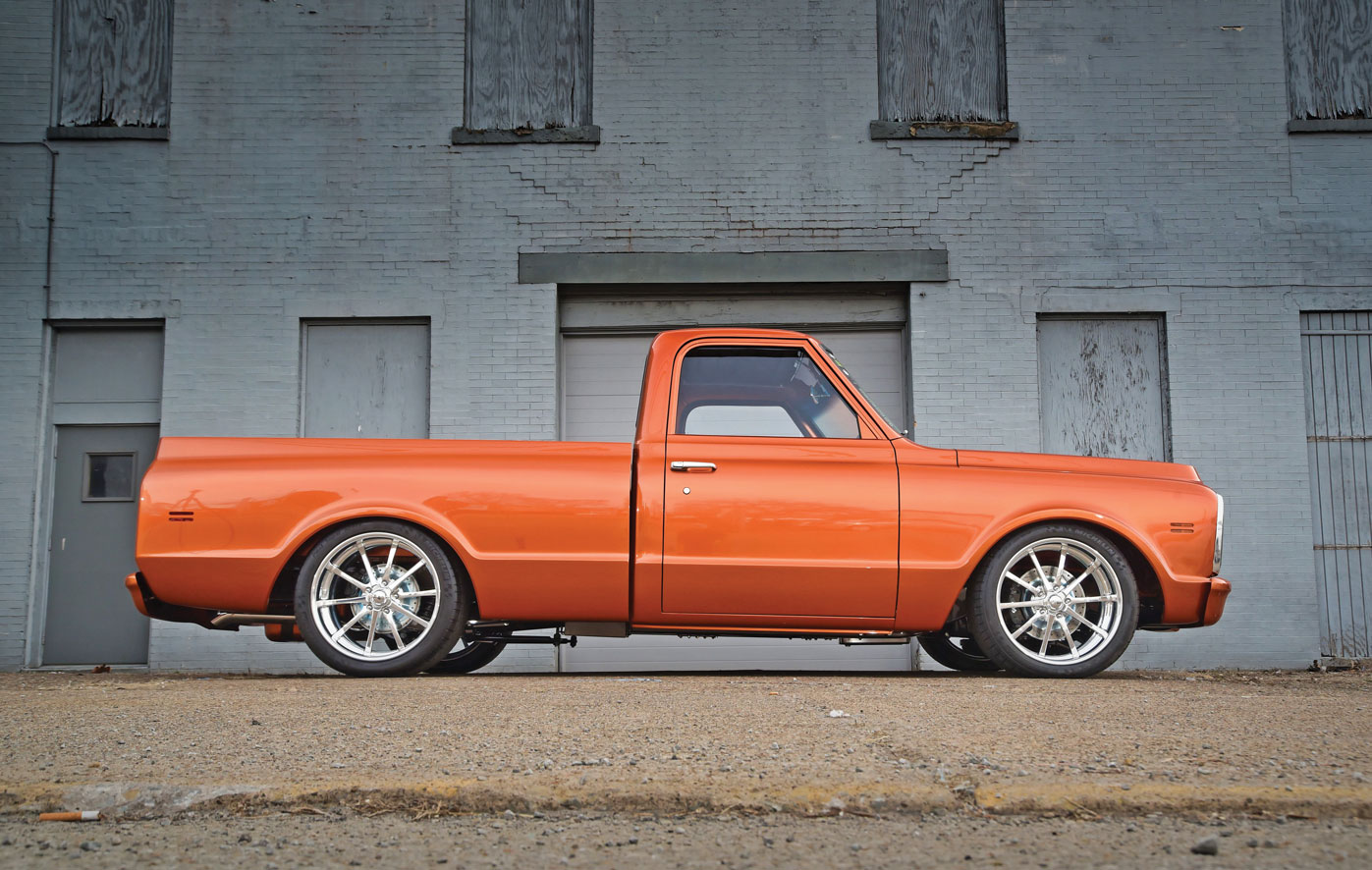 Rusty Chevy C10
This story takes place in Uniontown, Pennsylvania, a quiet hamlet about an hour south of Pittsburgh, located in the rolling countryside in the southwest corner of the state. Young Brad grew up alongside his dad watching, learning, and sometimes pitching in on some of his dad's four-wheeled creations.
Read More: 1967-1972 Chevy C10/GMC Billet A/C Control Panel
By the time he was a teenager, the young gun was ready, willing, and able to take on a project of his own. "I figured he was two years from getting his license, so I 'gifted' him my C10, which I have had since 1993. I never did anything with it, but I knew with some timeBrad could put it back together," Mike says.
So, along with starting high school, Brad got a four-wheeled project of his own.  No doubt about it the truck was in shambles; partially torn apart with most of the parts and sheetmetal in the process of getting reclaimed by Mother Earth. Brad knew right away he had to start fresh to get this thing roadworthy. "The first summer I had the Chevy C10 I sandblasted the frame bare and then primered it with epoxy paint. After that I sanded it again and painted it with a deep metallic brown topcoat," Brad says. It was a good start to getting the truck roadworthy and safe out on the street.
However, it didn't take Brad long to realize what was happening here. "It was about at this point I realized this particular pickup was going to be way too nice to be an everyday driver. I figured I would need another daily ride, so I bought my Grandpap's 1989 Chevy 1500. I then proceeded to do a quick frame-off resto on the truck to clean it up and make it dependable. It took me away from the C10 for a while, but once I had reliable transportation, I could put all my effort back in the 1971," Brad states.
Read More: In Your Garage: Fred Steiner Jr.'s 1956 Chevrolet Task Force 3200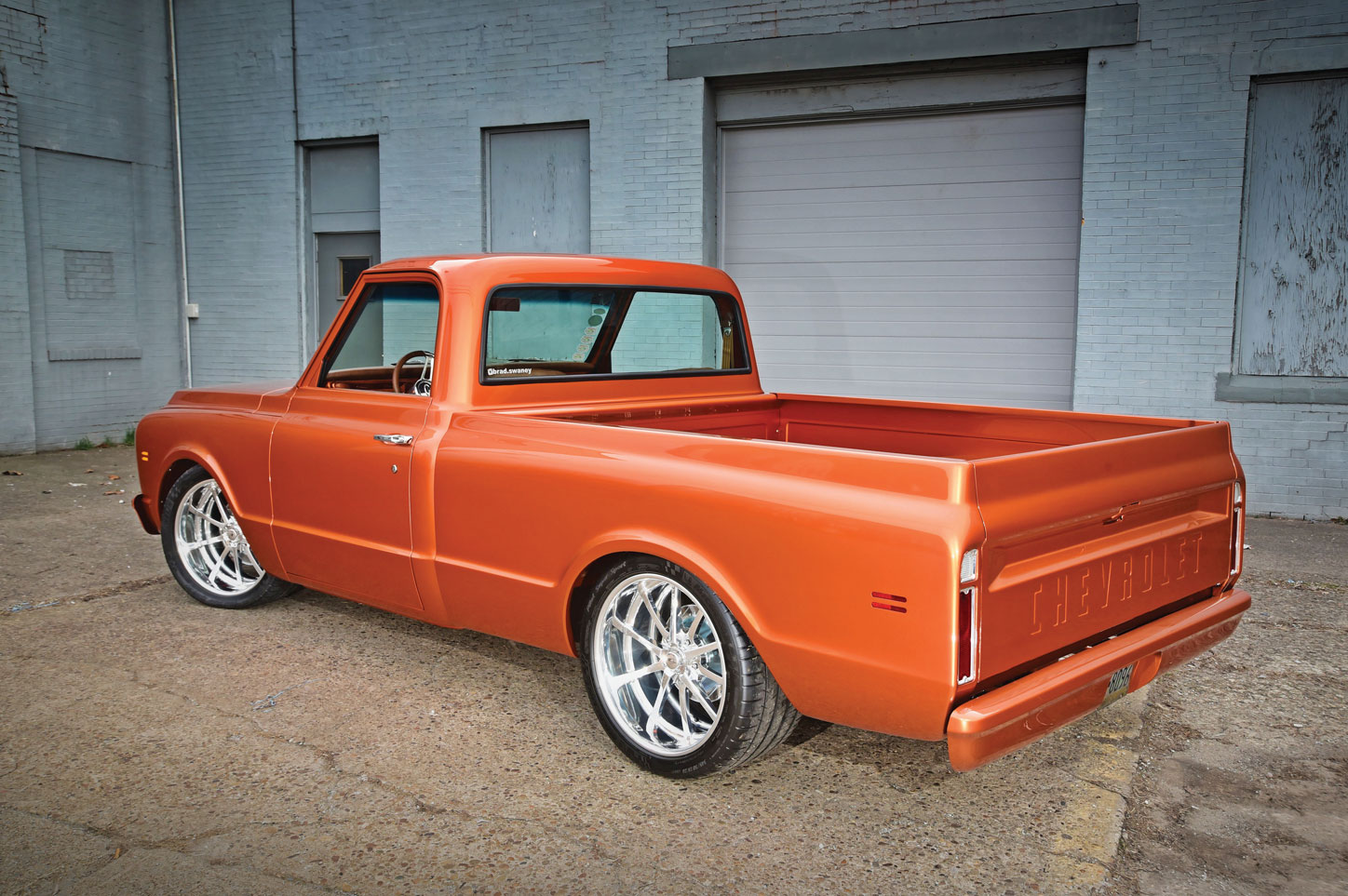 Once back on the Chevy C10, the youngster put all his free time and effort into the build. Now that the frame was done, Brad started on improving the suspension and ride on the C10.  A set of drop spindles and springs, courtesy of Classic Performance Products (CPP), were added to get the truck to help make it sit the way the owner wanted. A quick-ratio steering box helped keep this ride pointed in the right direction and a quartet of CPP 13-inch discs help stop this bedded hot rod on a dime.
Once the suspension was set, Brad moved onto the body. Like stated before, the truck had seen its share of use and abuse and had sat dormant for many years. "The rust was pretty extensive. My dad and I got to work, replacing all the cab mounts, inner and outer rockers, and cab corners. I had an N.O.S. door that we used, along with a new fender and front and rear wheelwells; we even installed a new tailgate," Brad says.
Other mods include shaving the driprails, peaking the front of the roof to match the contour of the windshield, and removing the seam in the rear of the roof. The rearwells were then widened 3 inches and ribs were added to match up with the bed seams.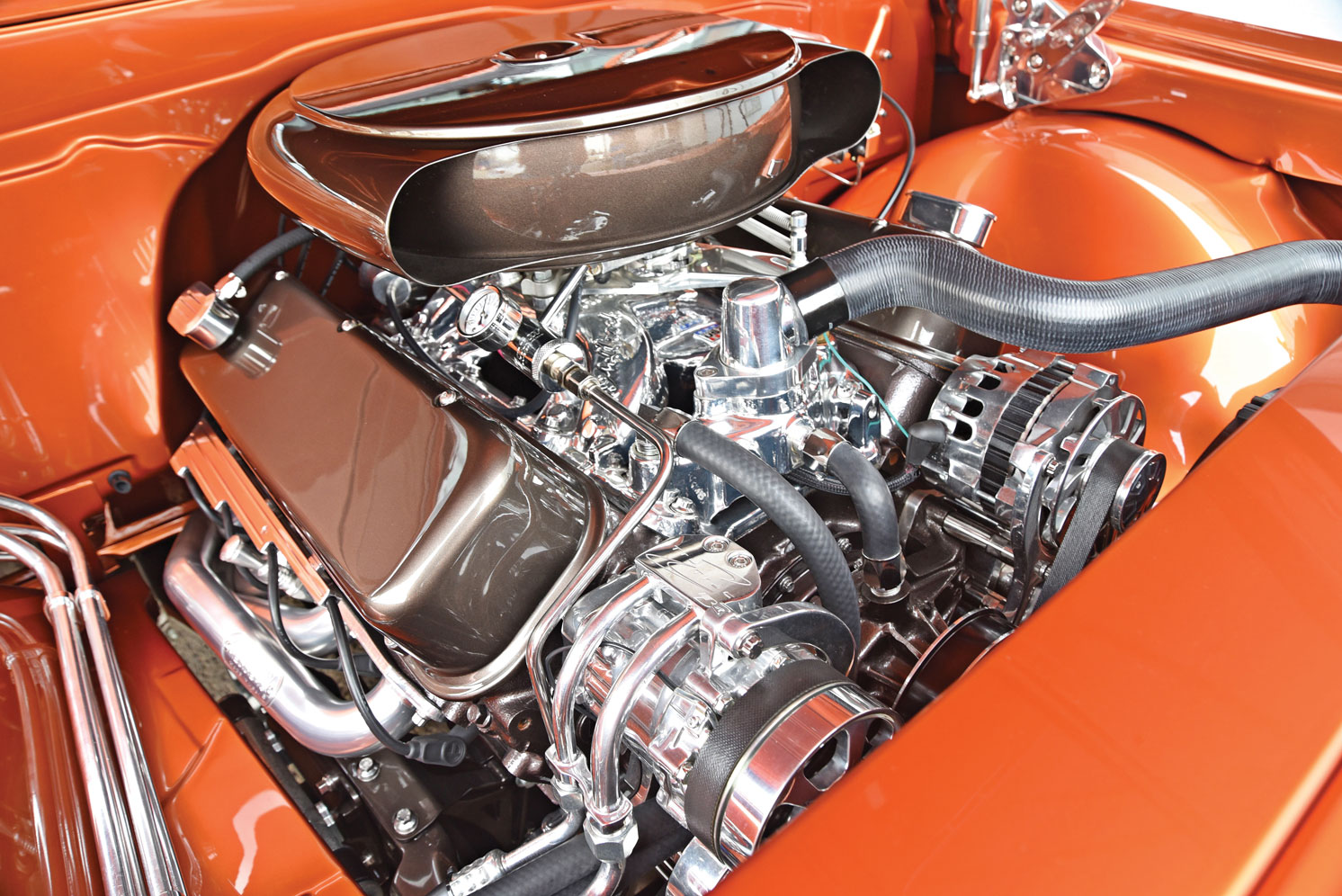 Underhood, the front wheelwells and firewall were smoothed out for a custom touch. To make the truck look more symmetrical, the passenger firewall was filled in to match the shape of the driver side.
Filler panels were made between grille and core support, and the front edge of the hood was cut off and smoothed to perfection. But there's more. "The doorjambs were also welded solid so there's no seams of any kind. Any seam, bump, or hole was filled to give a cleaner look. My dad and I did all the bodywork on the truck," Brad says.
Read More: Turning Up The Heat—Chris Cerce Brings This 1983 C10 To The Next Level
The owner now needed to pick out the hue that would soon baste his Chevy C10. "The color that's on my truck I couldn't find anywhere. This certain color was in my head that I just couldn't find in any chip books. I have a die-cast Willys toy car that had a similar color, so I took it to our friend Frankie Guy at Paint Masters Plus right there in Uniontown. He took a picture of it, ran it in the computer, and mixed me up a custom color that I was happy with," Brad states. Once armed with the goods, Brad laid the paint out himself right there in the family shop. To say he was pleased would be an understatement. "I like the color and think I did a good job. I already had experience painting cars so I knew I could handle it," he says.
Next, Brad moved onto the drivetrain that would power this pickup. To him it was go big or go home so a stout Chevy Big-Block 454ci powerplant was obtained through a barter deal. Once they secured the built motor, good friends Alan and AJ Stewart tore it down to make sure it was up to snuff. Once apart, AJ ported and polished the GM heads and matched them to the Edelbrock intake. A Holley 750 feeds this big-block the go-juice it craves and a set of polished Hedman headers get rid of the spent gases.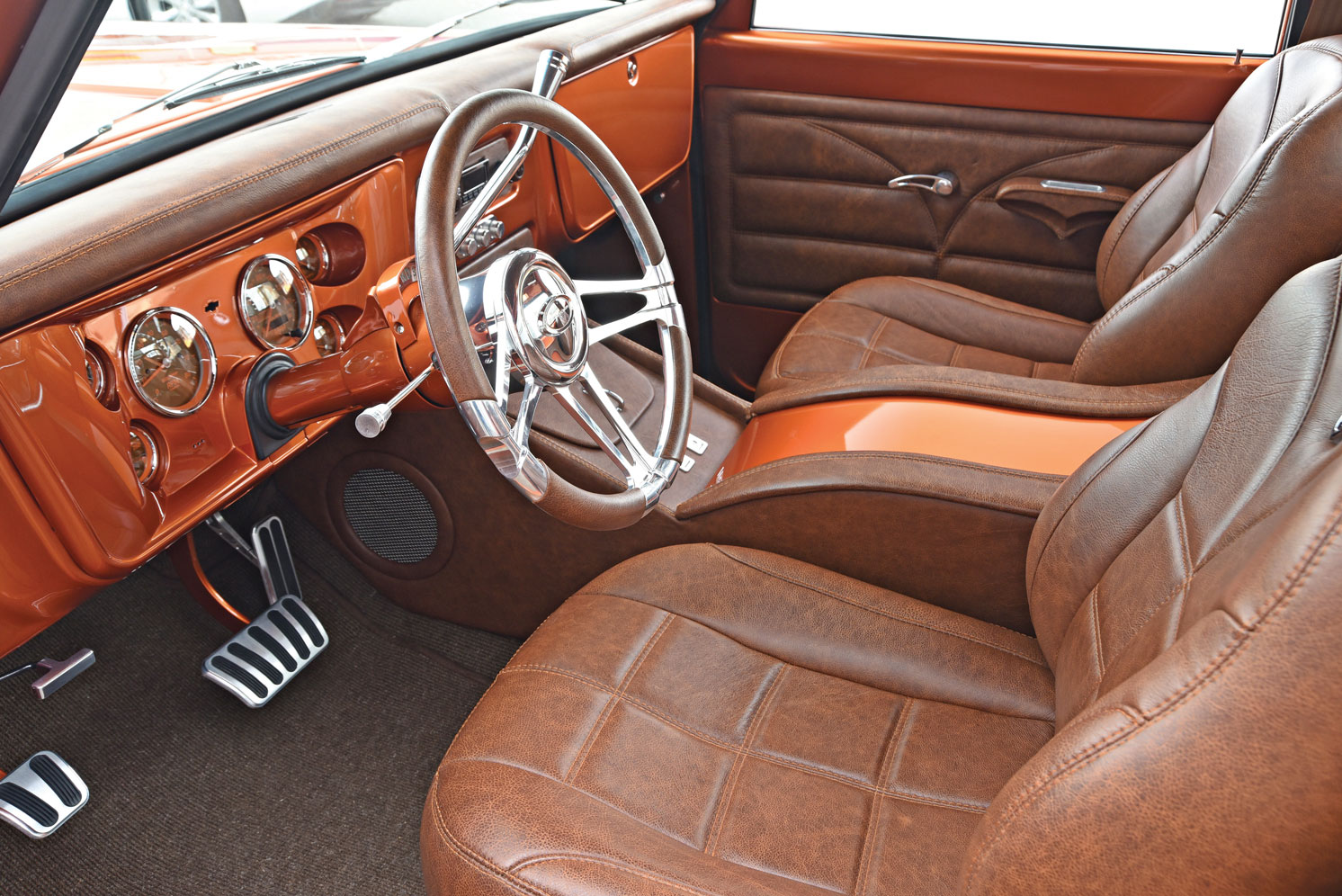 For a little bling, a Billet Specialties Tru Trac front drive handles the duties up front and an Accel HEI distributor and MSD ignition handle the spark. A 700-R4 was selected then built-up by Paul Fertal to run this pickup through the gears. Out back, a GM 12-bolt rear gets the power out to the back meats.
The Chevy C10 interior restoration was next on the agenda. Brad had a good idea of what he wanted from the start. It all starts with a pair of Jeep bucket seats that were modified by Brad and Mike. The twosome also fabricated the custom C10 door panels and console, which were then covered in Relicate Rich Clay leather by Kevin over at Smith's Custom Seats in Martinsburg, Pennsylvania.
The stock C10 steering column was rebuilt by the owner and topped with a Billet Specialties steering wheel. Brad also fabbed-up a custom gauge cluster, which he stuffed with a choice set of AutoMeter gauges, and Vintage Air supplied the climate control. A German square-weave carpet adds a touch of European style to this very American truck cockpit.
Read More: Dylan White's Delmo's-Built 1963 Chevy C10 – Video
Finally, the team built a custom Chevy C10 wood bed. "I wanted something different in the bed floor than just typical oak or something and I really liked black walnut. I was going to buy the complete kit, but it was expensive, and it had their company name burned in the underside, which I did not like. So Dad and I went to the saw mill and bought rough-cut black walnut boards and bought a plainer and decided to make it ourselves," Brad says.
To finish it off, he did two coats of clear on the boards and then sanded it to fill in the grain. This was repeated until the boards were smooth. There are between six to eight coats of clear on each of the boards. "I get asked all the time if it's actually real wood," Brad laughs.
Out on the corners Brad installed a quartet of massive Billet Specialties Turbine wheels to roll on; 20×10 for the front and 20×12 in the rear. "Out back I stuffed in a set of 345/30R20 Michelin Pilot tires to handle the power of the big-block. Up front, with a little massaging, I got a set of 295/35R20s to clear the fender. It was a super-tight fit when I brought the car lower," Brad says. Other add-ons include a 3-inch polished stainless exhaust feeding a pair of MagnaFlow mufflers. A gas tank out of a Chevy Blazer carries the juice while a Holley pump gets it up front. For lighting, this C10 sports Marquez Design billet taillights while a pair of Fesler headlights help keep an eye on what's coming down the road.
Once the truck was finished Brad couldn't wait to show off his new ride. "I decided late in the game that I wanted to take it to the 2018 World of Wheels event in Pittsburgh. I worked day and night to get it there and basically finished the truck at the event, putting the bumper on at the show," Brad says. There the C10 won Best Truck in Show, though it did not make the 'Steel City Six,' which was the goal from the start. "When I got the score sheet back from the judges, I saw that there were very minor things they didn't like about the truck. One was that my frame had orange peel in it. So then and there I decided I was going to build another frame for it," Brad exclaims. 
Chevy C10 Frame Restoration 
So, Brad and good friend Jacob Patton found a donor Chevy C10 frame for sale in Richmond, Virginia, and snatched it up. This time around it was going to be exactly the way he needed it to work with his setup. He first narrowed the front track width 2 inches to help clear the 295 width front tires without rubbing.
Next, he welded up all the unnecessary holes and once again C-notched the rear. He also built a big center frame stiffener and changed out all the crossmembers. "I sanded, painted, sanded again and then buffed the paint smooth so there was no more orange-peel in it," Brad states. Final touches included some suspension upgrades, such as tubular control arms and trailing arms from CPP and a set of Viking coilovers fore and after.
After rebuilding the chassis Brad thought the C10 had what it needed to get to SEMA." I tried getting into the Battle of the Builders through the Goodguys Young Guys program but did not end up going that way. I had just made the Summit Racing catalog cover with the truck and so I tried emailing some people from the company. I got a response and lucked out by landing a spot in their booth.  Once at SEMA I ended up winning the 2019 Young Guns Battle of the Builders and scored a Top 4 in the show's overall Battle of the Builders," Brad says.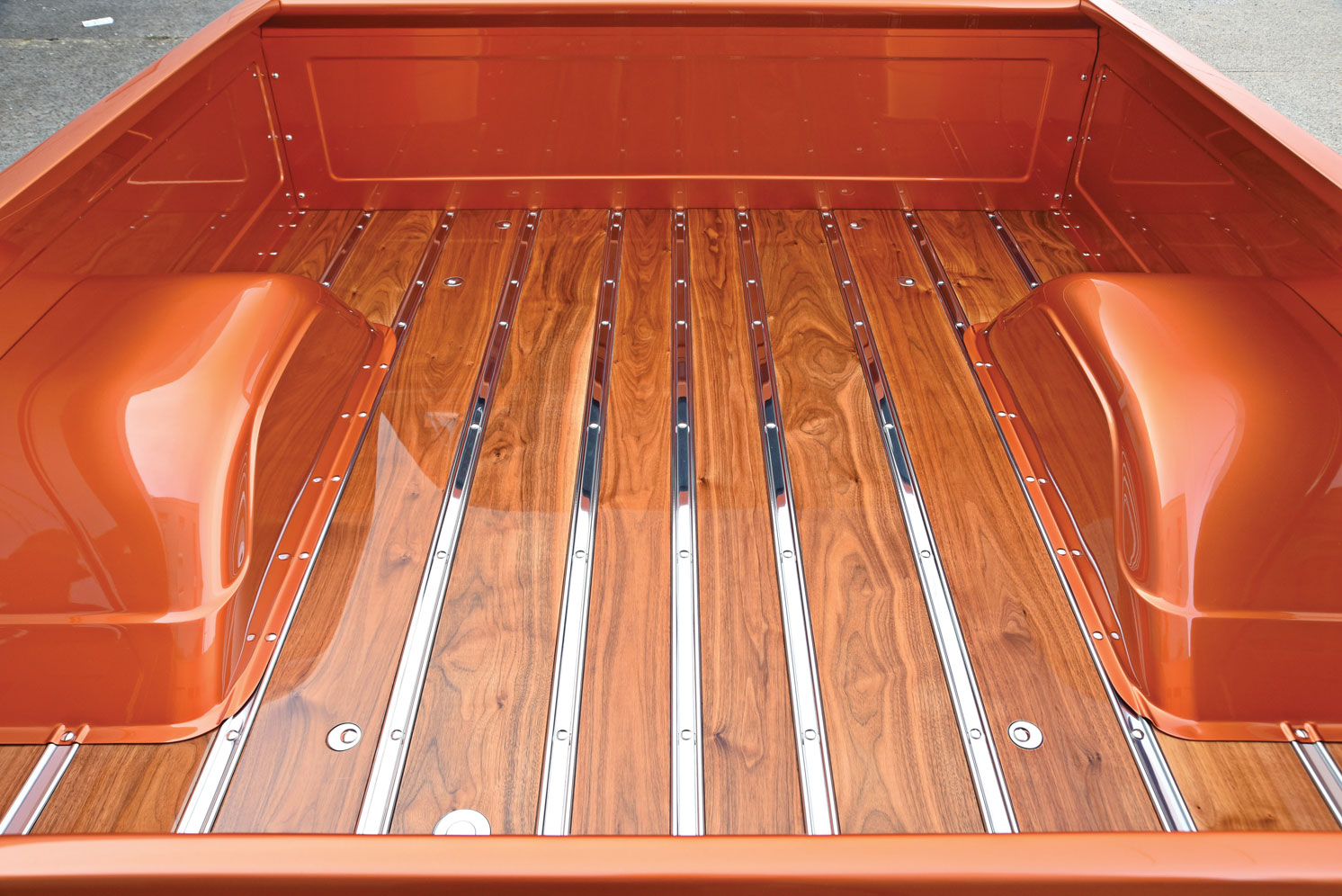 Future Truck Trade 
Today Brad has taken his love for designing and fabricating trucks and muscle cars and put it to good use. "When I decided this is what I wanted to do with my life, me and my dad built our own business and now we have a fulltime hot rod shop together. It's called Hayman Creations because we are on Hayman road here in Uniontown," Brad states.
Read More: FiTech EFI on 71 C10 – Classic Truck Performance
As for the truck, Brad just could not be happier about his experiences building his dream ride. "Building this truck was a big learning experience. I learned a lot on what I now could do differently on customers' cars. Without a doubt the C10 opened up a door for what I now make a living at," he says. Special thanks go out to Brad's mom for her support the entire way through the Chevy C10 build.