Fabricator Steps Away From Two-Wheelers to Build a Killer  Bubbletop
By Scotty Lachenauer   –   Photography by the Author
A few years back, Mike Pugliese of Staten Island, New York, was picked to be a participant on television's reality series Biker Build-Off. "I had been building motorcycles since I was a teenager here in New York, but I wasn't really known outside my area. Then they picked me for the show," Mike states. "I was the only guy who didn't do this full time. I just worked out of my garage."
Well, that didn't stop this two-wheel wizard from picking up a big win on national television. "Going up against all these famous and amazing bike fabricators was a very cool experience. I had a great time and learned a lot about myself and the business," Mike points out. "I was grateful for the chance to show my work to the Biker Build-Off audience."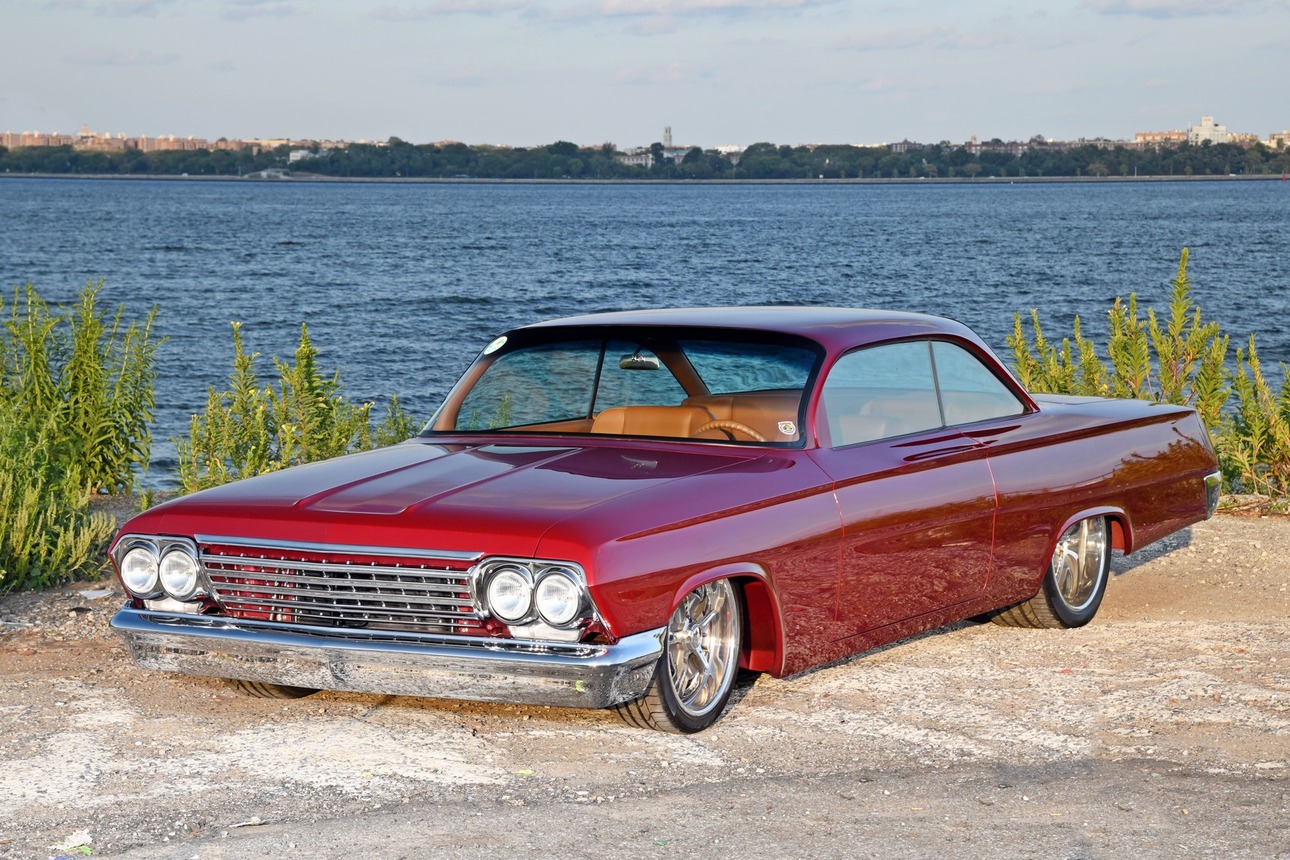 After the show, Mike continued building bikes for a select clientele out of his home garage. Time was limited, however, because Mike is a general contractor by trade, and that in itself is a very time-consuming occupation. However, one day Mike decided to set aside some time and change it up a bit.
After years of building bikes, Mike was looking for a new challenge. He really wanted to build a hot rod or muscle car. About 10 years ago he decided to create his own badass groundbreaking Chevy, so he hunted down a viable candidate and got the process started.
What Mike found was a base-model '62 Biscayne. "I bought it off an older gentleman; it looked like it was in good shape … until we sandblasted it," Mike remembers. "I soon found out it had a lot of issues, so I ended up replacing basically every panel on it." From there Mike hand built his own chassis for the big Chevy using wood templates that were then transferred over to 2×4 steel tubing. The body was then fused with the homebuilt chassis, creating a unique, fullsize unibody Chevy. Up front, a Corvette C4 suspension with rack-and-pinion steering was installed. Out back, a Winters quick-change rearend and an Art Morrison triangulated four-link give this Chevy the ride quality Mike was after.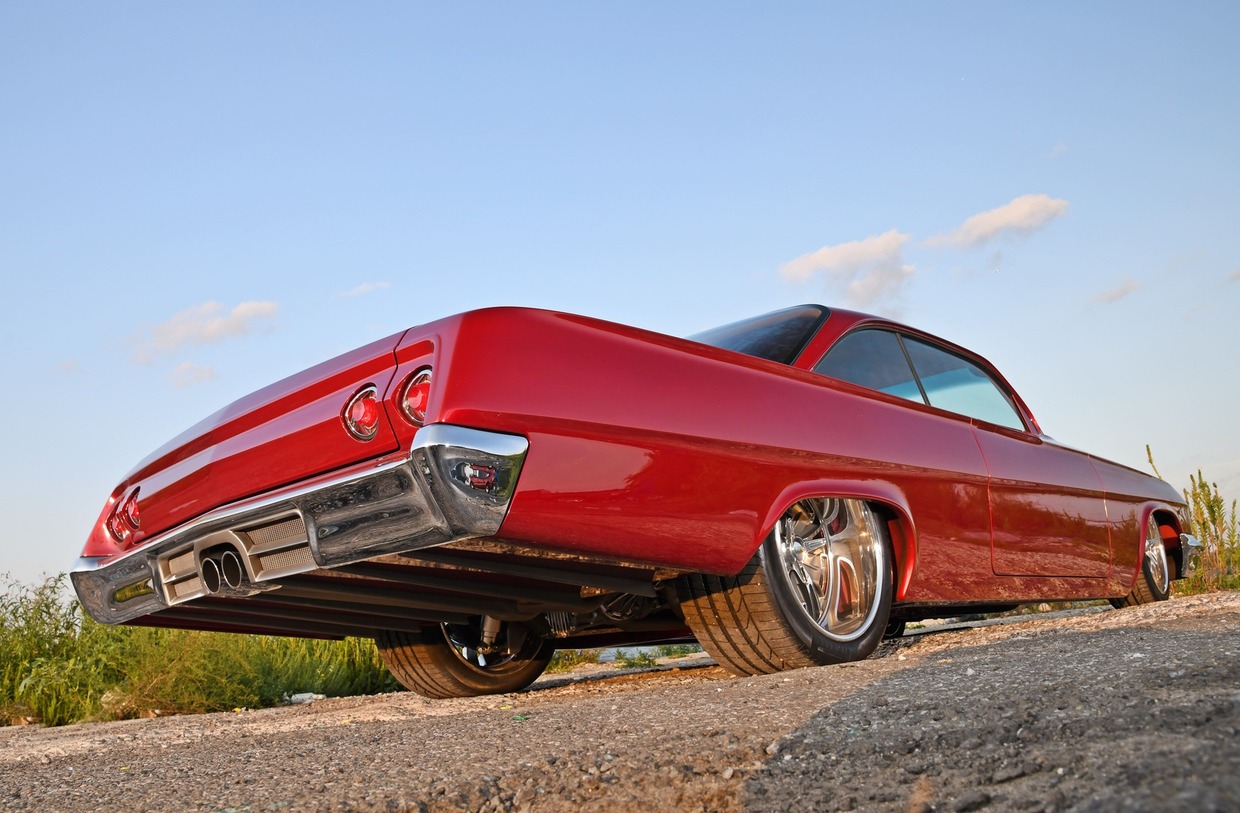 Check it out: Vernon Ward's 1971 Camaro Z28
With that accomplished, Mike built new floors, wheeltubs, a fresh firewall, fan shroud, underhood bracing, and numerous handmade components, such as custom door handles, tucked bumpers, and custom hood hinges. From there, he and good friend Tommy Bilotti sourced a top from a '61 Buick Invicta and transplanted it on the Chevy, only to remove it later and chop it 2 inches for a sleeker look. He also decided to flush-mount the glass, which was a huge undertaking, but the results speak for themselves.
Inside the cockpit Mike installed a '59 Chevy dash that he shortened 6 inches to fit correctly. He then added a brake master cylinder and clutch cylinder along with two computers under the dash. Next was the air conditioning unit, all installed precisely to keep the clean look he was after.
When it came time for bodywork, Big Al Yaursinsky did all the fine work and got it into primer. Mike then brought it back to his home garage and basted the car in a custom PPG/House of Kolor blend Candy Apple Red. He then cut and buffed the car and added some satin clear. Good friend Frank Inzerillo at Rooster Graphics added a fine pinstripe, separating the satin and clear.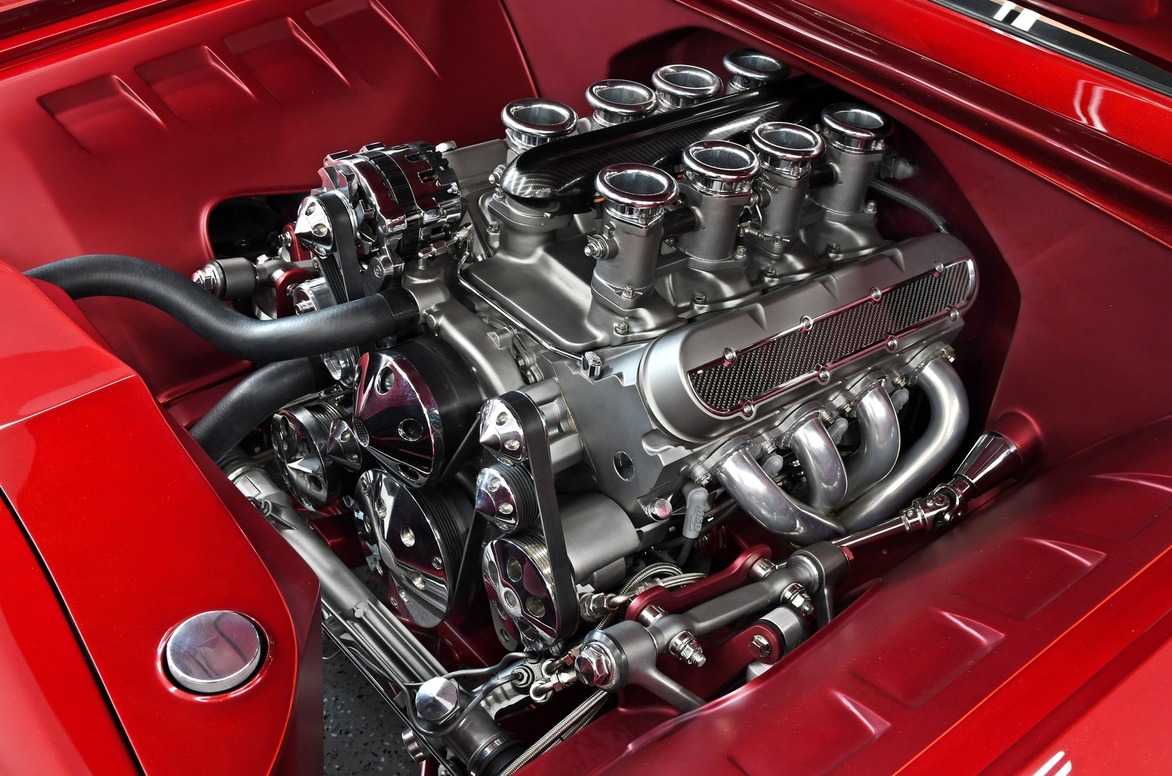 To power the ride, Mike needed something special for that one-off, custom-designed engine bay to cradle. He went to Turn Key Powertrain in Oceanside, California, to have an LS2 built for the car. It boasts cathedral port aluminum heads, forged internals, and a Comp Cams hydraulic bumpstick. Once home, he added the Borla Eight Stack injection. Its polished good looks fit the car perfectly. Mike then sourced a TREMEC TKO five-speed transmission to get it through the gears and to handle the 699hp combination.
Back in the cockpit, Mike fabricated the interior panels, one-piece headliner, and kick panels. He then sent the car out to Bux Customs of Pottstown, Pennsylvania, where Chris McClintock and crew did their magic and built the front and rear seats, door panels, center console, and put the eye candy on everything Mike did at home. "They did a killer job on the interior and finished trunk," Mike boasts.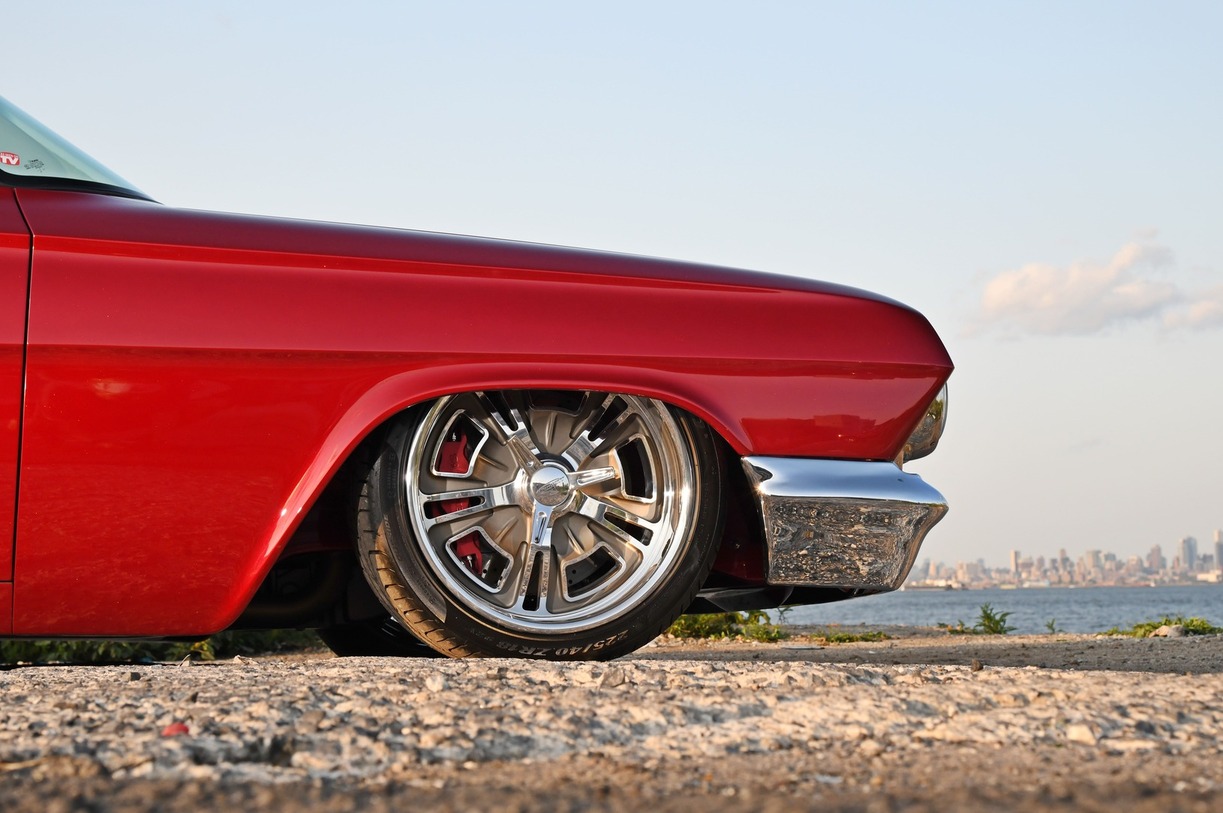 Check out this Chevy: Nashville Or Bust: Rick Katz's '67 Chevy II
Baer 13-inch rotors and six-piston calipers front and rear help this Chevy beast stop on a dime. To really set off this long and lean cruiser, Mike chose Schott Modsport d.concave wheels (18×8 front, 20×12 back) wrapped in Pirelli P Zero tires (225/40R18 front, 315/35R20 rear).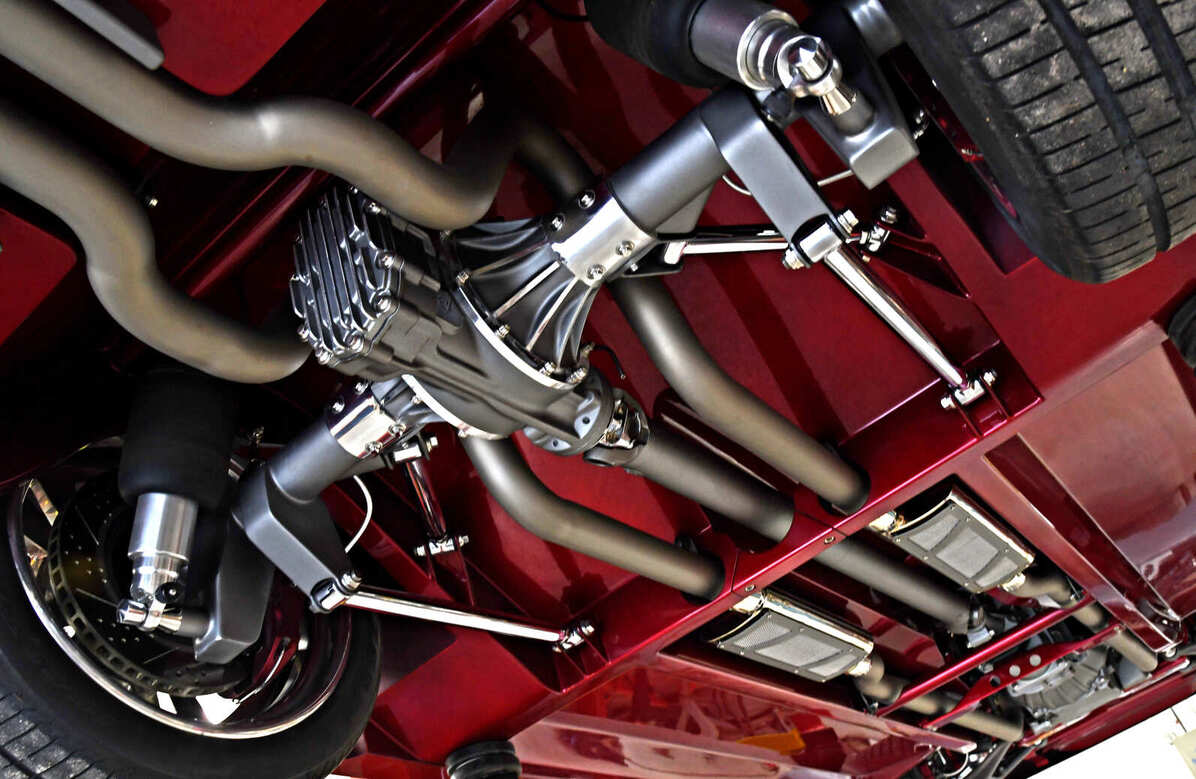 Low-profile 2½ inch Stainless Steel Specialties mufflers churn out a healthy exhaust note while a Griffin aluminum radiator helps keep this Chevy cool even during those hot New York summers.
Once completed, Mike reflected on his seven-year build. "The car is just awesome–it handles like a go-kart," Mike claims. "For a car as big as this, that's saying a lot. At this point I wouldn't change a thing as it came out exactly how I imagined, and also because it took me so long to build.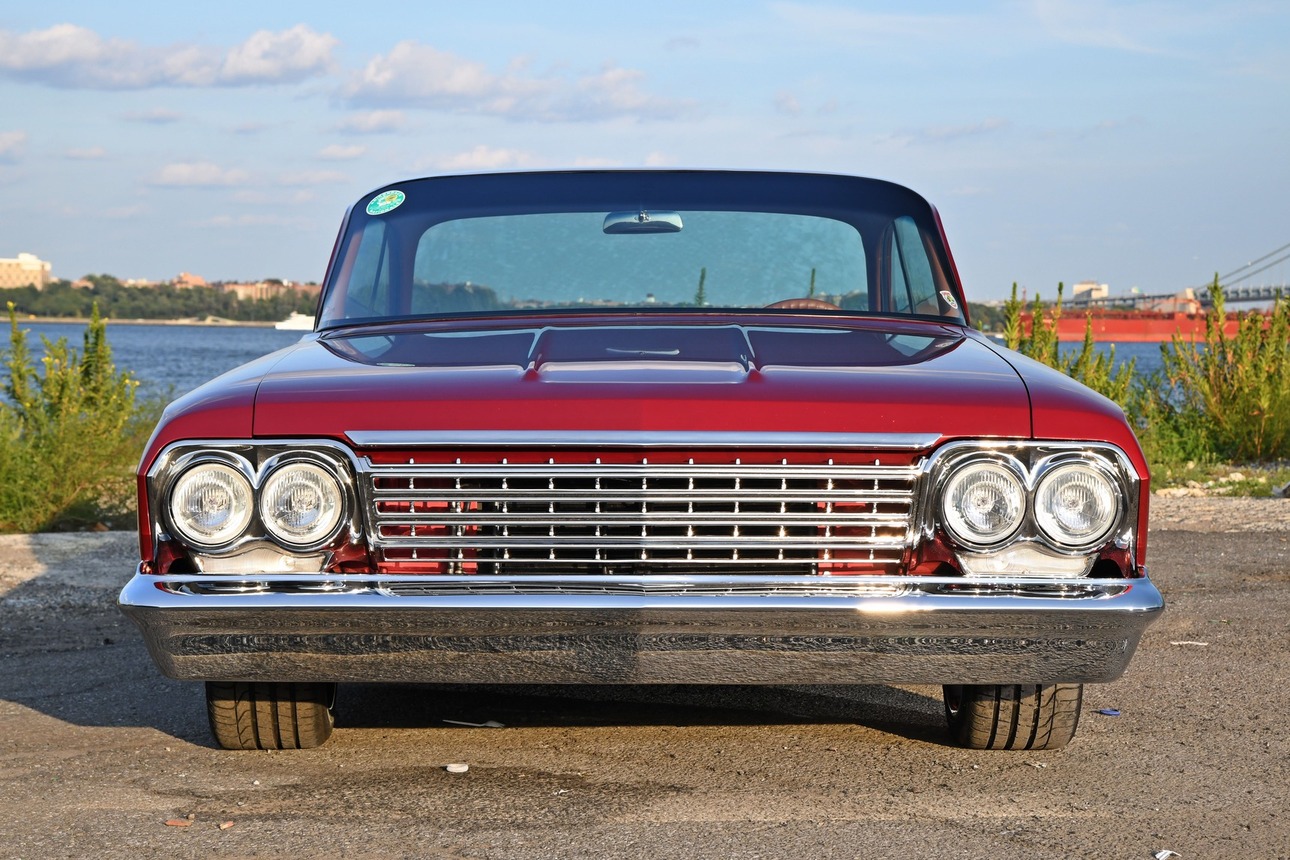 "I'd be remiss if I didn't give props to those who helped along the way. I would like to thank Bux Customs, Chris McClintock, and the crew for putting one of their beautiful interiors in my car. That just brought my ride to another level. I have to thank my friend Frank Inzerillo of Rooster Graphics for his subtle pinstripe and dropping everything to come to my shop numerous times through various stages of construction. Lastly, a shout-out to Big Al Yaursinsky for the quality bodywork on this big Chevy."
Does Mike have any plans in the future for this wild Biscayne? "I'm going to enjoy all the hard work and just drive the hell out of it for now. After I drive the car for a while, I may repaint it to a straight color and get rid of the candy so I can really drive it with no worries."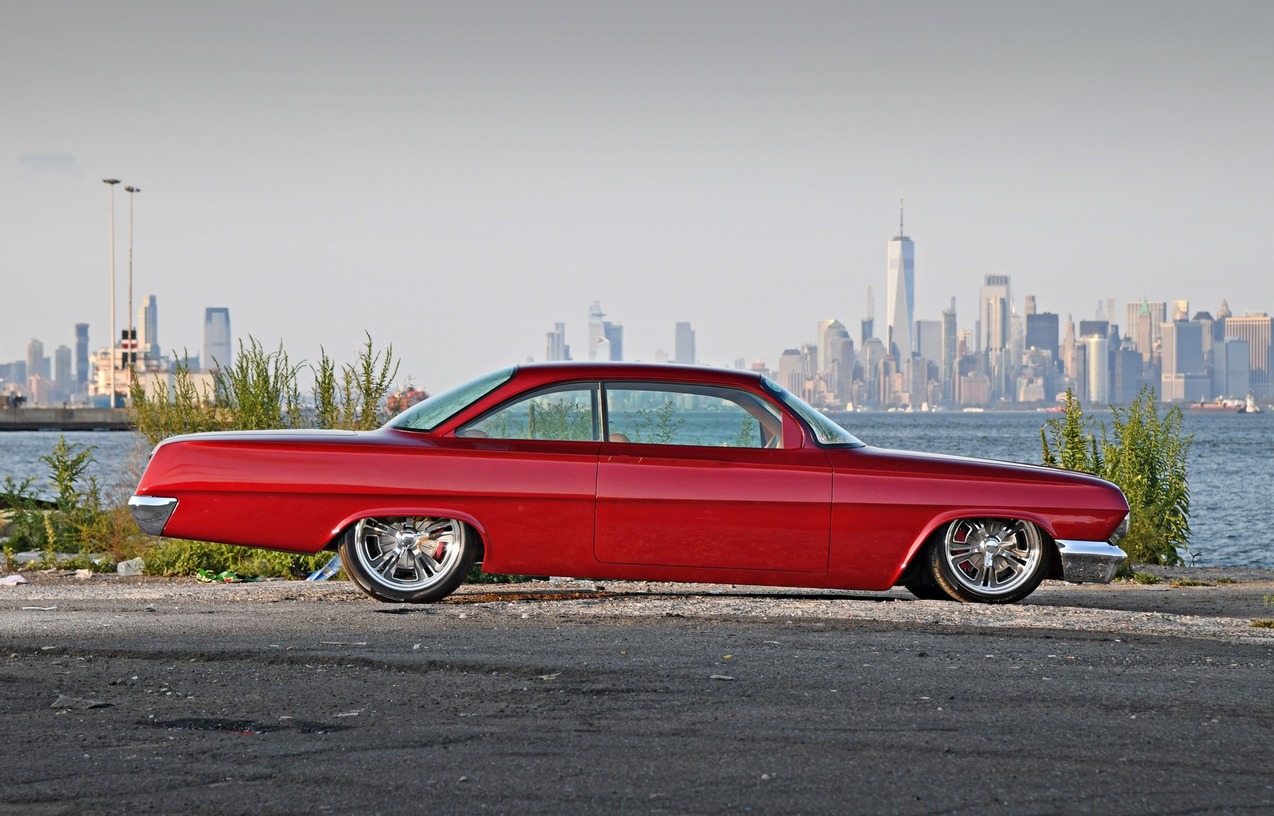 TECH CHECK
Owner: Mike Pugliese, Staten Island, New York
Vehicle: '62 Biscayne
Engine
Type: LS2 small-block V-8
Block: Aluminum
Displacement: 364 ci
Compression Ratio: 10:1
Bore: 4.00
Stroke: 3.622
Cylinder Heads: Cathedral port aluminum
Rotating Assembly: Forged steel crankshaft, forged aluminum pistons, forged powdered metal steel connecting rods
Valvetrain: Hydraulic roller lifters, beehive valvesprings, diecast roller fulcrum rocker arms
Camshaft: Comp Cams
Induction: Borla eight-stack injection
Ignition: FAST engine controller
Exhaust: Stainless steel exhaust headers, stainless steel exhaust, custom low-profile mufflers
Output (at crank): 699 hp
Drivetrain
Transmission: TREMEC TKO five-speed
Rear Axle: Winters quick-change with 3.78 gears
Chassis
Frame: 2×4 rectangular tube unibody design by owner
Front Suspension: Corvette C4 front independent suspension, rack-and-pinion steering
Rear Suspension: Art Morrison triangulated four-bar suspension
Brakes: Baer 13-inch rotors and six-piston calipers front and rear
Wheels & Tires
Wheels: Schott Modsport d.concave, 18×8 front, 20×12 rear
Tires: Pirelli P Zero 225/40R18 front, 315/35R20 rear
Interior
Upholstery: Chris McClintock at Bux Customs (Pottstown, PA)
Material: Relicate Napalia Spezia leather, Daytona Bronze carpet
Seats: Bux Customs buckets
Steering: Evod Impala steering wheel
Shifter: TREMEC
Dash: '59 Impala
Instrumentation: Classic Instruments
Exterior
Bodywork: Big Al Yaursinsky
Paint By: Mike Pugliese
Paint: PPG/House of Kolor custom Candy Apple Red
Hood: Stock with modified inner brace
Bumpers: Custom one-piece, tucked
Hood Hinges: Custom with hidden gas pistons by owner
Door Handles: Custom by owner
Roof: '61 Buick Invicta chopped 2 inches
Glass: Flush mount