"Cotton Candy" from Farm Truck to Showtruck! Daryle's  Sweet Tri-Five Chevy Truck!
By Shawn Brereton   –   Photography by the Author
From its initial release in 1955, the Chevy Cameo still served its primary purpose of hauling, but looked good while doing it. Borrowing styling cues from the Bel Air passenger car, it featured a smooth-sided fiberglass bed matching the body lines of the cab. All Cameos were white with an upgraded red interior. With over 5,000 purchased that year, it was a hit, but sales dwindled as other automakers caught on and started offering similar luxury models. 1959 was the final year for the Cameo, but '55 is still the most desirable.
Read More: Stylish Styleside
For shop owner Daryle Courtney, of Double D Custom Rods in Houston, his desire for a Cameo came from the memory of his father owning one when he was a child. Even after building others' vehicles for 36 years, Daryle's longing for a Cameo never waned. He's had a few through the years but this is the high-water mark. Purchased for a mere $5,000 from a friend's cousin in March 2000, the truck spent most of its life on a cotton farm.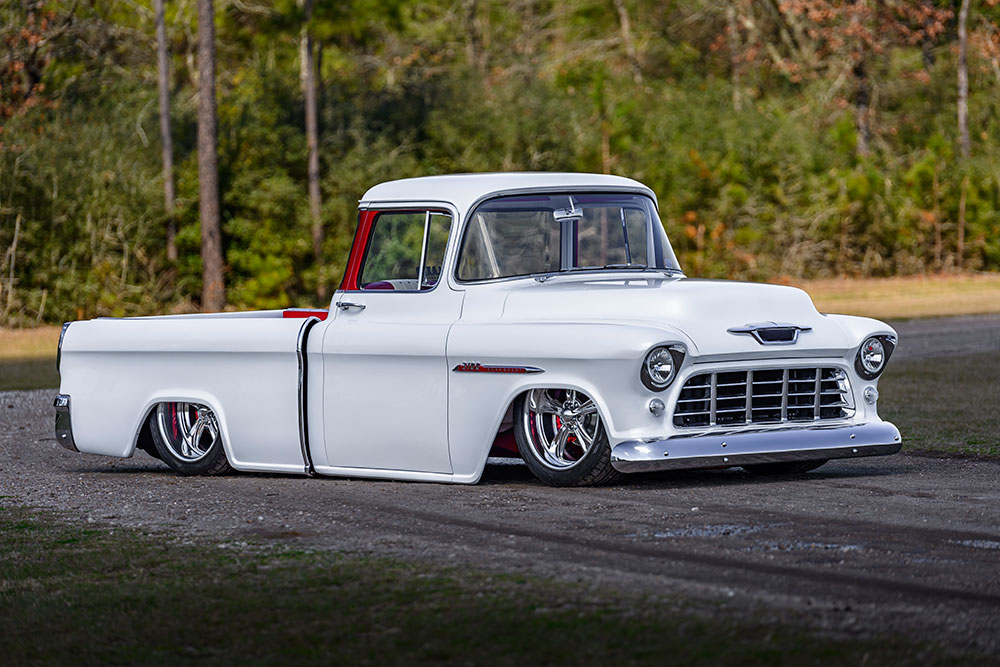 It's rare to see a Cameo pickup modified to this extent. They are so rare and valuable that people usually leave them in the stock configuration. However, Daryle is an outside-the-box thinker and wasn't afraid to put his spin on this classic. With a steady stream of customer vehicles coming through the shop, he had to take his time crafting the Cameo of his dreams. With help from friends Timothy Koch, Addym Jackson, and Stanley Payne, this masterpiece took 21 years to complete.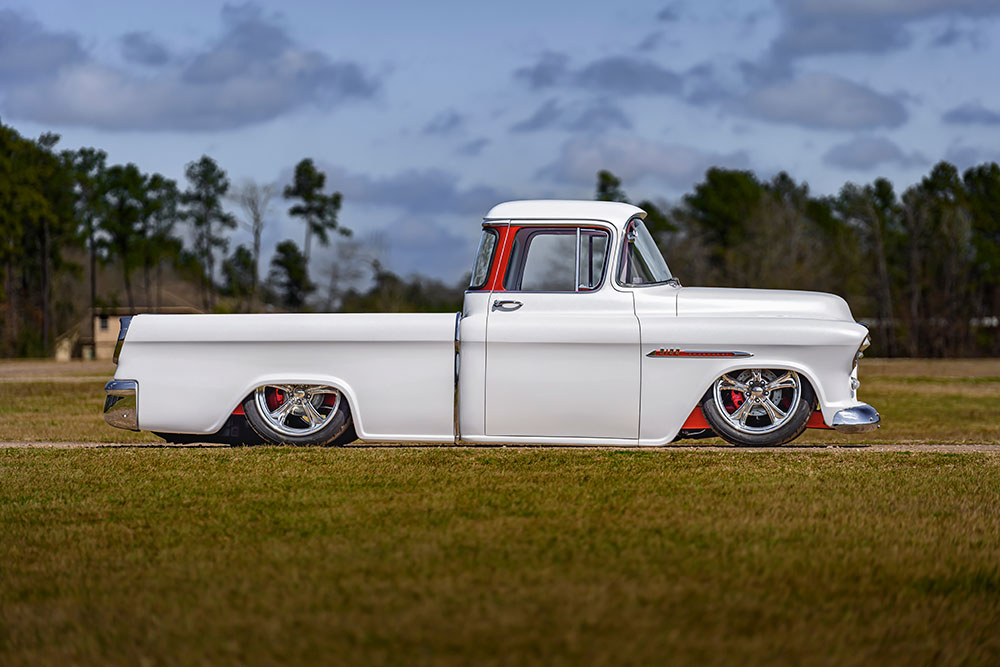 Daryle kept the Cameo's classic lines outside but gave it some styling upgrades and performance underpinnings. The first step was boxing the chassis to make it more rigid. He grafted on a front clip from a '96 Corvette to lower the stance and make it turn. In the rear, he C-notched the frame and installed a stainless four-link. Ridetech ShockWaves get it lying in the weeds while Corvette brakes stop it. Billet Specialties SL62 wheels provide the perfect mix between vintage to modern.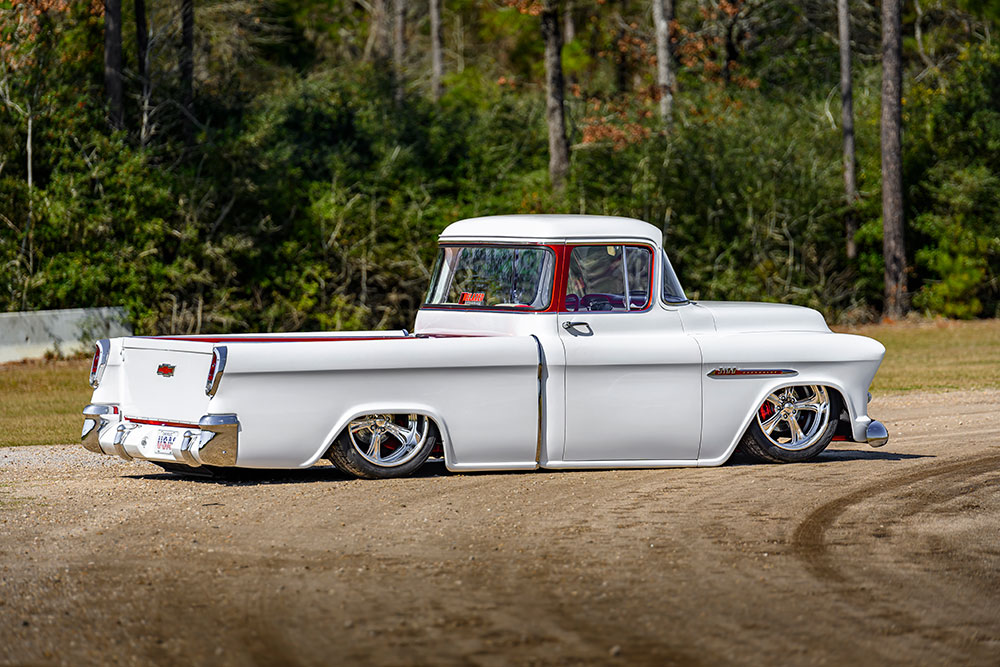 Modifications are few and subtle to the stock steel '55 body and signature fiberglass Fleetside bedsides. To give the front tires extra clearance, Daryle cut off the front fender lips and added some steel round bar for strength. Meanwhile, the bedsides were moved inward to allow a bigger wheel and tire combo. Once everything was test-fitted, it was all blown apart for paint. The chassis received a healthy dose of PPG Candy Red, while the exterior is bathed in PPG Crystal White Pearl. With its history on a cotton farm and all that candy red and pearl paint, a perfect name for the truck emerged: "Cotton Candy."
Read More: Soul Red 1950 GMC Pickup Fresh From Fat Fender Garage
Double D did some really trick work under the massive hood. Daryle fabricated inner fender wells out of some extra '55 outer fenders he had laying around. Now, the inside looks just like the outside—complete with the chrome spear. He removed the original Chevrolet hood emblem (but kept the bezel) and made an air filter box that mates perfectly with a polished cold-air induction pipe when closed. The stock intake is also polished. Aluminum valve covers adorned with the truck's moniker match the exterior and tie it all together. Attention to engine bay details put this Cameo in the upper tier at any truck show.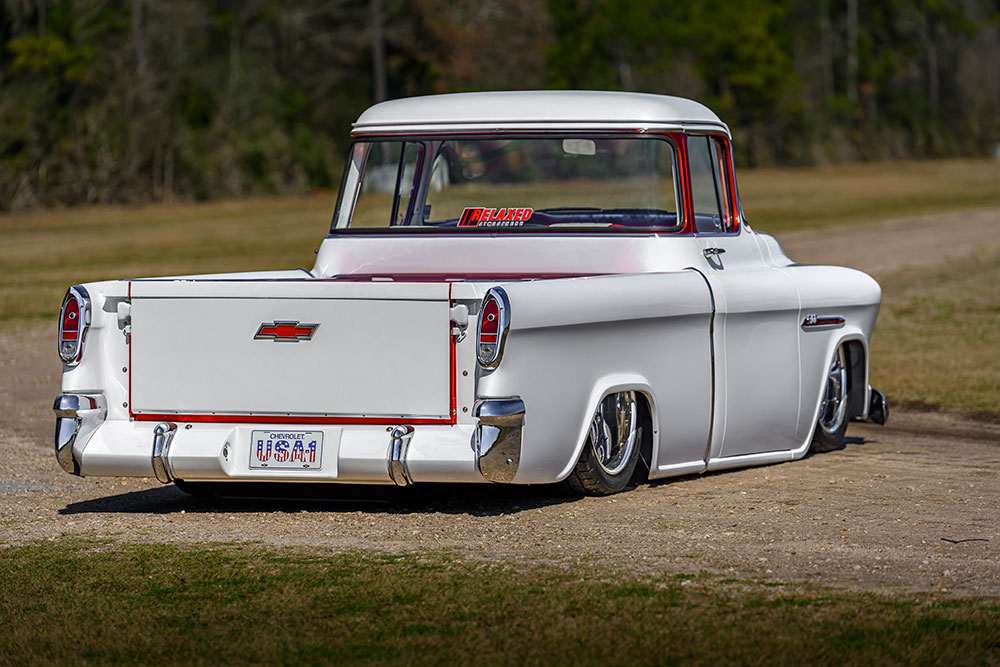 Between the cherry-colored frame rails sits a stock iron-block 7.4L Chevy V8 engine from a '96 dually, outfitted with a cam, lifters, and springs from COMP Cams to help it breathe. Coated Sanderson headers (2 1/4 inch) expel gases through 3-inch MagnaFlow stainless mufflers and exhaust piping. An Eddie Motorsports serpentine drive keeps the water pump, AC compressor, power steering pump, and Powermaster alternator tight to the engine. The aluminum radiator and electric fans keep the 400hp machine chilled while cruising on those hot Houston days.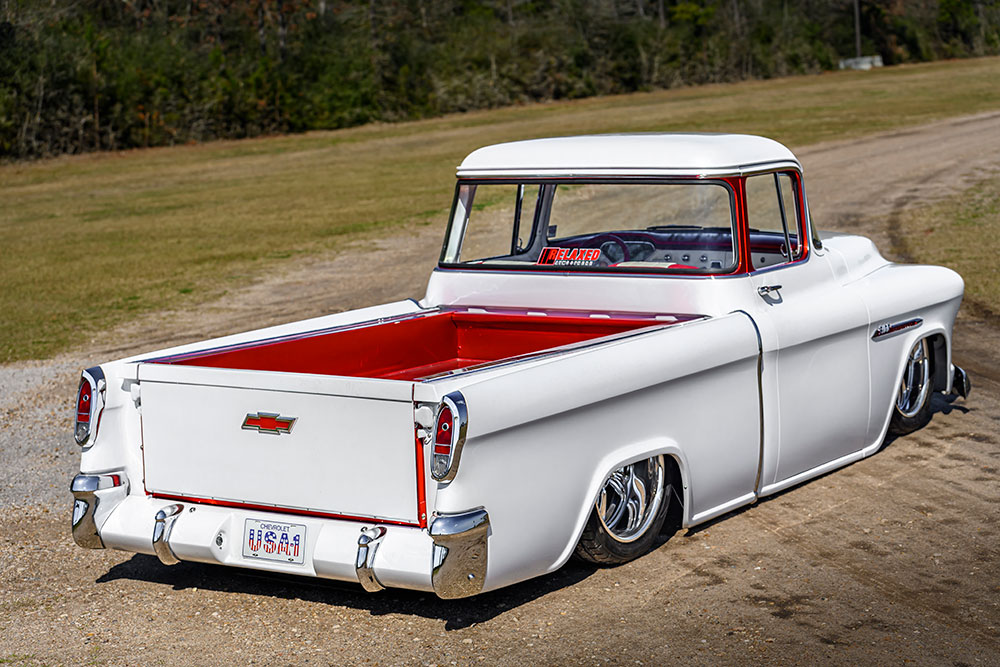 The rest of the drivetrain is just as beefy as the engine. A McLeod clutch transfers 500 lb-ft of torque through a Camaro six-speed tremec transmission with gear changes via a Hurst short-throw shifter. The driveshaft is stock, but the stout rear end is a stainless Ford 9 inch rear end outfitted with Strange axles. This is viewed in all its glory when lifting the aluminum bed floor, which is custom painted to look like wood.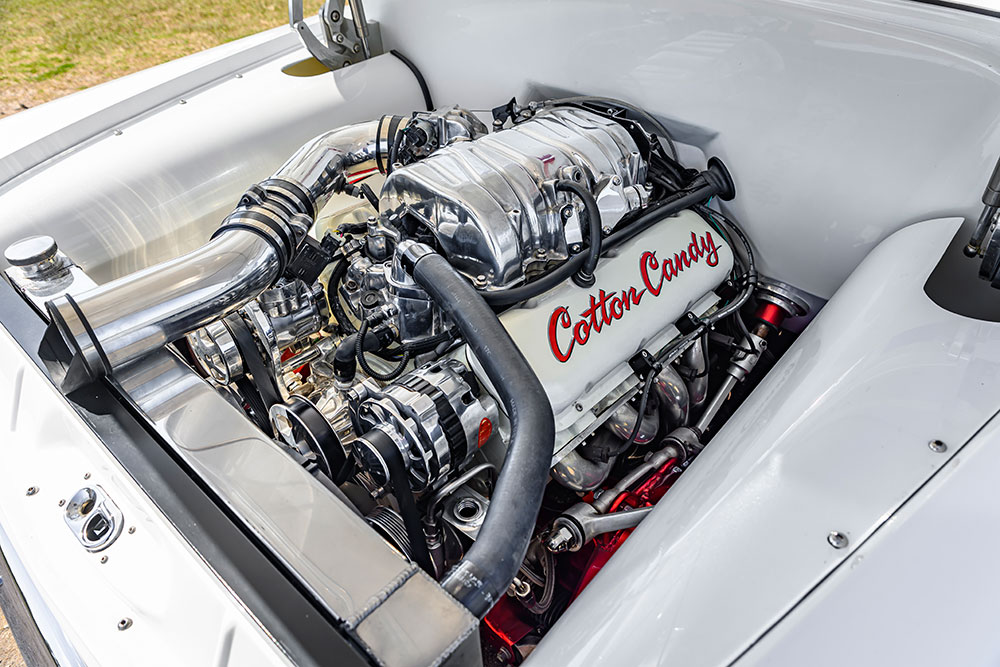 The red and white theme carries on into the interior. Stitched and installed by Aaron Davis of Austin, Texas, the upholstery is all red leather (including the floor). Aaron repurposed a pair of '10 truck seats to fit in the tiny cab, split by a custom console. Red buttons and pleated white accents provide a throwback to the '50s. The factory dash received a flat candy red top to keep the glare down when viewing the Dakota Digital gauge cluster wired to an American Autowire harness. A matching ididit steering column meets a red leather-wrapped Billet Specialties steering wheel, while Lokar pedals are used below. A classic-looking Vintage Air controller resides in the stock location to keep the passengers chilly when the oppressive Texas heat moves in.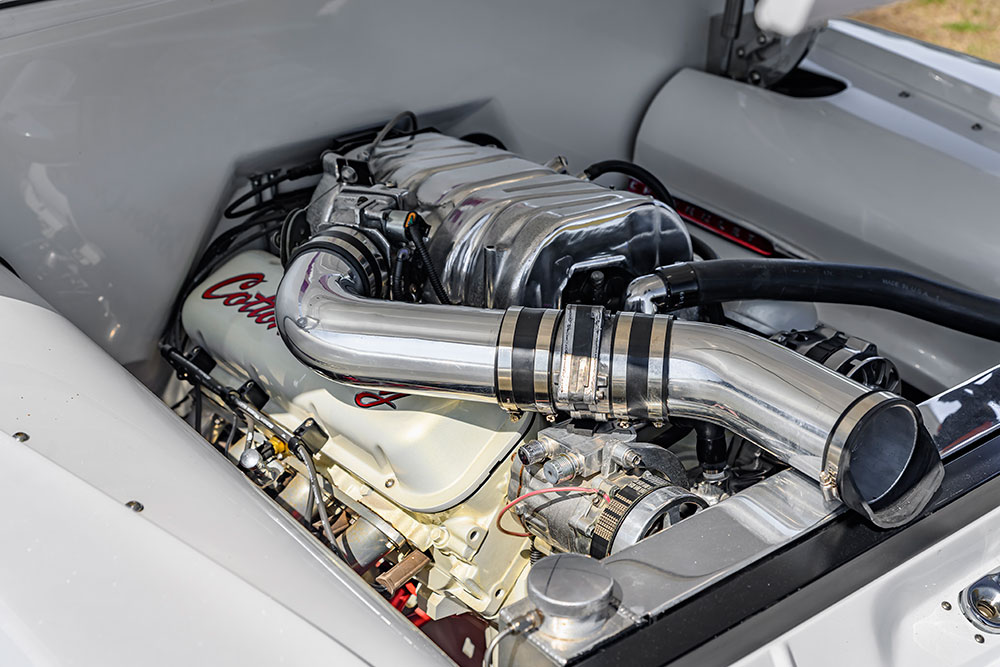 Read More: Keeping Your Classic Truck Cool
On its debut in late 2021, Cotton Candy won several awards at the Houston Autorama, including a Top 7, the Master Builder Award, B. Walker Memorial Award, Outstanding Display and Interior, and First in Class. That's a pretty impressive debut! We caught up with Daryle parked with his club Relaxed Atmosphere at Lone Star Throwdown in Conroe, Texas, where the Cameo received the well-deserved Best Classic Truck award. For Daryle, being recognized is sweet, but nothing is sweeter than driving Cotton Candy!