David Gazaway's Immaculate 1950 Chrysler Royal Town and Country Wagon
By Chuck Vranas    –   Photography & Videography By the Author
There's nothing more iconic than the family station wagon. For decades it was the dependable household member always ready to take on everything from dropping the kids off at school to handling the grocery runs and regularly visiting your favorite burger joint. Loading up its cavernous interior for family vacations to take on the open road was a snap, as was packing it full of excited movie-goers for nights at the drive-in where you paid by the carload. The immaculate '50 Chrysler Royal Town and Country station wagon owned by David Gazaway of Bow, New Hampshire, is a perfect example of period style and design when station wagons were a staple on the American landscape.
Read More: Traditional & Timeless '32 Ford Roadster
By the time 1950 hit, a decision had been made by Chrysler that the year would be the final run of their woodie wagons, with only 599 units produced of the highline model as it segued into the '51 model year. As the production year wound down, however, they decided to create a limited run of a steel-sided wagon that would be taking its place with only 100 units produced, making it ultra rare in the day and even more so by today's standards regarding its survival rate. It's always interesting how cars like this are discovered by their new owners; the wagon's fate came face to face with David while he was visiting a local collector for two totally different cars. While checking out the duo he came to see, he spied the shape of the Chrysler in a farm field on the property. With interest piqued, he ventured out to take a closer look, revealing the nicely preserved model just waiting to be brought back to life. Knowing how rare the wagon was and having always had a passion for family haulers, a deal was made swapping cash for keys.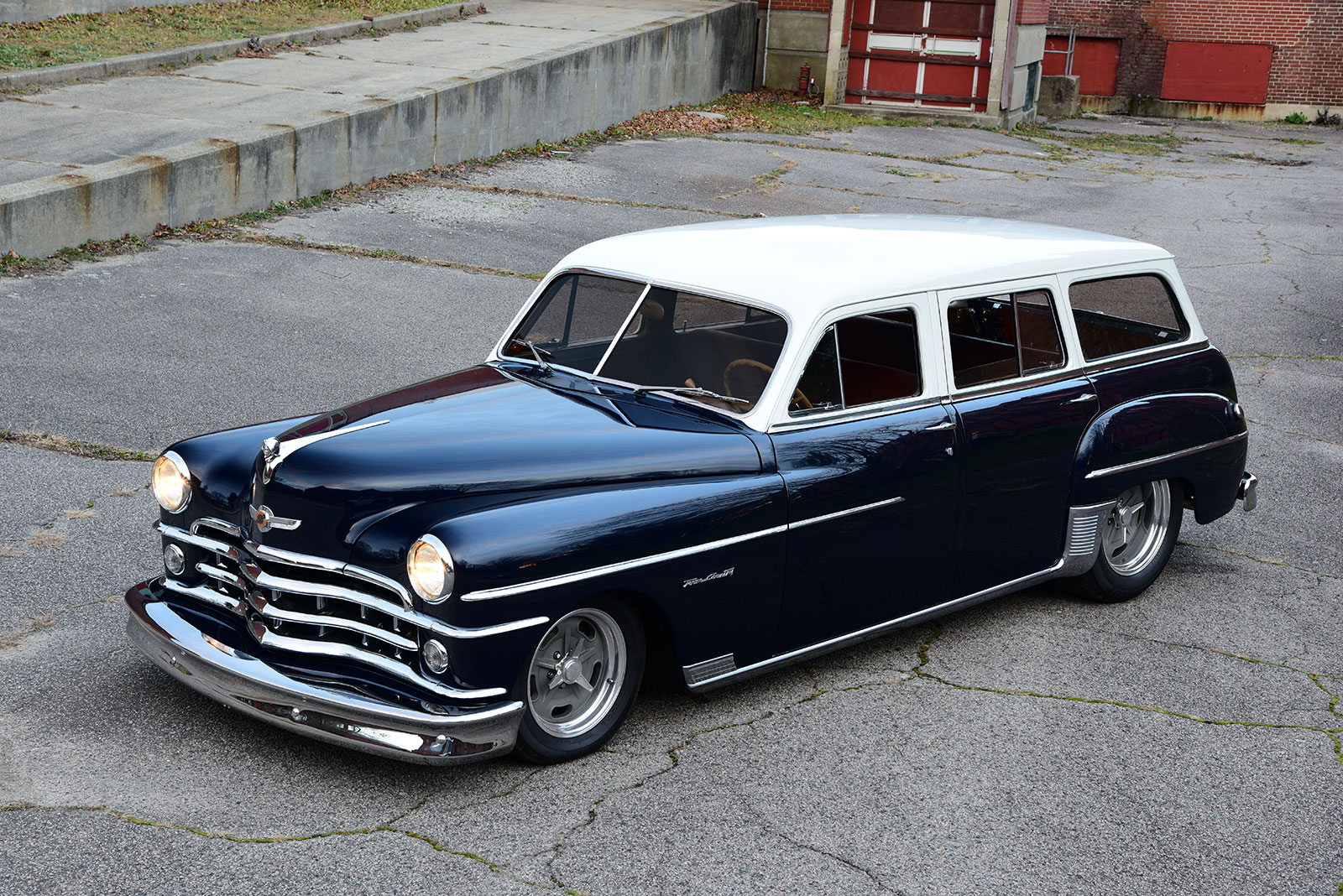 With a long line of traditional hot rod builds in his rearview mirror, David wanted to honor the beautifully balanced factory lines by infusing a few subtle modifications to the original sheetmetal to enhance its already classic looks. From there the plan was to make it more pleasurable to drive, seeing it would see plenty of family time on the road. A decision was made to upgrade the handling while also losing the anemic inline six-cylinder driveline by placing a later model Chrysler V8 between the 'rails. To commence the resurrection, he contacted Ken Boisclair of Classic Chassis in Hooksett, New Hampshire, to handle the initial disassembly of the wagon. Having worked with Eli English of Traditional Speed and Custom in Pittsfield on numerous projects in the past, it was an easy decision to have English and his team take on reviving the classic.
Seeing that the original frame was in solid condition, it was blasted clean, metal finished, and treated to a fresh coating of satin black. In the rear is a revitalized Dana 60 rear end spinning 3.73 gears through stock axles while suspended in place by parallel leaf springs from Donovan Spring in Manchester along with custom 4-inch lowering blocks by Traditional Speed and Custom combined with load-leveling bags from Air Lift. For plenty of razor-sharp handling, a Scott's Hotrods N Customs Independent Front Suspension was added, featuring their exclusive, 100 percent TIG-welded, one-piece crossmember with tubular upper and lower control arms deftly matched to Wilwood forged 2-inch dropped ProSpindles, single-adjustable Aldan American coilovers, 1-inch solid sway bar, and rack-and-pinion steering. When it's time to drop anchor, a GM dual master moves fluid through stainless lines to 12-inch drilled-and-slotted Wilwood rotors with four-piston forged calipers at each corner. Linking it all to the street are a set of traditional Salt Flat American Racing wheels, sized 16×8 front and 18×10 rear, wearing SP Sport 500 Dunlop tires, sized P215/60R16 and P265/60R18, respectively.
Read More: '60 Impala With Impeccable Style & Performance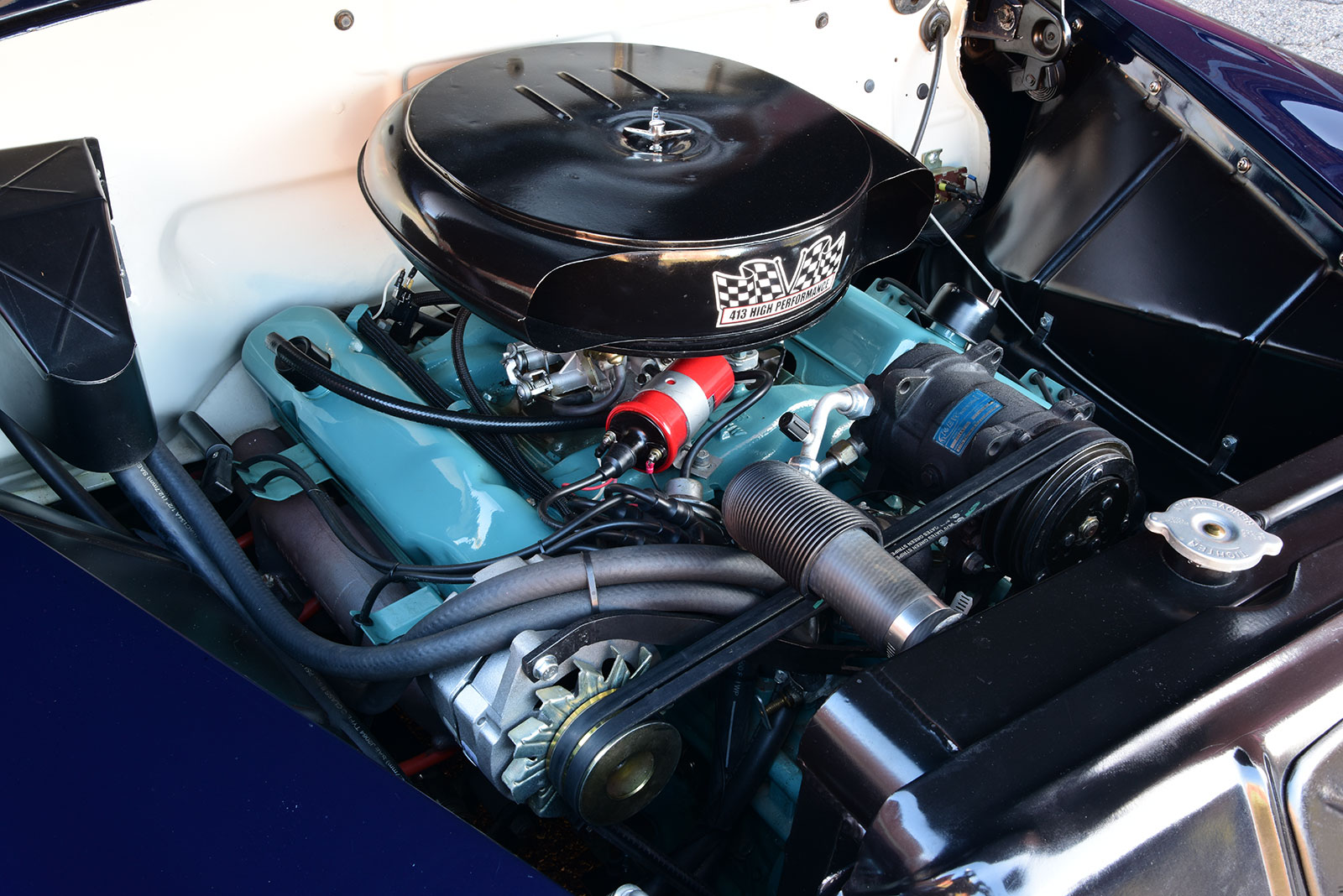 Wanting to inject a solid dose of vintage power in replacing the original six-cylinder engine, David sourced an original, low-mile, 413ci Chrysler V8 from a '63 Chrysler New Yorker. English then got busy dismantling the engine for a detailed inspection. With all the internals in perfect condition, it was thoroughly cleaned and treated to new gaskets, bearings, and rings to prep it for reassembly to factory specs. The iron block was filled with the original rotating assembly featuring a forged steel crank, forged steel rods, and forged aluminum pistons getting bumped by the factory cam. Original iron heads breathe deep through an iron intake topped by a freshly rebuilt Carter four barrel carburetor wearing a '59 Cadillac air cleaner. The factory distributor packing a PerTronix electronic ignition conversion kit lights the fire with exhaust flowing through the original exhaust manifolds to a custom 3-inch stainless exhaust with MagnaFlow mufflers all by Traditional Speed and Custom. To move the goods, a GM automatic 700R4 transmission by Gearstar links to a custom driveshaft.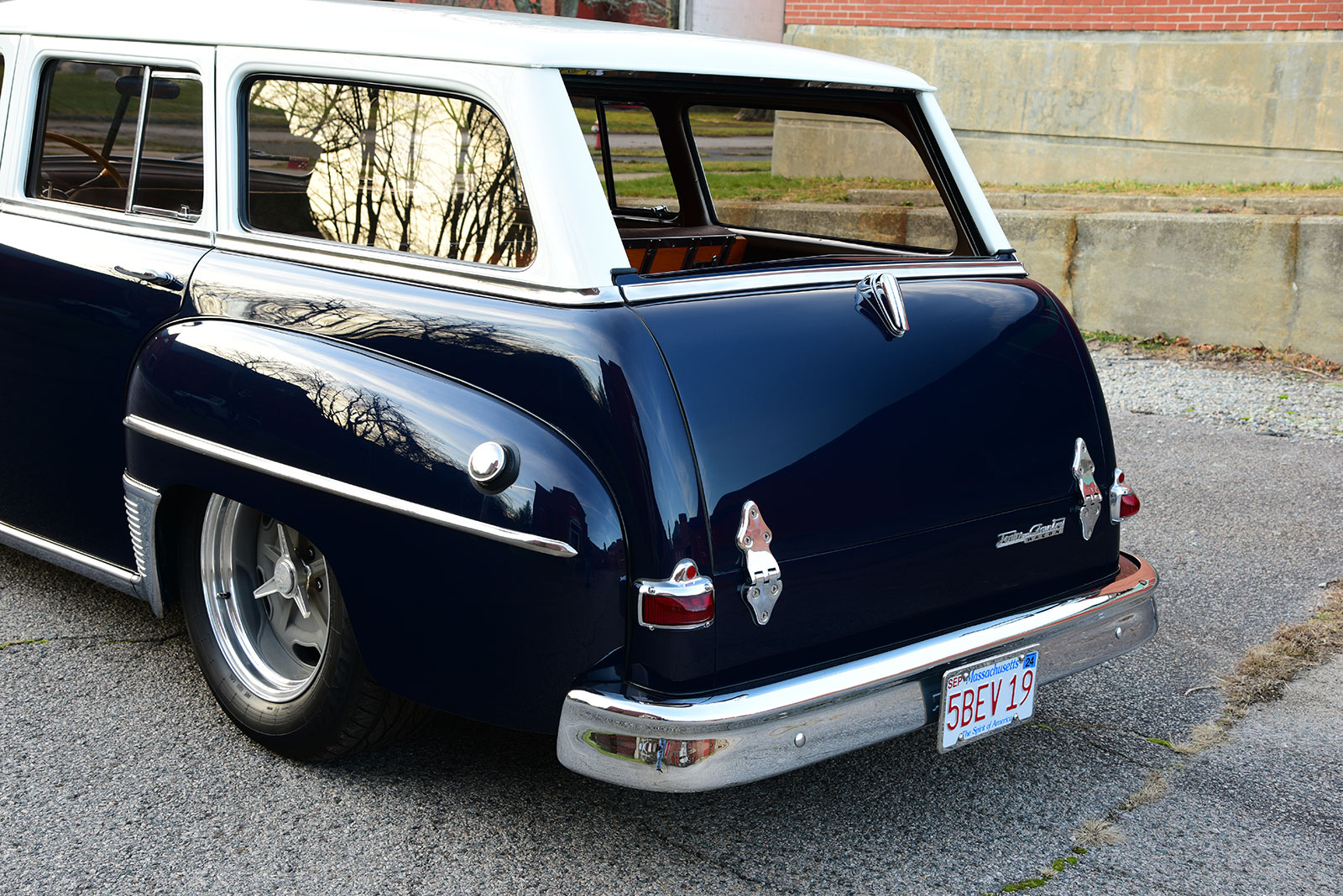 It's amazing that the wagon's sheet metal had survived decades of East Coast weather relatively unscathed, especially with some of its life spent resting in a farmer's field. English worked with team member Ryan Jutras to finesse the factory sheetmetal back to perfection while also making several subtle custom updates to the exterior. Starting in the engine bay, the stock firewall recess was widened 16 inches to accommodate the updated V8 engine. From there the transmission tunnel was modified while also raising the driveshaft tunnel and widening the rear inner wheel tubs by 2 inches to accommodate the increased tire combination. To add just a hint of design change, the headlights were frenched, followed by the addition of '50 Packard parking lights along with matching side and rocker trim, as well as stone guards. With everything completed, the body was metal finished and gapped to prepare it for a dramatic combination of Axalta deep blue metallic and ivory gloss laid down by English.
Read More: Coyote Swapped 1957 Ford Fairlane 500
Surprisingly, the original interior also fared well over the years, with much of it still in exceptional condition. The stock dash was thoroughly cleaned and detailed by Traditional Speed and Custom with Bob's Speedometer of Howell, Michigan, restoring the factory gauges. The superb original steering wheel carves a course while mounted to the stock column with shifts moving through the column lever. Cool breezes are courtesy of Vintage Air while English handled the custom wiring harness to bring it all to life. The massive interior features its original seating covered in the unique tobacco brown alligator-patterned vinyl upholstery accented by fresh deep blue plush carpeting and restored wood and stainless strips in the tailgate area.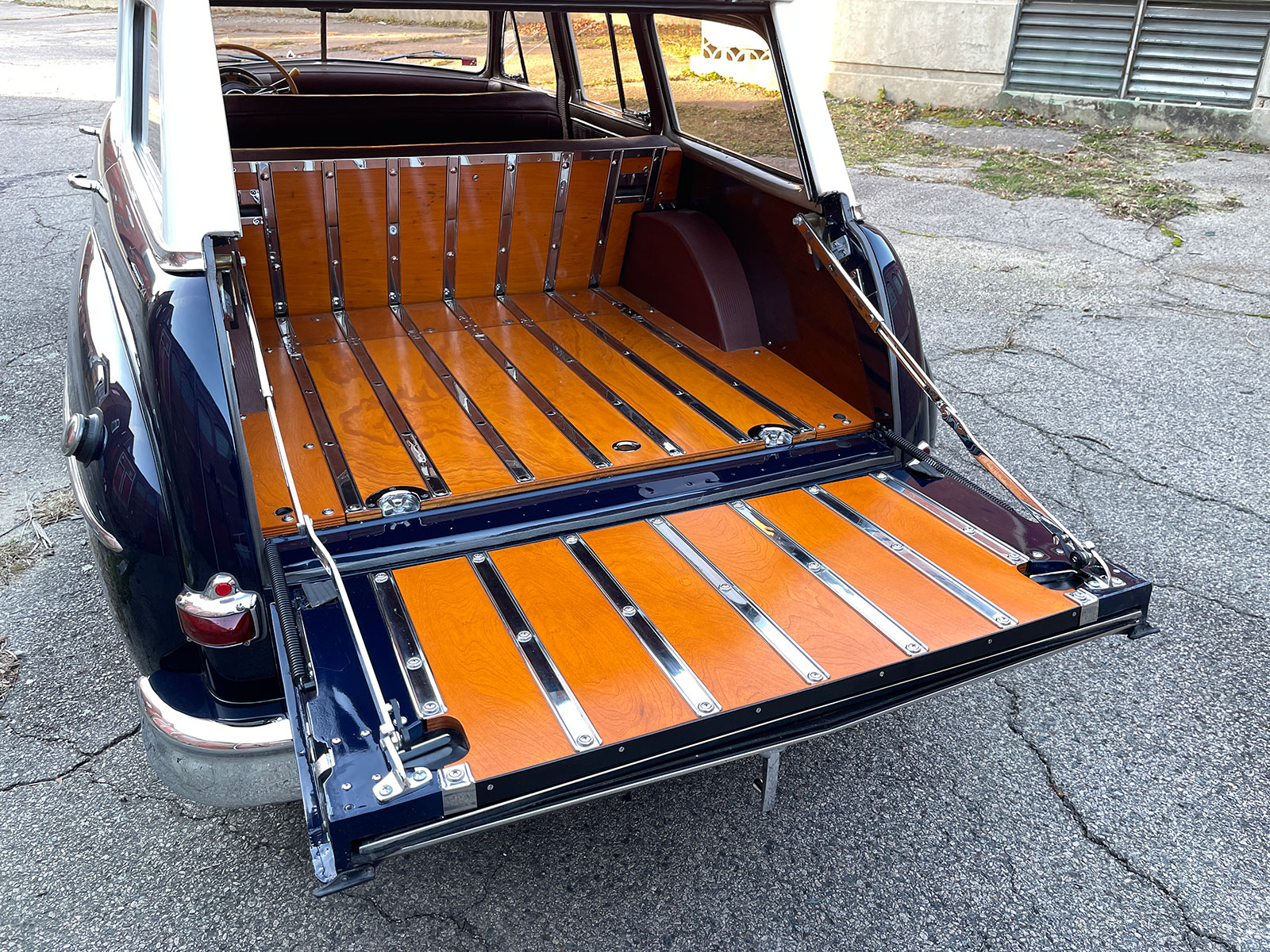 The completed wagon showcases both its rarity and design elements. It is also able to tear down the highway with cutting-edge performance while searching for the perfect drive-in to stop at for dinner, and to us that's as good as it gets! MR
Click on this issue's cover to see the enhanced digital version of Deep Blue Royal & Rare Station Wagon.