Don Brennan's Deuce Roadster With Nailhead V8 Power & Period Correct Style
By Chuck Vranas   –   Photography & Videography By the Author
The stunning '32 Ford roadster laid out across these pages is owned by Don Brennan, of Albany, New York, and is the perfect example of its breed. Don has been a devout muscle car owner for many decades. It has always provided him with plenty of excitement at the turn of a key but now he has a … game changer.
Read More: Auto Shop Tackles Model A Rear End Swap
Ever since his early teens frequenting the dragstrip at Englishtown in New Jersey immersed in the hypnotic combination of nitro and burning rubber, he's been on a performance bender. It wasn't until recently though that he was introduced to the world of driving a drop-top Ford packed with a hot V8 engine. The car, built by One Off Rod & Custom in Middletown, Delaware, was a traditional Deuce roadster packing a Weiand 6-71 supercharged small block Chevy with enough punch to pin him to the seat with a mile-wide grin. It wasn't long after that he contacted shop owner, Gary Corkell, to outline ideas for a roadster of his own.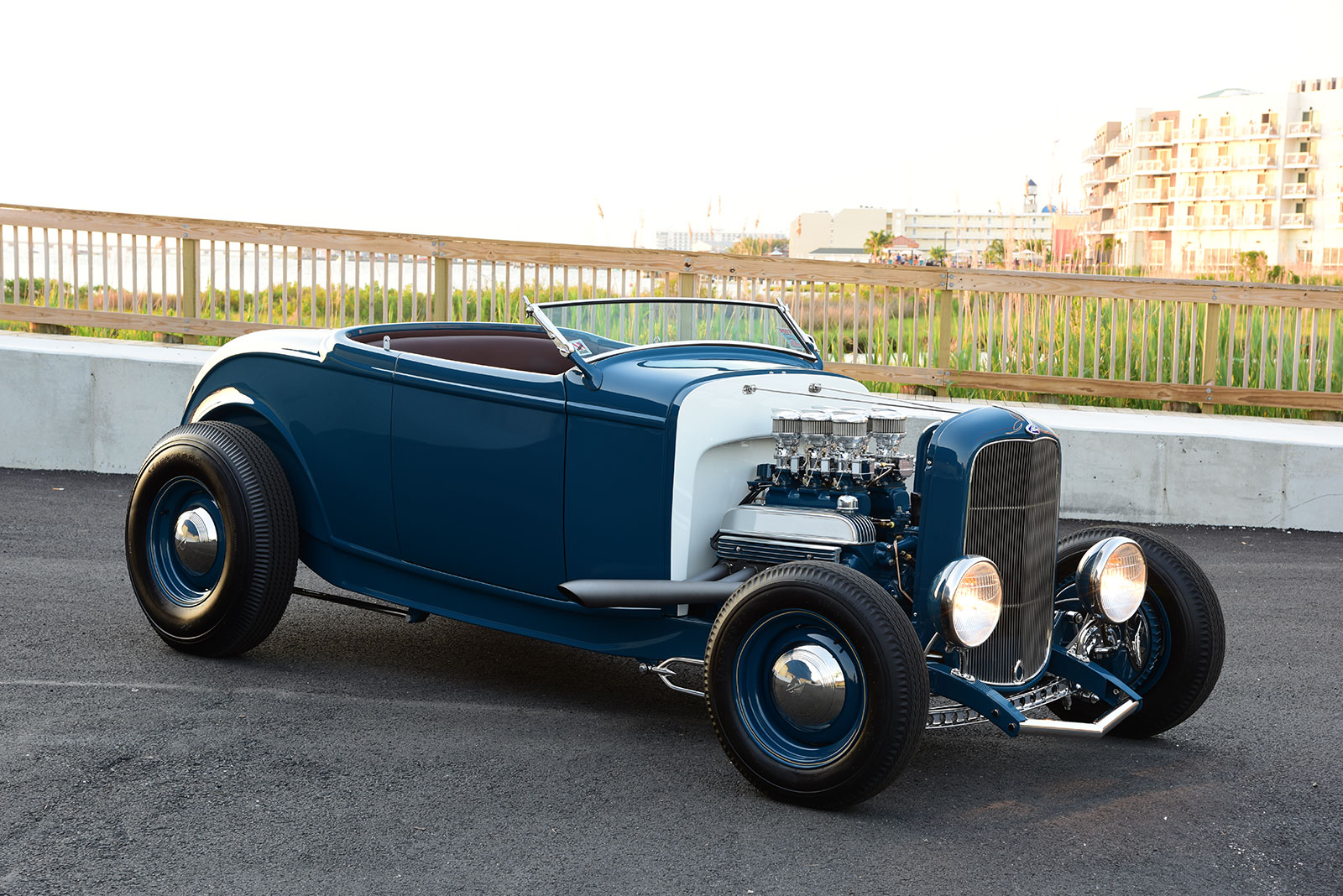 One Off Rod & Custom has a distinct formula when building their Deuce roadsters, blending plenty of traditional bits along with serious amounts of power to create a ride that's, as they call it, badass with class. For a rock-solid base, a call was placed to Brookville Roadster for one of their '32 Ford TIG-welded frames with fully boxed 'rails and their exclusive reproduction crossmembers tying it all together. Laying down the power, you'll find a Ford 9 inch rear end by One Off Rod & Custom spinning 3.55 gears through matching Ford axles. It's suspended in place by a combination of Pete & Jakes Hot Rod Parts' triangulated four-bar and Ridetech coilovers. To set the stance, a SO CAL Speed Shop 4-inch dropped-and-drilled axle meets matching forged steel spindles with traditional GT2 hairpins and batwings supported by a Posies Super Slide transverse spring and SO CAL Speed Shop chrome tube shocks. When its whoa time, a Ford dual master moves fluid through NiCopp lines to 11-inch Ford drums out back and SO CAL Speed Shop front discs with aluminum finned drum covers. Linking it to the street are a set of classic 15-inch front and 16-inch rear steelies from Wheel Vintiques capped with Firestone/Coker DeLuxe Champion bias-ply, sized 5.60-15 and 7.50-16 respectively. The '40 Ford V8 caps from Bob Drake are a perfect finishing touch.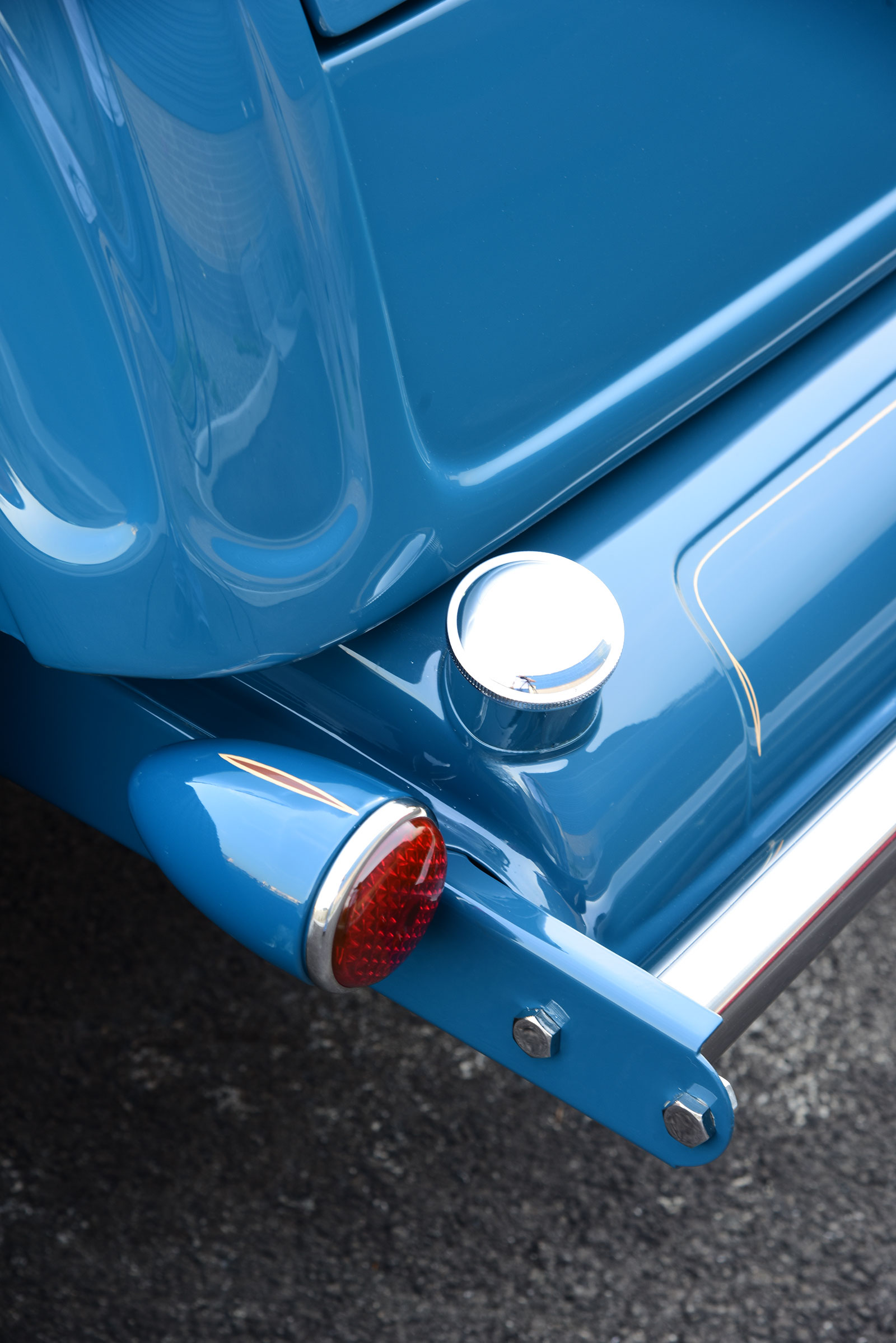 Read More: Parting Shot: Bo Zolland Designed Convertible Buick Riviera
Nothing gets your adrenaline pumping better than a wicked mill between the frame rails. To make a statement, team member Donnie Reeder turned up the heat, starting with a 401ci Buick Nailhead V8 engine that he machined to perfection. Packed with a forged steel crank linked to matching rods capped by forged aluminum pistons, it gets a healthy bump by a hydraulic roller camshaft from TA Performance. Up top, a set of heavily massaged iron heads breathe deep though a sextet of Speedway Motors 9 Super 7 Carburetor riding shotgun on a vintage log intake with 2-inch risers from Dashman's Speed Shop, crowned by OTB Gear Aero-model air cleaners. It sparks to life through a Joe Hunt magneto-look high performance distributor while exhaust roars through a set of custom headers by Reeder. Other cool details include a polished block and intake, custom carburetor plumbing, and polished aluminum Offenhauser valve covers with complementing spark plug covers from O'Brien Truckers. To move the goods, a GM T5 transmission was refreshed using a full rebuild kit from Hanlon Motorsports linked to a custom driveshaft, also by Reeder.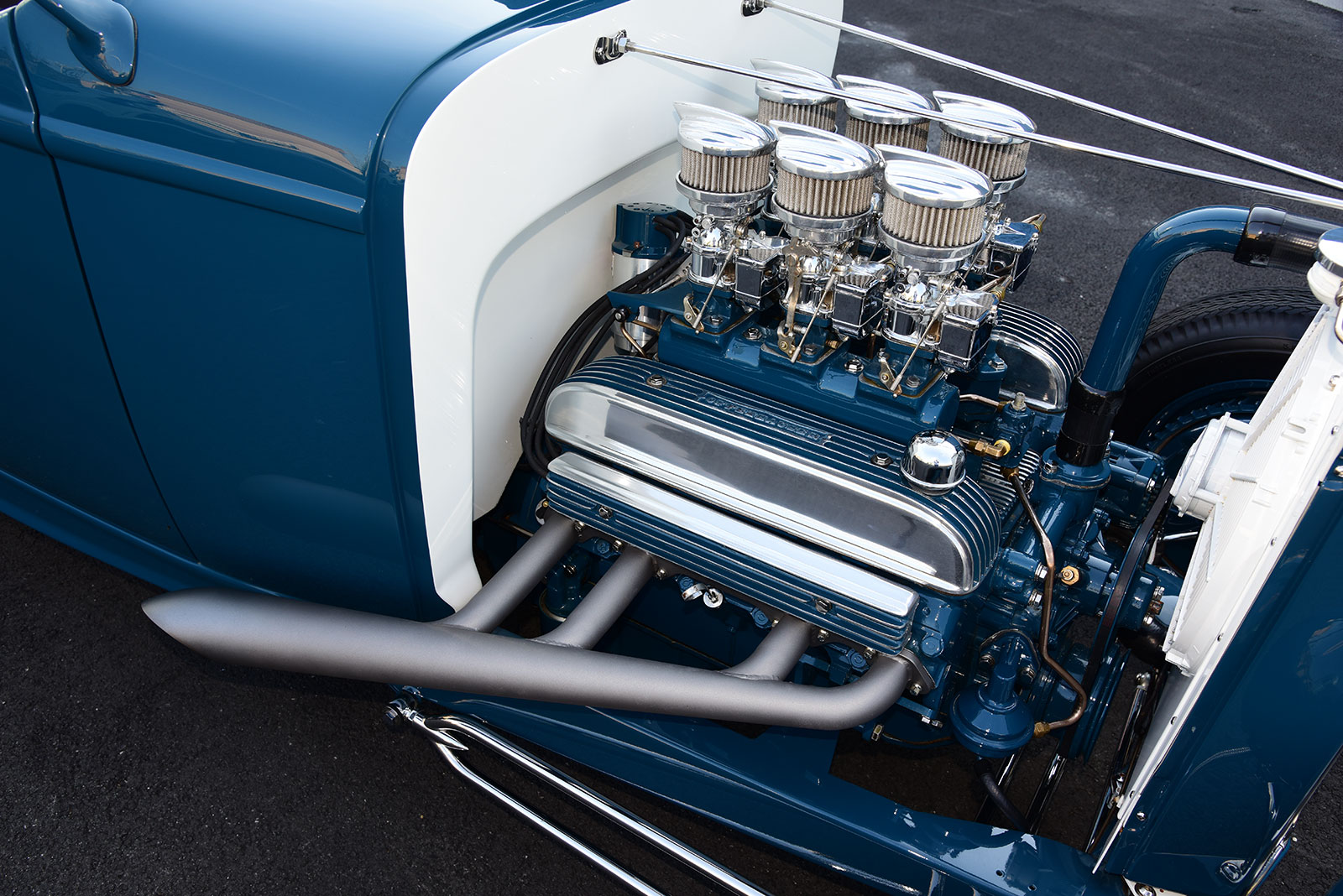 For plenty of style, a fresh 'glass body from Adams Hot Rod Shop raised the bar, featuring their exclusive 3-inch stretched cockpit and custom recessed firewall. To add even more allure, a windshield from Dick Rodwell was fitted featuring a 2-inch chop and 37-degree layback. The team then massaged the body to perfection while also dialing in the gaps and prepping it for paint. To set the vibe, team member Dan Phillips laid down a custom-blended coating of Glasurit Pacifica Blue, adding just the right amount of glamour. Other neat details include '32 Ford commercial headlights and matching taillights from Bob Drake as well as a timeless Deuce grille shell and insert form Brookville Roadster.
Read More: Two Timeless Model A Hot Rods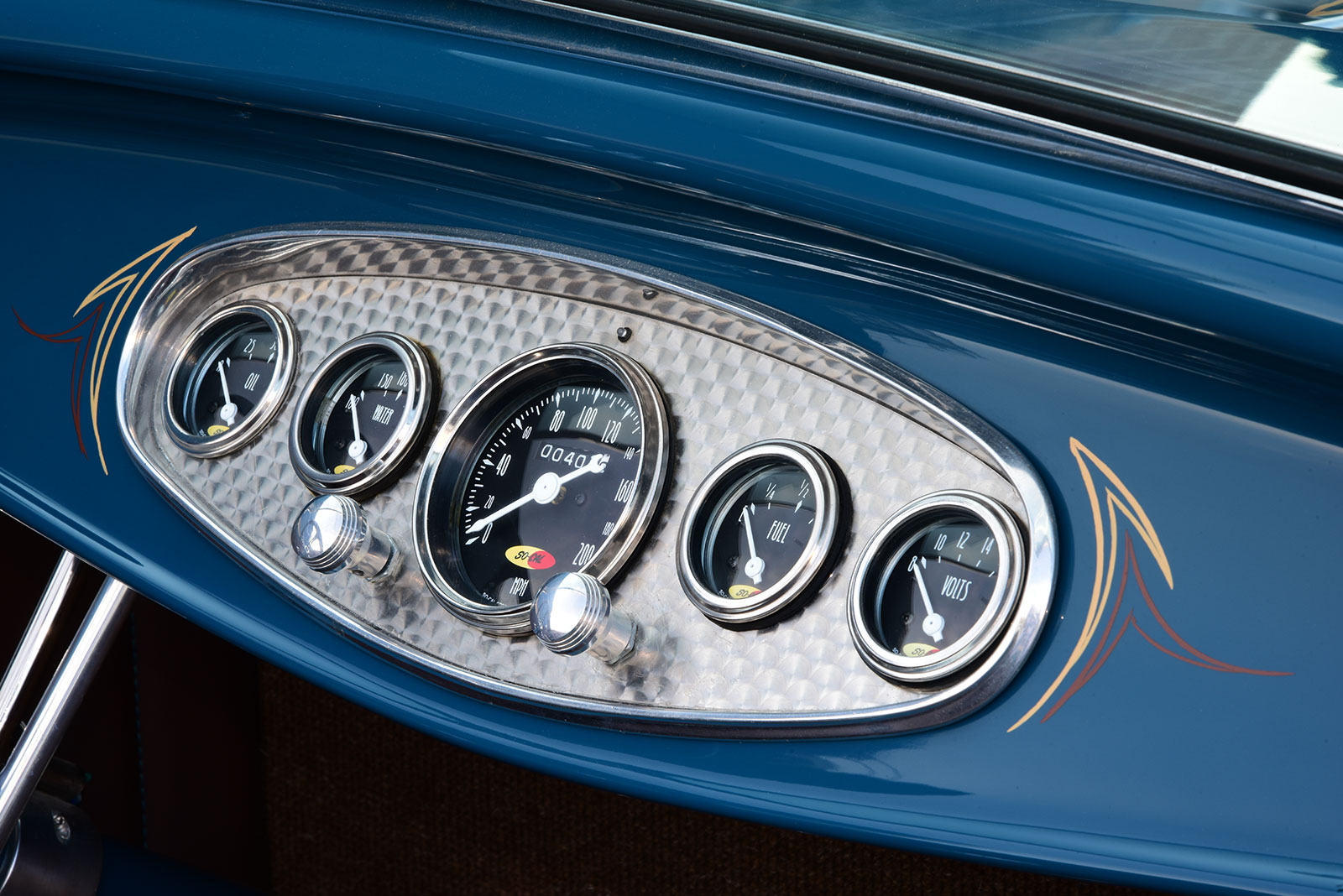 Bringing an equal dose of dynamite to the interior starts with the stock dash fitted with an engine-turned insert from SO CAL Speed Shop packed with matching gauges from Classic Instruments to monitor the vitals while their Art Deco knobs complete the look. A Sprint-style LimeWorks steering wheel mounts to a matching column to carve a course while shifts move through a stick from Johnson's Hot Rod Parts accented by a vintage crystal doorknob. A custom wiring harness by Joe Troilo ties everything together. For comfort, a reclining bench seat frame from Wise Guys was treated to yards of Relicate NappaTek Chestnut in a traditional rolled pattern by Stitcht Interiors of Forest Hill, Maryland, who also crafted the complementing side panels accented by Relicate square-weave carpet, including the trunk.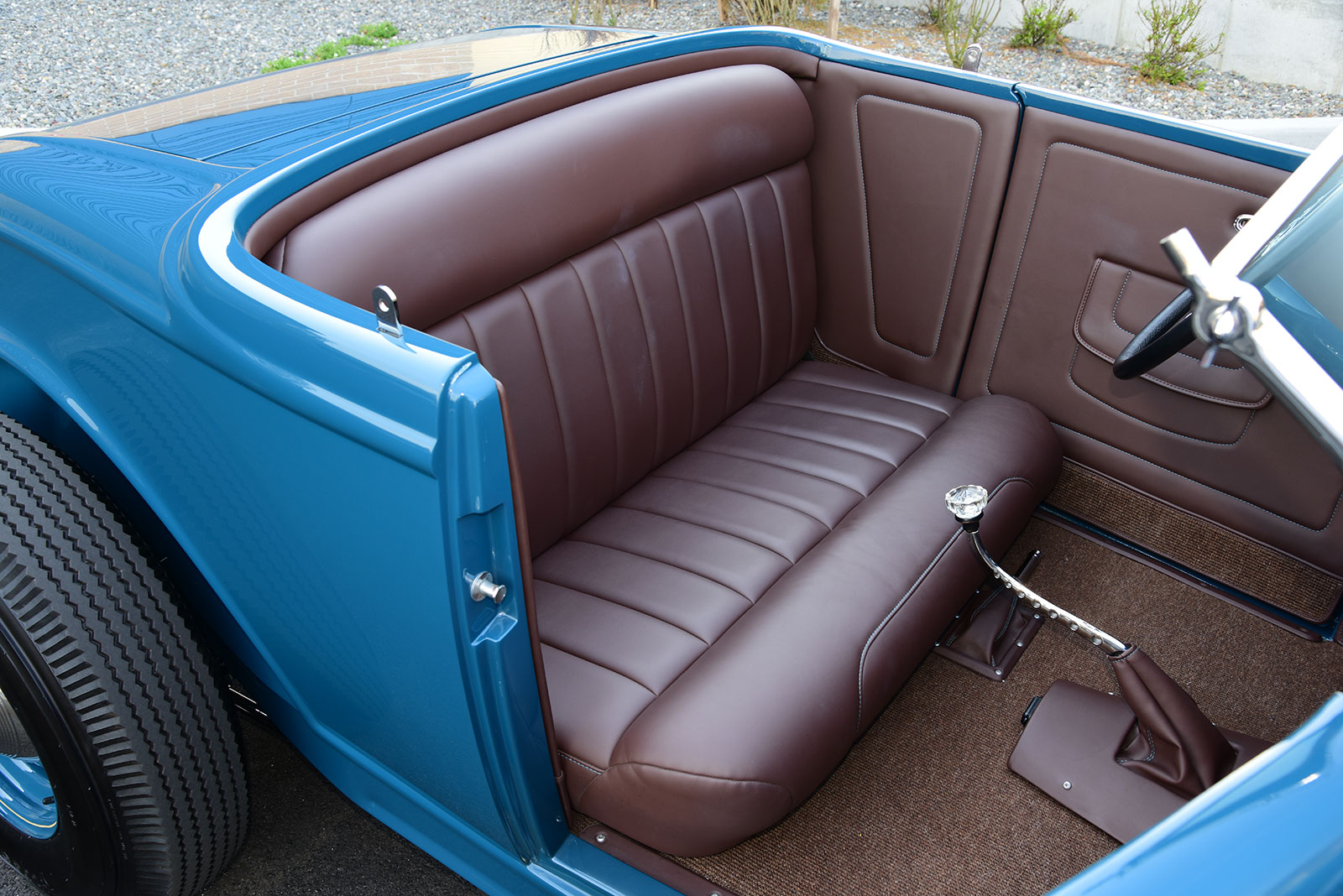 This is one Deuce spending plenty of time cruising the coast, and to us that's the definition of perfection! MR
Click on this issue's cover to see the enhanced digital version of Traditional & Timeless '32 Ford Roadster.