Wally O'Conner's 700 Horsepower Dream Detroit Iron Build
By Brian Brennan   –   Photography By John Jackson
Living near an orange grove may not be typical for many hot rodders but if you are Wally O'Conner of Sarasota, Florida, it's not uncommon at all. In fact, some 20-plus years ago Wally found this 1957 Ford Fairlane 500 in one of the plentiful orange groves near his home and he began to see his childhood dream come true. It wasn't long before he realized that if he wanted to see his dream project finished, he would need to enlist help. He leaned on Thom Speed and his team at SaltWorks Fabrication, also in Sarasota, to bring this 1957 Ford Fairlane 500 to completion.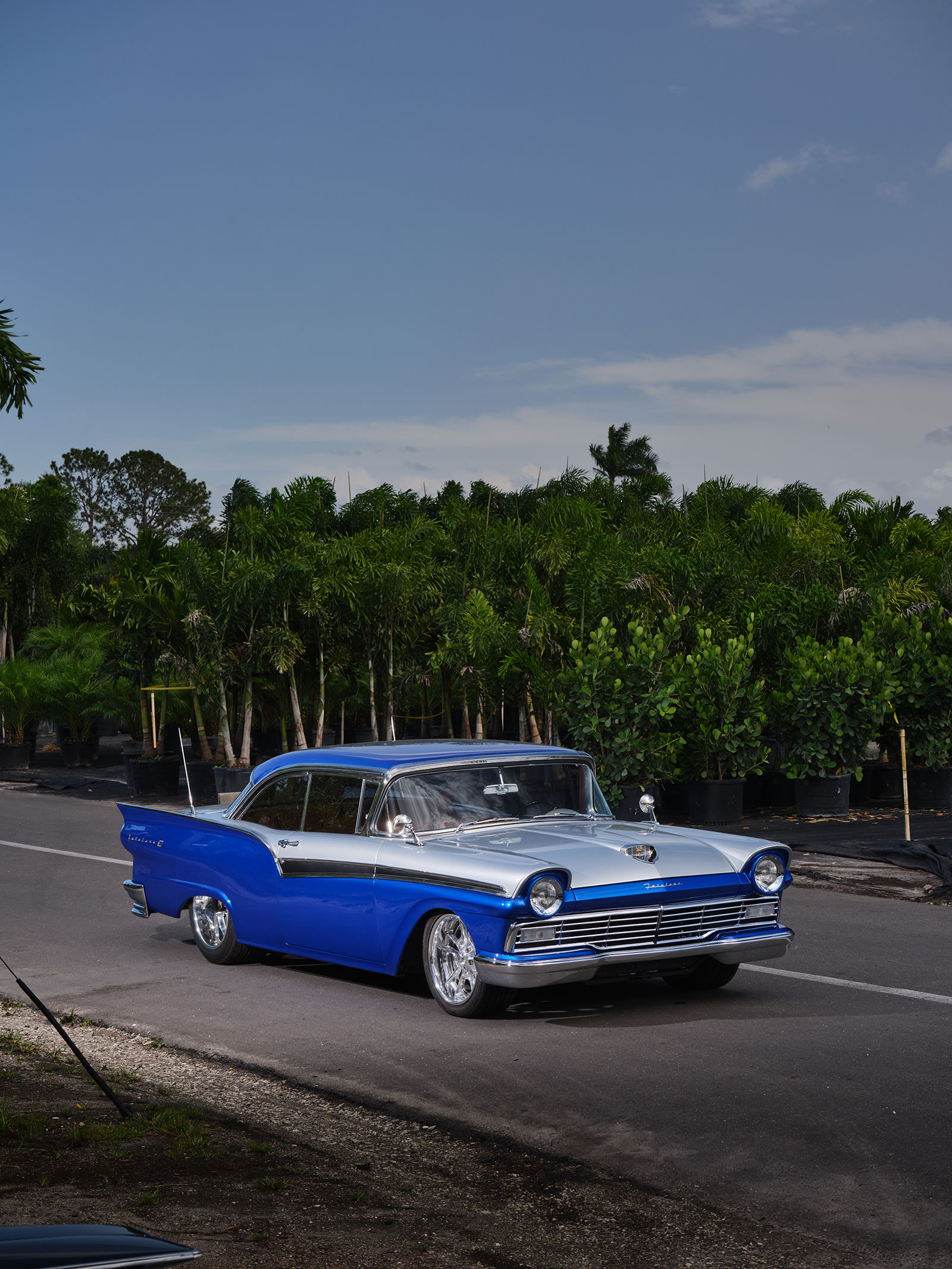 Read More: 2023 Triple Crown of Rodding at Nashville Superspeedway
Nowadays the well-dressed 1950s hot rod retains much of its original alure through preserving the factory sheet metal but under the skin the excitement expands. For instance, this 1957 Ford features a Ford Coyote 5.0 supercharged V8 engine showing off a 2.9L ' Whipple supercharger. From here a set of 1-7/8-inch Ultimate headers are used along with the stainless steel exhaust tubing with electric exhaust cutouts that transfer the spent gases rearward to a pair of stainless Borla mufflers and then out a set of SaltWorks custom exhaust tips. More V8 appointments include a Vintage Air Front Runner serpentine belt system and a Mishimoto oil color.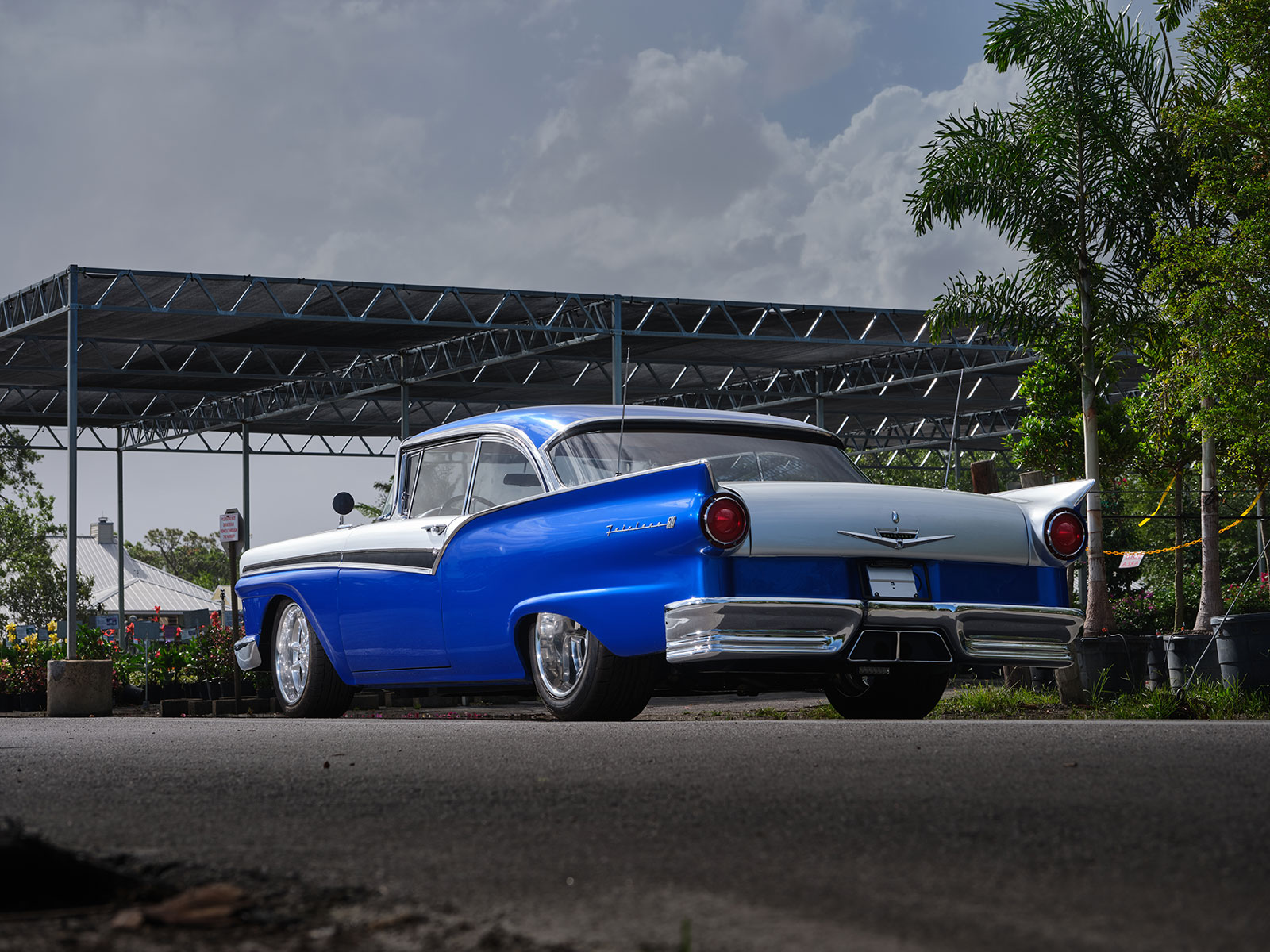 The powertrain is huddled between the frame rails of a Scott's Hotrods N Customs coilover chassis made from 2×4-inch frame rails with a 1-1/2-inch round tube X-member. From here the frame turned into a full performance chassis with more Scott's Hotrods N Customs components, such as the upper and lower tubular A-arms, forged drop spindles, and a 1-inch solid sway bar. Accompanying Scott's workings is an EPAS Performance electric power steering added to the rack-and-pinion, single-adjustable Ridetech coilovers, and four-piston calipers from Wilwood in black with 12-inch drilled-and-slotted rotors. The chassis is also plumbed from Scott's with stainless steel brake lines together with its flex lines and stainless fuel lines. To get the modern chassis to fit underneath the two-door hardtop with its amplified rolling combo the rear wheel openings were modified by SaltWorks Fabrication's own Dean Van Der Walt. Handling the daily mechanicals were Chris Fair and Daryl Eggen and Van Der Walt who also received the nod for fabwork.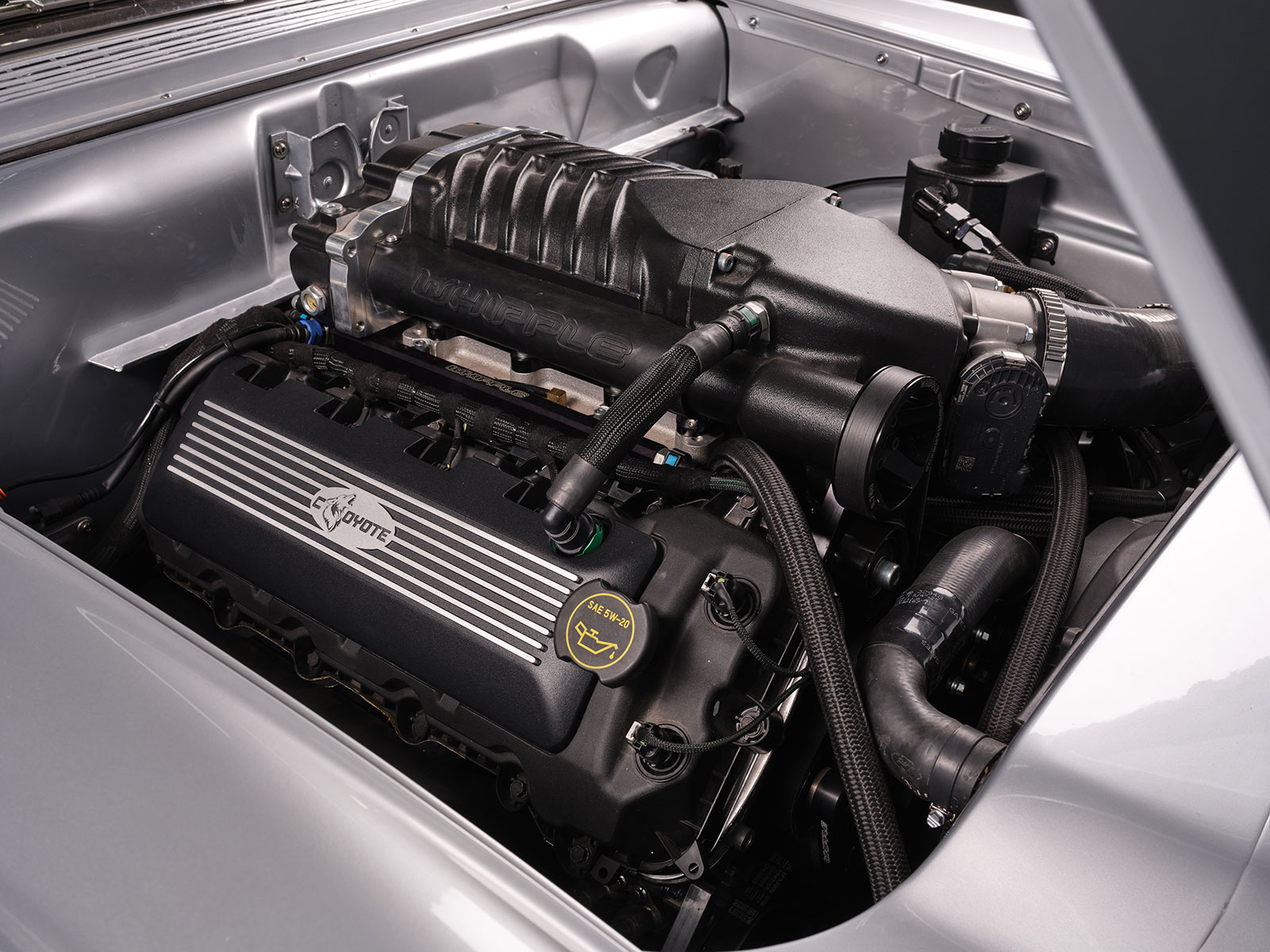 Moving 700-plus horsepower and nearly 700 lb-ft of torque rearward is a Tremec T56 transmission that's operated through a Hurst shifter via a Centerforce twin disc clutch kit. Once the power is delivered to the back it arrives at a Moser 9 inch rear end equipped with a Truetrac that spins 3.73 gears all loaded into the third member that's accompanied by 31-spline axles. Four-piston Wilwood calipers along with drilled-and-slotted 12-inch rotors are present as is the internal parking brake system and cables ready to run. The Moser 9 inch rear end is held in position by several of Scott's parts, including the equal-length parallel four-bar system, Panhard bar, and single-adjustable Ridetech coilovers. The chassis with its potent drivetrain rides around on a set of Flare Billet Specialties wheels measuring 17×7 in front and 17×11 in back, all wrapped in Michelin tires. Sizing consists of 235/40R17s and 295/40R17s, respectively.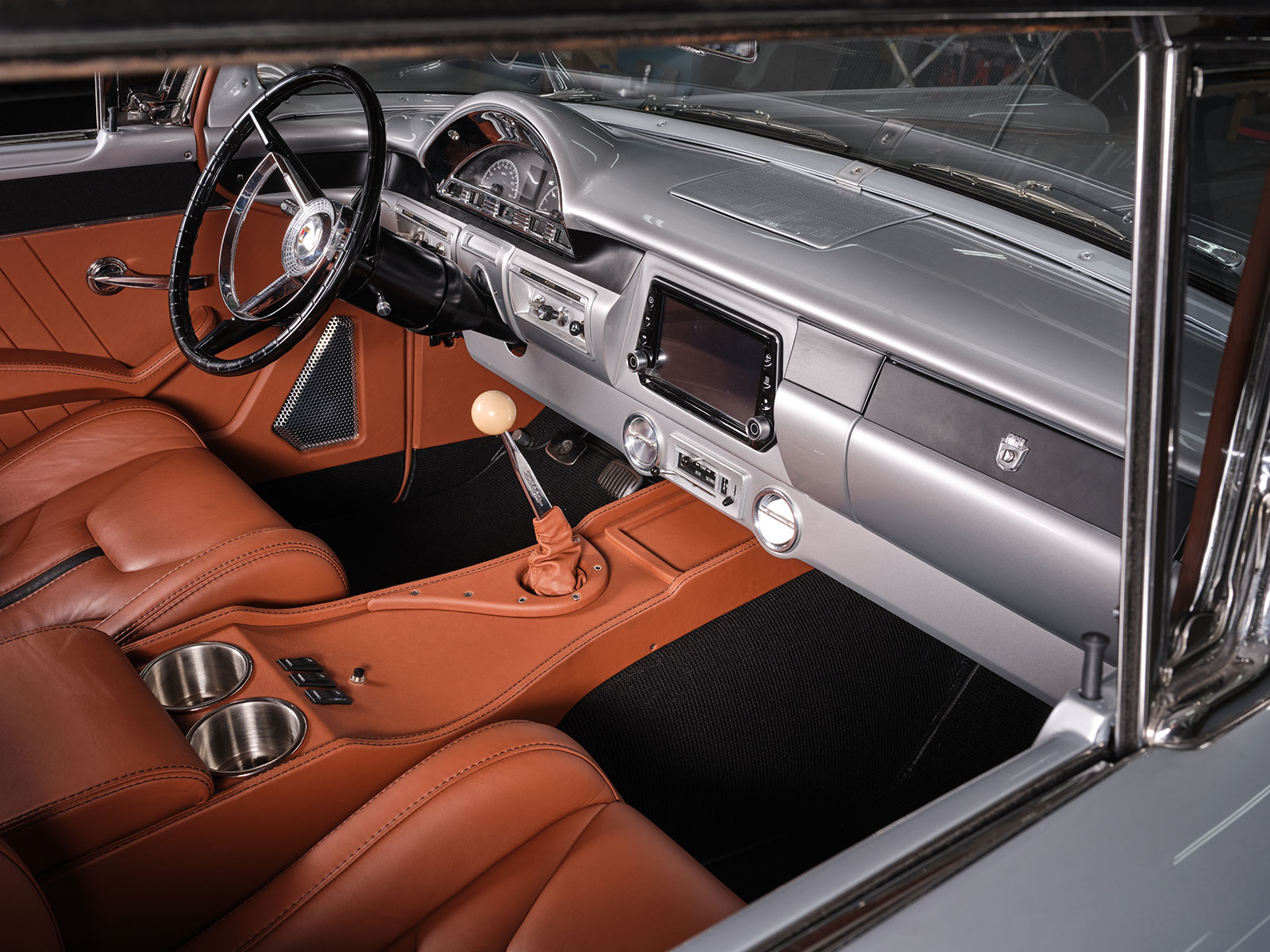 Read More: Where The Hot Rod Passion Began
The 1957 Ford Fairlane 500 shows off its flipped and tucked bumpers while the remainder of the sheetmetal is straight from the Ford styling department from the mid 1950s. Because of the increased wheel and tire sizing the rear does feature 3-inch-wider wheel tubs also handled at SaltWorks. The required body- and paintwork was performed at SaltWorks Fabrication by Van Der Walt and Tommy Whitman in a two-tone that features House of Kolor Oriental Blue for much of the body and then accompanied by Orion Silver.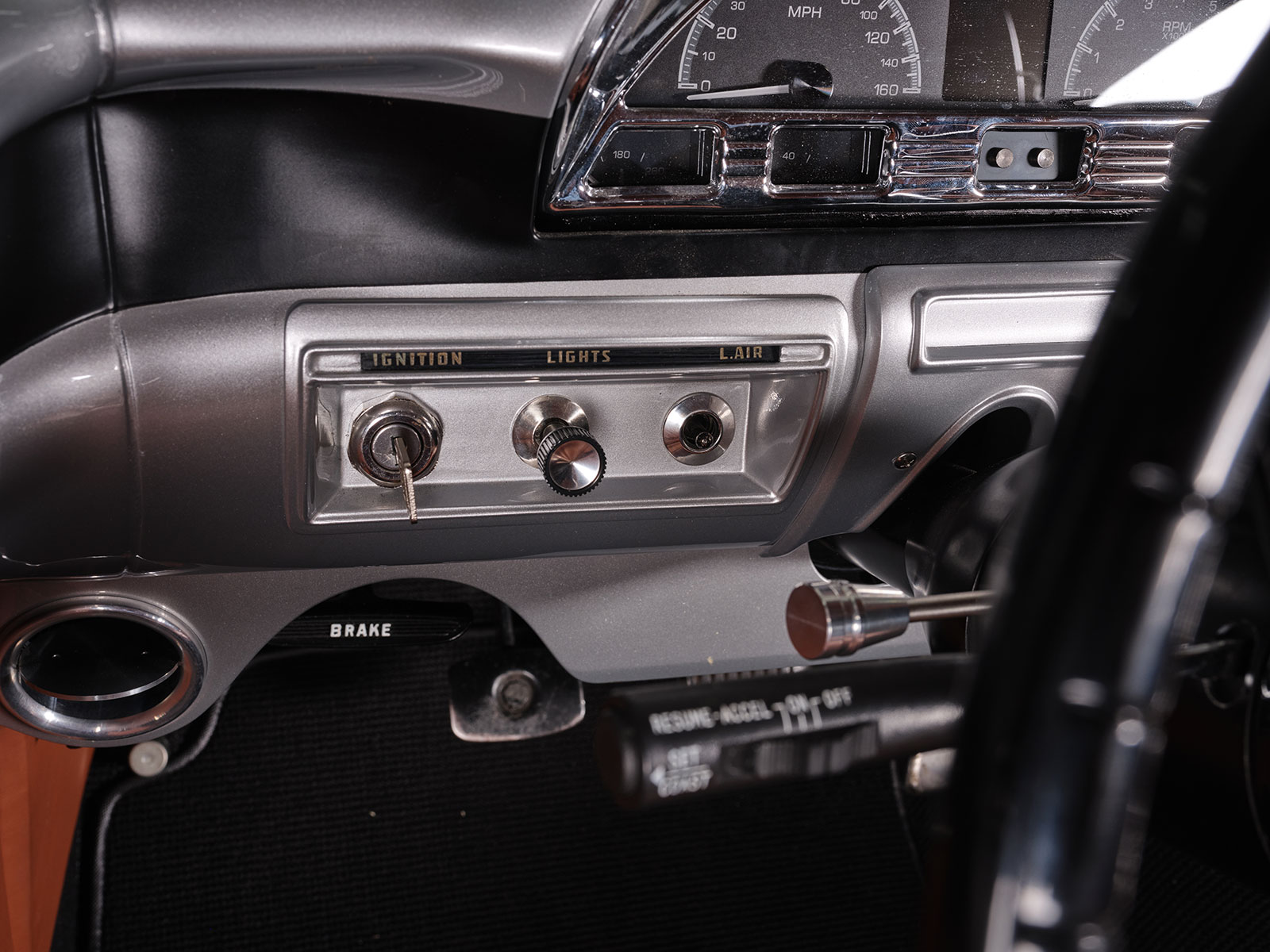 Inside you will notice something different right away. The dash is now outfitted with a 1956 Ford gauge panel that is filled with Dakota Digital HDX-series instruments. Located in the dash and above the Vintage Air AC controls and center console is an all-embracing sound system with its touch screen that is powered by Apple CarPlay. The large screen is also part of the rear backup camera system. Helping to bring the gauges and the sound system and rear camera to life as well as the remainder of the car's electronics is a Coach Controls wiring arrangement and an trunk-mounted Interstate battery all installed by SaltWorks Fabrication. Attached to the lower dash is an tilt ididit steering column that also features the cruise control wick and crowned with a 1957 Ford steering wheel. From the sewing machine of Hot Rod Interiors by Chuck comes the suede brown headliner, the Mercedes black material carpeting, and the brown leather that covers the custom seating. Speaking of seats, the front buckets began life as BMW fare. From here the SaltWorks Fabrication team cut 3 inches out of the center and then removed the tops of the seats and replaced them with Chevelle backers. The BMW power seat adjusters were then converted, again at SaltWorks Fabrication, to a much easier to use six-way switch ensemble. The same brown leather was used in the back on the modified stock rear bench.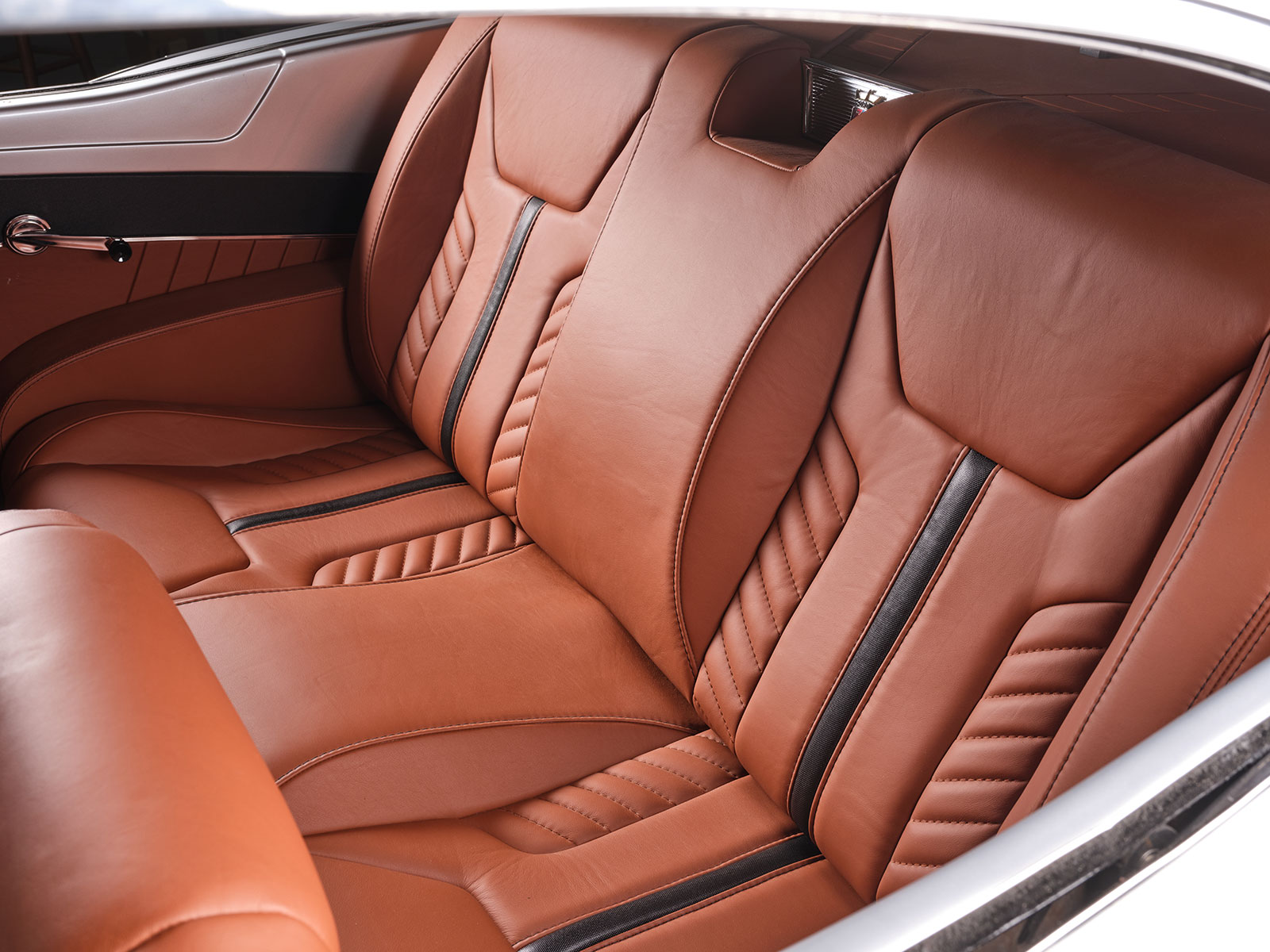 Read More: '60 Impala With Impeccable Style & Performance
We are thinking that this 1957 Ford Fairlane 500 is going to ride and drive down the interstate highways as well as any modern-day Detroit iron. Wally's thinking of the two-door hardtop's first major drive will be to this year's Back to the 50's event. We couldn't think of a better way to break in a new ride than a long haul. MR