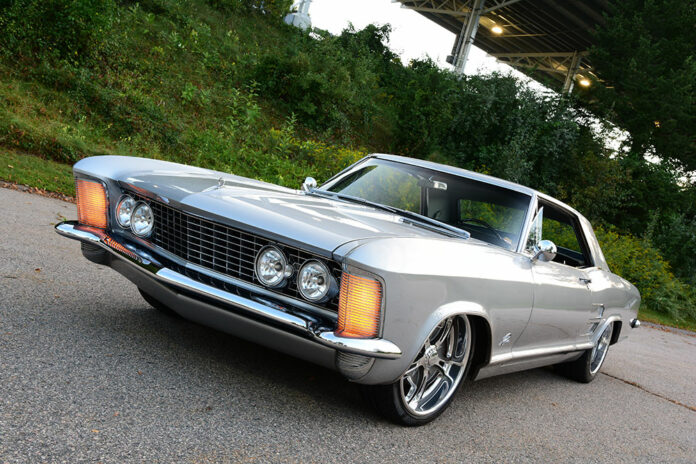 Rick Smith's Silver Cloud LS3 Powered '64 Buick Riviera
By Chuck Vranas – Photography By the Author
When stepping into the world of hot rodding, there are a number of paths you can take while on your way to the promised land. One interesting way to approach it from a totally different direction is by stepping into the fast lane by buying a perfect original factory car to add your performance updates to. That's what Rick Smith of Quincy, Massachusetts, did on the glamorous '64 Buick Riviera laid out across our pages.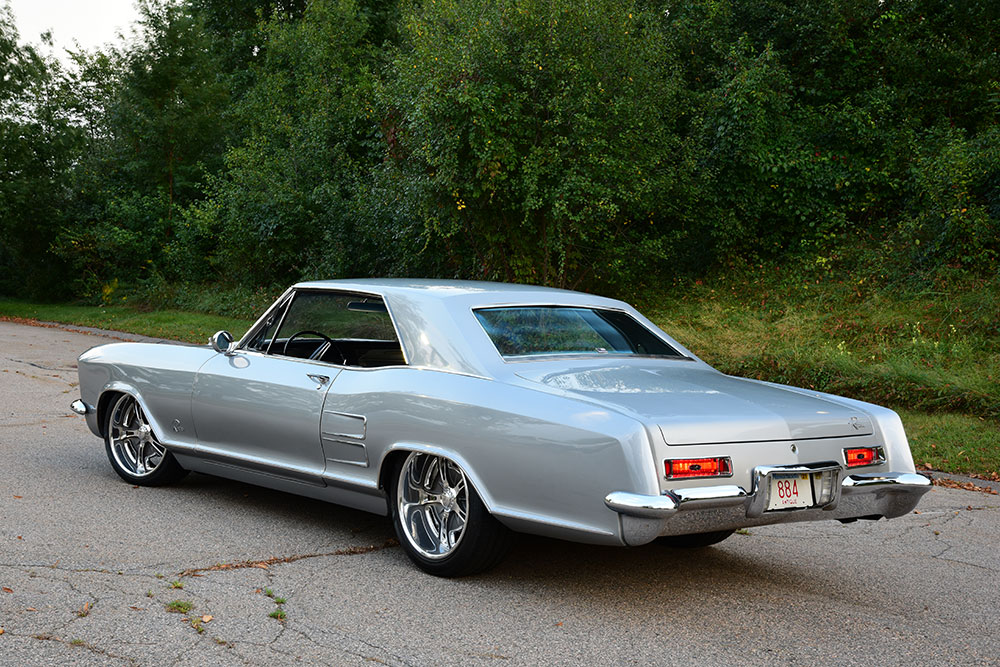 Easily one of the most alluring designs created, it was code named the XP-715 in the design stage as it was being crafted to take on the four-passenger Ford Thunderbird. Buick wanted to enhance the driver experience with performance capabilities similar to those of a Gran Turismo racer, including a lower center of gravity and specially tuned suspension for advanced cornering capabilities.
The project embodied a sleek new look to emulate handcrafted coachwork in a production car with such features as a rear-slanted nose, low-profile roofline with wide B-pillars, and sheer side-glass (free of framing) for a more flowing look. Plenty of power was on tap as well with choices of either the standard 425 Wildcat Nailhead V8 or the optional Super Wildcat version featuring dual quads, each providing a stout 340 and 360 hp, respectively. To maintain exclusivity of the Buick Riviera only 37,658 were produced during the '64 model year, which saw a total of 511,666 Buicks rolling off the production line.
Read More: Masterfully Built: 502 Big Block Powered 1950 Buick Sedanette
For Rick, it didn't take long to get involved in the performance auto world, lured in while working at his dad's sheet metal shop in the '60s when Billy Sexton's '33 Ford coupe came tearing down the main drag across from the business. From that point he was hooked on life in the fast lane with countless hot rods following as the years passed, including a wicked '33 Chevy coupe, a pair of Ford roadsters, as well as a '71 Camaro and '72 Corvette, both of which spent plenty of time on the street and road course.
For a diehard wrench-spinner, the thrill is not only the build experience but also putting down thousands of miles on each one once completed. Having always been captivated by the look of early Buick Rivieras it was surprising to him that most of the ones seen at events would be in stock condition. Since the design elements of the model were absolutely perfect from the factory, he set a plan to locate a clean example to update with just the right amount of performance improvements combined with a newfound stance. Fusing these elements to an already-perfect car would give it the best of both worlds, making it ready for the long haul on the open road.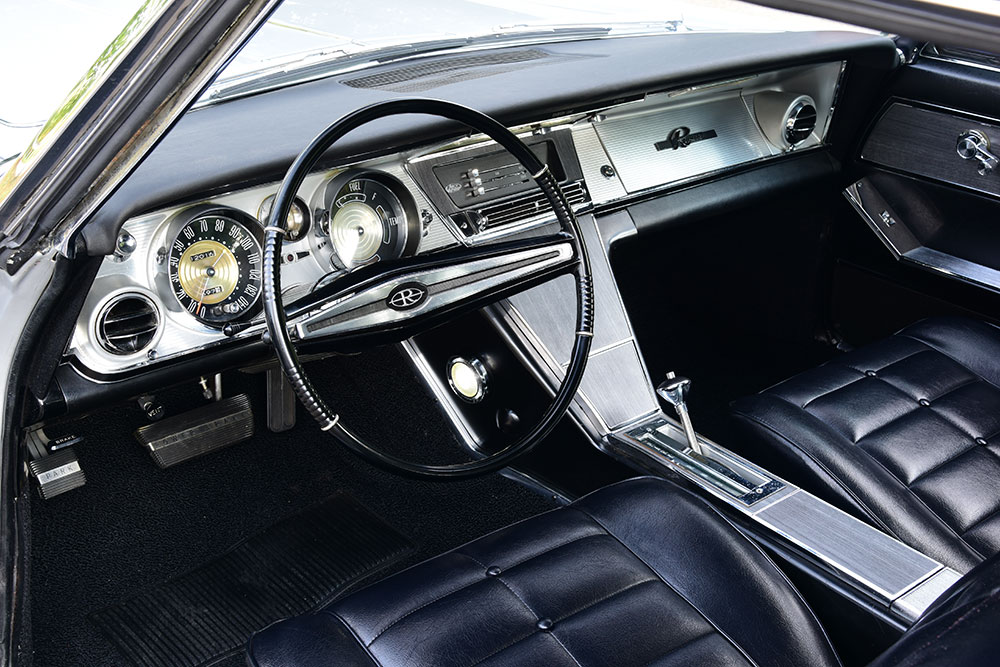 After reviewing countless cars available for sale, fate brought him to a '64 Riviera that had recently changed hands from the original owner who was in his eighties. Originally delivered through Sheehan GMC in Pompano Beach, Florida, the car showed only 88,000 miles on the odometer; it had retained its 425 Wildcat motor and had one repaint through its life. It was straight and rust-free, making it a perfect platform to start with. Without wasting any time Rick made the deal and it wasn't long till it was in his home shop for evaluation.
With the stock frame in great condition, it was a perfect opportunity to rework the suspension to make the needed upgrades. Out back the original rear end was replaced with a fresh Ford 9-inch rear end from Spraker Racing packed with 3.70:1 gear in a nodular iron center, spinning 31-spline axles. It's suspended in place by a combination of Ridetech upper and lower StrongArms with matching HQ-Series Shockwave shocks. Up front, Rick rebuilt the factory suspension with fresh parts from NAPA while also adding a Shockwave Ridetech air suspension for use with the stock control arms, all managed by a Ridetech E5 RidePro system. When it's time to stop, a Wilwood dual master cylinder moves fluid through steel lines to matching 11-inch vented Wilwood Dynalite rotors wearing 4 piston calipers at each corner. For plenty of style, a set of Schott Wheels, sized 19×8 (front) and 19×10 (rear) wear Kumho Ecsta PS91 Series tires, sized P225/40ZR19 and P275/40ZR19, respectively.
Read More: Rob Ninkovich's Simply Wicked LS3 powered 1969 Buick Skylark Sport Coupe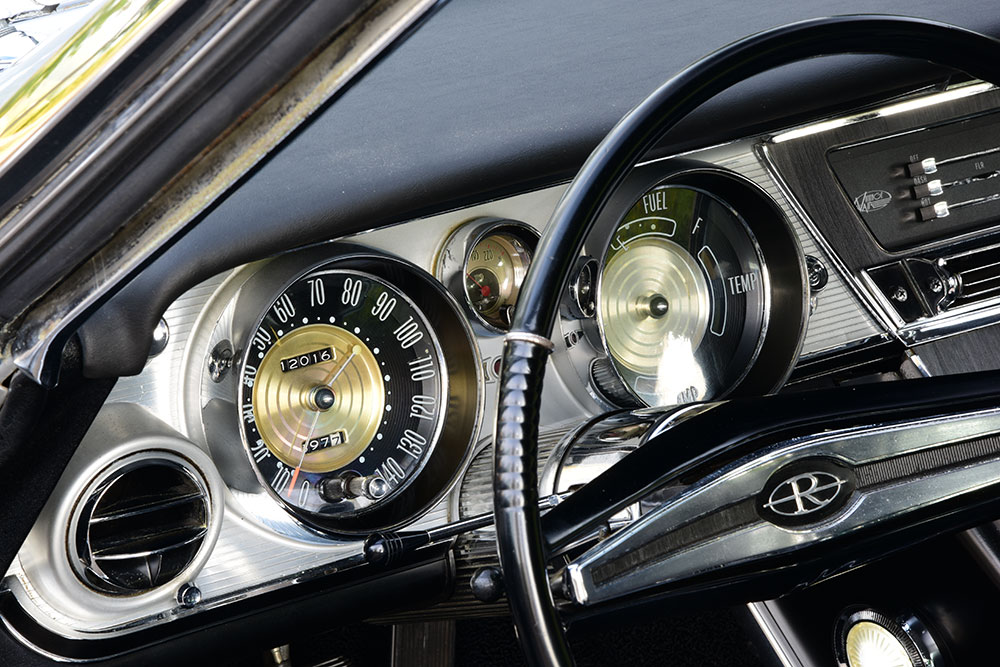 Even though the factory 425 Wildcat Nailhead engine was a perfect runner, Rick wanted to up the ante with modern performance and opted to make the change to LS power. To bring the thunder he started with an '11 6.2L LS3 plucked from an '11 C5 Corvette. Direct from the factory the 376ci V8 engine comes packed with all the right goods, starting with a cast-aluminum block featuring cross-bolted, 6-bolt main caps. It's packed with a Nodular iron crankshaft linked to powdered metal rods capped by hypereutectic aluminum pistons with added thump from a Comp Cam hydraulic roller camshaft thanks to Don Kinder at Slowhawk Performance in Bridgewater, Massachusetts.
A set of high-flow aluminum L92 cylinder heads, as cast with 68cc chambers, and Brian Tooley Racing valve springs (added by Kinder) generate plenty of power, especially when matched to the factory LS3 intake manifold, fuel injection, and 90mm ETC throttle body. A C5 ignition system lights the fire with exhaust gases flowing through stainless headers to 2-1/2-inch black ceramic-coated exhaust with Walker Exhaust turbo-style mufflers. Neat under hood details include custom fabricated inner fenders, front filler panels, and a cold-air intake system by the owner as well as a Summit Racing aluminum radiator and HPR Spectre Performance air cleaner. A Gearstar Level 4 GM 4L65E transmission with matching transmission cooler moves a robust 457 hp rearward through a shortened custom driveshaft, thanks to a custom tune by Kinder.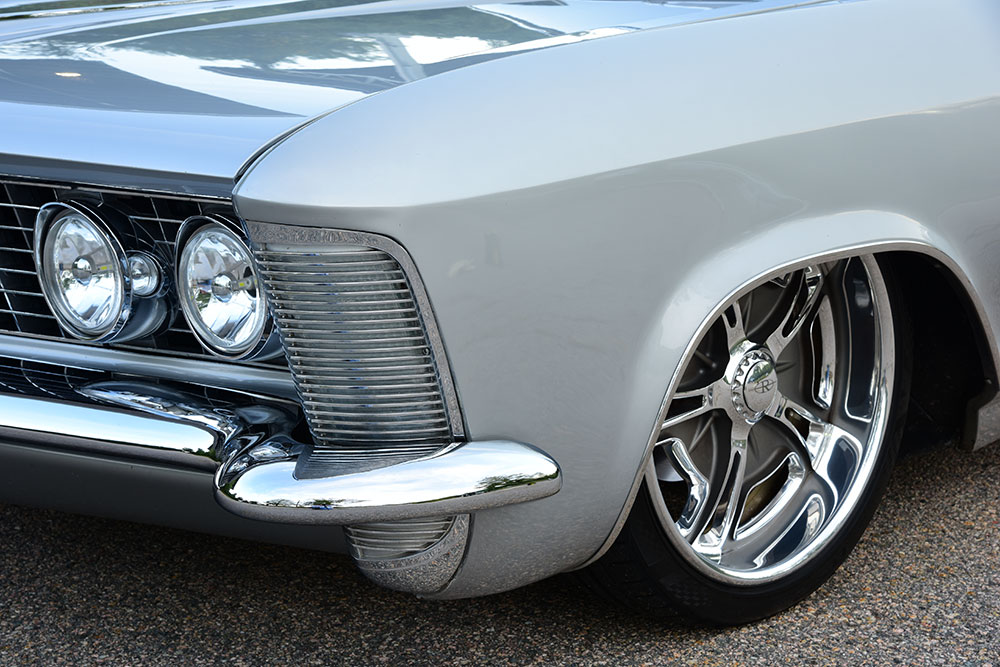 Thankfully, the Rivieras led a great life with its original owner who meticulously maintained it, keeping it rust-free through its life. When it came to evaluating mirror-straight the body, Rick decided that the repaint of its original color, Silver Cloud, currently on the car only needed a cut and buff to bring out its full luster. He did however want to shave the antenna and looked to Steve Hill of Holbrook Auto Body in Holbrook, Massachusetts, to do the deed.
Read More: Detroit Born 1957 Buick Special was Just That–Special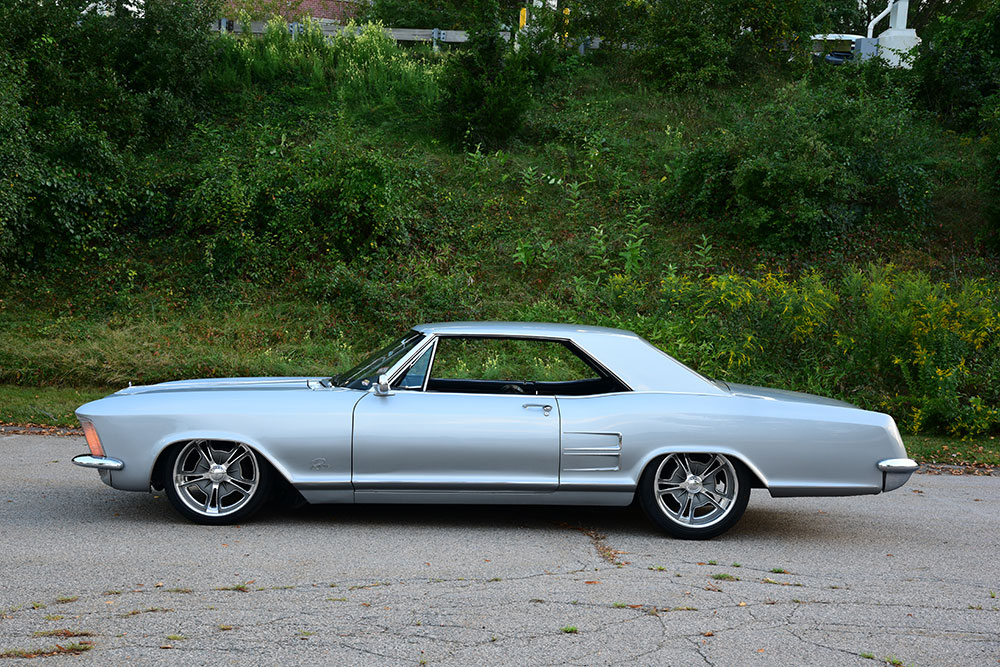 Looking inside to the business office, Rick recovered the dash in black vinyl while also freshening up the stock gauges. A Factory wheel carves the course with shifts moving through the original stick and cool breezes flowing thanks to Vintage Air. To bring the interior back to its factory-fresh glory he installed a new headliner, biscuit-style black vinyl seat covers and matching carpet all from Original Parts Group Inc. While also updating the factory wiring to accommodate the updated LS swap with an LS swap harness from BP Automotive. Since completion, the Rivieras has seen well over 6,000 road miles, traveling to numerous national events as well as on plenty of family vacations, and to us that is as cool as it gets! MR