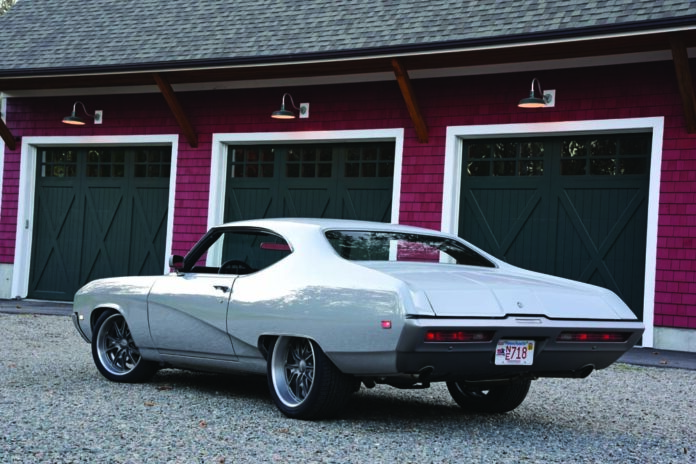 By Chuck Vranas – Photography & Videography by the Author
Nothing makes a better impression on a youngster than taking them to a car show. Regardless of whether it's a local cruise night, large national event, or the yearly pilgrimage to the Auto Show, it's a sure-fire way to influence their formative years.
For a young Rob Ninkovich of Foxboro, Massachusetts, growing up near Joliet, Illinois, the yearly countdown to February when the Auto Show was in town became a rite of passage. It's a place where he and his dad, Mike, would spend the day studying the latest designs being offered while also dreaming of what they'd bring home if the sky was the limit. Easily, the freshly completed 1969 Buick Skylark Sport Coupe displayed across our pages brings many of his dreams to life in this alluring presentation.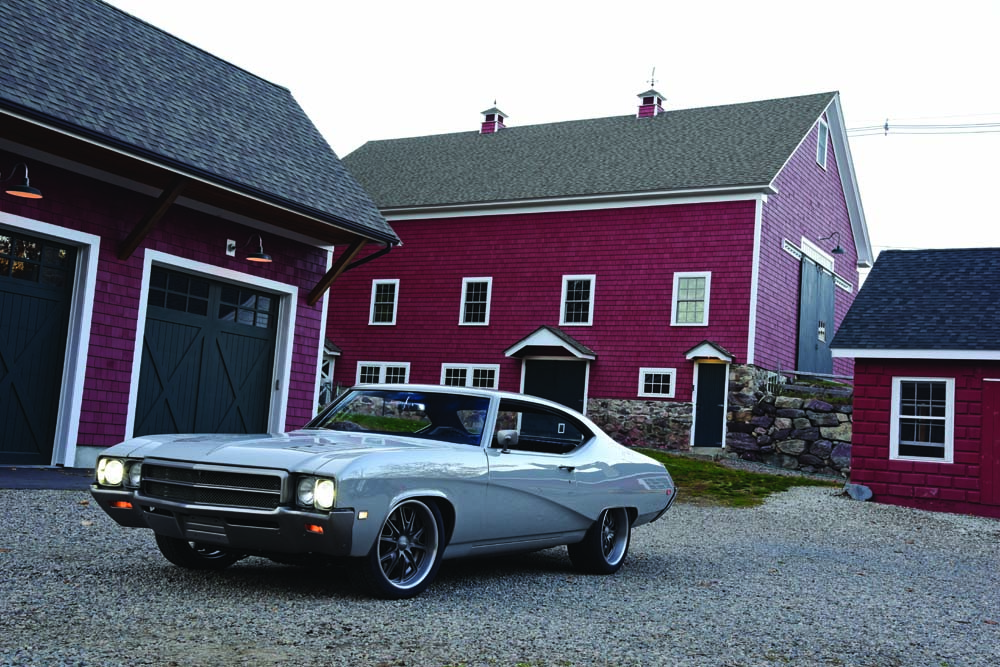 Many times it's the simplest experiences growing up that are the longest lasting. Building scale models at the kitchen table and devouring performance automotive magazines brought everything to life, augmented by an endless stream of hop-ups making the scene on local streets. It was obvious that a path was set when he'd sneak into his grandfather's, John Bukovac, garage to peel back the cover of his new 1985 Corvette and slip into the driver seat to dream of what it might be like to lay into the throttle. Nothing, however, could match the scent of nitro and burnt rubber he experienced on a regular basis while visiting Route 66 Raceway in Joliet to watch his hot rod heroes compete for total dominance on the quarter-mile.
Check Out: 1969 Camaro Powered by a 625hp LS3
As the years passed, Rob went onto an 11-season career in the NFL, becoming a two-time Super Bowl Champion during his time spent as a member of the New England Patriots. One thing that never changed was his passion for performance cars leading to a 2008 Corvette as well as a 2012 Camaro ZL1, however a fire still burned in the back of his mind for a classic muscle car. This eventually led to a restored 1970 Chevelle SS 454 big-block.
While the car had plenty of brute force in a straight line, he longed for something that could also handle the curves and stop on a dime. Reaching back to his fascination with second-generation GM A-body, it was time to take on the build of something that would be unique enough to stand out in a crowd.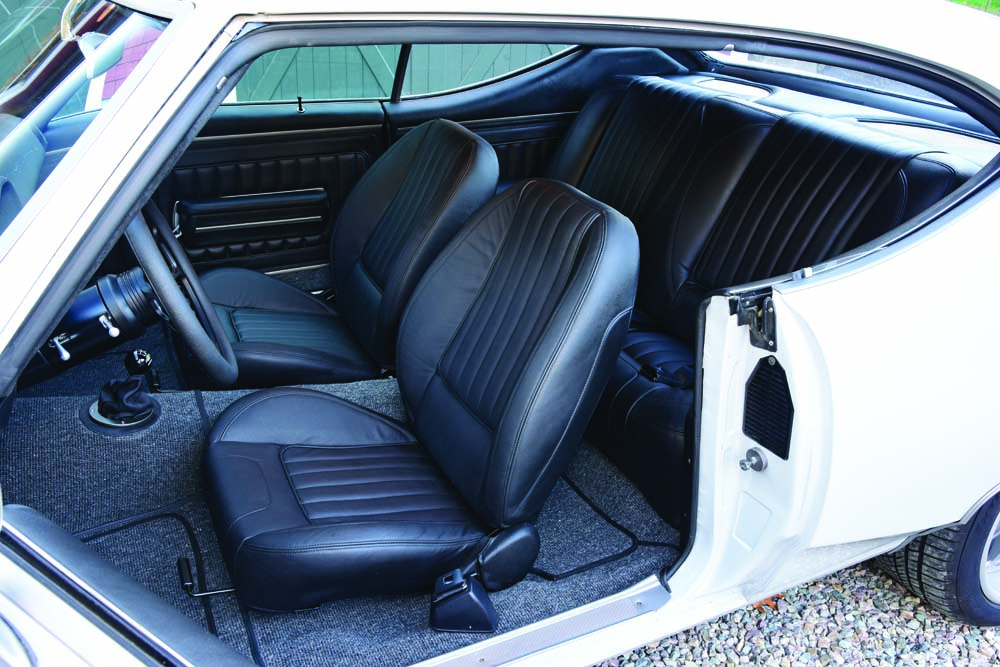 While the design elements of this era offered plenty of allure fused with a number of factory horsepower options, it was obvious the Chevelle followed by the Pontiac GTO and Oldsmobile Cutlass garnered far more recognition than the Buick Skylark.
The initial design of the Skylark fused refinement with a powerful V-8, giving the model a defined presence and one that Rob believed was prime for a fusion of cutting-edge parts to bring it to the next level. His search for a 1969 model led to an introduction by mutual friend Herb "Rusty" Langlois to Pat O'Brien, owner of Procision Industries in Taunton, Massachusetts, where a perfect platform was languishing in the back of the shop.
Check Out: Ice Cream Cruiser: 1966 Chevy Impala SS
As Rob tells us, "It was pure luck that fate brought everything together leading to the purchase of the GM A-body. Talking with O'Brien, it was obvious that he shared the same enthusiasm for the build by incorporating the latest in suspension technology along with LS power, three pedals, and enough braking power to tame the beast. Soon after, O'Brien started the build along with team members Mark McGrath, Matt Rossi, and Mike Downey."
With the factory frame in perfect condition, it was blasted clean and sprayed satin black. To bring handling to the next level, the factory suspension was jettisoned in favor of fresh components. Out back, a Currie Turn 9 fabricated lightweight housing packs 3.50:1 gears and a Eaton Detroit Truetrac differential spinning 31-spline axles.
It's suspended in place by RideTech's coilover system featuring upper and lower StrongArms matched to their adjustable rate MuscleBar and HQ-Series coilovers. To get razor-sharp handling, RideTech's upper and lower StrongArms with matching tall spindles were combined with their HQ-Series coilover shocks and MuscleBar.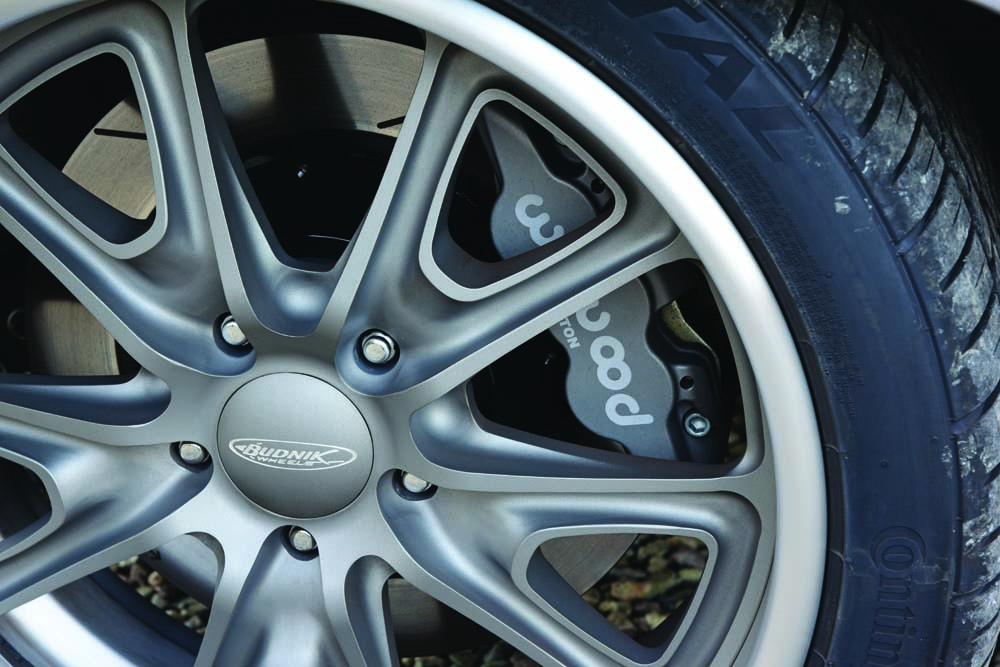 For increased braking performance, a Wilwood dual master pushes fluid through steel lines to matching 14-inch GT slotted rotors and AERO6 Big Brake six-piston calipers in front combined with 14-inch GT slotted rotors with AERO4 Big Brake four-piston calipers out back. Linking it to the street are a set of Budnik Remington-model wheels featuring brushed outers with turbine-tone centers, sized 19×9 front and 19×10 rear, wearing Continental ExtremeContact DWS06 rubber, sized P225/45/19 and P275/40/19, respectively.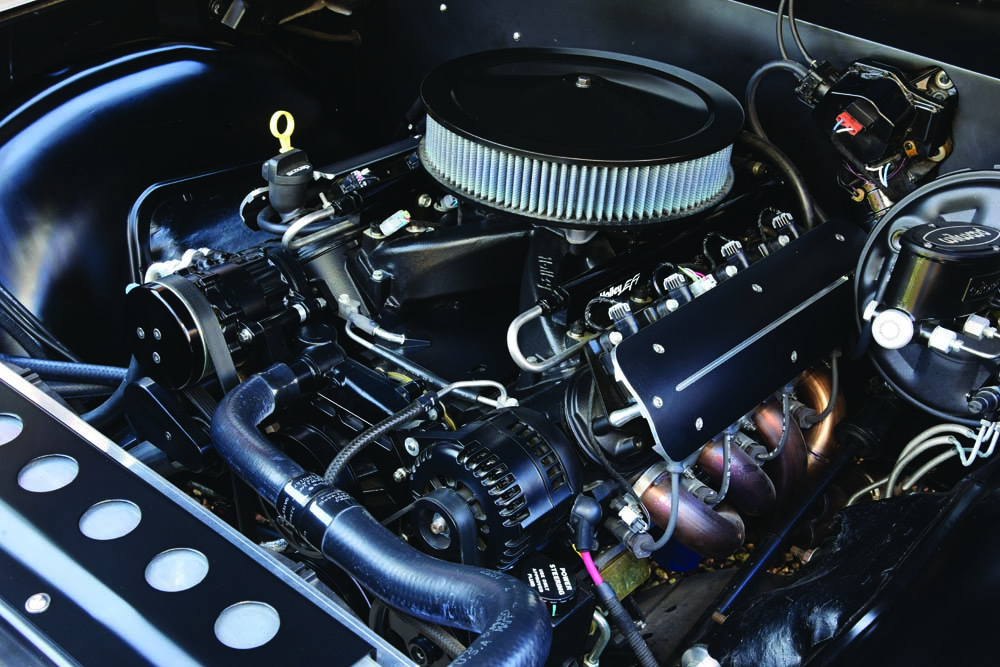 When it came time to turn up the heat, Rob went straight to Chevrolet Performance for one of their LS3 525hp V-8s, which he sourced from Vachon Chevrolet in Brooklyn, Connecticut. Out of the crate LS3, the engine packs a cast-aluminum block with six-bolt, cross bolted main caps. It's packed with a nodular iron crank linked to powdered metal rods capped with hypereutectic aluminum pistons getting bumped by their legendary ASA hydraulic roller cam. Up top, a pair of aluminum L92-style port heads with "as-cast" 98cc chambers generate seamless power especially when balanced by a Holley single-plane EFI intake topped with a matching 1,000-cfm 4150-flange throttle body, single-plane fuel rails, and factory injectors, managed by a Holley Terminator X system, all by Procision.
A factory ignition lights the fire with spent gases flowing through Hooker BlackHeart stainless headers to a matching 3-inch stainless exhaust with Borla S-type mufflers. Cool details include a Vintage Air Front Runner drive system, Clayton Machine Works valve covers, AFE Power air cleaner, SPAL fans, Optima battery, and detailing by Procision. To move the goods, a TREMEC T56 Magnum transmission (sourced from Vachon) packing a McLeod twin-disc clutch links to a custom driveshaft from Mitchell Driveline.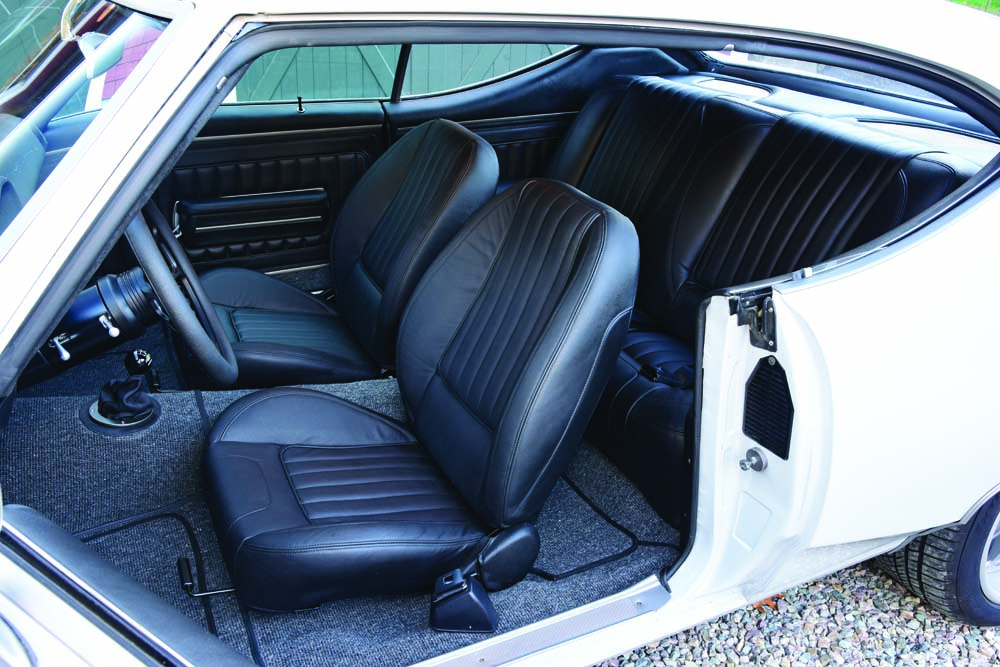 It's a landmark moment when you start with a rust-free car, especially if you live in New England. Fortunately, the Skylark led a clean life, which was evident once the body was stripped to bare metal by John Hand of The Bowtie Shop in Billerica, Massachusetts. He followed by first eliminating the wheel well trim, fender louvers, and rocker panel moldings and then added a pair of functional hood louvers from Gray Area Steel.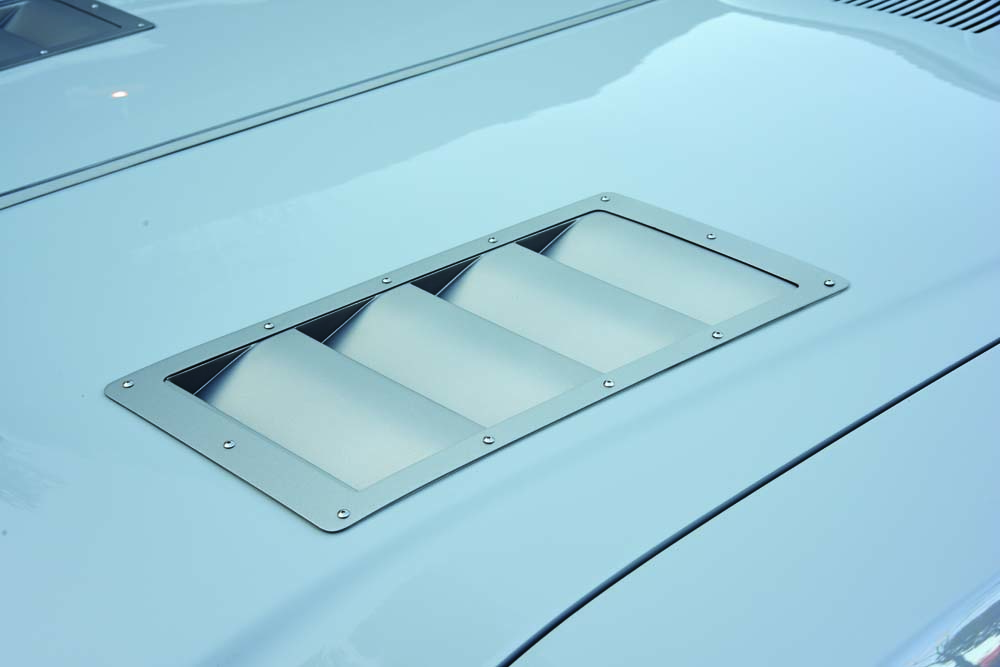 The sheet metal was then massaged to perfection, gapped, and prepped for paint. To add just the right allure, Hand laid down a subtle coating of BASF Porsche Chalk Gray gloss. Completing the look, Rob had Krazy Kustoms of Wilmington, Massachusetts, refinish the bumpers, trim, and accents in Gun Metal Gray Cerakote.
Check Out: Steve's Auto Restorations
Inside, Dakota Digital VHX-Series gauges monitor the vitals while an ididit steering column meets a steering wheel from Forever Sharp to carve a course with shifts moving through a unit from Chevrolet Performance. Cool breezes are by Vintage Air with an American Autowire Classic Update Series kit installed by Procision to bring it all to life.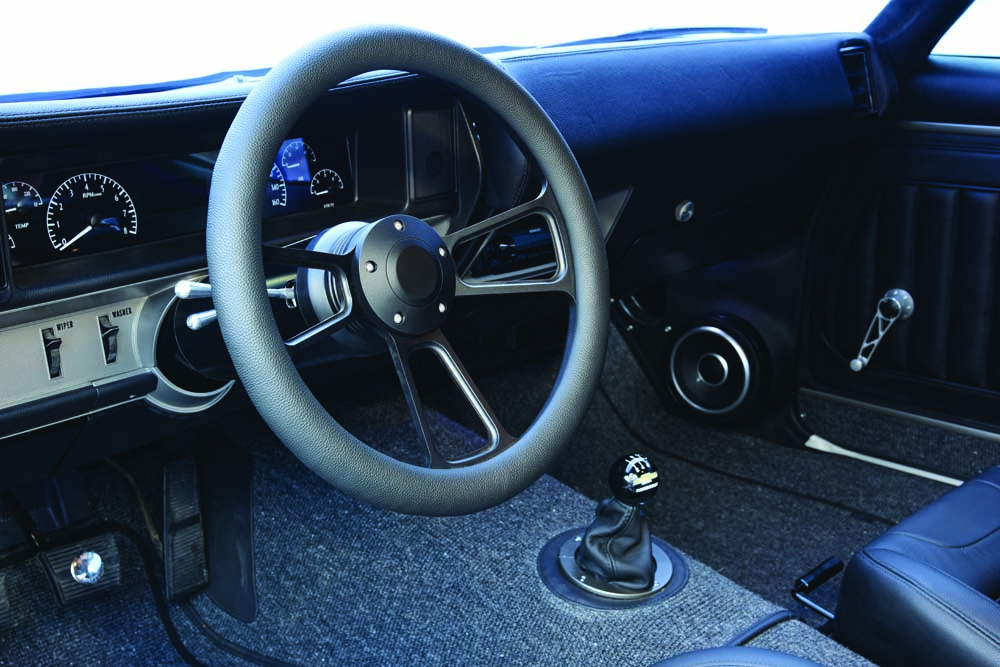 For comfort, New England Trim of Shrewsbury reworked a set of TMI Pro-Series Sport buckets, covering them in charcoal leather while also matching the back seat and side panels, wrapping the dash, adding a black suede headliner, and complementing charcoal square-weave carpeting. This is one truly wicked Skylark that commands attention while Rob puts down the miles, and to us that's the real deal! MR