Mike Kraemer's 1955 Chevy Embodies the Fulfillment of Childhood Memories
By John Machaqueiro  –   Photography by the Author
Mike Kraemer's indoctrination into the Chevy fold started at an early age. As a youngster growing up during the late '60s and early '70s, it wasn't uncommon for kids like him to see vintage iron on the road decked out in some form of race trim. As a result, he still has some fond memories of the vehicles he saw back then that shaped—and continue to shape—his automotive tastes to this day. He recalls one particular car: "When I was 11 years old my mom regularly drove me to the swim club, and as we turned into the parking lot, there was a gas station that frequently had a jacked-up Marina Blue '55 Chevy parked out front. It was lettered-up with Double Five on the front fender, no front bumper, and Cragars all around. As a kid that just looked like a fast car for the street," Mike explains.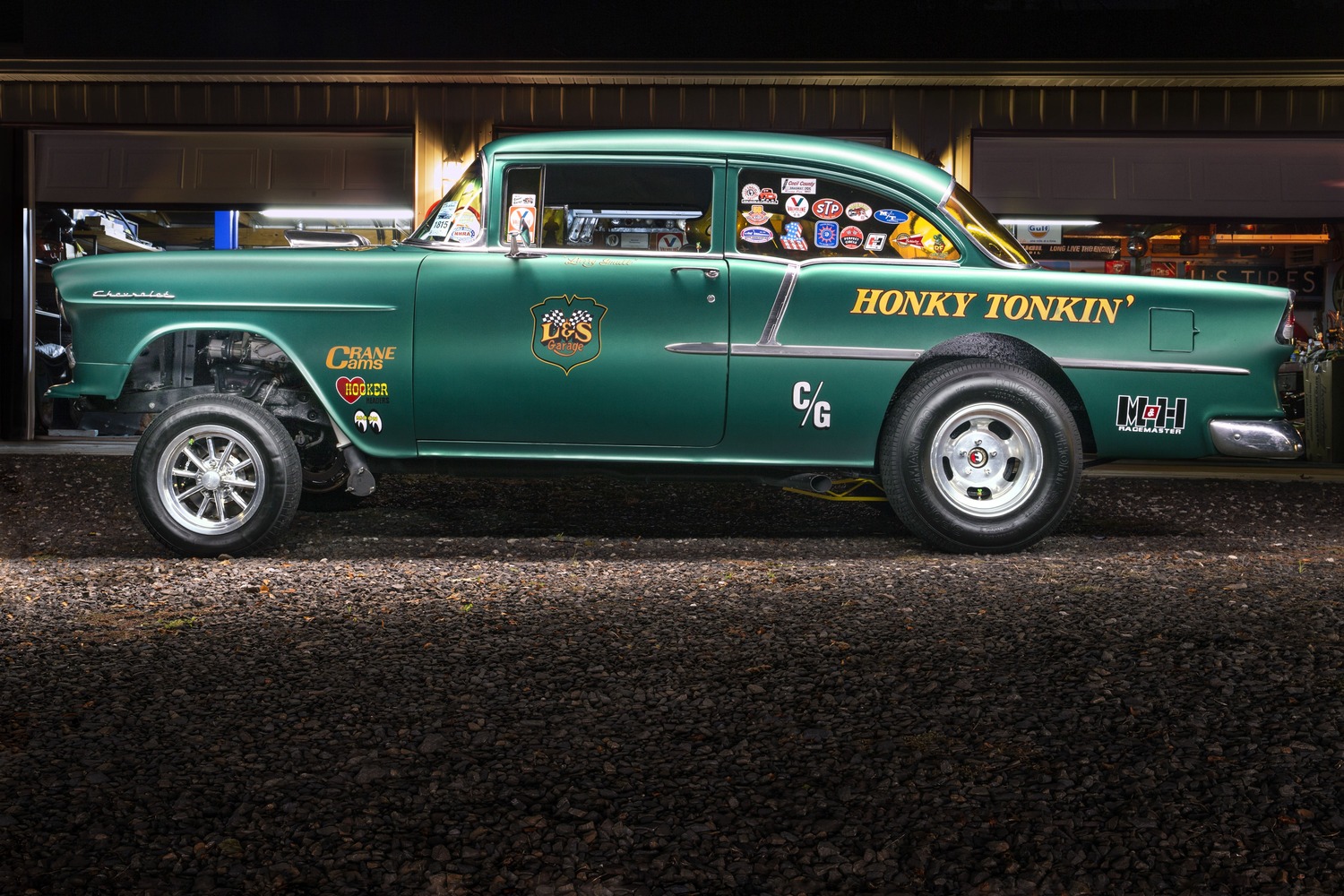 By age 14 his interests expanded to include dirt bikes, and he often rode by a house that had a '60 Corvette parked in the garage. Whenever the door was open, he would stop and chat with the owner, and those conversations helped keep his automotive flame alive. By the time he turned 18 in 1977, his first ride was an original Silver Pearl Metallic '65 Corvette with a 327 small-block backed by a four-speed. He owned that for about a year until a chance encounter with the owner of the '60 upended things a bit. He recalls, "As I was walking out of a convenience store, I recognized him, and he looked at me and said, 'you got a Corvette.' I asked him if he still had the '60 and he said 'I do, but I'm probably going to be selling it.' I ended up working out a deal with him and swapped the '65 for the '60."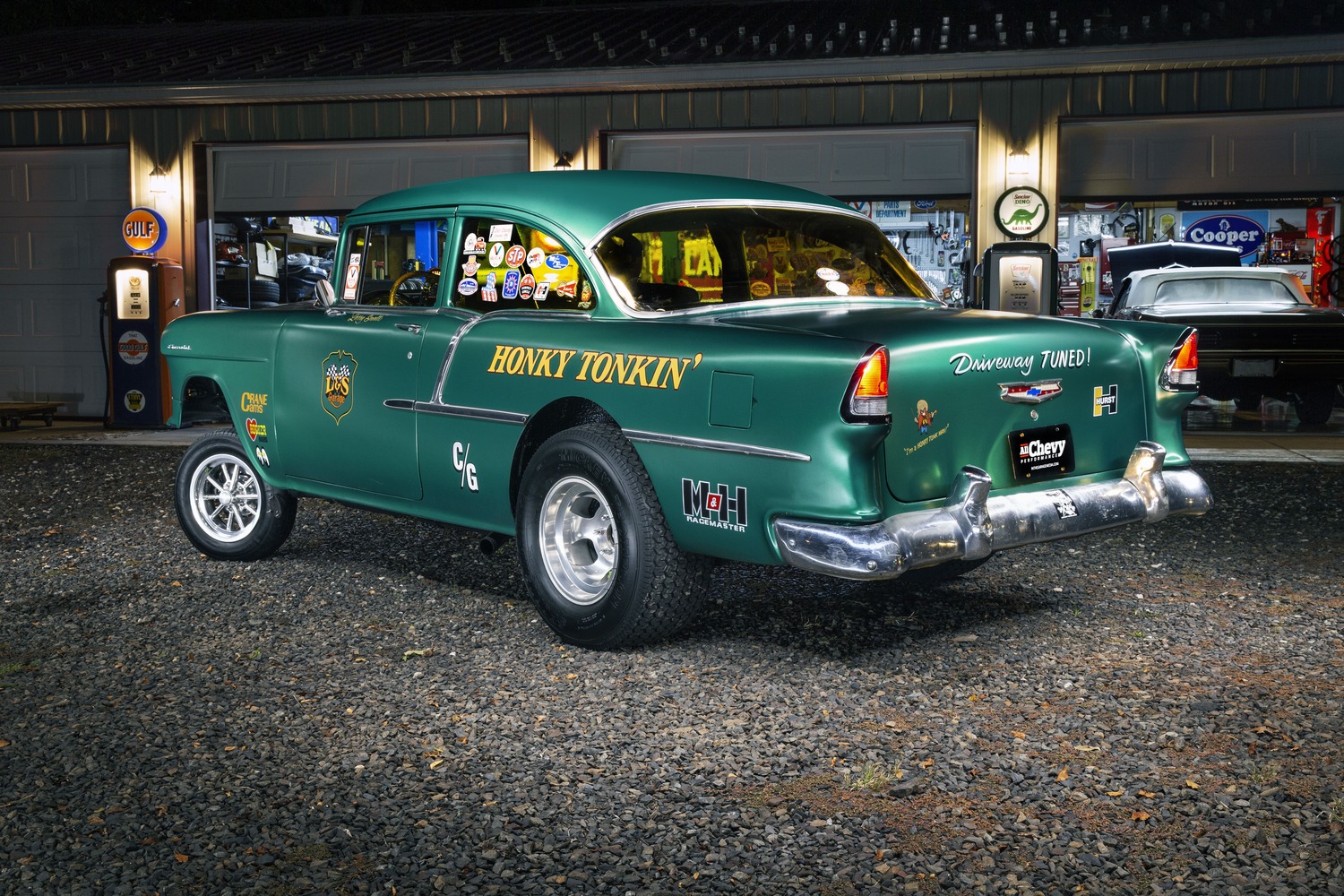 That '60 Corvette still resides in his garage to this day, and he's had quite a few Chevys over the years, but the memory of that Marina Blue '55 and the thought of owning a gasser remained unfinished business. Rolling the years forward to 2014 he saw that memory take on a life of its own; during a road trip with his buddies it was dusted off and brought to the forefront. Mike recalls, "that year we rode motorcycles to Sturgis [South Dakota], and upon arriving we came across a red '55 Chevy straight-axle gasser parked at a vintage-looking gas station. I stopped by there a number of times during the week and it was always closed. I managed to get the phone number for the place and kept calling until the guy finally got back to me and told me that it wasn't for sale." That lack of willingness from the owner to part with the car set him on a mission to find a '55 Chevy gasser.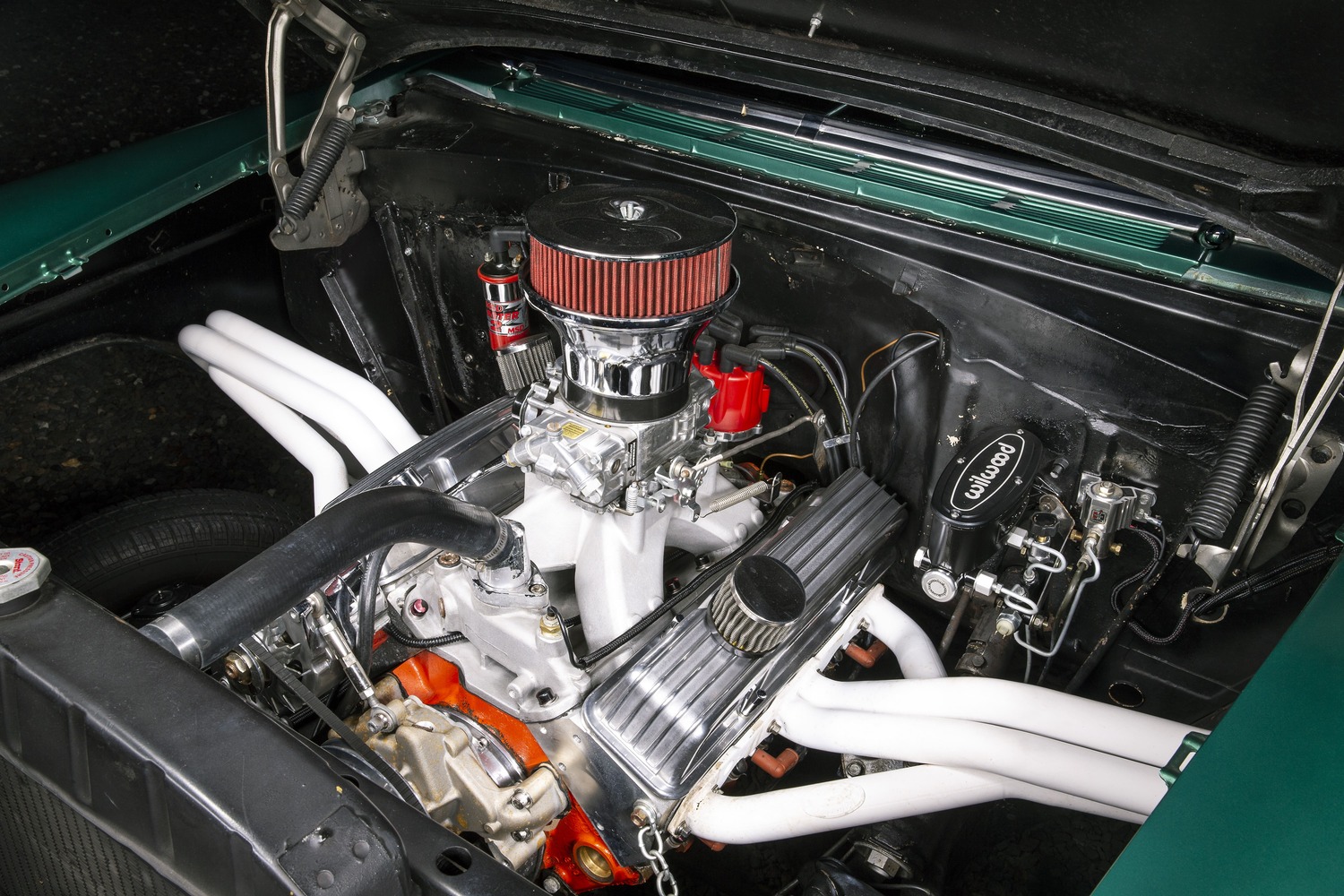 Don't Miss This One: 450 HP 1955 Chevy 210 Gasser Style Muscle Car
With the vast online resources just a click away, he ended up buying what seemed like a decent candidate on eBay that was located a few states over in Virginia. Once he sorted the details between the seller, he notes, "We drove down to pick up the car. The guy had five other gassers in his garage. He was buying cars and adding personal touches to get them to the next level."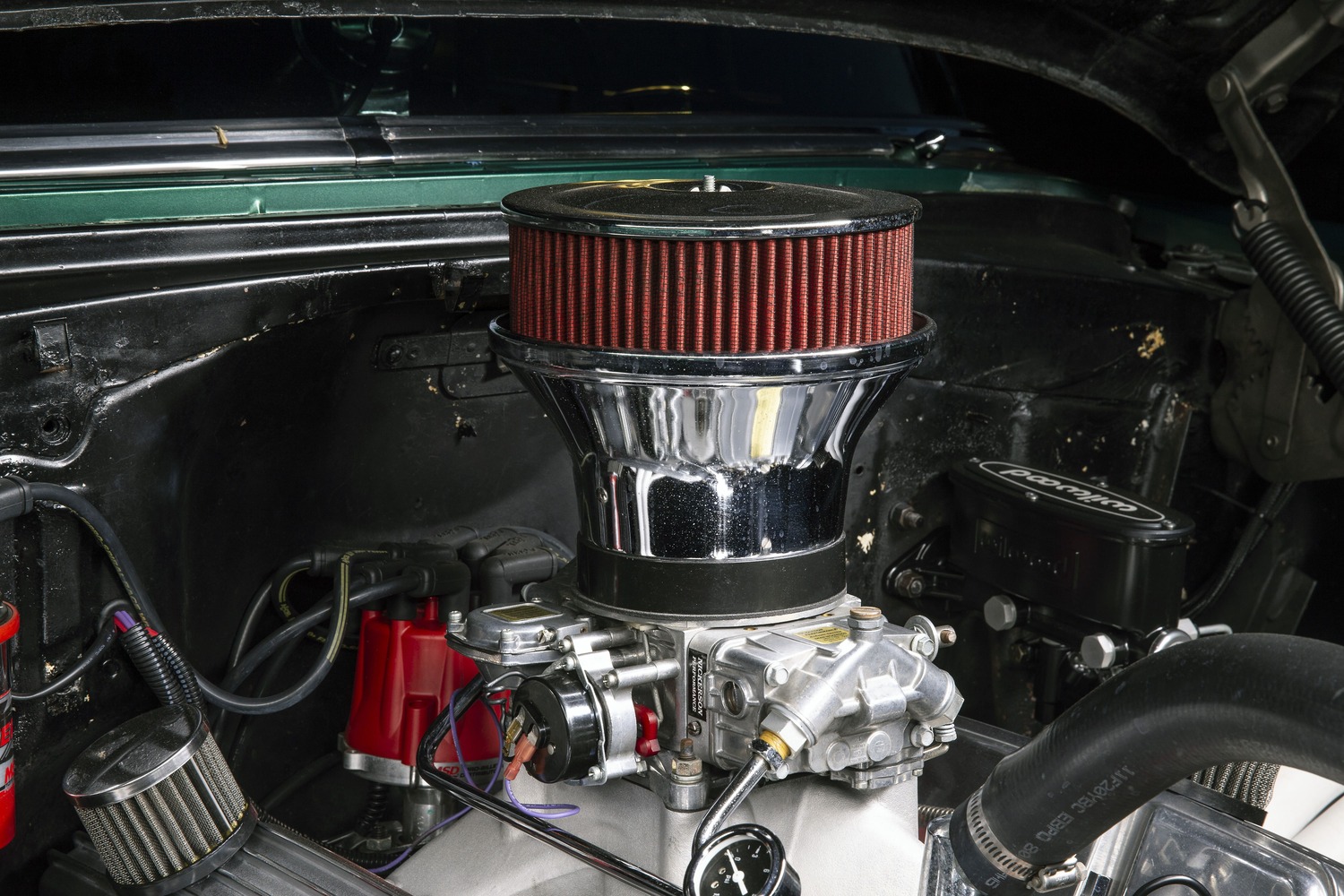 What Mike purchased was actually between levels. The backstory was that the car was found in a Texas barn and it had been dormant since the mid '70s. In 2007 Jeff McAdoo pulled it from its resting spot with an eye to making the conversion. It was still wearing its original black and white paint and six-cylinder backed by a three-speed. From there it was taken to Kentucky where the makeover started. The inline-six gave way to a 327 small-block with a cross ram and dual quads, fenderwell headers, and a Muncie M20 four-speed. It also shed its front bumper and the front was raised in proper gasser fashion with a set of old-school spindles and the obligatory Cragars mounted at all four corners. The two-tone paint was also ditched in favor of International Harvester Emerald Green single-stage paint with a matte clear. In 2013 he sold the car to Larry Small and it migrated to Virginia where it would see further additions. While in his hands the 327 suffered a catastrophic failure and was replaced with a fresh 383 stroker from Skip White Performance in Kingsport, Tennessee. Small also christened the car "Honky Tonkin'" and added a bunch of additional period-correct lettering. Mike points out, "[Small] has a fantastic eye for making something look period correct." He also upgraded the rolling stock with a set of Rocket Racing Launcher wheels wrapped in Excelsior rubber up front, while the rear was fitted with Mickey Thompson aluminum slots and Mickey Thompson Sportsman Pro tires. The exhaust was also finished off with a set of Hedman glasspack mufflers along with a fuel tank up front. It had reached the point where Mike's chapter was about to commence.
After bringing the car up to Pennsylvania in 2015, his wish was to take it further. What was done was spot-on, but he notes, "The car had the right look but there were things that needed to be fixed. It still had all of its original wiring, and it had no interior except for early-'70s Chevy van seats up front. It was only a rubber mat car and it had no headliner, door panels, and the dash was spray bomb painted."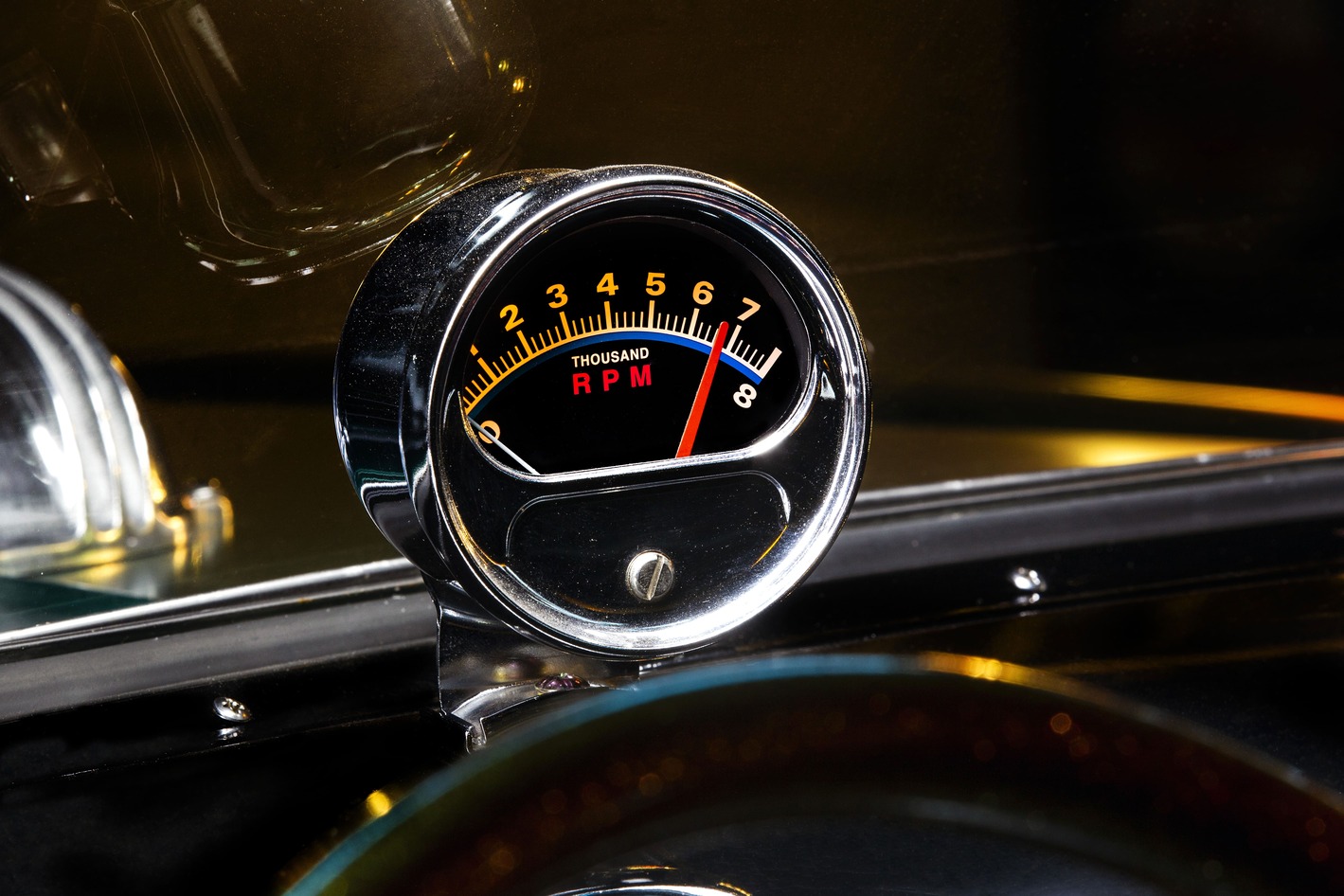 Moving forward he decided to tackle one thing at a time in an effort to not sideline the car indefinitely, so the first task was to swap out the wiring with an updated harness from the folks at American Autowire. Tackling the missing interior was the next challenge, and one that was multi-faceted in its approach. From a safety perspective the addition of a rollbar was high on the list, so he had one custom made and fitted by the crew at MD Race Cars in Warminster, Pennsylvania. With that in place, it was sent over to Village Auto Body in Feasterville, Pennsylvania, to have the dash repainted. As that wrapped up, it then made its way to Maucher Custom Upholstery in Ivyland, Pennsylvania, for a new headliner, carpet, custom door panels, a restitch of the van seats, and the fabrication of a rear seat delete box. While that was going on, all the glass and headlights were removed and given a coat of House of Kolor Clear Candy Yellow by Paint Zoo in Langhorne, Pennsylvania.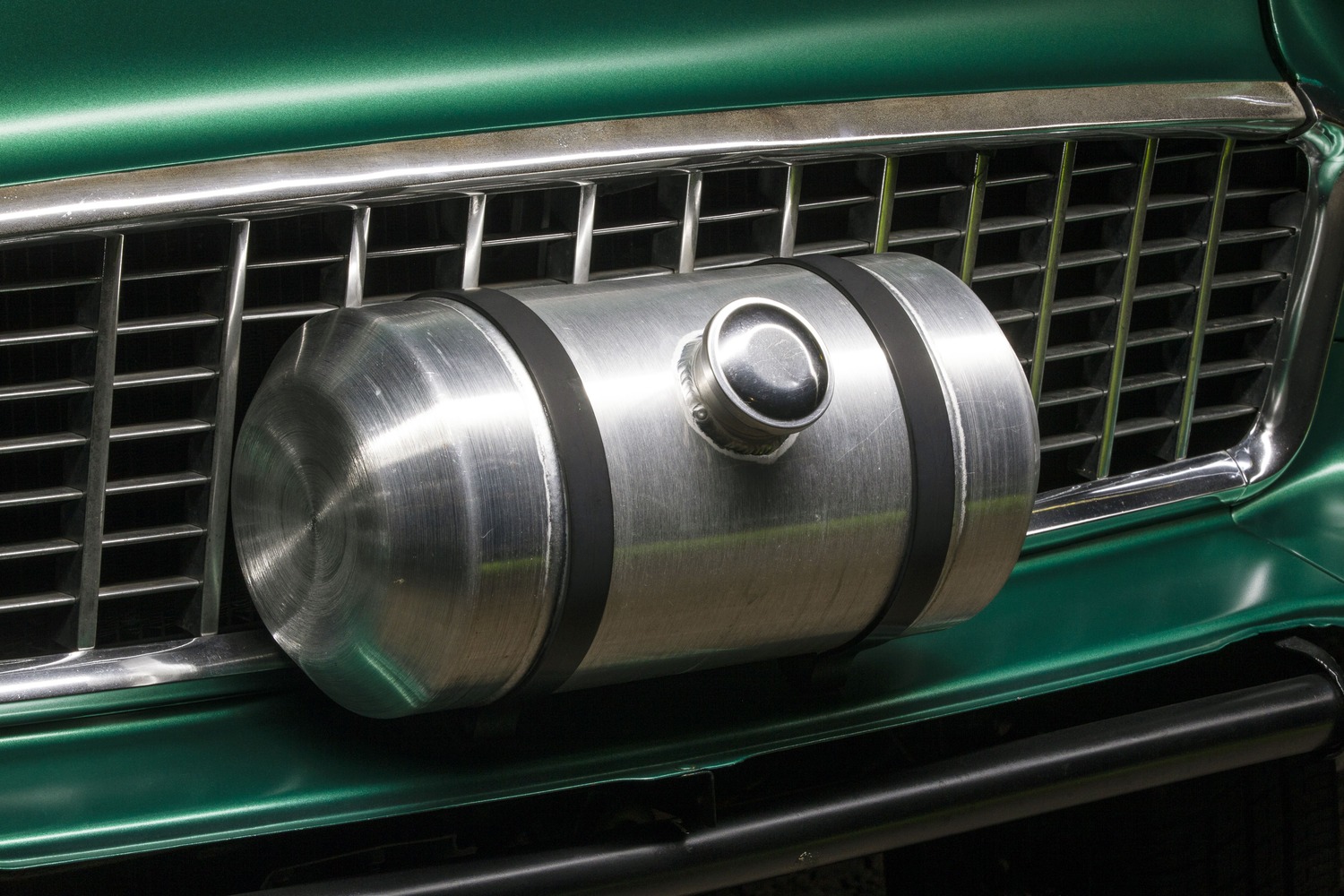 50's Chevys At Their Best: LS3 Powered 1957 Chevy 150 Street Machine – Full Custom
Mechanically, the car was halfway to its destination. The 383 was fresh with 0 miles logged, but the rear was a weak link. Mike explains, "I had the original pumpkin rear in it with 4.88 gears. In 2017 I took it to the Tri-Five Nationals with 31-inch piecrust slicks mounted and I blew the rear." His solution was to have MD Race Cars install a Ford 9-inch with a set of ladder bars and CalTracs. They also added a new driveshaft, driveshaft loop, and trans mount. The addition of the rear also ushered in a number of braking upgrades. "It had drums all around," he explains. "I added Wilwood brakes up front and their dual master cylinder, and the 9-inch received the big 11-inch drums at the back." With regular spirited driving as part of his routine, the M20 "grenaded" itself, so in its place now resides a freshly built M21 by Ronnie Dicks in Piperville, Pennsylvania.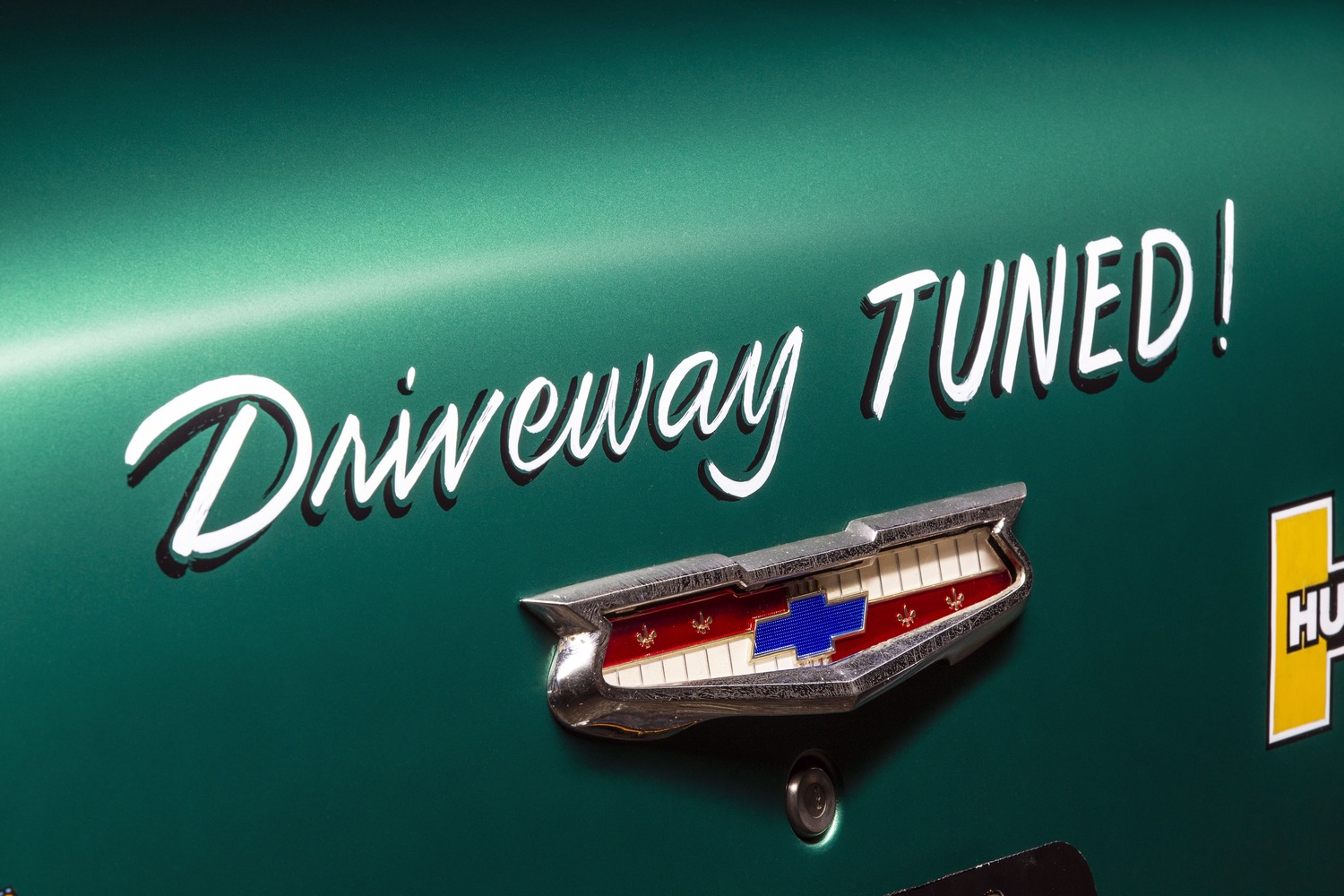 For Mike the bulk of the stones have been turned, and he's reached that sweet spot where he feels comfortable with the '55. "I am very happy with the car," he states. "I love taking it out during the summer on two-lane country roads. It has a fantastic sound to it with that big cam. It's badass looking, and with no creature comforts, it's just raw."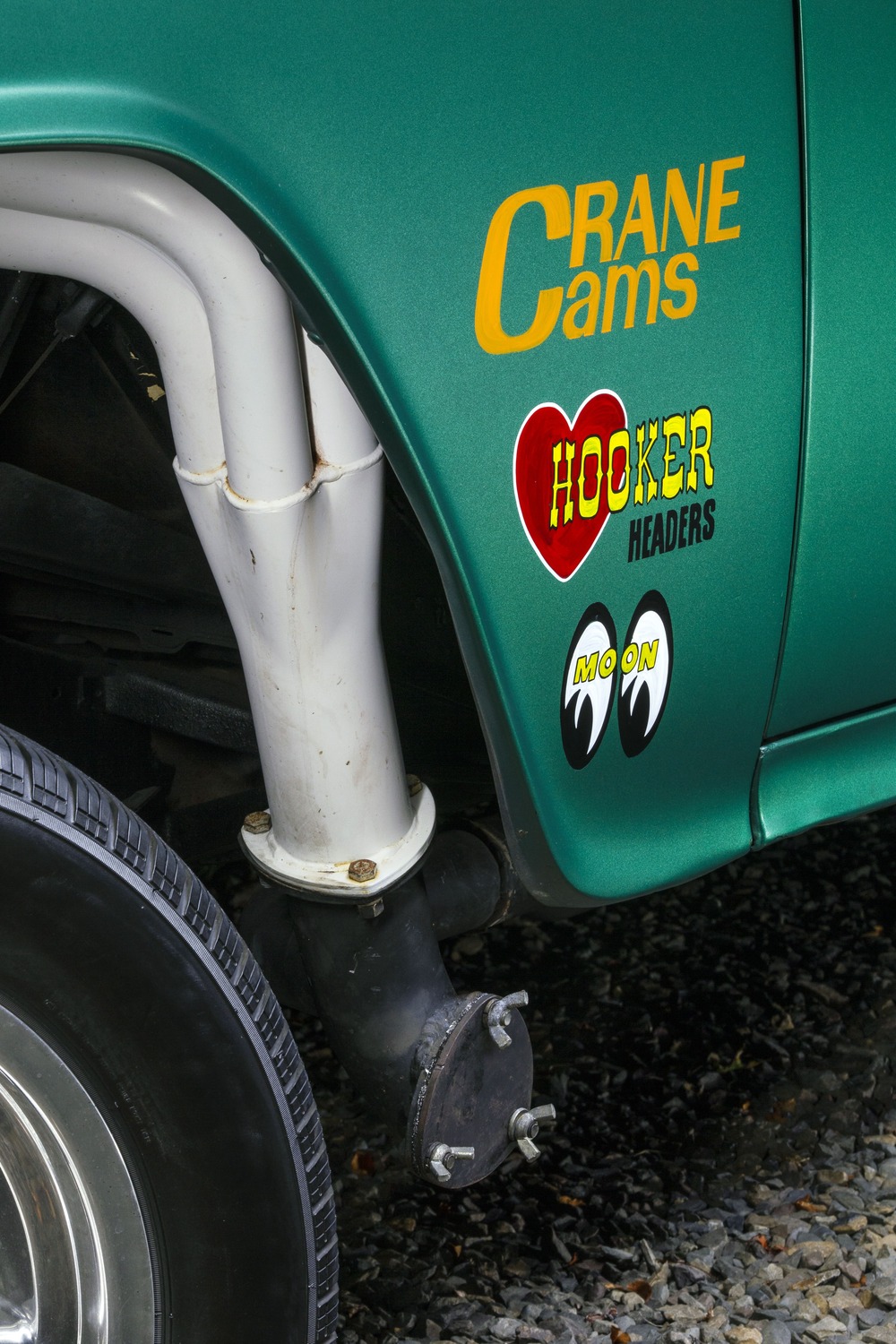 Tech Check
Owner: Michael Kraemer, Langhorne, Pennsylvania
Vehicle: '55 Chevrolet
Engine
Type: Dart SHP cast-iron small-block Chevy
Displacement: 383 ci
Compression Ratio: 10.7:1
Bore: 4.030 inches
Stroke: 3.750
Cylinder Heads: ProComp aluminum
Rotating Assembly: Scat 9000 cast nodular crank, Scat I-beam forged rods, Wiseco forged pistons
Valvetrain: Comp Cams
Camshaft: Howards Cams hydraulic roller
Ignition: MSD
Induction: Professional Products Hurricane dual plane intake, Quick Fuel 750-cfm carburetor, K&N velocity stack
Exhaust: Hooker headers, Hedman glasspack mufflers
Ancillaries: Melling oil pump, Champ Pans oil pan, Powermaster alternator, 2040 Parts aluminum tank
Output: 470 hp at 7,000 rpm
Built by: Skip White Performance (Kingsport, TN)
Drivetrain
Transmission: Muncie M21 four-speed, Centerforce clutch
Rear Axle: Ford 9-inch posi, 4.56 gear ratio, Moser axles, custom driveshaft
Rear built by: MD Race Cars, (Warminster, PA)
Transmission built by: Ronnie Dicks (Piperville, PA)
Chassis
Frame: Stock frame with aftermarket crossmember, driveshaft loop
Front Suspension: Coil springs, custom handmade spindles, Stock steering box
Rear Suspension: Stock leaf springs, ladder bars, CalTracs
Brakes: Wilwood 11-inch rotors with four-piston calipers (front), Stock 10.5-inch drums (rear), Wilwood master cylinder
Wheels & Tires
Wheels: Rocket Racing Launcher 15×4.5 (front), Mickey Thompson aluminum slots 15×10 (rear)
Tires: Excelsior 6.00-15 (front), Mickey Thompson Sportsman Pro 28×12.5-15LT (rear)
Interior
Seats: '70 Chevy van front seats
Door Panels: Custom
Steering: Stock steering column, Everlasting clamp-on turn signal switch, Cal Custom steering wheel
Shifter: Hurst Super shifter
Gas Pedal: Custom
Dash: GM stock painted by Village Auto Body (Feasterville, PA)
Instrumentation: GM stock instrument cluster, Stewart-Warner gauges
Wiring: American Autowire Highway 15
Upholstery by: Maucher Custom Upholstery (Ivyland, PA)
Rollbar By: MD Race Cars (Warminster, PA)
Dash Paint By: Village Auto Body (Feasterville, PA)
Exterior
Body: GM stock with cut rear wheel openings
Paint: Axalta International Harvester Emerald Green with a matte clear
Lighting: GM stock painted with House of Kolor Clear Candy Yellow (front), GM stock (rear)
Hood: GM stock with Offenhauser aluminum scoop
Grille: GM stock
Bumper: Bumper delete (front), GM original (rear)
Glass: GM stock painted with House of Kolor clear Candy Yellow
Bodywork and Paint By: McAdoo Collision Center (Mayfield, KY)
Lettering By: Dave Richards (Roanoke, VA)
Glass Paint By: Paint Zoo, (Langhorne, PA)