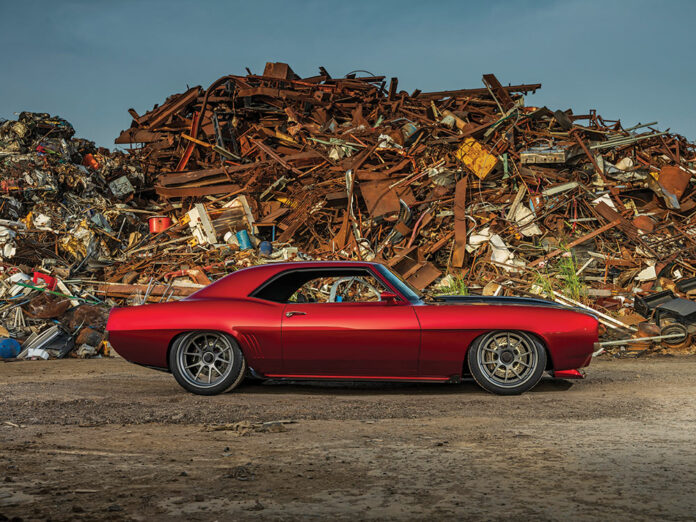 Tim & Angie Wheeler's 1969 Chevy Camaro Is A Balance of Style and Performance
By Brian Brennan – Photography by John Jackson – Videography by Chad Lunsford
Tim Wheeler and his wife Angie had a vision of the 1969 Chevy Camaro they wanted, and Steve Cook Creations (SCC) helped him make it real. Nevertheless, rest assured plenty of others think very highly of this first-generation Chevy pony car, as it took home a 2020 Detroit Autorama Great 8 award as a Ridler finalist, along with being a Top Five finalist for the Goodguys 2020 PPG Street Machine of the Year honor, as well as a Classic Instruments Pros Pick from the NSRA. The team at SCC developed the style and performance by skillfully blending the fabrication, construction, bodywork, and final assembly into a rolling piece of art. It does more than roll, though, with performance like a modern car, whether it be on a drive across town, cruising down the highway, or carving corners at an autocross event.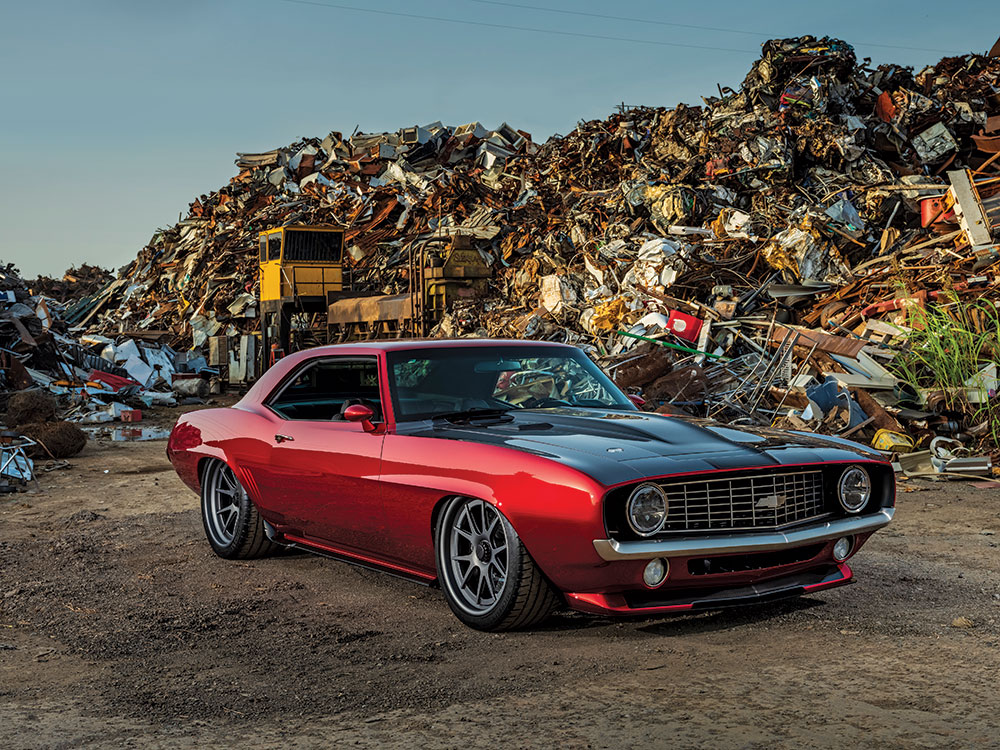 It was September of 1968 and the end of an era for the first-gen Camaro was in sight. The 1969 Chevy Camaro would, in a matter of time, be the longest production run of any of the early Camaros. Delays at Fisher Body on the quarter-panel dies forced the 1970 Camaro to be late with its introduction, so the 1969 was carried on through November. There were 243,085 Camaros manufactured that model year, making it the most produced of the first-gens. "But that was then and this is now," as the saying goes.
Read More: Big Block Bruiser: Firecracker Red 1969 Camaro
A bit of a backstory is needed to explain the genesis of this 1969 Camaro you see splashed before you. Tim and Angie Wheeler are the very proud owners of this one-of-a-kind 1969 Camaro, and are gratified with the work performed by the craftsmen under the watchful eye of Steve Cook at SCC, both located in Oklahoma. The SCC team was made up of Charles Collier, Ted Davis, Kevin Smith, Travis Cannon, Will Bailey, Alan Childers, Mike Cook, Kim Cook, and Steve himself. The end result is what you see displayed before you.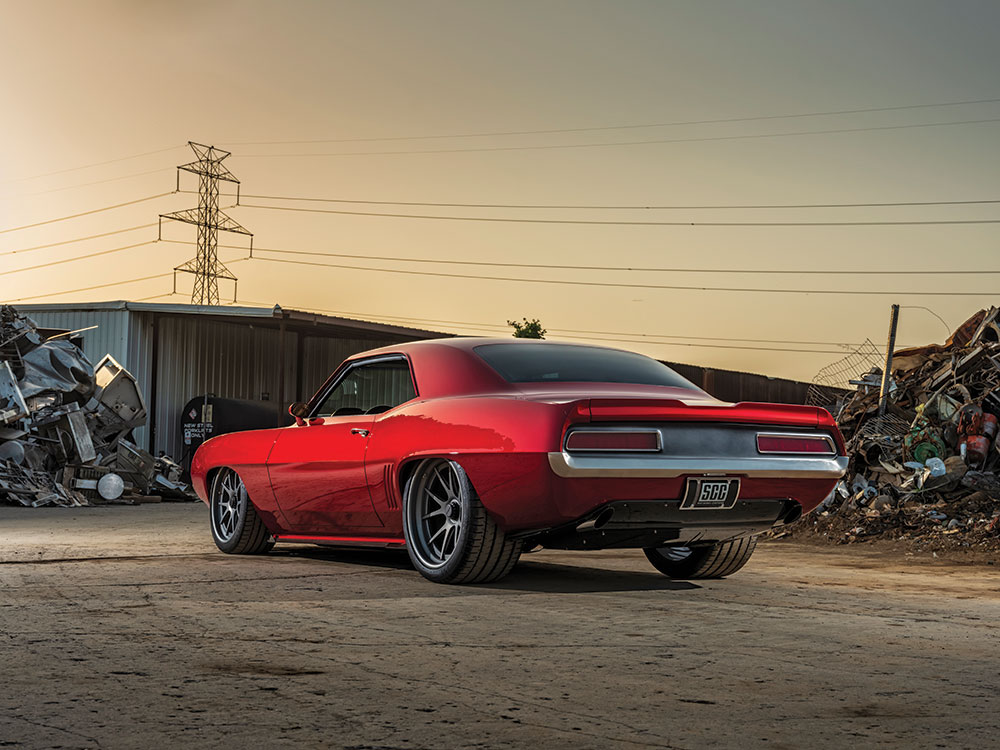 Turns out, Tim is a dirt track race car owner and wanted something that would give him the performance that he's accustomed to, but at the same time would be stylish and perform. After speaking with Steve Cook, they came to the conclusion it was time to commence producing plenty of "rumble from within" and make sure that this 1969 Camaro rode and handled like a modern-day supercar.
Read More: Supercharged 1969 Camaro
To produce all of that rumble from within this ride was going to need an intoxicating V-8 and a chassis to "hold it." Making sure all of that horsepower got to the ground and the drive was everything it should be, the motorvation came by way of Don Hardy Race Cars (DHR). DHR stroked an LS3 to a forceful 418 cubes, and crowned it with aluminum heads capped with Clayton Machine Works valve covers from Lokar. Sporting 10.8:1 compression, and a custom-grind DHR cam, the use of ARP hardware to keep all those big-ticket components tightly packaged. Lastly, all the reciprocating elements were painstakingly balanced by DHR.
Providing the air/fuel mixture is a Holley Terminator EFI system, a Lokar throttle cable, a Holley fuel pump, Earl's Performance Plumbing hardware, and an SCC fabricated dirt track-styled air cleaner with a K&N element. Following up is an MSD ignition, coil, and plug wires to fire the fuel delivered from the Tanks gas tank; an ATI Super Damper harmonic balancer is also engaged. More engine accessories include the smoothed aluminum Edelbrock water pump, a 16-inch electric SPAL fan, a 175-amp Vintage Air alternator, a Powermaster starter, and a DHR engine oil cooler.
Read More: 1969 Camaro Powered by a 625hp LS3
The spent gasses exit via Detroit Speed & Engineering (DSE) stainless steel headers through 3-inch stainless tubing flowing rearward to and through a pair of MagnaFlow mufflers all buttoned up with Vibrant Performance exhaust clamps. The entire exhaust system is polished from the header plates to the tailpipe tips by the skillfully run buffers at Advanced Plating. Portions of the exhaust are wrapped with Design Engineering extreme temp material to prevent the body from damage caused by high heat.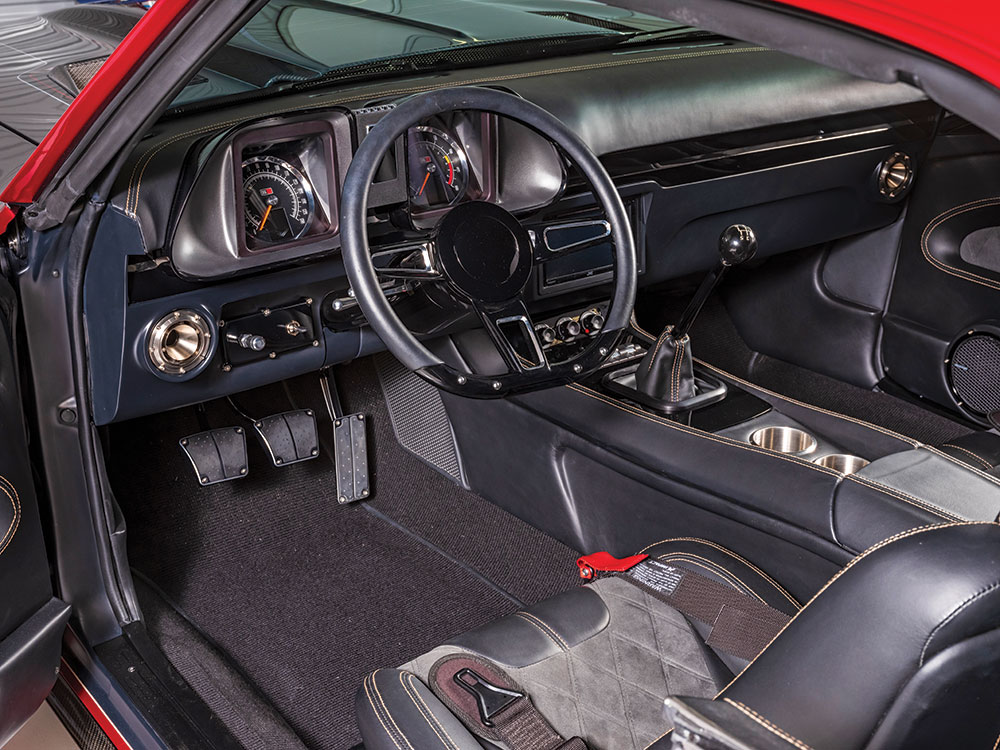 What does all this get you? How about 621 rear-wheel horsepower. Fastened up to it is a TREMEC TKO 600 5-speed manual transmission, with a McLeod clutch inducing the power rearward, to the prepped Strange Engineering Posi 12-bolt rear end supplied with 4.10 gears and axles. AMSOIL received the nod for the appropriate fluids, such as the engine, transmission, power steering, brake, and rear end.
Read More: Obnoxiously Awesome
The chassis comes by way of DSE with their hydroformed subframe including frame rails, stamped crossmembers, tubular upper and lower control arms, "Detroit Tuned" valving DSE/JRi adjustable coilover shocks, Torrington bearings, and antiroll bar. The steering is another DSE component, with a power rack-and-pinion operated through a Flaming River steering shaft and U-joints. Also supplied were DSE forged spindles that gather up the Baer, drilled and slotted, 14-inch rotors along with six-piston calipers, all pressed into service through a Baer master cylinder. In back, the DSE QUADRALink suspension is set up to work with DSE mini-tubs. As part of the QUADRALink there are Swivel-Links, along with high durometer rubber bushings, which allows for adjustable pinion angle and/or the wheelbase without unbolting the link from the car. Long upper control arms are supplied, along with a longer Panhard bar and DSE/JRi coilover shocks are engaged, as in front. You will also find additional Baer 14-inch drilled-and-slotted rotors in the rear, again with six-piston calipers.
Suspending this ultimate performance chassis is a set of Forgeline GA3C-SL 19×10 and 20×12 wheels with Michelin Pilot 275/35ZR19 and 335/30ZR20 high-performance radial rubber. The GA3C wheel is a custom made-to-order three-piece wheel that's produced from forged 6061-T6 aluminum centers with heat-treated rim-shells fitted with center lock application.
The 1969 Camaro was a one-year only design that featured new sheet metal with the exception of the hood and trunk lid. For "our" 1969 Camaro there are many, some obvious and some subtle, changes to the once-stock sheet metal. Let's start by looking at the windshield and backlight that are now flush mounted, leading to tucked drip rails. The rear bumper was flipped to match the contour of the front bumper and both were shaved and tucked to fit snugly to the body. The engine compartment and firewall were also reshaped while Steve fabricated the one-off aluminum grille that blends with the headlights.
The carbon-fiber hood comes from Anvil Auto with extractor scoops embedded and is triggered by a pair of Billet Specialties hinges. Anvil Auto also received the nod for the carbon-fiber header and cowl panels, and front and rear spoilers, but all were modified at the hands of the SCC crew. The front spoiler has the Marquez Design parking lamps moved outboard allowing for a fresh air scoop to rest in the middle, the space once occupied by a license plate. It rests just below the SCC custom aluminum grille and it and the bumpers are brushed nickel plated by Advanced Plating.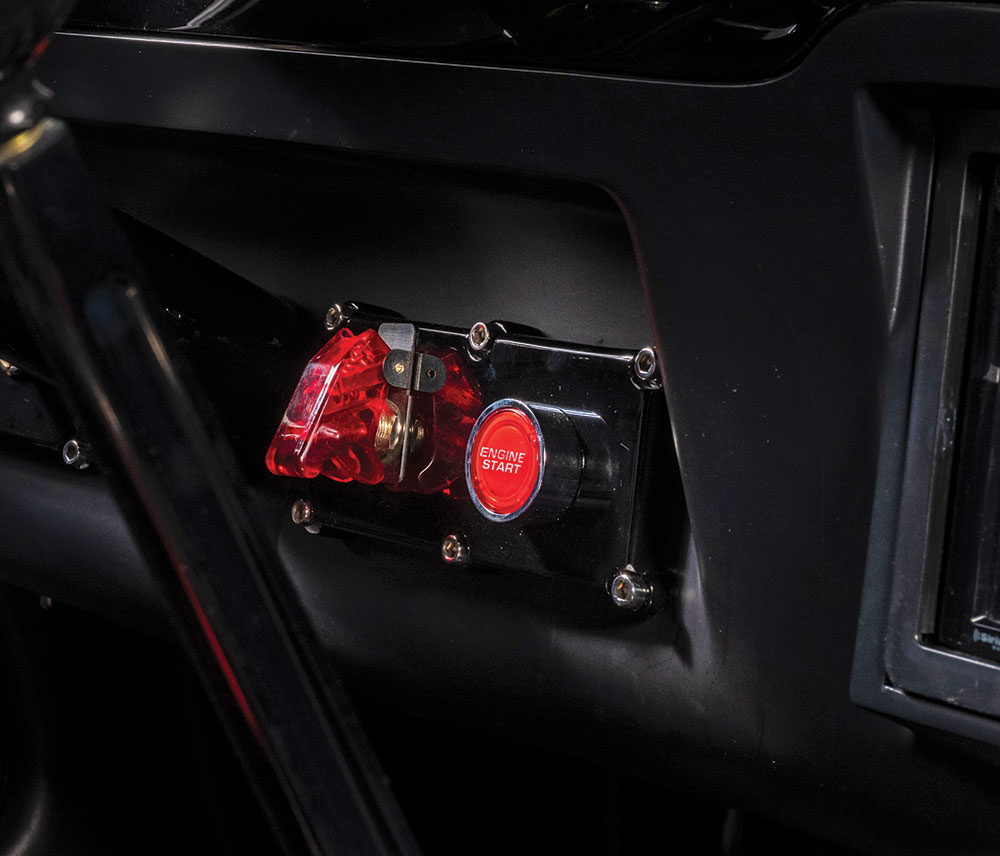 The rear spoiler is frenched into the decklid, while there are custom carbon-fiber side skirts (Alan Childers at SCC came up with the idea, while Steve Cook and Ted Davis Enterprises made it happen) to give the car an even lower ride appearance. If you look closely you will also note that the Marquez Design taillights mounted directly beneath the rear spoiler are also flush mounted on the body, more handiwork fittingly handled by Childers. In fact, all of the bodywork was handled at SCC by Childers—and that was no small feat. Steve loaded his spray gun and applied the Axalta primer then followed with a tri-stage custom mix Candy Red Pearl. Additional color comes by way of charcoal and black panels with red and silver pinstripes.
Inside the first thing you may notice is the SCC custom-fabricated dashboard, including a leather dash cap and Dakota Digital 1969 Camaro gauges with custom logo and colors. There's also a Vintage Air SureFit AC with Restomod air registers built into the dash while all of the electric is handled by an American Autowire Highway 22 Plus universal wiring system; again the work was handled at SCC. Watson's StreetWorks was handed the go ahead for the switches, while Kicker was looked to for the stereo arrangement. There's also a Flaming River steering column that's topped with a Billet Specialties D-shaped collection 14-inch black anodized Formula series wheel. The pedal ensemble comes by way of Clayton Machine Works by Lokar and operates the throttle, brake, and clutch tasks.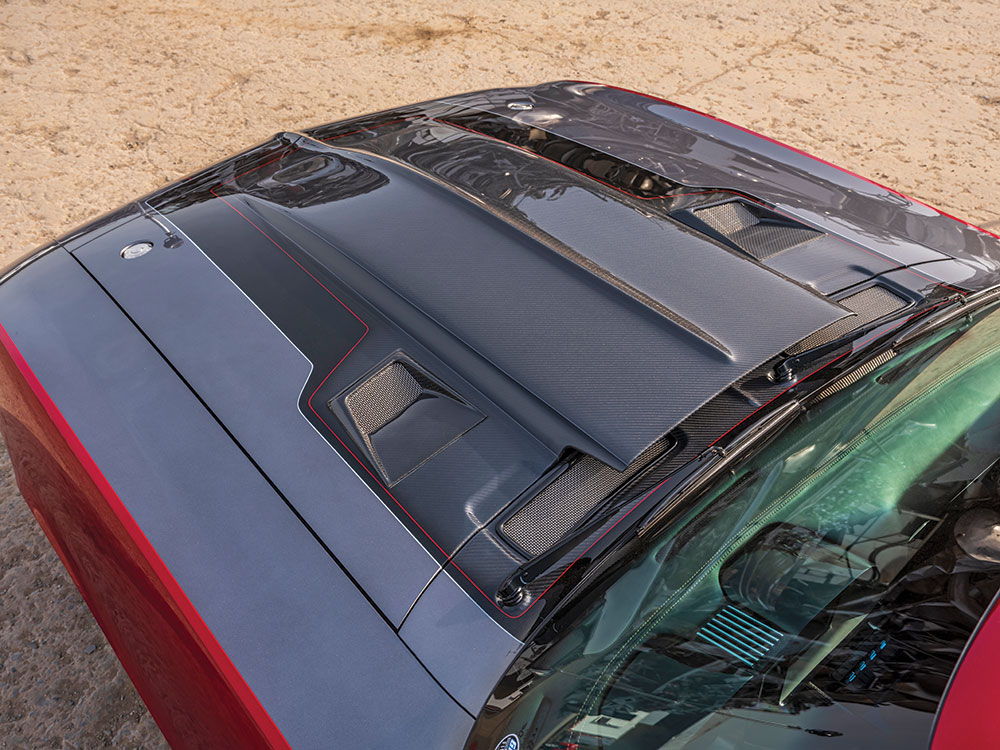 Both the front and back seating are 1969 Camaro reworked by Gabe Lopez of Gabe's Custom Interiors. He stitched the seating in black leather with tan piping and gray suede inserts, while more black leather was used for the headliner, and the black carpeting is a German square weave. The seats are accessorized with Impact 2-inch wide black two-point seatbelts and Steele Rubber Products was given the go for all of the rubber seals.
Well, there you have it. When it comes to the 1969 Camaro, one of the iconic hot rods of all time, this Bowtie belonging to Tim and Angie Wheeler was "built to perfection." MR