Bob Johnson's 1936 Ford Roadster has a Long List of Accomplishments, Making This its Crowning Glory
By Brian Brennan – Photography By John Jackson – Illustrations By E. Black Design
This '36 Ford roadster shouldn't come as a surprise to anyone who has watched the world of hot rodding over the past several years. It has taken home such awards as the America's Most Beautiful Roadster, Goodguys Most Beautiful Street Rod, and the SEMA Ford Design Award. Now this '36 Ford roadster can add the Triple Crown of Rodding Best Street Rod winner to its lofty list of accolades.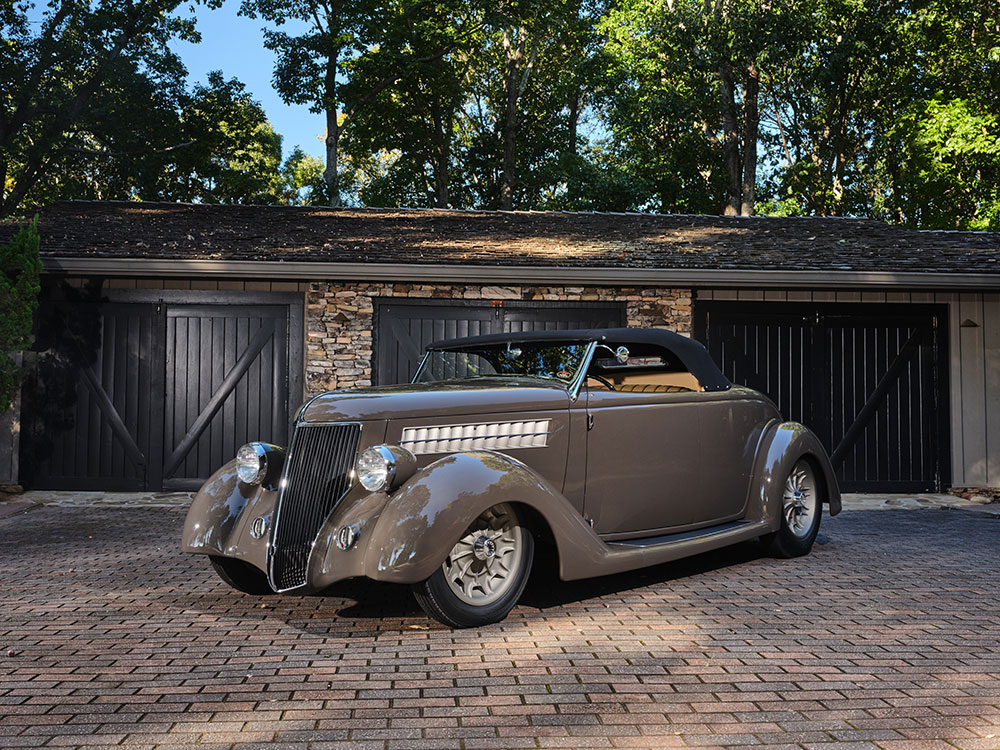 Fabricated at Pinkee's Rod Shop in Windsor, Colorado, under the direction of Eric Peratt, it was originally built for George Poteet of Tennessee where, until recently, this was the roadster's home. Not long ago Poteet and current owner Bob Johnson were talking about all things hot rods when the conversation began to revolve around their personal rides, with the inevitable question surfacing. "Is that car for sale?" Poteet and Bob had zeroed in on the '36 Ford roadster and the rest, as they say, is history.
When we asked Bob, "What made you want this roadster?" He replied, "I've always been a big fan of the '35 and '36 Ford 3-window coupes and roadsters." There's no denying that this '36 Ford roadster is something special. Bob also knew that the roadster drove as well as it looked, making it another reason to own this piece of rodding history.
There's no denying that Peratt and his crew did an amazing job in furthering an already-immensely well-designed car. It's been reported there were an astounding 20,000 hours in the construction of this roadster spread over eight years at Pinkee's.
The roadster is frequently referred to as the "3 Penny Roadster." Why? Well, the often-used moniker comes from a story Poteet tells about his youth. The PPG Chocolate Milk custom color used on the roadster is the foundation of the car's name. Turns out Poteet and his sister would save up 3 cents to purchase chocolate milk in the school cafeteria. Look closely and you will see three original 1936 copper pennies implanted into the rear license area nameplate.
Read More: Brownstone Roadster: '32 Ford Roadster With SoCal Style
While the original '36 Ford roadster is based on a 112-inch wheelbase, at Pinkee's an additional 3 inches were added, making the new wheelbase 115 inches. This is based on the radius-formed 10-gauge steel frame rails with more handmade items in the beaded aluminum belly pans and faux firewall.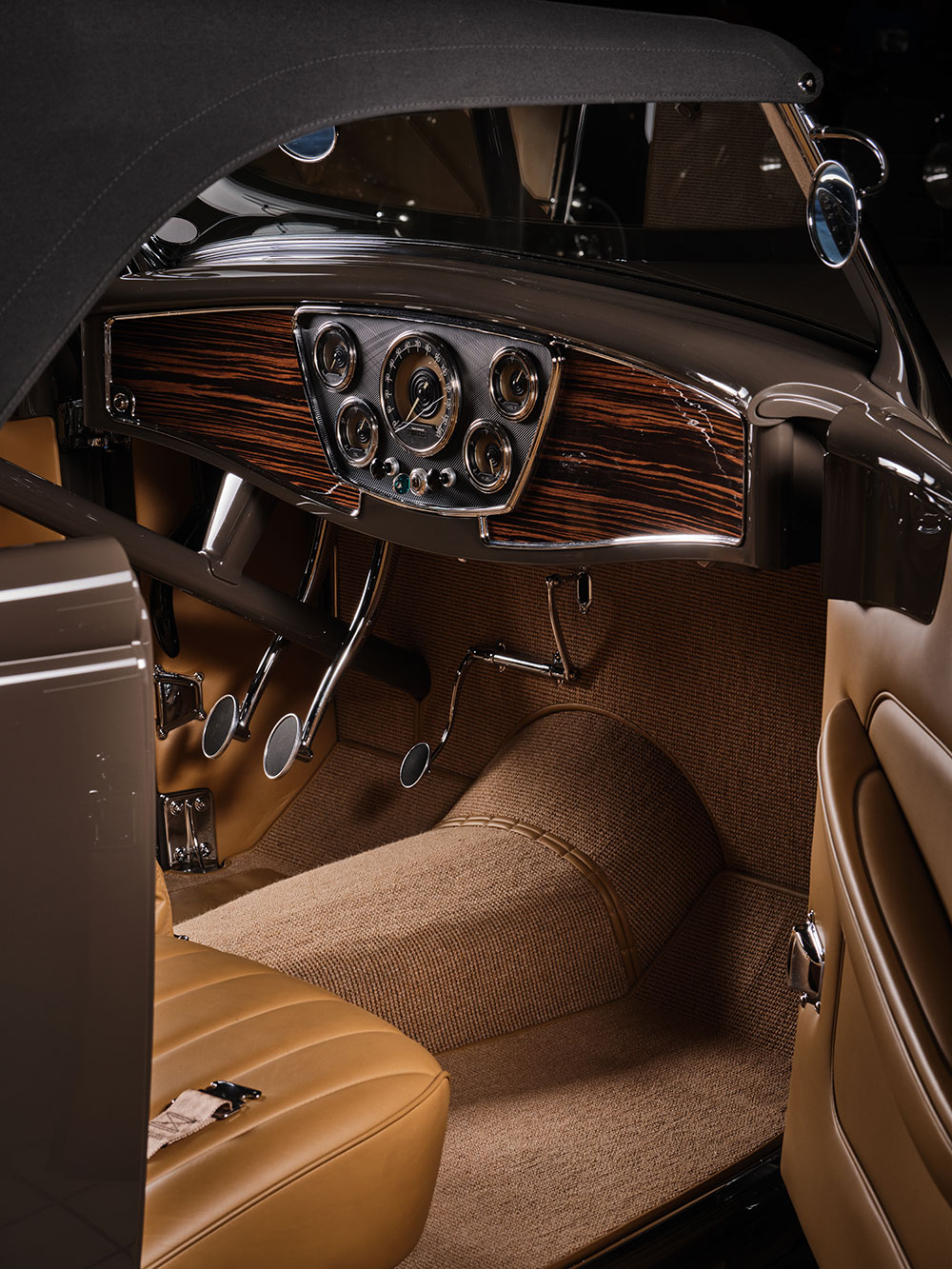 From here a Heidts Independent Front Suspension with rack-and-pinion steering operates the 2-inch drop spindles that lead out to the Wilwood brakes attached via Pinkee's machined brackets. From here Strange Engineering coilovers and a custom sway bar can be found tucked neatly to the front crossmember. More independent suspension is used this time, the Independent Rear Suspension is based on a Winters quick-change rear end that runs a 3.73 primary gear with power parsed out by a Truetrac limited-slip differential, more Strange Engineering coilovers and Wilwood discs, and Dutchman axles. The brake system, which was originally 12-inch mechanical drums, is now based on a Wilwood master cylinder with Pinkee's own cantilever pedal arrangement. The chassis rolls around on one-off custom billet wheels from the CNC equipment operated by Mike Curtis at Curtis Speed Equipment, after Erick Black of e. Black Design, turned over the blueprint. (Black also handled much of the design/artwork throughout the project and particularly what is seen within this article.) Once finished, the wheels were covered with Cerakote finish by Colorado Gun Cleaners. The 17×4 front wheels are mounted to 4.00-17 Excelsior/Coker radials with the 18×5.5 rears wrapped with more Excelsior/Coker rubber, this time 7.00-18.
In doing our diligence we found contributor Ken Gross has written much on the topic, so we thought a small quote was proper: "Ford Motor Company cleaned up and mildly modernized its '35 designs for the '36 model year. The bodies stayed basically the same, but the front end for the '36 was redesigned, the hood louvers were reshaped to be more efficient, and the rear fenders were slightly altered. The Type 710 DeLuxe roadster, the least-expensive car in the Ford lineup, was $560 new."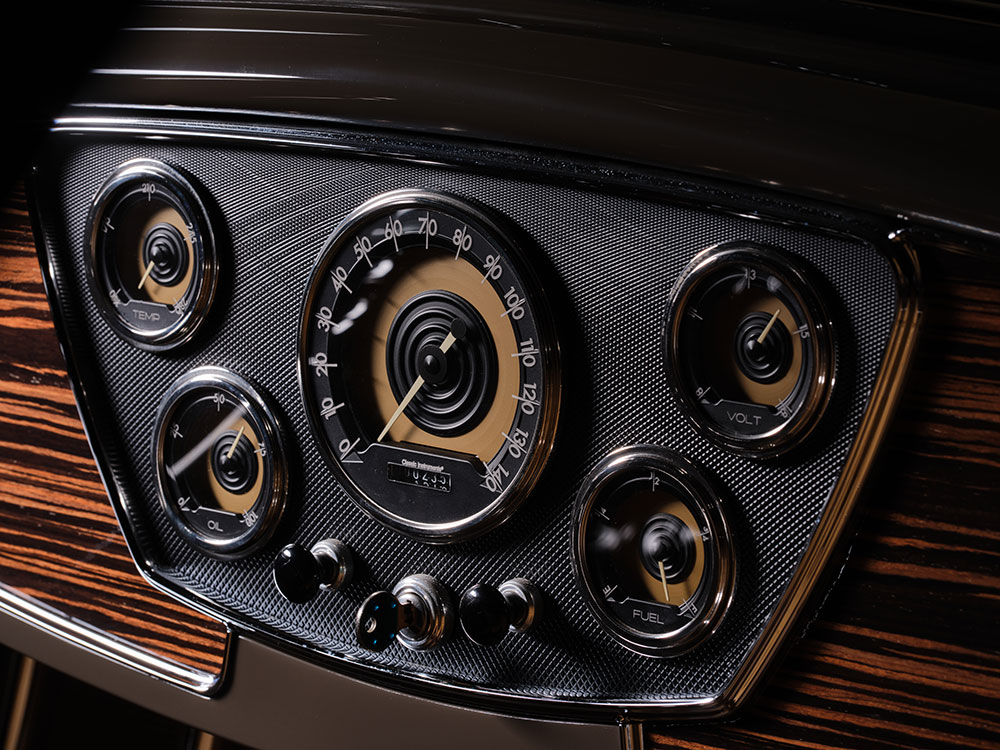 Originally the Ford design had its foundation in what was called the Streamline Moderne, which is an international style of Art Deco architecture and design that came about in the '30s. The design had its emphasis on supply curves and long lines. Peratt took this original design and expanded from here but all the time paying attention to what he had to work with was a design masterpiece. Did we mention that Peratt oversaw the making of 300-plus custom pieces used on the roadster?
Read More: Reimagined 1932 Ford Roadster Pickup
Upon closer inspection one will note that headlight buckets were shrunk and are accented by custom-made bezels and horn grilles to accept the now popular 7-inch headlights. The staff at Pinkee's continued their expert metalwork by making the four-piece hood (with piano hinges) to accommodate the laidback grille shell that was stretched to maintain the stock hood length. It should be noted that more custom one-off work from Pinkee's includes machined windshield posts that are laid back 10 degrees with a 2-1/2-inch chopped windshield, a custom four-piece hood with two-piece center hinge, custom cowl vent screen, machined tail light lenses, and the exposed deck lid hinges. Pinkee's also performs their own CNC machining via their in-house specialist on such matters, Thomas Kearney of Leading Edge Machining.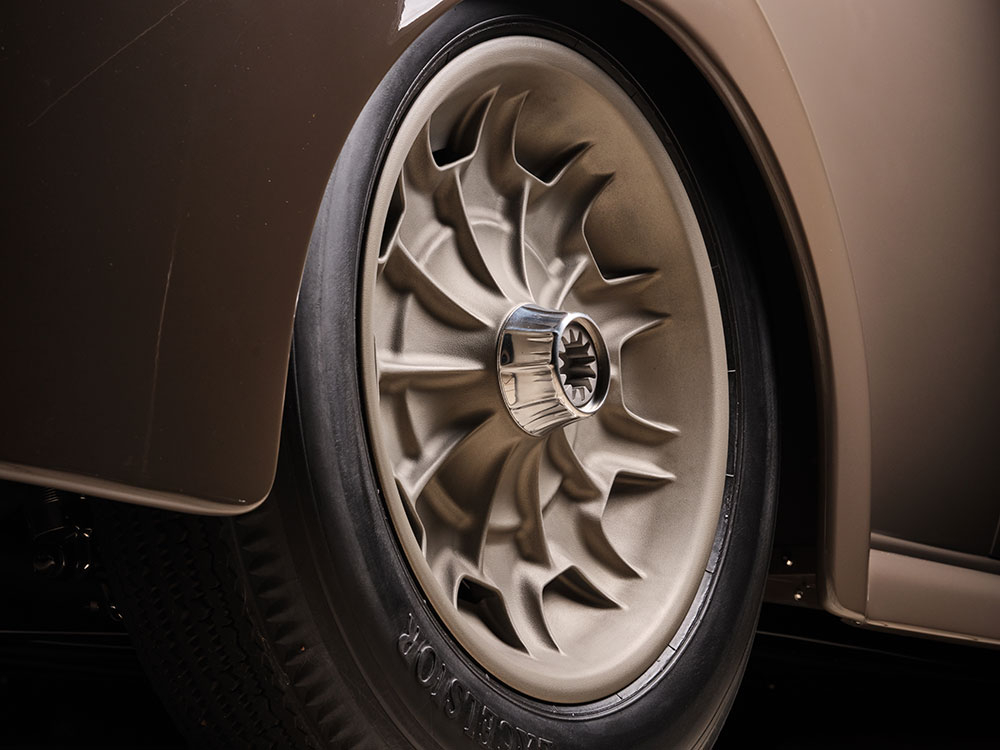 In the continuation of the Streamline Moderne design, note the subconscious styling cues to the hood sides and the sunken and machined running boards. From here Peratt's staff then made the built-from-scratch roadster doors; note the bodyline is no longer present in the lower door area but now on the rocker panels. The trunk lid features a custom flip gas filler cap that leads to the custom gas tank.
Once the copious amounts of sheet metal fabrication and bodywork were complete then it was off to the body shop at Pinkee's where Clay Deen, Scott Christensen, and Joe Hickey formed the trip of painters who expertly sprayed on the PPG Chocolate Milk paint. As with any top-of-the-line paint job it never ends here. Color sanding and final rub out was done with custom-machined sanding blocks with final polishing and waxing falling to Rupes products. From here the brightwork was left to the Sherm's Custom Plating who have done numerous award-winning hot rods over the years.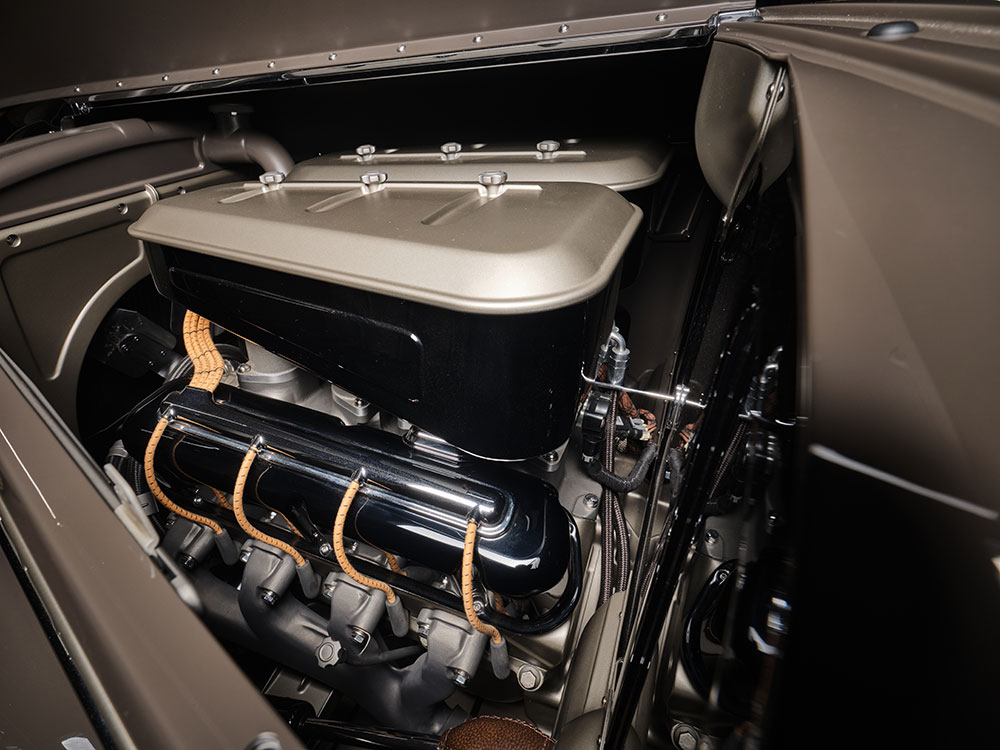 We mentioned earlier that this is one hot rod that looks good but also runs very well. We should also note that it sounds like one, too! Originally the '36 Ford roadster came with a 221-inch Flathead engine that came in either 90 or 85 hp and a single Stromberg dual-downdraft carburetor. Well, times have changed. Under the hood is home to the heart and soul of any hot rod and the '36 Ford roadster here is no different. Its power is based on a 351 Windsor engine machined by AMS and built by Jesser Automotive with a Tremec TKO 600 5-speed manual transmission backed up to it. Dressing up and providing plenty of punch is the Autotrend EFI that "wears" machined airboxes that cover the Borla eight-stack. From here the V8 features machined valve covers, and spark plug looks, upper and lower radiator tanks, fan shroud, cast bullnose, and machined grille trim with upper detail. More of Pinkee's machined billet aluminum can be seen in the valve covers on the aluminum Edelbrock heads to machined billet upper and lower tanks and fan shroud for a custom radiator. All the underhood parts as well as the engine are also coated in Cerakote. Remember how we mentioned the frame rails were curved, well the stainless steel exhaust system follows this "movement" matching up to never-rust stainless steel mufflers.
Read More: Building The Ultimate 1932 Ford Roadster Custom Frame
Moving to the interior we are now looking at the designs of e. Black Design and the deft touch of Sid Chavers. From here Sid Chavers Upholstery began with a custom-built bench/bucket split seat combo mounted onto Pinkee's machined billet seat tracks. Chavers then used Relicate leather in Walnut Shell along with hand-laced eight-braided leather for the door pulls, full length armrests, and the chrome vintage MG-style exposed latches. Beneath the German square-weave wool carpeting is sound damping material from Vibro Solutions in a foil-backed jute. Chavers then wrapped the outer steering wheel rim in leather once Pinkee's had produced the one-off four-spoke wheel. Instrumentation comes from the custom shop at Classic Instruments with the gauges then laid in the radius-cut crosshatched cluster that resides within a Macassar ebony veneer inlaid over a machined billet aluminum dash. More work from the combination of Pinkee's and Shavers is the folding top. It is made from stainless steel and wood bows and chopped 2-1/2 inches to correspond to the cutdown windshield. The top bows were then covered in Haartz Stayfast square-weave cloth topping. A Chavers Cool Slot provides the flow-through ventilation via the rear opening glass.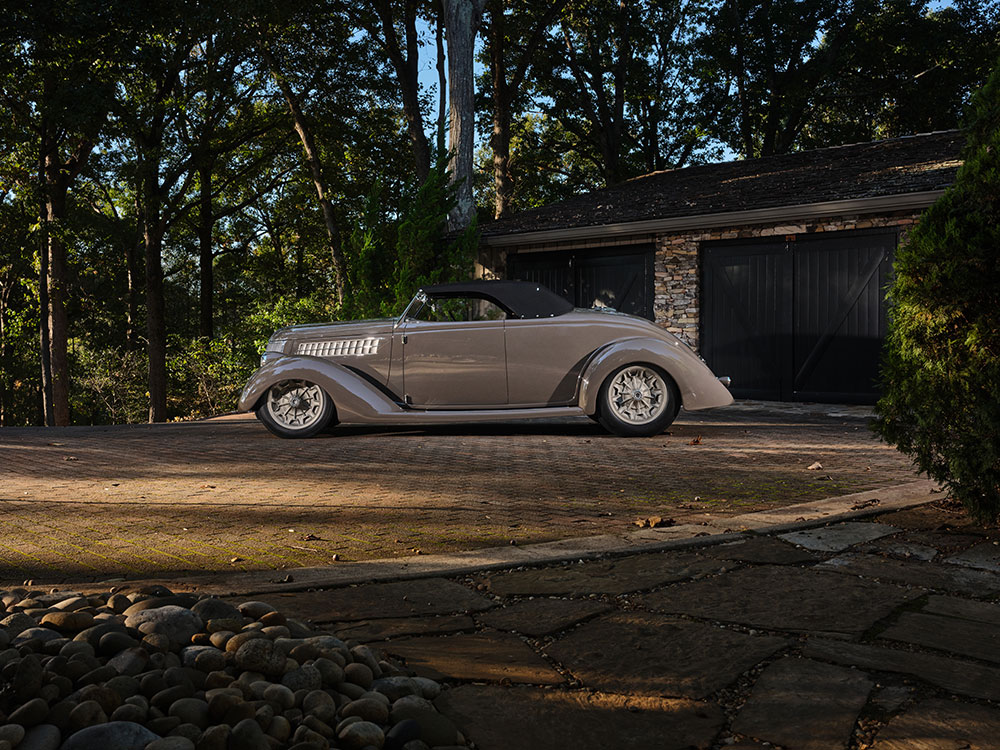 Well, there you have it. As far as roadsters go this must be one of the most thoroughly thought-out builds to have come along in some time. And, apparently, there are many others who feel the same way given the many awards this roadster has brought home. MR