Hellcat Swapped 1970 Plymouth Sport Satellite From The Dufords
By Brian Brennan – Photography by John Jackson
All good things come in time, such as this 1970 Plymouth Sport Satellite belonging to Mike and Judy Duford. The Dufords have owned this once-untouched Mopar since 1973 and, in fact, Mike dated Judy in this very ride.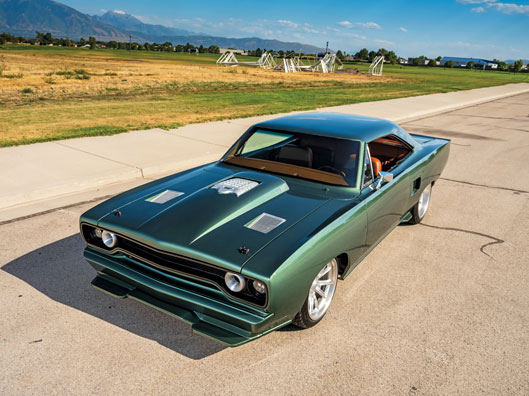 Over time Mike wanted to have a custom hot rod and in doing so his path crossed with Randy Weaver of Weaver Customs (WC) in West Jordan, Utah. The Dufords are no strangers to cutting-edge Mopars, as one only has to think back to the 1970 Plymouth 'Cuda nicknamed "TorC." The Putty Gray with black trim 'Cuda looked like an extremely well-done vintage muscle car but the real "soul" of this ride came from the Cummins 6.7 turbo diesel that rested underneath the hood and produced some 1,500 rear-wheel horsepower. Now, that's a muscle car! But that was then and this is now and the 1970 Plymouth Sport Satellite is the latest from both the Dufords and Weaver Customs.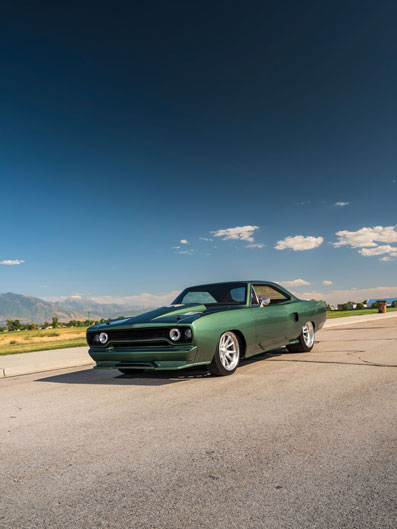 Hellcat-Swapped Plymouth – A Little Background
The Plymouth Satellite was introduced in 1965 as the top trim model of Plymouth's "B" platform Belvedere line. The 1970 Plymouth Sport Satellite is the second-generation (1968-1970) model equipped with six engine options (318 being standard in 1968) ranging from the 273 cubic inch to the very stout 440 cubic inch V8 accompanied by three transmission options. The Sport Satellite featured the same blacked-out grille as seen on the Plymouth Road Runner while the regular Satellite had the traditional Belvedere grille.
Read More: 1935 Plymouth Is One of a Kind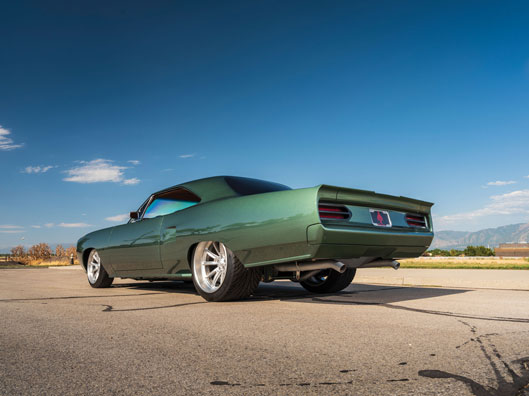 More About Today
In today's factory muscle car "wars" there's no questioning the potency of the Dodge Charger Hellcat V8 supercharged engine with its 700-plus horsepower, thus making it the perfect addition to any of the '60s-'70s Vintage Mopar muscle rides. Such is the case for Mike's 1970 Plymouth Sport Satellite with a modern supercharged 6.2 l hemi srt hellcat v8 engine that's now making upwards of 900 hp (and 850 lb-ft of torque) thanks to a little massaging through larger injectors, modified fuel pump, air cleaner, SPAL electric fan, and a custom 3-inch exhaust run through Flowmaster mufflers.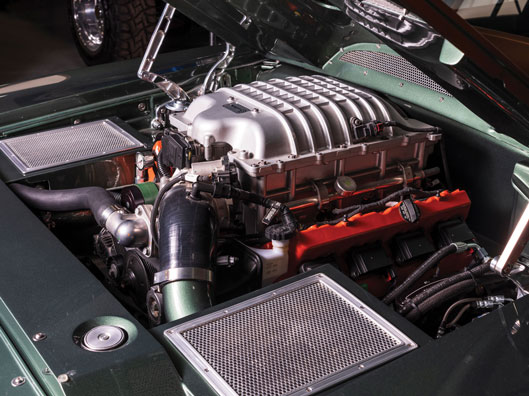 All of this power is bolted to a TREMEC Magnum T56 six-speed with a McLeod flywheel, dual disc clutch, and a Weaver Customs machined shifter. Interestingly, as large as the engine compartments were in the Mopar muscle car era, the hand-fabricated hood shows off a full-length dome and a stylized relief cut into the hood acknowledging the required room for the supercharger to fit within the engine room limitations. Added to the hood are also two honeycomb mesh panels that serve as hot air vents releasing underhood temps.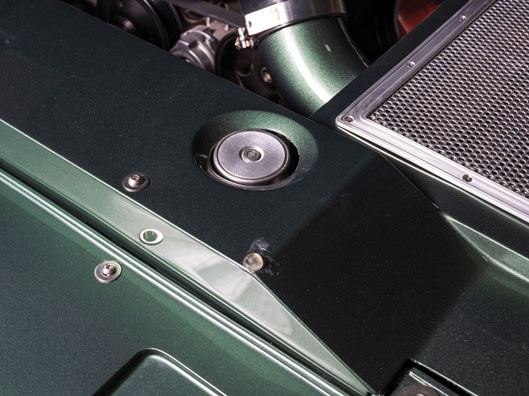 A tip of the cap goes to the old-school hood pins that retain the hood during its runs up and down the highway and byways leading to and from rodding events. The 1970 Plymouth Sport Satellite is no stranger to events or awards, having taken home Best of Show at Hot August Nights, Outstanding Handbuilt Custom at the Salt Lake City ISCA Show, and one of Utah's Top 10 awards also at the SLC ISCA Show in 2020.
The custom metalwork doesn't stop here. Carlos Delgado (bodywork) and Holden Jung (metalwork) both work at Weaver Custom and were an integral part of the team for both the obvious and not-so obvious metalwork on the steel-bodied Plymouth Satellite.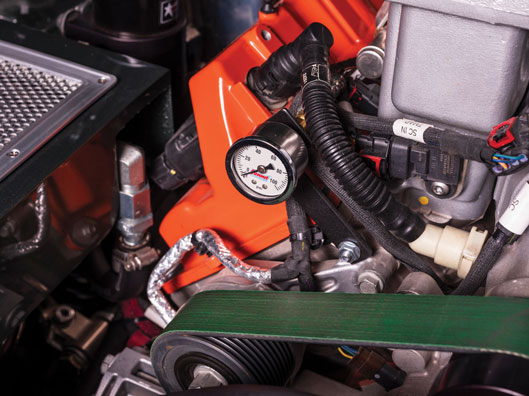 Other craftsmanship touches include the fabricated front splitter grille treatment (blacked out) bookended by two brushed metal air intakes plus a pair of round LED headlights, the hood, smoothed cowl, flush mount glass, driprails, shaved door handles, fabricated rocker panels with flares, brake ducts, trunk spoiler, flush fit taillights, roll pan, and bumpers front and rear. Sprayed over the Weaver Customs sheetmetal work is more WC handiwork in the form of Axalta custom-mix pearl green paint.
All of this power and craftsmanship rests on a custom chassis fabricated at WC utilizing Scott's Hotrods 'N Customs' IFS and four-link rear suspension wrapped around a Ford 9-inch with 3.70 gears and 35-spline axles. Accessories you can find on the Scott's-equipped suspension are Wilwood ProSpindles and Wilwood six piston calipers in front and four-piston in back with drilled-and-slotted rotors at the corners, RideTech coilovers, front sway bar, and rack-and-pinion twisted into service by an ididit steering column.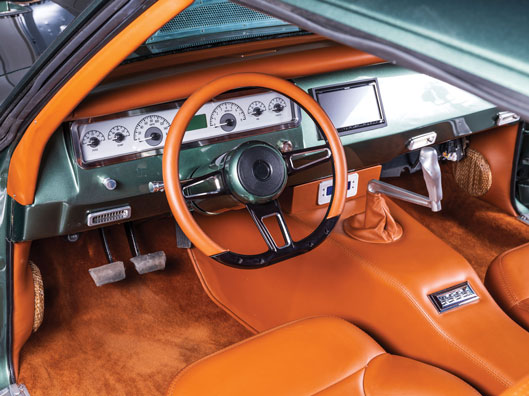 The Scott's Hotrods rear four-link setup also features a watt's link setup. The braking is pressed into use by a Wilwood master cylinder and a modified factory pedal assembly. The EVOD industries brushed alloy wheels measure 18×9 in front and 20×15 in back with Mickey Thompson Sportsman S/R massive rubber in 26×9.00R18 and 29×15.00R20. Providing a "home" for this expanse of rubber and wheel are WC-fabricated wheeltubs measuring 32 inches long and 18 inches wide.
Check Out: There's Nothing Around Like This 1969 Dodge Super Bee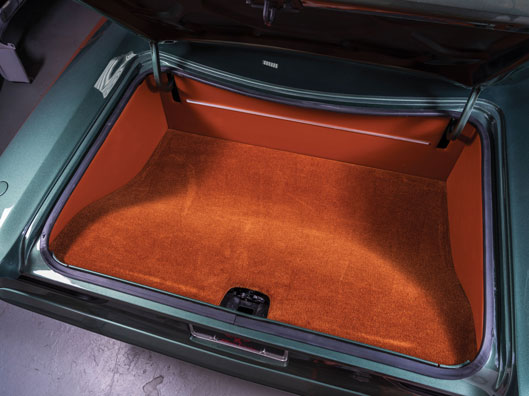 Inside is more performance and comfort. The WC sheetmetal dash is wrapped in tan leather as is all of the seating. The dash is equipped with a six-gauge Dakota Digital assembly. The ididit steering column is topped with a Billet Specialties leather-wrapped and metal-accented wheel while the floor-mounted shifter is reminiscent of the '60s-era Mopar pistol grip—what did you expect! The bottom of the dash features a lower panel that houses the custom A/C ducts while the power window controls are center console mounted. The wiring, while handled by WC, is based on an American Autowire Highway 22 Plus system that ties together all of the car's electrical needs, which begins at a  trunk-mounted Optima battery. The seating is covered in a tan-colored Hyde's leather over modified Corbeau bucket seats in front and the modified factory bench/bucket seat rear combo all by JS Custom Interiors.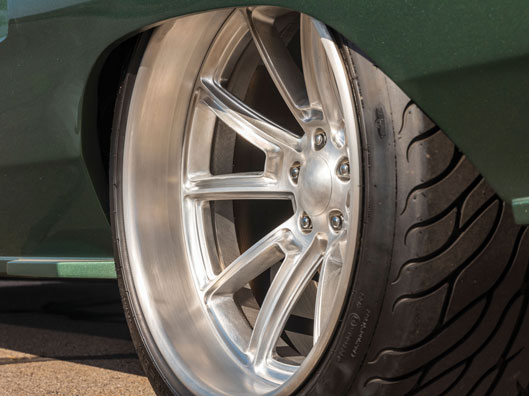 The 1970 Plymouth Sport Satellite is one more example of the Dufords love of the Mopar marque and WC fabricating skills. Enjoy. MR