Ryan's Rod and Kustom Amazing 1978 Pontiac Trans Am
By Brian Brennan   –   Photography By John Jackson
A self-proclaimed and unabashed fan of the 1977 movie Smokey and The Bandit, Chris Ryan of Ryan's Rod & Kustom, located in South Carolina, proudly admits watching it upwards of 10,000 times. (Well, maybe not literally but a lot.) The idea behind building this 1978 Pontiac Trans Am was to end up with a fun shop car that could do "some really epic" burnouts. Growing up in the '70s and '80s Chris enjoyed the '70s muscle car look, particularly the Trans Am body style.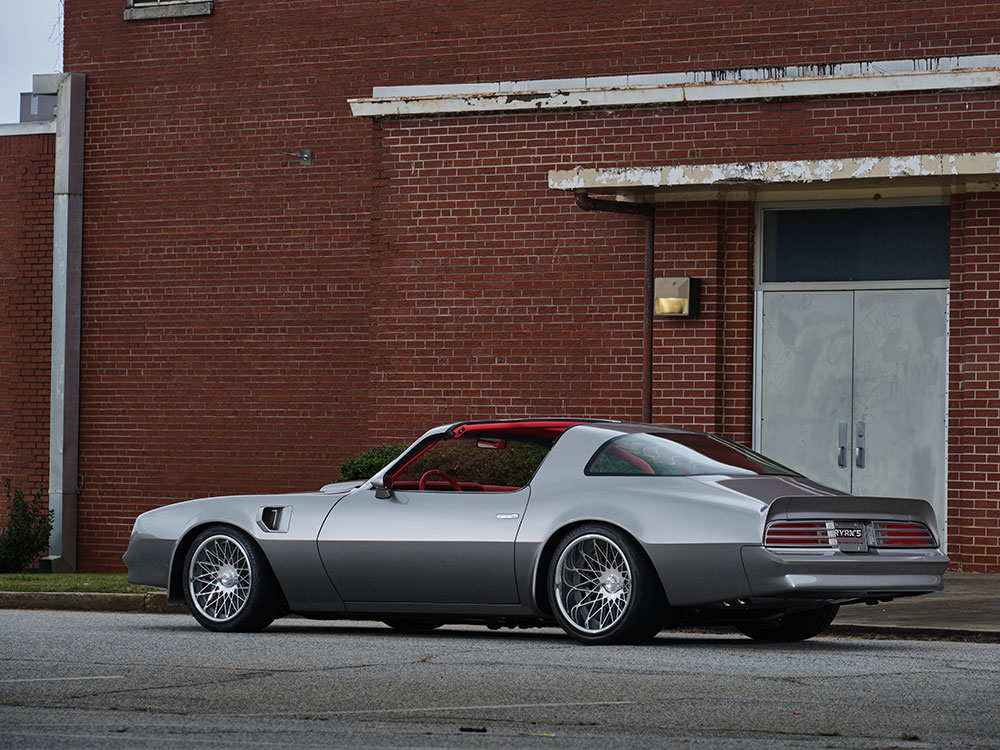 It should also be noted that one of Chris' talented staff was overheard saying, "Bullsh*t Boss, we all know where this is gonna end up." Chris freely admits from the onset that the build began to take on a serious note. To give you an idea how far Chris jumped off the "pier," let's look at a simple and common modification. He asked one of this shop staff to cut, reshape, and fit the rear bumper–five times! Well, everyone knew where this Pontiac Firebird Trans Am was going to end and that would be the Trans Am of all Trans Ams.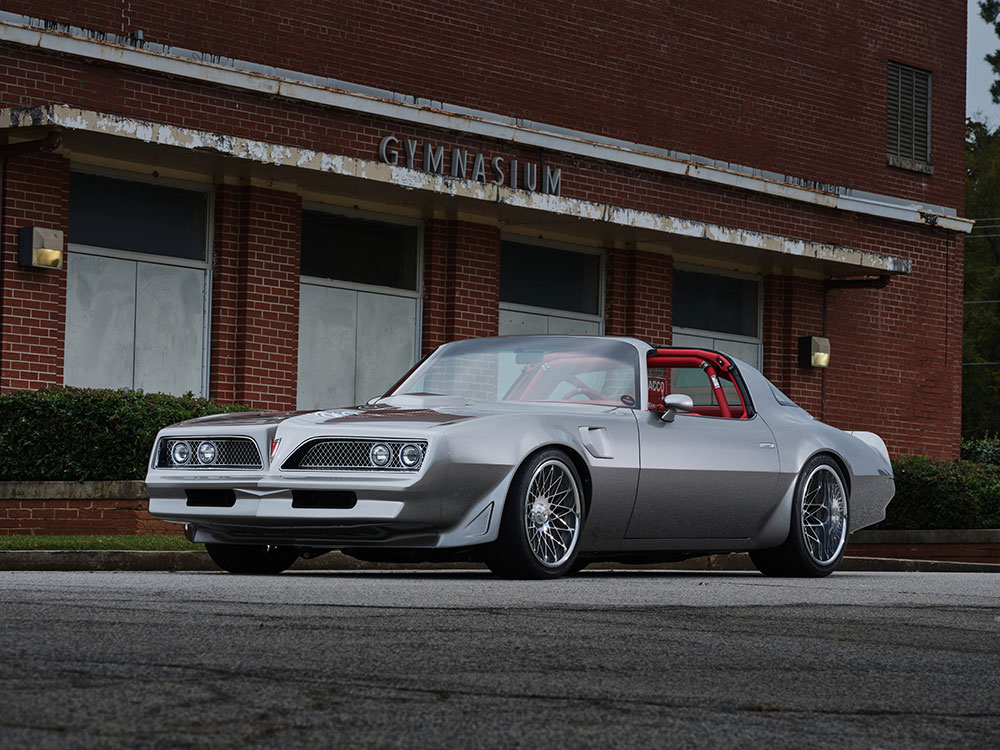 It should be noted that Chris and his staff are no strangers to building amazing-looking customs and other hot rods. Jack Walker, a close friend and hall of fame builder, once told Chris, "If you can walk from the back of the car to the front and nothing makes you stop and question it, then you got it right."
Read More: Lowest Trim With Highest Honor, 1958 Chevy Yeoman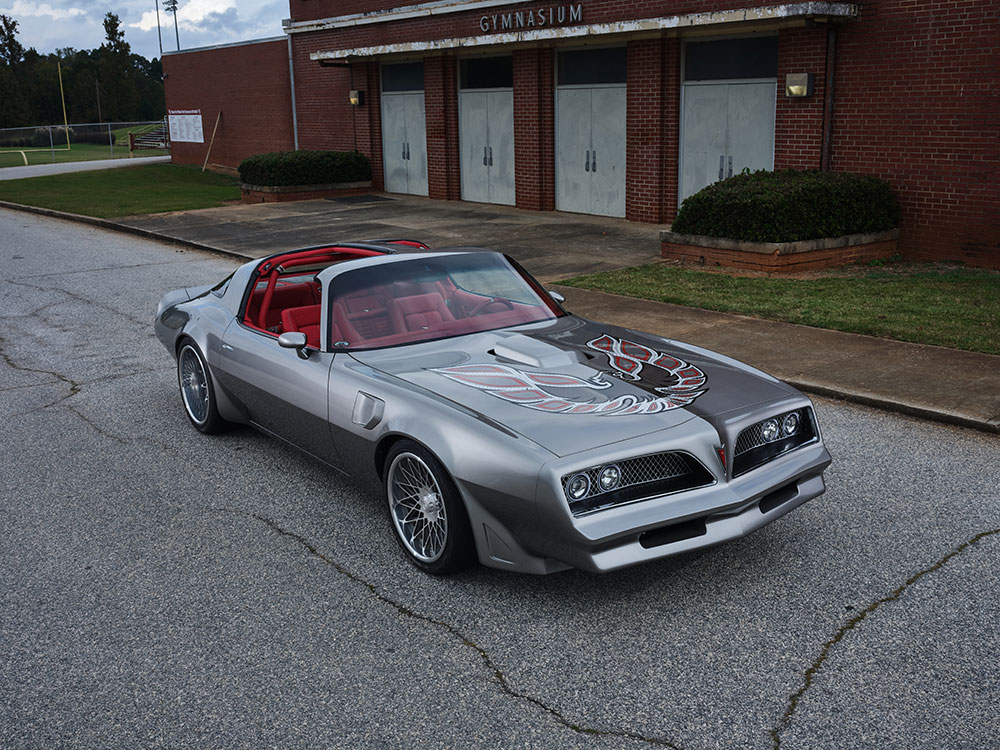 Let's "walk" around the Firebird Trans Am via our photos, noting what we think. What were once plastic (or fiberglass) flares were replaced with freshly minted sheet metal by the Ryan's Rod & Kustom staff that were welded to the fenders.
Remember this was the era of square/rectangular headlights. The Trans Am stocker lighting was replaced with modern halogen that are now encapsulated with LED halos for park and turn signal functions nestled within the custom aluminum grilles from Alumicraft. Remember those Firebird fender vents? They were retained but refined and fitted with a custom wire mesh like what we see in the reworked shaker hood scoop. The windshield and the surrounding area underwent significant mods while the A-pillar was reshaped and the bottom of the windshield was moved toward the hood, thus closing the gap normally occupied by the wipers. The front and rear glass are both Fessler flush-mounted DOT units.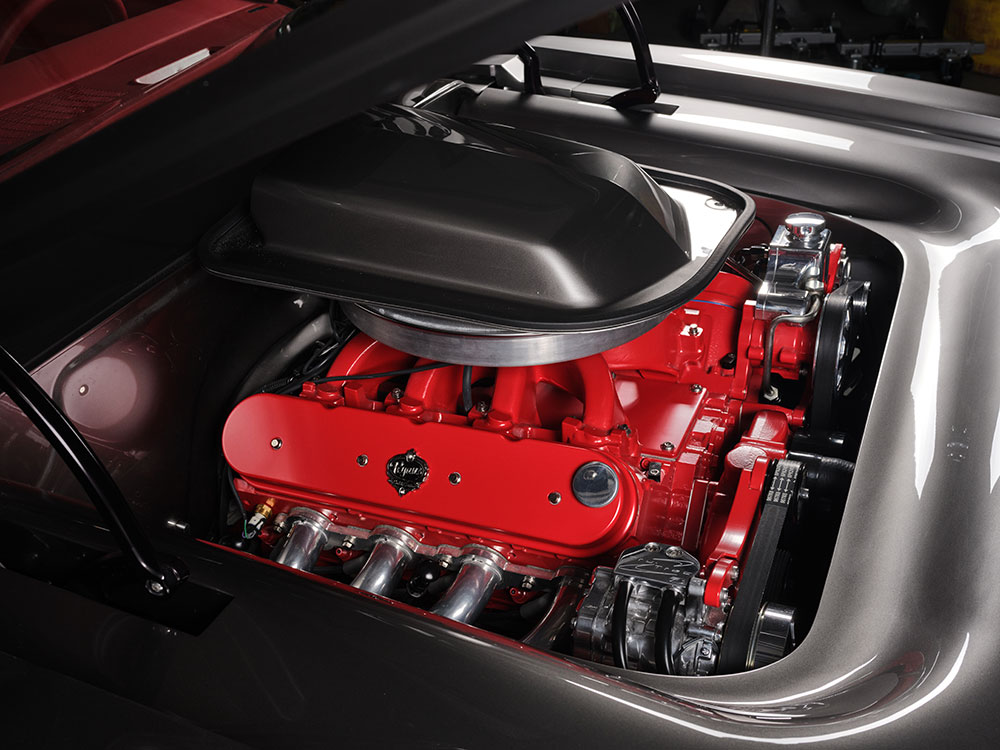 Moving our eyesight downward we can see Chris had the rocker area lowered 1 inch, thus matching the factory pinch weld edge. Look closely and you will see a slight flare located at the rear of the front wheel opening. Where once the factory door handles could be found, now you will use Nissan GTP flush-mounted units with locks deleted. As in the front, the rear factory flares were replaced with custom sheet metal versions welded to the body that were resized to handle the modern rubber and wheel combo.
More Ryan's Rod & Kustom custom sheet metal work includes the trunk spoiler typically found on Firebirds and Camaros of that era. When looking at the stock tail light housings they now encapsule LED tail lights with sequential brake and turn signal functions. The rear bumper cover was replaced with a new fiberglass version that features a reshaped appearance. From this point the rear quarter-panels were stretched to flow neatly into the rear bumper valance area. There are also Detroit Speed 2-inch widened wheel tubs. All this massaged sheet metal was painted at Ryan's Rod & Kustom in an Axalta Donnington Gray (a color found on a '21 BMW) with Axalta clear 72500. The hood features the obligatory Firebird, this time hand painted by Jeremy Sanor in hand-turned silver leaf.
Read More: Florida's Finest 1969 Chevy Camaro Convertible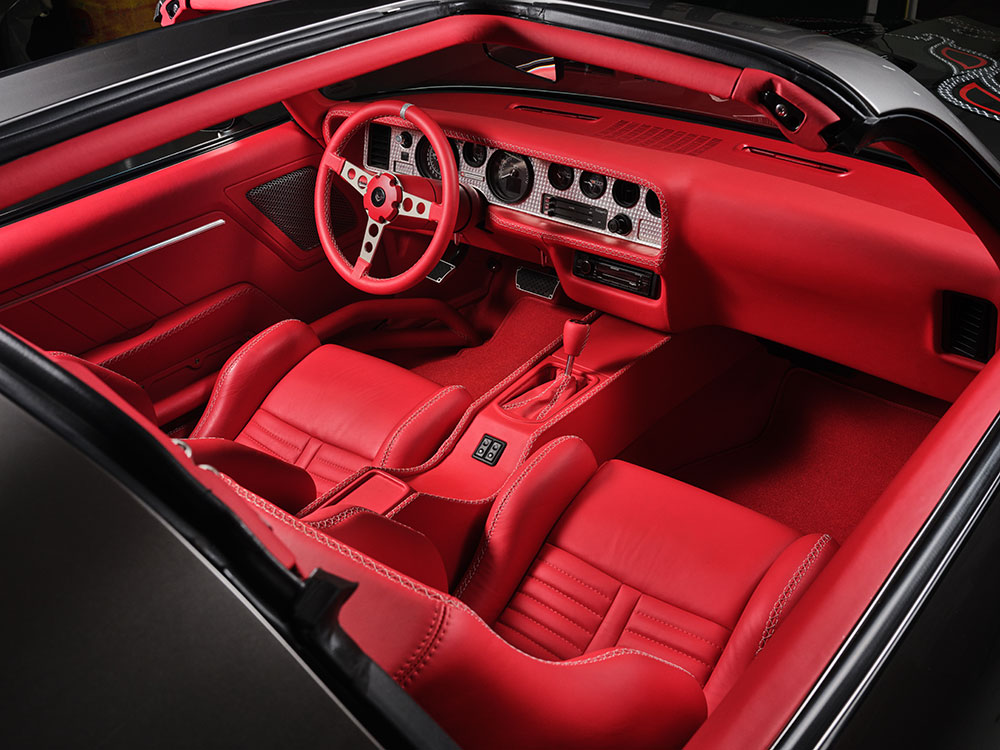 There is also sheet metal handiwork to be seen under the hood. There is a one-piece underhood panel shaped to work with the fender lines as well as conceal the radiator and core support area. The firewall was smoothed over while the cowl vent panel was deleted.
Since we are talking about what's under the hood, a Trans Am wouldn't be worthy of its 'bird on the hood without a tuned-up, modern-day power plant. A 6.0 iron block LS with a 0.020-inch overbore yields plenty of power. The decked and line-bored block along with balanced reciprocating components was handled by Bouchard Racing Engines. Accompanying the iron block are aluminum heads held in place by ARP head studs while a beefed-up hydraulic roller camshaft is used. The water pump comes from Edelbrock, a pair of SPAL electric fans, a custom-built PRC radiator, and a Billet Specialties Sport Trac serpentine belt system assists with the cooling and electrical chores. A Powermaster alternator, a factory starter, and an Optima Red Top battery supplies the spark. Resting between the aluminum heads is an Edelbrock Victor Jr. LS intake with a Holley Sniper EFI. The ignition is a combination of Holley EFI and Edelbrock controller. Moving the spent gasses out belongs to a pair of Hooker Blackheart LS headers with custom-made 3-inch stainless steel pipes, a pair of mufflers, and original factory Trans Am tips.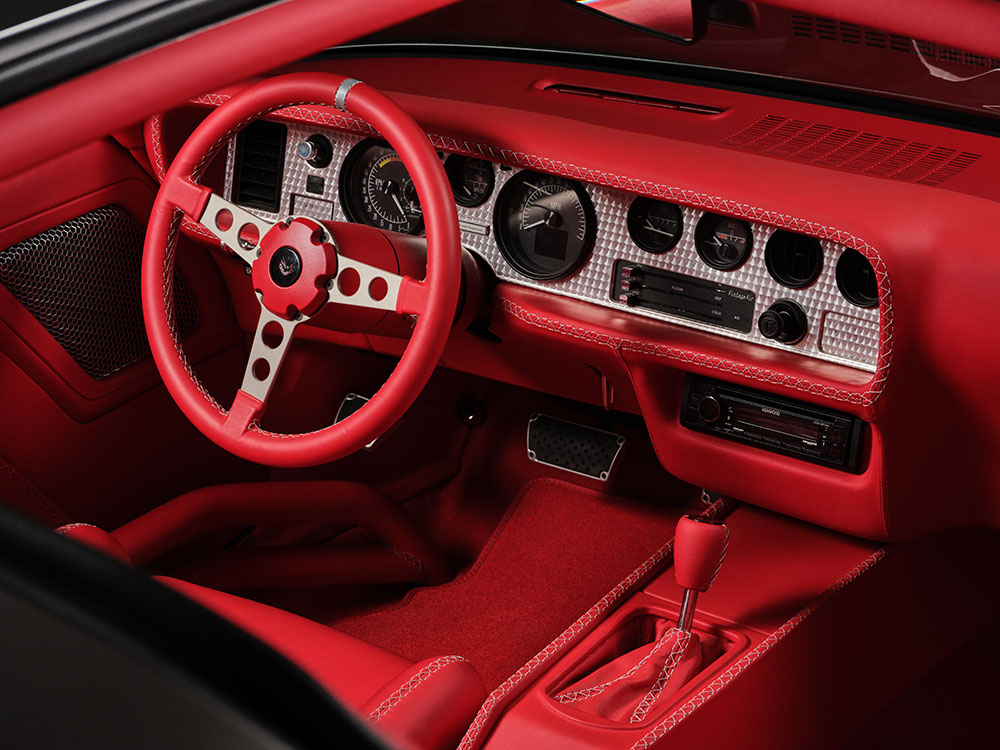 The V8 engine backs up to a B&M 4L80E transmission with converter that is operated through a TCI transmission controller and a Shiftworks universal rod linkage kit. The power is then moved rearward through a forged Fast Shafts driveshaft and yoke ending at the Currie 9 inch rear end outfitted with 31-spline axles and 4.11 gears.
The chassis is based on a factory frame modified by Ryan's Rod & Kustom to use Ridetech TruTurn Independent Front Suspension, coilover shocks, and a sway bar. Next up is a Borgeson steering box coupled to an ididit steering column. In back a Ridetech four link suspension is used along with more Ridetech coilovers. You will also find Detroit Speed subframe connectors and aluminum body mount bushings. As for braking there is plenty in the form of vented Wilwood brake kit including: 13-inch drilled-and-slotted front rotors coupled with six-piston Superlite calipers while in back four-piston Superlites are used. The system is pressed into service through modified factory pedals pushing a Wilwood 7/8-inch bore master cylinder. The wheels represent Chris' interpretation of a snowflake style of one-off wheels from Mike Curtis of Curtis Speed Custom. The custom wheels measure 18×9 in front and 19×12 in the rear, all wrapped in Firestone Firehawk Indy 500 rubber. In front the rubber measures 265/35R18 and in the rear 325/30R19.
Read More: It Runs In The Family: 1968 Road Runner
Once inside this Trans Am you will begin to see the many interior appointments, such as the 304 stainless steel Ridetech TigerCage. It is wrapped in matching Lipstick Red leather as is the modified factory dash and a set of Corbeau seats by Chuck Hanna of Hot Rod Interiors. The modified dash is fitted with Dakota Digital Retrotech RTX gauges, Vintage Air AC, and air registers. Mounted to the lower dash is an ididit steering column with a drilled three-spoke leather wrapped Lecarra steering wheel. The custom interior door panels are fitted with LED lighting, Ridetech five-point belt system, and red Daytona weave carpeting are more interior appointments. The interior door releases are relocated to the custom center console while the hand formed speaker grilles cover the Rockford Fosgate speakers and Nu Relics operates the power windows.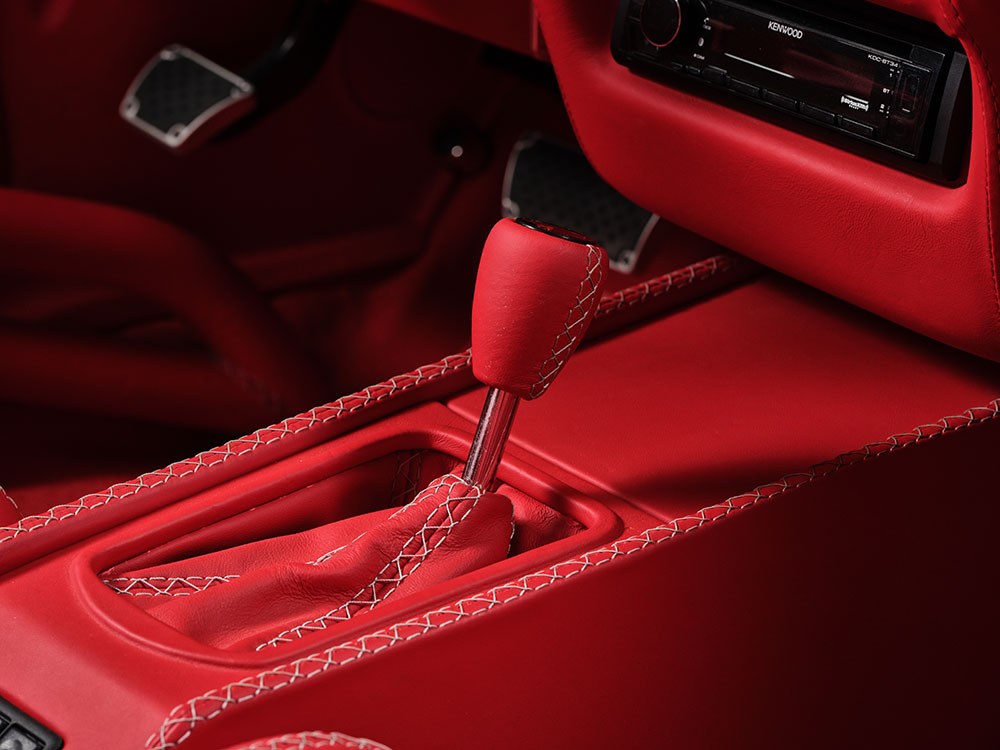 Chris is no stranger to building hot rods and customs and has done so for the past 40 years, 25 of which has been full time. He's built SEMA cars, Great 8 cars for Detroit, and many magazine cars. He is also recognized as an award-winning builder, having been inducted into the Darryl Starbird National Rod and Custom Hall of Fame and the KKOA Hall of Fame. We have to say that he has done it again with this '78 Pontiac Firebird Trans Am. MR