Bowtie Boneyard – Marvelous Monzas
By Steve Magnante   –   Photography by the Author
Seen by many as either a pint-sized Camaro or a grown-up Vega, the Monza was a product of GM's response to the 1973 OPEC Oil Embargo. When the Organization of Petroleum Exporting Countries decided to deprive Uncle Sam of oil for mainly political reasons, Americans panicked as the price of gasoline (and all other petroleum-based products from home-heating oil to plastic spoons) jumped dramatically.
All over America, lightly used SS396 Chevelles, Z28 Camaros, and virtually every other type of high-performance V-8 machine was rendered nearly worthless. By 1975, tens of thousands of people traded in SS454 Monte Carlos, 409 Impalas, 327 Novas, and the like as partial payment on Honda Civics, Volkswagen Rabbits, Chevy Chevettes, and other compact and subcompact offerings. In most cases, trade-in allowances were well below 20 percent of the new car's sticker price.
At GM, 1975 brought the Monza (H-body). Offered in coupe, hatchback, and station wagon body styles (all of them two-doors), the Monza was loosely based on the Vega but with many exclusive details. In particular–and of lasting importance to Camaro enthusiasts–the Monza's rear suspension and rear axle were different than the Vega's four-link setup.
While Vega (introduced in 1970) used a scaled-down version of the dual upper/dual lower control arm, the coil spring rear suspension seen under Chevelles since 1964, Monza retained the vertically oriented coil springs but eliminated the twin upper control arms that ran from the axle tubes to the chassis. In their place went a transverse-mounted "track bar" and a simple torque arm running next to the open driveshaft from the nose of the rear axle housing to the tail of the transmission.
The change was meant to cure Vega's poor handling on rough surfaces by extending the instant center (the point at which the pivot points of the upper and lower control arms converge) from under 2 feet to nearly 6 feet (see the illustration for details)! The Monza's torque arm rear suspension worked so well it was used (with minimal changes) under all Camaros from 1982-2002. So was the Monza's light-duty 10-bolt, Salisbury-style rear axle–with a ring gear diameter boost from 7.5 to 7.62 inches on V-8 performance models in the mid '80s.
In this installment of Bowtie Boneyard, let's explore some marvelous Monzas found at Desert Valley Auto Parts in Arizona (866-942-2821, dvap.com). One quick note to longtime DVAP fans is that urban sprawl forced the closure of DVAP's traditional location in Phoenix to a new location in Black Canyon City, Arizona. The new spot is about 30 miles from the old location but is just as cool. In fact, most of the inventory was painstakingly moved to this new location in a monthlong thrash. Give DVAP a call if you need rust-free metal of any variety.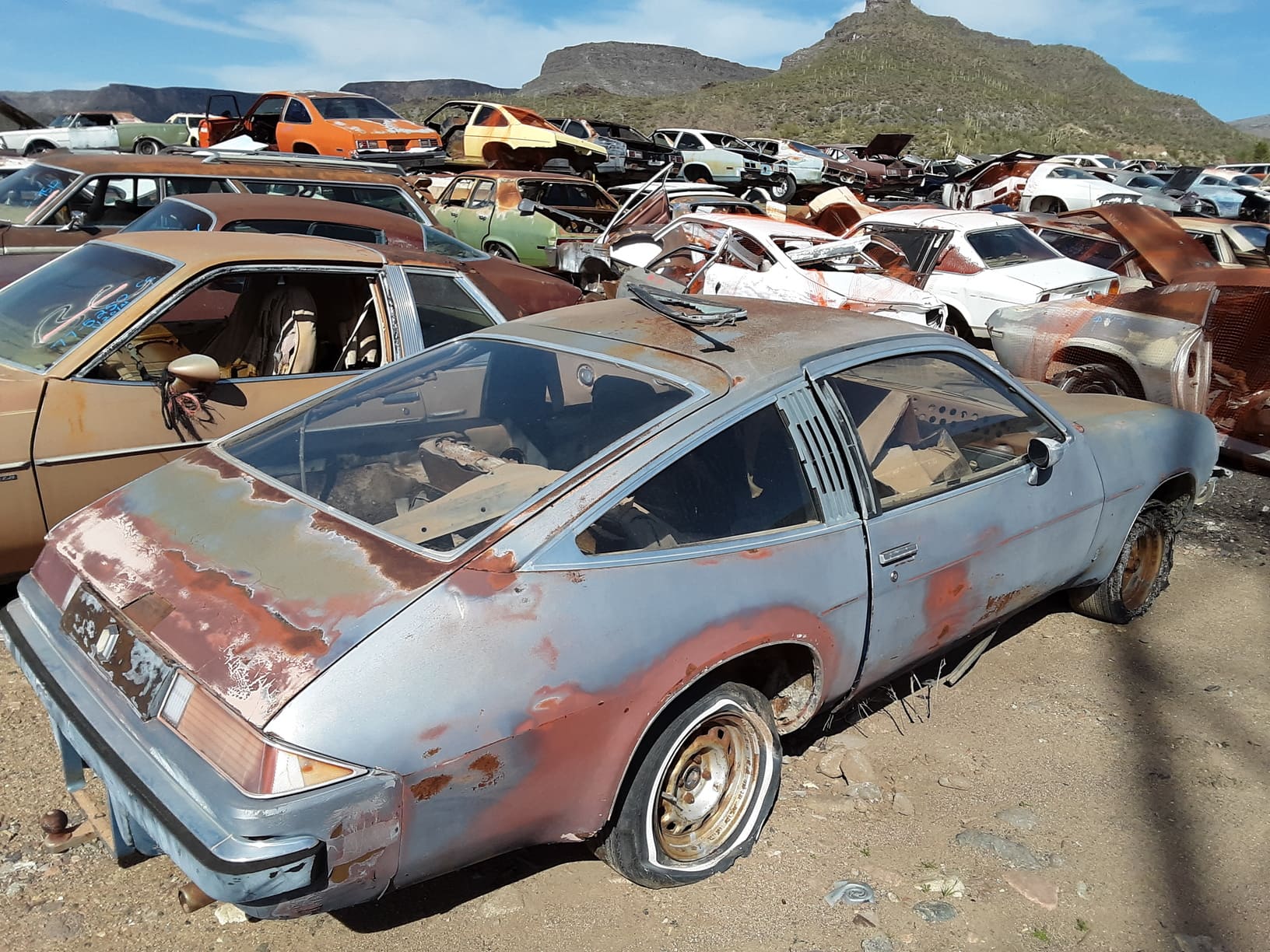 The Monza nameplate was used on bucket seat Corvairs in the '60s but the name is the only link with the '75-80 model. This '76-ish Monza 2+2 hatchback looks better with each passing year. But when new, the bulky bumpers were a recent phenomenon mandated on all cars to serve in lame bumper laws aimed at minimizing low-speed body damage. In theory, bumpers had to sustain no visible damage from a 5-mph impact. The wedge-shaped wraparound taillamps add Camaro mojo.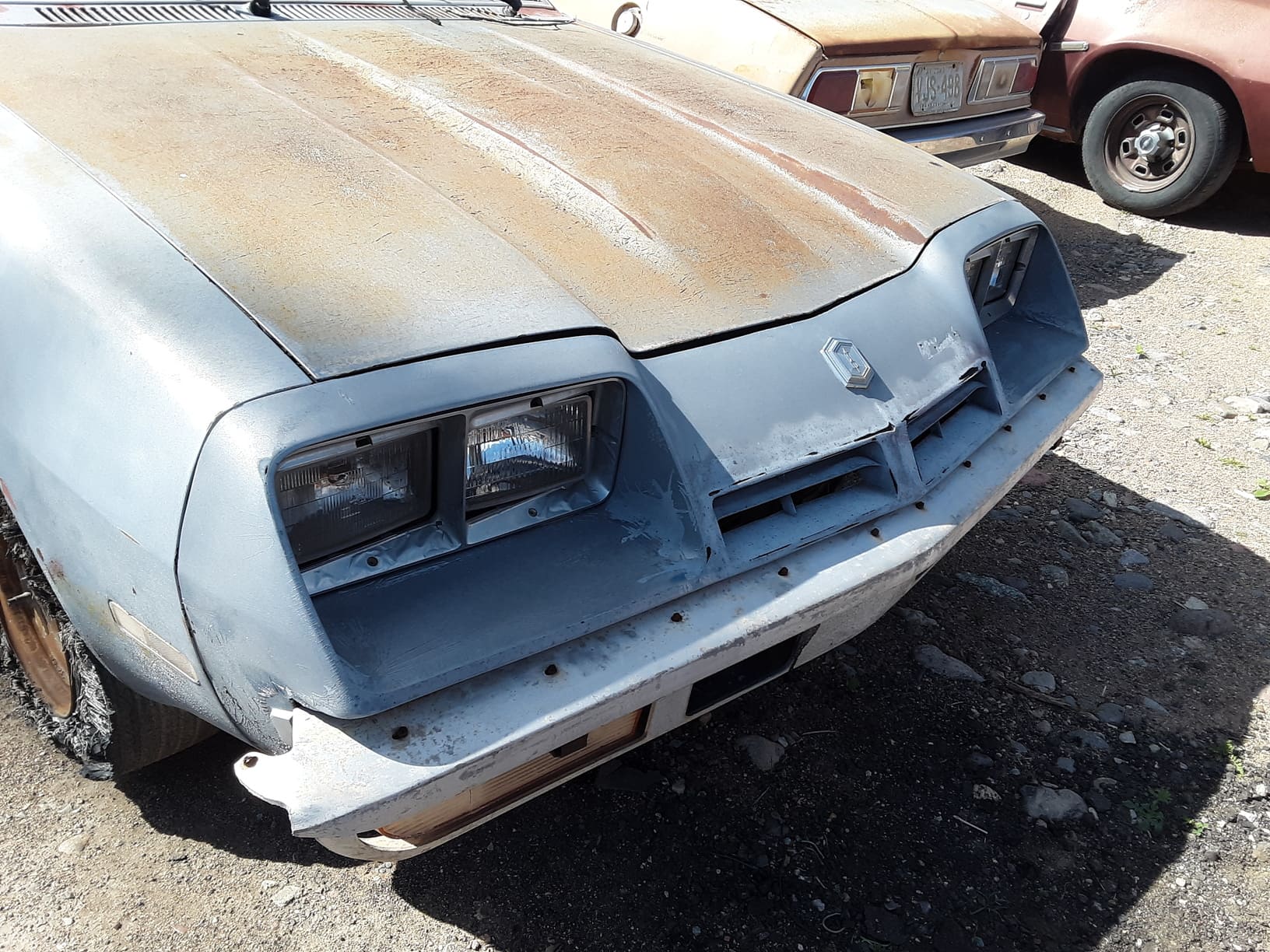 This one-piece injection-molded urethane fascia was only used on 2+2 hatchbacks and adds a sinister vibe, especially when the headlight recesses were blacked out of the Z01/Z02 Monza Spyder variant. Bill "Grumpy" Jenkins helped inflate Monza's performance image when his NHRA Pro Stock Grumpy's Toy XIII Monza appeared on the cover of the Dec. '75 issue of Hot Rod magazine. Similar 2+2 hatchbacks were also sold as the Buick Skyhawk, Oldsmobile Starfire, and Pontiac Astre as GM (and Detroit) embraced "badge engineering."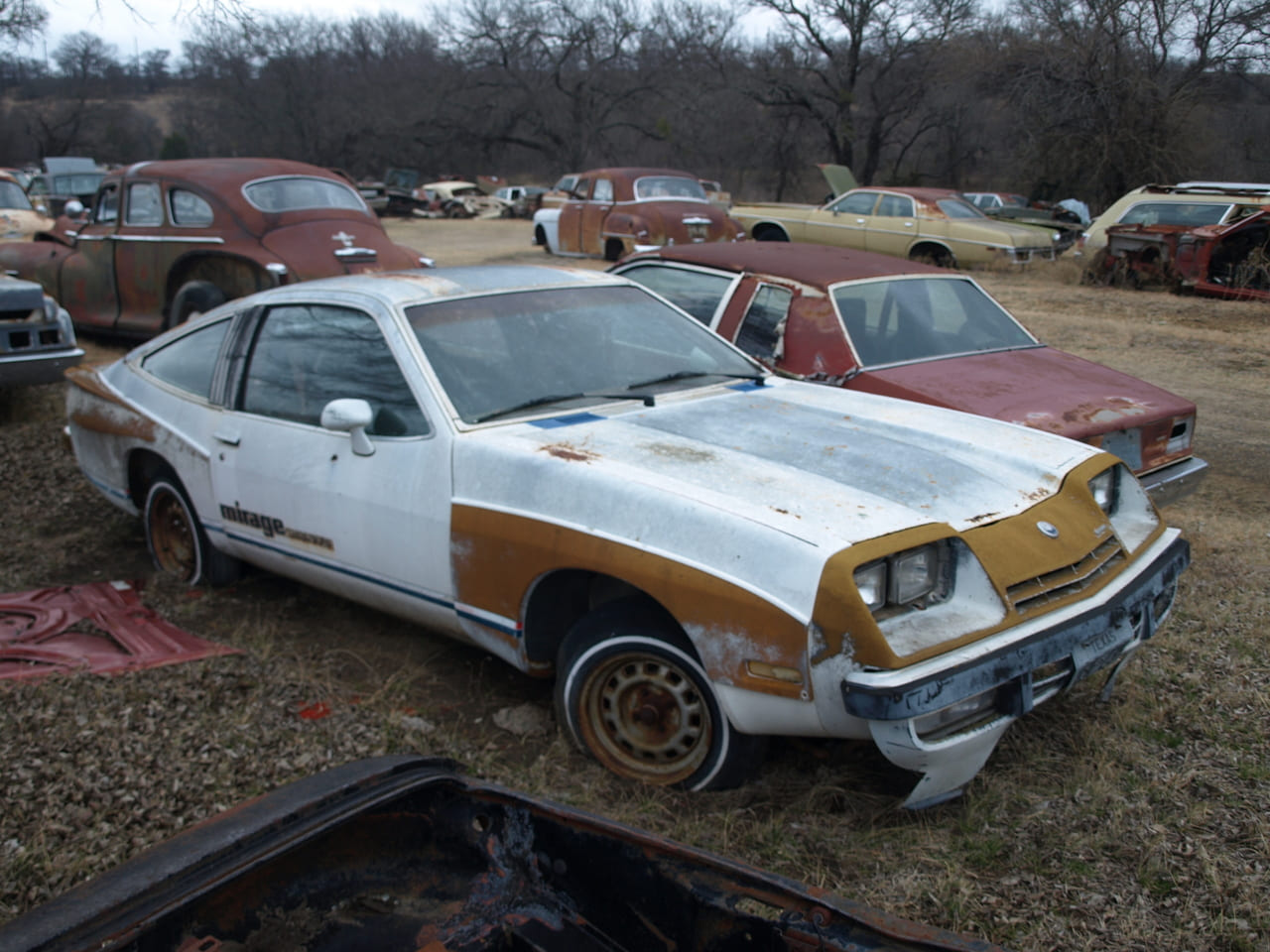 The most radical Monza was the '77 Mirage. Like most '70s "muscle," it was basically an appearance package. Converted off campus by Michigan Auto Techniques (MAT), 4,097 were built with plastic body extension panels mimicking the look of IMSA road racers. The 145hp 305 two-barrel was the hottest powerplant in the catalog. Most non-Mirage Monzas came with inline-four or V-6 power.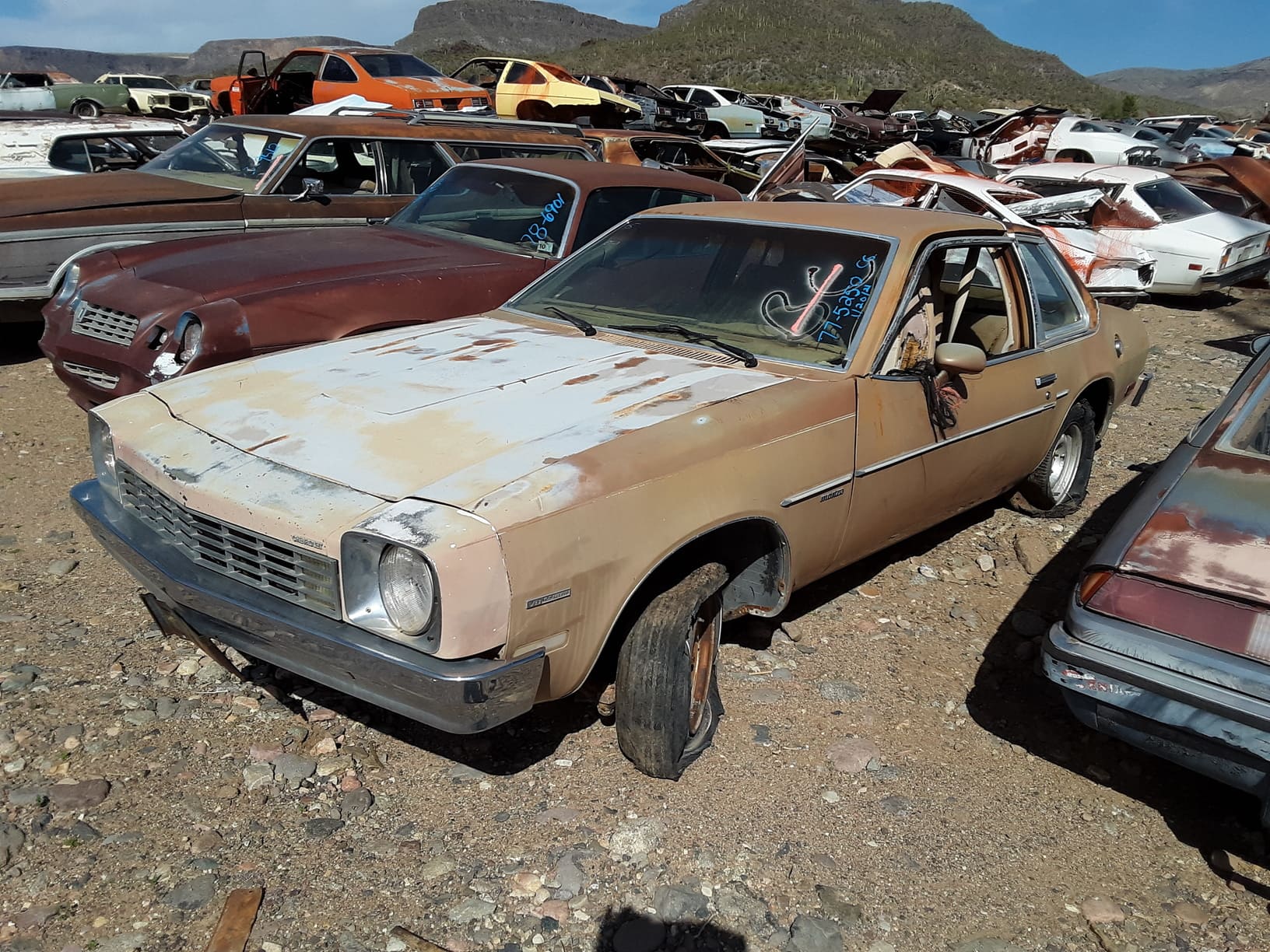 The Monza was also sold as the formal roof Town Coupe with a more conventional greenhouse and enclosed trunk compartment with a steel decklid seen on this 1977 model. Though Monza shared Vega's 97-inch wheelbase (and front suspension), Monza's larger body dimensions increased curb weight from 2,558 pounds (Vega 2+2 hatchback with standard 2.3 OHC four-cylinder) to 2,664 pounds (Monza 2+2 hatchback with standard 2.3 OHC four-cylinder), and as much as 3,043 pounds (Monza 2+2 with optional V-8). No Vegas were ever offered with factory installed V-6 or V-8 power. All were four-cylinder powered.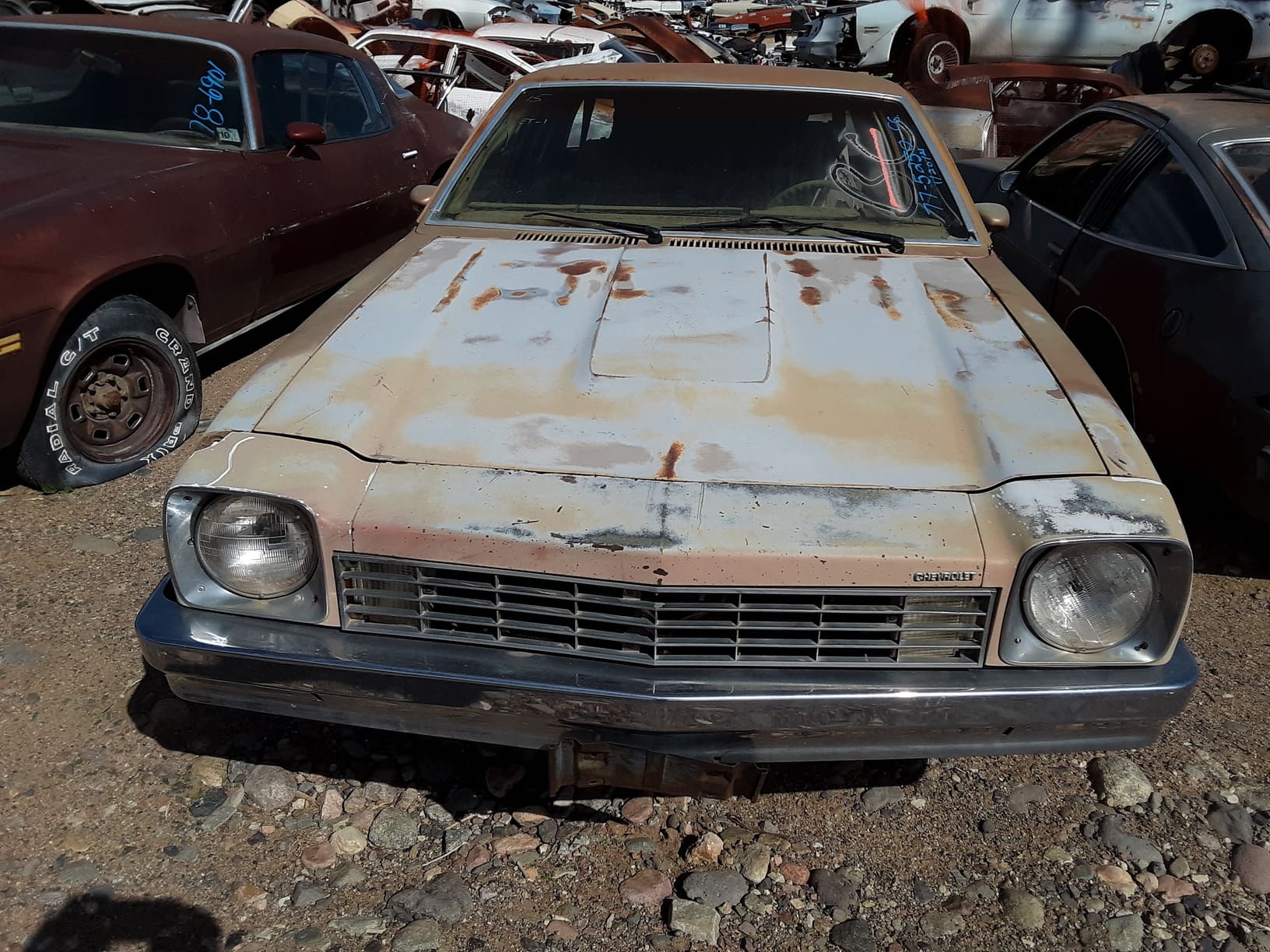 As with the same-era Chevelle Malibu/Chevelle Laguna marketing scheme, the Monza Town Coupe and Monza 2+2 hatchback had very different grilles. Unlike the 2+2's sinister "raccoon face," the Town Coupe's fascia is simple and wears an exposed aluminum bumper. Headlamps also differ drastically; the 2+2's quartet of rectangular units being GM's first departure from the traditional round sealed beam lamps seen on Town Coupes. The chrome-plated egg crate grille is plastic.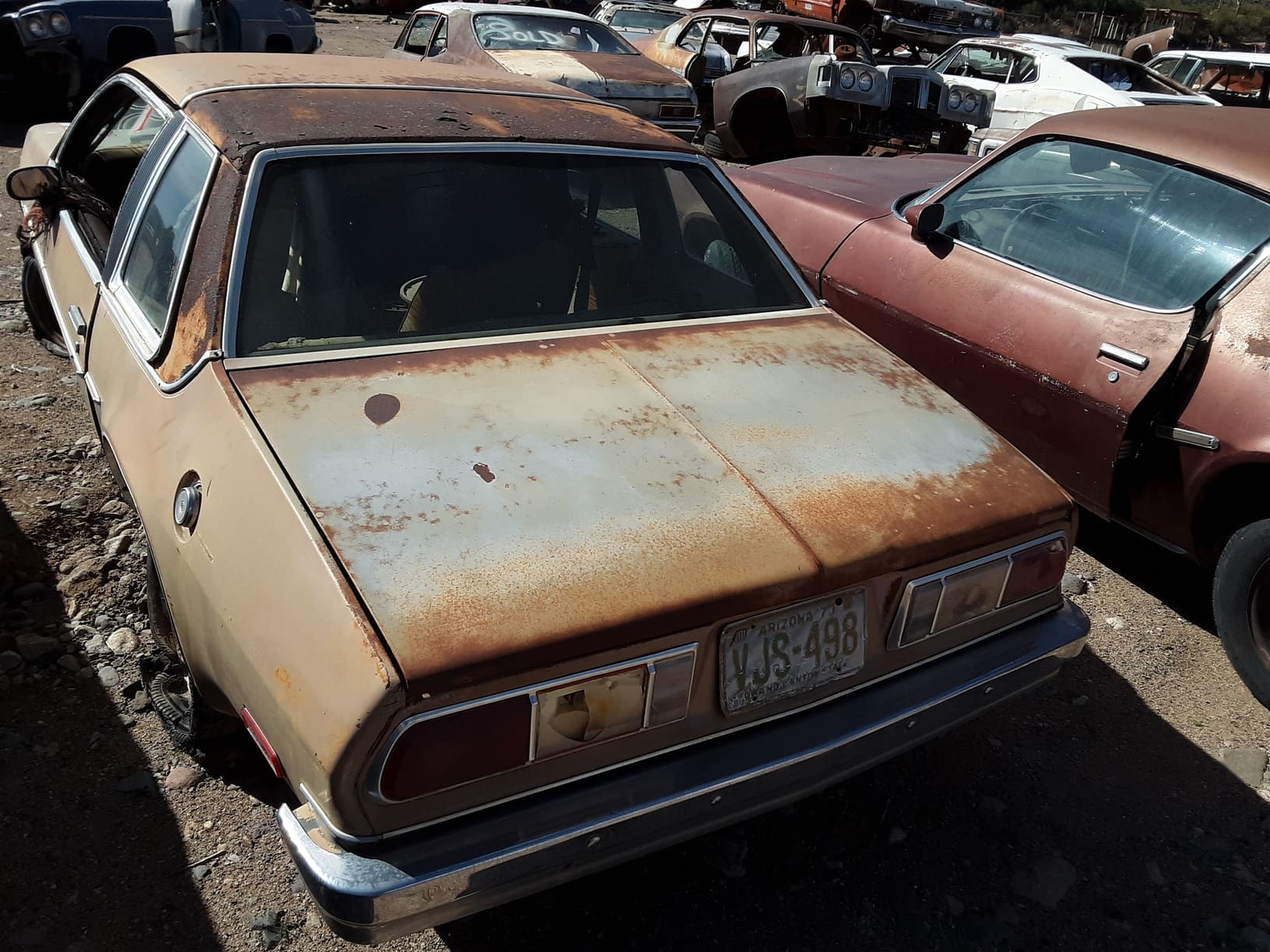 While GM honcho and (acquitted) cocaine kingpin John DeLorean called the 2+2 hatchback the "Italian Vega" for its intentional resemblance to the contemporary Ferrari GTC-4–right down to the louvered roof pillar–the Town Coupe was strictly middle America. The Town Coupe's conventional layout makes it 136 pounds lighter than the more complex 2+2 hatchback. The Town Coupe's rectangular taillamps and exposed rear bumper differ greatly versus the sleeker 2+2 hatchback. Base prices (1976) were $3,359 (Town Coupe) and $3,727 (2+2). A base six-cylinder Camaro was just $35 more in 1976 ($3,762) but was about 15 percent thirstier at the gas pump.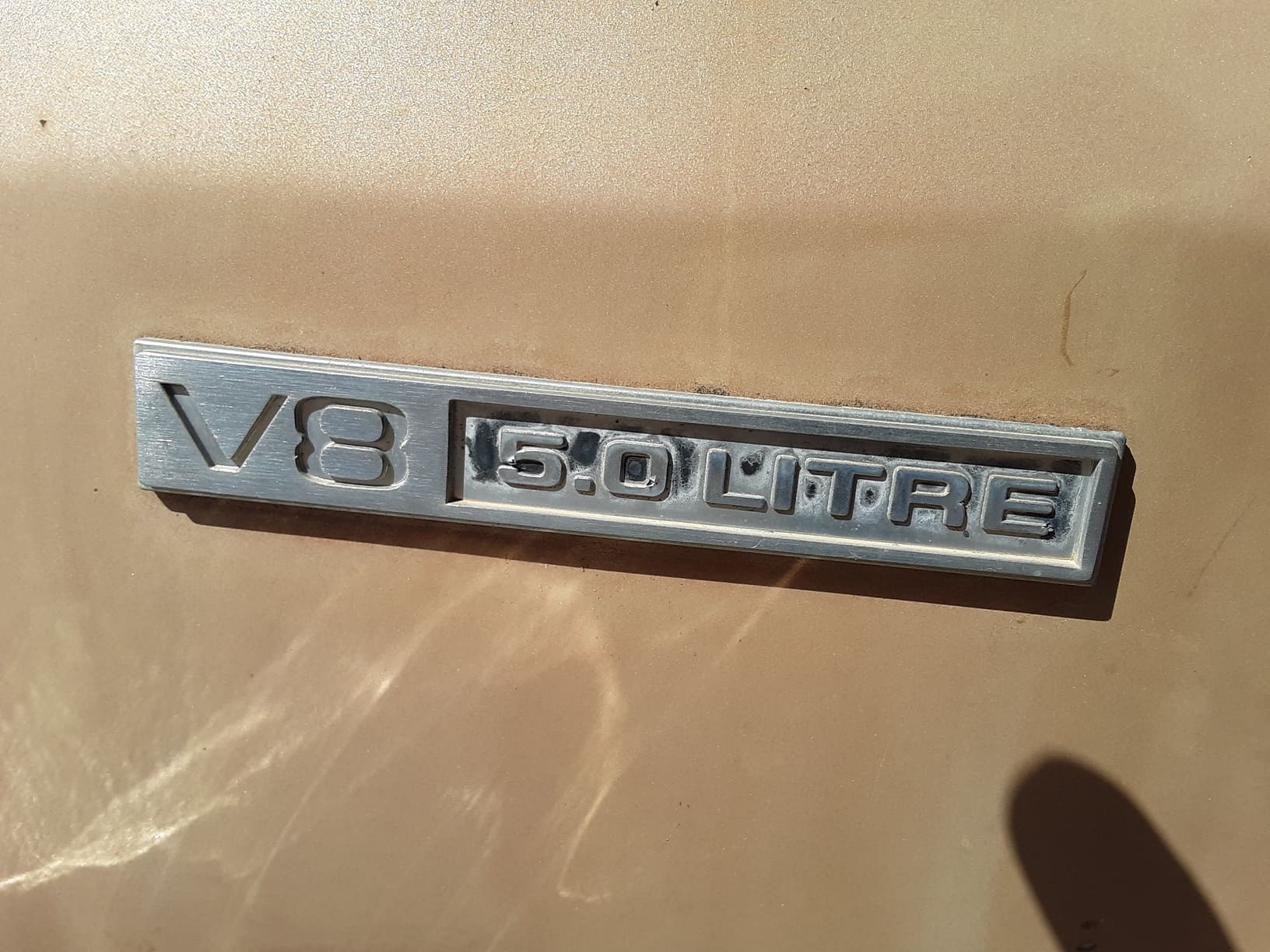 Stoplight Grand Prix spotters learned to examine the Monza's front fender emblem. This one reads "V8 5.0 Litre," a sign the 145hp Chevy 305 two-barrel V-8 was originally ordered. New in this 1977 example, the 305 replaced the 262ci Chevy V-8 offered in 1975–76 as a $224 upgrade over the base OHC 2.3L four. In 1975 (only) California and high-altitude Monza buyers could order a Chevy 350 V-8. But don't get too excited. Radically detuned, it produced an anemic 125 hp. Over its six-model year run, 731,504 Monzas were produced. Perhaps 10 percent were V-8 powered.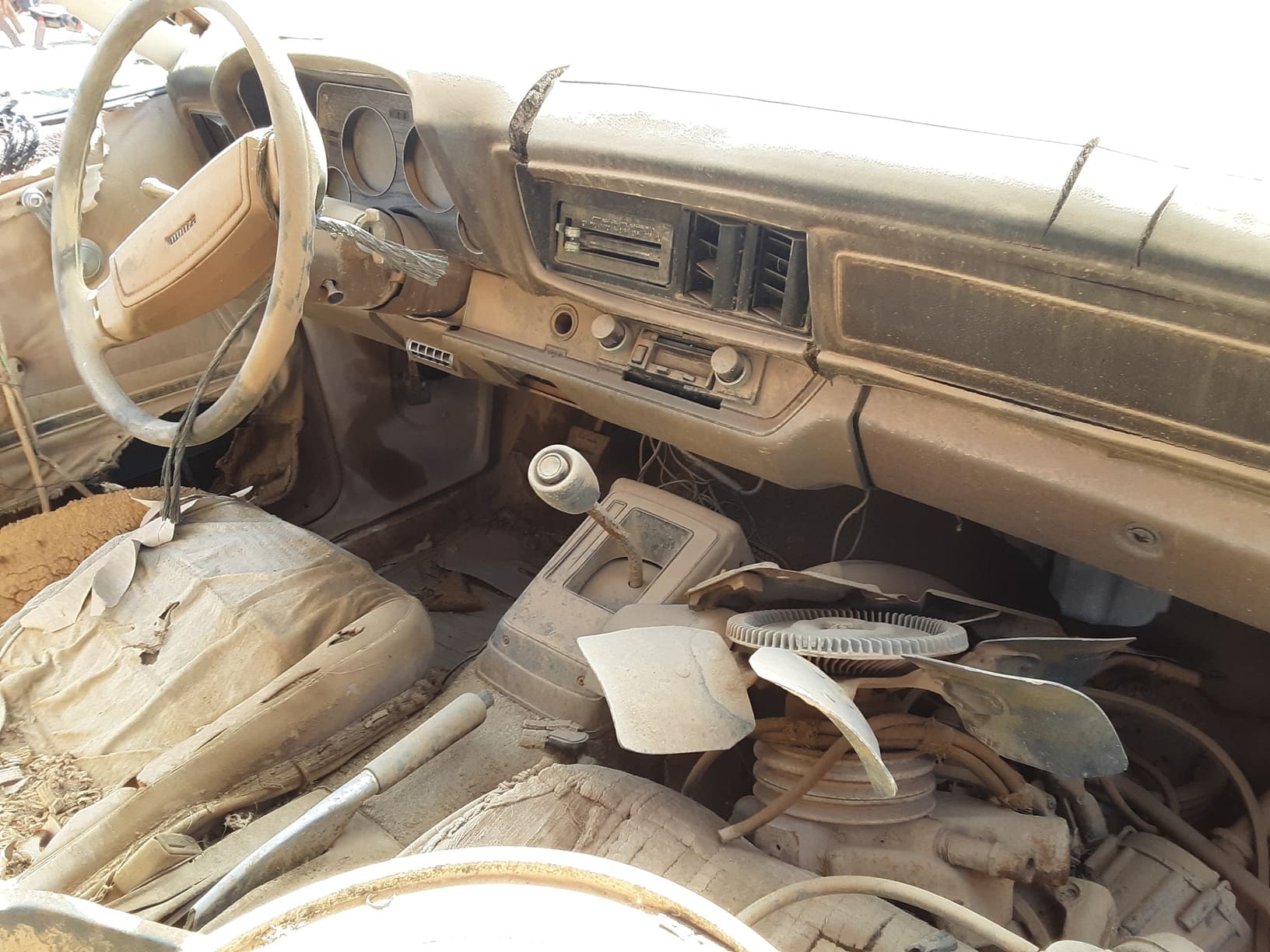 Bits of the factory-installed Chevy 305 V-8 litter the interior. The HEI distributor and aluminum-blade viscous drive fan were once considered high-performance items but became standard measures to improve efficiency by the late '70s. 1977 marked the final year for the troublesome Vega-sourced aluminum block 2.3L OHC four. The Pontiac-designed 151-cube Iron Duke push rod four replaced it in 1978 and beyond. Unfortunately, no V-8 Monzas were factory assembled with manual transmissions. All were three-speed automatics.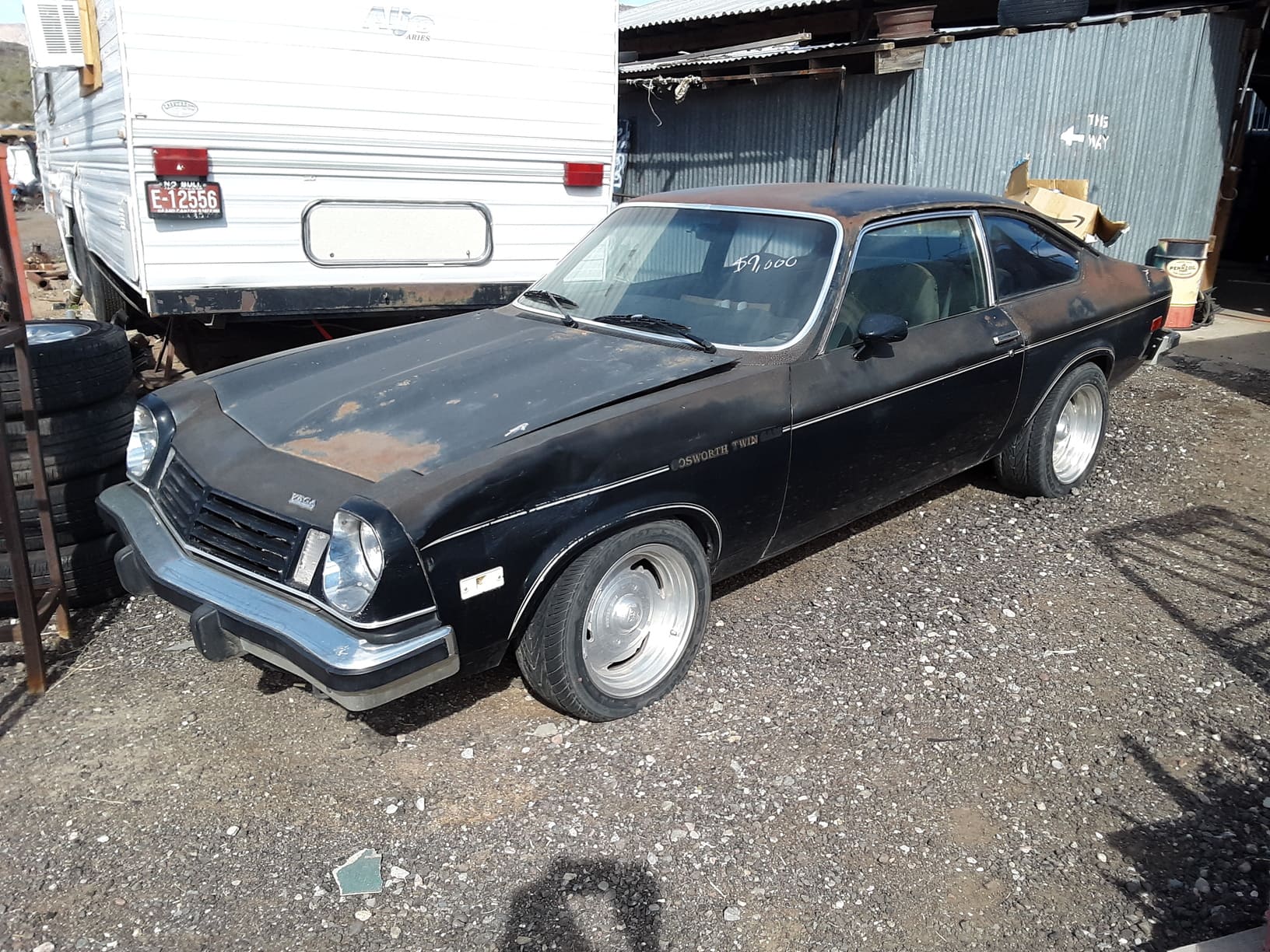 It's not a Monza but it has Monza's torque arm rear suspension. One of just 3,508 were built in 1975 and 1976, this '75 Cosworth Vega is a sleeper collectible (in more ways than one, as we shall see). Imagined by GM as a "halo" model to attract Vega customers, the Z09 Cosworth Vega's truly exotic 2.0L DOHC four (smaller than Vega's base 2.3L SOHC four) featured GM's first ever electronic fuel injection and advance installation of Monza's torque arm rear suspension to tame Vega's notorious axle hop. The original gold-colored Cosworth wheels have been replaced by Centerlines here.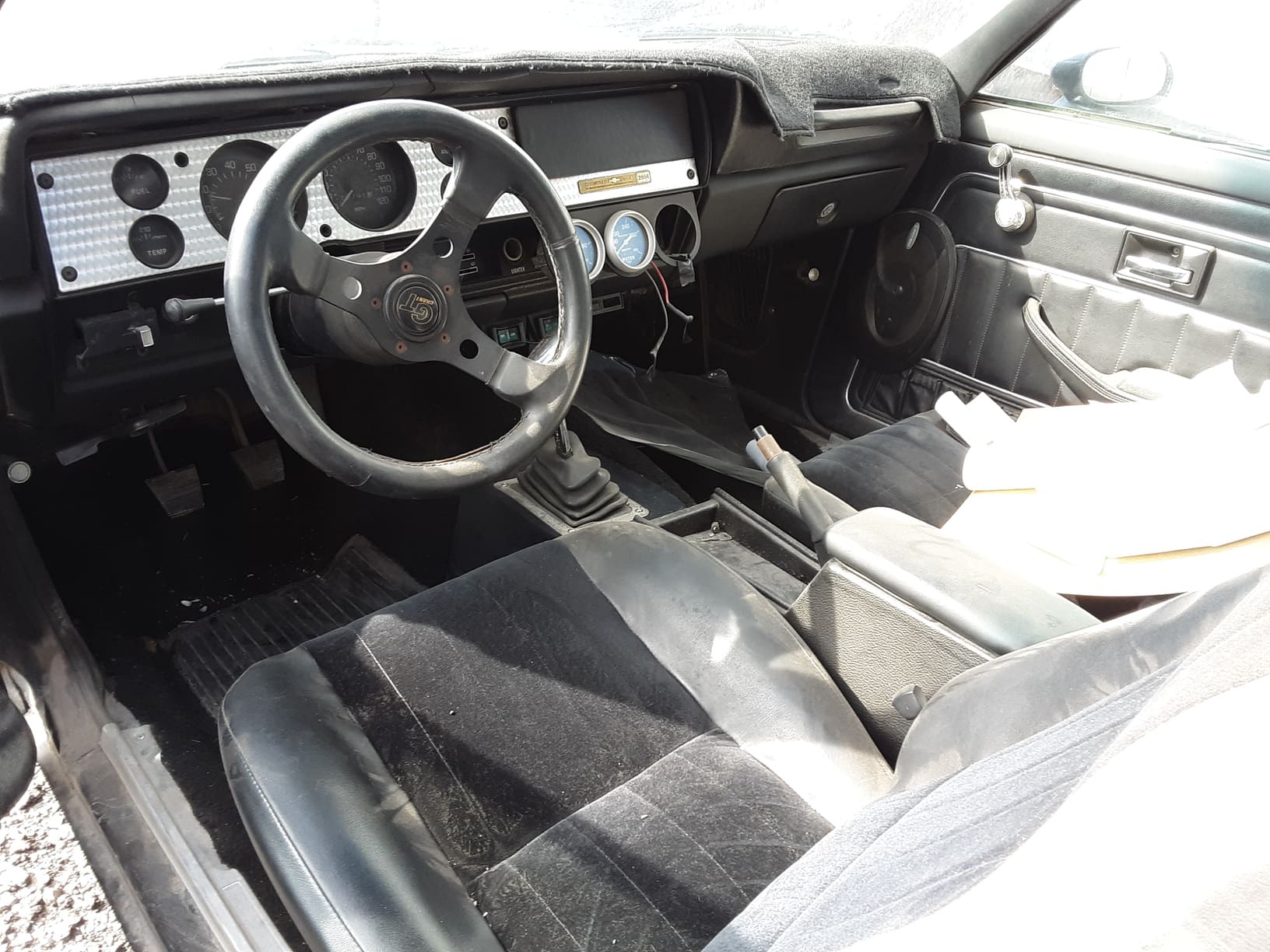 Inside, every Cosworth Vega featured a Firebird Trans Am–inspired engine-turned instrument panel finish plate, 120-mph speedometer (in a Vega!), 8,000-rpm tachometer, and manual transmission (four-speed in 1975, five-speed overdrive in 1976). The big problem was price. At $5,916, it was twice as expensive as a base Vega. Just $634 more would buy a base Corvette roadster. Worse yet, air conditioning, power steering, power brakes, and an automatic transmission were strictly not available. Here, less was not more.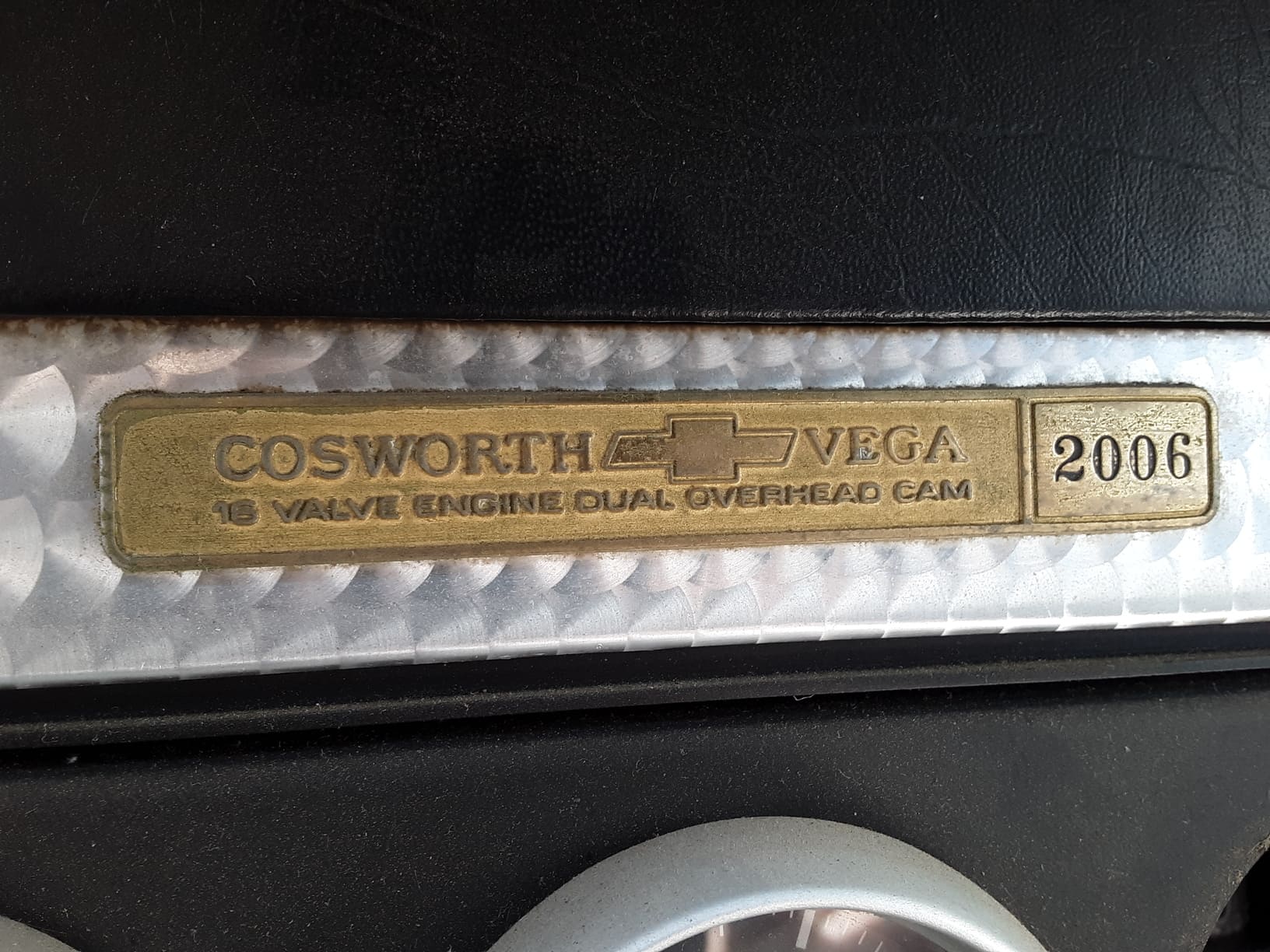 A golden dash plaque tells us this is car number 2,006 of the 3,508-car run. The plaque helped build exclusivity but couldn't compensate for the DOHC 2.0's mere 110 hp and 107 lb-ft of torque. Original plans called for over 200 hp but engineers failed to meet emissions standards and were forced into radical detuning. Though designed with input from England's Cosworth racing, each 16-valve engine was hand-assembled in the same Tonawanda, New York, clean room used for the '69 ZL1 aluminum 427 program.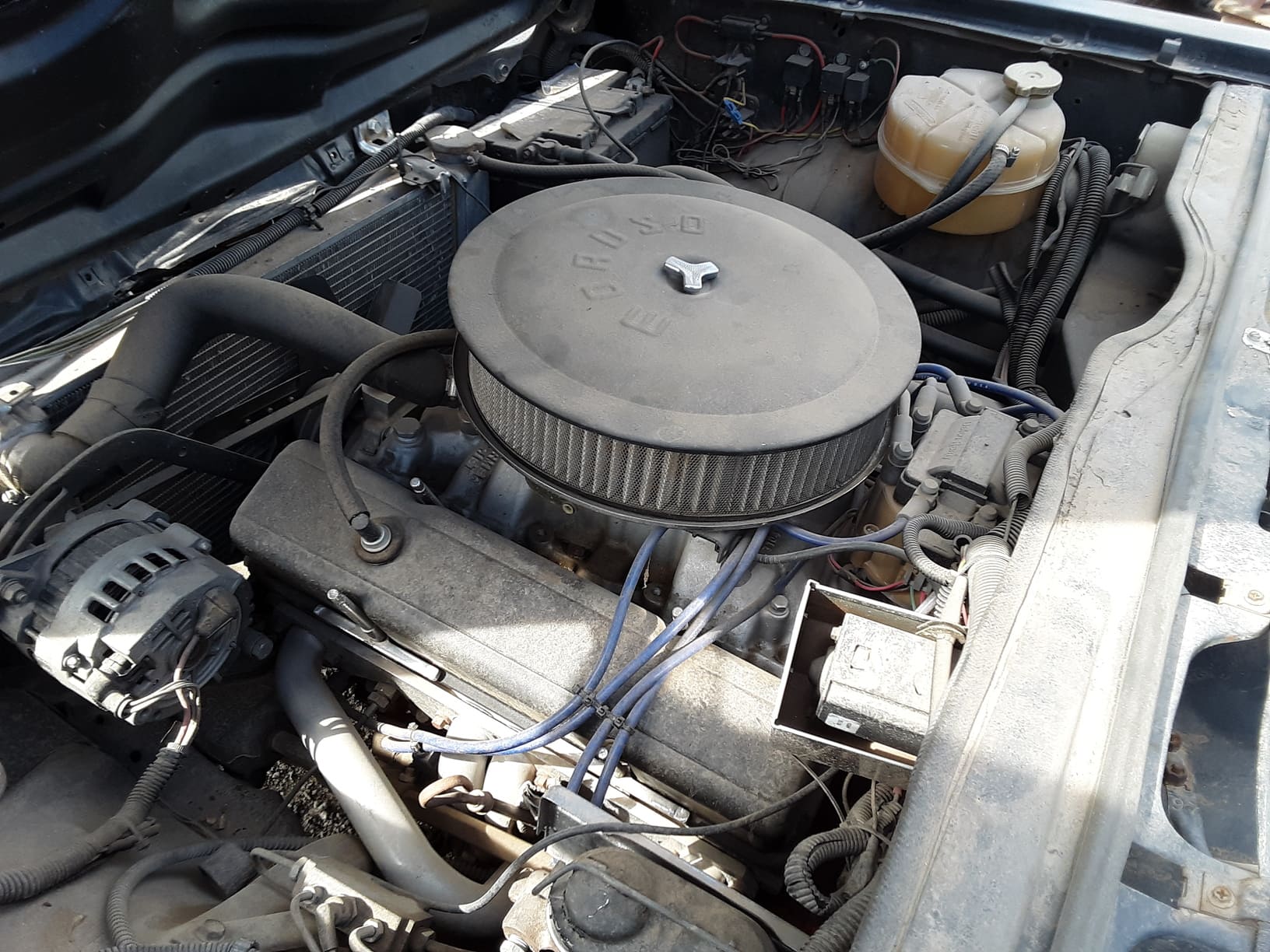 Surprise! Somewhere along the way a Chevy small-block V-8 ousted the exotic Cosworth four popper. A shame or an improvement, you choose. The good news here is how this Cosworth Vega's Monza-sourced torque arm rear suspension likely tamed the inevitable axle hop in this four-speed-equipped V-8 giant killer. This is why V-8 Vega builders know to base their swaps on '76-77 Vegas, all of which got the Monza/Cosworth rear suspension upgrade regardless of original engine.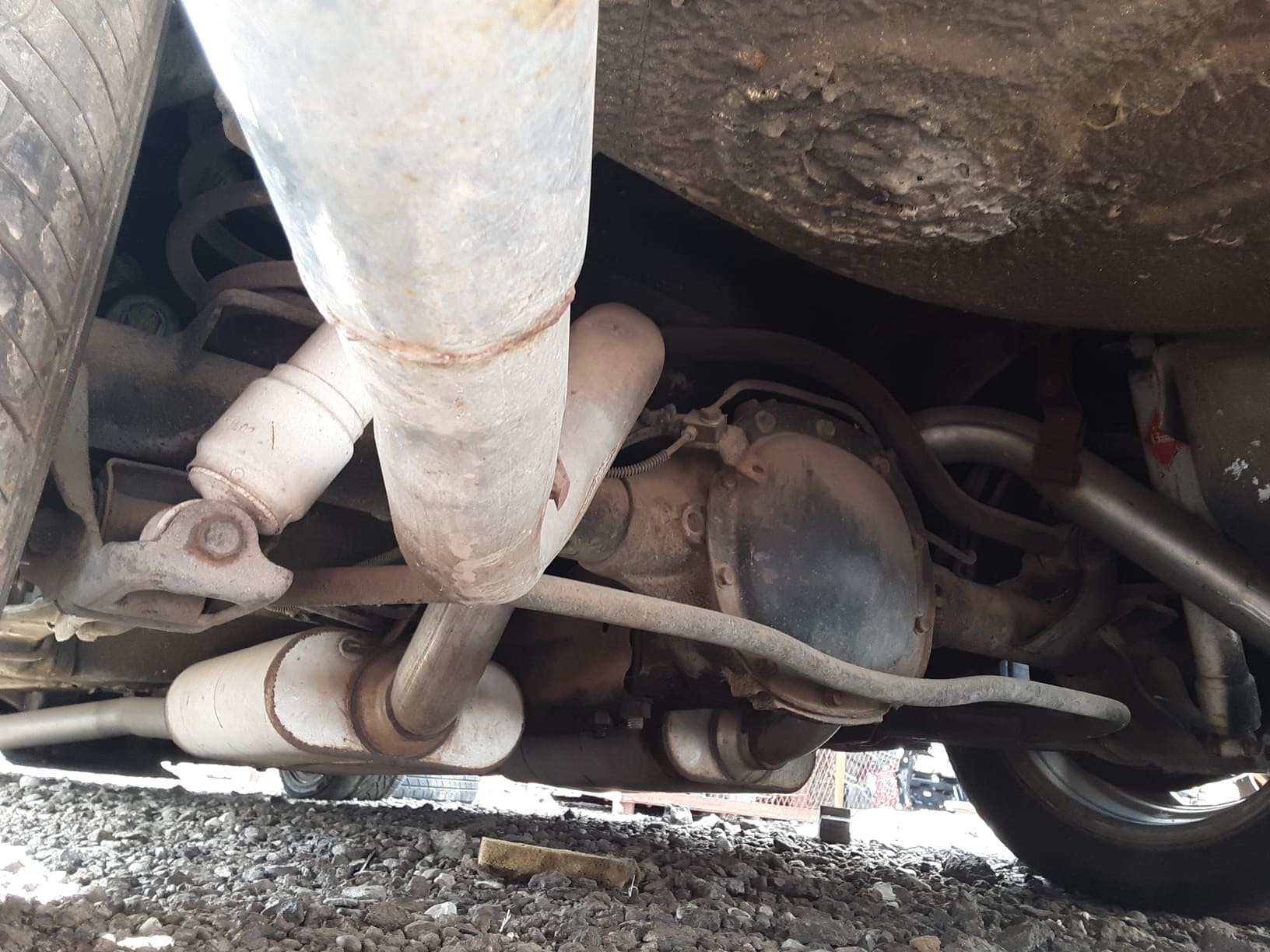 Ignore the home-brewed dual exhaust system and you'll see the Cosworth's special 7.5-inch 10-bolt rear axle with bolt-on torque arm extending toward the transmission tailshaft housing and transverse track bar (aka Panhard bar). If that's the original rear axle, it packs 3.73 gears. The hottest non-Cosworth Vega axle ratio was 3.42. When the five-speed overdrive transmission arrived in 1976, the Cosworth axle ratio bumped to a fun 4.10:1. Unfortunately, Positraction was an extra cost option on all Vegas, Cosworth included.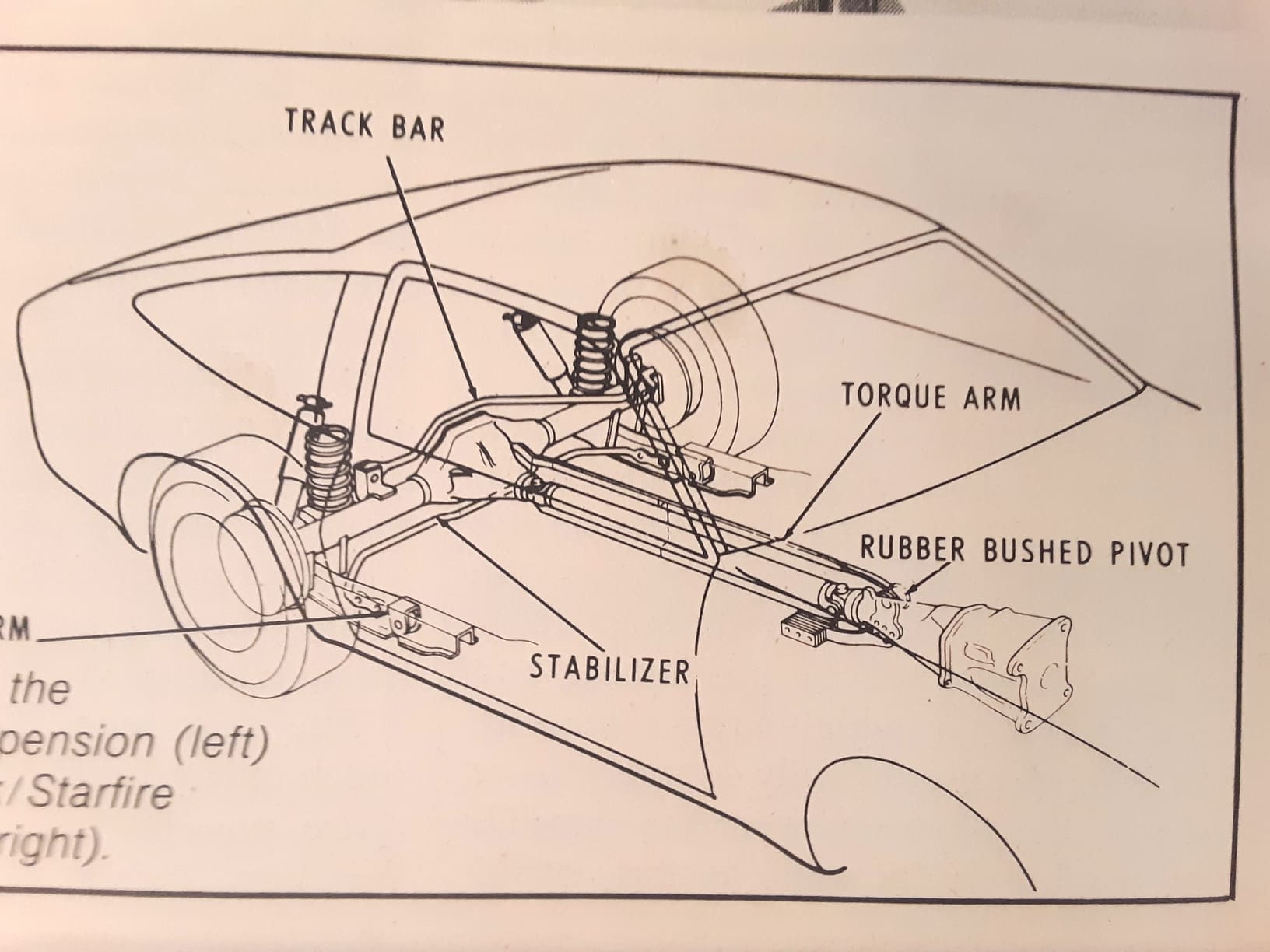 This GM-supplied illustration from the Apr. '75 issue of the now-defunct Road Test magazine shows the new '75 Monza's torque arm rear suspension (also shared on the '75 Cosworth Vega). The nearly 6-foot-long torque arm tamed axle hop. This basic layout–including the 10-bolt rear axle–was used under all '82-02 Camaros and Firebirds.