Modern Methods Wrapped in a Traditional Package
By John Gilbert – Photography by The Author & Tim Sutton – Videography by Tim Sutton
Hollywood Hot Rods' shop mantra, "Respect Tradition," doesn't mean that the hot rods built by the  Burbank, California, shop adhere closely to the old way of doing things. They aren't just building traditional Model A coupes and roasters. To the contrary, it's a mission statement that guides all of Troy Ladd's future builds. The handcrafted bodies of their creations exude nostalgia with styling cues evoking an era gone by —like Hollywood Hot Rod's 1936 Packard, "The Mulholland Speedster " which won America's Most Beautiful Roadster at the 2017 Grand National Roadster Show. But focus on the underpinnings, and it's a story of modern upgrades concealed in a traditional-appearing package—like home brewed four-wheel independent suspension on a custom frame, and smartphone app based controls.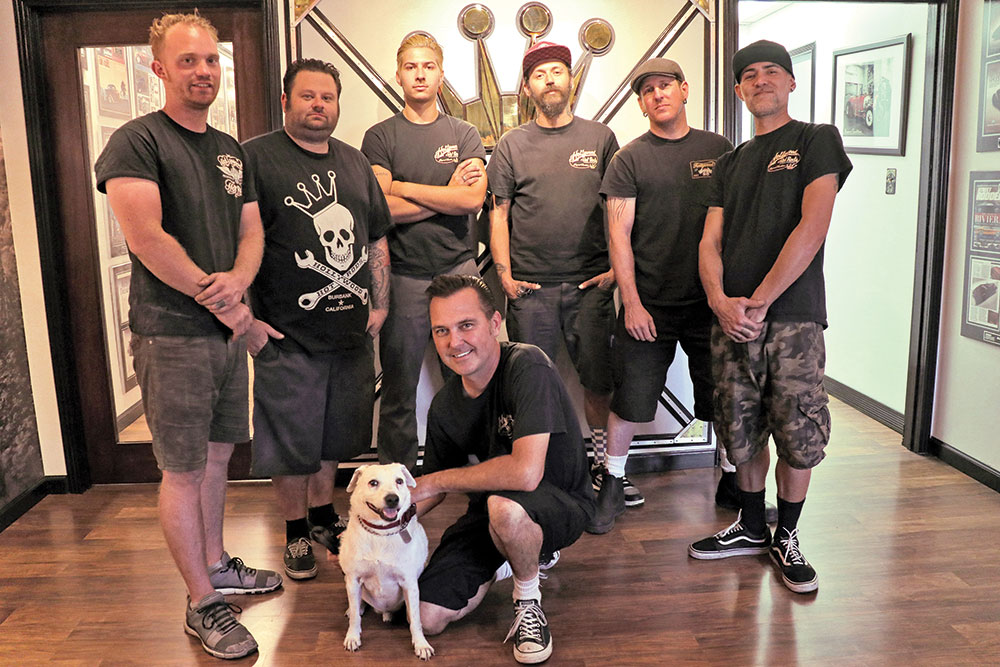 The saga of Hollywood Hot Rods began with Troy Ladd's first car, a 1966 Ford Mustang he was given that needed a lot of work. Had Troy's first car been a stodgy Rambler four-door sedan there might never have been a Hollywood Hot Rods, but fortunately the coolness of owning a V8–powered Mustang in high school sparked Troy's interest. At this point, Troy wasn't a gearhead, but that was soon to change.
Read More: A LS3/T-56 Swapped 1952 Nash Rambler Wagon, That's Good For the Whole Family
Troy was born in the affluent locale of Newport Beach, California, but his birthright didn't include a membership in the "Born Lucky" club." Troy's mom was a single parent and his dad a VW dune buggy guy with visitation rights. It was out of necessity that Troy learned how to repair the Mustang. Troy's ever-present mechanical influence was his grandfather, an engineer who came from an era where one did everything for himself. Troy says he never saw a tradesman come to their house to remedy a problem. Troy's grandfather would enlist his help, and the two would take on domestic projects ranging from plumbing to auto repair. With Grandpa's guidance in making the Mustang roadworthy, it eventually evolved into bodywork and custom paint, then led to hopping up the Ford 289 cubic inch V8 for street racing.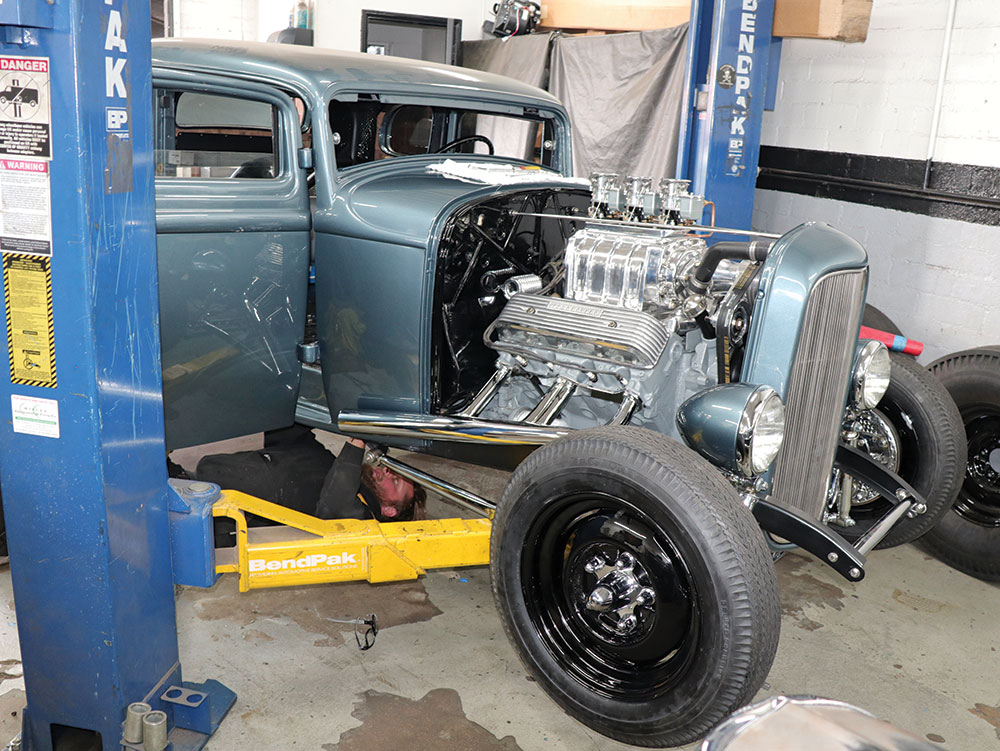 Read More: Making a 1965 Mustang Fastback into a Daily Driver
At age 19, Troy knew hardly anything about 1936 Ford coupes, but he bought one because it was "old and cool." Troy's engine of choice based on bigger is better was a Chevy 400 cubic inch small-block. Building hot rods was fun, but Troy came from a family of scientists and engineers. His grandfather's work ethic set in Troy the desire to get a college degree, then take steps up the corporate ladder to establish a lifelong career. Troy took his grandfather's advice and enrolled at California State University, Fullerton, then transferred to Vanguard University, where he completed a bachelor's degree in business. Troy landed a series of corporate jobs, and every move garnered a better position with a higher salary.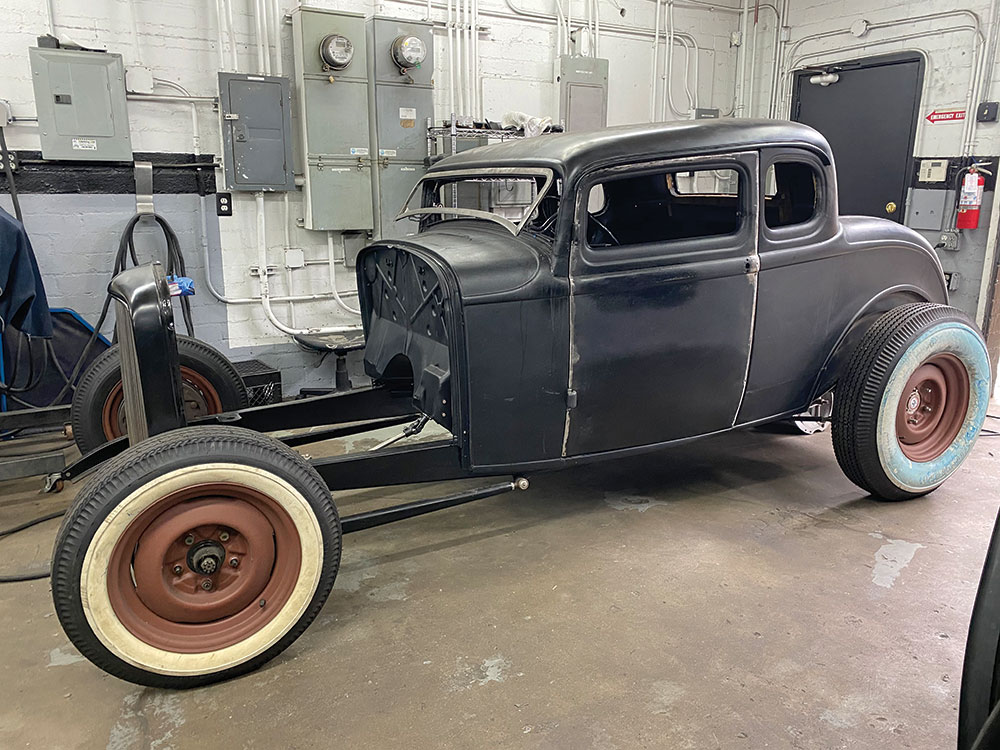 Troy's love for the car hobby never waned, though, and in every spare moment he attended Golden West College auto body courses, and worked in a rented garage workspace at the South Pointe apartments shared with his buddy Chris Shelton. For $200 a month it was a perfect spot to wrench on his hot rods at night. Perfect, that is, until tragedy struck when a neighbor renting an adjacent garage kicked over a candle and started a fire. The interlopers ran for their lives leaving Troy and Chris to put out the fire. Eviction followed and Troy's next chapter was renting an industrial unit in Stanton, California, behind Bernt Karlsson's shop, Customs by Bernt. By then Troy had built over half a dozen cars and was well versed in every phase of constructing a hot rod. In 2002 his girlfriend convinced him he should quit his corporate job and open a hot rod shop.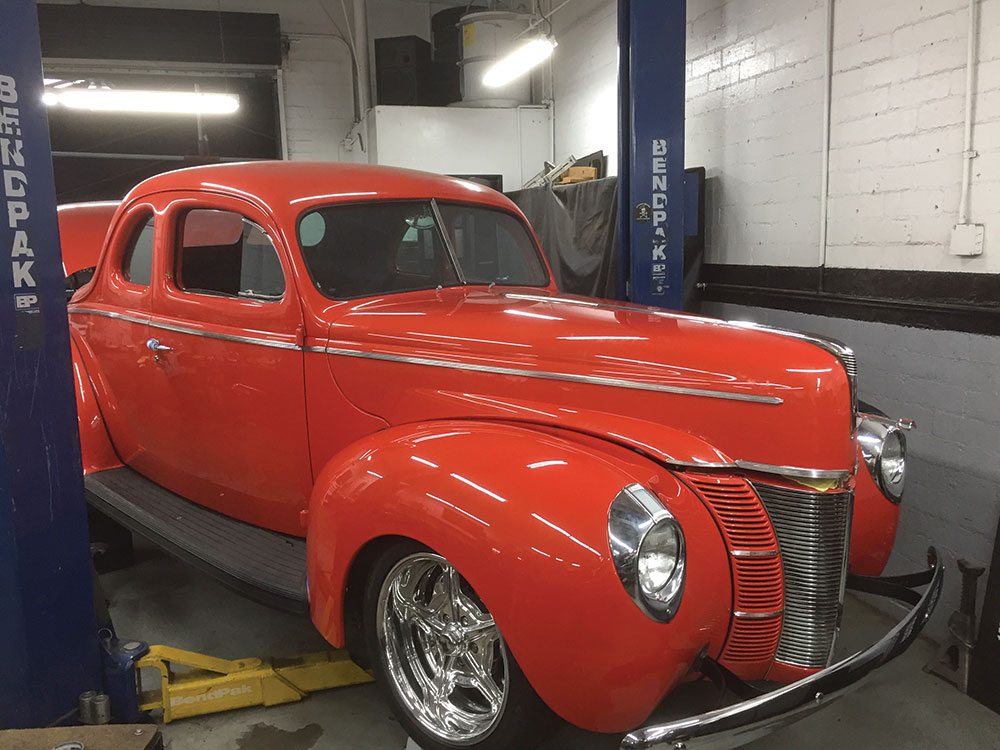 Read More: Perfectly Branded 1936 Ford Coupe
Troy told us he didn't come from a family of risk-takers, so the thought was kind of scary. What he did know was how to write a business plan and do due diligence before he made the move. The study concluded Huntington Beach and Costa Mesa, in Orange County, were saturated with hot rod shops, but shops were sparse in Burbank. After a lot of searching Troy found a bank that would grant a $50,000 business loan, but he needed to pitch in a $15,000 down payment. Troy sold everything he had to raise the cash and leased a building in Burbank. In the beginning he shared the 3,000-square-foot building with a motorcycle shop, but within a very short period he had taken over the entire building.
In 2017, Troy bought an industrial building just a mile away from the original location, with all the right elements to conduct an automotive business, and the Hollywood Hot Rods shop moved. The move shaped Hollywood Hot Rods' operation into a perfect working environment. Troy says working with a five-man staff of craftsmen (which sometimes grows to seven) he would never want to expand his staff further or increase his shop's overhead.
Read More: Alex Xydias The Man Behind The Famous So-Cal Speed Shop
Flashing back in time it was Troy's 1936 Ford that gave him his first taste of magazine exposure when it appeared in Street Rodder magazine's Jan. '91 issue's event coverage of the 1990 Labor Day Cruise at the Orange County Fairgrounds. That was all it took; now Troy was really hooked on the hot rod lifestyle. Troy told us reading the tech articles in Street Rodder had been how he originally learned volumes about how to build a car. Troy and Hollywood Hot Rods' relationship with Street Rodder grew exponentially in the years to follow, with car features, tech articles, and ultimately constructing three iconic cars to lead their annual Road Tour in 2012, 2015, and 2019.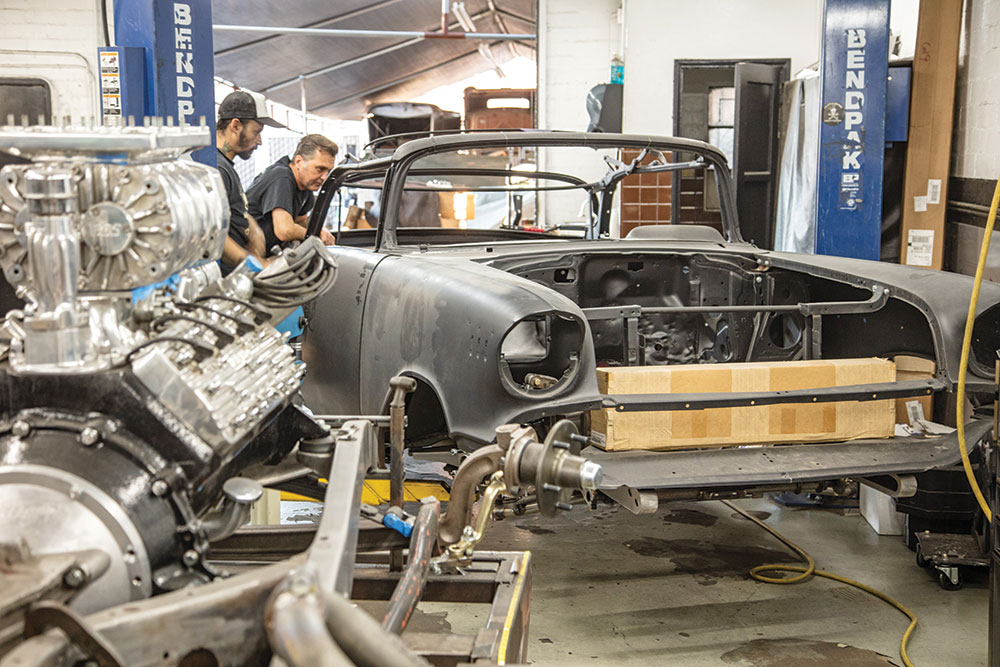 The count of hot rods and custom cars that have exited through Hollywood Hot Rods' portals likely exceeds 100. The known builds includes the custom coach-built "Mulholland Speedster" 1936 Packard, the "Long Beach Legend" 1936 Ford roadster with Lincoln V12 power, the "Full Metal Jacket" 2014 Ford Mustang GT convertible, the Street Rodder Road Tour 1940 Ford coupe, the tall "Zulu T" 1927 Ford Model T coupe, the "Brooklands Special" 1932 Ford roadster, the "Coyote Comet" 1963 Mercury Comet convertible, the Raybestos 1932 Ford roadster pickup, the "Platinum Bomb" 1932 Ford roadster, the "Ruby Deluxe" 1935 Ford coupe, the "El Correcaminos" 1931 Ford roadster pickup, the "Black Widow" 1926 Ford Model T roadster pickup, and the "Respect Tradition" Hemi-powered 1932 Ford roadster. One of their latest, the "Gauntt Coupe" 1932 Ford, just won the Slonaker award at the 2022 Grand National Roadster Show.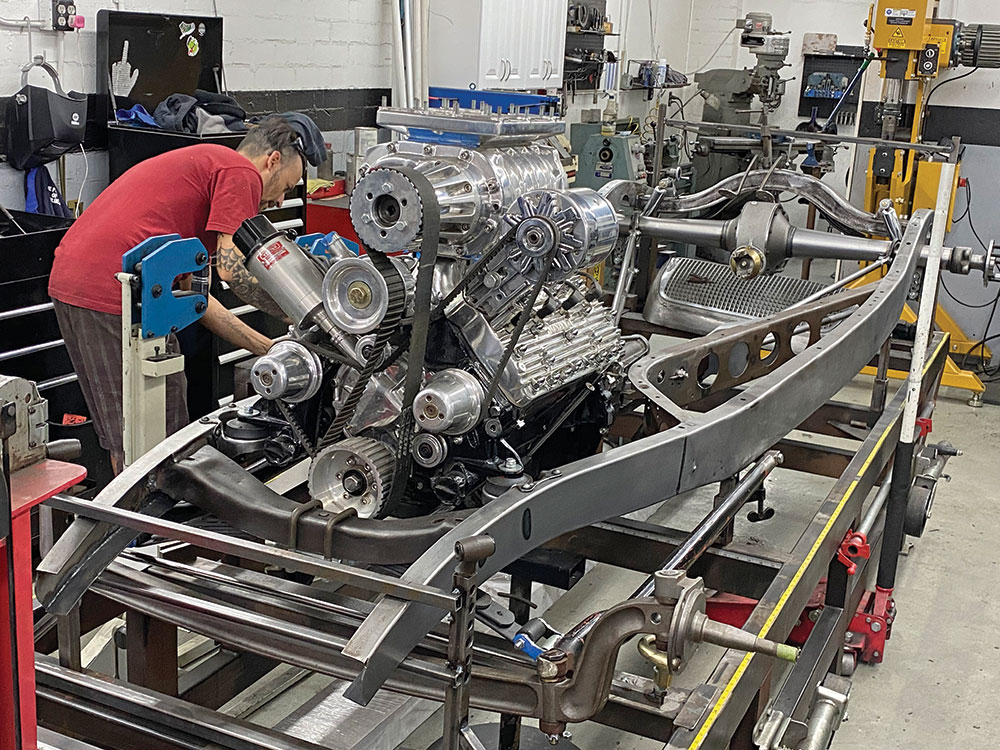 Future builds from Hollywood Hot Rods include a 1965 Chevelle convertible coming in for a full electric-powered conversion with instructions to incorporate regenerative braking, neck snapping performance, the latest developments in EV efficiencies, and, of course, styled with the utmost respect for tradition.  MR
Source
Hollywood Hot Rods
(818) 842-6900
hollywoodhotrods.com