Jim Vogel's '67 Camaro
By Nick Licata – Photography by John Jackson
GM's first outing with the stylized and sporty F-body was just the beginning of what was to become arguably the most popular muscle car of all time: the '69 Camaro. Not to take away from the '67 though, which has a strong following of windwing fanatics who praise this incarnation of the first-gen Camaro. There's no doubt GM came out swinging into the ponycar wars, as it was an absolute hit with young drivers of the late '60s. The marketing worked and the car worked even better. In no way could the designers of this car imagine it would remain so popular well over 50 years later, but here we are.
Jim Vogel had always had a hankerin' for a first-gen Camaro, but never pulled the trigger. That was until he spotted a promising '67 at a used car dealership in Detroit. The body style was the main attraction but at some point he wanted a vintage car with all the modern accoutrement to make it run and handle like a late-model hot rod similar to his '15 ZL1 Camaro.
This Might be Helpful, Take a Look at This: Upgrading a 1971 Camaro Rearend, Suspension, and Brakes
Jim finally pulled the trigger on the Camaro and drove it for a while until the newness wore off, which happened rather quickly. It didn't handle well, stop well, and its ability to accelerate left him kinda flat, too. But he wasn't totally caught off guard as he had low expectations for the vintage ride's performance, or lack of it. Knowing full well at some point the car would go through a complete resto, it wasn't long before he wheeled it from his home about 7 miles down the road to Automotion Design and Fabrication in Obetz, Ohio, for a body-off restoration and a Pro Touring treatment. He needed his new pride and joy to become the car he'd always wanted.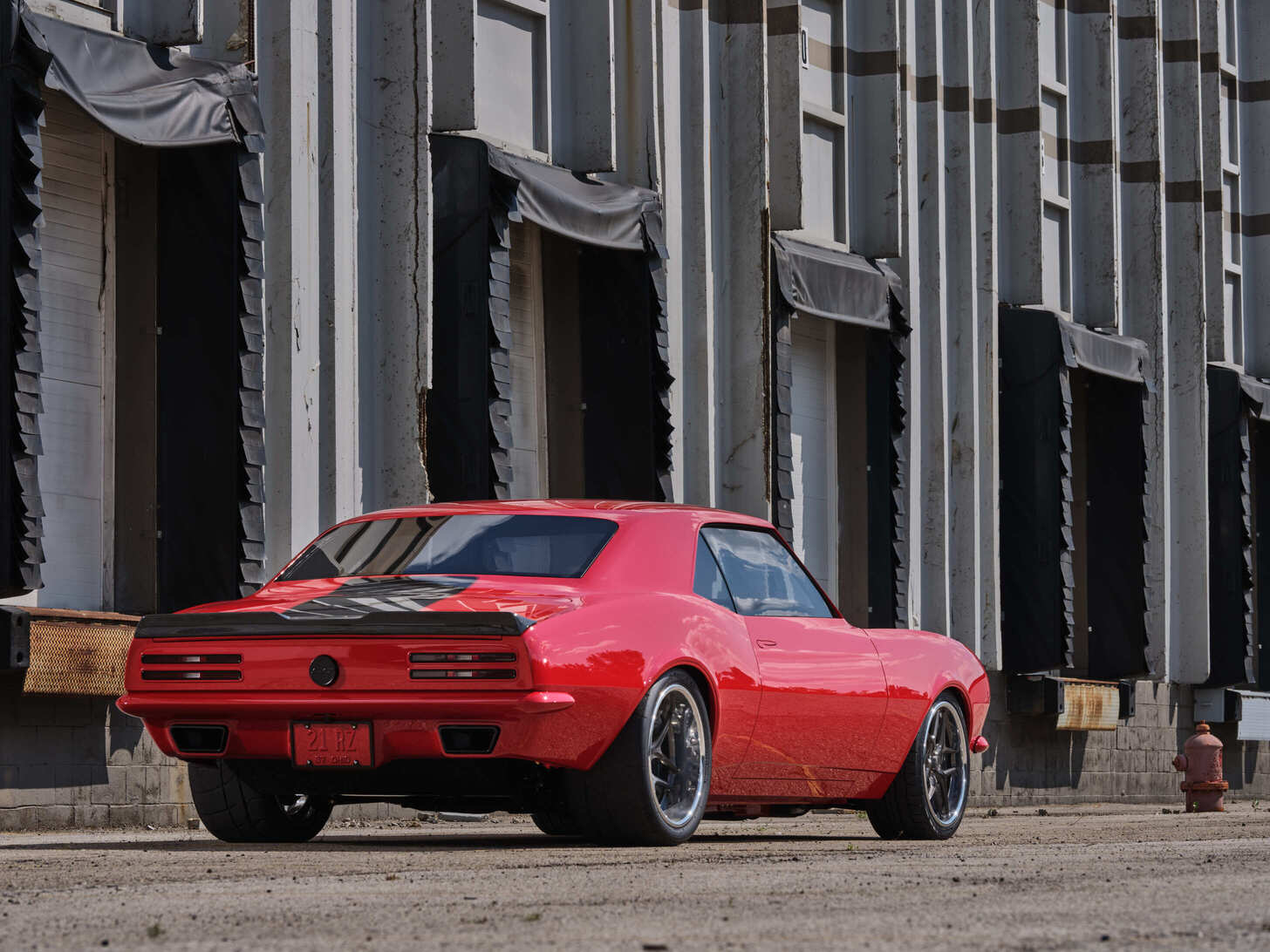 Jim and Automotion owner Ron Leibrock bounced around ideas and came up with a plan to take the pedestrian '67 and turn it into a street-strong muscle car with unique styling and a boatload of power, while at the same time possess exceptional street manners. Done and done.
Leibrock and the Automotion crew got busy tearing the F-body down to bare metal. They found a lot of rust and sheetmetal issues, which is typical for a car of this vintage. "There were multiple imperfections that needed perfecting," Ron states. "Our crew was up to the task and took care of business patching holes, replacing sheetmetal that needed replacing, and setting gaps that needed setting." Corrosion covered a good amount of the floors, so they patched in new sections in the rusted-out areas. With the torch still hot they also grafted in a set of Detroit Speed mini-tubs as big rubber out back was on the agenda.
With the body sanded and smoothed it was then coated in PPG Torch Red with a PPG Dark Gray Metallic stripe incorporated on the hood and trunk that ties in nicely with the carbon-fiber front and rear spoilers.
Here's Another Awesome Render by Tavis Highlander: 1967 Camaro
Jim was always a bit fond of the Firebird taillight arrangement, so the rear tail panel was borrowed from a '68. That and the custom exhaust surrounds give the back side of this F-body a look all its own. Further Automotion custom touches include narrowed and tucked front and rear bumpers to add a bit of modern style. The RS grille was added because in Jim's eyes, it just looks better.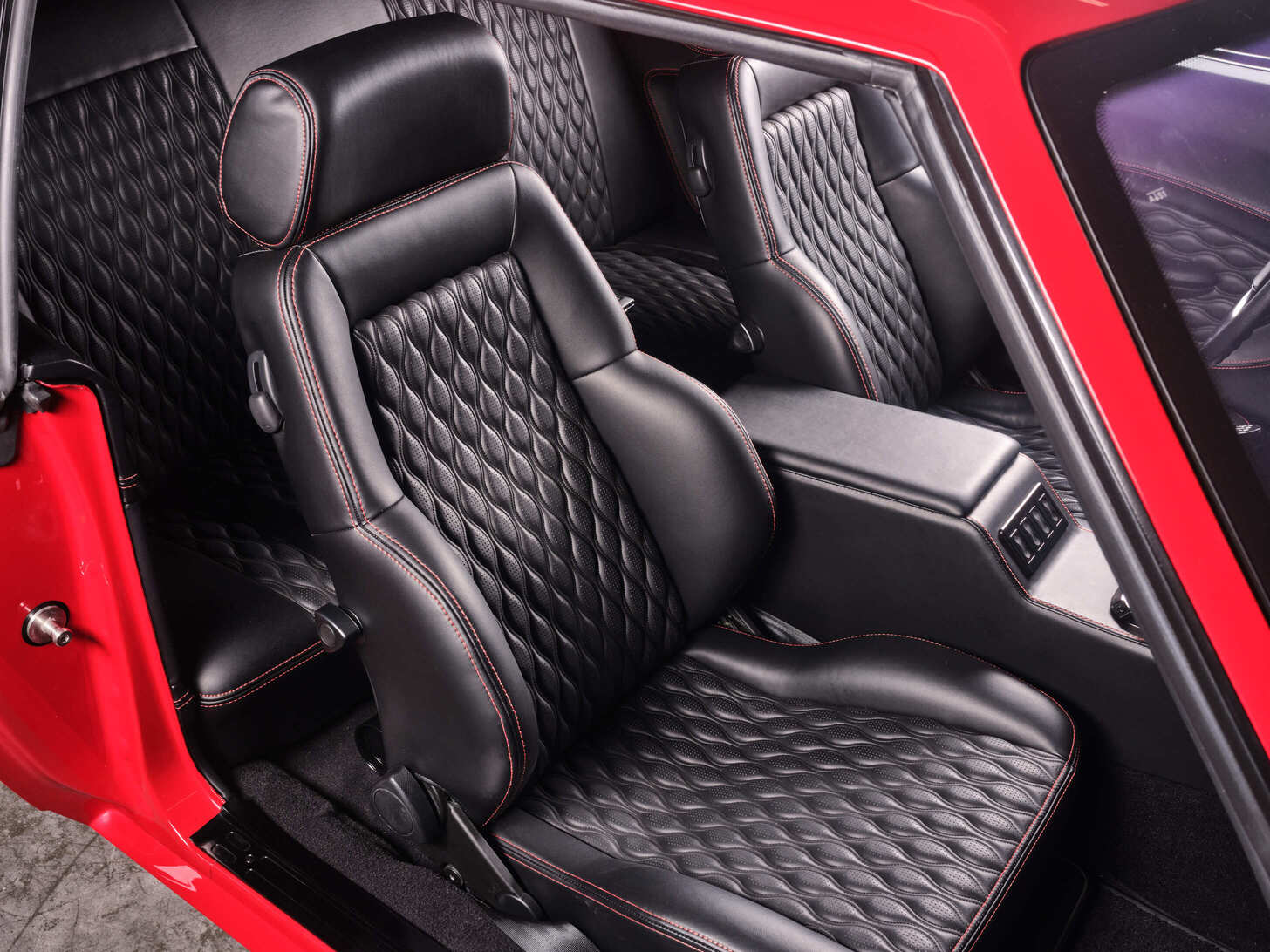 With the car looking stellar, Jim knew it would need the power to keep up with the car's aggressive appearance. A crate LS3 from Chevrolet Performance was just the ticket as a starting point, but his speed-freak personality led him to a Whipple 2.9L supercharger for what he calls a little more "oomph." The engine bay carries a sinister all-black display, including the Billet Specialties valve covers and Wegner Motorsports drive system. The LS inhales through a custom-fabricated aluminum tube topped with a K&N element and exhales through a set of Detroit Speed headers, custom 3-inch exhaust, finalized by a duo of Borla mufflers. The ingredients of this ensemble are good for a stout 668 hp and 575 lb-ft to the tires—plenty of juice for Jim's horsepower addiction.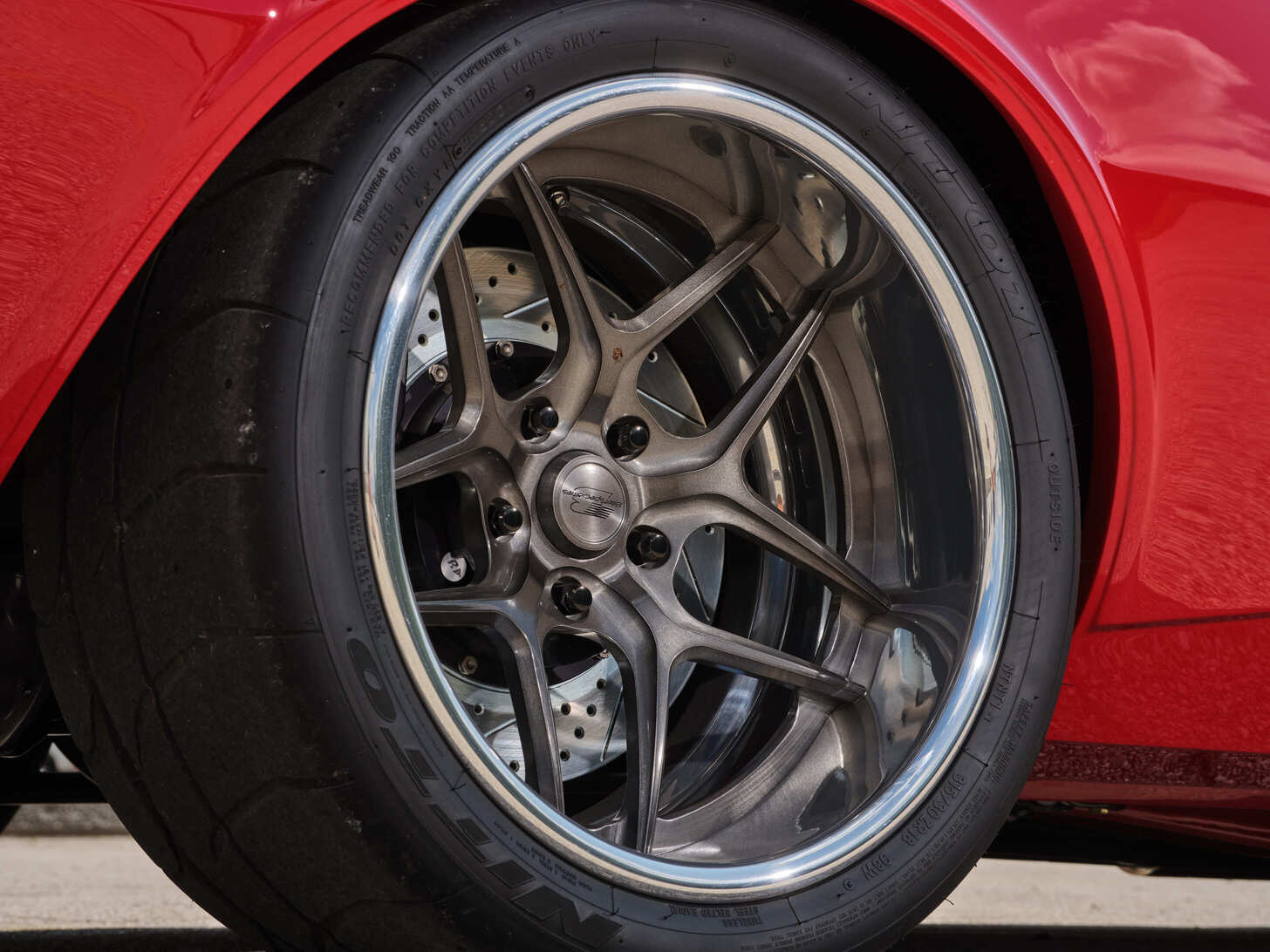 In true hot rodder fashion, Jim passed on the simplicity of driving an automatic, and prefers to row gears via a Ringbrothers shifter through a TREMEC T56 manual trans backed by a Monster clutch. A 9-inch rearend stuffed with an Auburn limited-slip differential and 3.90 gears easily handles the havoc when Jim dumps the clutch.
Detroit Speed suspension was employed throughout—hydroformed subframe up front and a QUADRALink out back. JRi double-adjustable shocks reside on all four corners as do Baer Brakes 14-inch rotors and six-piston calipers.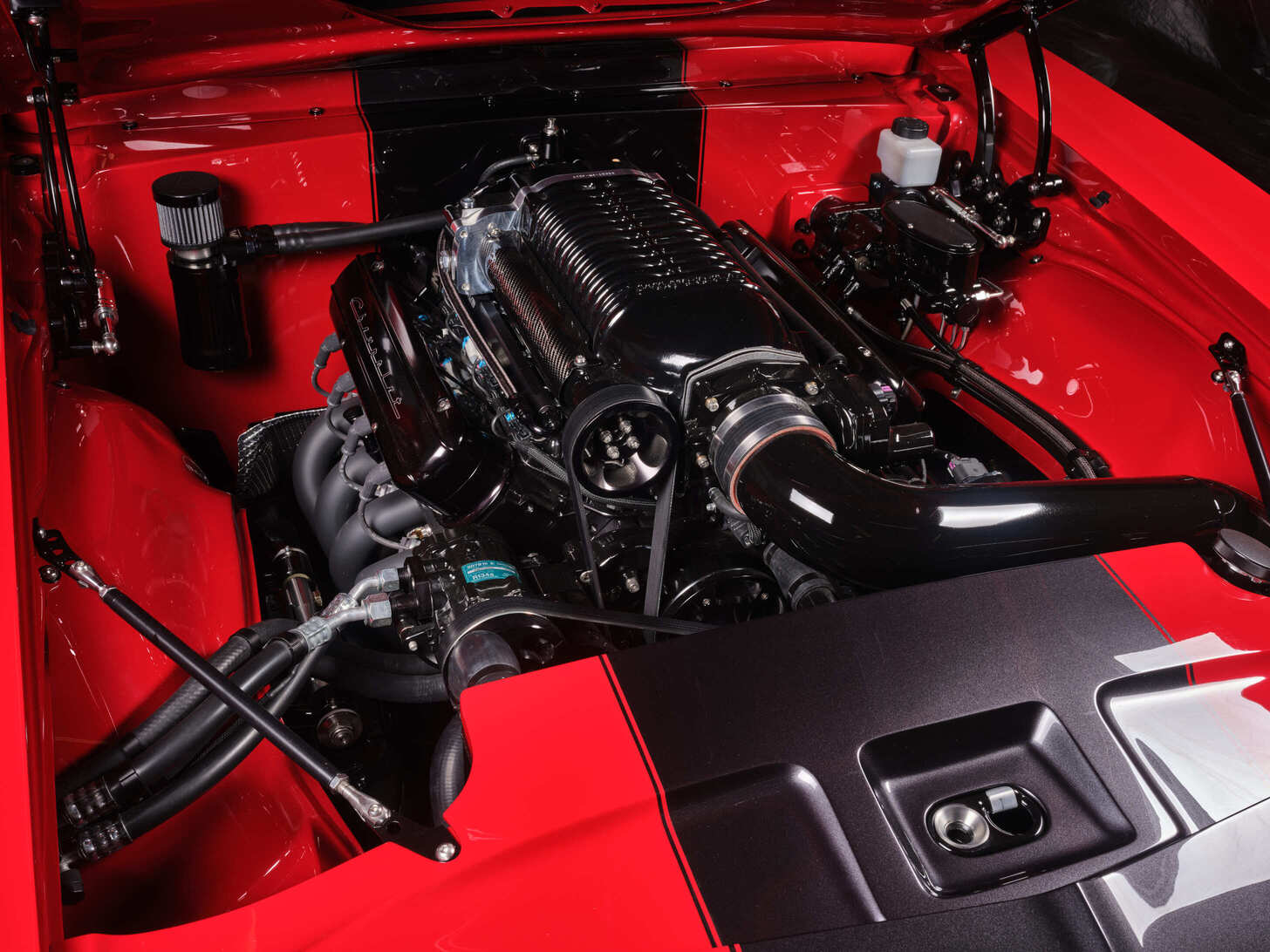 Black Billet Specialties Hydro wheels wrapped in Nitto NT01 rubber (255/35-18 front, 315/30-18 rear) create a solid foundation and adhere to the car's malicious personality.
Interested in Seeing More: 1969 Camaro Powered by a 625hp LS3
The interior follows along with the threatening theme. It's black arena was arranged by Top Stitch Upholstery out of Plain City, Ohio. They stitched in custom leather for the door panels, console, dash, and covered the Recaros to jibe with the scene. The Dakota Digital gauges keep Jim aware of the car's vitals, and Vintage Air ensures a cozy climate. The ididit steering column and Clayton Machine Works pedals conform to the performance-oriented theme. A Kenwood head unit with touch-screen follows through with the modern form Jim was after, while a Hertz amp powers the 6×9 speakers and 10-inch subs hidden in the trunk. It's all about that bass.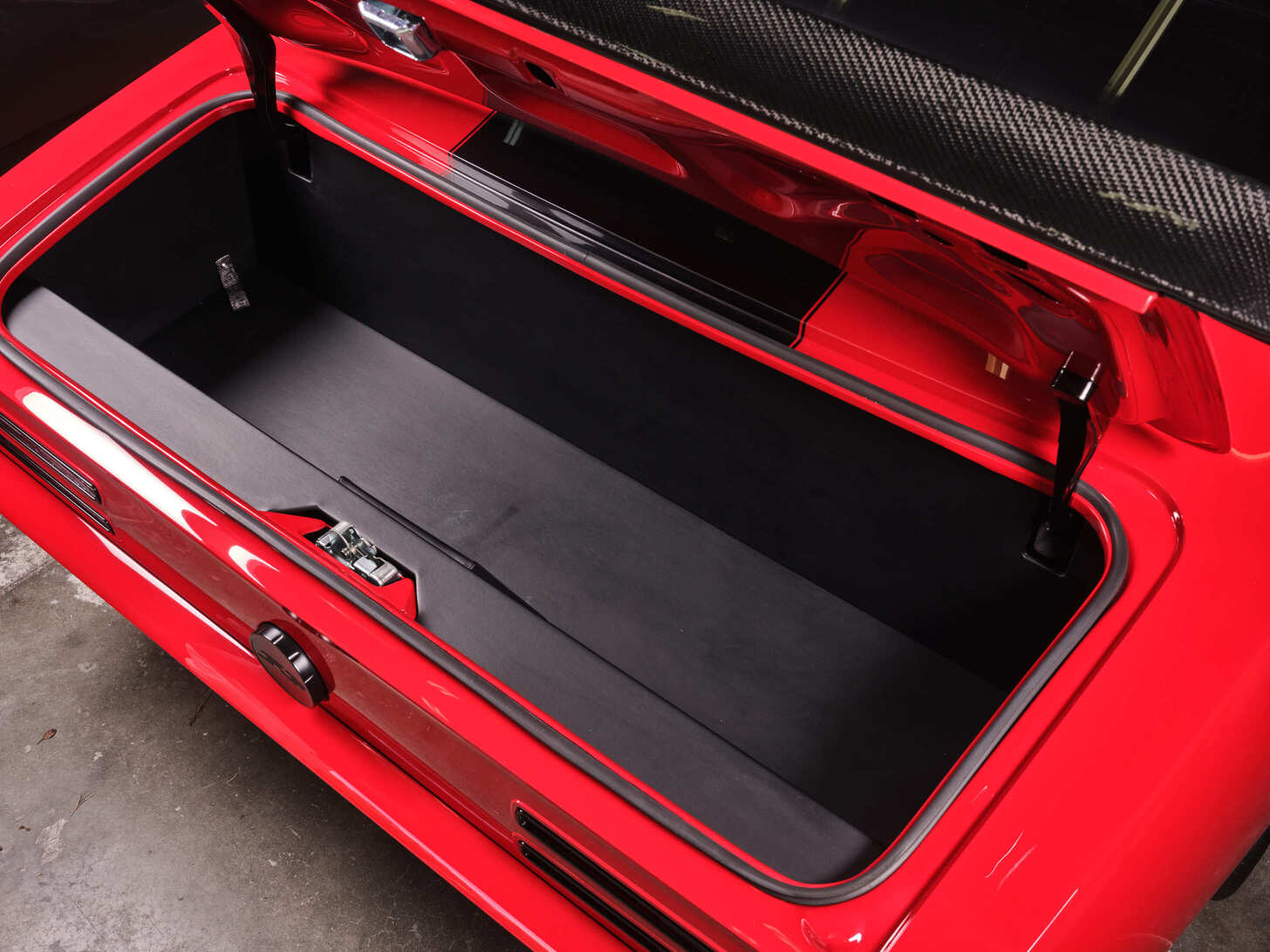 "This car is an absolute beast. It's got more than enough horsepower and was built to the exact style I was after." Jim reports. "Yes, it took about three years from start to finish, but the car's aggressive demeanor combined with its ability to corner and spin the tires at will, make it so fun to drive. Yet when it's time to just cruise and chill, it does that, too. It's got the right parts put on by the right people. I can't thank the crew at Automotion enough for helping me build the car of my dreams." ACP
TECH CHECK
Owner: Jim Vogel
Vehicle: '67 Chevy Camaro
Engine
Type: Chevrolet LS376
Displacement: 376 ci
Compression Ratio: 10.7:1
Bore: 4.065 inches
Stroke: 3.622 inches
Cylinder Heads: Aluminum L92-style port with 68cc chambers
Rotating Assembly: Nodular iron crankshaft, Powdered metal connecting rods, Hypereutectic aluminum pistons
Valvetrain: Stock GM LS3
Camshaft: GM Hydraulic roller, (0.525/0.525 lift, 204/211 deg. duration at 0.050)
Induction: 2.9L Whipple Supercharger, K&N element
Assembly: GM
Exhaust: Detroit Speed headers, Automotion custom 3-inch exhaust, Borla mufflers
Ancillaries: Billet Specialties valve covers, Billet Specialties hood hinges, Wegner Automotive drive kit, Automotion Custom aluminum intake tube, AFCO aluminum radiator, Detroit Speed fender braces
Output: 668 hp at 6,700 rpm, 575 lb-ft at 4,600 rpm
Drivetrain
Transmission: TREMEC Magnum T56 six-speed manual
Rear Axle: GM 12-bolt, Auburn Gear limited slip diff., 3.90 gears
Chassis
Front Suspension: Detroit Speed hydroformed subframe, JRi double-adjustable shocks, sway bar
Rear Suspension: Detroit Speed QUADRALink with Panhard bar, JRi double-adjustable shocks
Brakes: Baer 14-inch rotors, six-piston calipers front and rear
Wheels & Tires
Wheels: Billet Specialties Hydro Gunmetal centers with polished lip; 18×9 front, 18×11 rear
Tires: Nitto NT01; 255/35R18 front, 315/30R18 rear
Interior
Upholstery: Black loop carpet, satin black leather covering with red stitching by Top Stitch Upholstery (Plain City, OH)
Seats: Recaro black satin leather with red stitching
Door Panels and Console: Fesler, leather by Top Stitch Upholstery
Steering: ididt steering column with Billet Specialties Hydro 14-inch steering wheel
Shifter: Ringbrothers
Shifter Boot: Ringbrothers
Pedals: Clayton Machine Works
Dash: Black satin leather
Instrumentation: Dakota Digital
HVAC: Vintage Air
Control Panel: Vintage Air
Vents: Vintage Air
Exterior
Bodywork and Paint: Automotion Design and Fabrication
Paint: PPG Torch Red, PPG Metallic Dark Gray
Hood: Z/28 Cowl Induction
Grille: GM RS
Headlights: Trucklite
Taillights: Easy Performance
Door Handles: Kindig-it Classic "Spoon"
Bumpers: Front and rear narrowed and tucked by Custom by Automotion