LS Swapped Rally Red 1970 Oldsmobile 442 Built By Bayberry Vintage Autos
By Chuck Vranas   –   Photography & Videography By the Author
Growing up during the peak of the muscle car wars, there was plenty of excitement to be found both on the street as well as in the pages of your favorite magazines. The Rally Red '70 Olds 4-4-2 convertible owned by Bob Johnson of Manchest er, New Hampshire, on our pages is a perfect example of a '70s-era muscle car that's evolved into a cutting-edge performance car thanks to updated chassis dynamics, big brakes, and LS engine power.
What does 4-4-2 stand for? It derives from the original car's four-barrel carburetor, four-speed manual transmission, and dual exhausts
Harkening back to the wild advertising campaigns of the '60s and '70s, the Big Three showcased their constantly evolving muscle cars through sharp-edged promotions that were literally on fire. With each brand's unique personalities, promoting the latest models and features between manufacturers were laced with special taglines, characters, and styles to lure buyers into the seats of their hot factory hop-ups. While Pontiac ads used a tiger for the GTO, Ford ran ads on how to cook a tiger and Plymouth's iconic Roadrunner blazed across the pages. It was the mysterious Dr. Oldsmobile, portrayed as a mad scientist in a white lab coat, who became the iconic spokesperson of the Oldsmobile 442, leading young buyers into his laboratory to challenge the other marques.
Read More: Traditional & Timeless '32 Ford Roadster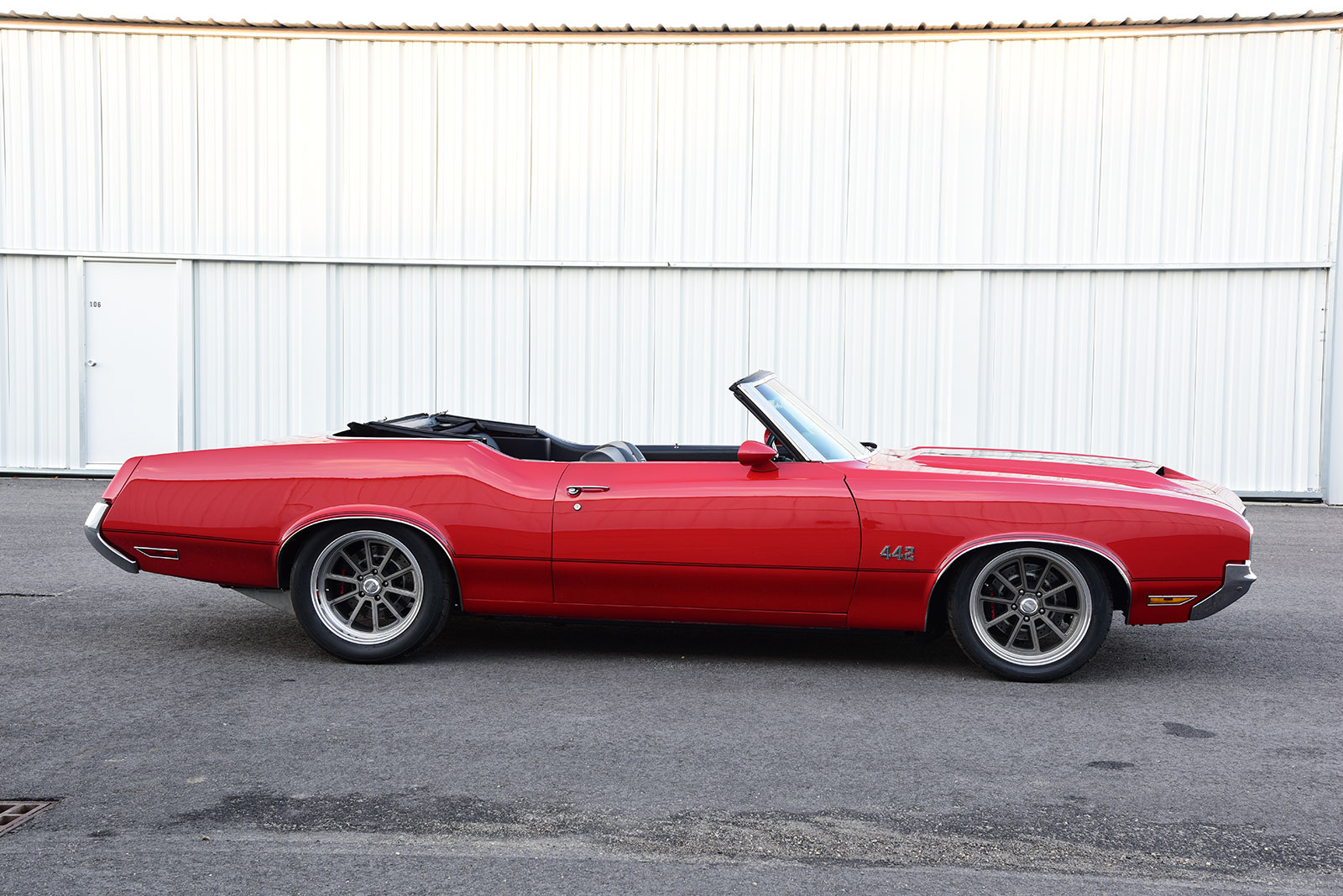 Having experienced the thrills of watching the muscle car evolution at its peak, Bob had always been fascinated with offerings from Oldsmobile. This passion eventually led him on a search for a '70 Olds 442 drop-top packing all the right factory bits. Eventually he came face-to-face with a '70 model that checked all the right boxes, so a deal was made swapping cash for keys, bringing his dream ride home. After a couple of years driving the restored factory classic, he decided it was time to turn up the heat in a way that Dr. Olds might have done given the technological advancements afforded to today's builders. By fusing improved performance to the vintage shell, he envisioned the perfect combination to make the driving experience even more exciting.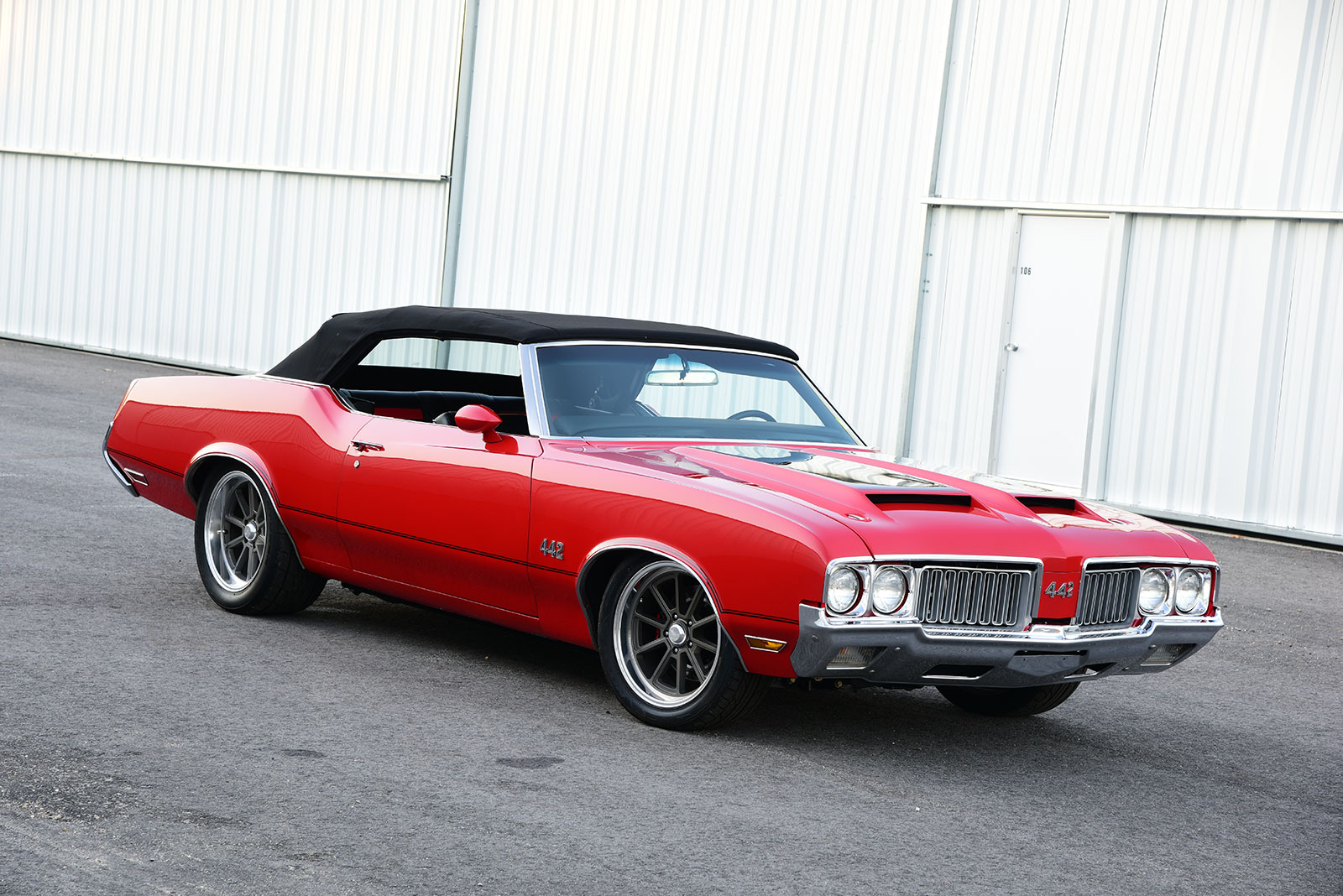 Having seen several recent builds from the stables of Bayberry Vintage Autos in nearby Hampton, New Hampshire, he set up a meeting with shop general manager Jim Dunaway. The pair shared many of the same ideas for blending modern LS power with an upgraded platform, suspension, and brakes and before long the car was dropped off to begin its transformation.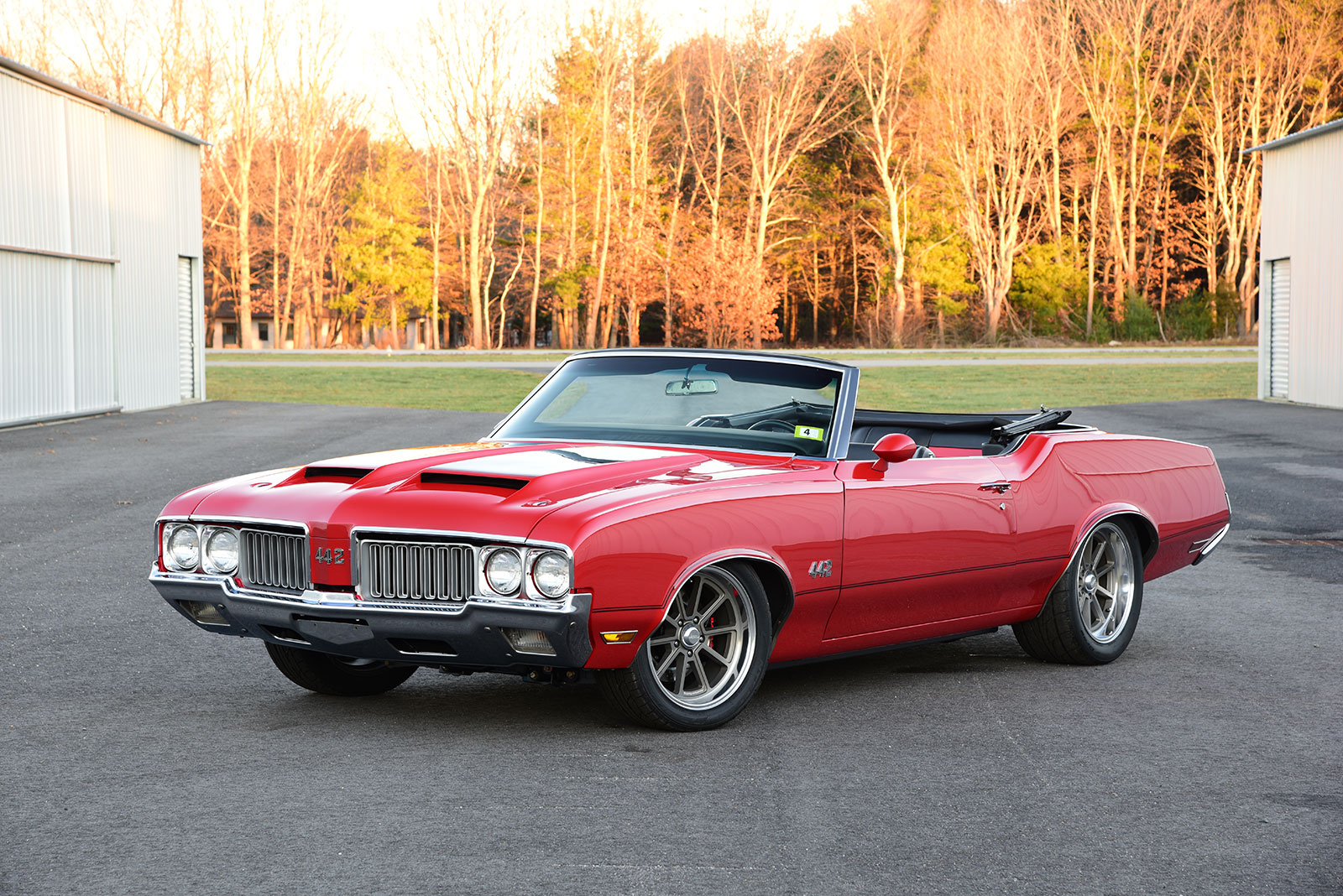 With the factory chassis having served the car well over the past 50 years, it was carefully separated from the body and repurposed for an upcoming restoration project.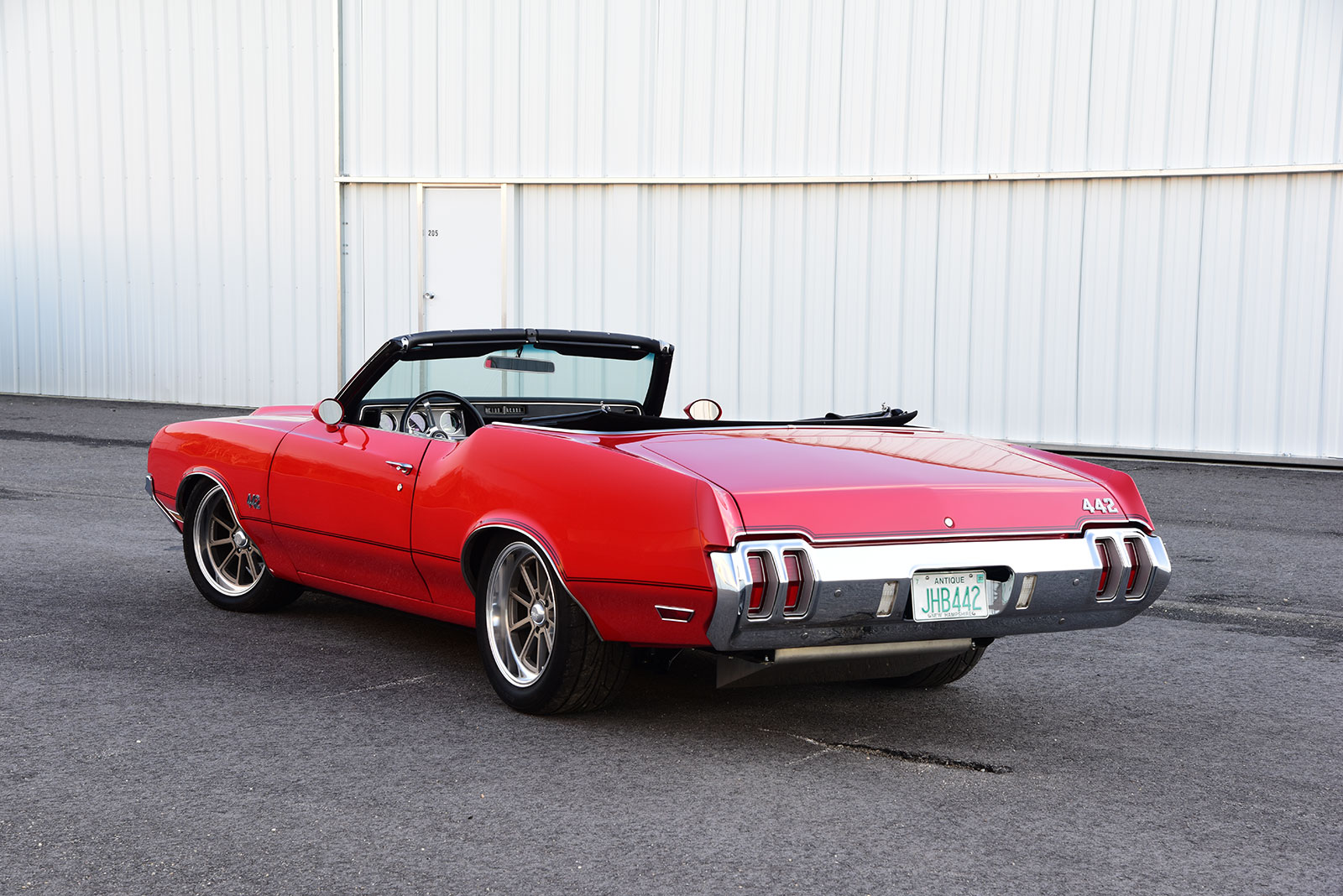 A call was placed to Roadster Shop for one of their cutting-edge SPEC series chassis featuring their exclusive "Laser Rails" precision CNC laser cut and contoured frame rails linked together with custom crossmembers and bracing. To make installation flawless, Roadster Shop also utilizes all factory mounting points for body, bumper, and core support mounts as well as offering crossmembers and chassis bracing, allowing for up to a 3-inch exhaust.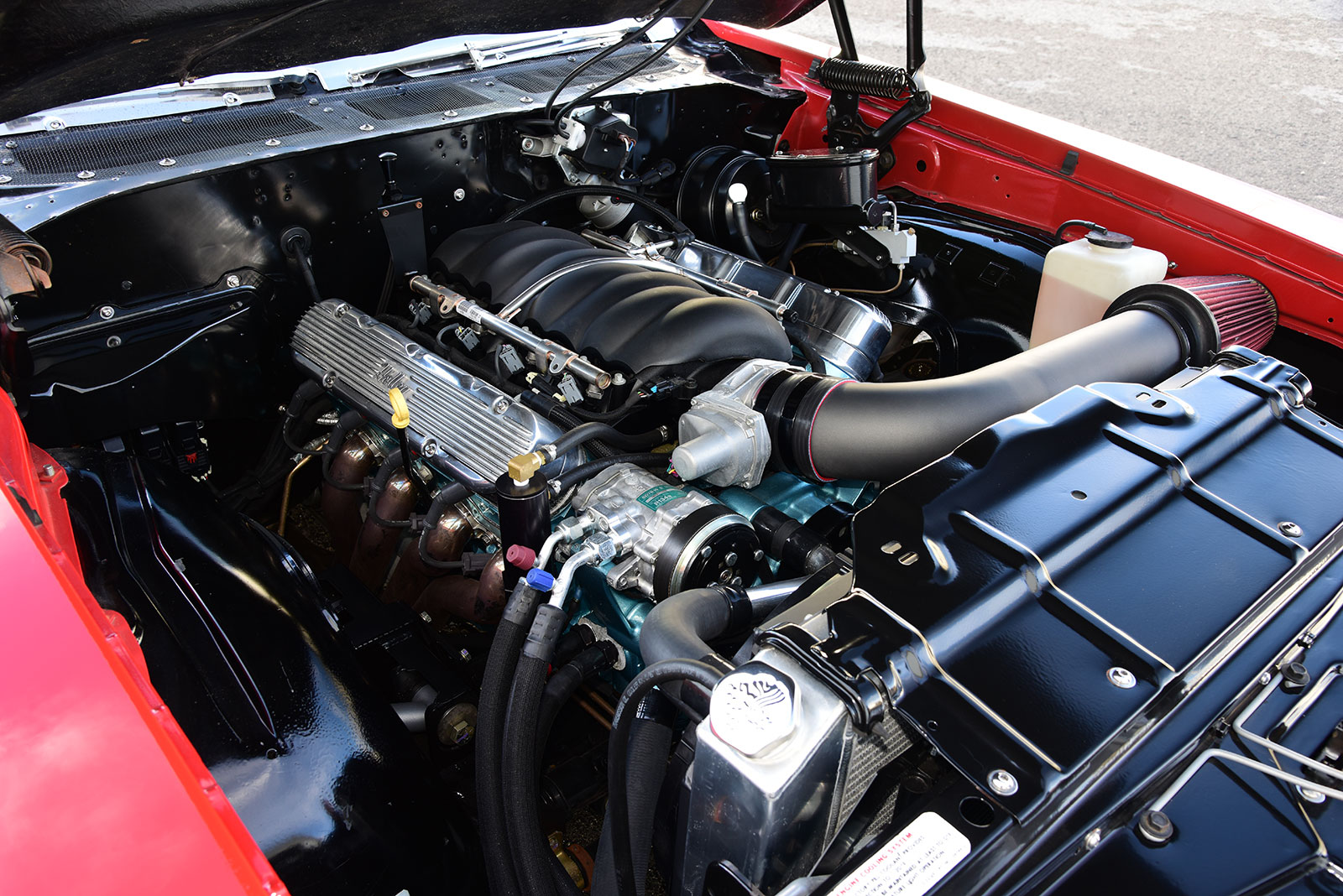 Out back, a Ford 9 inch rear end is filled with 31-spline axles matched to a Strange Engineering Pro-Series nodular iron third member with an Eaton Detroit Truetrac differential spinning 3.70 gears. It's suspended in place by an RS parallel four-bar with matching Roadster Shop SV fixed valve coilover shocks by Fox and a Panhard bar. To up the ante with supercar–like handling, the Roadster Shop Independent Front Suspension is packed with features, including boxed lower control arms with tubular uppers matched to Wilwood ProSpindles, Roadster Shop SV fixed valve Fox coilover shocks, power rack-and-pinion steering, and heavy-duty sway bar. When it's time to cut speed, a dual power JEGS master cylinder moves fluid through Roadster Shop custom-fit stainless steel brake line to 13-inch drilled-and-vented two-piece rotors with matching four-piston calipers from a Baer brake kit mounted at each corner. For plenty of vintage style, a set of Draft-Series 18×9 American Racing wheels wear NT555 G2 Nitto tires size 245/45ZR18 front, and NT555 RII Nitto Drag Radials sized P305/40R18 rear.
Read More: Completely Custom 1951 Chevrolet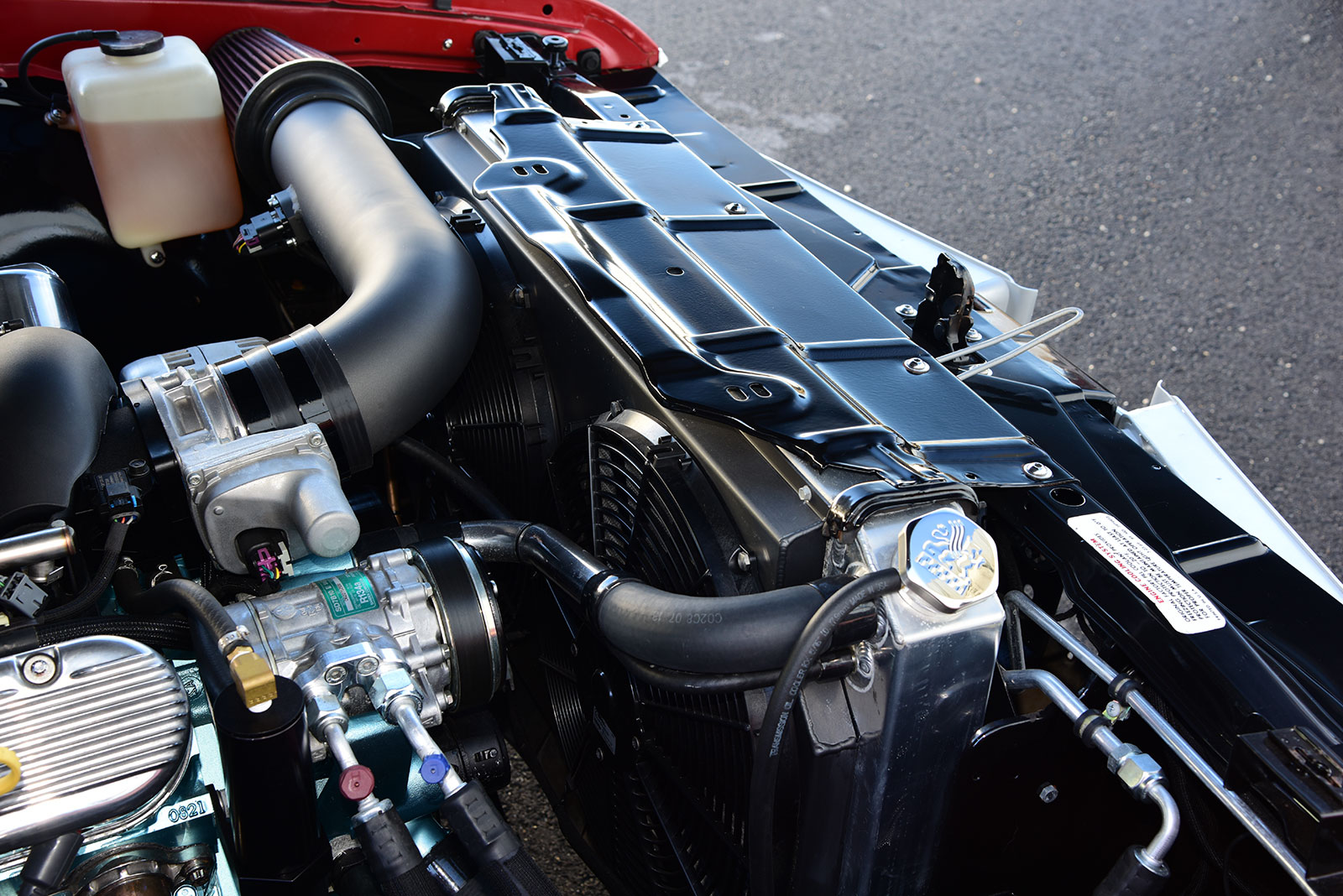 Nothing speaks louder than the tire-searing level of horsepower generated by a modern LS V8 engine strapped to the frame rails of a classic muscle car. To update the Olds 442 with a wicked combination, Bob contacted Chevrolet Performance for one of their unstoppable LS3 crate engine Connect and Cruise packages.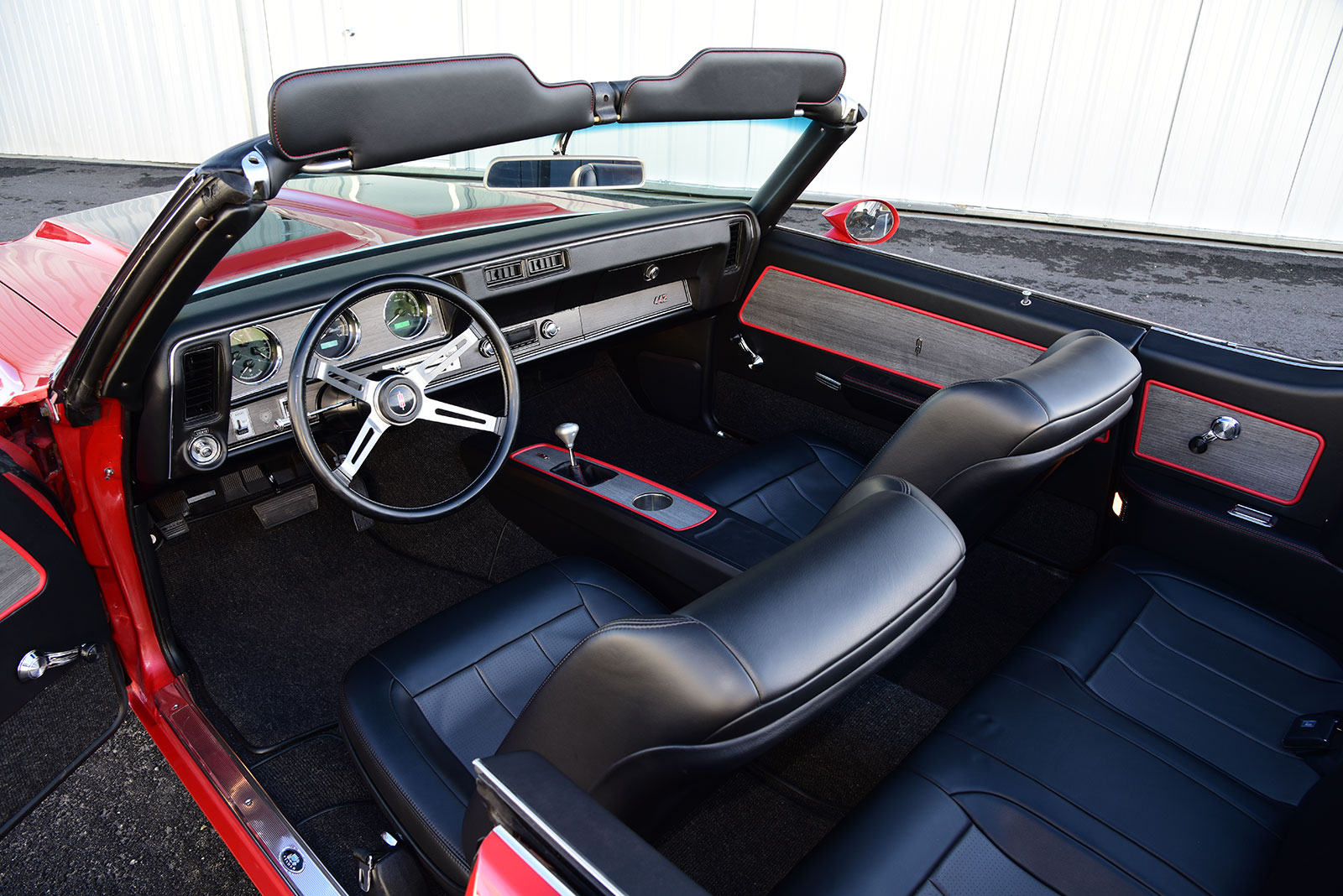 Starting with a speed shop full of go-fast goods, the cast-aluminum block with six-bolt, cross-bolted main caps is filled with a nodular iron crank wearing powdered metal rods crowned by hypereutectic aluminum pistons. An aggressive LS ASA camshaft adds a vicious bump while a pair of aluminum L92 cylinder heads as-cast with 68cc chambers generates seamless power. Up top, a factory intake, throttle body, and injectors deliver the goods with plenty of punch while other cool bits include a mid-mount Holley accessory drive accented by their finned aluminum two-piece signature valve covers and a custom cold air intake by Bayberry Vintage Autos. A factory ignition lights the fire with exhaust roaring through a set of stainless Ultimate Headers to a custom 3-inch stainless exhaust with Borla mufflers by Bayberry Vintage Autos. To move the power, a Chevrolet Performance 4L70E transmission (from the Connect and Cruise combination), including all related factory electronics, was matched to a custom driveshaft. It's all good for a boulevard-stomping 525 hp when the accelerator demands it.
Read More: Deep Blue Royal & Rare Station Wagon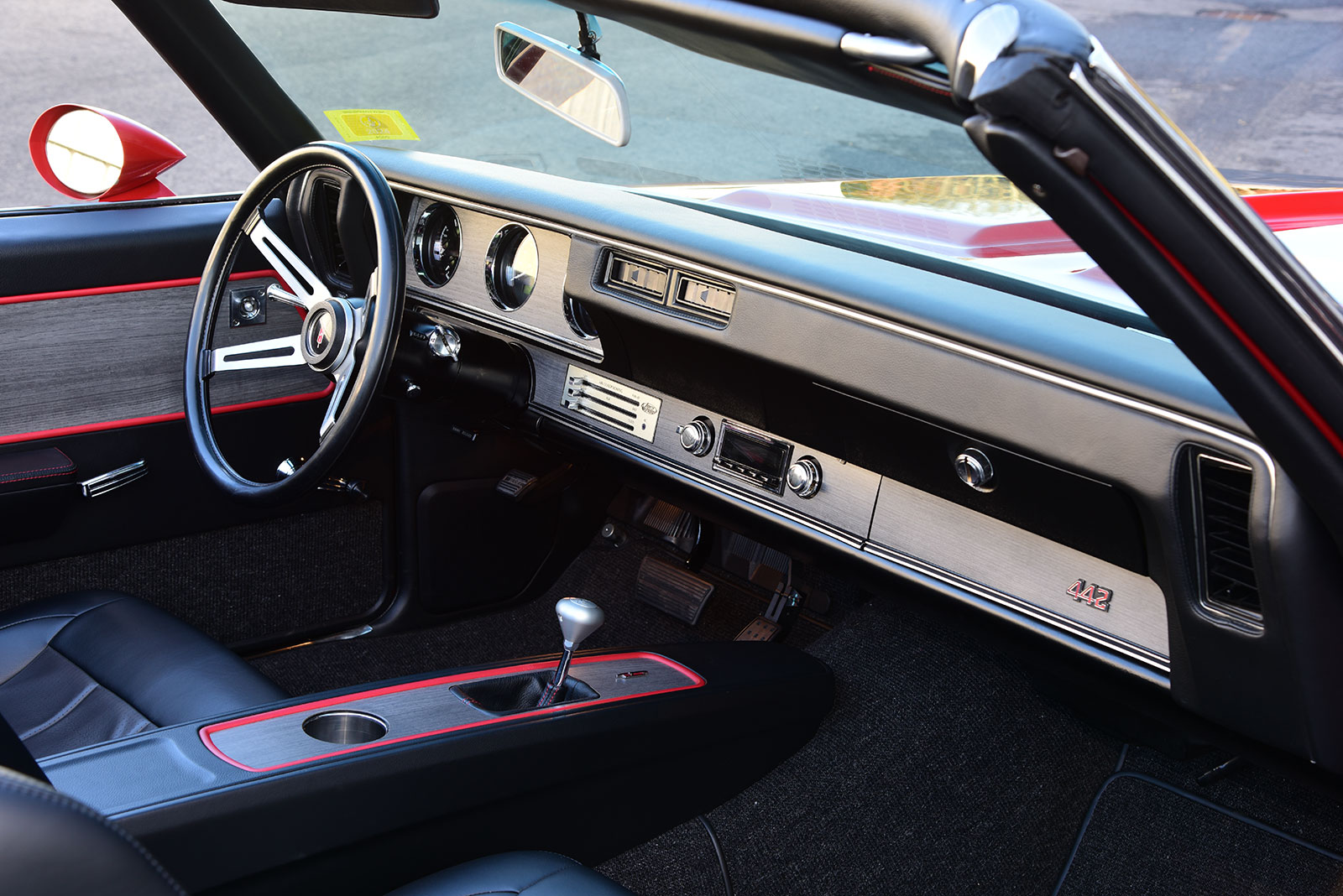 When it came to addressing the body, thankfully its prior restoration brought the 4-4-2 a clean bill of health. With perfect panels and great gaps, the car has provided years of enjoyment since completed. To bring the exterior plenty of newfound luster, the Bayberry Vintage Autos team got busy by first replacing the grille, trim, lighting, and bumpers with fresh parts from Original Parts Group. They followed with a complete paint restoration, which included a full cut and buff to make the Glasurit Rally Red vibe reach full glow.
Wanting to give the business office a fresh new look, Bob contacted the talented team at JK Automotive Designs in Stoneham, Massachusetts, to give it new life. Getting started, the factory dash was custom-wrapped and treated to subtle wood inlays while also being fitted with new VHX dials from Dakota Digital to monitor the vitals. A factory replacement 4-4-2 steering wheel from Original Parts Group carves a course through an tilt ididit steering column with cool breezes coming from a Vintage Air SureFit system and an American Autowire system installed by Bayberry Vintage Autos making it all go live. When it came to comfort, JK Automotive Designs crafted full custom seating covered in a modern combination of black and gray leather with just enough red accent, which also carries over to the custom side panels, one-off console, and complementing square-weave carpet. Completing the look, JK Automotive Designs nailed it with a perfectly executed black canvas convertible top.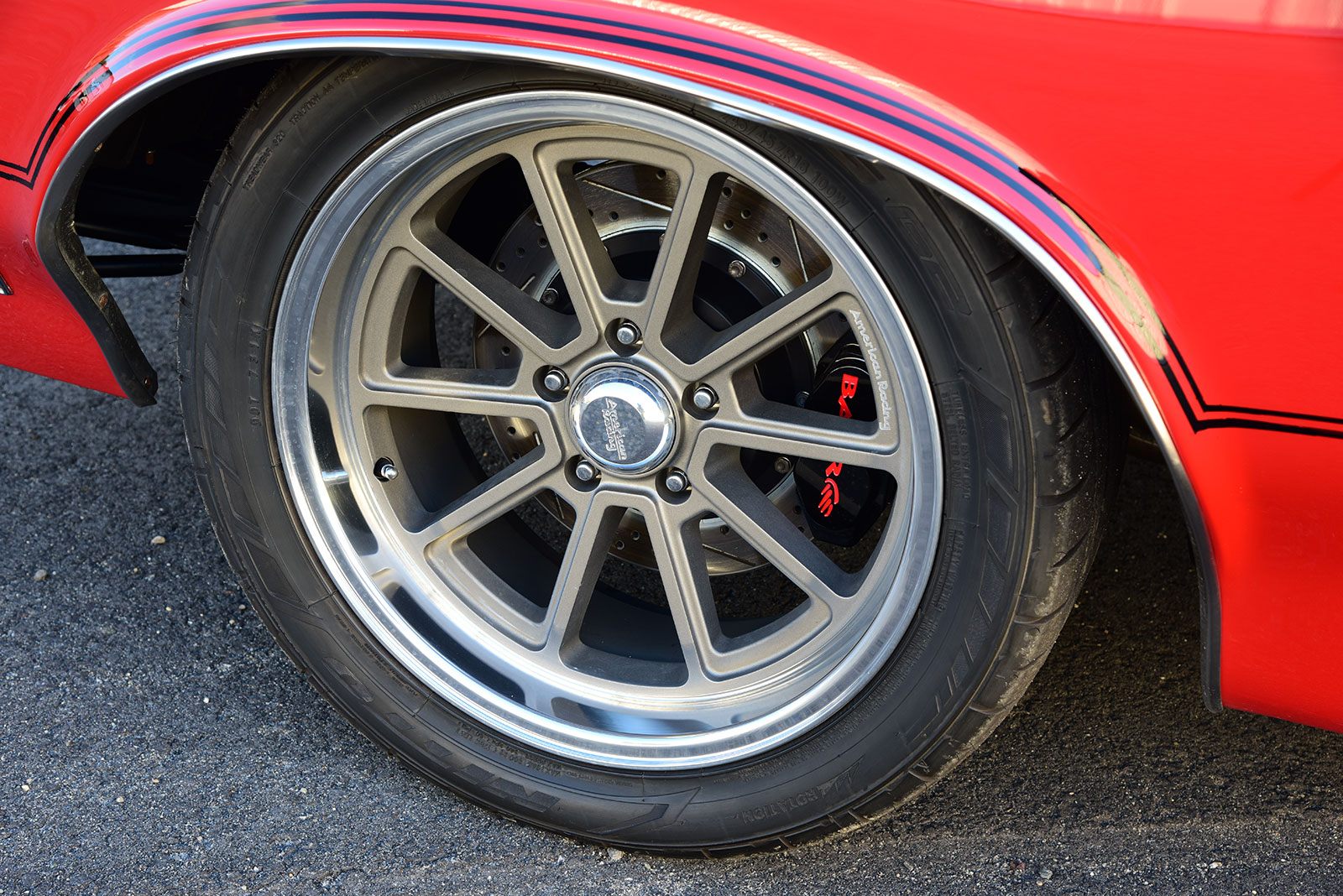 This is one Olds 4-4-2 that we're sure Dr. Olds would approve of with its classic balance of cutting-edge performance and style as it lays down the miles well into the future. MR
Click on this issue's cover to see the enhanced digital version of Classy Oldsmobile 442 Looks, With Modern LS Power.