Ken Ward's Nostalgic 1949 Chevy 3100
By Chuck Vranas   –   Photography by the Author
This 1949 Chevy 3100 is the perfect fulfillment of owner Ken Ward's vision. To get here took 20 years, and three other Advance-Design Series trucks, until he had a laser-like focus on the perfect mix of retro, modern, custom, and performance.
Brand loyalty affects everyone on a daily basis, regardless of whether it's something as simple as a favorite coffee or soft drink brand, supermarket chain, clothing manufacturer, or even gas station. Truck fans are notorious for their brand loyalty; the "I'd rather push a Chevy than drive a Ford" bumper sticker slogan for example.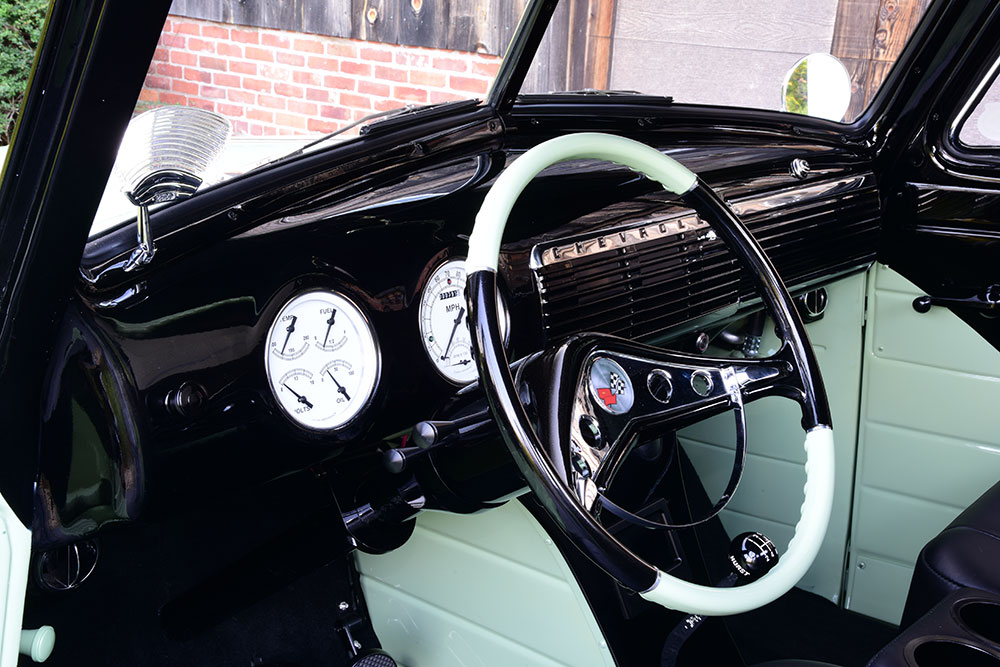 As you move on up the line into more costly investments, like computers, appliances, and vehicles, you'll often find that fans of exclusive manufacturers gravitate to their favorites for a number of reasons, ranging from price and quality to effectiveness in reaching personal goals. Simply stated, you know what you like and what it brings to the table for you. Ken Ward, of Windsor Locks, Connecticut, has a lifelong affinity for Chevy trucks, and the 1947-55 Advance Design series styling specifically.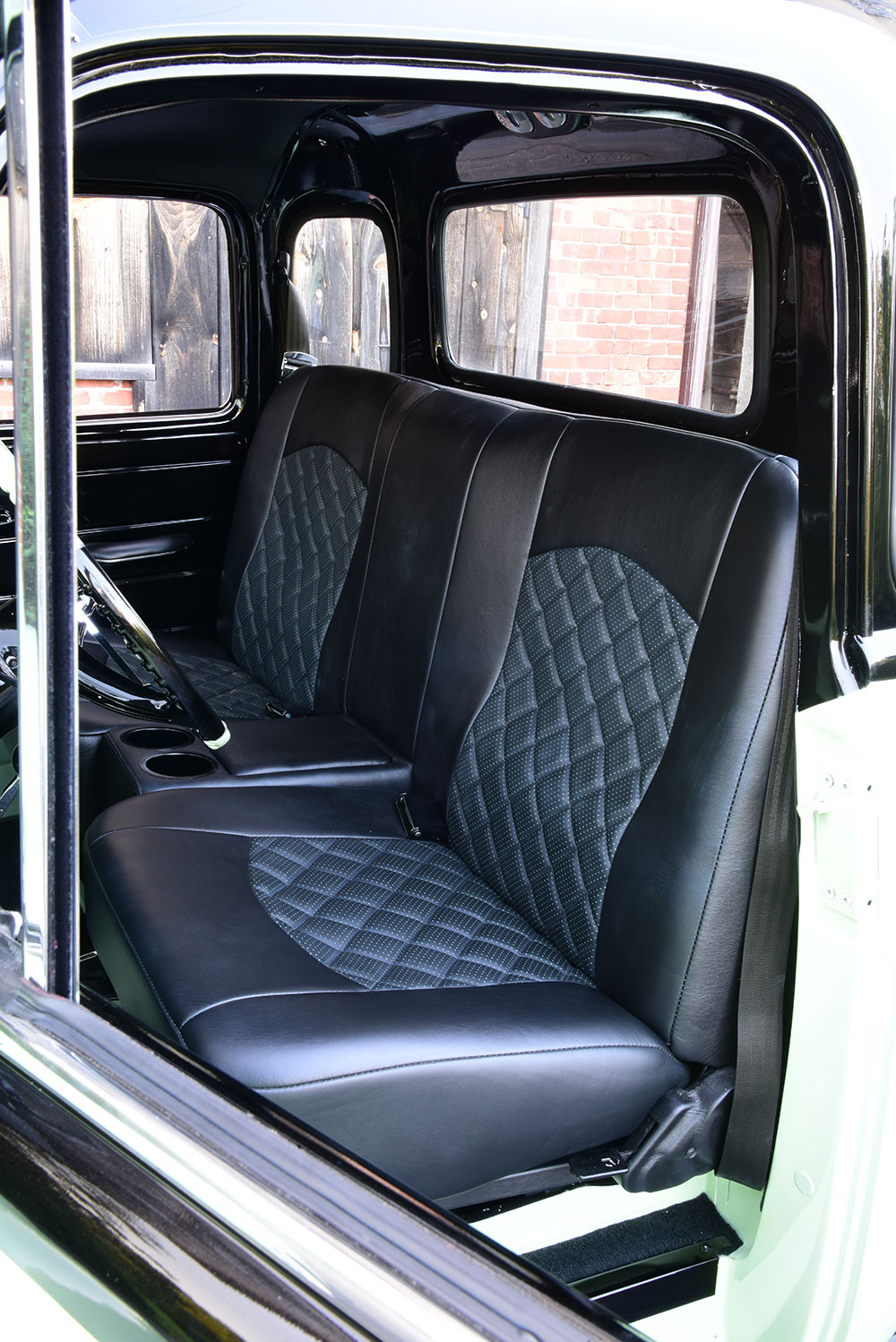 More Chevy Trucks: Chef Bianco's "Bad Apple" 1947 Chevy Truck
For Ken, this eventually led him to step into the hobby in 2003 with the purchase of his first, a 1953 Chevy 3100-series model, thus beginning a near 20-year odyssey with classic trucks. A model from San Diego lit the fuse, especially since it had a 235ci six with three pedals to which he added an Offenhauser intake, twin carbs, Fenton header, and wide white wall tires on steelies. He soon followed with a 1948 Chevy five-window truck packing a 283ci V-8 as well as another, patina'd '48 to add even more seat time, further solidifying his Bowtie loyalty. The 1949 Chevy truck laid out across our pages showcases his latest efforts melding the right balance of nostalgic elements to create a truly memorable hauler.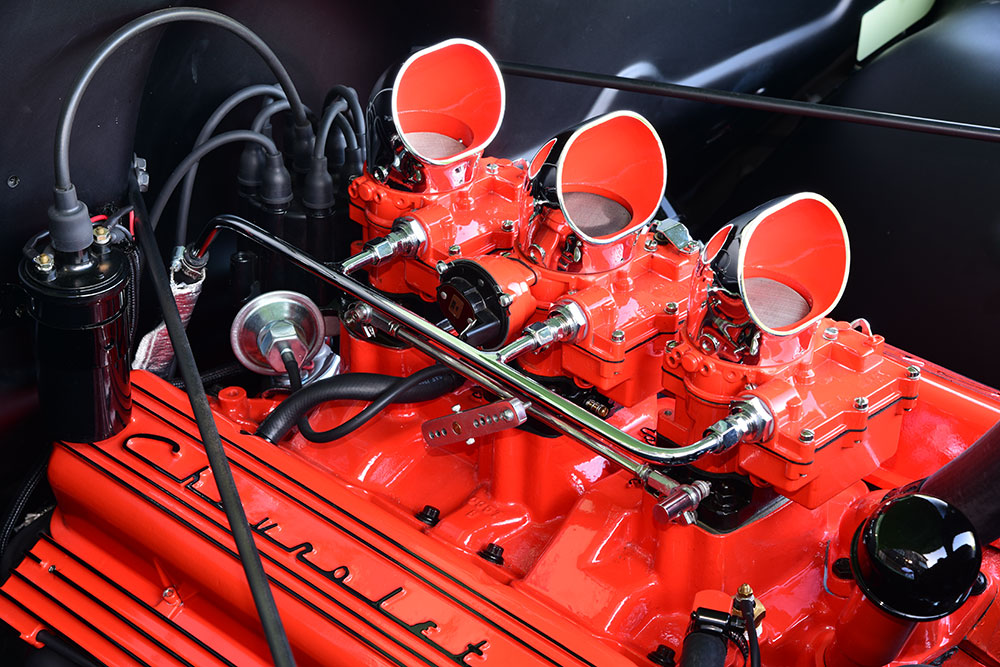 Having always wanted a traditionally styled truck, Ken spent a number of years gathering files of images to gain inspiration. From engine combinations to stance, exterior colors, and unique details, he was finally ready to start the search for a suitable donor. Thanks to the web, sourcing the perfect candidate led him to a wrecking yard located in Blanding, Utah. It was there he discovered the bone-stock 1949 Chevy 3100-Series truck that seemed to be solid and ready for a new life. After swapping cash for keys, it wasn't long till the truck was delivered to his home shop. Without wasting time, he immediately got busy tearing it down to bare bones to assess everything.
More Chevy Trucks: Chevy Truck Triple Play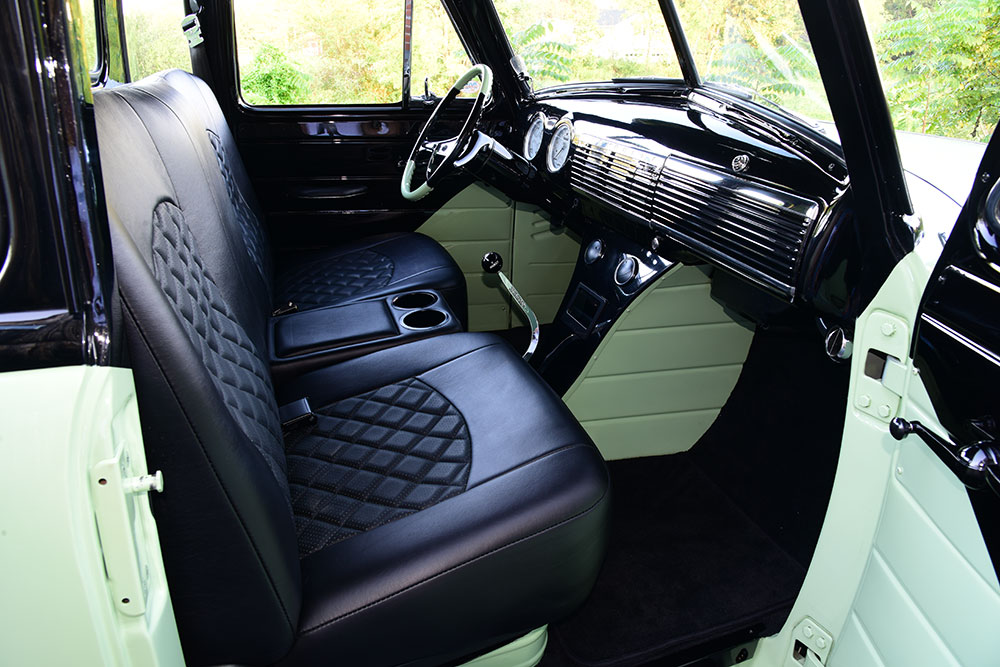 Seeing that the original frame was in solid shape, it was sent off for blasting. Ken followed with a call to master fabricator and fellow Cam Jammers car club member Cort Wilson, of Suffield, Connecticut, to lay out plans for the base. Wanting the old truck to have a perfect lowered stance, a decision was made to make a number of updates to the factory bones, starting with boxing the front half while also updating the crossmembers and adding new driveline mounts. Out back, a Pontiac 10-bolt rear end spins 3.42 gears linked to 28-spline Moser Engineering axles. It's suspended in place by a set of 3-inch dropped Posies Super Slide Springs combined with KYB tube shocks and a sway bar from Chevs of the 40's. For razor-sharp handling, a Speedway Motors Mustang II Independent Front Suspension kit was added complete with their exclusive upper and lower tubular control arms, Heidts 2-inch drop spindles and sway bar, and QA1 coilover shocks. For plenty of stopping power, an ECI dual power master cylinder pushes fluid through stainless lines to 11-inch vented discs and calipers at each corner from Speedway Motors. To give the truck a signature look, you'll find a set of black metallic U.S. Wheel Rat Rod–series wheels, sized 15×7 front and 15×8 rear, wearing B.F. Goodrich wide whites accented by bullet caps and one-off trim rings fashioned from '56 Cadillac hubcaps.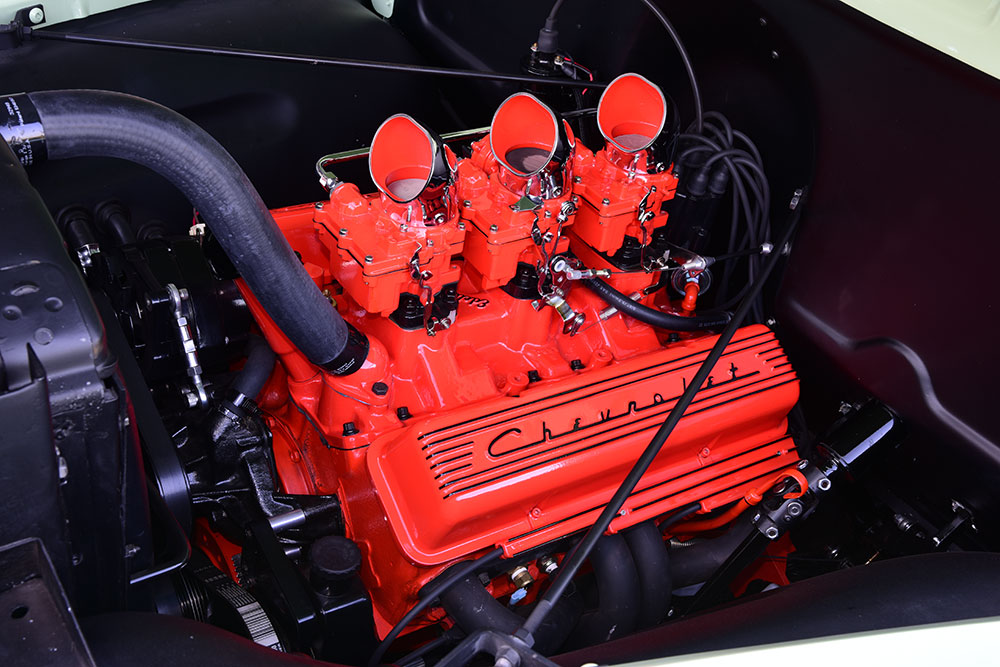 When it came time for power Ken wanted a vintage look with enough kick for effortless cruising. He contacted Five Star Engines of Glendale, Arizona, for one of their stout 327ci V8 engines packed with all the right bits. A vintage block was massaged to perfection and filled with a refreshed factory crank linked to stock rods wearing a set of Sealed Power pistons getting bumped by a Comp Cams stick. A pair of double-hump heads generate plenty of power, especially when matched to an Edelbrock three-deuce intake breathing deep through 2GC  Rochester carburetors by Dave Nilson wearing chrome scoops from Vintage Speed, all custom-painted by Glenn Sinon who also added his skills to the PML Chevrolet-script finned aluminum valve covers and wire guides. A PerTronix Flame-Thrower ignition lights the fire while a set of Speedway headers move the heat through a 2 ½-inch coated steel exhaust matched to Flowmaster Delta Flow 50-Series mufflers. Other cool details include a March Performance accessory drive; Vintage Speed carb bases, linkage, and fuel line; Lokar cables; Optima battery; and Speedway Motors E-Stopp emergency brake system. Power moves through a rebuilt Borg Warner T5 transmission to a custom driveshaft from Camerota Truck Parts.
More Chevy Trucks: Farm Fresh Chevy 3100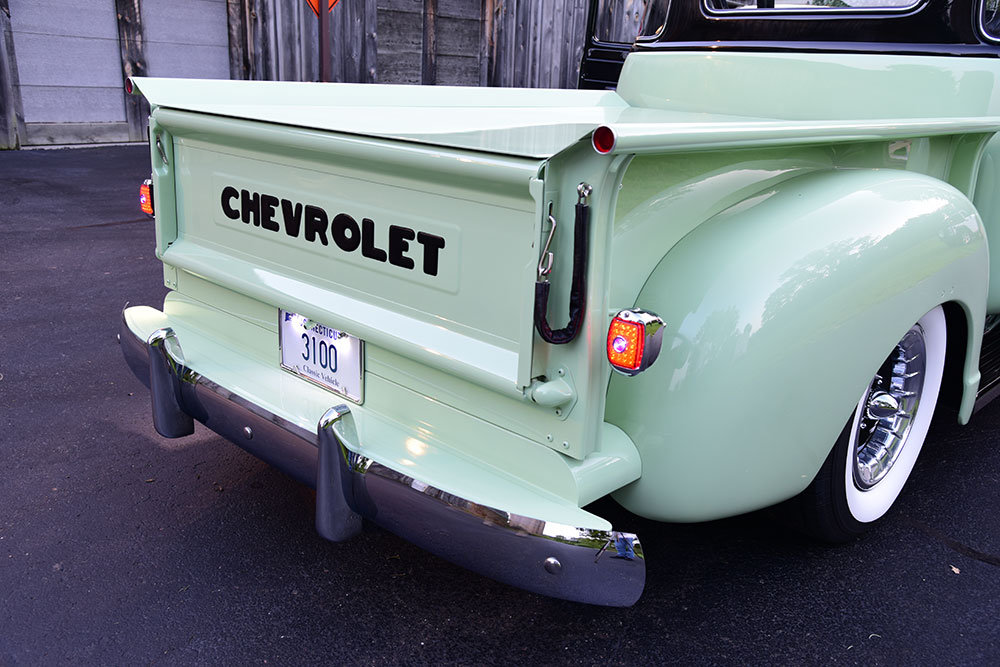 Bringing new life to 70-plus year old sheetmetal requires plenty of fabrication skill. Once the cab and related parts were blasted clean revealing their past abuse, Ken contacted Toby Weskosky of Ellington to bring it all back to life. To start, the firewall was filled and smoothed followed by adding patch panels for the inner and outer cowl and cab corners, all sourced from Classic Parts. Ken then made the decision to freshen up the remainder with the addition of new fenders, running boards, and complete bed sheet metal also sourced from Classic Parts. Other neat details include incorporating 1952 Chevy truck cab doors with factory vent windows, an Altman Easy Latch kit, Juliano's power cowl vent, one-piece visor from Classic Parts, and a Pro's Pick hardtop solid tonneau cover. From there the panels were worked till they were flawless, with gaps set to prepare them for paint. Weskoky then filled his paint gun and laid down a lustrous vibe of PPG custom-blended Pond Green with black metallic accents. Reassembly included fresh trim, bumpers, grille, rubber seals, and glass from Classic Parts along with a set of very cool N.O.S. Unity fog lights and a fresh pine wood bed floor finished in Ebony Black by Ken.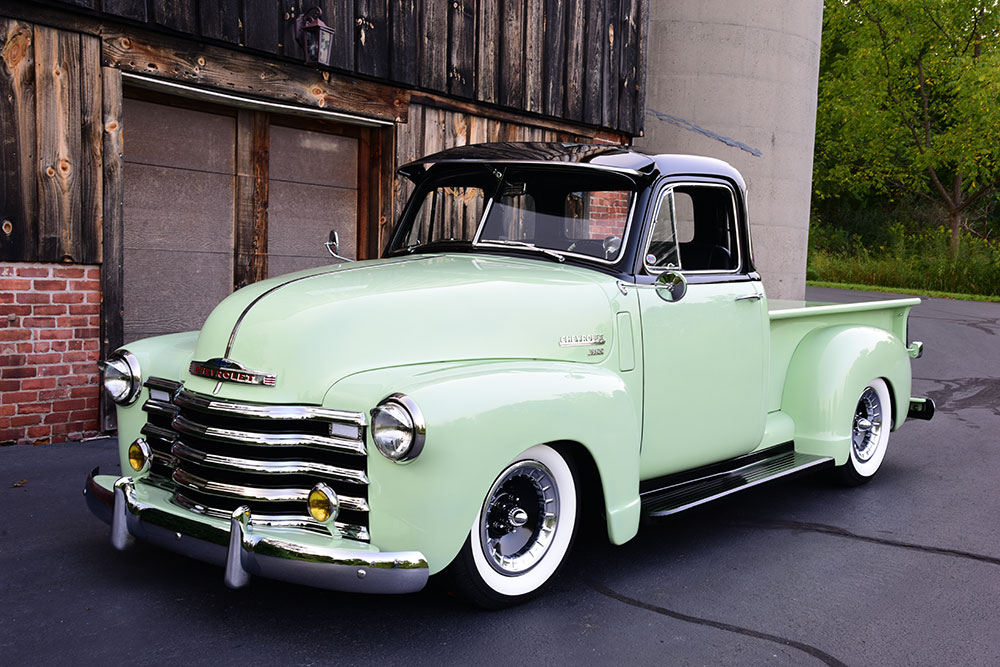 To bring an equal amount of allure to the interior, the factory dash was filled with fresh dials from Classic Instruments to monitor the vitals while a 1959 Chevy Impala style steering wheel from Southern Rods mounted to an ididit tilt column carves a course. Shifts move through a Hurst Competition/Plus shift arm with cool breezes from Vintage Air, tunes by Secretaudio, along with Nu-Relics power windows and wiring from Speedway Motors, both installed by Wilson. To add a unique signature, Ken designed custom-ribbed door panels and a complementing center console, incorporating Vintage Air control panel and Watson's StreetWorks backup camera, fabricated by Wilson. Ken Nadeau of Ken's Upholstery in Ellington was enlisted to create the comfort, starting with a custom Glide Engineering split bench with hidden storage covered in black leather with a custom diamond pattern, complementing headliner, and black loop carpet. This is one Advance Design Chevy that's racking up the miles with plenty of style, and to us that's as cool as it gets!
Ken Ward's Nostalgic 1949 Chevy 3100