An Old-School Chevy 3100 Enriched With Grade A Parts
By Scotty Lachenauer – Photography by the Author
Old farm trucks have become a blazingly hot commodity in the classic truck hobby over these past few years. Builders and fabricators alike have come to realize that these mild-mannered, barn-bred workhorses of our American "breadbasket" are ideal vehicles to enhance with a slew of top-of-the-line performance add-ons and modernized, bulletproof drivetrains. Without a doubt, this combination of American hot rod hedonism is a match made in pickup truckin' heaven.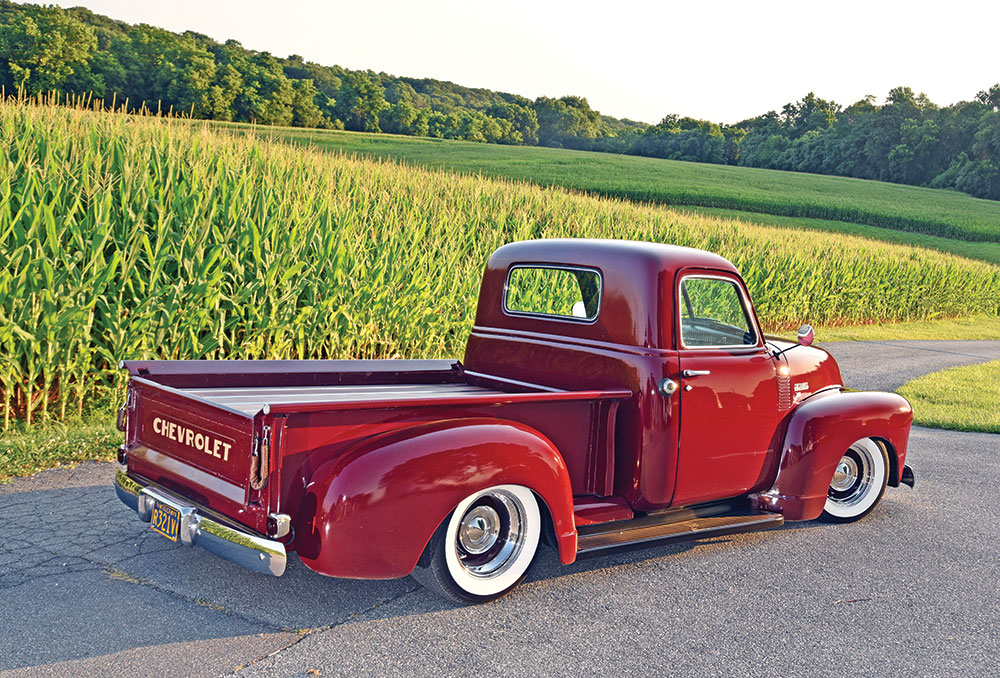 These rudimentary rides can still be found on the cheap, and for the most part possess sturdy bones, low miles, copious battle scars, and plenty of patina on the outside. Infusing them with suspension upgrades, creature comforts, and ample horsepower between the rails can be the ticket for creating that one-off dream truck, and a perfect way to build a nasty bedded hot rod to take on the local highways and byways with.
Planting the Seed
In the back of his mind, Jeremy Switzer of Conestoga, Pennsylvania always figured he'd have a hot rod of his own one day. "I had a couple of cool cars growing up, but my relatives were more into the muscle car scene. I never had the money to build one, but I figured someday the stars would all align and somehow I'd make that dream happen," Jeremy says.
Read More: Corner Carving Chevy 3100
Jeremy's good friend Bob was a long-distance truck driver. One day while on a drive down south in North Carolina Bob spotted an old farm truck on the side of the road. Though it had seen some lean years, the 1950 Chevy 3100 was in reasonably good shape. So he decided to inquire about the parked truck. He met up with the grizzled owner who told him flat-out it wasn't for sale at the present time. After bugging the owner whenever he returned to the area, he finally relented and accepted Bob's final offer. The old 3-on-the-tree, straight-6 engine farm truck was finally coming home with the trucker.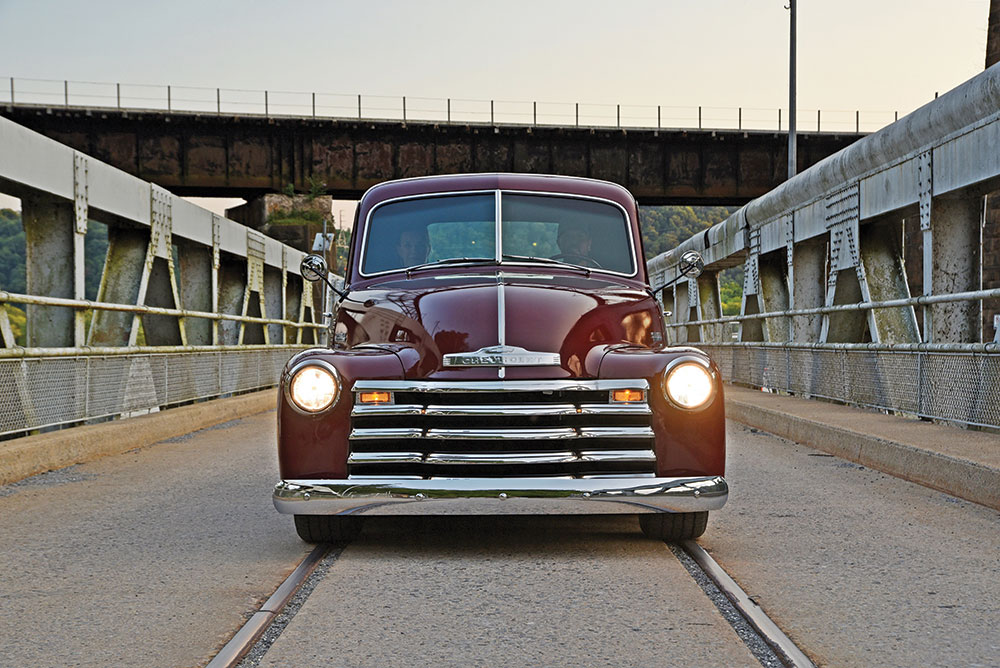 Once the old pickup was back home in Pennsylvania Jeremy spotted Bob driving it around town. His eyes lit up when he gazed upon the plain-Jane Chevy 3100 for the first time, as this classic truck just hit a note with him. It didn't take long for Jeremy to get a ride in his friend's "new-old" pickup. "I fell in love with the truck right away. I told Bob if he ever wanted to sell it, I would love to buy it from him," Jeremy states.
That day finally came a few years later. "Bob told me he needed to sell it and asked me if I still wanted it. Of course I did, but I felt I had to ask my future wife if it was OK to bring the truck home. She agreed, but she told me if we do buy it we would have to drive it to our wedding. I had no problem with that, but I had to make sure the old 6V, 3-on-the-tree Chevy 3100 was up to the task. It made it through the ceremony without a hitch," he says.
After the wedding, the truck sat around for about 12 long years. "I came to the realization that I wasn't getting any younger and that I needed to do something with this Chevy 3100, and do it now. I really wanted to make this truck into something special. It had a good body and decent paint; I needed to infuse it with better bones and more horsepower. The straight-6 engine just never did it for me," Jeremy says.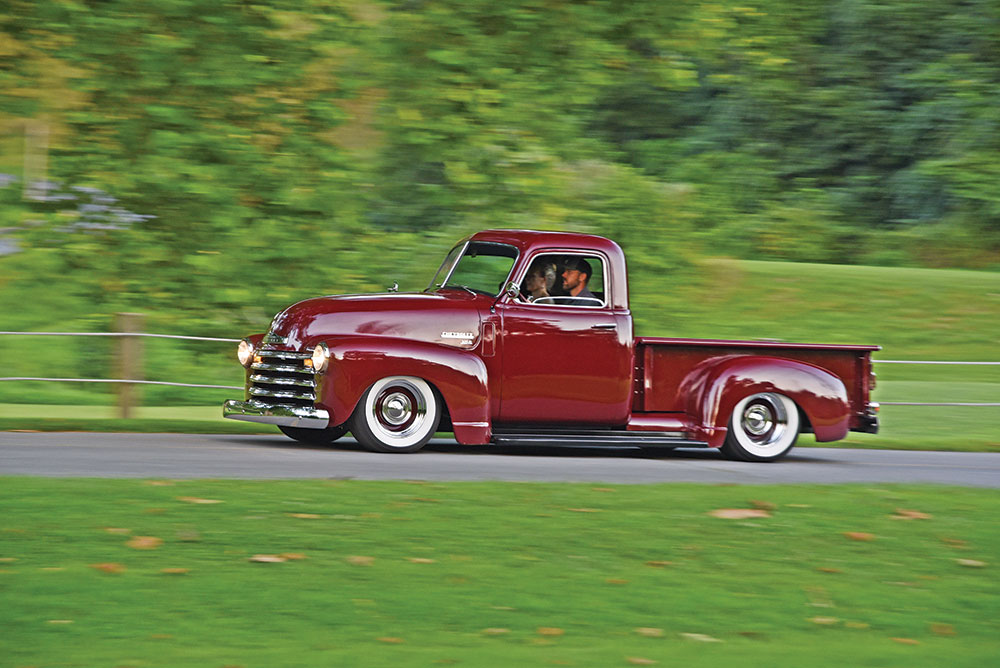 Jeremy grabbed the bull by the horns and contacted a local restoration shop, Ludwig Customs in nearby Denver, Pennsylvania. "I talked to proprietor Jeff Ludwig about doing work on the truck. He told me right off the bat that it would be two years before he could get his elbows into it. So, I kinda forgot about it for the time being," Jeremy states.
Two years later to the week, Jeremy received a phone call from Jeff. "He told me that Roadster Shop just came out with a SPEC chassis, which would be a major upgrade for my old truck. He also said that he had freed up time and was now available to do the work requested … if I still wanted to. 'Hell yeah,' I told him," he says.
 Plowing Ahead
The plan was simple. Jeremy and his wife, Kristen, would head to the Shades of the Past car show at Pigeon Forge, Tennessee, and meet up with Jeff. There at the show they would purchase the chassis they needed for the Chevy 3100 directly from Roadster Shop. Jeremy brought his own pickup and trailer down to the event so it would be easy to get the new aftermarket chassis back to Jeff's garage. The plan worked like a charm, and now Jeff was ready to take a swing at Jeremy's needy Chevy pickup.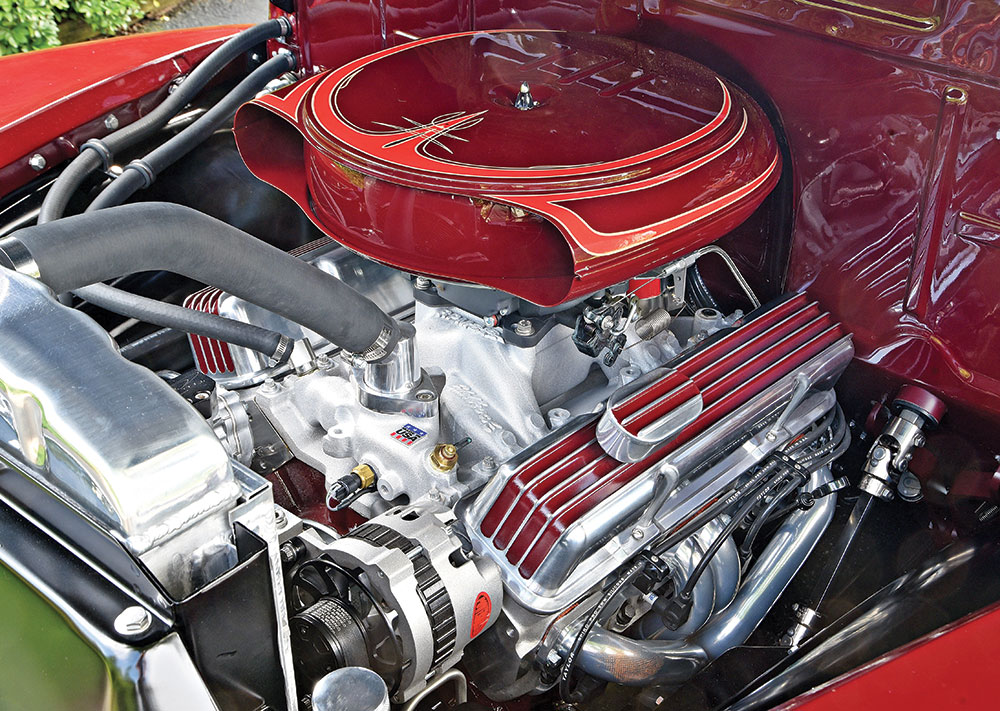 Read More: Chicken Coop Turned Showstopper: Tim Sharp's 327-Powered 1957 Chevy 3100
At the shop things progressed pretty fast. The crew split the body from the frame and got a good look at the condition of the cab and bed. "The goal was to keep as much original paint as possible and blend in any new panels we would have to replace. The original frame was not needed, so we pushed it aside and prepped our fresh chassis for the build," Jeff says.
The SPEC chassis from Roadster Shop comes with the ability to lay the rockers on the ground with an airbag suspension. Even though this truck wasn't going to be a paint scraper by any means, this new setup was the perfect solution to get the Chevy 3100 to sit exactly where Jeremy wanted it to. From there Jeff's built it up right, using a complete air-ride system, fabricated especially for a '49-54 Chevy truck. With 'bags on all corners it was an easy solution to get both the ride and stance that Jeremy was after. To make changing height easier, the shop plumbed in an AccuAir ENDO-CVT (compressor, valve, and tank) and level management system.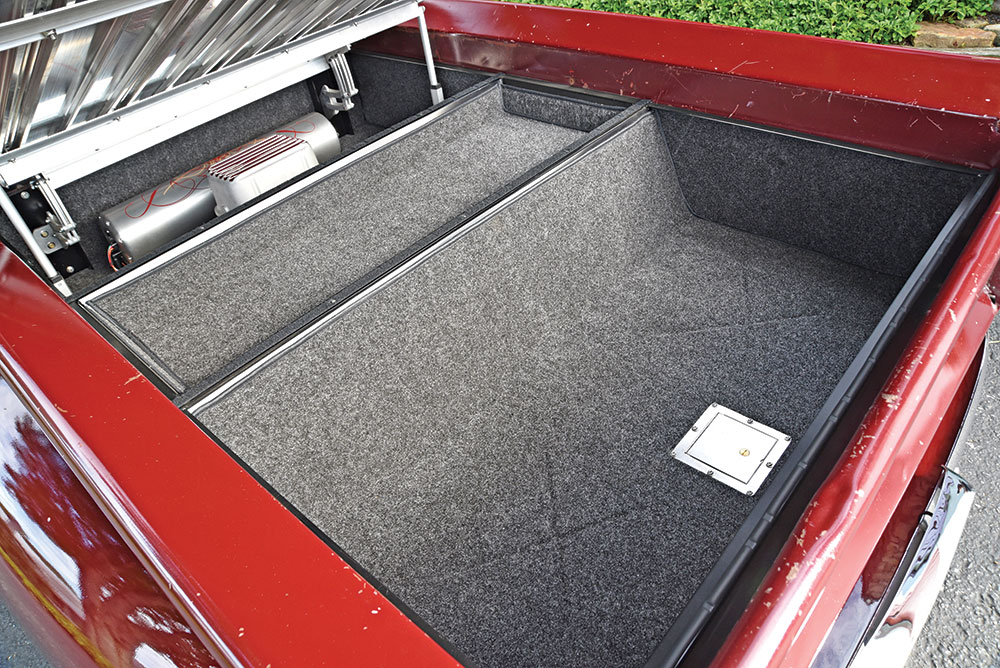 Once the chassis was squared away, the crew took on the fuselage of this old school Chevy. The body was in overall good shape but it needed typical work in the rockers as well as the floors. A transmission tunnel and custom inner fenders were fabricated to help fit future additions to the truck. The firewall was cleaned up as well and made symmetrical to appear as a mirror image on both sides. As far as the exterior goes, the main issue was that the cab corners needed to be repaired. "That's where we had to do the outside metalwork and then blend it in with fresh paint. It worked out well and is barely noticeable," Jeff says.
The bed was a whole other deal. Here is where the shop's work really shines. "As you can see, the bed floor is custom made. Jeremy wanted something different out back so we did a custom aluminum floor. We hid storage compartments in the bed, working around the rear axle. Plenty of room for everything he'll need on the road. There is a door as well for the filler to the gas tank that was moved out back," Jeff says. The tonneau cover is a one-off as well, built out of a wood grained aluminum truck bed floor from Smokey Road Rod Shop out of Newnan, Georgia, and lifted by a set of linear activators. As a finishing touch, the inner compartments were covered in bed rug by Chris Mc Clintock at Bux Customs in Pottstown, Pennsylvania.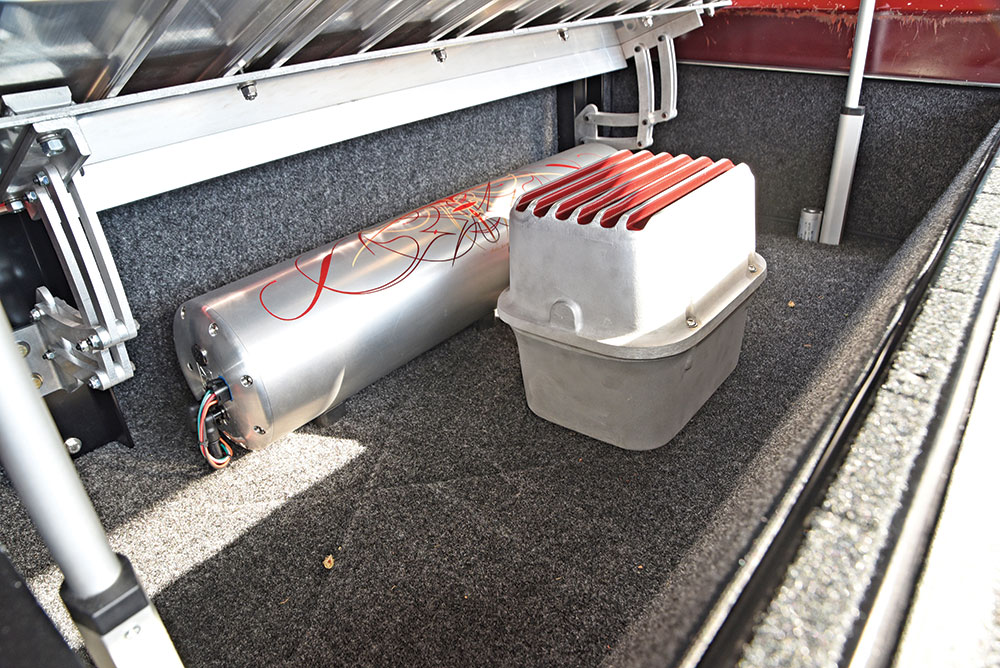 Read More: Fast Layne Fifty: 1950 Chevy 3100
Not only did Bux do the rug work out back, they also did the stunning interior on this ride. It all starts with the factory seat frame that Bux built up into a modern tush-grabber, finished off in distressed Relicate leather. The interior was then painted to match the exterior and then the original dash was stuffed with Classic Instruments gauges. A Flaming River steering column holds a revamped 1955-56 Chevy 15-inch steering wheel to help keep this truck on the straight and easy. Classic Auto Air handles the truck's HVAC while Classic AutoSound's USA-740 dishes out the tunes. A Hurst shifter gets this ride through the gears and is topped with a custom stainless handle and Mack bulldog shifter knob.
Horseplay
Last but not least, let's check out the motorvation for this farm-raised hot rod. Jeff didn't have to go far on the family tree to get the powerplant they needed for this Chevy 3100, as his brother Steve Ludwig from C2 Competition Converters and Machining in Ephrata, Pennsylvania, handled the engine build. "We ordered up a potent small-block, starting with a 350 short-block and installed an Edelbrock Performer RPM 435hp top end kit. This setup includes an RPM Air Gap intake manifold, E-Tec 170 cylinder heads, and a Rollin' Thunder hydraulic cam kit. With 9.5 compression this package will deliver a robust 435 hp on your typical 350 engine. An über-dependable Holley Sniper EFI setup gives this small-block the juice it needs.
A Richmond Gear T-10 4-speed transmission handles the shifts and feeds a Strange Ford 9-inch rear end stuffed with 3.25 gears. It spins a set of 15×10 Wheel Vintiques 13 Series Smoothies out back, shod in a set of 295/50-15 BFGoodrich T/A wide whites from Diamondback. Up front, the same brand combo in 15×8 wheels and 245/60-15 rubber keep this ride pointed in the right direction. Wilwood Dynalite up front and Dynapro out back handle the stopping duties. An electronic parking brake keeps this ride stopped and safe.
Other choice add-ons include a full stainless steel exhaust system featuring Sanderson block hugger headers that feed a pair of Flowmaster Super 40 Series Delta Flow mufflers through 2-1/2 pipe. The original bumpers were chromed to perfection by Librandi's Plating in Middletown, Pennsylvania. For a finishing touch, Jennifer "Hot Rod Jen" Thomas pinstriped the period-perfect air cleaner assembly to give this truck a true hot rod look underhood.
Harvest Boom!
Once on the road, Jeremy was more than impressed with his new hot rod. "When I got the truck back, I was just floored by the overall look and performance. It was exactly what I wanted. With any new build there were some bugs to work out, but after a few quick fixes the truck has turned out to be one dependable head turner. Out here in Pennsylvania everyone has trucks; I just have something that's a little different."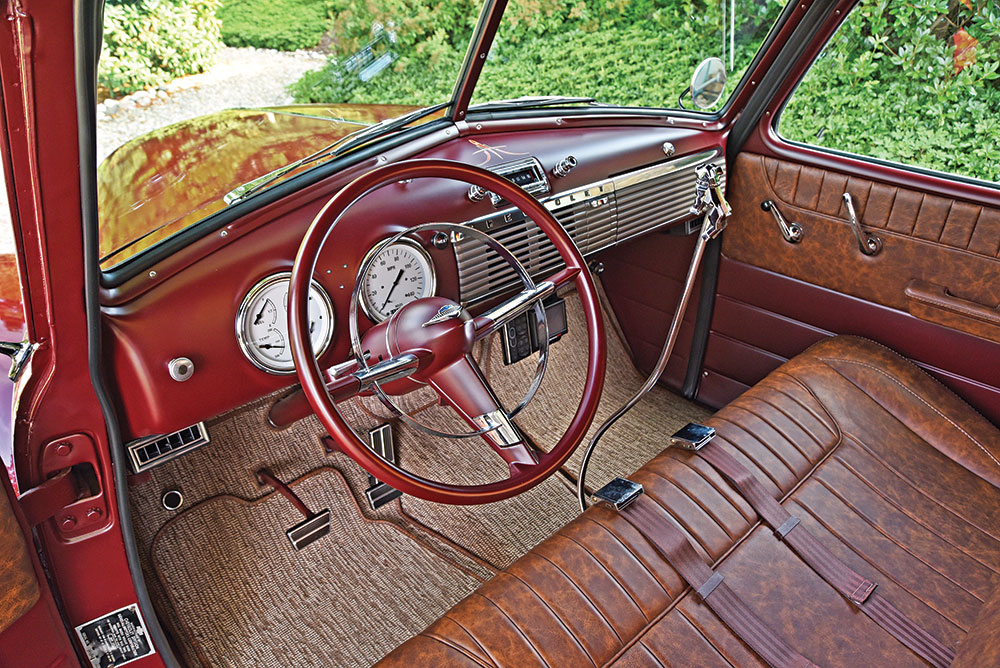 Read More: Triple Threat: '54 Chevy 3100
Future plans for the Chevy? "Nothing as of yet. My wife Kristen and I are just enjoying the ride, taking it out on the weekends for a little fun. Since it was our wedding vehicle, it holds a special place in our hearts. Luckily, we will be able to enjoy it for years to come.
"I would love to thank my wife, Kristen, for her support and of course Jeff and the guys over at Ludwig's for building me one killer truck. Also want to send my thanks to Steve Ludwig for the engine work, Chris and the crew at Bux Customs, and 'Hot Rod Jen' Thomas for some awesome pinstriping," Jeremy states.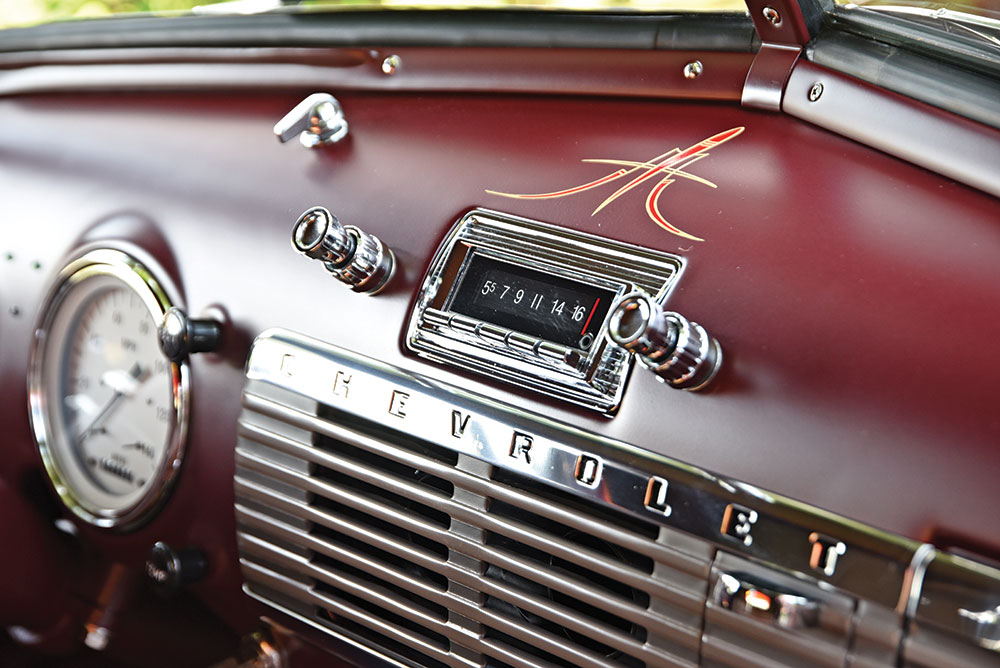 He continues, "The truck is a blast to drive and everyone around town loves it. It's just a great looking ride and I couldn't be happier with the finished product."