Kyle Gendreau's Vintage Ford F250 Custom Cab is all Business
By Chuck Vranas   –   Photography by the Author
In a parallel universe, there's a completely different side to the classic truck world devoted to the restoration and preservation of vintage haulers to mirror a time when they rolled off the production lines. It's a moment in time when trucks were ready to get busy doing what they were designed to do, from hauling heavy loads to delivering the goods and even acting as workhorses on farms across the country. For Kyle Gendreau of Franklin, Massachusetts, bringing the 1967 Ford F250 Custom Cab laid out across our pages back to life wasn't just about the restoration, it was about completing a journey regarding a lifetime passion of farming and agriculture.
Read More: J-Rod and Custom-Built 1972 Chevy Suburban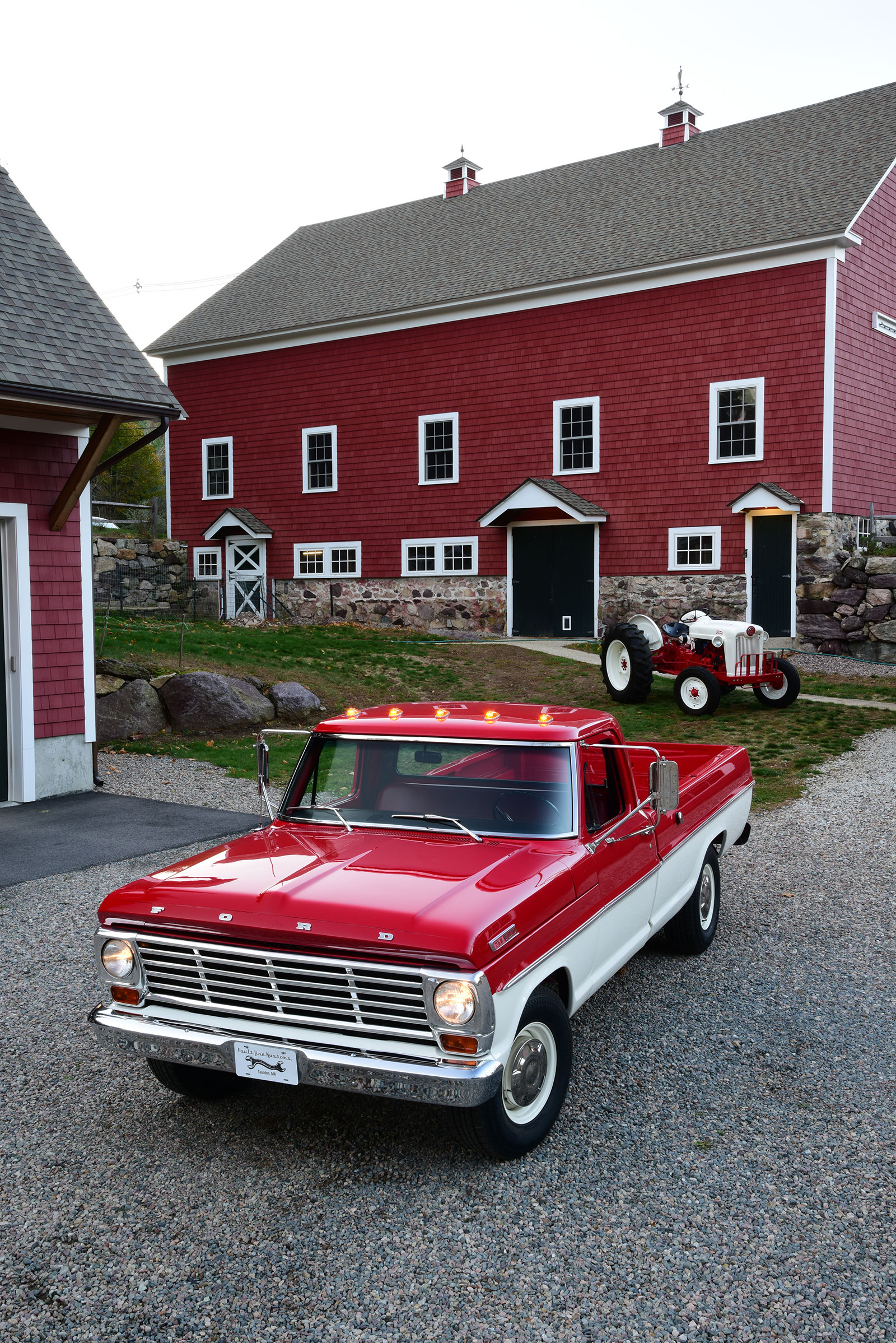 While many youngsters his age were seeing muscle cars rule the streets and watching nitro-fed Gassers light up regional dragstrips, Kyle's fascination with farming brought him to experience it all firsthand at local harvest festivals. It's there that an appreciation for trucks and tractors evolved, leading him down a path that would eventually bring him to the opportunity of actually owning his very own hobby farm. Over the past two decades there have been a few newly purchased Ford pickups used as daily drivers within the family that laid down a solid base as daily drivers. A decade ago, however, everything changed. Working as an executive traveling worldwide on a regular basis, he longed for the ability to return home and have a connection with the land, its peacefulness, and pace of life. Hoping to reach this goal led to a local farm that had fallen into disrepair, and was actually owned by his lovely wife Suzanne's aunt and uncle, offering a perfect opportunity to take on the task of bringing it back. A deal was made and it was time to roll up his sleeves and get busy.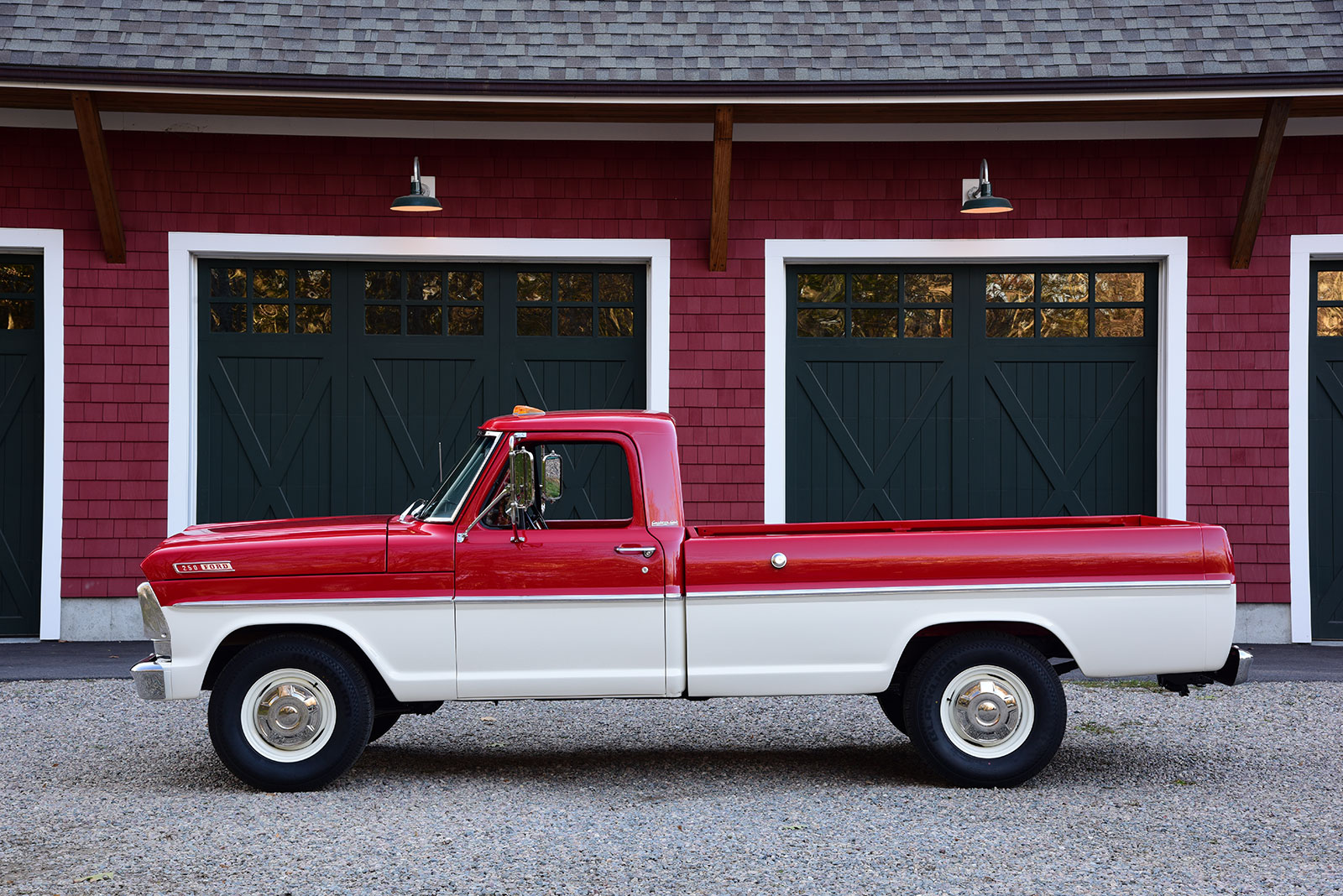 With the land being worked, he focused on the restoration of a massive 1800s-era barn along with searching for a pair of vintage tractors to help with the jobs at hand. His search turned up a pair of classics in need of attention, including a rare 1953 Ford Golden Jubilee as well as a 1948 Farmall Model C. Thanks to an introduction by his brother, Craig, Kyle met with Jason Souza, owner of Fault Line Kustoms in Taunton, Massachusetts, to discuss the restoration of the tractors. With a game plan in place, Souza and his team took on bringing the gems back to factory fresh specs while also commencing the search for a barn-fresh classic Ford truck to also serve duty on the farm. Before long, Souza acted on a lead for a 1967 Ford F250 Custom Cab that had been mothballed in a local garage for the last decade. Upon arrival, the truck was completely covered, hoarder-style, with everything imaginable, making it barely visible. Once uncovered, the nicely optioned two-owner F250 truck proved it was still in solid shape, having been well cared for through the years before being put to rest. Once Kyle saw the old truck, an almost immediate bond was forged, making sure this would be the next addition to the farm. Once the deal was done, it was transported back to Fault Line Kustoms for evaluation. Far different than ordering a fresh platform, big brake kit, and a modern driveline, the restoration of the truck required a different type of approach to assemble the right grouping of parts to take on the job.
Read More: Red Hot 1945 COE Truck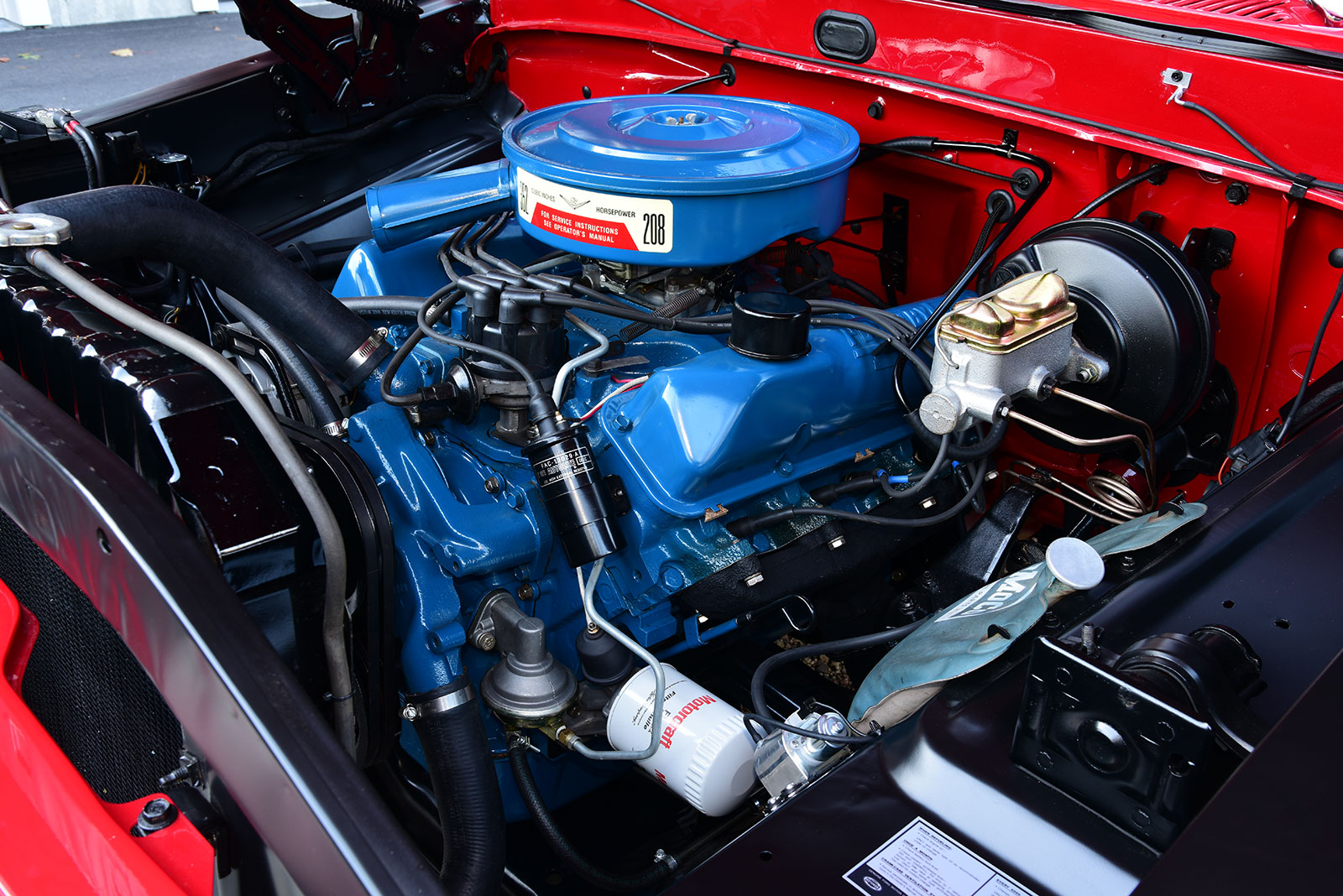 To retain as much of the original truck as possible, Souza and team began its disassembly to set a game plan. Focus was first set on the frame and suspension with all the components being sent to Blast-Off Sand Blasting.  It's quite possible that the old, recycled tractor oil used as a preservative by the prior owners to paint the chassis seasonally helped save the bones from deteriorating over the years. The formula did its job, leaving the frame extremely solid and only in need a few repairs to the cab mounts, which Fault Line Kustoms completed. The frame and suspension parts were then sent off to Powder Pro in New Bedford, Massachusetts, for a two-step coating, starting with an anti-corrosive primer base followed by a topcoat of satin black. Starting out back, the factory Dana 60 rear end was blown apart and treated to a fresh rebuild complete with the original 4.10 gears turning stock axles, suspended in place by a set of fresh leaf springs and bushings from LMC Truck complemented by Gas-A-Just KYB shocks. Up front, Ford's exclusive twin I-beam suspension utilized the original split beam with spindles and was treated to a complement of new parts from LMC Truck to complete the rebuild, including kingpins, bushings, coil springs, and Gas-A-Just KYB shocks. For plenty of stopping capacity, a fresh dual power master moves fluid through NiCopp lines to new factory brakes at each corner, including drums, shoes, wheel cylinders, adjusters, and all related hardware, all from LMC Truck. When it came to wheels, a decision was made to opt out of the original split rims and update to a set of 2000-era Ford F350 16×7 steelies topped with LT245/70R16 rubber from BlackHawk Tire wearing matching caps high polished by Brightworks Restoration in Fall River.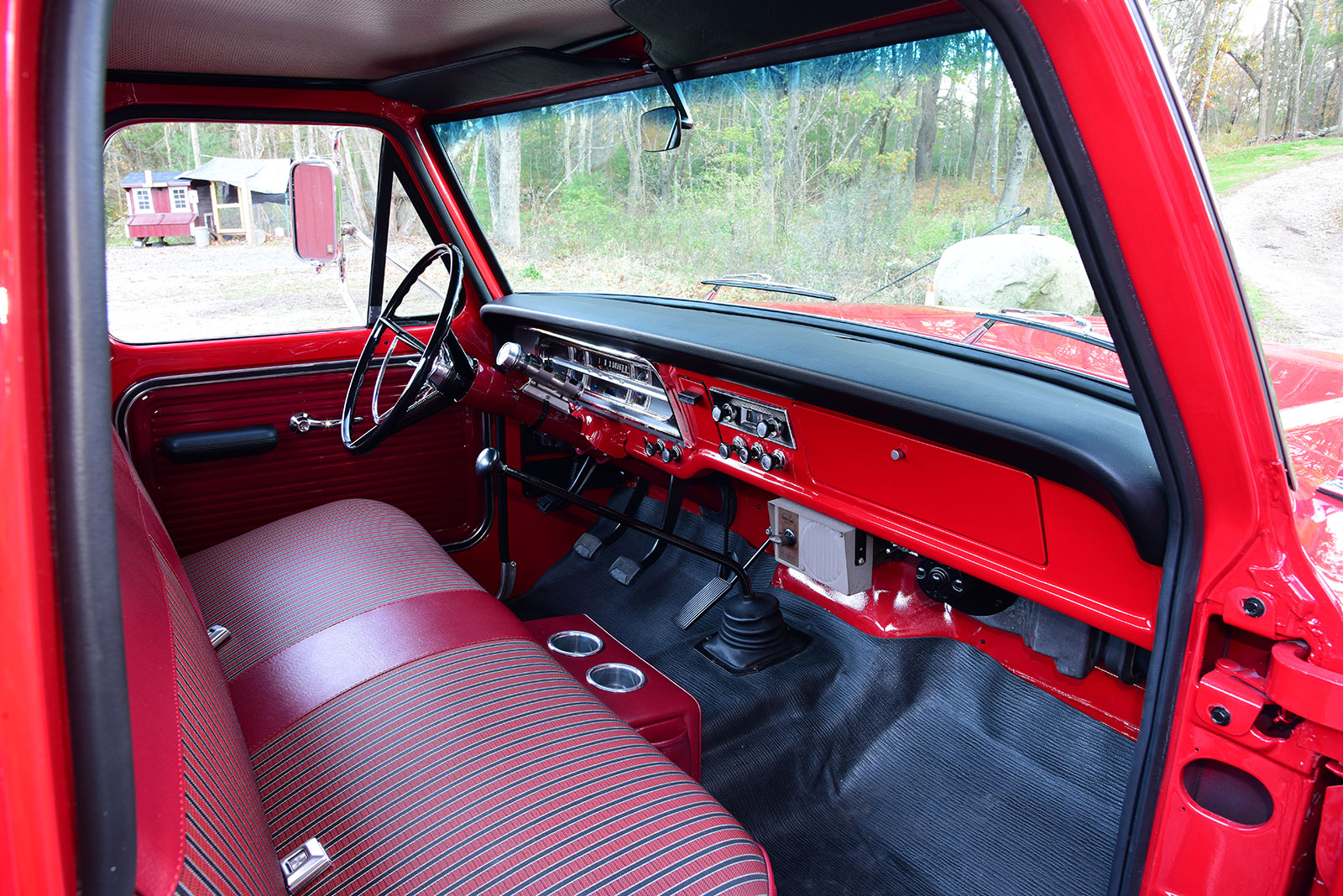 Thankfully, with the truck having traveled only 76,000 miles in its lifetime, it retained its original driveline underhood. As a Custom Cab it came well-optioned complete with the largest engine available, the venerable 352ci V8 rated at 208 hp. Since the F250 ran and drove a lot, the Fault Line team pulled the engine for disassembly and a full inspection. Still in fine internal condition, it was thoroughly cleaned, treated to fresh gaskets, bearings, and rings to prep it for reassembly to factory specs. The iron block was filled with the original rotating assembly featuring a cast crank, forged steel rods, and aluminum forged pistons getting bumped by the factory cam. The original iron heads breathe deep through an iron intake topped by a freshly rebuilt  two-barrel  Autolite carb wearing a restored stock air cleaner. The factory distributor lights the fire with exhaust flowing through the original exhaust manifolds to a custom stainless exhaust and muffler. To move the power, the optional 4 speed manual transmission was freshened up and linked to the original driveshaft. Under the hood, it's a flawless display of bringing the driveline and engine bay back to better-than-new condition.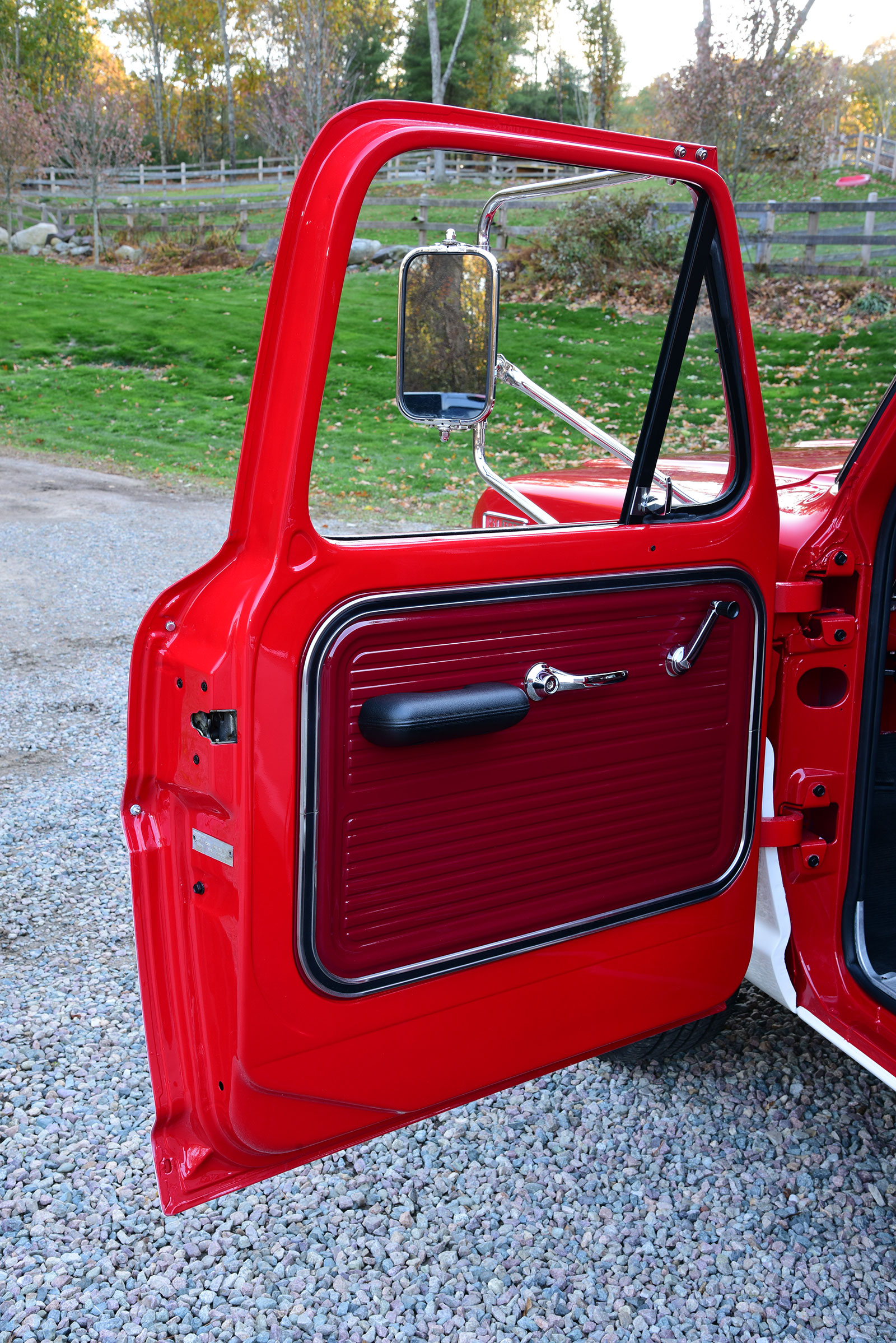 When it came time to addressing the cab and bed, the team started by stripping everything to bare metal to uncover any past demons. Surprisingly, the F250 had weathered the decades well, however there was still plenty to address. Getting started, they fabricated repair panels for the fender tops and wheel arches along with both lower door skins, front cab mounts, and crafted a filler panel for the original in-cab fuel tank since it was eliminated (opting to run the factory auxiliary tank only). From there the bed floor assembly was replaced with fresh steel from LMC Truck. The cab and bed were then metal finished to perfection with all gaps set by team member Jason Blanchard who also laid down a flawless coating of PPG Vermillion Red and Crème to set the vibe. Upon reassembly, the original grille, mirrors, and trim were polished back to perfection by Brightworks Restoration complemented by new chrome bumpers, door handles, emblems, and lighting from LMC Truck. The bed also received a durable coating of bed liner for protection as it will be seeing plenty of duty hauling on the farm.
Read More: Next Level Pro Touring Truck
Focusing on the business office, the freshly painted dash was topped with a new dash pad from LMC Truck accented by the restored factory gauges by Fault Line Kustoms who also freshened up the AM radio and wiring harness. A reproduction steering wheel navigates the road mounted to the factory column while shifts move through the original stick. We dig the fact that Kyle kept the old, weathered shift knob that surely has plenty of stories to tell along with the vintage underdash-mounted Phillips Intercom system. For comfort, the stock bench seat was recovered in custom two-tone red vinyl by Chicks Custom Upholstery of Norwood who also installed the LMC Truck headliner, rubber floor mats, and threshold plates. Finally, LMC Truck supplied interior trim, handles, three-point retractable seatbelt kit, and rubber gaskets to complete the restoration. Kyle tells us that "the best part of the F250 is the driving experience, feeling just like the day it drove off the lot in 1967 at the local Ford dealership while on my way into town for a morning cup of coffee." We couldn't agree more!