Joe Gregory's Purpose Built Track Truck
By Tommy Lee Byrd   –   Photography by the Author
Over the past couple decades classic trucks have taken on new identities, ranging from meticulously detailed show trucks to drag racing trucks to corner-carving autocross trucks. Occasionally, a truck will roll out that gets everyone talking and that's exactly what happened when Joe Gregory debuted his '86 Chevy Stepside Truck. The color combo, the race-ready stance, and the Stepside bed turns heads wherever it goes. The main goal with the build was extreme performance on the autocross course, but Joe added details that took this Square Body Chevy to the next level.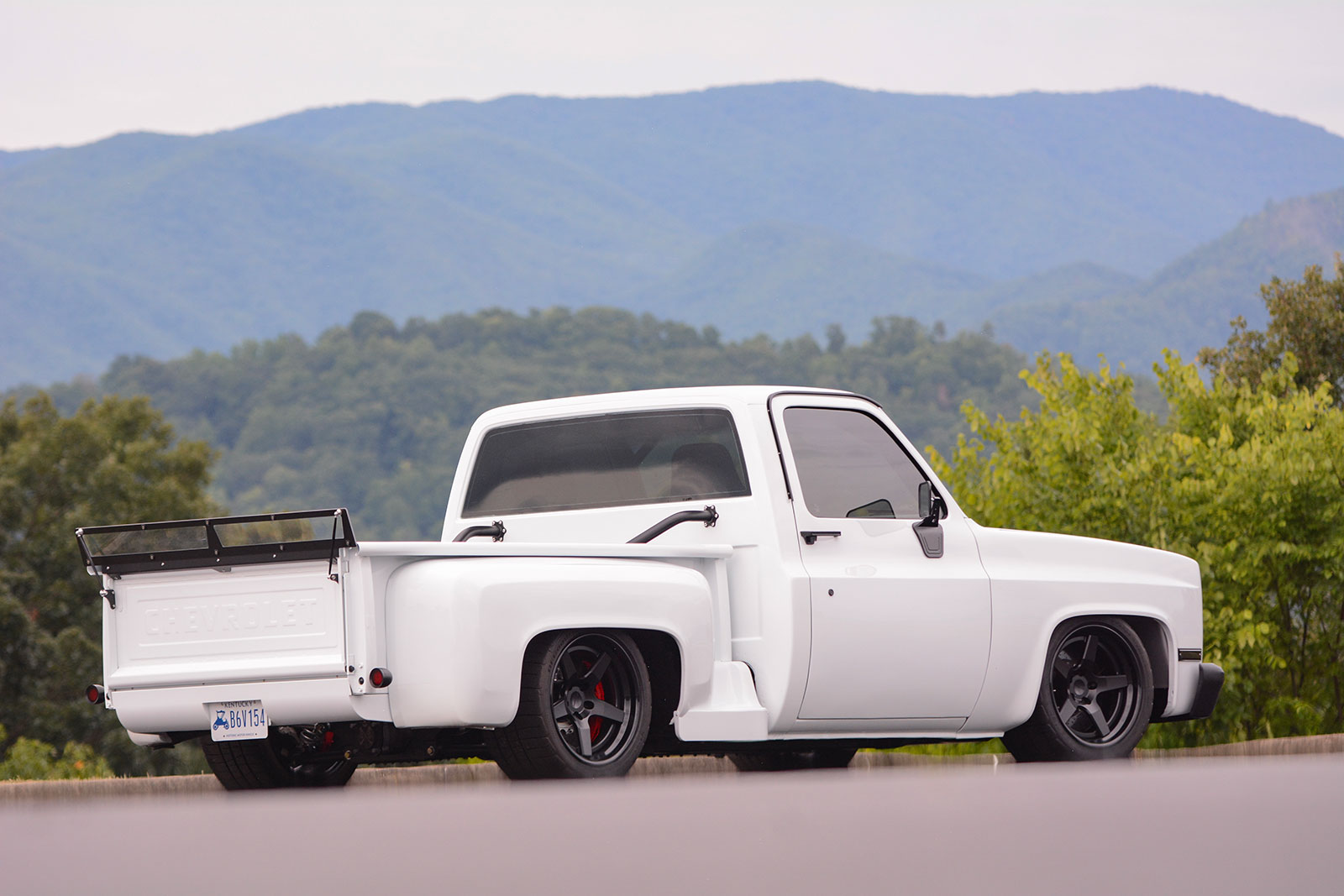 Joe and his father, Gerald, are no strangers to autocross competition, as they have campaigned vintage and modern Corvettes in the past, so a Chevrolet muscle truck seemed like a nice fit. Square Body trucks are still readily available but finding the right starting point is always a challenge. In this case, it all started with a marketplace listing back in 2020. The truck spent its early life as a water company vehicle in Pasadena, California. The years in a dry climate helped preserve the sheetmetal, and Joe knew it would match his vision for an autocross truck if the right combination of parts were implemented.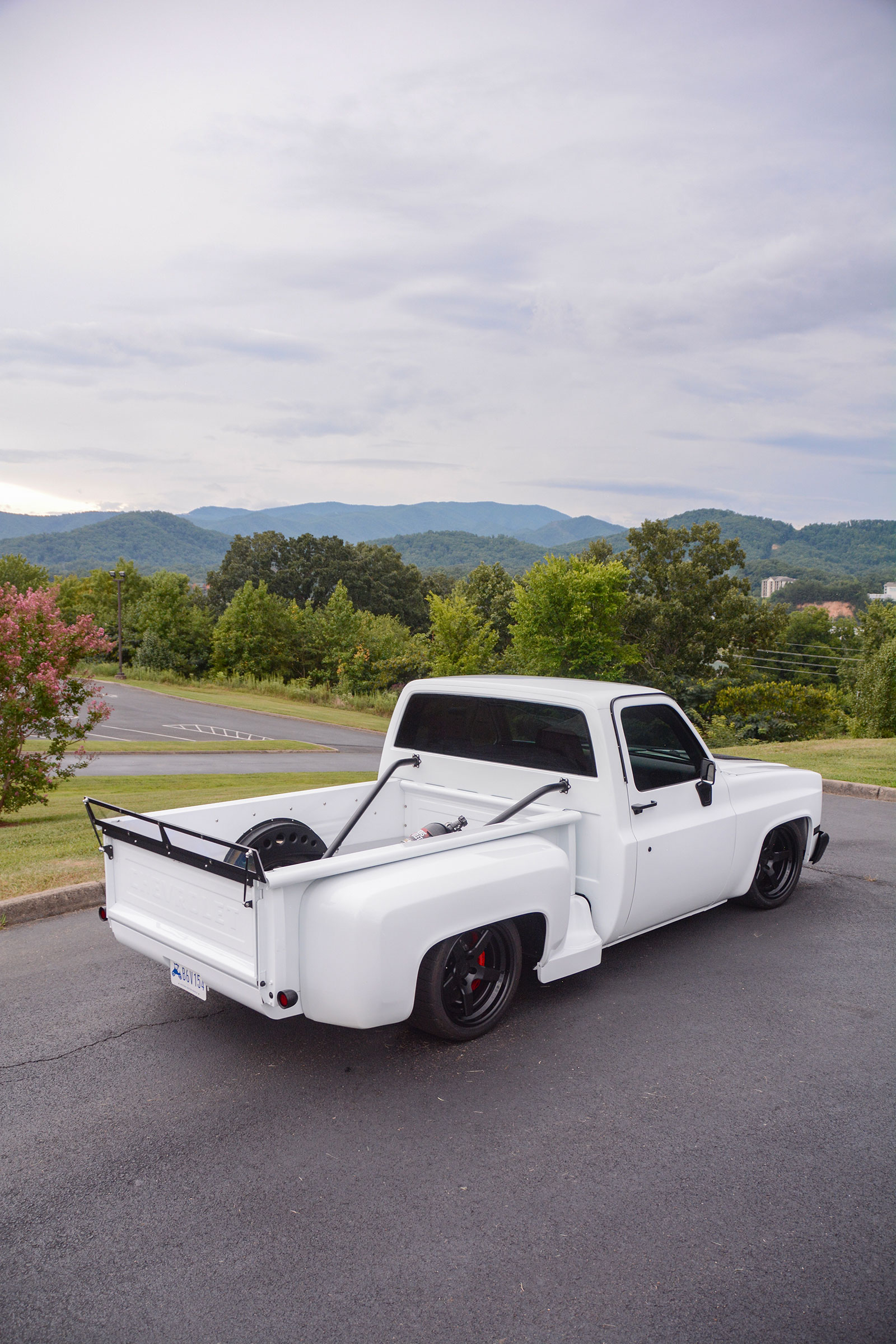 Read More: Canadian-Bred 1962 Chevy Apache
To start the transformation process, Joe commissioned Rob MacGregor and the crew at No Limit Engineering to build a new chassis. Joe wanted to step outside of the box, so he upgraded to an independent rear suspension setup and went one step further by utilizing a quick-change rearend. Tubular control arms reside on all four corners and connect to custom spindles to accept modern Corvette brakes. Viking coilovers provide excellent handling and adjustability, while also lowering the truck's center of gravity. Giant splined sway bars are in place to keep the truck level during hard cornering and a Detroit Speed rack-and-pinion offers quick steering. Braking power comes from a combination of race-bred components, including a Tilton master cylinder, custom hard lines and Brembo carbon ceramic brakes, and six-piston calipers from a C7 Corvette. Rolling stock consists of AL300 Forgeline wheels, sized 18×12, wrapped in Rival 335/30ZR18 BFGoodrich tires.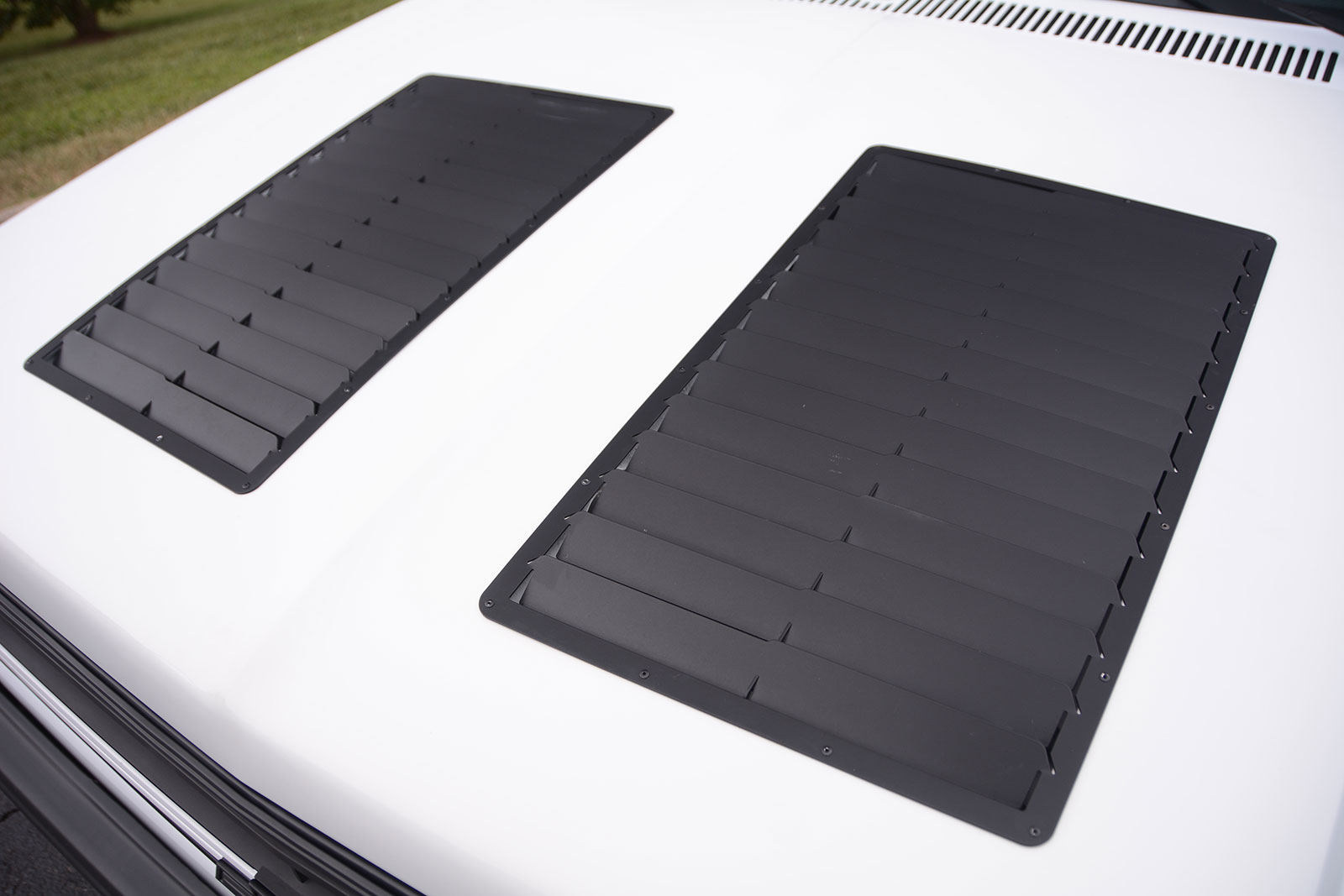 Underhood is an LS7 engine, which is a potent engine straight out of the box but this one has been warmed up by Lewis Roberts. The original rotating assembly creates a displacement of 427 ci, and a compression ratio of 11.0:1; those components remain in place. However, the top end received quite a wakeup call in the form of a Race Proven Motorsports heads and cam package. It features CNC ported and polished LS7 cylinder heads that are perfectly matched with the RPM B-3 camshaft. The RPM kit uses Brian Tooley Racing pushrods, bronze valve guides, and dual valve springs to support upwards of 0.660-inch valve lift. Up top is an MSD Atomic AirForce intake manifold that features a Holley throttle body fed by a custom cold-air pipe that's ducted outside of the engine bay.
Joe installed a Nitrous Outlet kit, spraying a 150hp shot of nitrous oxide into the engine. He typically doesn't use the nitrous on the autocross course, but it does come in handy during the drag racing portion of Holley LS Fest's Grand Champion competition. So far, Joe has run a best of 11.34 at 139 mph in the quarter-mile. With that kind of top-end charge, this 3,850-pound truck could easily go deep into the 10s with enough testing and tuning. The crazy miles per hour in the quarter-mile is also telling us that Joe's truck is cranking out north of 800 hp when the nitrous oxide is flowing.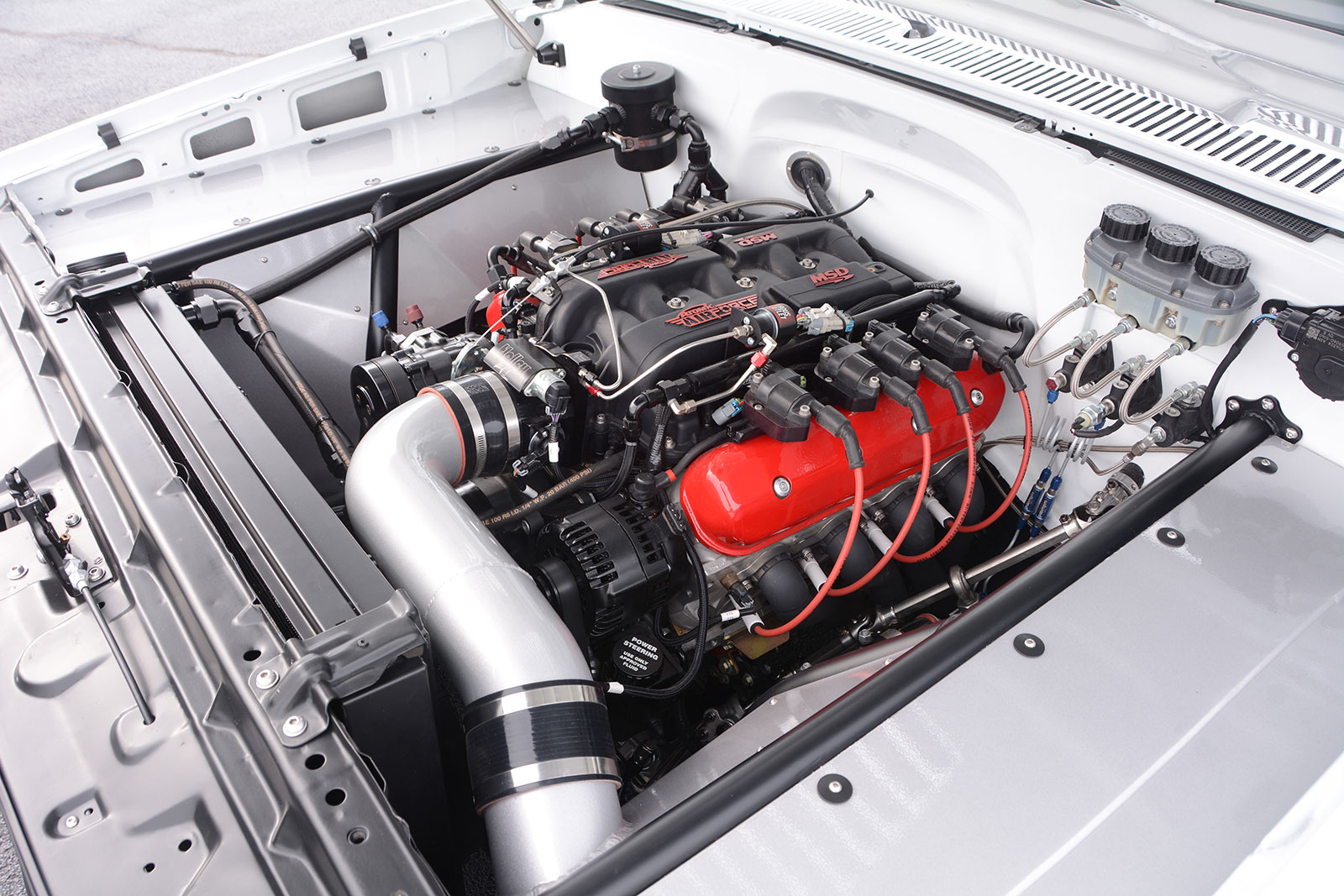 The rowdy LS7 is cooled by an aluminum Frostbite radiator, equipped with dual electric fans. The exhaust system features long-tube headers, 3-inch piping, and MagnaFlow mufflers for a crisp exhaust note. Power transfer is the responsibility of a Bowler Performance Stage 2 T56 Magnum 6 speed manual transmission. A McCleod clutch kit hooks it up and a custom Bowler short-throw shifter offers a nice feel when Joe is ripping through the gears. Moving further back is a custom driveshaft from Driveshaft Shop, leading to the Winters quick change rear end. Joe has a wide selection of gear ratio choices depending on track length and conditions.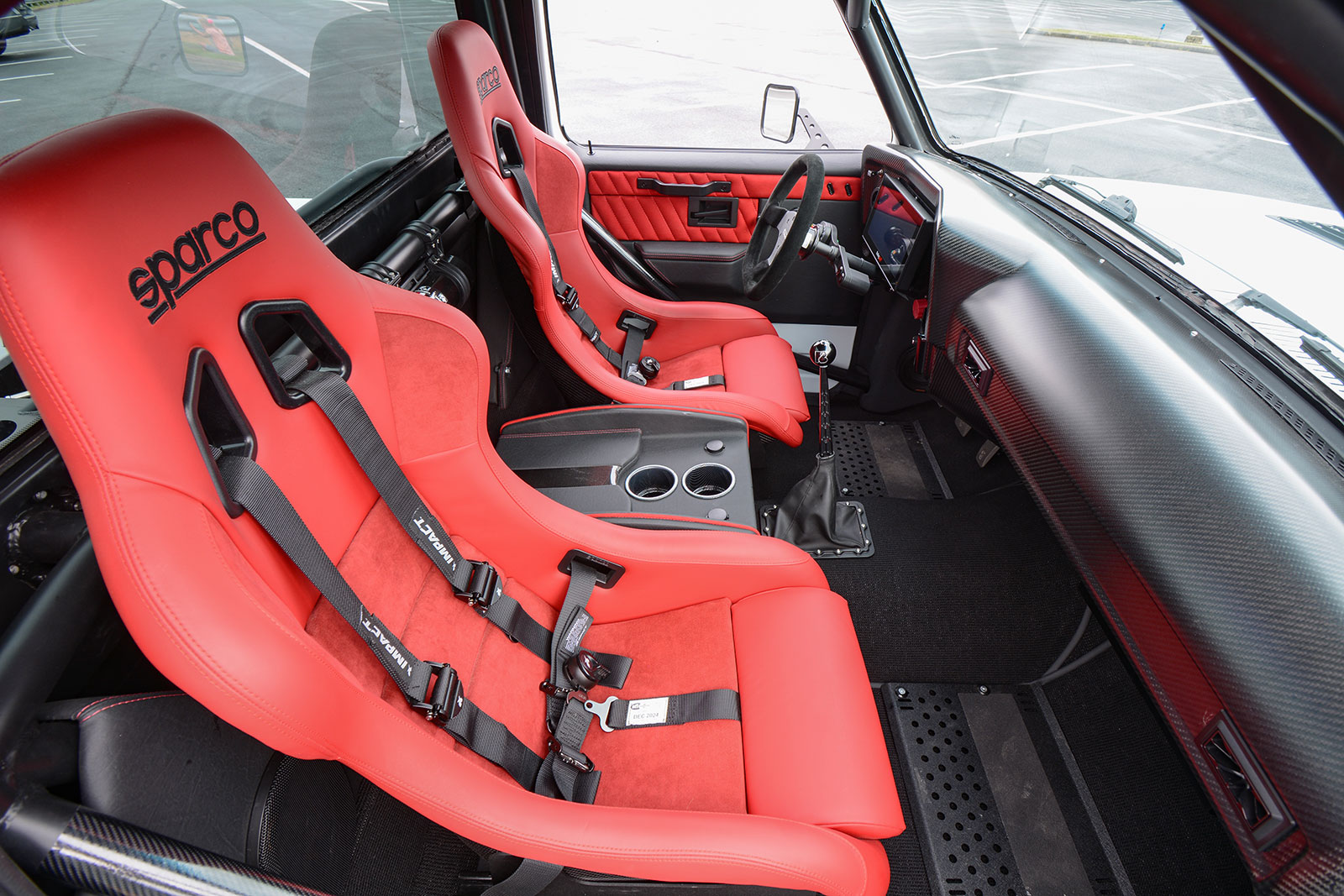 Read More: Killer Gold Squarebody GMC Sierra
Joe didn't want to cut up the body on the rock-solid C10 body, so he kept modifications to a minimum. He loved the Stepside bed because it was different from most of the other Square body trucks he'd seen. The California sheet metal was massaged by Earl Bryant and the only modifications are the side skirts that fit below the bed steps, the roll pan, and vented hood. After the prepwork was complete, Earl laid down the PPG materials in Arctic White. The trim work, including the bumpers, is finished in satin black for a stealthy look, and Joe upgraded to LED lighting to keep the modern theme going. Inside the bed you'll notice custom wheel tubs with dimple die punched holes, as well as an open area in the middle, providing a nice view of the independent rear suspension. More importantly, the open area allows easy access to the coilovers and quick-change rear end for adjustments.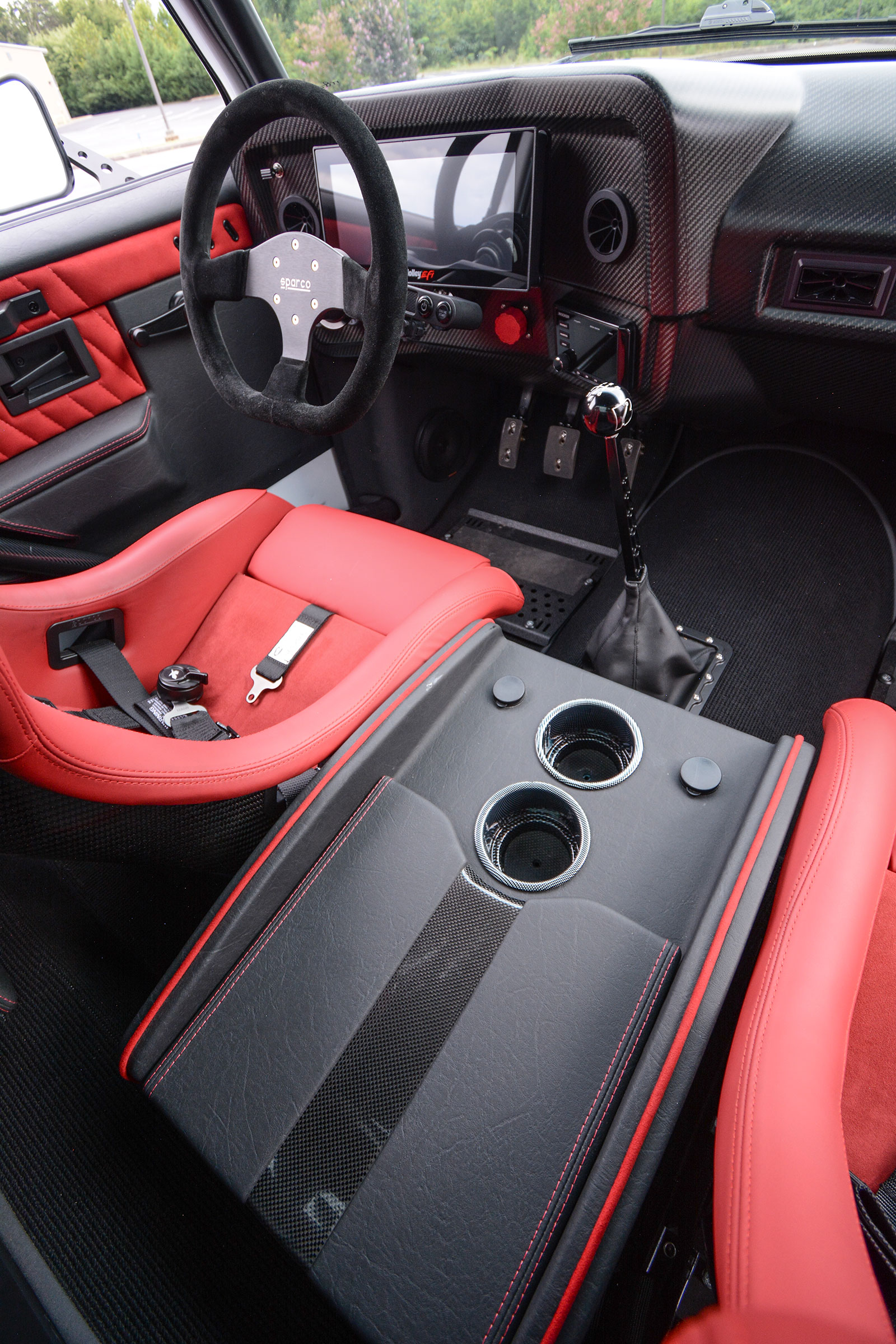 Inside the cab is a tightly tucked roll cage built by Rob MacGregor. The 'cage ties into the front and rear sections of the frame, utilizing bulkhead flanges that mount to the firewall and the back of the cab. Mark Marsee handled the upholstery work on Joe's Square body using a combination of leather and suede. The QRT-C performance carbon Sparco seats are red in color, while the custom door panels feature black leather with red inserts and red stitching to tie it all together. Take note of the modified armrests in the door panels to clear the roll cage bars.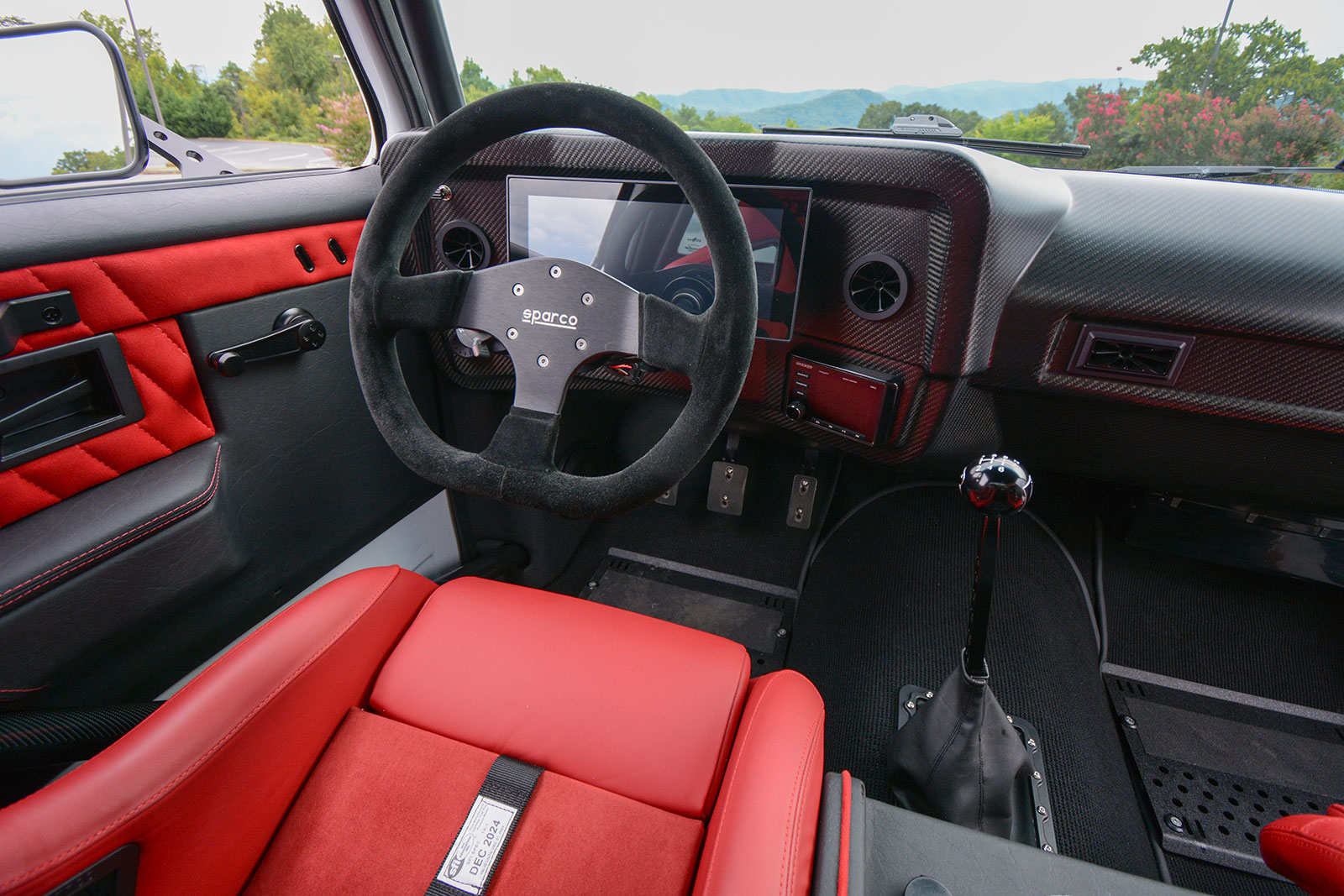 Impact Racing five-point harnesses keep Joe snug in the seat while he grips a suede Sparco steering wheel. The original steering column was tossed in favor of a Level 7 Motorsports steering column, complete with a RaceWire Solutions turn signal combo switch, which includes all lighting controls and push-button start. RaceWire Solutions is also responsible for the truck's complete wiring harness. A custom carbon-fiber dash takes the place of the original and features custom AC controls and vents as well as a 12.3 Holley EFI Pro display. Joe added a Restomod Air AC system as well as a Kicker stereo system, complete with KMC5 source unit, 5-inch kick panel speakers, and 6x9s inside custom-built enclosures behind the seats.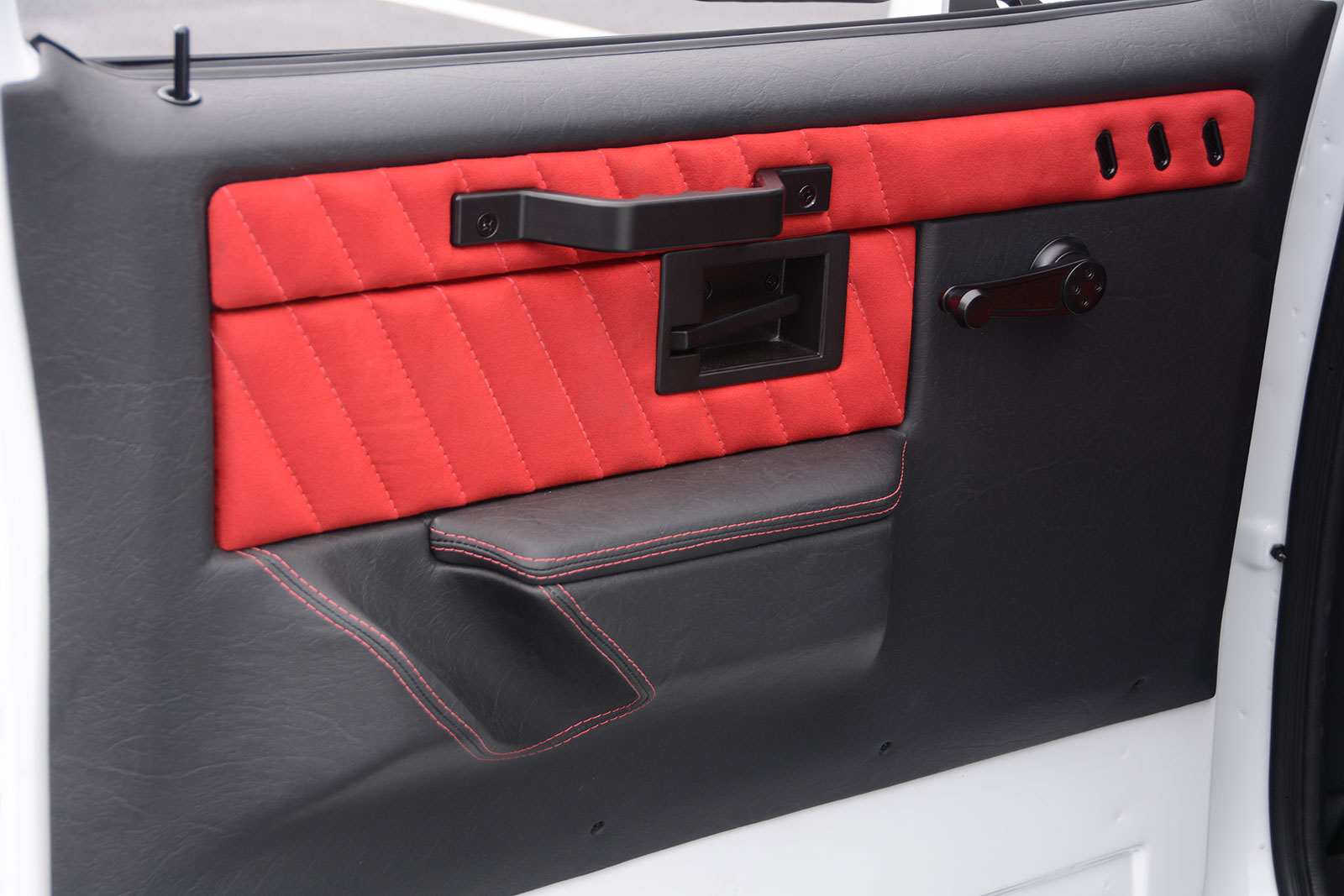 Read More: TMI Products' Classic Interior For Your 1967-72 C10 Truck
Joe spent the last portion of the 2022 season working the bugs out of his incredible Stepside pickup and plans to continue tweaking the setup in 2023. His first big outing with the truck was the NSRA Street Rod Nationals in Louisville, Kentucky, which is where we originally spotted it. There is no shortage of horsepower, suspension technology, and custom components on this high-tech C10, and Joe's experience behind the wheel makes this truck a threat at any autocross event on the schedule. His creative design and attention to detail truly takes this truck to the next level, and he has no plans of slowing down any time soon.