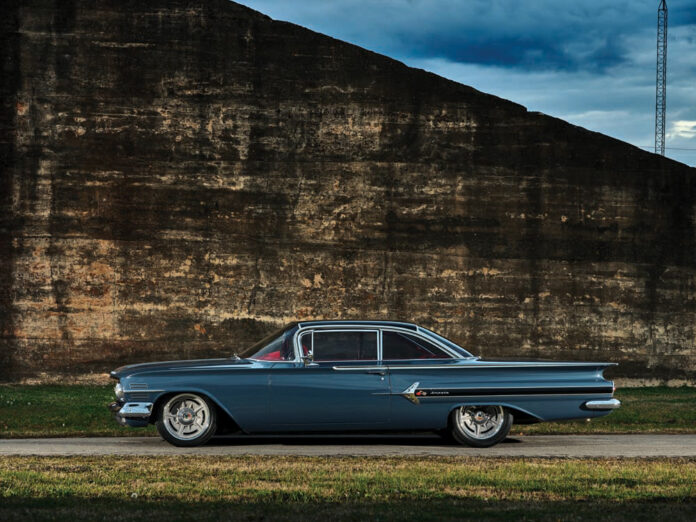 It was 1960 & There was a lot That was About to Change
By Brian Brennan – Photography By John Jackson
Goolsby Custom's 1960 Impala is a throwback to simpler days, while simultaneously maintaining some modern luxuries.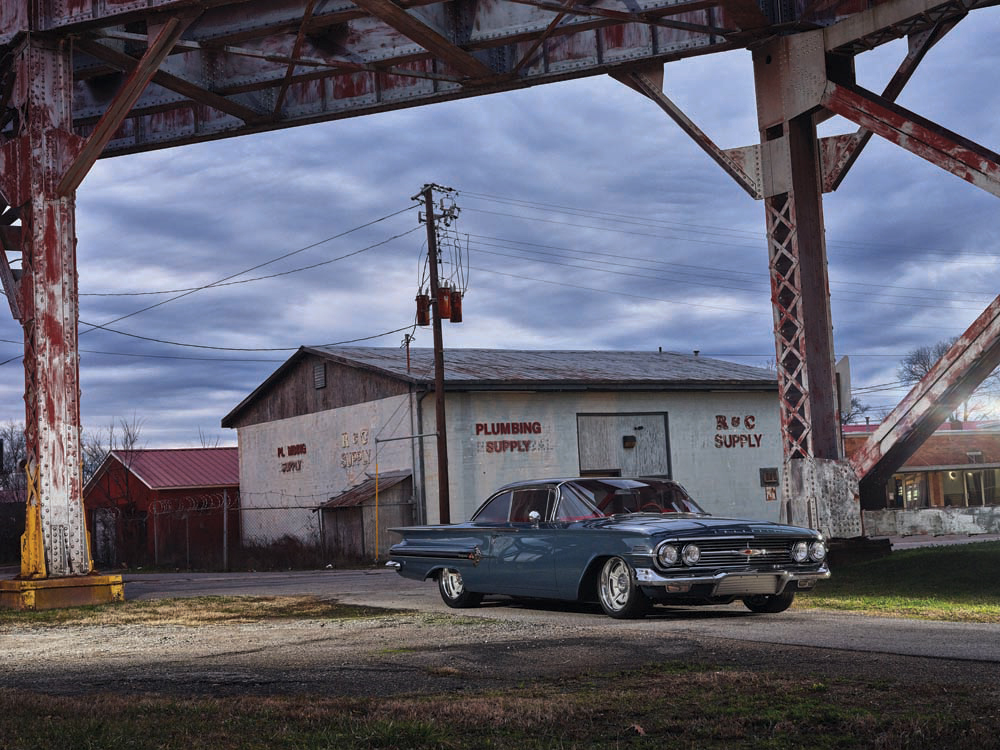 It was the beginning of the '60s, a decade like no other, and we were about to live it. We would experience the Beatles and the Beach Boys, James Bond and Marylyn Monroe, the Cuban Missile Crisis, and the assassination of a president, there was another war on many of our horizons, but in the meantime, our economy was ramping up. All this and the Detroit horsepower and styling explosion was in full swing.
The interstate highway system, begun in 1956 and proclaimed complete in 1992, was (is) providing all of us with a way to enjoy, what else, our cars. The beginnings of drag racing, rod runs, and weeklong getaways were in the offering for us and our hot rods. What better way for us to "See the USA In Your Chevrolet" than with George Poteet's 1960 Chevy Impala (built under the roof of Goolsby Customs) that features what was the best of 1960 styling along with what's the best of today's technology. The end result is a roadworthy warrior capable of restfully cruising down the highways and byways, as well as carving a canyon or ripping up a strip of asphalt.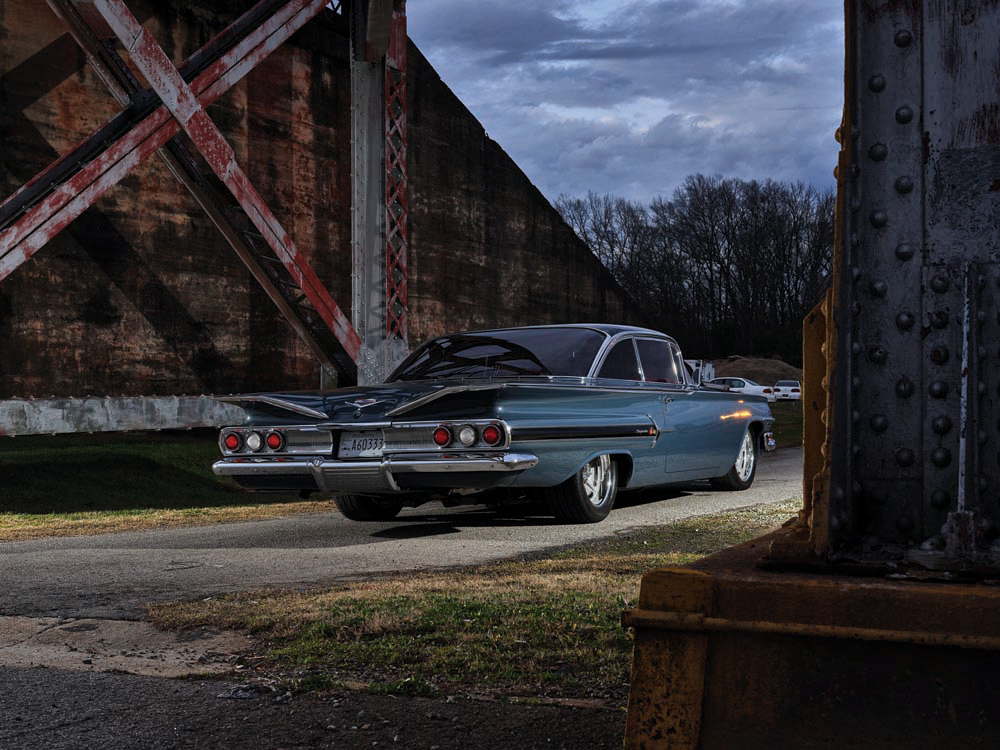 Read More: This 1958 Chevy Impala Blends the Lines Between Cruiser and Performer
The 1960 Chevy Impala, while reminiscent of 1959, did offer noticeable changes such as the re-cued front and rear styling treatments along with a bump in horsepower. But it did keep the "bubble top" design, which to this day is still considered one of the prettiest rooflines ever designed. The "mack daddy" of Chevy engines, at the time, was the W-motor (because of the head design) and was still 348 cubes, but now featured a horsepower increase over the 1959 to a now 335 arriving through the use of Tri-power, special cam, and 11.25:1 compression (ah, we still long for the days of high compression and the crisp "whack" of the throttle). Gone were the highly stylized 1959 taillights, affectionately called "cat's eyes," and brought back were the circular taillights; Impalas sporting three taillights per side and other models two. This design theme would be around in some variation of shape through 1975.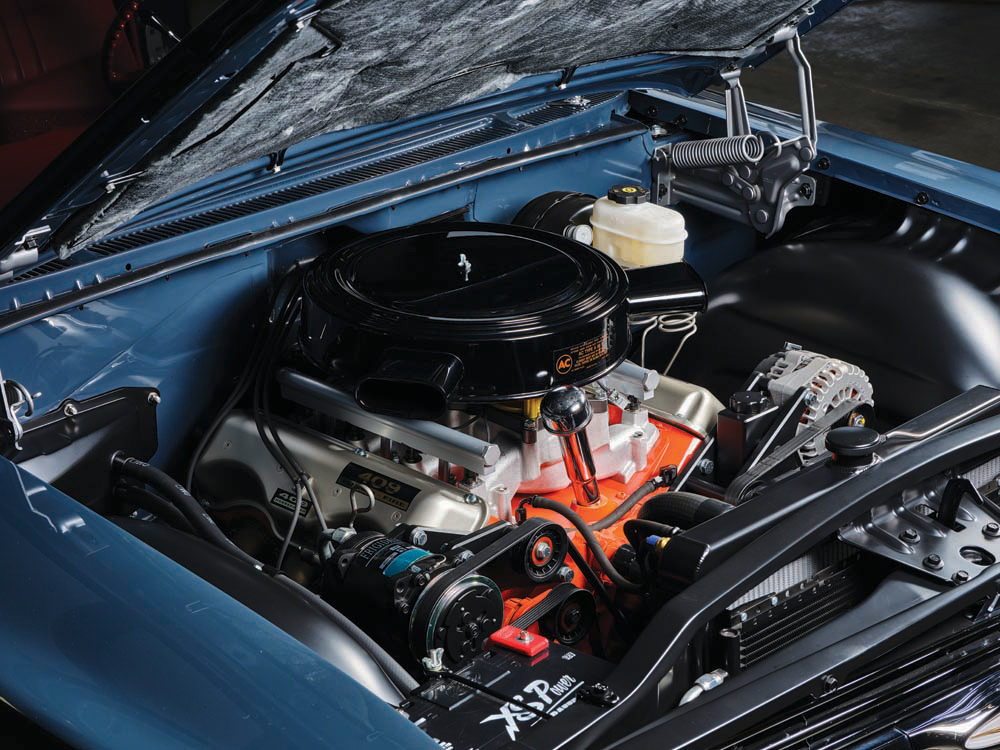 Let's start by looking under the hood of George's 1960 Chevy Impala. At first glance you see the distinctive valve covers that immediately remind you of a W-motor; could it be a 409 or was it stock for the year 348? A casual glance would tell you that it's a 409 given the factory-looking "409 Turbo Fire" valve cover decals. But you really should look a bit more closely. In today's rodding world the LS engine is "king," but to really make hot rodders pay attention how about an LS that looks like a W-motor a 409 at that!
You are looking at a Pace Performance LS3 (PN GMP-19419864-MC) that pumps out 495 hp. In the '60s speak that would be a 376-inch V8 but in today's vernacular, we think of it as a 6.2 V8. It also comes with a passenger-side dipstick. Dipsticks are not inherently high on our list of "mentionable" items but remember the 409 was equipped with a passenger-side dipstick located between the #2 and #4 cylinders. Take a guess where this LS3 has its dipstick located–right where you would expect a 409 'stick to be placed. (Yes, we know one of the tricks was to take a 348 and LS swap oil pans with a 409 and trick your buddies.) But our story doesn't end here.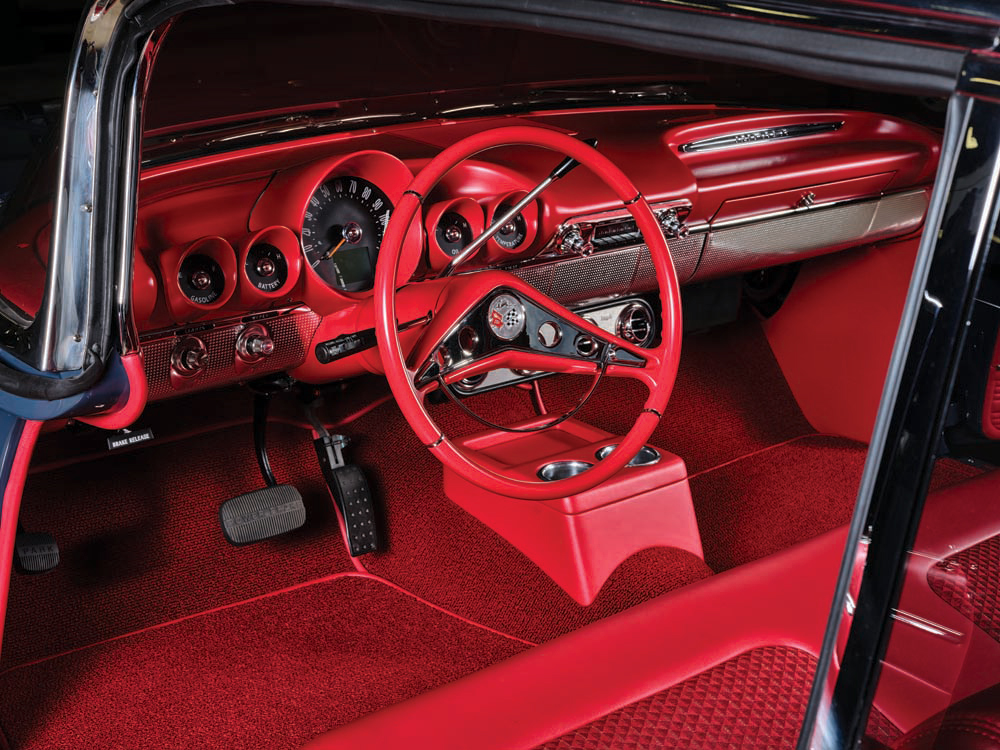 An LS Classic Series by Lokar conversion (affectionately referred to as a "classic in a crate") turns this garden variety LS engine into a vintage-looking 409, thereby tying together the memories of old with the making of today's memories. Complementing the LS Classic Series is a Holley Dominator dual-quad arrangement, thus providing the fuel delivery system. Resting on top of the "dual-quad" look is a vintage-style 409 air cleaner that's another LS Classic Series by Lokar new product. For those who wanted their 409 to look the part with "dual-quads", you will need this air cleaner.
Additionally, enlisted into service are Hooker headers dumping into a custom exhaust system that works in unison with a pair of MagnaFlow mufflers all expertly linked together by Goolsby Customs. Other engine appointments include a C&R Racing brushless electric fan, XS Power battery (A3400), and a Lokar LS serpentine belt system that gives you the advantage of one Dayco six-rib serpentine belt but also gives a '60s-era accessory placement. The serpentine belt system comes with a Powermaster 180-amp alternator and a Sanden SD709 AC compressor. Linking this potent V8's horsepower to the Independent Rear Suspension is a Bowler Performance Transmissions 4L65E and a Dynotech driveshaft. This legitimate 500-plus horsepower faux 409 is a far cry from the "massaged" 335 hp of 60-plus years ago; driveability, economy (yes, enhanced mpg), and reliability make the LS the new "king of the modern rodding world."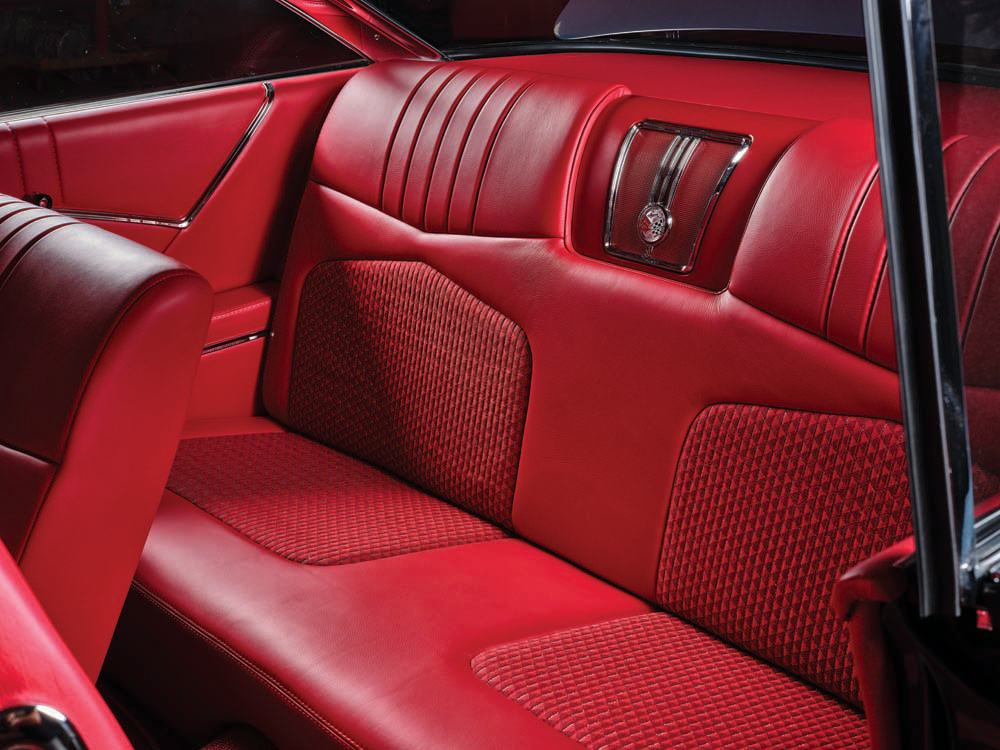 Read More: 1961 Chevy Impala Good Looks & Better Performance
Garnering all of this performance and making it handle and ride like a modern-day performance car becomes the responsibility of a Roadster Shop Ride Line chassis. This chassis does come with longer stroke coil-overs and a Camaro ZL1 Independent Rear Suspension while the Independent Front Suspension is comprised of Bilstein coilovers, rack-and-pinion steering, C6 Corvette spindles, rotors, and calipers, and a Detroit Speed master cylinder with booster assembly.
The 1960 Chevy Impala while resting on a Roadster Shop chassis rides down the road on a set of custom-designed, machined, and detailed wheels. The one-off wheels were designed by Goolsby Customs, drawn by Eric Black, after which they were machined by Billet Specialties, and lastly, the final detailing took place back at Goolsby Customs. In a slight departure from the big 'n' little theme, the four wheels are similarly sized at 17×8 but then they are wrapped in one size smaller in front and larger in the rear. The Nittos used are NT555 G2 245/45ZR17s (25.67-inch overall diameter) in front and Nitto G2 255/50ZR17s (27.09-inch overall diameter) in back. While the wheels are similarly sized the bubble top does have the advantage of a slight "rubber rake" to enhance its stance.
It doesn't take long to realize that as beautifully prepped and built as this bubble top is from the workshop of Goolsby Customs, it's pretty hard to note any deviation from the externally stock appearance with the exception of the wheels and tires. We would be remiss if we didn't point out that the fit and finish are a long way from what was achieved on a Chevrolet assembly line back in the day. The staff at Goolsby worked patiently and carefully on this 1960 Impala until its staging was flawless. Goolsby Customs applied the BASF Glasurit London Gray metallic and gloss black for a subtle yet good-looking two-tone presentation. The understated yet impeccable paint is accentuated strikingly by the Advanced Plating brightwork throughout.
Read More: 1966 Impala SS Packs 850hp LSA Punch & Roadster Shop Chassis
Inside the workmanship is equally exceptional. Beginning with a stock dashboard it is then fitted with Dakota Digital RTX instruments, Vintage Air Gen IV system with an under-dash vent plenum and an ididit steering column with cruise control wick and a 15-inch stock-style wheel. All of the prerequisite wirings were aptly handled by an American Autowire Classic Update kit hardwired in by Goolsby Customs. (This kit was researched and developed to correctly fit vehicle-specific modified harness applications. The kit was also engineered to provide plenty of room for customization that's required with the use of so many of today's modern accessories.) The pedals appear stock but the drive-by-wire-required throttle is a Lokar item.
Next to the throttle and below the A/C is a modern-day convenience in the custom "shorty" center console that acts as a cup holder and miscellaneous items resting place for such goodies as a cell phone. You will find yourself looking at what appears to be stock seating, sort of, but the front was modified while the rear was custom-made by M&M Hot Rod Interiors to enhance comfort and appearances.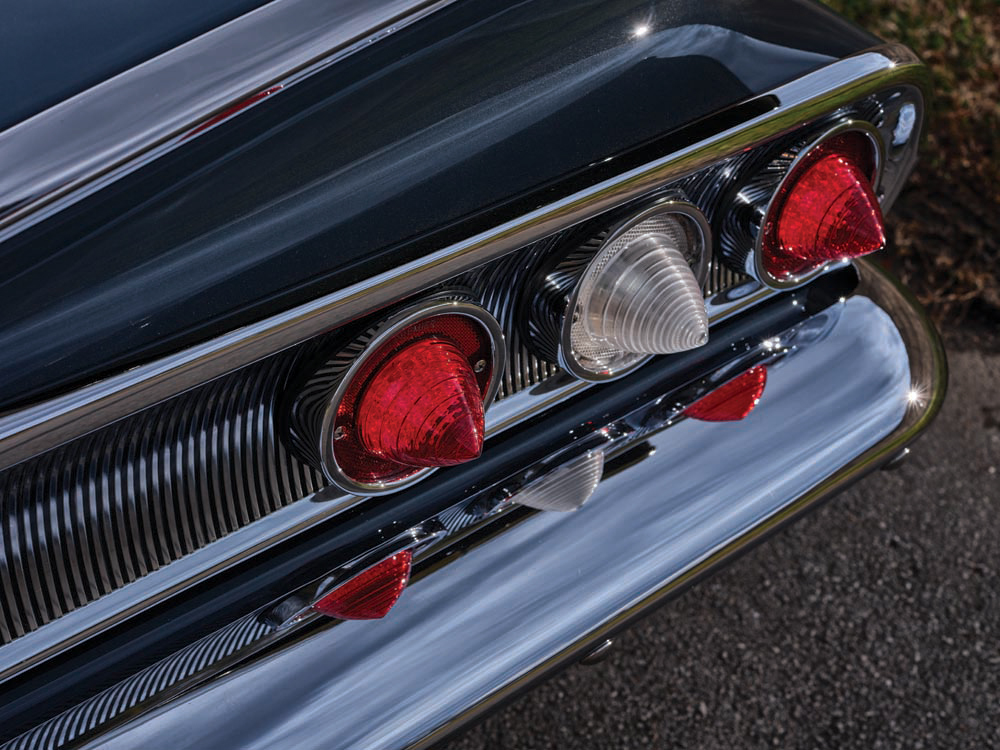 M&M sourced Moore & Giles Carlyle leather was used on both benches as the base material. (Carlyle leather is derived from South German raw material, it's a semi-aniline leather that's good looking and has a comfortable feel to the touch.) From here 1963 Chevrolet Impala cloth inserts were incorporated. The carpeting is a deep red German loop while the headliner is an additional 1963 Chevy, but this time in a "star" patterned headliner.
Well, the '60s was a unique decade, as it featured periods of time for car design and the budding performance industry to take hold. The 1960 Chevy Impala bubble top is one of our all-time favorites that any hot rodder would like to have parked in his garage. This is one job well done. MR