Jim & Raylene Senke's 1968 Camaro
By Nick Licata   –   Photography by Wes Allison
Prior to writing a car feature, one of the questions we ask the owner is why they built the car. Jim Senke, owner of this gorgeous '68 Camaro, got right to the point: "Because I wanted to." Fair enough. We'd have to say there is no better reason. He goes on to say that he just loves cool cars.
We dig a little deeper to find out this "cool car" was assembled on the fourth week in December 1967 at GM's Van Nuys plant and was purchased brand new at Washburn Chevrolet in Santa Barbara, California, by a local couple. Jim's family became the second owners of the car in May 1970 when his mom received the car as a Mother's Day gift; it's been in the family ever since.
Used sparingly, Jim's mom drove the car to the store and around town, mostly. "I ended up using the car to pass my first driver's test and then drove it up and down the driveway to wash and clean it up," Jim tells. "I finally bought the car from my mom for $1,200. Thankfully I did. If not, it's likely my dad would have sold the car to get whatever he could for it."
Don't Miss This One: 1973 Chevy Camaro Restomod – 640HP Full Custom
Once taking ownership, Jim did the typical bolt-on upgrades over time that most every muscle car owner did in the '70s: mag wheels, headers, a few engine dress-up items, and, of course, an 8-track player under the dash; all the standard Day Two resto stuff.
Jim got married in 1977. He and his new wife, Raylene, decided to have the car painted, then showed it for the first time in 1981 at Nojoqui Falls, Santa Barbara. They were having fun hitting the car show scene and bagging some awards for a few years before another paintjob and more upgrades followed in 1985. Their efforts rewarded the couple with even more show awards along the way.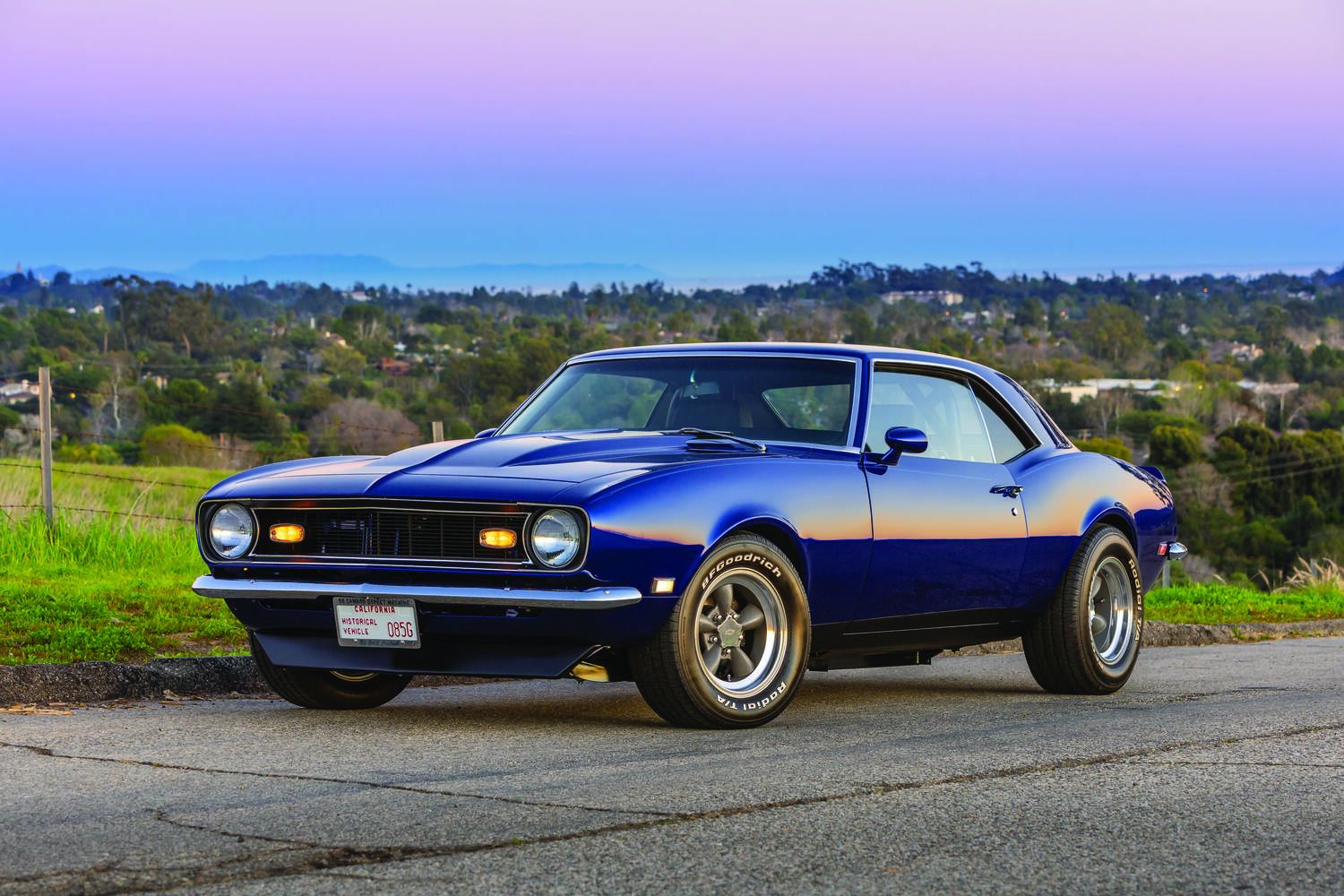 In 1991, the 327 was swapped for a 350, which is where things not only snowballed, but, as Jim describes it, "that's when an avalanche of upgrades began. What started out as a detail job turned into filling the firewall, painting the undercarriage, a bevy of new chrome parts, and a stainless exhaust–all the '90s-era car show doodads became part of the car."
As the years passed, no thanks to the ocean air, the car needed a total overhaul. In 2019 the car went to their friends at J&R Hot Rod Shop, only this time to build the car to represent the era from which it came and a bit closer to how Jim originally upgraded it when he first bought the car from his mom while also paying tribute to the Mark Donohue '68 Camaro.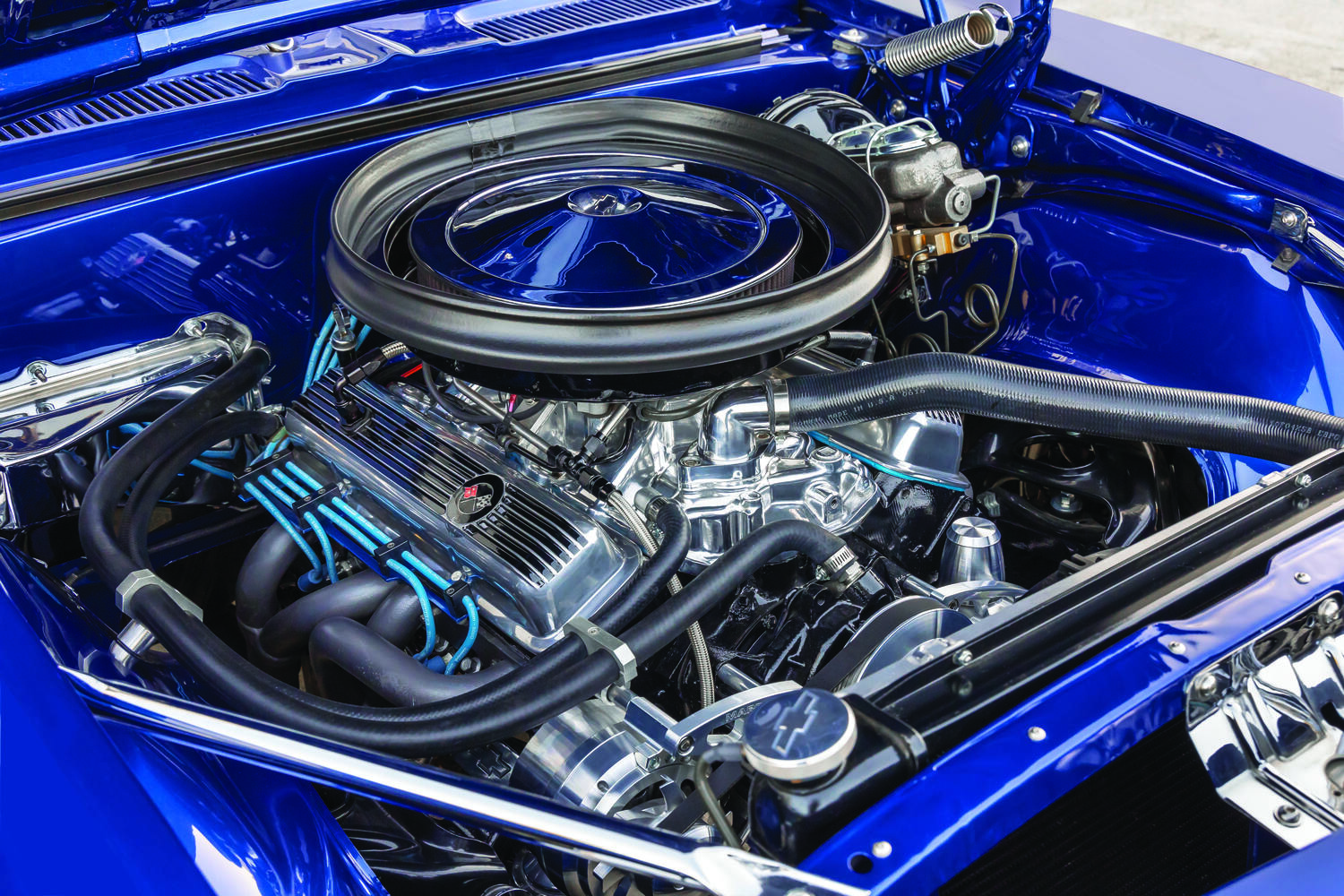 With the '80s and '90s tracings pretty much erased from the classic Camaro, it now carries the spirit of a retro-inspired Trans Am racer. Underhood lies a fresh 350ci small-block machined by J & S East Valley Garage in Montecito, California. Aaron Machado handled the assembly process. A polished Edelbrock Performer intake distributes fuel administered by a Holley 600-cfm carburetor. A March Performance accessory drive system complies with the shiny theme while keeping the performance arrangement on point. An MSD ignition sparks the fire while a pair of 2½-inch Doug Thorley Tri-Y heat-coated headers exhale through a set of custom-fabricated 2½-inch stainless exhaust and MagnaFlow mufflers.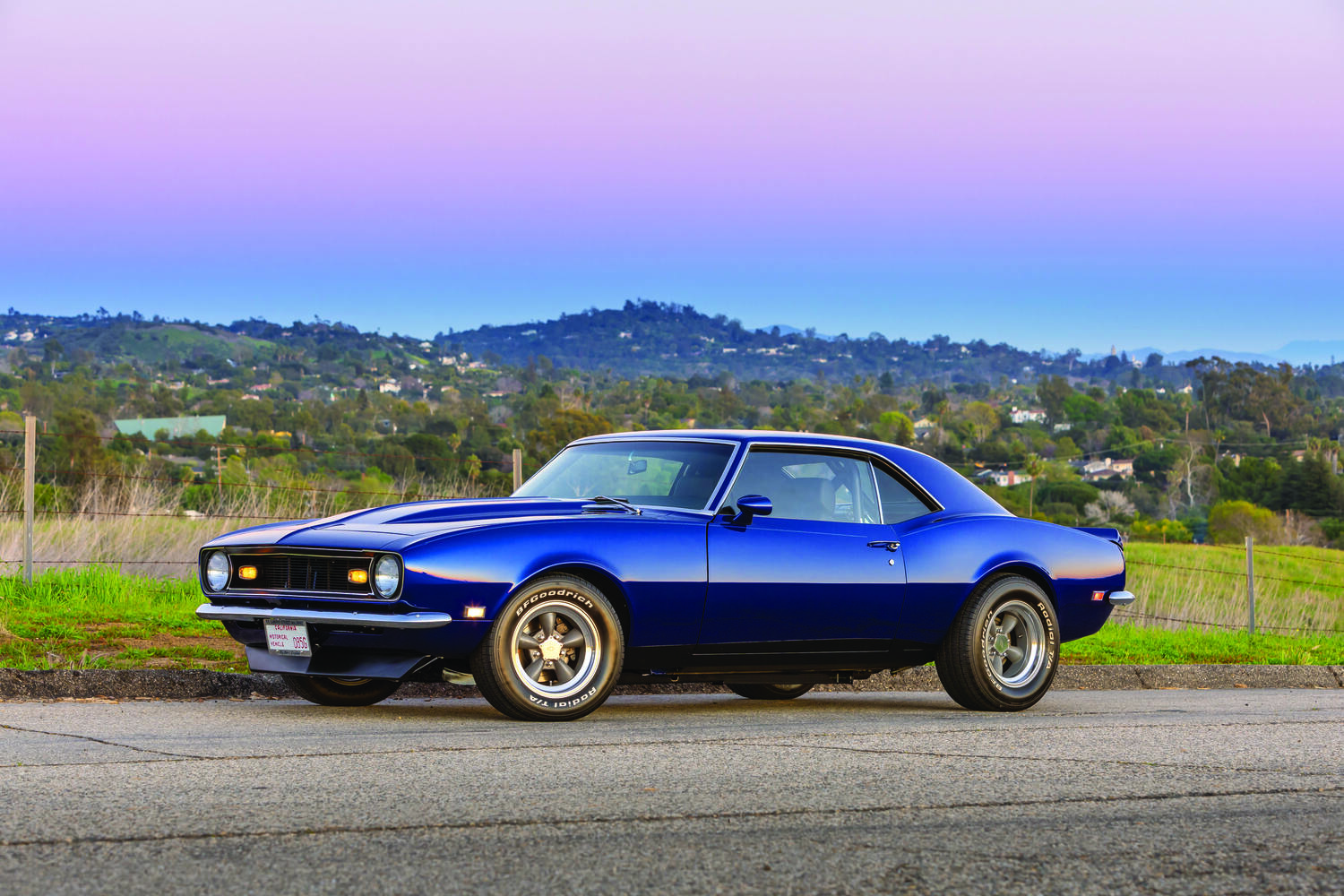 Check This Out: Fully Built 1971 Pro Touring Camaro Restomod
A Turbo 400 trans assembled by the crew at Brown's Transmission in Ventura, California, incorporated a B&M shift kit for more aggressive gear changes while sending power to a capable 10-bolt rearend. It's a simplistic approach to a vintage-style muscle car.
The cassis features a mostly stock arrangement sprinkled with suspension upgrades that include KYB socks and Quickor Garage antiroll bars front and rear to keep the Camaro on the level. A quick-ratio steering box expedites the car's lateral maneuverability. The undercarriage was sprayed with Raptor Coating and the subframe, subframe connectors, and sway bars are powdercoated in different colors to liven things up a notch underneath.
Tried-and-true GM discs up front and stock drum brakes out back handle stopping duties while maintaining the GM DNA. American Racing Torq Thrust D and BFGoodrich T/As all around give Jim's '68 a heavy dose of nostalgia, which helps keep the nature of this Camaro in the era of its conception.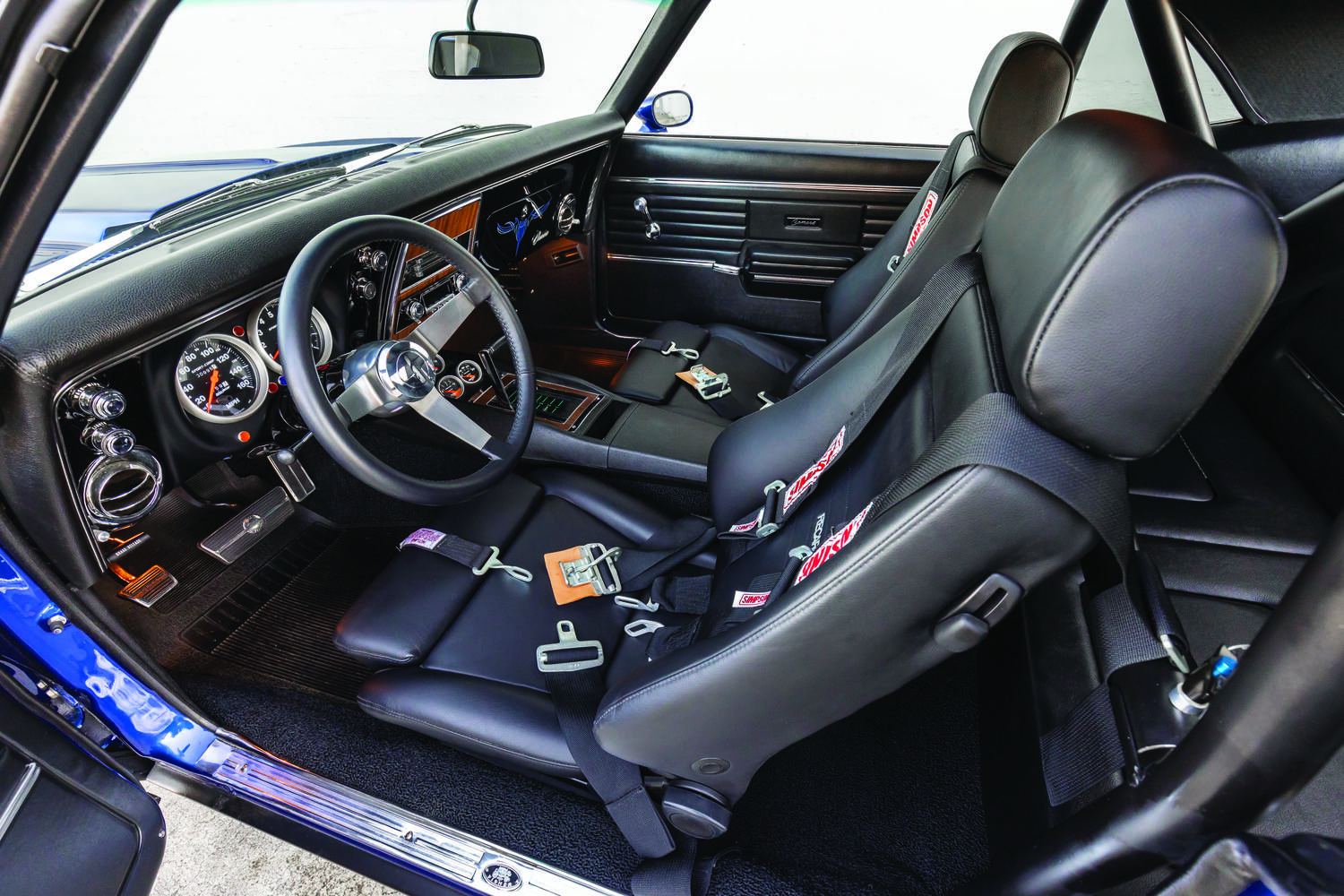 The business quarters include a nice mix of modern features that coexist with the factory bits. A black stitched vinyl dashpad is incorporated into the aftermarket dash which houses Auto Meter Sport-Comp speedo and rpm gauges. The factory woodgrain trim remains intact as does the stock heater control panel. A RetroSound factory-looking radio and horseshoe shifter keep the original vibe intact. Auto Meter Sport-Comp gauges now take up residence in the center console where the original informants once lived. Other upgrades include a Lecarra steering wheel and a pair of Recaro Expert seats covered in black leather. The Simpson racing harness latches onto the four-point rollbar installed by Autosports Engineering.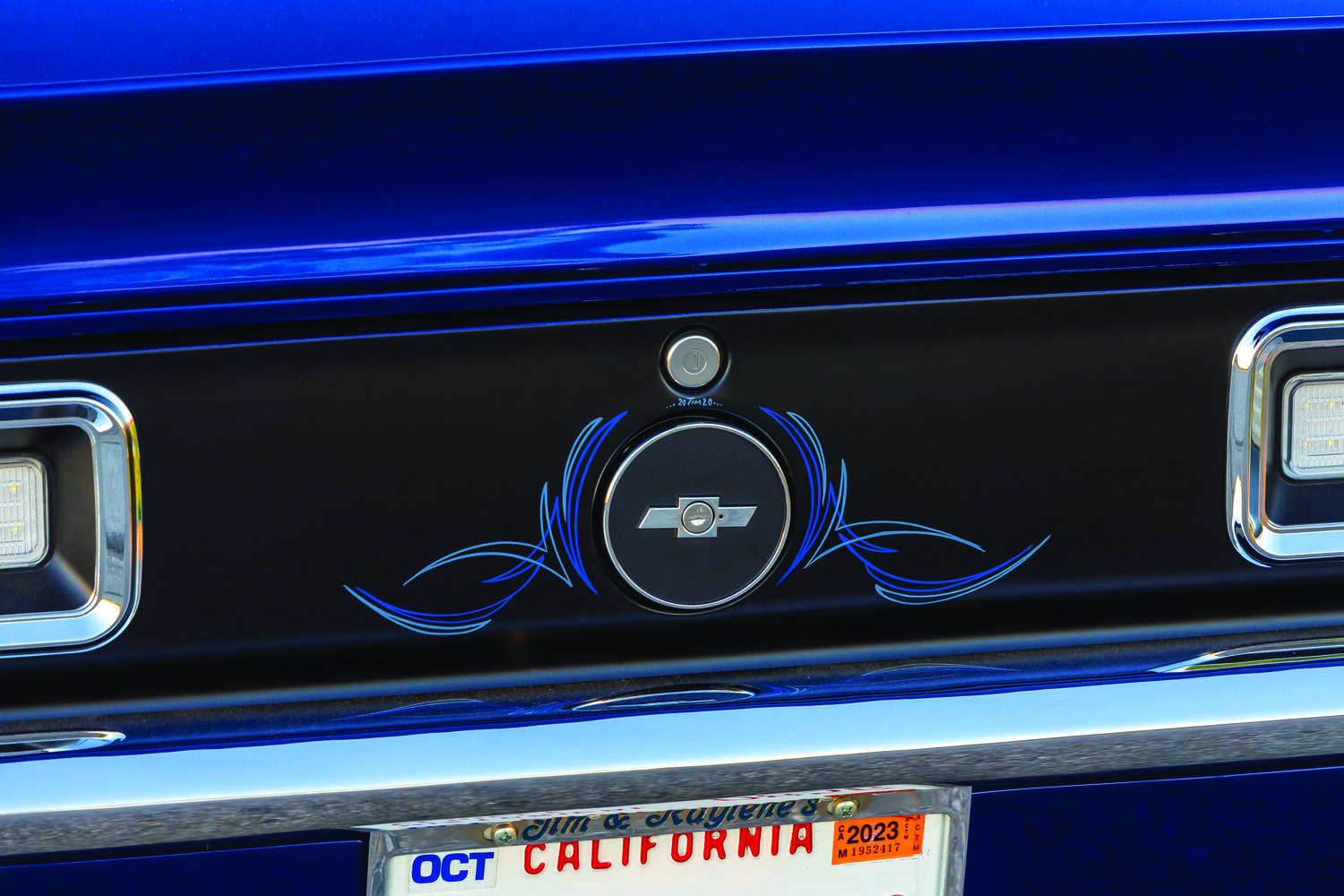 Besides the shaved emblems and rolled rear inner fenders, the stock body was given a complete overhaul by the guys at Dent Experts in Goleta, California, prior to laying down a dazzling custom Axalta mix they refer to as "Bitchen Zack Blue." Good luck finding that color swatch on the Axalta website. The stellar images captured here by photographic magician, Wes Allison, highlights this one-off color that leaps off the page, ensuring this unordinary muscle car shows off its extraordinary finish. Based on the Donohue Camaro, Fastripe performed some subtle pinstriping accents on the flat black tailpanel offering a bit of late-'60s custom cool. Verne's Chrome Plating gave new life to the stock bumpers and trim pieces for a show-like finish.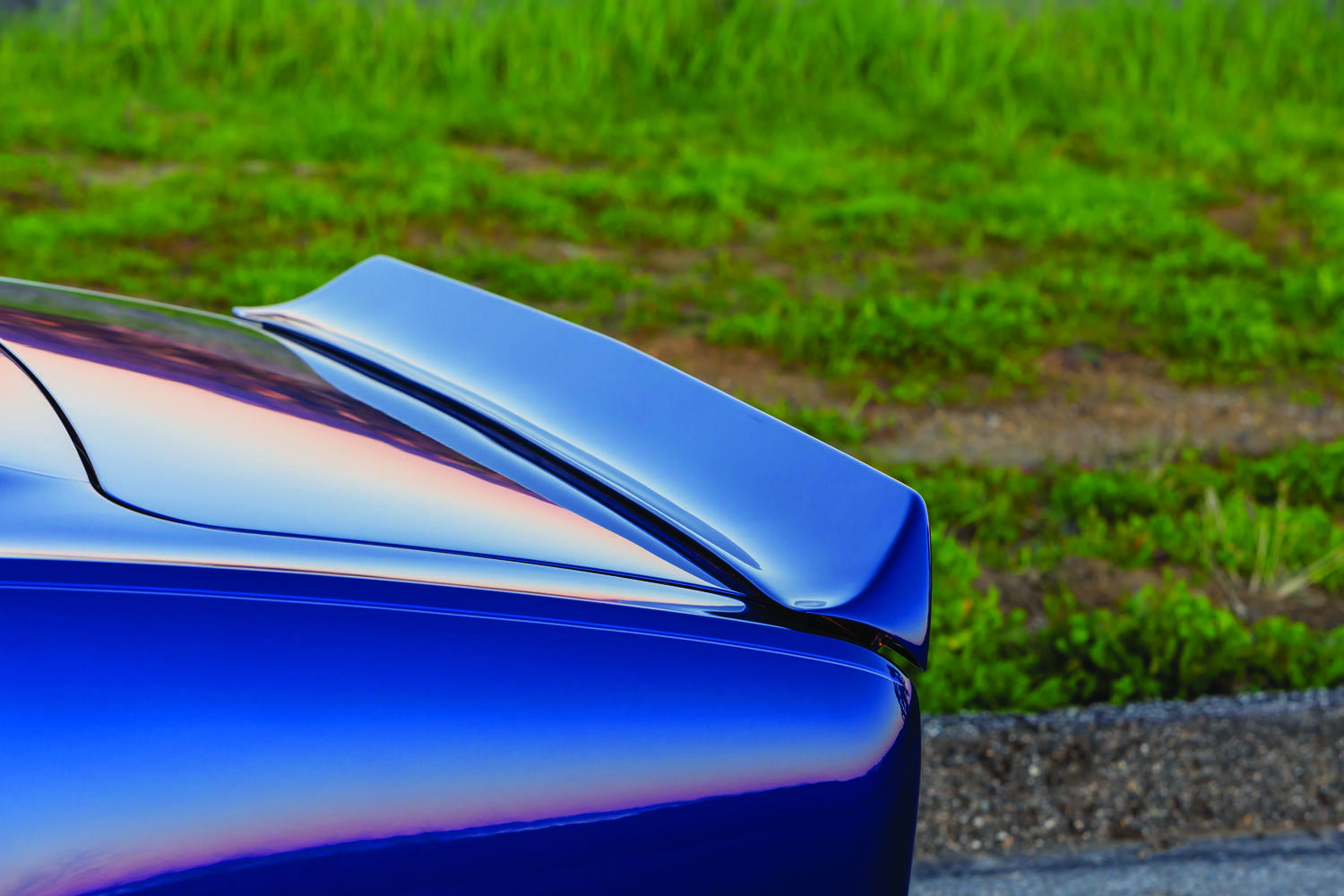 Like most vintage muscle car builds, a cast of talented friends and industry folks are called upon to help bring a project across the finish line. In the case of Jim's insanely cool '68 Camaro, he points to J & S East Valley Garage (Jay, Aaron, Paul, Norm, and Hunter) and a huge thanks to John and Robin (J&R Hot Rods) who disassembled the entire car and put it back together, the crew at Brown's Transmission, Dent Experts (Dave and Kaylee), Dave and Kevin at Absolute Engineering, Adam's Custom Upholstery, and Dow Maroney for making it all happen. "I especially want to thank my wife, Raylene for supporting me and this car for so many years," Jim adds. "I'm pretty sure she was attracted to the car before she was me, but sometimes that's how it works. Seriously, she loves the car and is as much a part of it as I am."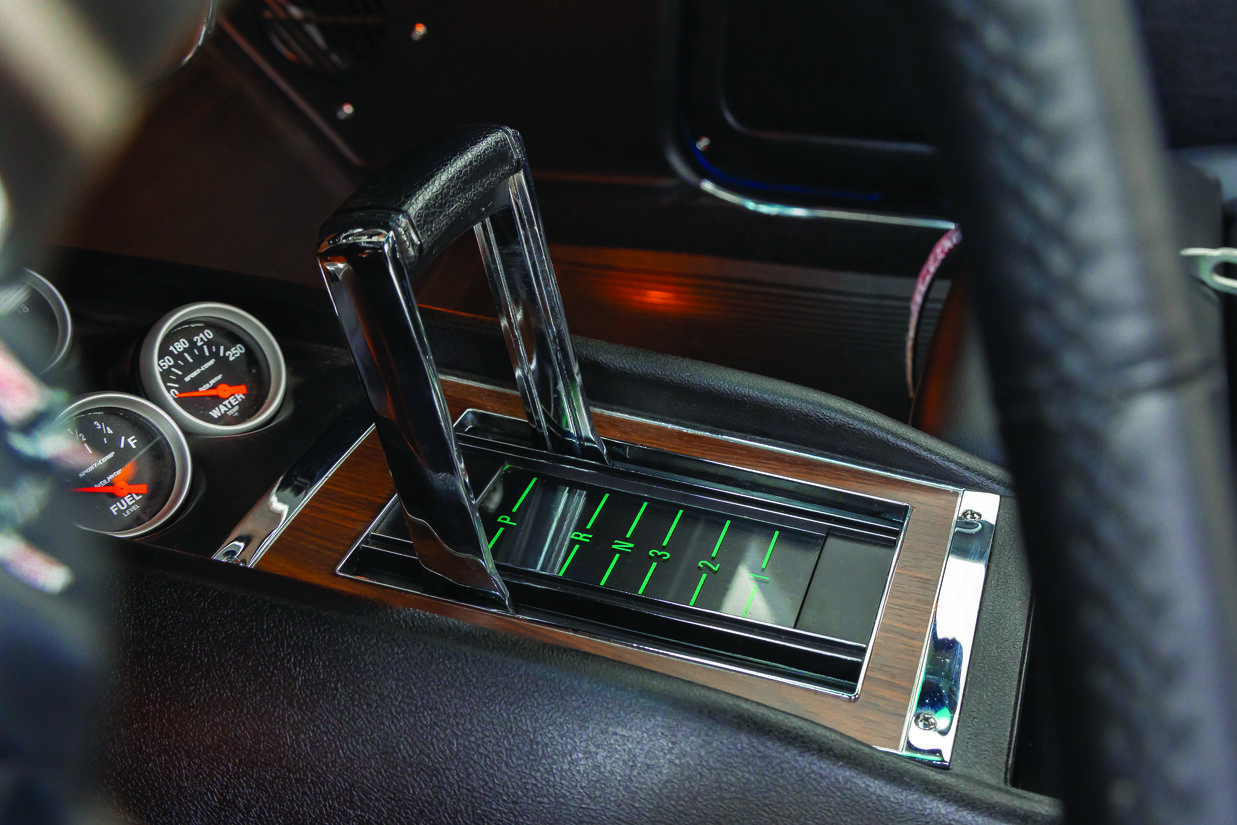 Jim's Camaro has gone through a multitude of paintjobs and personalities, and in its latest incarnation the car now pays homage to the Mark Donohue Camaro with a twist.
TECH CHECK
Owner: Jim & Raylene Senke, Santa Barbara, California
Vehicle: 1968 Chevy Camaro
Engine
Type: Chevrolet small-block
Displacement: 350 ci
Compression Ratio: 10.25:1
Bore: 4.00 inches
Stroke: 3.48 inches
Cylinder Heads: Stock 194
Rotating Assembly: Stock
Camshaft: Howards
Induction: Edelbrock Performer (polished), Holley 600-cfm carburetor
Machinework: J & S East Valley Garage (Montecito, CA)
Assembly: Aaron Machado
Exhaust: Doug Thorley Tri-Y headers, 2½-inch stainless exhaust, MagnaFlow mufflers
Ancillaries: March Performance accessory drive system, machined brackets, chrome fender braces, chromed heater box cover, chrome cowl-induction air cleaner, Moon overflow tank
Output Est: 350 hp
Drivetrain
Transmission: Turbo 400 built by Brown's Transmission (Ventura, CA)
Torque Converter: Stock GM
Trans Mods: B&M shift kit
Rear Axle: GM 10-bolt
Chassis
Chassis: Stock
Front Suspension: Stock spindles powdercoated, KYB shocks, quick-ratio steering box, Quickor antiroll bar, powdercoated subframe connectors
Rear Suspension: KYB shocks, Quickor antiroll bar
Brakes: GM discs front, GM drums rear
Wheels & Tires
Wheels: American Racing Torq Thrust D (15×7 front, 15×8.5 rear)
Tires: BFGoodrich T/A; 235/60R15 front, 255/60R15 rear
Interior
Upholstery: Black loop carpet, black vinyl door panels, custom center console, stitched black vinyl dash, custom turned aluminum door buttons, and window crank knobs
Installation: Adam's Custom Upholstery (Santa Maria, CA)
Seats: Recaro Expert
Steering: Stock column, Lecarra Vette steering wheel
Shifter: Horseshoe
Dash: Stitched black vinyl
Instrumentation: Auto Meter Sport-Comp
HVAC: Open vents
Sound System: Retro Sound head unit, Fosgate 6×9 speakers in package tray by J&R Hot Rods
Exterior
Bodywork and Paint: Dent Experts (Goleta, CA)
Paint: Axalta custom Bitchen Zack Blue
Hood: GM Cowl
Grille: Stock
Bumpers: Stock
Headlights: Stock
Taillights: LED
Side Mirror: '70 Camaro Bullit
Plating: Verne's Chrome Plating (Gardena, CA)