Ensuring the Specifications on Internal Parts are What They Appear to Be
By Ryan Manson – Photography by the Author
When it comes to assembling an engine, it's not uncommon to find yourself mixing and matching components of unknown origin. Perhaps it starts with a junkyard engine that's been torn down to the bare block, or maybe it's a half-finished engine build inherited from a friend. The specifics are supposed to be XYZ, but what are they in reality?
Without properly measuring everything, it's nearly impossible to guarantee that the components will work together or are even what they're supposed to be. The block could have been bored or honed, the pistons ordered oversized or otherwise incompatible. It's not uncommon to pick up a set of decent pistons from a swap meet that seem like the perfect forgings for that low-buck 350 build, but if they won't fit your block you could be looking at spending more money to get those "sweet deal" parts to actually work together. In all of these cases, your best bet is to measure twice and purchase once.
But there's more to accurately measuring engine components than a tape measure, dial calipers, or a couple strips of Plastigage. No, if we're going to measure things to the proper degree (or thou in this case) we need to step up our measuring game with a couple tools specifically designed to do exactly what we're attempting. Thankfully, these tools aren't outright expensive and are easily found by simply perusing Summit Racing's website or catalog.
The first thing we're going to need is a set of outside micrometers that are large enough to measure the piston diameter. This is where that tape measure or dial indicator can come in handy to find the rough diameter of the piston to ensure the micrometer set you order will work.
Something like Summit Racing PN POW152006 should work for most applications. An outside micrometer will allow us to measure the diameter of the piston, but to accurately measure the bore of our engine we're going to need what's called a dial bore gauge. PN SUM-900041 is a good, inexpensive solution for this.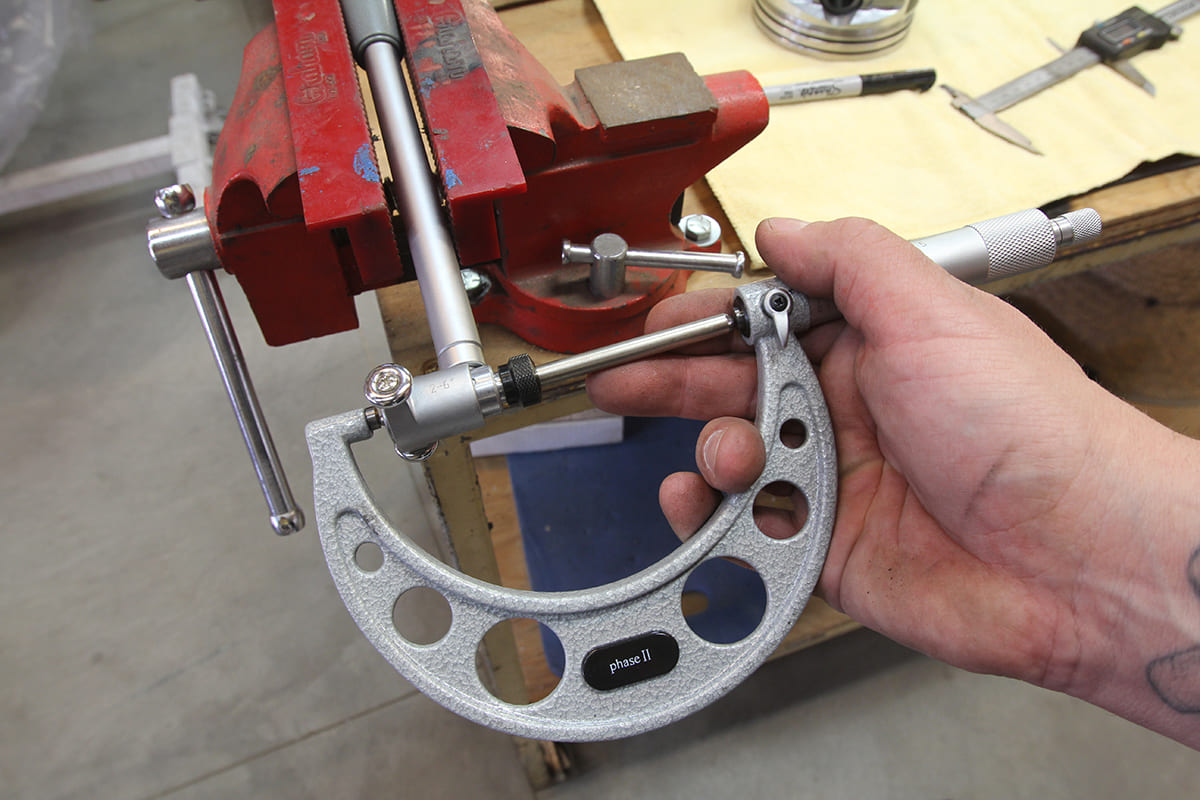 With those two tools on hand, we can accurately measure both the piston's diameter and the bore of the engine and also determine if the two dimensions jive as per the piston manufacturer specs, commonly referred to as piston-to-wall clearance. This is the difference between the engine block's actual bore and the diameter of the piston at a specific dimension (usually perpendicular to the piston pin on the piston skirt). This distance is essential for proper piston ring function and safe clearance between the cylinder wall and the piston when things heat up and start to expand (remember steel and aluminum expand at different rates).
In addition to being able to properly measure the bore and piston diameter, equipped with these two tools, we can now check all of our installed diameters. The main bearings and caps can be installed and torqued to spec, measured, and then double-checked against the crankshaft to ensure those dimensions are accurate and whatever machining has been done in the past is acceptable. The same can be said about the rods and their respective components, and even the camshaft and bearings. This process is oftentimes referred to as "blueprinting" but any respectable engine builder will simply refer to it as just another step in a proper engine build.
Call it what you want, if you have the tools and the ability to properly check all those engine components, you'll have peace of mind that once it's assembled, it should stay that way and provide years of reliable miles!
ACP
Sources:
ARP
(805) 339-2200
arp-bolts.com
Summit Racing
(800) 230-3030
summitracing.com