Miranda Built Custom 1969 Camaro
By Nick Licata   –   Photography by John Jackson
In the the summer of 1969, Bryan Adams bought his first real six-string at the five and dime, Rolling Stones guitarist Brian Jones purchased an old home belonging to A.A. Milne (author of the Winnie-The-Pooh books) and later that year was found dead in the pool, and on August 15, 1969 the Woodstock Music and Art Fair took place in upstate New York. It was three days of love, peace, and music that featured 32 planned acts and two unplanned births. It's hard to believe but those two babies would now be 53 years old.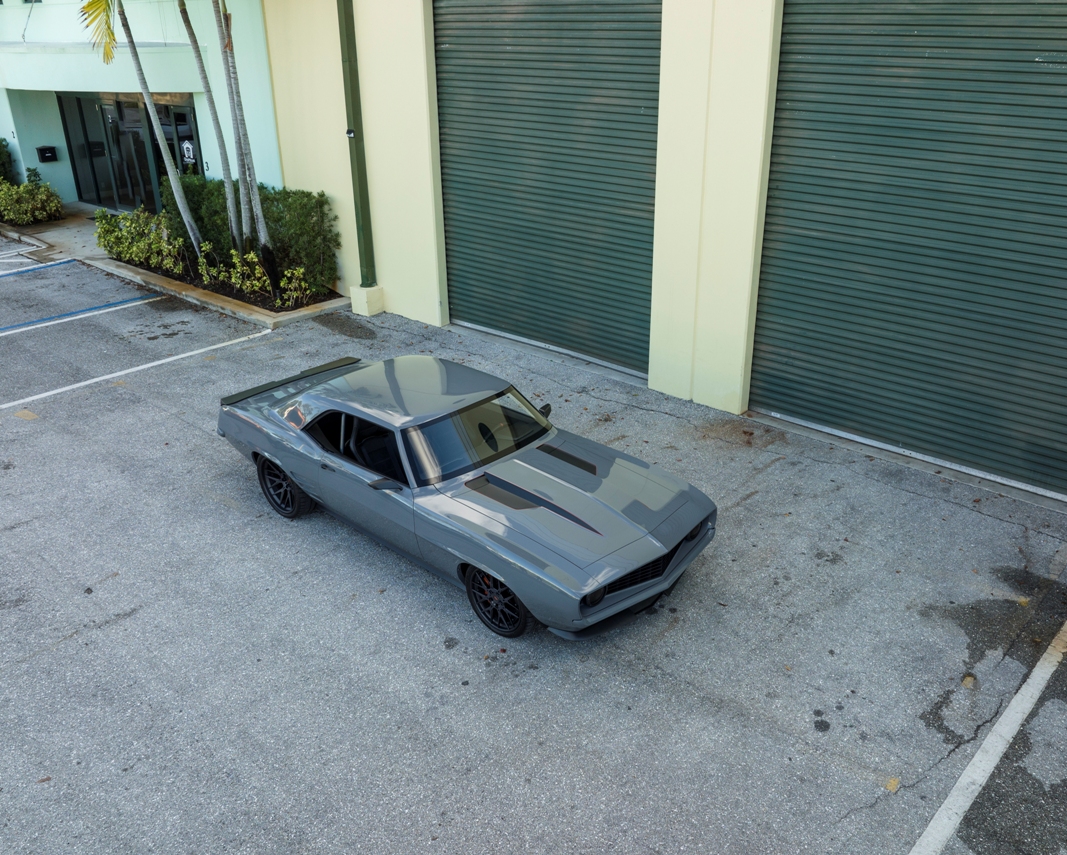 Also born that same year was the '69 Camaro, a car that the GM engineers had no idea would arguably be the most popular muscle car ever built over 50 years later—a remarkable feat that I'm sure no one saw coming when they first rolled off the assembly line. You would have had to build a timeless piece of machinery with body lines that would hold up visually over a half-century later, which is just what Chevrolet did.
Today, the 1969 Camaro remains so versatile that it conforms to just about every build style imaginable. Its personality easily drifts from Pro Touring, drag racer, restomod, Pro Street, gasser, and in my hometown it even carried its own as a lowrider.
Ted Westrickle confesses that owning a '69 Camaro has been a dream of his for as long as he can remember. "My father grew up with a passion for cars as he's owned and worked on classics most of his life," Ted states. "I didn't inherit his mechanical ability, but I've always had an interest in cars, especially the Camaro."
More Hot Camaros: Vernon Ward's 1971 Camaro Z28
Years later, that interest failed to fade and had Ted looking for a '69 Camaro he could turn into a restomod—the classically restored cars left little to be desired. He came across the Miranda Built '67 Nova and was impressed with that build style and the amazing custom fabrication work. Once he saw the NFA '69 Camaro in progress he knew right then he wanted the Boynton Beach, Florida, shop to build his Camaro.
With the decision made, Ted put a call into Jeremy at Miranda Built to discuss the possibility of building him a Camaro; a car he still did not possess. "To my surprise, Jeremy was willing to take on the build even though I lived 1,200 miles away from their shop," Ted excitedly says. "Jeremy understood my somewhat incoherent vision and was able to decipher my scattered thoughts and develop it into a concise plan."
Soon after, Jeremy and his Miranda Built cohort Tim Allen came across a project in Florida consisting of a body, front end, and a VIN number. Game on!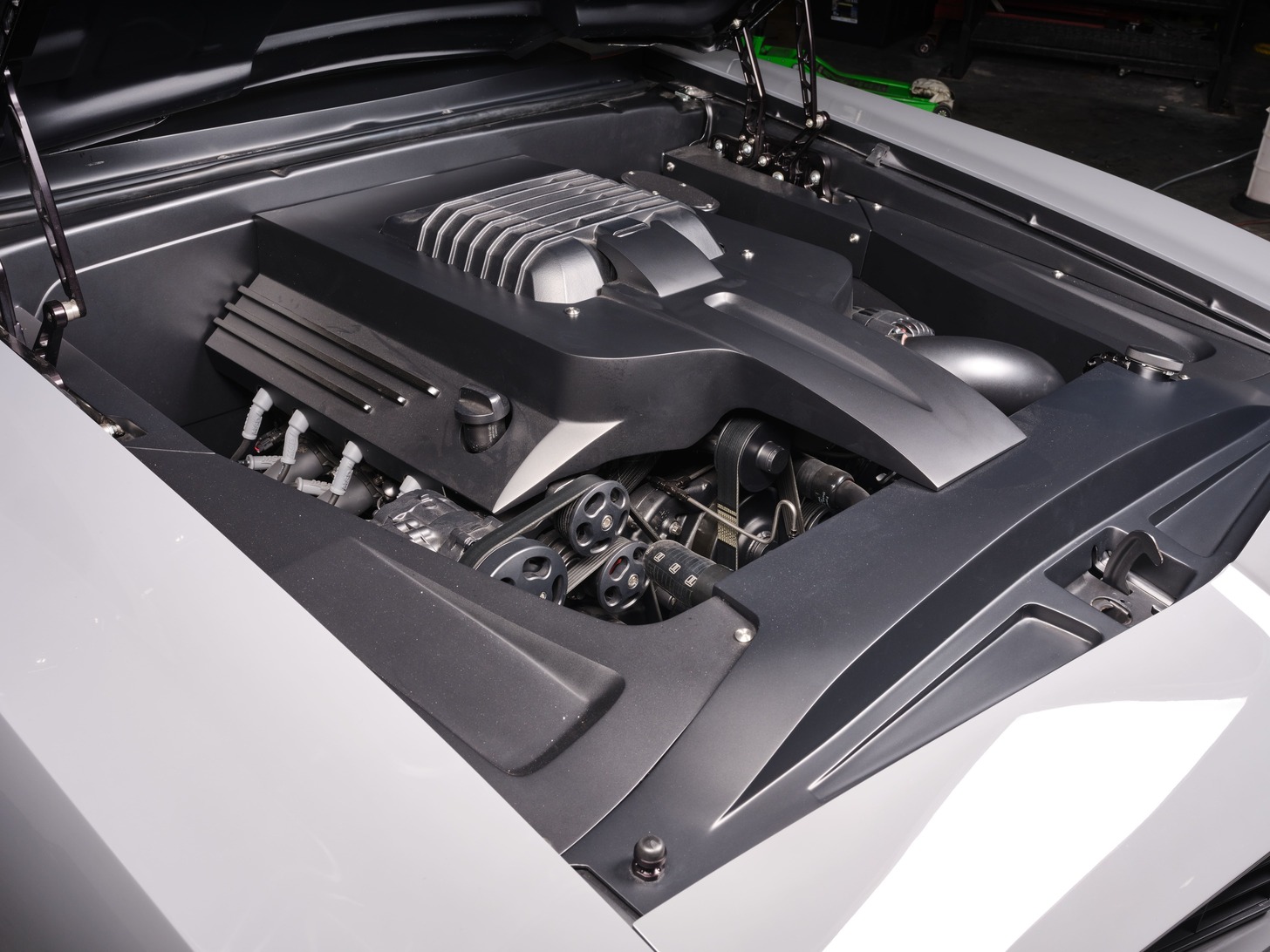 Power and reliability were two important aspects to the build, so starting underhood they employed a mostly stock, plenty capable, Chevrolet Performance LSA crate engine. They dressed it in a custom one-off Miranda Built engine cover to coincide with the custom close-out panels. A custom-painted Wegner serpentine system and Ringbrothers hood hinges blend with the uniform scene that gives off a stylish yet rambunctious demeanor.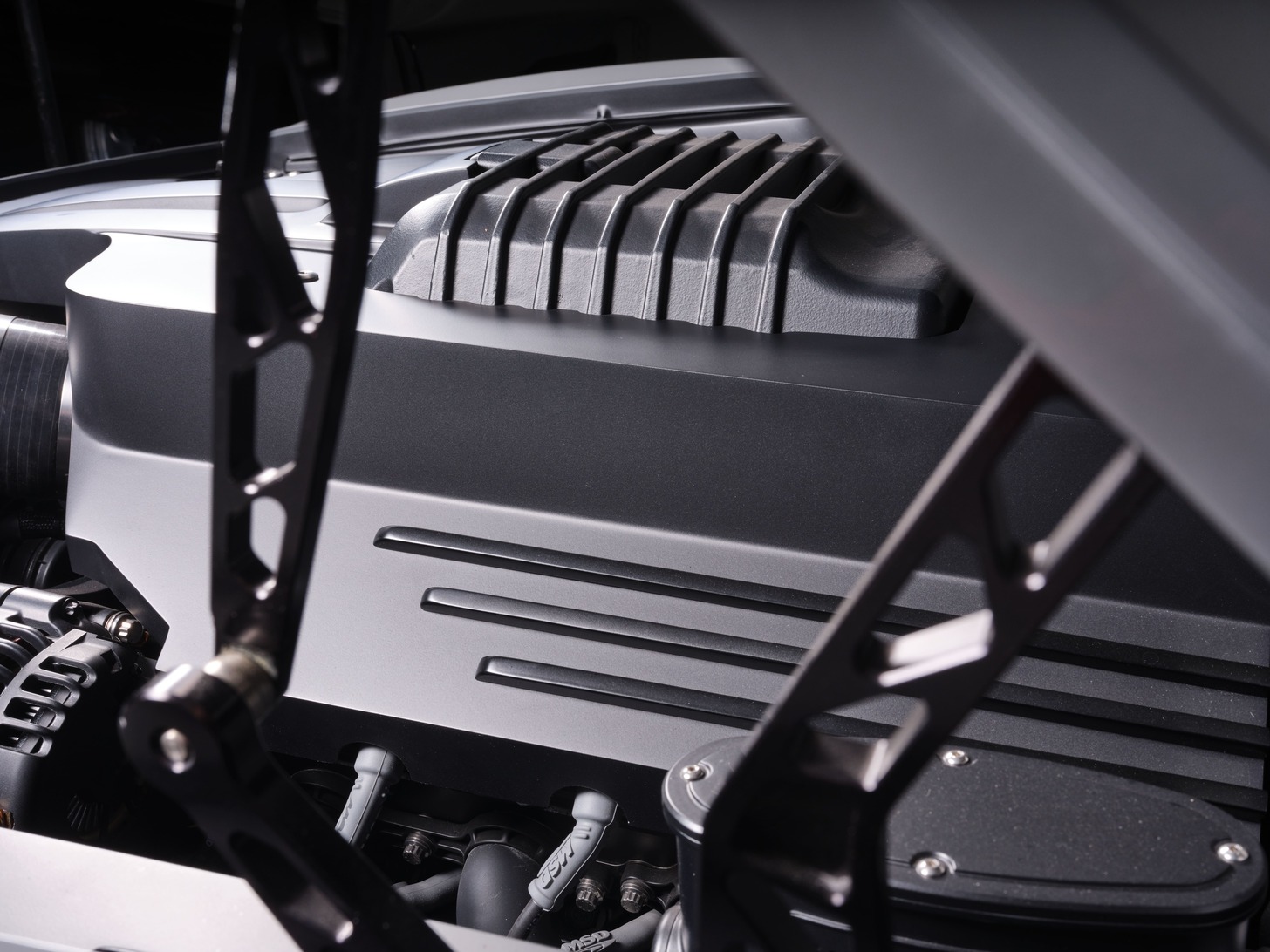 A set of 1 7/8-inch Ultimate Headers headers release spent fuel to a custom 3-inch exhaust system topped with a set of Borla Pro XS mufflers offering an aggressive note to reveal the engine's arrogant attitude and unleash every bit of the LSA's 655 hp.
To accept that sort of punch, Ted went to RPM Transmissions for one of their hearty Level 7 4L65E overdrive transmissions. Rated at 800 hp, the package easily handles the Camaro's offerings with plenty of room to spare. A bulletproof Strange Engineering S60 rearend stuffed with 3.70 gears, Eaton Truetrac, and Strange 31-spine axles is a time-proven recipe for pavement-pounding performance.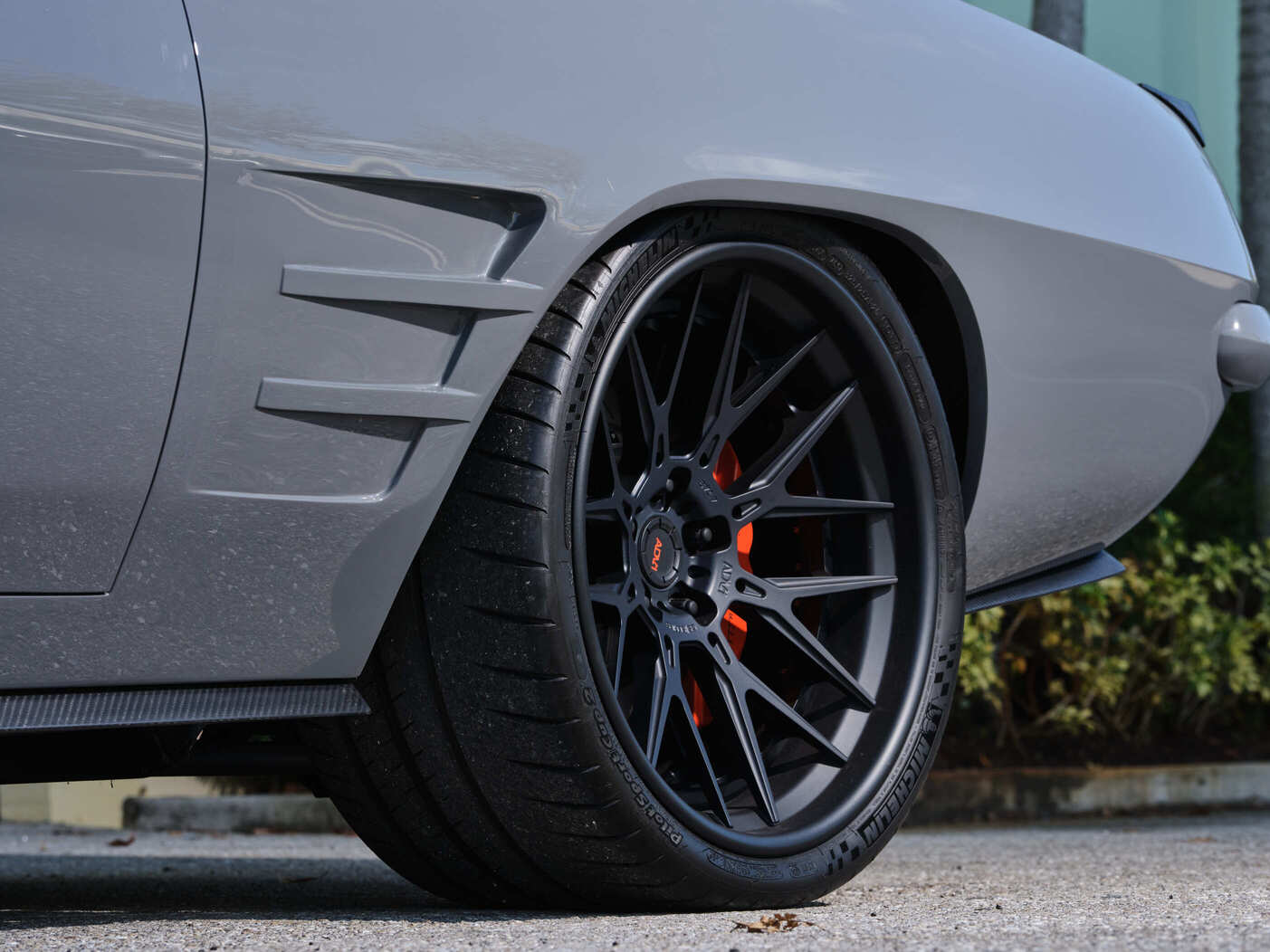 Ted pulled no punches in the handling department and sat the Camaro on a Roadster Shop SPEC Series chassis complete with a four-link rear suspension system and AFCO 10-way adjustable coilover dampers out back along with a matching shock arrangement up front. Wilwood spindles offer the benefit of improved handling and stellar stance on the front side and welcome the 1 1/8-inch sway bar's ability to keep lateral dive to a minimum.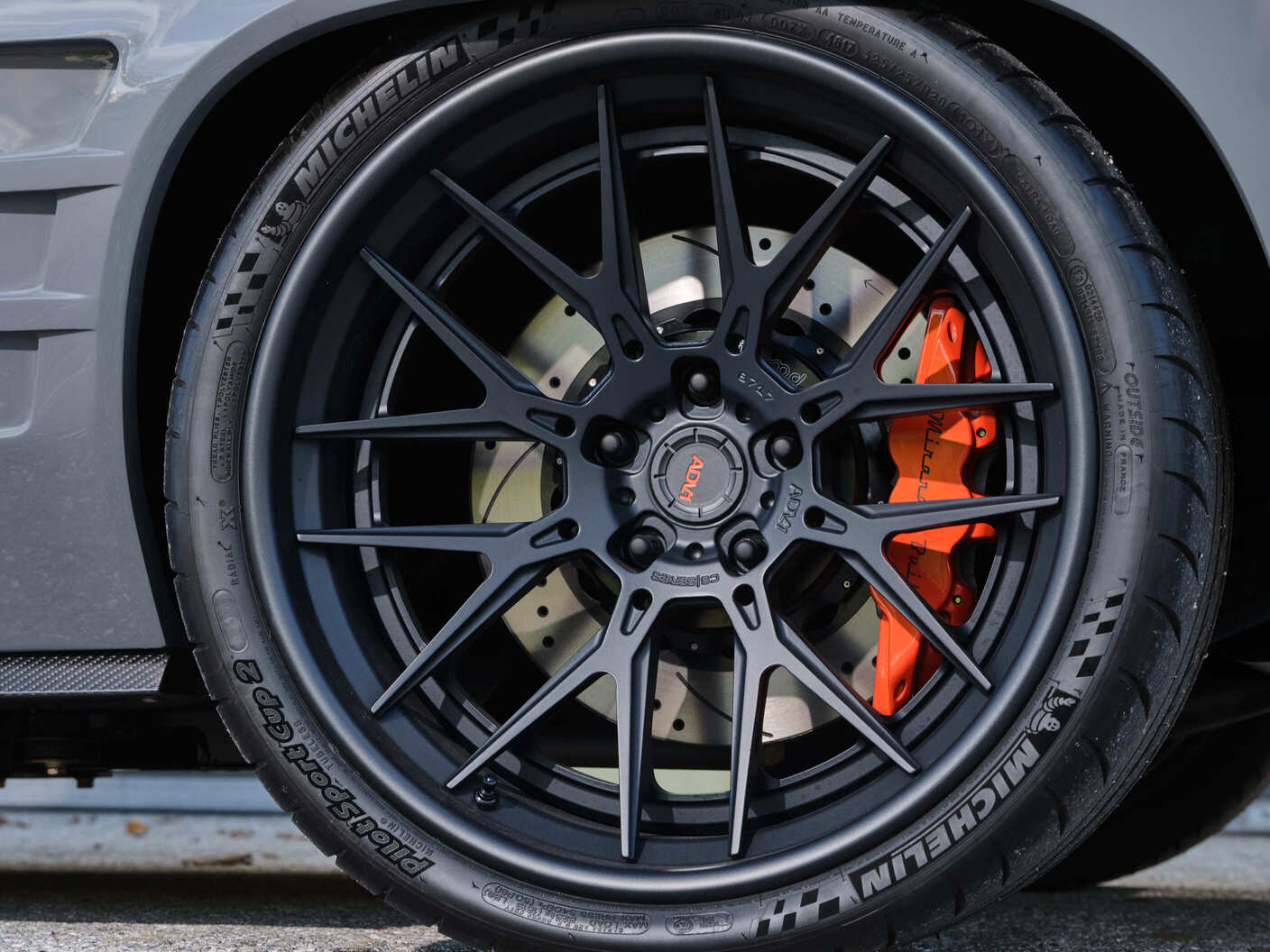 All that speed comes to an abrupt stop with Wilwood binders and compliance of the Michelin Sport rubber wrapped around the ADV.1 Track Spec wheels. Ted kept the braking process a manual affair with a Wilwood 7/8-inch bore master cylinder sans booster for exceptional braking prowess.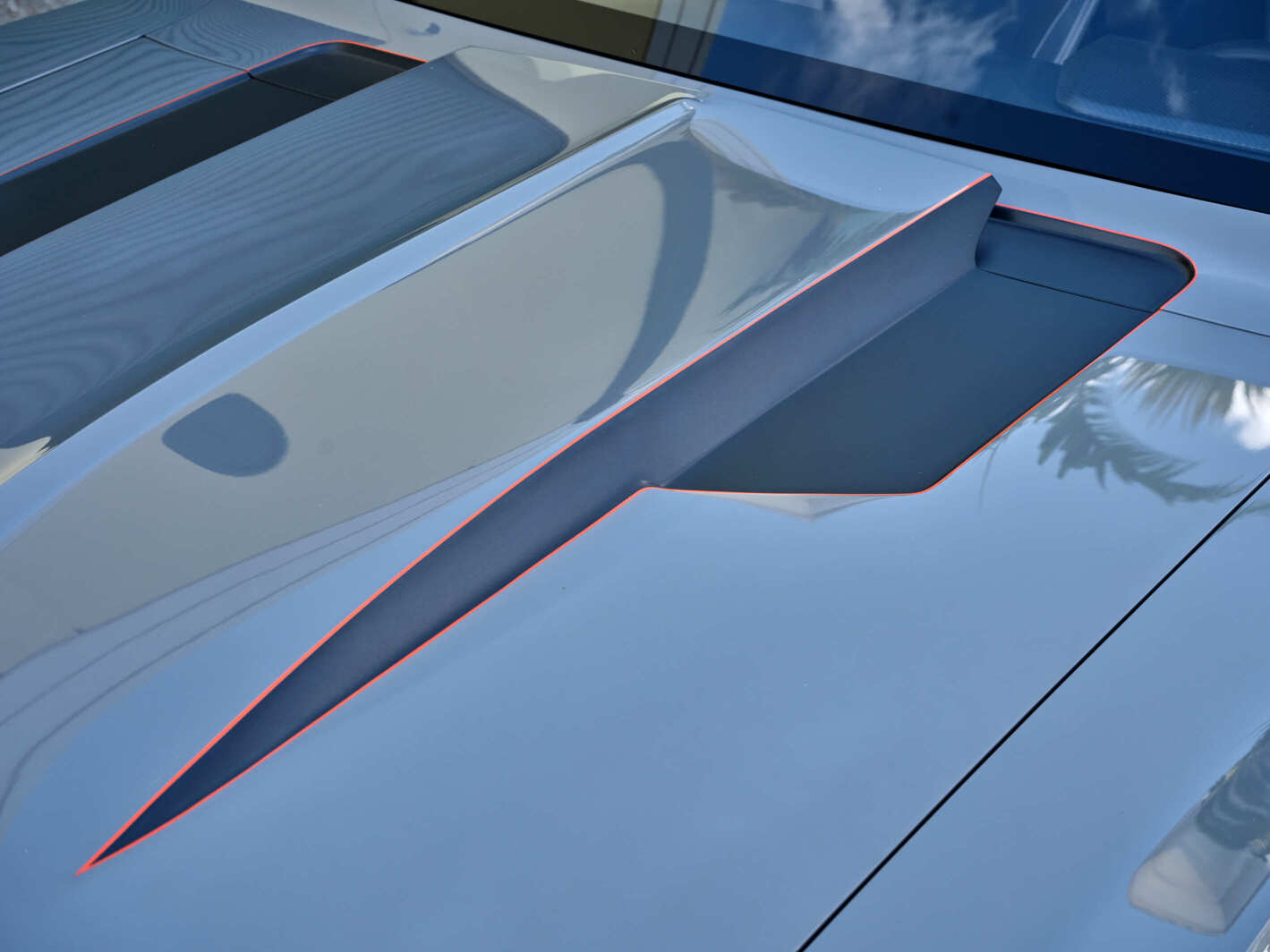 The bodywork is the focal point of this build, where Jeremy and the crew at Miranda Built strutted their stuff by fabricating numerous one-time parts. We'll let Jeremy explain how it all went down. "We custom-made a lower front spoiler, tucked and shaved the front bumper, made custom inlays for the hood, shaved the wiper cowl, driprails, and antenna. We built custom quarter-panel inserts, a custom rear spoiler, rear diffuser, and one-off rocker panels." Jeremy continues, "The aero kit is carbon fiber and all the panels are made by Miranda Built out of aluminum. They were bodyworked, primed, then sent to Fiber Forged Composites to have one-off molds reproduced in exposed carbon fiber."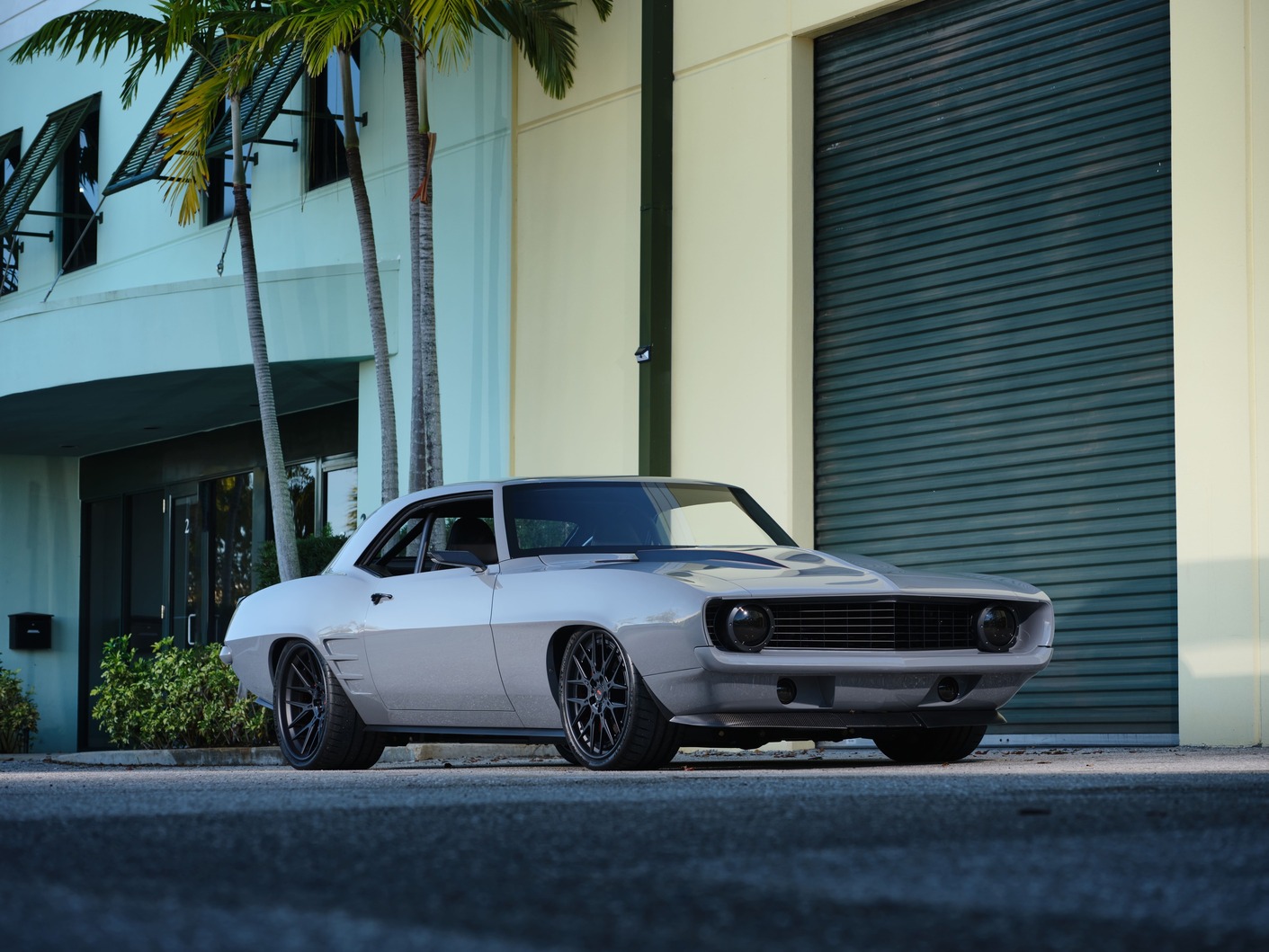 Relic Restomods took on final bodywork responsibilities and smoothed the panels to perfection prior to Mitch at Relic laying down an exquisite sheet of PPG Nardo Gray. Bones Custom stepped in and enriched the hood with flat Carpathian Gray paint and a Mirage Orange pinstripe to accentuate the Miranda Built custom inlay for a striking appearance.
Don't Miss This Awesome Build: Mike McClish's No-Nonsense 1968 Camaro
Oftentimes, extensive bodywork can rob a car of its heritage, but the Miranda crew respected the original bodylines of the '69 Camaro and used their talent to finesse rather than destroy the General's already impeccable canvas.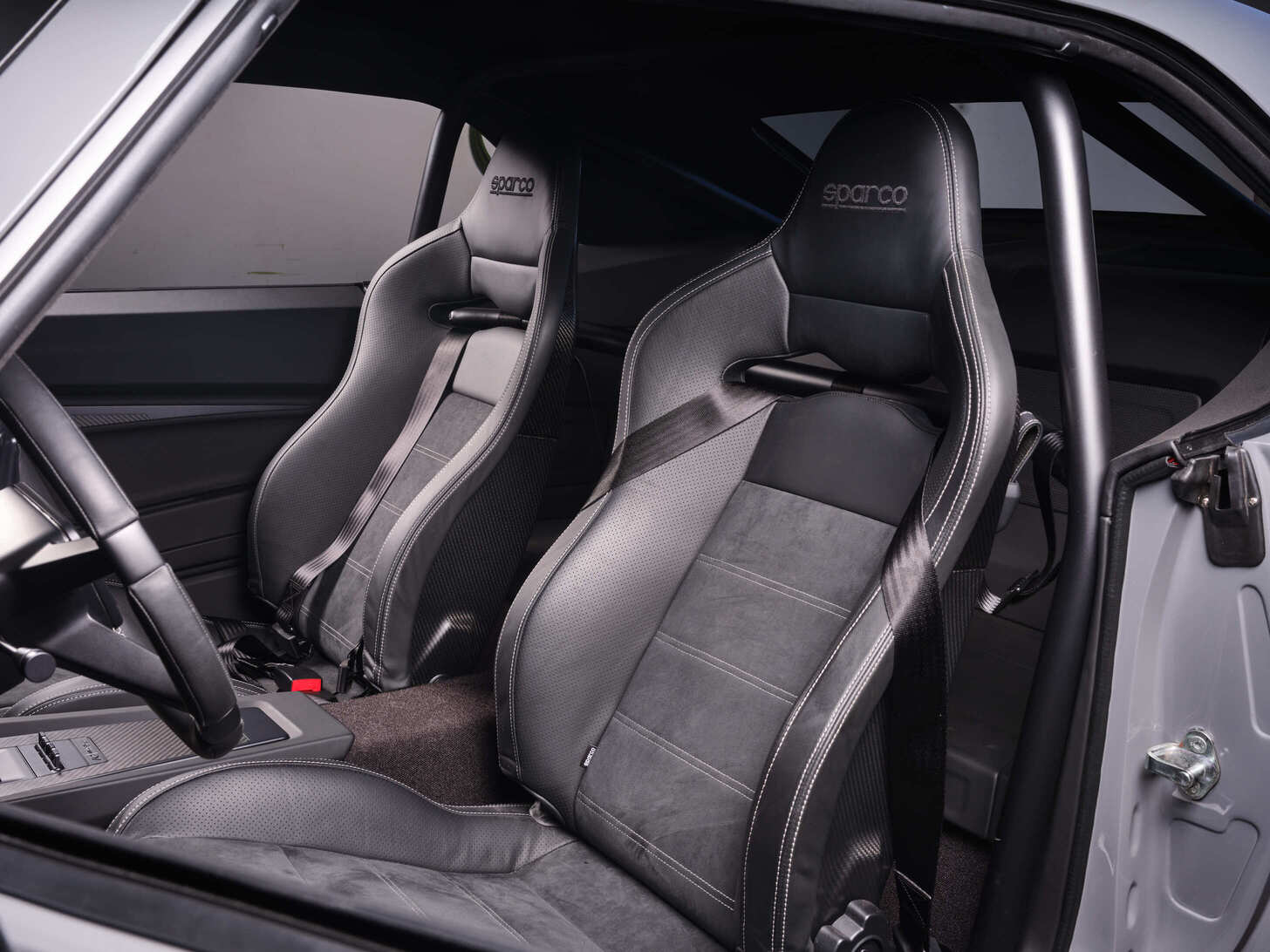 The interior reflects the same race-inspired notion with a host of custom one-offs and aftermarket provisions to present a steady stream of performance victuals. The dash is an aluminum Miranda custom piece complemented with a carbon piece by Fiber Forged and populated with a host of Auto Meter informants.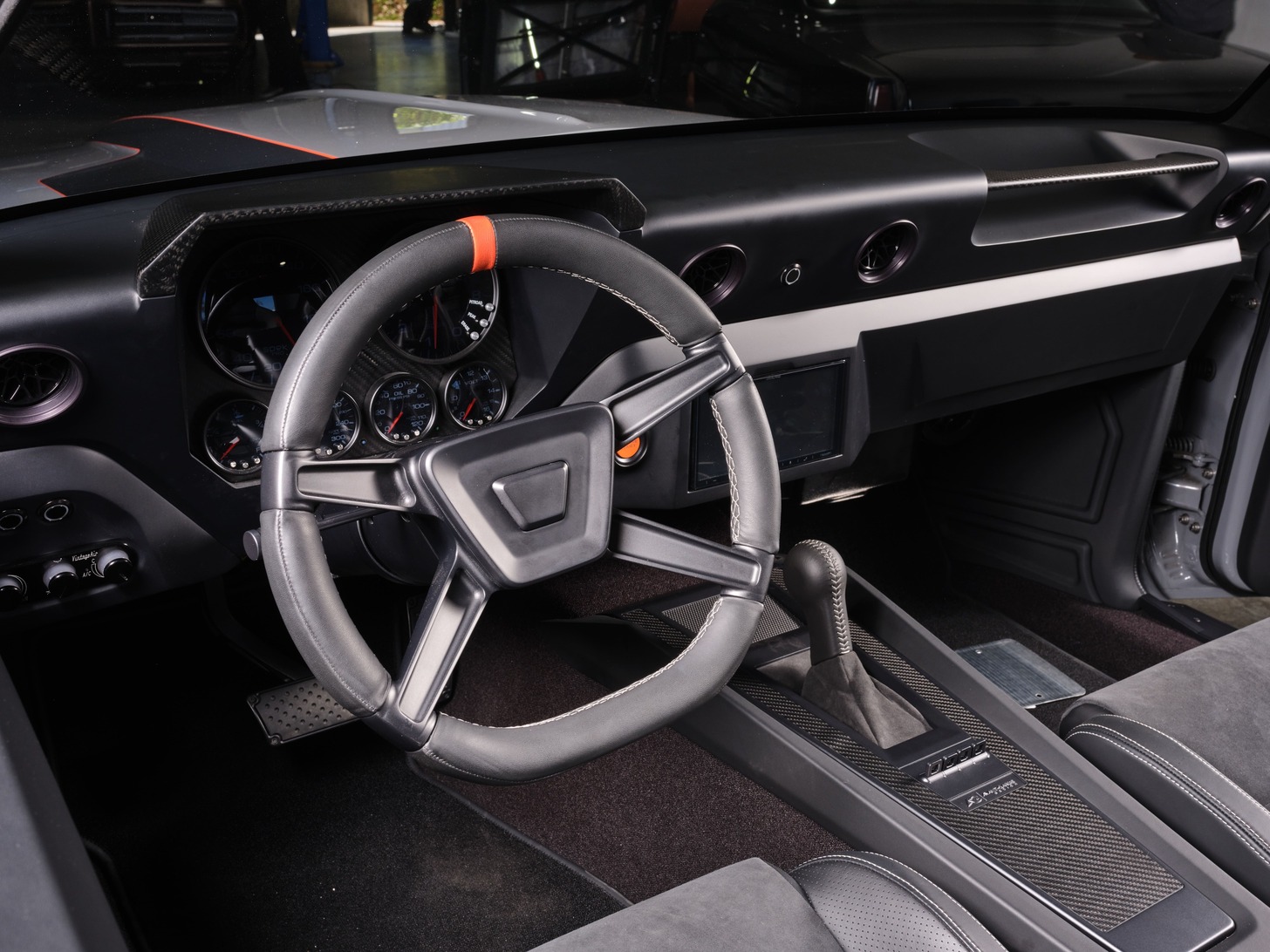 Avant-Garde Design was called in to create a sporty captain's quarters that consists of custom door panels and console cloaked in black and graphite Alcantara suede leather brought together with the Daytona black carpet. The Sparco Carbon Black seats provide secure environment as the Corbeau harness is anchored by the Miranda Built custom four-point chromoly rollbar. That one-off Sparc steering wheel displays well with the Clayton Machine Works pedals.
A Vintage Air HVAC unit provides proper ambient temps that blow through a set of custom Restomod Air vents, and a set of Focal Utopia speakers deliver the soundtrack provided by an Alpine iLX-650 head unit blasting Ted's favorite playlist. Once again Miranda Built provided a custom scene while conscious to not overstep the vintage Camaro's OG '69 boundaries. It's an area where excess can limit success.
Ted tells us the most memorable experience was seeing the car in person for the first time at the 2018 Goodguys show in Columbus. "The car was still in bare metal as it was on the way to Illinois for paint." Ted fondly recalls, "Seeing all the photos of the build process was just not the same as finally seeing it as a complete car in person. It was a memorable moment, for sure.
"It was amazing how easy Jeremy and Tim were to work with and how well they communicated with me throughout the build," Ted states. "He and the talented crew at Miranda Built far exceeded my expectations and built a Camaro like no other. Not only does it look amazing, there's nothing more exciting than strapping in and firing this thing up. It's downright intoxicating."
TECH CHECK
Owner: Ted Westrickle, Pittsburgh, Pennsylvania
Vehicle: '69 Chevy Camaro
Engine
Type: Chevrolet Performance LSA
Displacement: 376 ci
Compression Ratio: 9:1
Bore: 4.065 inches
Stroke: 3.622 inches
Cylinder Heads: Aluminum L92-style port
Rotating Assembly: Forged crankshaft, powdered metal rods, hypereutectic aluminum pistons
Camshaft: Hydraulic roller, 0.492/0.480, 198/216 degrees duration at 0.050
Induction: 1.9L Eaton TVS supercharger
Assembly: GM
Exhaust: Ultimate Headers 1 7/8 inch, Miranda Built custom 3-inch exhaust, Borla ProXS mufflers
Ancillaries: Powermaster alternator, Spal electric fan, MSD ignition, Afco aluminum radiator, Miranda Built custom engine cover and closeout panels, Ringbrothers hood hinges, Wegner serpentine drive system, Rick's Tanks 19 gallon fuel tank
Output: 655 hp and 550 lb-ft
Drivetrain
Transmission: GM 4L65E, RPM Transmissions Level 7 upgrade, RPM Transmissions 2,800 stall converter
Driveshaft: 3-inch chromoly
Rear Axle: Strange S60 rearend, Eaton Truetrac limited-slip differential, 3.70 gearset, Strange 31-spline axles
Chassis
Chassis: Roadster Shop SPEC Series
Front Suspension: Wilwood spindles, Afco adjustable coilover shocks, Roadster Shop 1 1/8-inch sway bar
Rear Suspension: Roadster Shop four-link suspension, Afco adjustable coilover shocks, Roadster Shop Panhard bar
Brakes: Wilwood 15-inch rotors, six-piston calipers front and rear, Wilwood 7/8-inch bore manual master cylinder, Wilwood proportion valve
Wheels & Tires
Wheels: ADV.1 Track Spec (19×9 front, 20×12 rear)
Tires: Michelin Pilot Sport; 265/30R19 front, 335/25R20 rear
Interior
Upholstery: Alcantara Suede leather
Color: Graphite
Carpet: Daytona black
Insulation: DEI Boom Mat
Installation: Avant-Garde Design (Palm City, FL)
Door Panels: Custom by Avant-Garde
Seats: Sparco Carbon Black
Safety Harness: Corbeau
Steering: Ididit column
Steering Wheel: Sparc Industries custom
Dash: Custom aluminum by Miranda Built, carbon-fiber insert by Fiber Forged Composites
Center Console: Custom by Avant-Garde Design
Instrumentation: Auto Meter
HVAC: Vintage Air
Vents: Custom by Restomod Air
Pedals: Clayton Machine Works
Rollbar: Chromoly by Miranda Built
Wiring: Infinity Box
Head Unit: Alpine ILX650
Amplifier: JL Audio 750/5
Speakers: 6×5 Focal Utopia
Stereo Installation: Avant-Garde
Exterior
Bodywork and Paint: Relic Restomods (Richmond, IL)
Paint: PPG Nardo Gray by Mitch at Relic
Graphics: Bones Custom (West Palm Beach, FL)
All Fabrication: Miranda Built
Hood: Cowl custom inserts by Miranda Built
Grille: Factory
Front Bumper: Factory tucked and shaved by Miranda Built
Rear Bumper: Factory custom fabrication by Miranda Built
Glass: Flush fit
Headlights: JW Speaker LED
Taillights: Billet Specialties