Mike McClish's No-Nonsense 1968 Camaro
By Nick Licata   –   Photography by Mike Chase
Mike McClish's entry into the racing world began a couple generations before him and today he's carrying the torch of that family tradition. "I can't remember a time when my dad or grandfather weren't working on an engine or car of some sort," Mike reminisces. "That passion goes all the way back when my grandfather raced speedsters on wooden tracks in the very early days of circle track racing."
Once Mike's dad was old enough, he followed suit and raced on dirt and asphalt oval tracks back in the '60s—Sprint Cars and Midgets, mostly. He also worked for Performance Engineering, a company that built racing engines for modifieds. Needless to say, being immersed in cars his whole life, led to him acquiring the racing bug as well.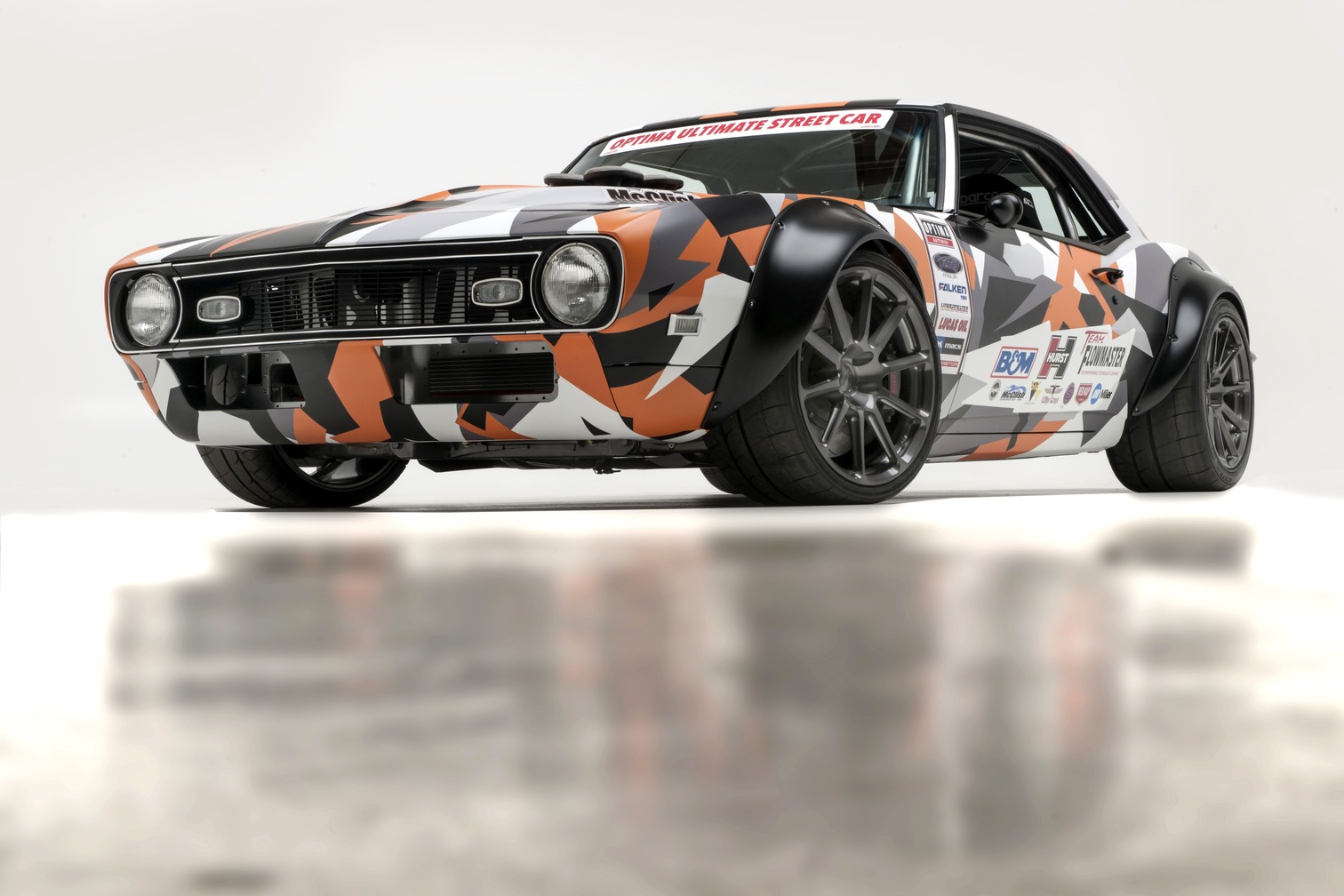 With all that performance lineage, the third-generation racer always had a cool ride throughout his high school days. "I had a '56 Chevy truck with a done-up 327 out of a 'Vette," Mike tells. "The guys I rolled with also had cool cars. One buddy had a badass '67 Firebird and another drove a really cool '64 Mustang. We did a lot of cruising, a little racing, and got into some minor mischief, but it was basically harmless fun."
Check it out: G-Body Mayhem – Rich Ambler's Pro Street 1979 El Camino
Today, Mike has a few cars in various build stages—some finished, including this track-savvy '68 Camaro you see here. He got the idea to build this car from his brother-in-law who had a vintage Mustang with a rowdy Roush engine. Living in Northern California they had access to and took advantage of Sonoma Raceway and Thunder Hill track day events.
Turns out his longtime friend and car builder Zane Cullen, owner of Cotati Speed Shop in Santa Rosa, California, had a '68 Camaro waiting in line for a restoration. The car belonged to Zane's wife but Mike was able to smooth-talk her into letting it go. "I knew it wasn't high on [Cullen]'s priority list of cars to get moving on due to the number of customer cars in front of this one. It was mostly original and would make the perfect starting point for what I had in mind," Mike says.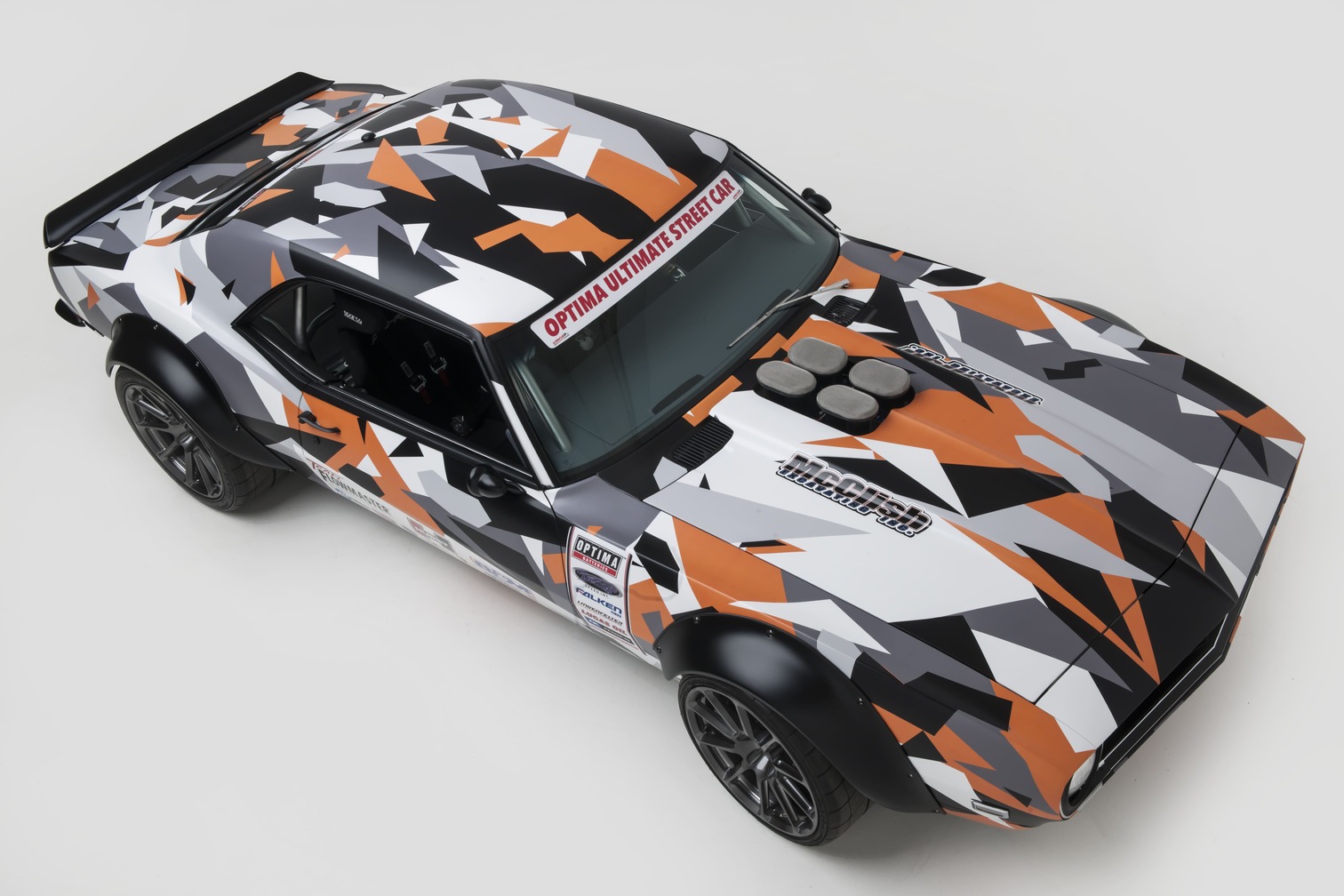 What Mike had in mind was a radical-looking Camaro that would make a stellar track car and double as a wicked street machine. Mike's time spent behind the wheel of winged sprinters and his love for vintage Trans Am racers influenced the car's build direction. "[Cullen] and I have been friends for over 20 years, so we went back and forth discussing how this build should go," Mike says. "[Cullen] and his crew at Cotati Speed are talented hot rod builders, so he wanted it to be really nice with stellar fit and finish. With my roots firmly planted in racing, I wanted it to be fast with aesthetics being secondary. Those differing opinions led to some 'spirited' conversations, but I think having slightly different views only made the project better."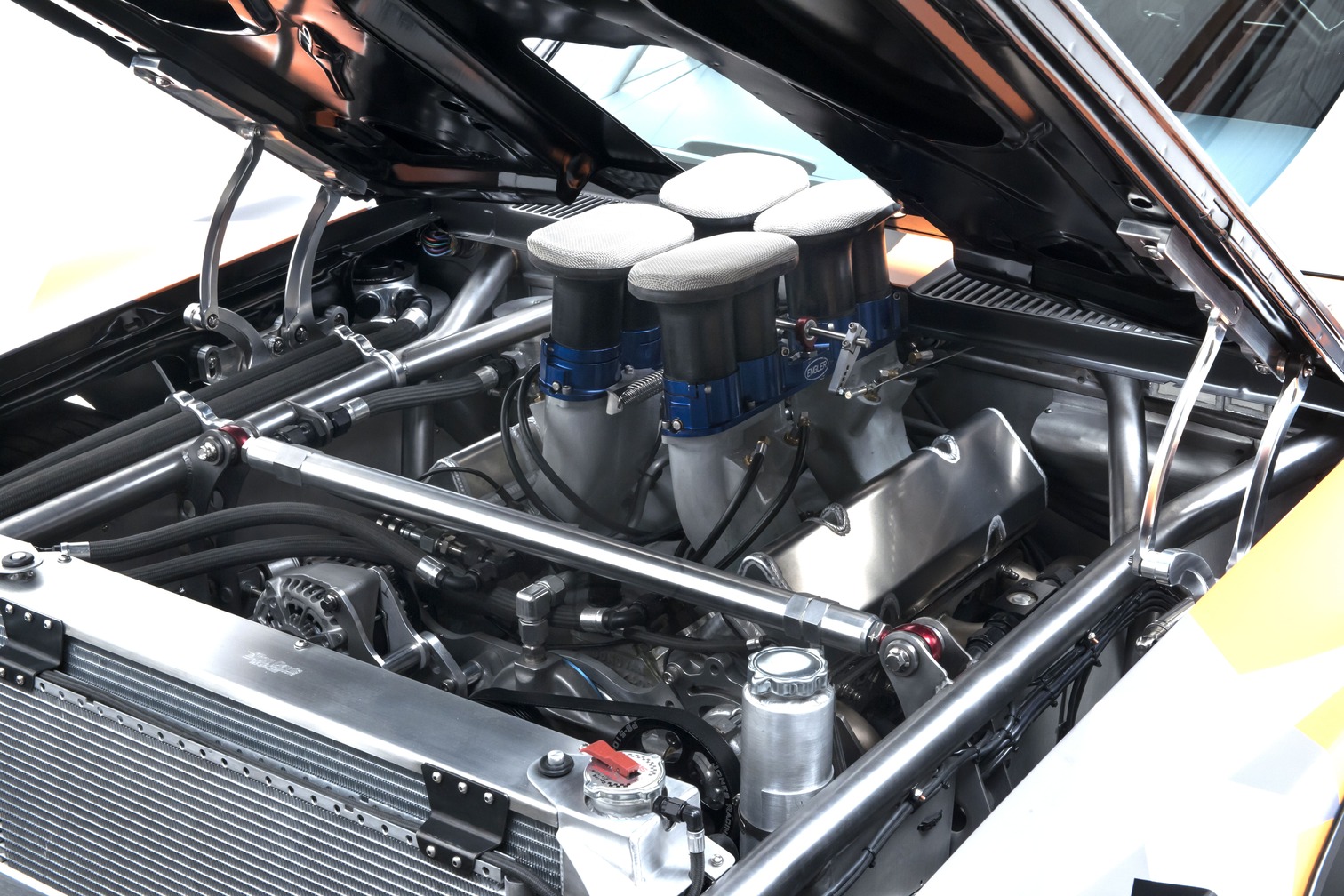 Mike had an engine laying around his shop from his son's USAC racing days and knew that would be the perfect bullet to power the Camaro. Unfortunately, much of the engine spec info was lost when his house, along with 3,043 other homes were destroyed by Northern California wildfires in 2017. We do know it's a 13.8:1 Donovan small-block that includes All Pro 12-degree aluminum heads. An Engler Injection intake manifold combined with Engler constant-flow mechanical injection (it's all race car stuff) topped with BBR custom filters not only look cool but provides the MSD ignition plenty of firepower to motivate the Camaro.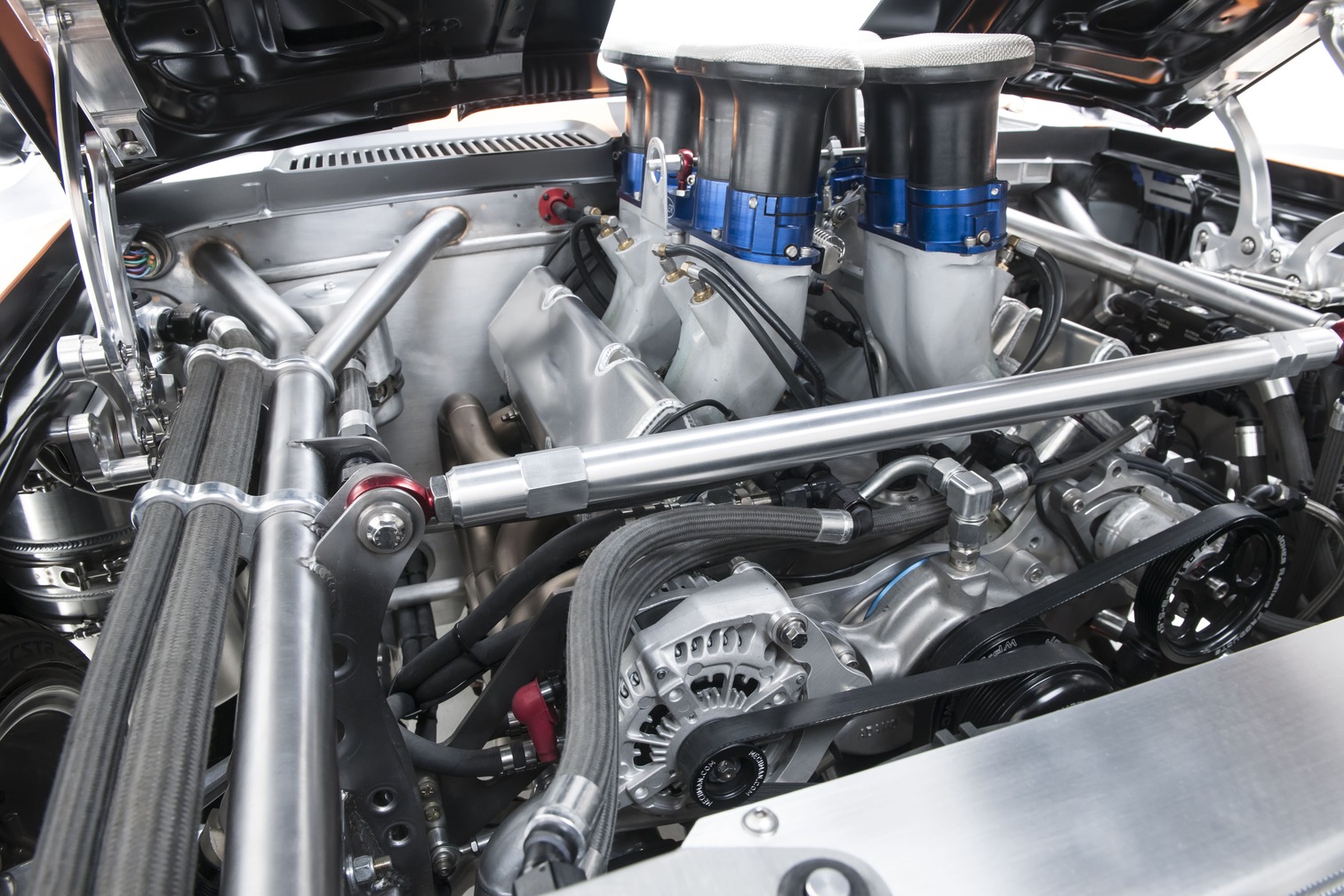 More Reading: Street Fighter – Steve Chryssos' OG Pro Touring 1968 Camaro
A Jones accessory drive system resides up front and provides suburb function and form jiving with the Olson Racing Products aluminum valve covers and custom titanium bracketry throughout the engine bay.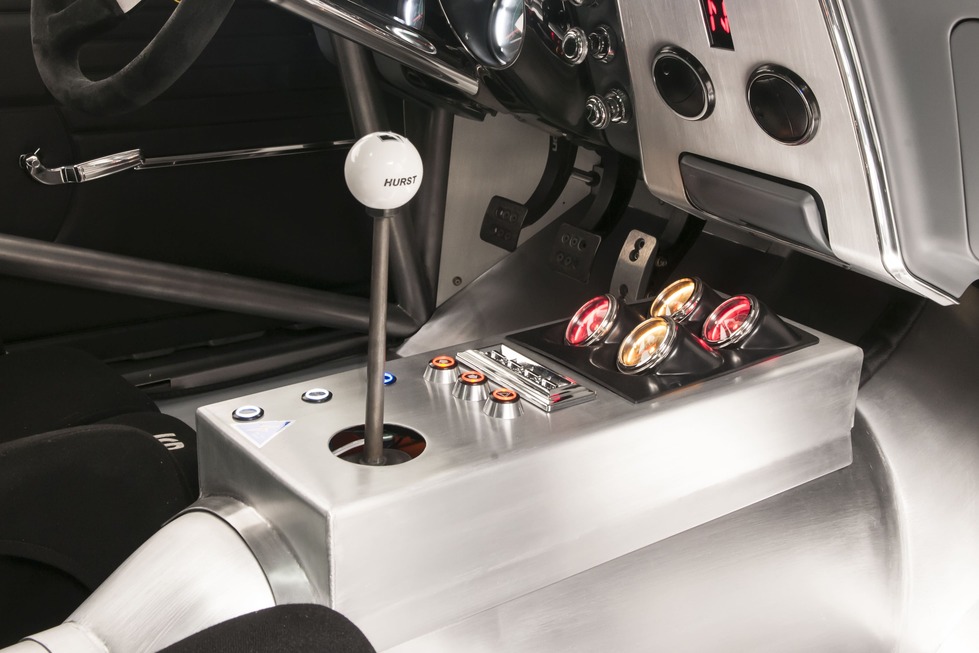 SPD custom headers and 3-inch titanium exhaust topped with a pair of Flowmaster mufflers attempt to contain the aggressive tone produced by the high compression, high-revving (it redlines at 9,000 rpm) small-block that belts out a stout 700 hp at 6,700 rpm and 613 lb-ft at 6,000 rpm.
A Hollinger sequential six-speed transmission tackles gear changes, while a Tilton clutch gets the Camaro off the line and sends torque onto a QA1 carbon-fiber driveshaft.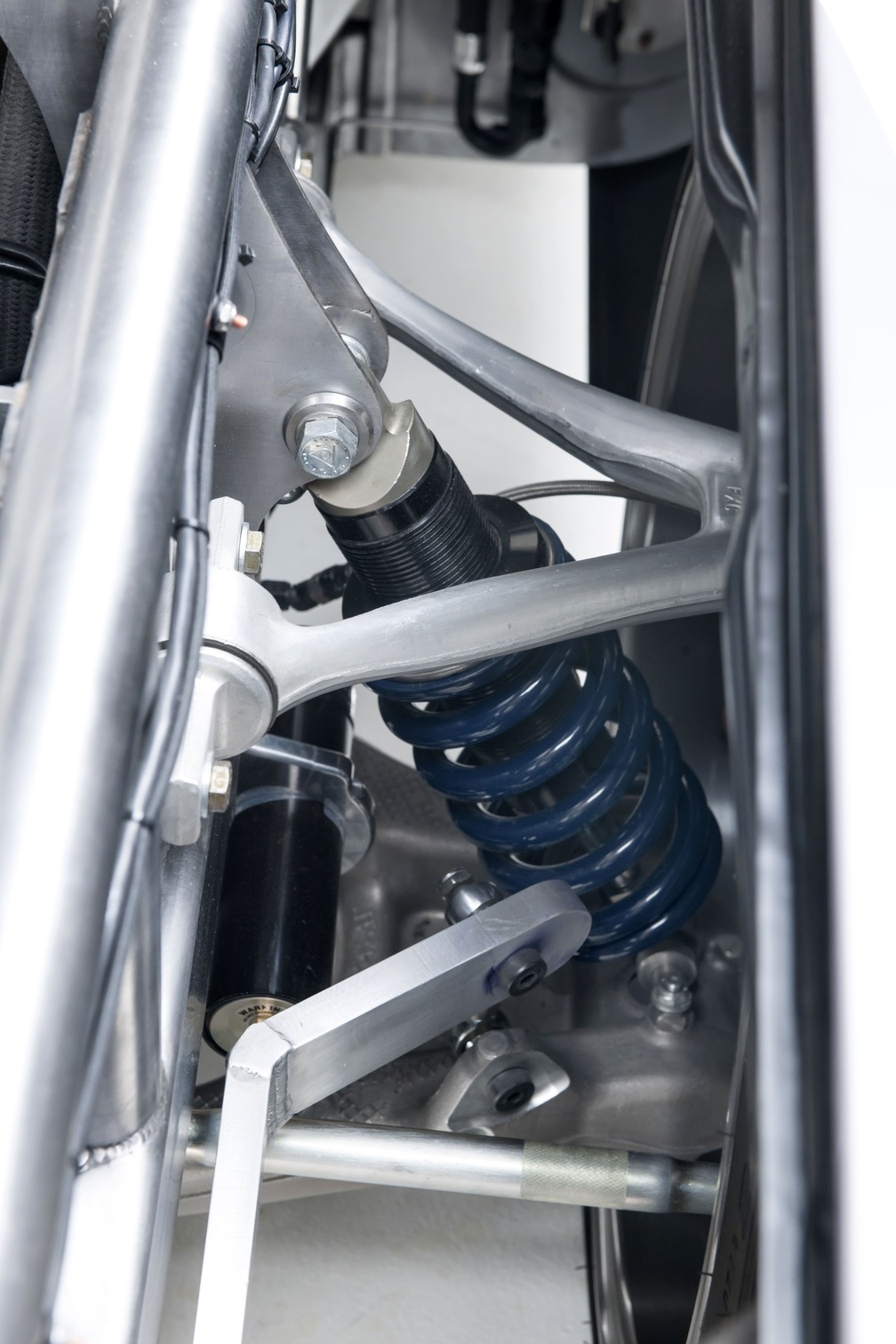 Among the trick suspension bits, a full Art Morrison (AME) frame resides underneath, offering the track width specs of a '12 ZR1 Corvette. Out back, a Hollinger HFD differential accompanies the AME independent rear suspension system, Penske shocks, Hyperco springs, and 14-inch Brembo brakes.
Up front, the AME frame partners with C6 spindles, Tyler Powell Corvette-style upper control arms, Penske shocks, Hyperco springs, and 14-inch Brembo brakes. A Woodward rack-and-pinion steering system delivers precise steering and a PAC Racing torsion-style sway bar keeps the car on the level.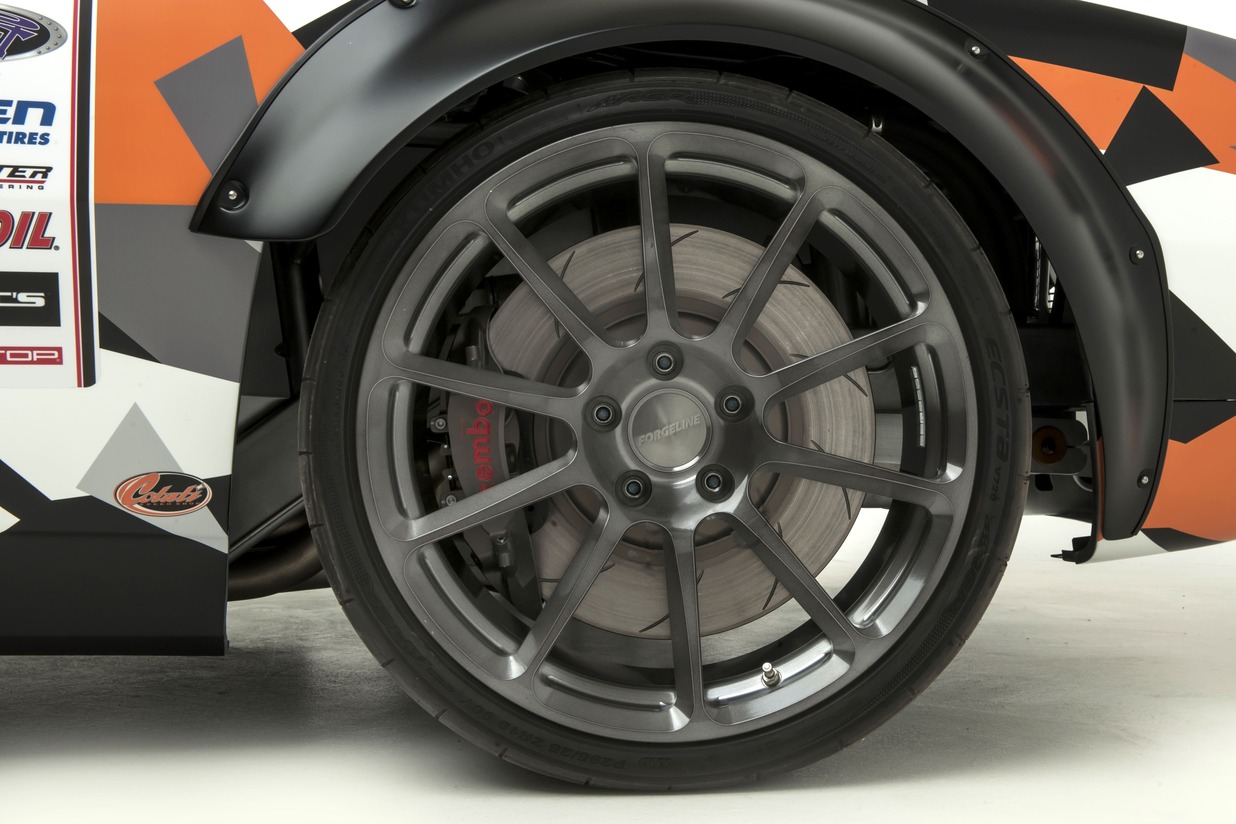 Rolling on Forgelines, Mike incorporated a set of 19-inch RB1s for the street and a set of sinister-looking 18-inch black GA1R's for track days. Michelin rubber is used in both situations.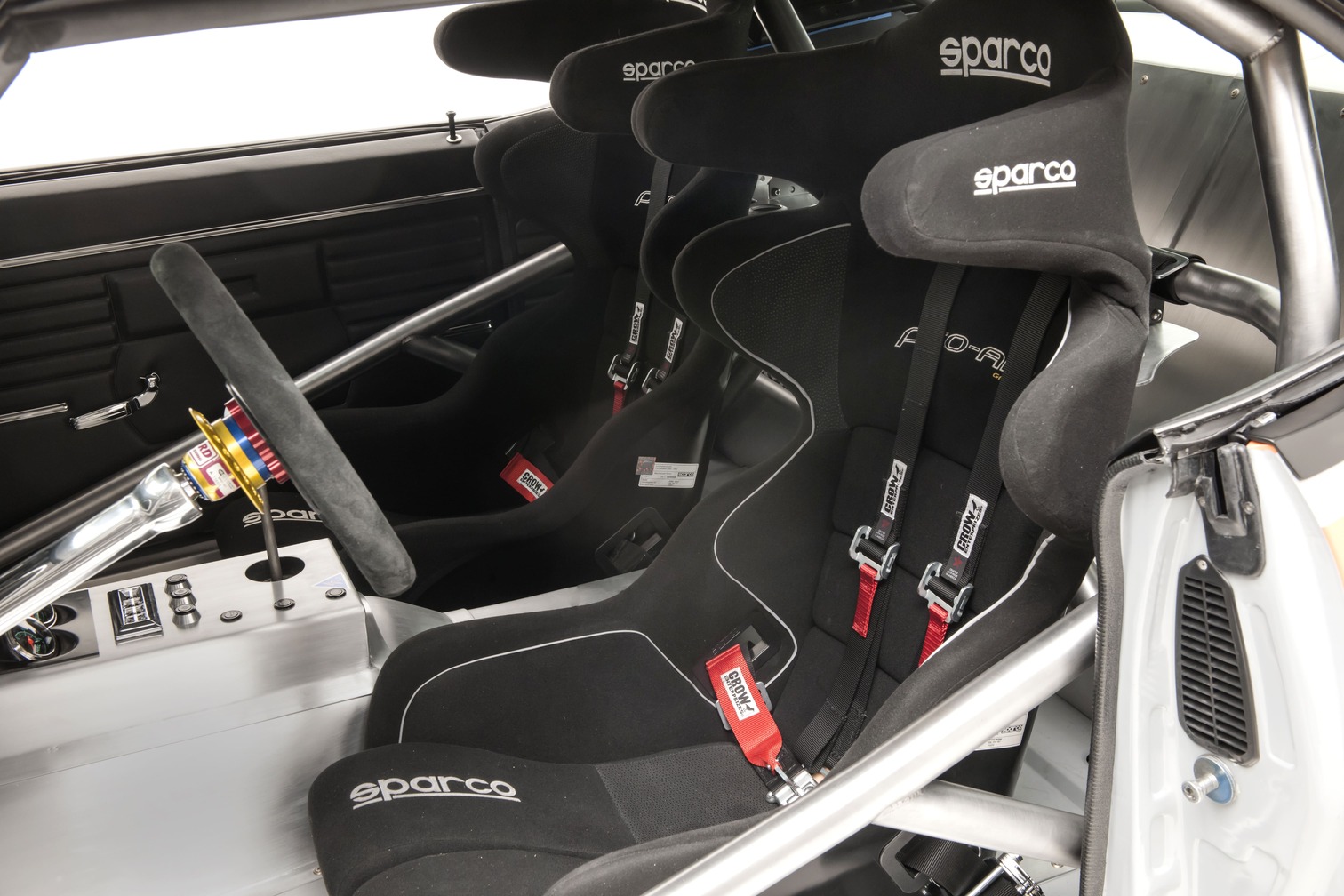 Inside, the Cotati crew took the interior in a race mode direction, eliminating carpet and sound deadening material on the floors, exposing the combined fabrication skills of the Cotati gang and the crew at Quarter Tilt Metal Company. As Mike points out, "Keeping weight to a minimum was essential. The car weighs just a skosh above 3,000 pounds, which is pretty good for a car with factory sheetmetal."
With plenty of racing inspiration, there's also factory-style OER door panels and a set of Classic Instruments G-Stock gauges residing within a fresh Classic Industries Camaro dash insert. Jeff Ryder Fabrications initiated the custom fabrication process on the dash and Cotati applied the finishing touch. That's a custom aluminum center console housing a Classic Instruments factory-style gauge pod, electric window switches, and the Vintage Air A/C system controls.
A Sparco steering wheel sits atop a Woodward steering column while the Crow Safety Gear five-point harness keeps Mike strapped in the Sparco racing seats. The Quarter Tilt rollcage is a work of art that provides additional chassis stiffness and driver safety.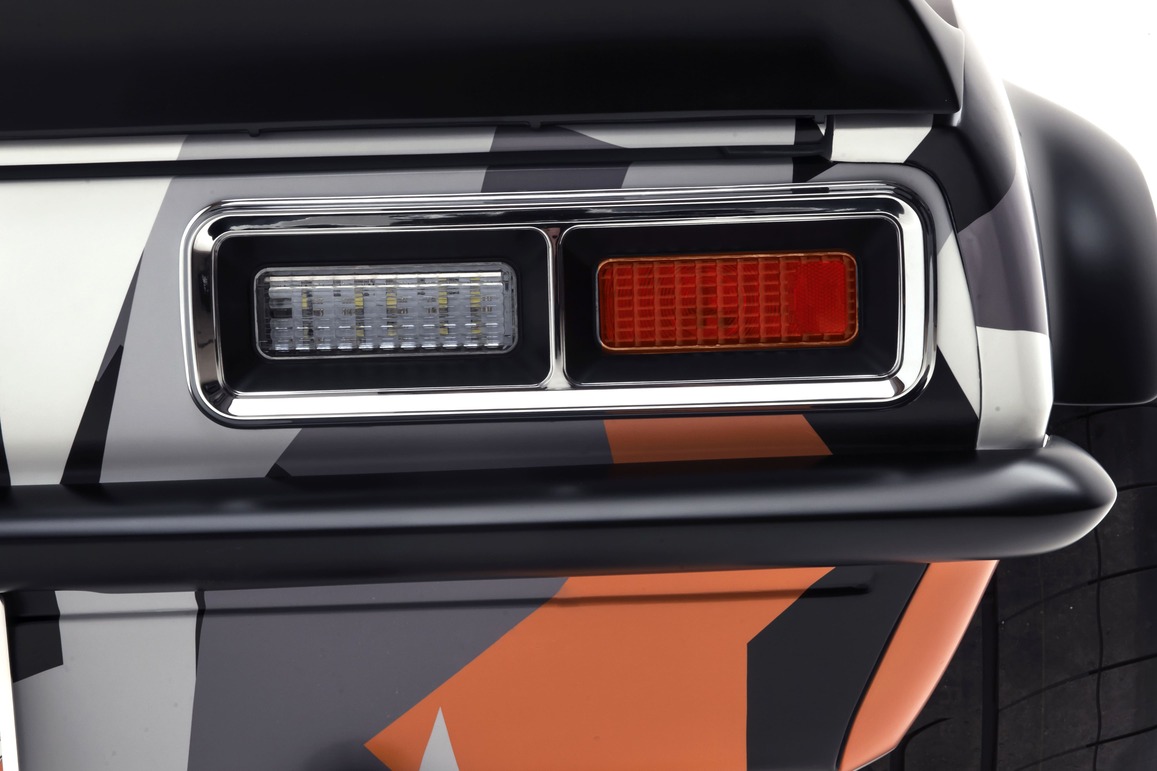 More Chevy Love: Dream Machine – Tony DeLuca's Big-Block 1970 Chevelle
The Cotati gang smoothed and prepped the sheetmetal prior to laying down a robust coat of Axalta Gray primer. Knowing Mike's track-infused intentions, it was decided to do a wrap rather than spend additional time and money doing post track day paint repair. Brian Stupski of Problem Child Kustoms Studio designed the wrap, while Wraps N Motion laid on the one-off creation that coincides with the Camaro's wild personality.
Mike's Camaro carries more custom bits than we can cover in the allotted space provided, but it should be known the Cotati crew was committed; they created exaggerated fender flares that not only give the car its identity but also utilize the extra tire clearance to take advantage of its expanded track width for exceptional race car handling. They fabricated parts that didn't exist and coaxed parts to fit that fought hard not to. They took an ordinary Camaro and made it extraordinary. It's a car Mike can drive on the street but prefers hammering on the long tracks of Sonoma and Thunder Hill.
Bells and whistles? Yep, this car has 'em. Although much of that glamor eludes plain sight, knowing there's more to this car than meets the eye makes it even more special. Mike McClish's hot rod is the by-product of collaboration, compromise, talent, and sweat—a Camaro unlike any other on the road today… or anywhere else, for that matter.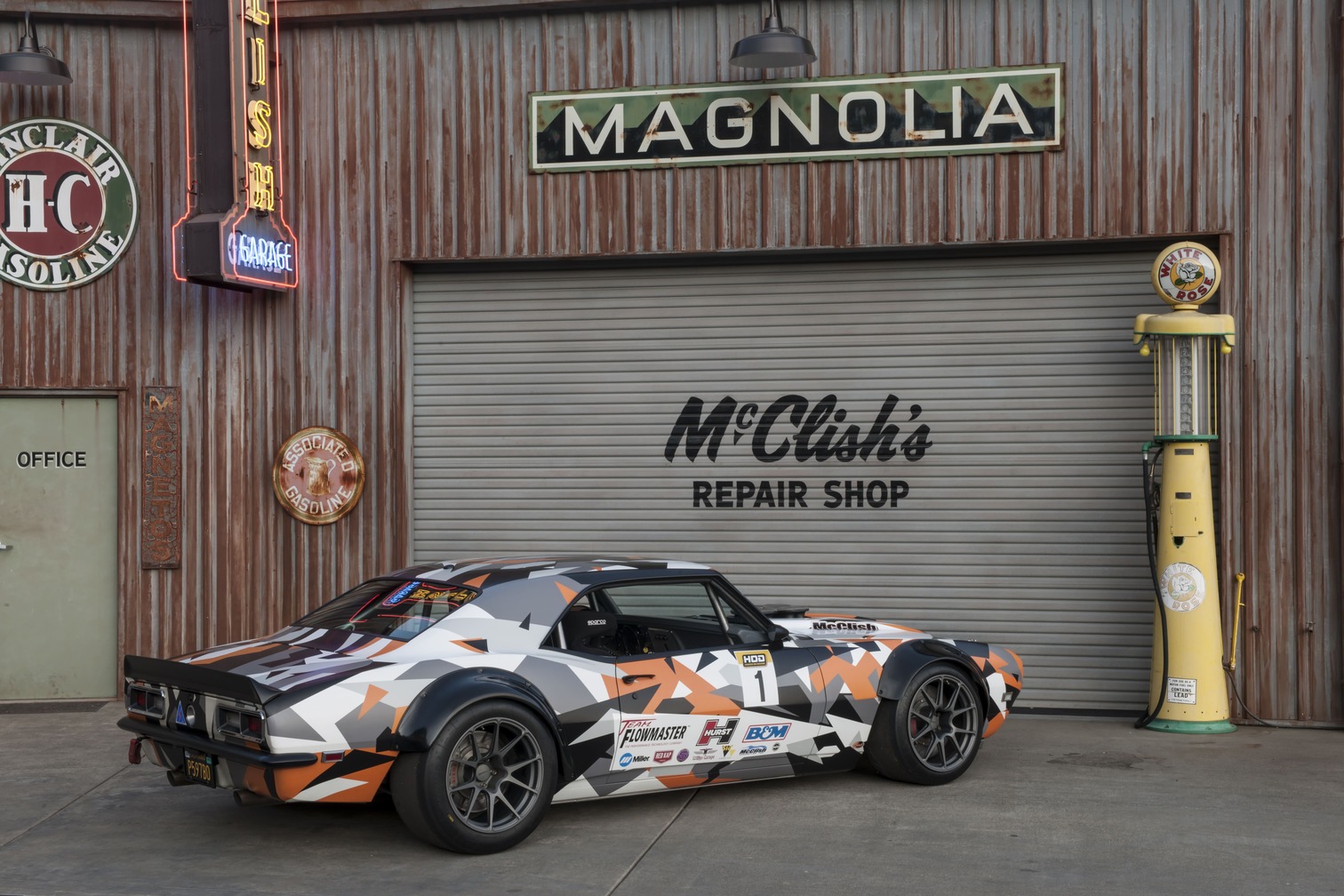 It took endless talent and drive to create a Camaro with the number of custom nuances as Mike's '68, so he wanted to give props to all who made it happen: Darin Tunstall, Mike Baca, Cody Swinehart, Jim Burkardt, Jeff Ryder, Scott Wheless, Tim Strange, Greg Tylavsky, Brian Stupski, Forrest, Koogle, Joey Wong, and Frank Clark, all had a hand in this insane track-capable Camaro with aggressive street driveability.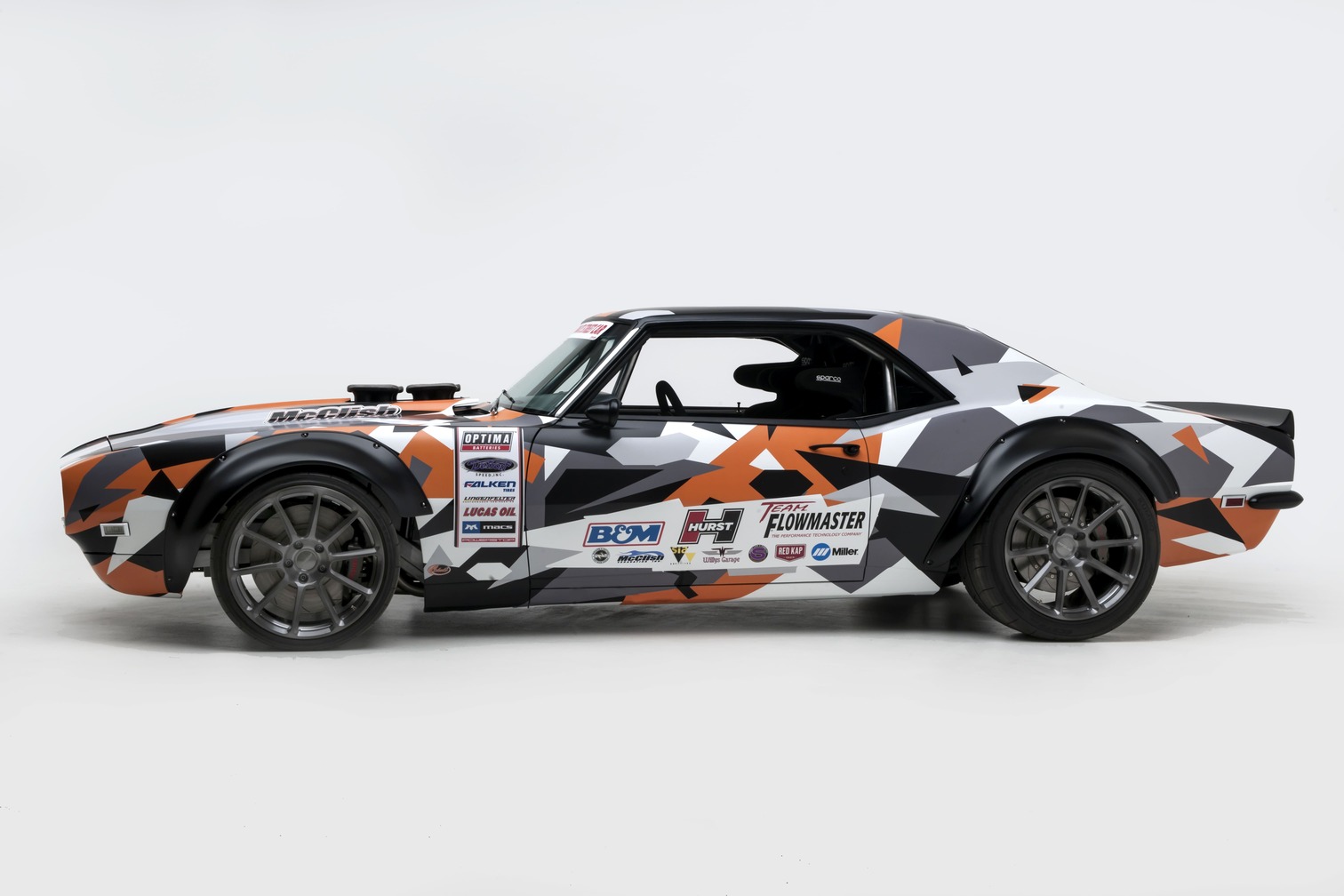 TECH CHECK
Owner: Mike McClish Santa Rosa, California
Vehicle: 1968 Chevy Camaro
Engine
Type: Donovan small-block
Displacement: 410 ci
Compression Ratio: 13.8
Bore: 4.126 inches
Stroke N/A
Cylinder Heads: 12-degree All Pro Aluminum
Camshaft: Hydraulic roller cam
Induction: Engler Injection intake, Engler constant flow mechanical, Custom BBR air filters
Assembly: Rick Paradis
Exhaust: SPD Custom-built 2-inch headers, Titaniam 3-inch exhaust, Custom Flowmaster mufflers
Ancillaries: Billet Specialties hood hinges, Adams water pump, Olson Racing Products valve covers, Mechman Alternator, Spal dual electric fans, Ron Davis aluminum radiator, MSD ignition, Taylor wires, Jones pulleys, Cotati custom brackets
Output: 700 hp at 6,700 rpm and 613 lb-ft at 6,000 rpm
Drivetrain
Transmission: Holinger sequential RD6-SS six-speed
Clutch: Tilton
Flywheel: Tilton
Rear Axle: Holinger HFO Diff, Holinger Axles
Chassis
Chassis: Art Morrison full frame
Front Suspension: Art Morrison C6 Corvette, C6 Spindles, Tyler Powell upper control arms, Penske shocks, Hyperco springs, PAC Racing torsion-style sway bar
Rear Suspension: Art Morrison independent suspension system, Penske shocks, Hyperco Springs, PAC torsion antiroll bar
Brakes: Brembo 14-inch rotors, six-piston calipers front and rear, Tilton master cylinder, Tilton proportion valve
Wheels & Tires
Wheels: Forgeline RB1 19×11 (Street), Forgeline GA1R 18×12.5 (track) front; 19×13 (street) 18×13 (track) rear
Tires: (Front) Michelin Pilot Sport Super Sport 295/30R19 (street) Michelin Track Slicks 30/65R18 (track); (rear) Michelin Pilot Sport 345/30R19 (street), Michelin Track Slicks 31/71R18 (track).
Interior
Floors: Custom aluminum by Cotati Speed Shop and Quarter Tilt Metal Company
Door Panels: OER factory reproduction black vinyl
Seats: Sparco
Harness: Crow five-point
Dash: Metalwork by Jeff Ryder Fabrications and Cotati Speed Shop, Classic Industries factory reproduction dash
Steering: Woodward column, Sparco steering wheel
Shifter: Holinger/Hurst Fusion
Pedals: Tilton
Instrumentation: Classic Instruments, Racepak G2X Pro Data Logger
Center Console: Custom by Cotati Speed Shop with Classic Instruments gauges
HVAC: Vintage Air
Rollcage: Quarter Tilt Metal Company
Exterior
Bodywork: Cotati Speed Shop
Paint: Axalta Primer Gray undercoat
Wrap: Wraps in Motion (Santa Rosa, CA)
Graphics: Brian Stupski, Problem Child Kustoms Studio
Outside Mirrors: Anvil
Rear Bumper: Fiberglass
Headlights: Delta LED
Taillights: Digi-tails LED