Gas Axe Garage Built Ford Highboy Coupes
By Chuck Vranas  –  Photography & Videography By the Author
We are always asking the question, "What is the future of hot rodding?" This question is often raised and seldom fully answered. In our story here we are asking, "What build style?" Early traditional to a '60s vibe. A great way to look back and forward is to see how this pair, a '29 Ford highboy coupe and a '30 Ford highboy coupe, were built.
Seeking to preserve our heritage as well as fueling our continual desire to move forward, it's important to embrace younger talents for their insight and energies to see where their generation will bring us.
Such is the case at Gas Axe Garage in St. Johns, Michigan, where first-generation builder Mike Boerema has been crafting traditional hot rods and customs for nearly two decades in the true '40s to early '60s fashion. With numerous renowned builds to his credit, the shop also offers an array of vintage speed parts for sale as well as upgrades to existing hop-ups. Recently, his son, John, joined the team, representing the next generation while bringing his own creative vision to the table.
Read More: 1936 Ford Coupe Turned AMBR Contender
The pair of Model A hot rods laid out across these pages include both '29 and '30 Ford highboy coupes showcasing the talents of both father and son, each with its own unique vibe, one echoing the '50s style while the other is early '60s cool. A neat facet distinguishing the '28-29 from the '30-31 coupes are distinct differences in both the windshield and cowl areas as well as the radiator shells where the model year changes can easily be seen. We dig 'em both and think they give us clarity that the future of hot rodding is in a great place. Let's check out the stories behind each one to see what makes them so neat.
'30 Channeled Ford Coupe
Setting the pace for the first stroll back in time, Tim Irwin of Lamont, Michigan, is no stranger to performance cars, having grown up in a neighborhood packed with '60s-era muscle cruising the streets of Grand Rapids. A stream of GM muscle cars followed. But he never forgot the jolt he'd get from checking out early hot rods and customs, with a Model A on Deuce 'rails being his personal favorite. Before long, a path led him to meet Mike at Gas Axe Garage, with the pair sharing the same passions for traditional builds. Their first effort resulted in the creation of the "Lamont Special," a '33 Ford modified speedster with a fully handcrafted body packing a 21-stud Ford Flathead V8 engine linked to three pedals. A solid lead brought Tim to a bone-stock '30 coupe near Saginaw, Michigan, that had been in hibernation for some time, having been a former parade car. Even though it was in rough shape, it was a runner, so he wasted no time swapping cash for keys.
With the coupe secured, the pair outlined the build, focusing on a nasty '50s-era hot rod, chopped and channeled, with a huffed vintage V8 for power. Before long the car was delivered to the shop and torn down to commence its resurrection. To build a rock-solid spine, Mike started with a set of fresh Deuce 'rails from American Stamping Corporation, which he boxed and tied together with a Model A front crossmember, custom K-member with a custom rear crossmember. Out back, a refreshed Ford 9 inch rear end spins 3.50 gears through Strange Engineering 31-spline axles, suspended in place by a combination of a modified '36 Ford wishbone, '40 Ford spring, and chrome tube shocks. To nail the stance, a custom suicide-style frontend incorporates a drilled-and-dropped '46 Ford I-beam linked to '39 Ford spindles suspended in place by a combination of split 'n' drilled '39 Ford 'bones, reverse-eye Model A spring, and Houdaille-style lever shocks. A custom cowl steering setup utilizing a Vega box links it together. When it's time to drop speed, a Mustang dual master cylinder pushes fluid through stainless lines to '39 Ford front brakes with Buick finned aluminum drums and 10-inch Ford rear drum brakes. Bringing it all to the pavement are a set of classic 16-inch Ford steelies wheels wearing big 'n' little rubber from Auburn-sized 7.50R16s (rear) and 5.50R16s (front), respectively.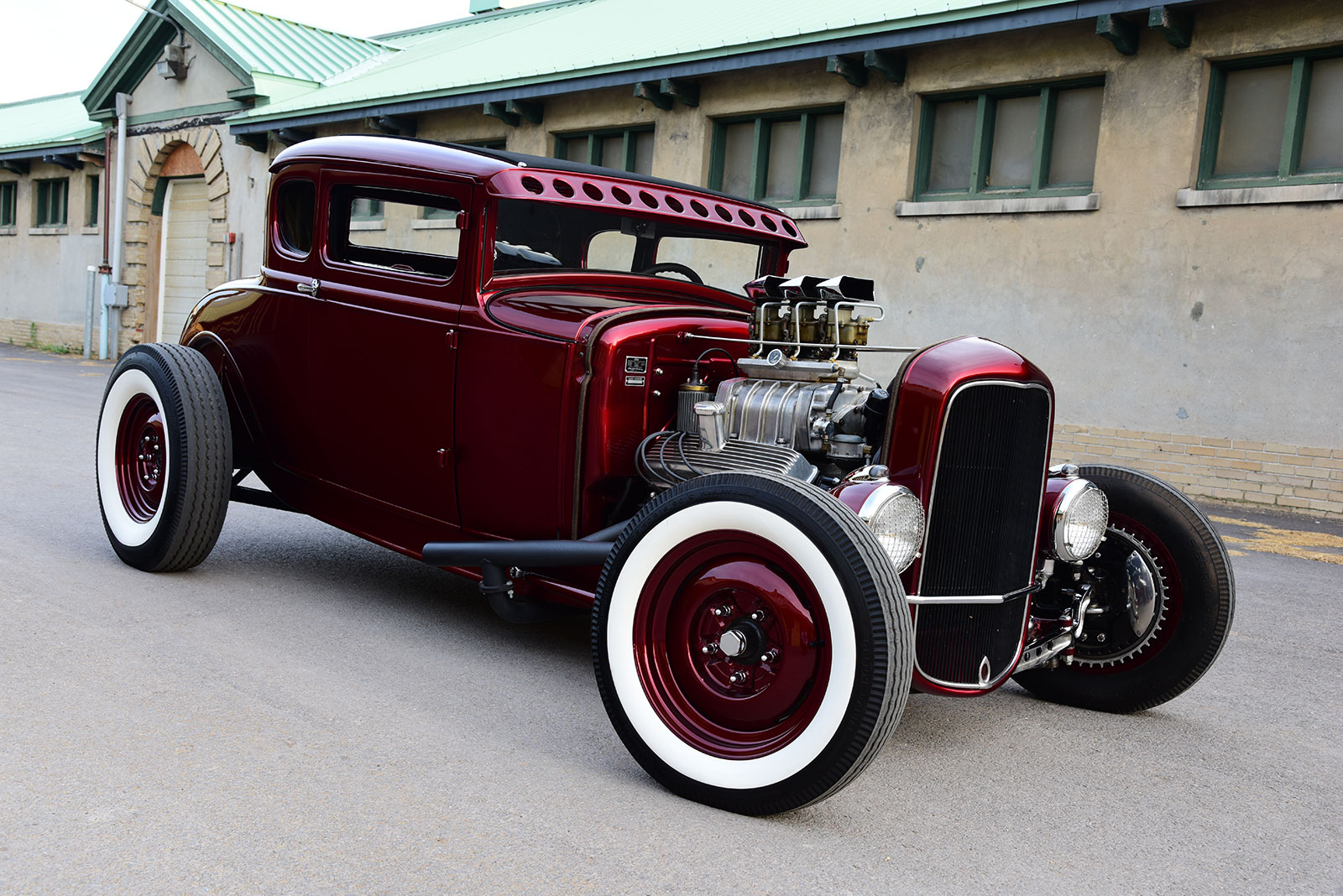 If you want to make a statement, nothing speaks volumes like a Supercharged '59 Cadillac V8 engine. To raise the bar, Tim contacted Avenger Race Engines of Muskegon, Michigan, to handle the machining, which included punching the 390ci block 0.060-over and balancing the rotating assembly. From there Mike began assembly with the factory steel crank and rods linked to 9.1:1 flat-top Sealed Power pistons getting bumped by an Isky stick. Up top, a set of warmed-over iron heads by Gas Axe Garage make plenty of seamless power especially when linked to a Cragar intake wearing a matching 4-71 supercharger sucking down the goods through a set of Holley 94 carburetors perched on an Imperial Speed adapter plate. More vintage bits include classic Cal Custom finned aluminum valve covers with breathers and 40-30 air scoops. A factory distributor packing a PerTronix electronic ignition conversion lights the fire with exhaust flowing through a set of Gas Axe Garage fabbed lakes-style headers fashioned from '36 Ford torque tubes matched to a custom 1-5/8-inch steel exhaust with bullet mufflers by Exhaust Special T's in Muskegon. A BorgWarner T5 transmission combined with a Wilcap adapter and aluminum flywheel moves the goods to a custom driveshaft from D&R Driveline. It's all good for around 387 hp to the rear wheels, which is more than enough to melt the tires.
Read More: 1960 Buick LeSabre With Subtle Style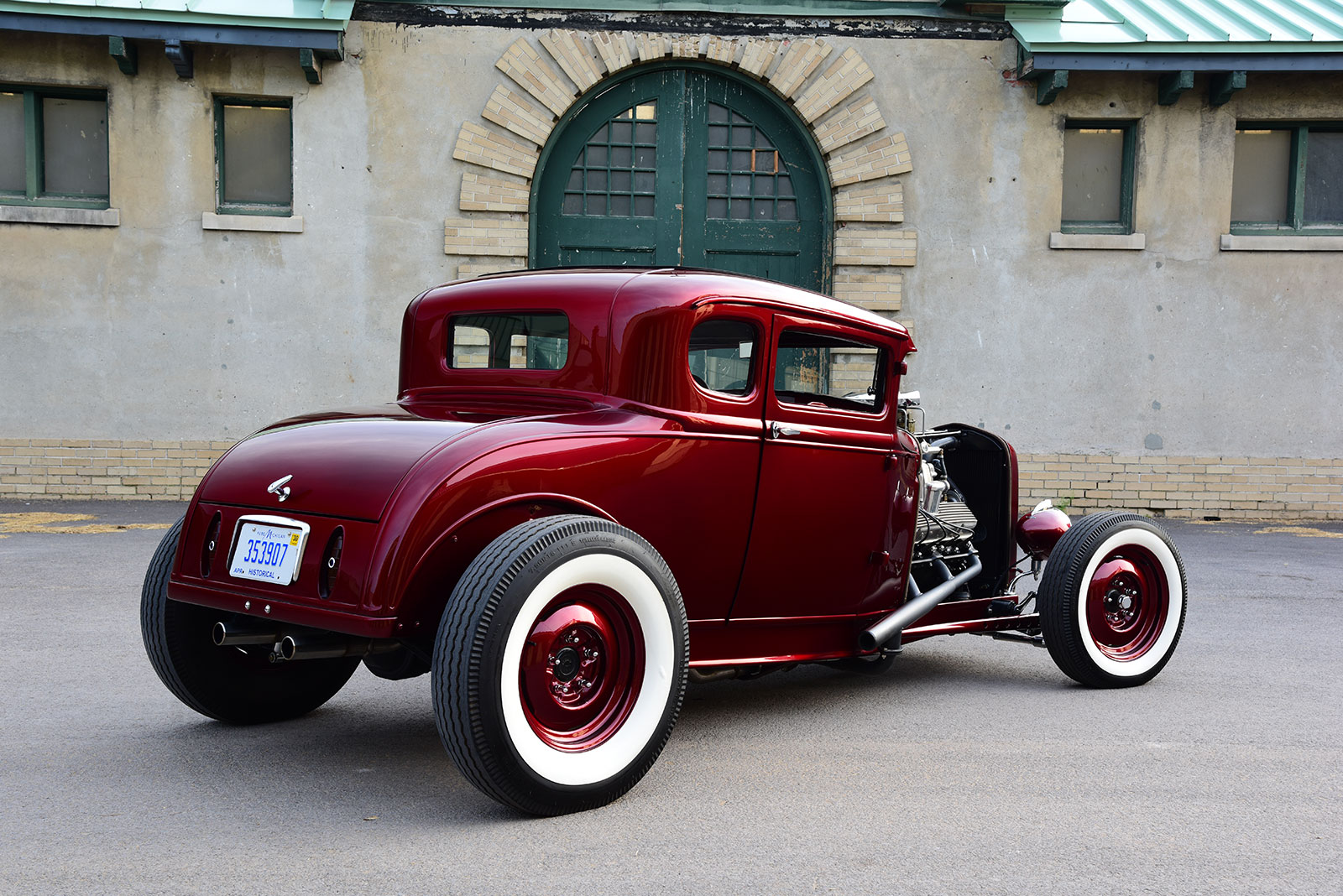 When addressing the vintage steel, it was obvious the body had seen far better days. Once stripped, Mike started by replacing any rusted areas along the lower body with replacement panels from Snyder's Antique Auto and followed by updating the floors for a very subtle 1-1/2-inch channel. He followed by adding a graduated chop to the roof from 4-1/2 inches in front to 4 inches out back, dimple venting the visor, filling the cowl, and Frenched in a set of '49 Ford tail lights into the rear pan. The body was then gapped and metal finished to perfection before being sent off to Star Customs for final bodywork and laying down a decadent coating of PPG Red Rock Candy Tri-Coat, bringing everything to life. Other neat details include a filled and peaked Deuce grille accented by a set of vintage Guide 682-series headlights.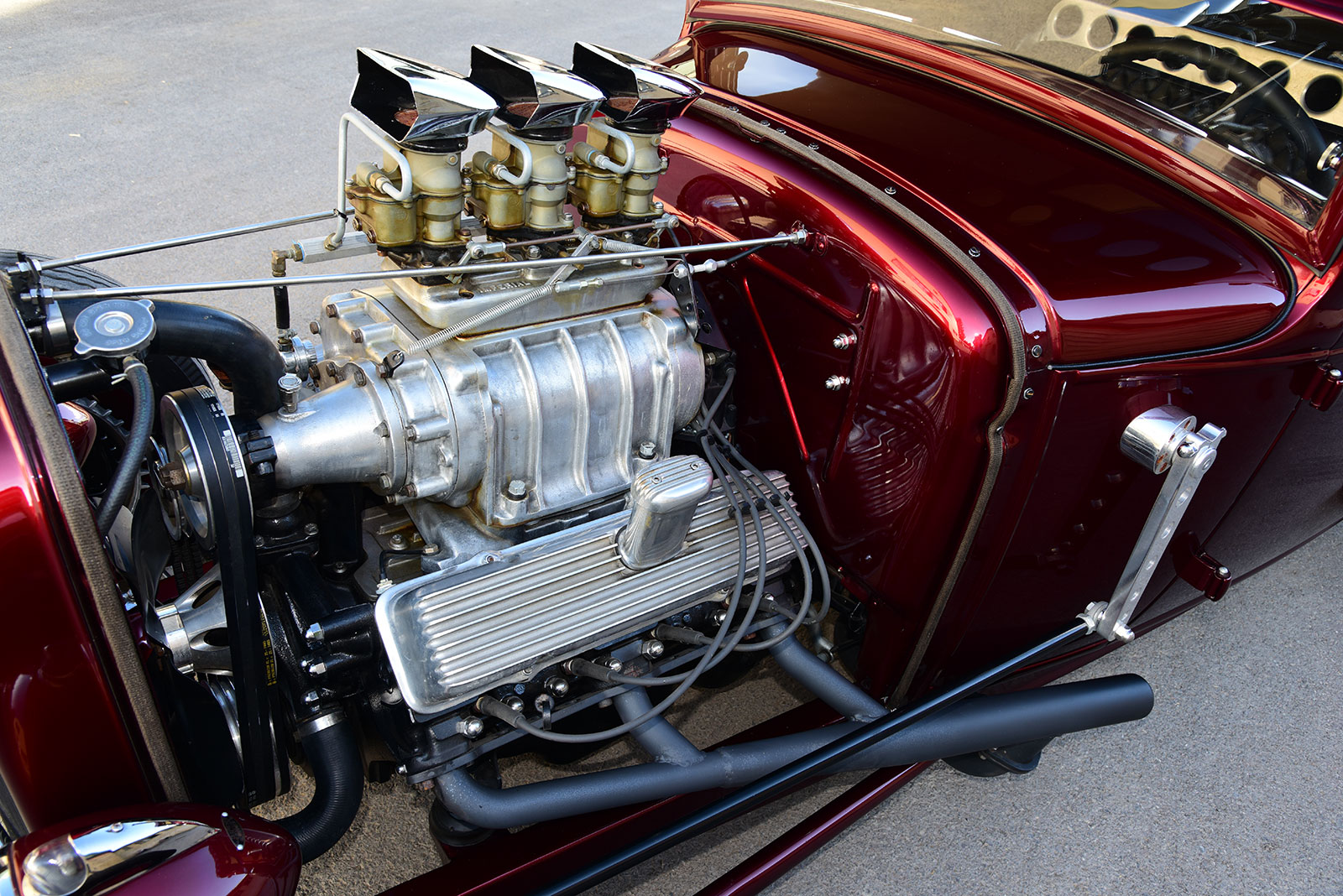 Inside, details start with a signature dash incorporating a '58 Edsel gauge cluster complete with a functioning "Rolling Dome" speedometer flanked by Stewart Warner gauges to monitor the vitals. A four-spoke, Bell-style steering wheel mounts to a column modified for cowl steering by Precision Guesswork Race Cars while a Hurst shifter pulls gears and a custom wiring harness ties it all together. Handmade aluminum bomber seats wear padded black vinyl inserts with classic diamond pleats complemented by matching interior panels and deep red carpeting, all by Gas Axe Garage who also added the rollbar and black fabric roof insert. This is one wicked Model A with a vicious bite thanks to a blown Cadillac V8 engine that's left plenty of smoke shows to exercise its power.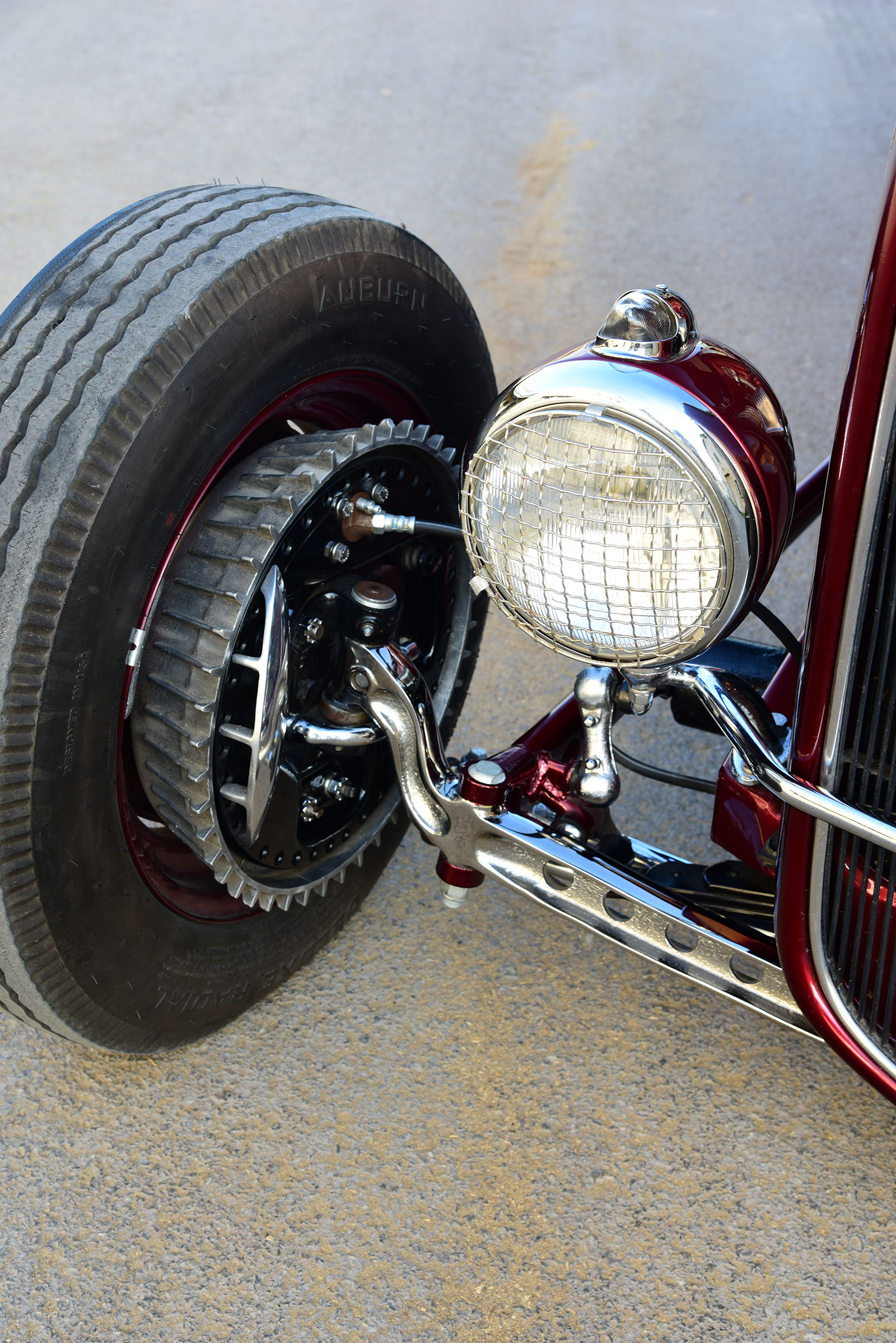 '29 Ford Highboy Coupe
At the same time on the other side of the shop, John was preparing to step back into the early '60s, taking on his very first build for Ed Eisen of Allendale, Michigan. With Ed having grown up in the '70s visiting countless Autorama events with his dad, Lubert, it's easy to see the performance path being laid out for him. Added influences came from visits to US 131 Dragway in Martin, Michigan, where the scent of nitro and burnt rubber left him awestruck as hot rod heroes blazed from the lights for 'strip domination. It was perfect timing as well for his Uncle Craig's muscle cars to leave a mark, with many of Detroit's finest regularly parked in the family driveway.
With his dad's garage packed with Model A parts since 1961, including a '29 Model A coupe body suspended from the rafters, his eventual dream of restoring it was never realized. Eventually, with John being his future son-in-law and joining the Gas Axe Garage team, a decision was made to haul the '29 Ford body to the shop to design a perfect era-inspired hop-up to honor his memory, giving him full reign to take on the job.
Read More: How To Make Custom Stereo Brackets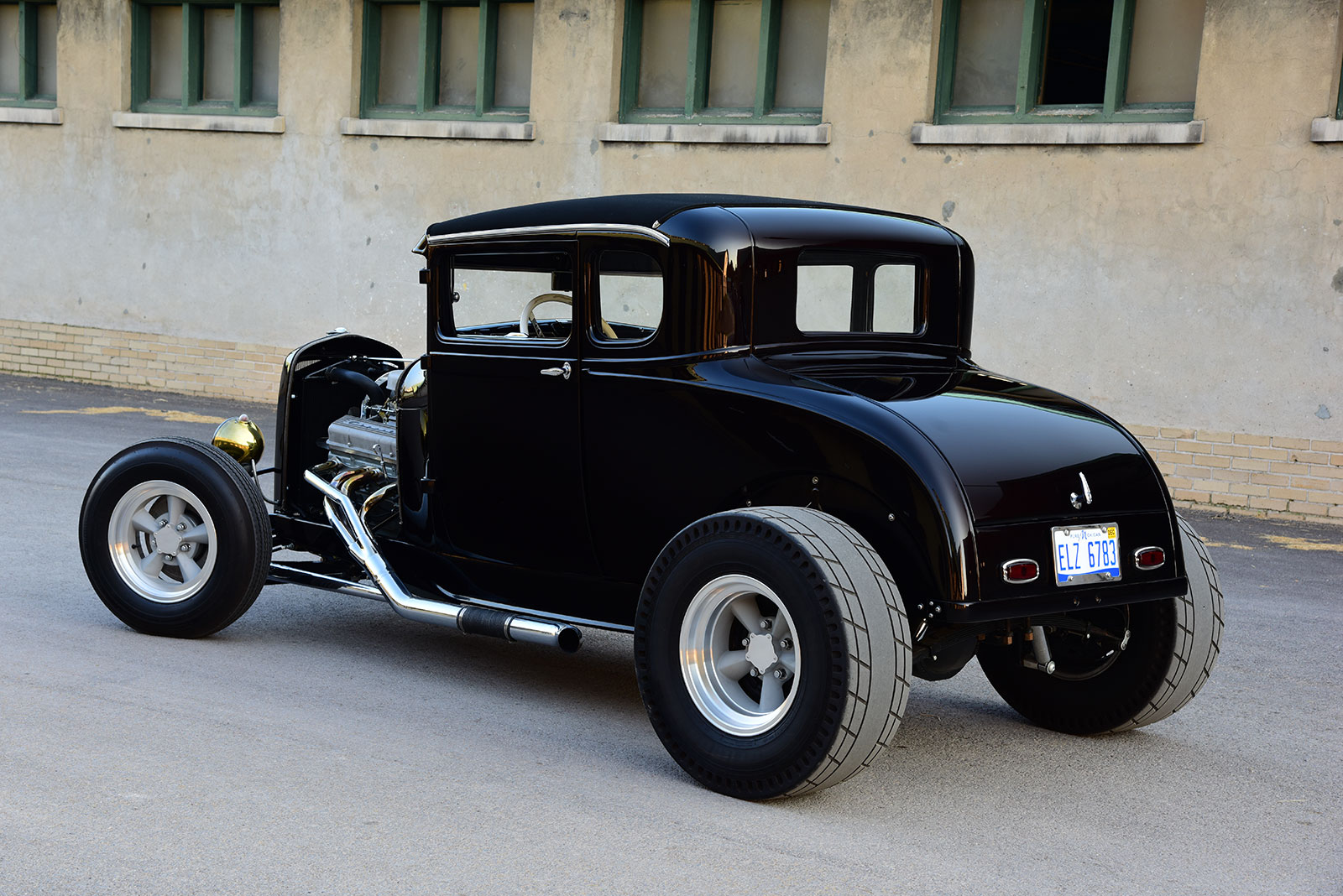 In crafting the frame, John got started with a set of Deuce 'rails from American Stamping Corporation that he boxed for added strength while also adding a custom K-member and rear crossmember along with a Model A front crossmember to tie it all together. In back, a Ford 9 inch rear end packs 3.50 gears matched to Strange Engineering 31-spline axles. It's anchored in place by a combination of '39 Ford split wishbones matched to a '40 Ford rear spring from Posies along with chrome tube shocks. Nailing the rake, a 4-inch drop Super Bell axle wears '39 Ford spindles deftly matched to a Posies spring and tube shocks, set in place by split '39 Ford bones. To shave speed, a Mustang dual master cylinder with stainless lines is linked to '39 Ford front binders wearing Buick finned aluminum drums while in back 9 inch rear end Ford drums do the deed. Giving the chassis a signature look you'll find a set of nostalgic 15-inch Torq Thrust D-spoke American Racing wheels shod with Towel City Pie Crust grooved cheater slicks with BFGoodrich/Cokers in front.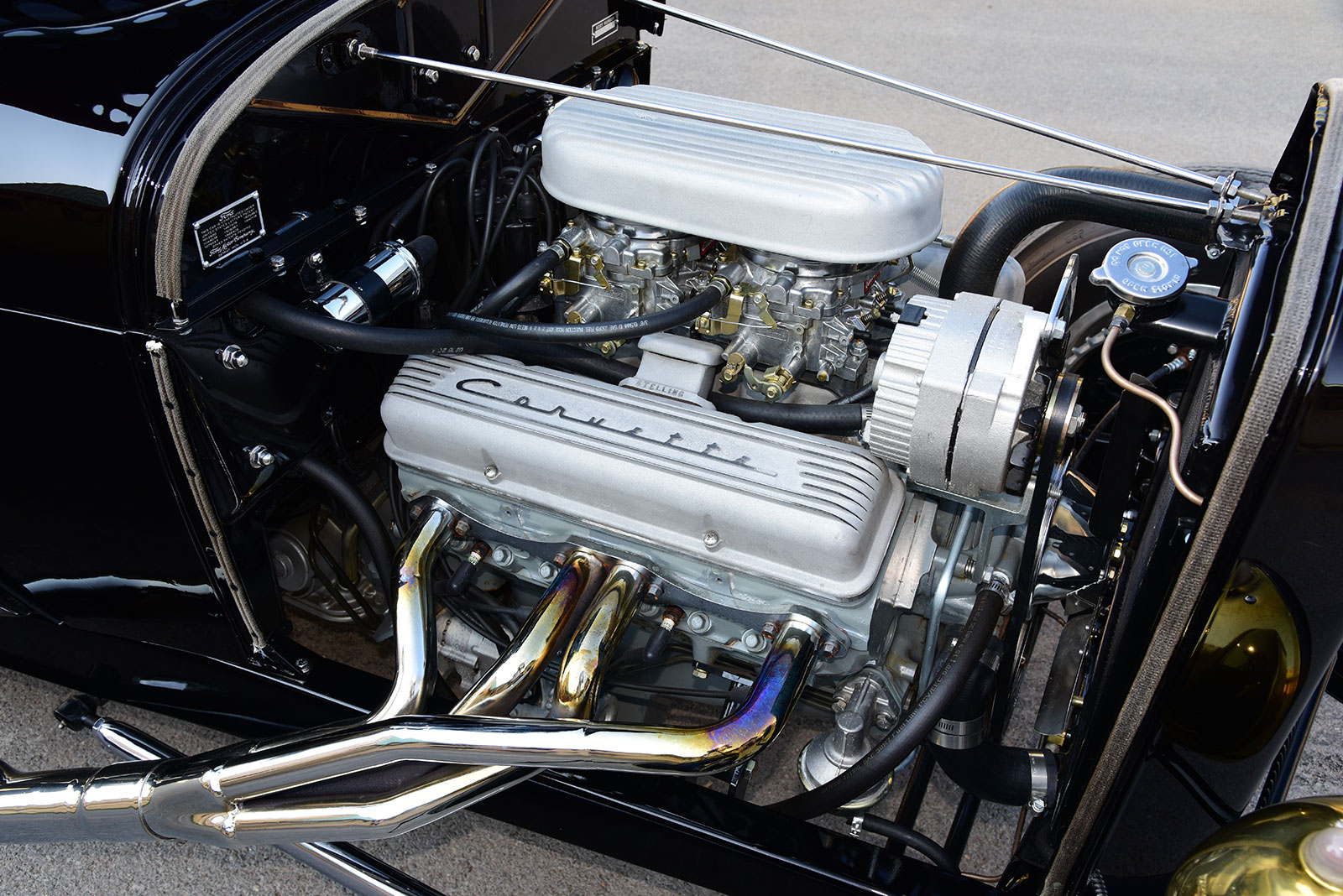 Nothing screams early '60s hot rod better than a dual quad–fed small block V8 engine. Avenger Race Engines started by bumping a 350-inch iron block to 383 inches and filling it with an Competition forged 4340 Eagle crank linked to matching H-beam rods topped by Sealed Power hypereutectic aluminum 10:1 flat-top pistons. A hydraulic roller Comp Cams cam sets the beat while a set of Dart Iron Eagle Cylinder Heads pack a punch, especially when matched to an dual-quad Edelbrock Performer RPM intake topped with a pair of their matching 500-cfm Performer carburetor crowned by a finned aluminum air cleaner from O'Brien Truckers. A pair of vintage aluminum Corvette finned valve covers with Stelling breathers completes the look. A stock ignition with a PerTronix electronic ignition conversion sparks it to life with custom-designed headers and matching side pipes moving the hot exhaust. It's all good for a tire-searing 392 hp when linked to a built GM 700R4 transmission from West Michigan Transmission and D&R Driveline shaft.
Read More: Coyote Swapped 1957 Ford Fairlane 500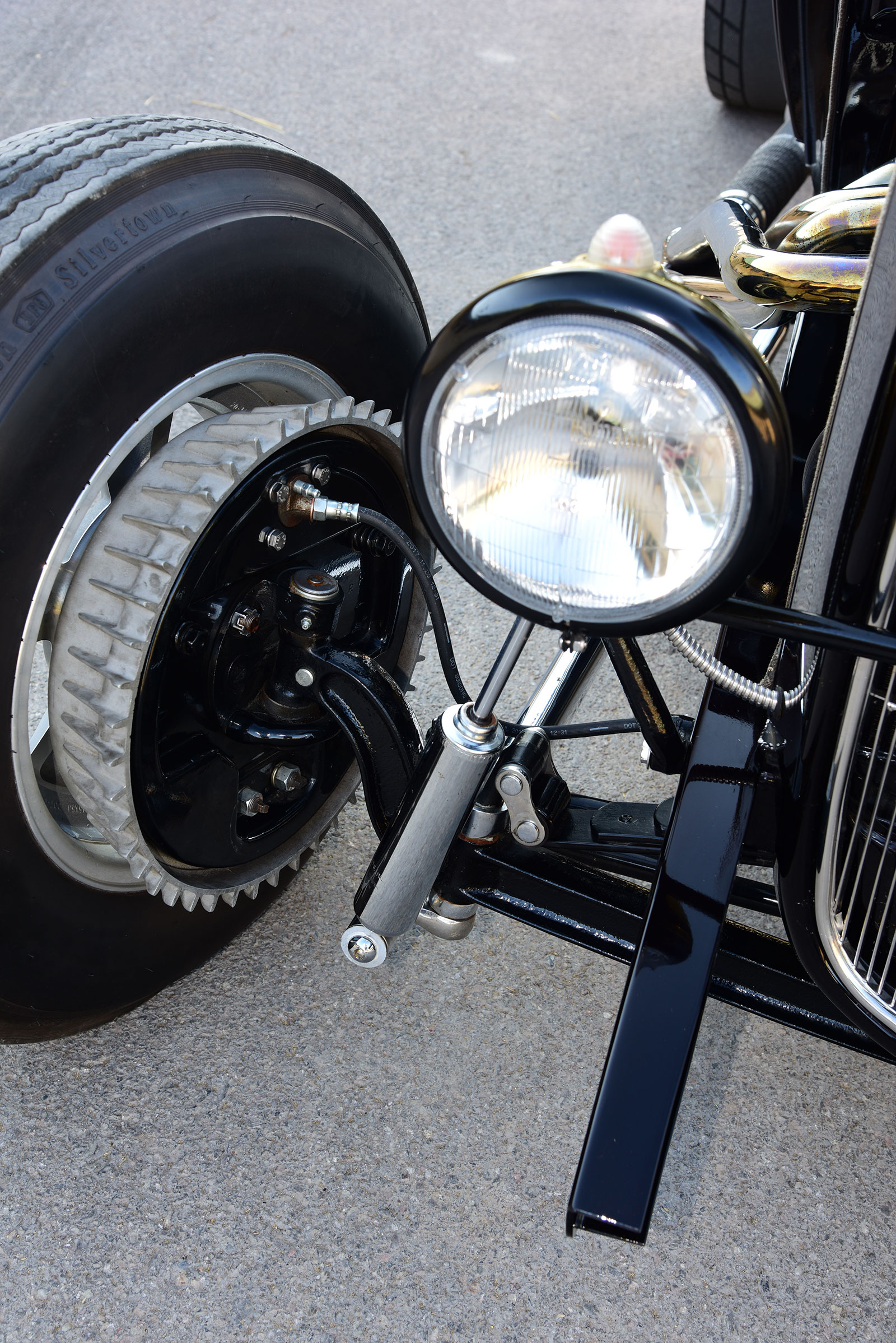 Even though the Model A body had hung from the rafters for decades, it wasn't spared from the earlier abuse it had suffered on Michigan roads. Once blasted clean, John got busy replacing all the lower body panels as well as the rear subrails and floors with fresh stock from Snyder's Antique Auto. From there he channeled the body a mild 1-1/2 inches and followed with a perfect 5-inch chop while maintaining a near-stock rear window opening. Other neat details include a '31 Ford drilled and dimpled visor, polished drip rails, Deuce grille, a pair of Guide brass headlights, and '46 Chevy taillights. The body was then gapped and metal finished, preparing it for final bodywork and gloss by the team at Star Customs who sprayed the PPG Black Cherry for plenty of glamour.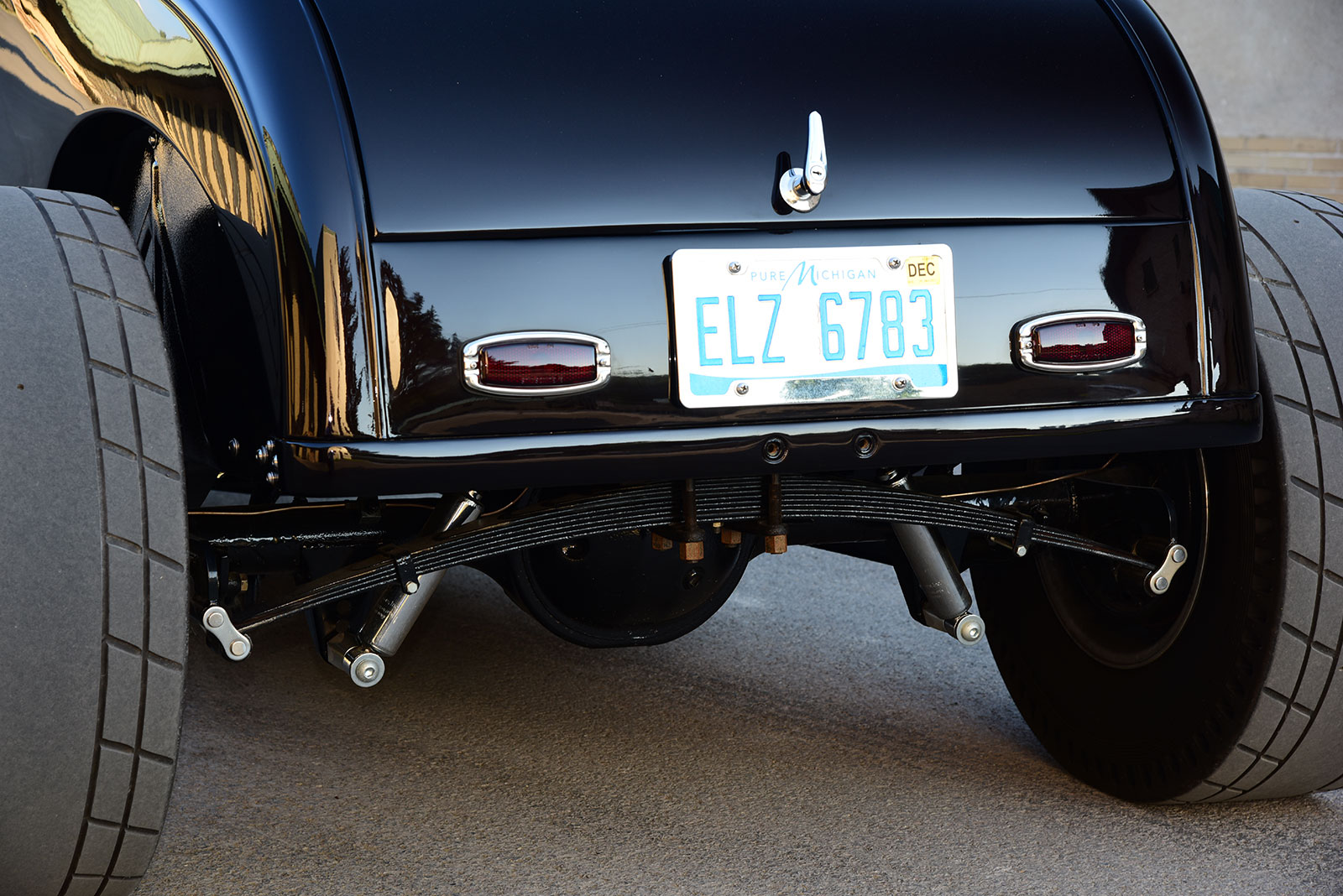 It's all business inside with a modified '40 Ford dash fitted with gauges from Classic Instruments monitoring the pulse while a rare Superior 500-series steering wheel carves a course through an ididit steering column with gears picked through a Lokar shifter. For a nostalgic look, Stewart Upholstery modified the original Model A bench, treating it to cream pleats with black trim, including matching side panels and headliner. This was complemented by black loop carpeting and a black fabric roof insert with all wiring by Gas Axe Garage. This is another pair of noteworthy traditional hot rods from the stables of Gas Axe Garage that now moves into the future two generations strong, and we dig it.  MR
Click on this issue's cover to see the enhanced digital version of Two Timeless Model A Hot Rods.