Nobu Oshiro's Legacy 1968 Chevy Camaro Project
By Fuelish Media   –   Photography by the Author
A lot of us got our introduction into the world of custom car culture through the patriarchs of our families, whether it was our fathers or grandfathers. Each of our particular inspirations are as different and unique as the men we looked up to for them. Watching these very vehicles come together made such a lasting impression on our collective outlook and approach to building one-off cars of our own.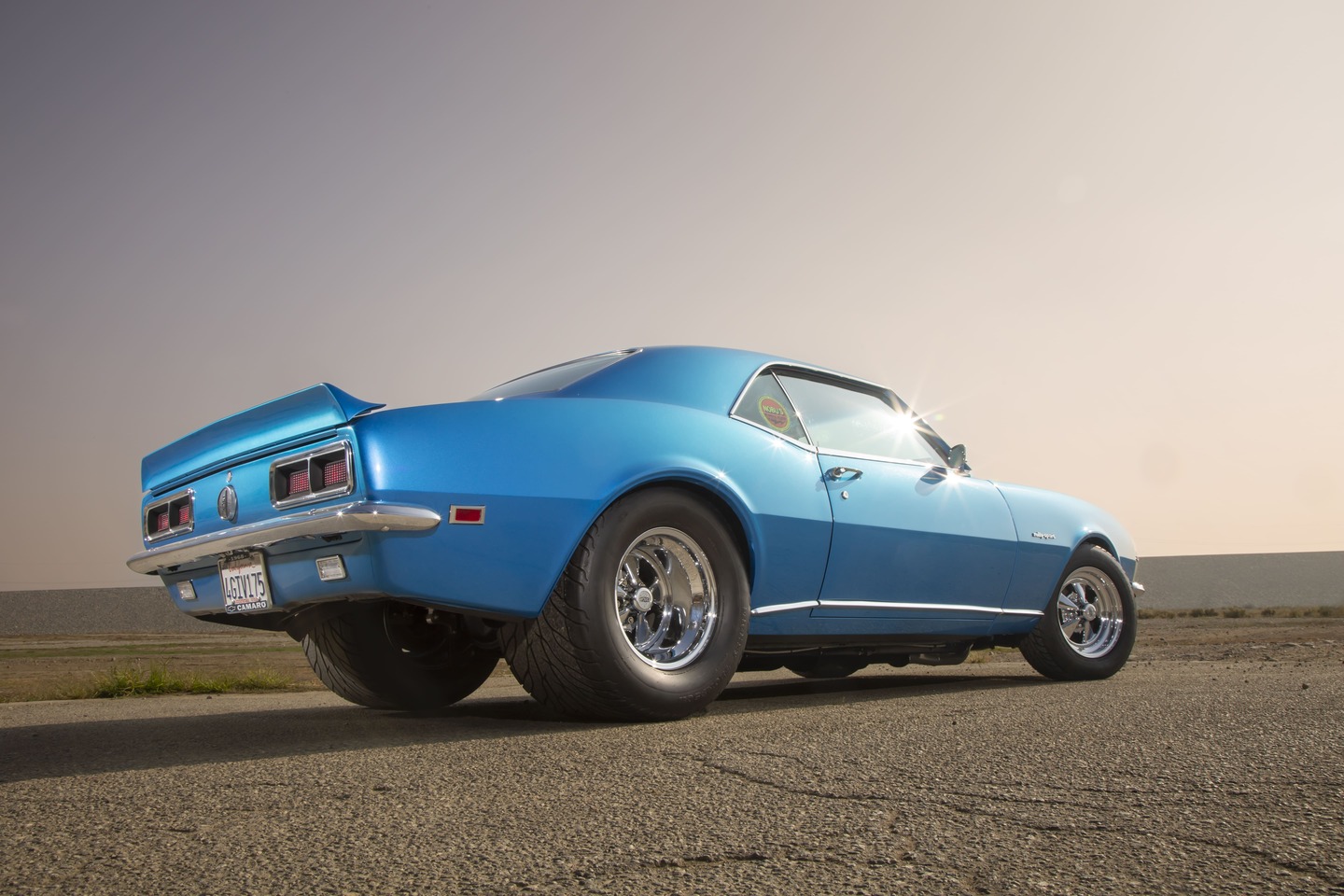 While in the trenches of car shows and coffee meetups, our eyes are always open to spot that next muscle car to feature and to learn the story of how it came to be. Upon first glance, this cool blue 1968 Camaro RS made its presence known with its classic, performance-centric styling. It has a stance that commands attention, and with one peek under the hood, it's apparent that this car can certainly back up its bark. So where did this Camaro Rally Sport come from? To find the answers we were looking for, we struck up a quick chat with its owner, Mike Harada, to help fill in the blanks.
Turns out this Camaro was fueled by the inspiration of the cars his dad and his dad's friends owned and drove back in the day. You see, Mike pulled off some kind of miracle to get this car built by the one and only Nobu Oshiro—an absolute legend in West Coast muscle car lore. Oshiro owned and operated Nobu's Auto Lab—an extremely successful and well-known high-performance shop in Hollywood, California, that specialized in dyno tuning from 1966 to 1982. Even after shutting down his shop, Oshiro retained his legendary status, as his skills and knowledge have remained highly sought after within the performance community.
Check it out: The Scott's LS Swapped 1969 Chevy Camaro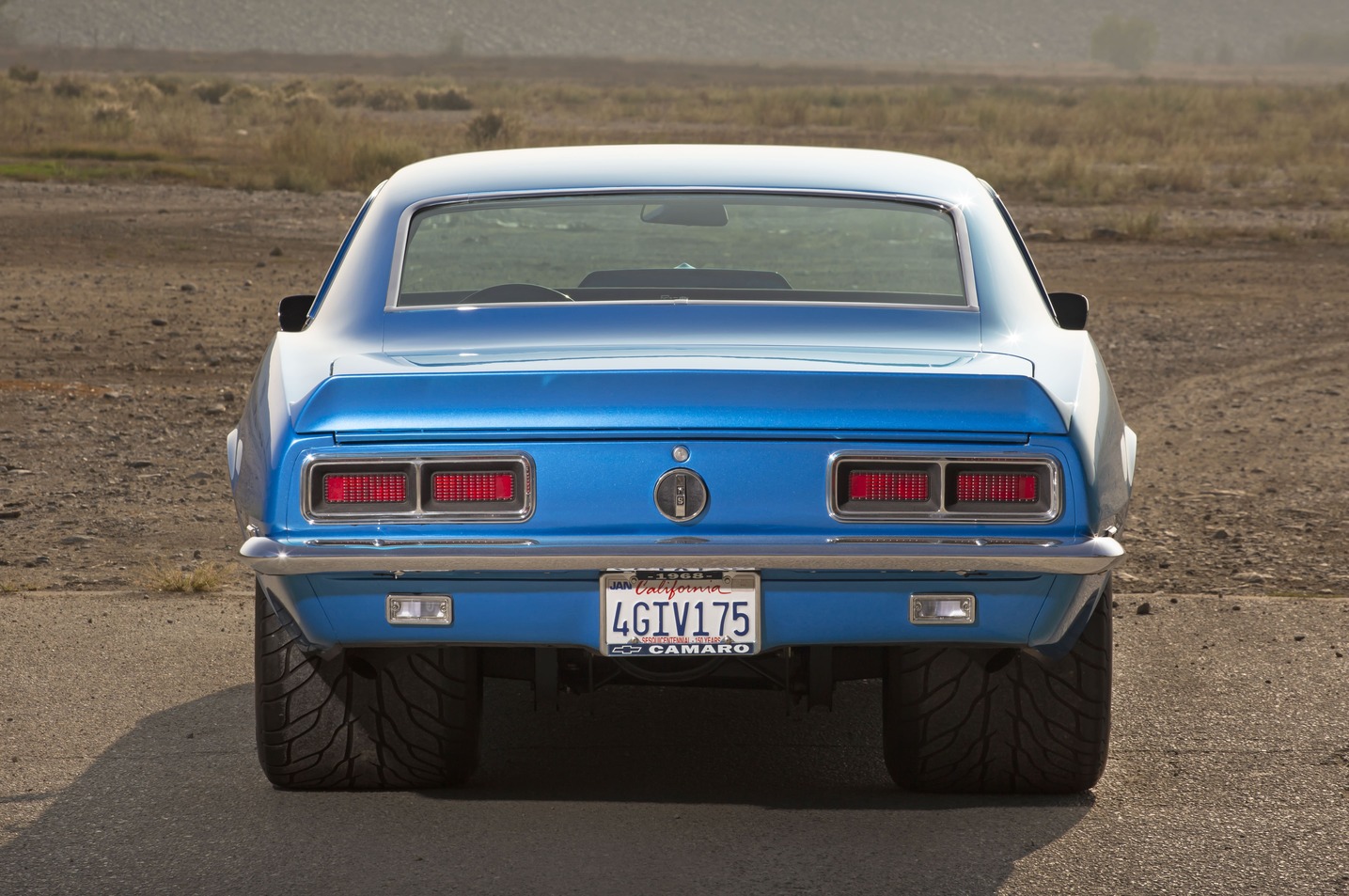 "When Mike first contacted me to find and build a Camaro for him, I couldn't say 'no!' fast enough," Oshiro admits. While he still had a love for making cool cars go fast, Oshiro was more interested in working on cars for himself now (something he couldn't always focus on while running his shop) and taking things a little slower in his later years (he is currently 83 years old). "Once Mike told me that he was soon moving from our shared city of Los Angeles to my old hometown of Honolulu, Hawaii, and that a couple of his friends' dads still own and drive the cars that I built for them in the past, I felt a connection there and a desire to take on this project."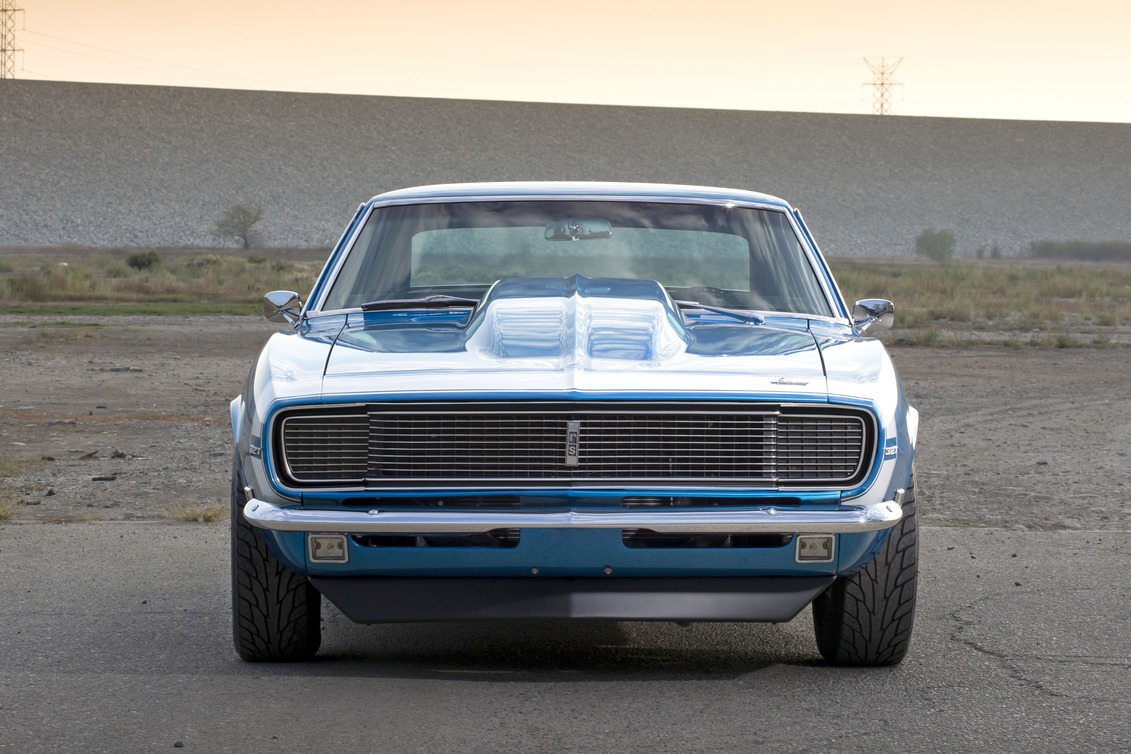 "While I was still surprised to have [Oshiro] on board with this build, the agreement did come with two major terms of his that were non-negotiable," Mike says. "The first term was to never ask [Oshiro] about a timeline when the car would be finished (the project spanned a total of six years from start to finish). The other order of business was to never ask about what the final cost of the project would be. I understood this request completely. There's a process there that has served [Oshiro] well throughout his successful career and who was I to go against his wishes?" A verbal agreement and a handshake were enough to seal the deal between the two gentlemen of different generations.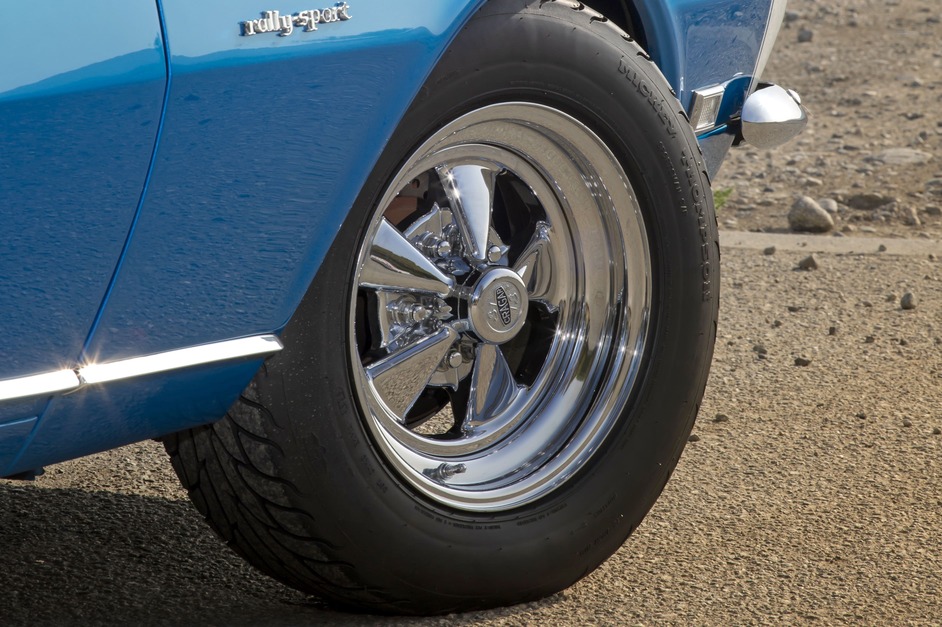 It didn't take long for Oshiro to track down the perfect Camaro to serve as the base for the project. He found this '68 at a friend's body shop, and aside from some existing damage to the front and rear fenders, the car was near perfect in condition. Before Mike realized, Oshiro was already planning the next stages of the build. His approach to putting cars together has stayed true to how he would've done things back in the '60s. The amount of OEM replacement parts or factory-reconditioned components far outweighs the use of brand-new aftermarket accessories—even the size of the 15-inch wheels remains modest in diameter to ring true to how they would've been selected if this car was customized 50 years ago.
More Camaro Goodness: Florida's Finest 1969 Chevy Camaro Convertible
Of course, there's a place for new parts and pieces, as Oshiro used them quite extensively under the hood to outfit the Dart Big M iron block engine as well as the front suspension components sourced through Warren Jung of Pacific Brake Co. in Monterey Park, California. The rear end of the frame has been outfitted with a Chris Alston's Pro Street four-link and features all the bells and whistles throughout the chassis system. The approach to this build and those he completed years ago is still the same, and those familiar with what a Nobu Oshiro–built car is and what it is not, recognize the fact that the man has not missed a beat since his Auto Lab days in Hollywood.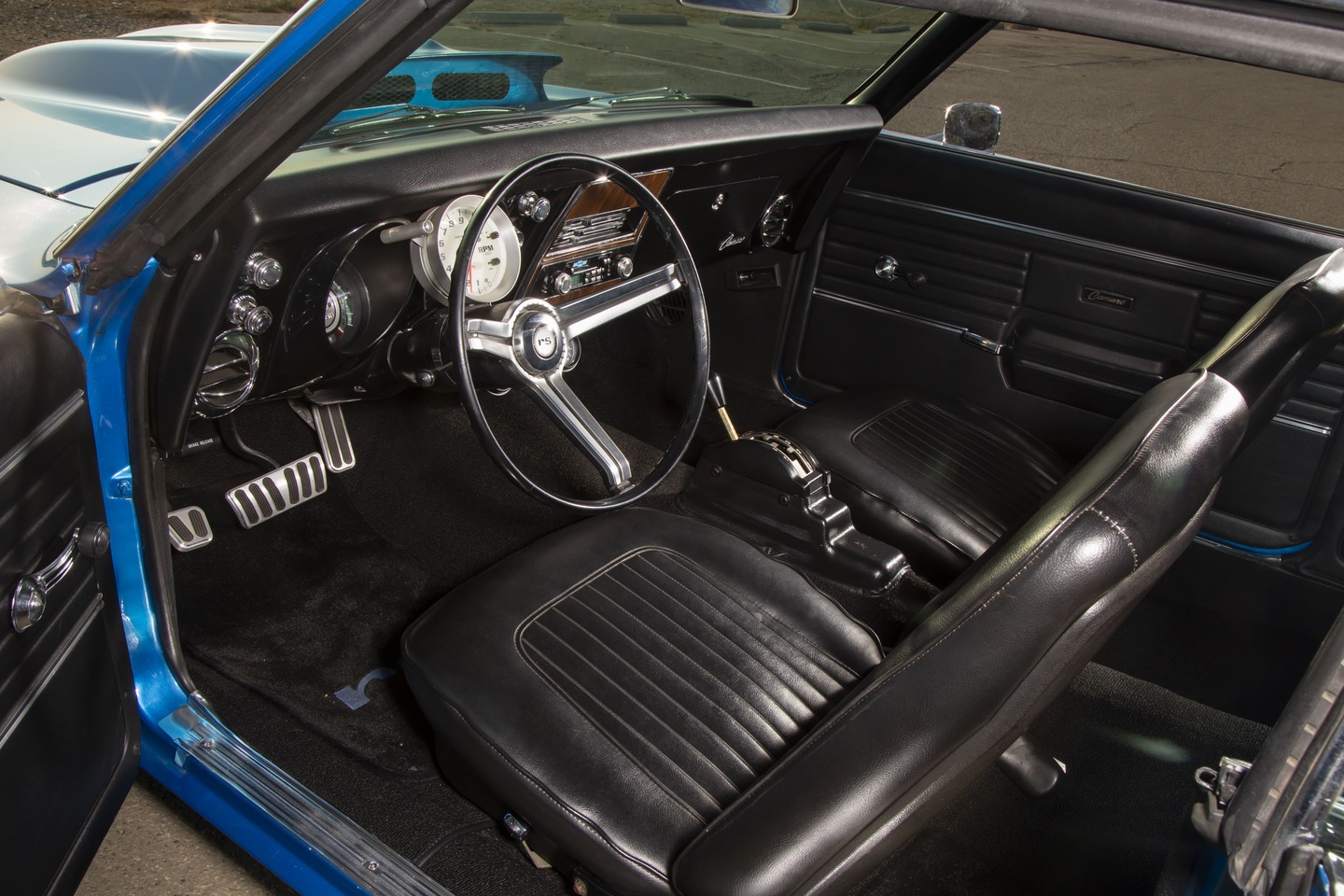 "[Oshiro] had originally set this car up for drag racing, but since he was raised in Honolulu and knows that there is no place to race it to the extent it should be," Mike adds, "he had to make a few adjustments under the hood to make it more street friendly, which was something that truly goes against what he really wants to do. But Oshiro knows all too well that there are no legal dragstrips where the car is ultimately heading. Guess that's why he ended up in California."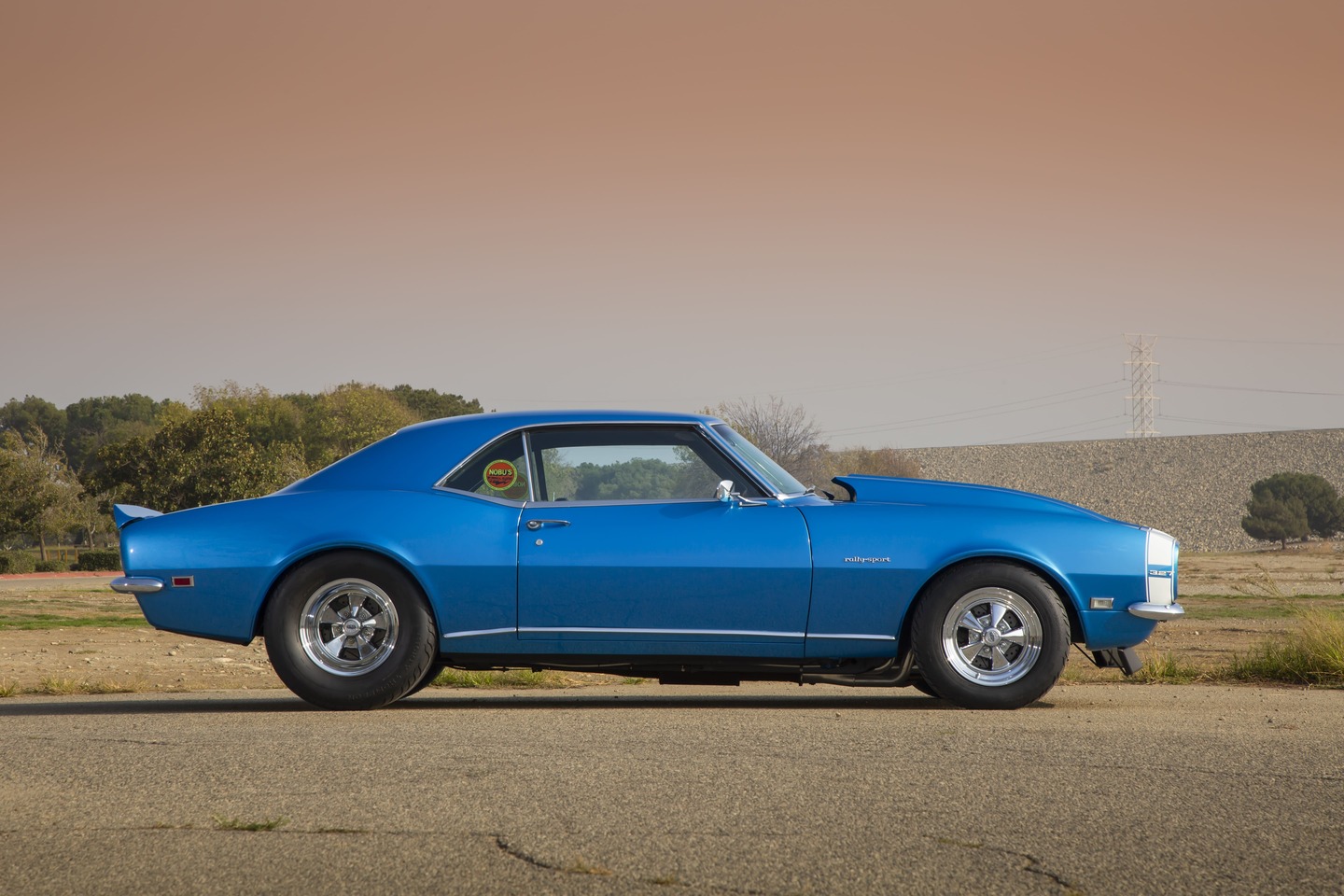 TECH CHECK
Owner: Mike Harada, Honolulu, Hawaii
Vehicle: 1968 Chevy Camaro RS
Engine
Type: Dart Big M iron block
Displacement: 572 ci
Compression Ratio: 10:25
Bore: 4.500
Stroke: 4.500
Cylinder Heads: Edelbrock
Camshaft: Comp Cams roller
Induction: Edelbrock dual RPM Air Gap, Edelbrock chrome dual air cleaner
Ignition: MSD
Cooling: Four-row aluminum radiator, chrome Moroso water pump, dual electric fans
Exhaust: Hooker headers, custom 3-inch pipes by Larry of Lou's Muffler Shop, MagnaFlow mufflers
Accessory Drive: March dual belt
Engine Dress-Up: Custom aluminum valve covers, chrome 110-amp alternator
Fuel Delivery: Dual Edelbrock AVS 800 carburetors
Built By: Nobu Oshiro, former owner of Nobu's Auto Lab (Hollywood, CA)
Tuned By: Speed-O-Motive (West Covina, CA)
Drivetrain
Transmission: '70 GM Turbo 400 by Joe Bustamante of Boston Transmission Co. (Whittier, CA)
Driveshaft: Custom by Jim and Paul of Cook's Machine Works (Los Angeles)
Chassis
Frame: Chris Alston's Pro Street four-link system
Steering: Stock GM close-ratio steering box
Front Suspension: GM stock spindles, big-block front springs, KYB shocks
Rear Suspension: 9-inch four-link with Panhard bar
Springs/Shocks: KYB shocks and Chris Alston's VariShock
Brakes: Stock GM brake components with CPP booster kit and proportioning valve
Wheels & Tires
Wheels: 15×8 and 15×14 Cragar chrome wheels
Tires: 26×8.00R15 LT and 29×18.00R15LT Mickey Thompson Sportsman S/R tire
Interior
Seats: Original GM seats and belts
Upholstery: Stock black vinyl material
Gauges: Factory GM dash, 10,000-rpm Equus tach, separate oil, temp, volt gauges
Steering: Original GM steering column and wheel
Carpet: Original stock style
Shifter: California Performance Turbo 400 gate shifter
Stereo: Stock GM head unit and speakers
Misc: Reproduction door panels, custom rear seat by Tito Auto Trim (Rosemead, CA)
Exterior
Mods: Original RS body style, Harwood 4-inch cowl hood, electrically converted headlights, LED Lite sequential taillights, Classic Industries outer mirrors, factory door handles, front and rear bumpers rechromed by G&A Metal Polishing (Riverside, CA)
Paint: PPG Blue by Alex Gonzalez, bodywork by Chuy Jimenez
Grille: Stock