Pro Touring '69 Camaro Convertible With LT4 Power!
By Brian Brennan   –   Photography By John Jackson
Many of us build our dream hot rod based on what we have envisioned in our mind. For Gumer Alvero of Minnesota his dream was to have a '69 Camaro convertible built to represent a modernized Pro Touring ride. Coupled to that, the convertible top was to sit below the beltline when recessed. Gumer, having followed the work of BBT Fabrications (BBT) out of Illinois, was intrigued with their talents, which led him to contact Troy Gudgel.
Read More: 23rd Annual Camaro Nationals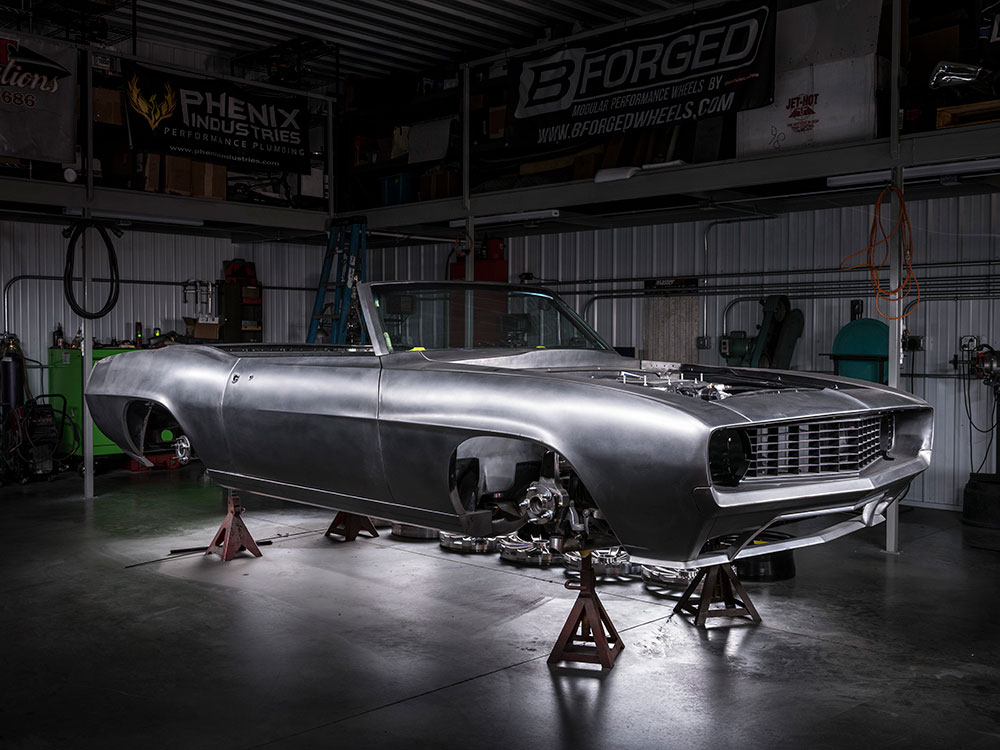 Working from renderings put to paper by artist Victor Fulton, Gudgel could see immediately that there would be a problem with the soft top sitting below the beltline. Noting this was a requisite of Gumer's final plan, Gudgel began to work on a solution. The problem stemmed from the size of the compulsory wheel wells that were obligatory to house the oversized wheels and tires. Gudgel realized that the staff at BBT Fabrications could overcome this problem by building an aluminum liftoff hardtop. Having a liftoff top would be a relatively simple obstacle to overcome as the Camaro is intended to spend much of its life in Florida—topless. What started out as a handful of sheetmetal mods to be performed at BBT turned into a complete build.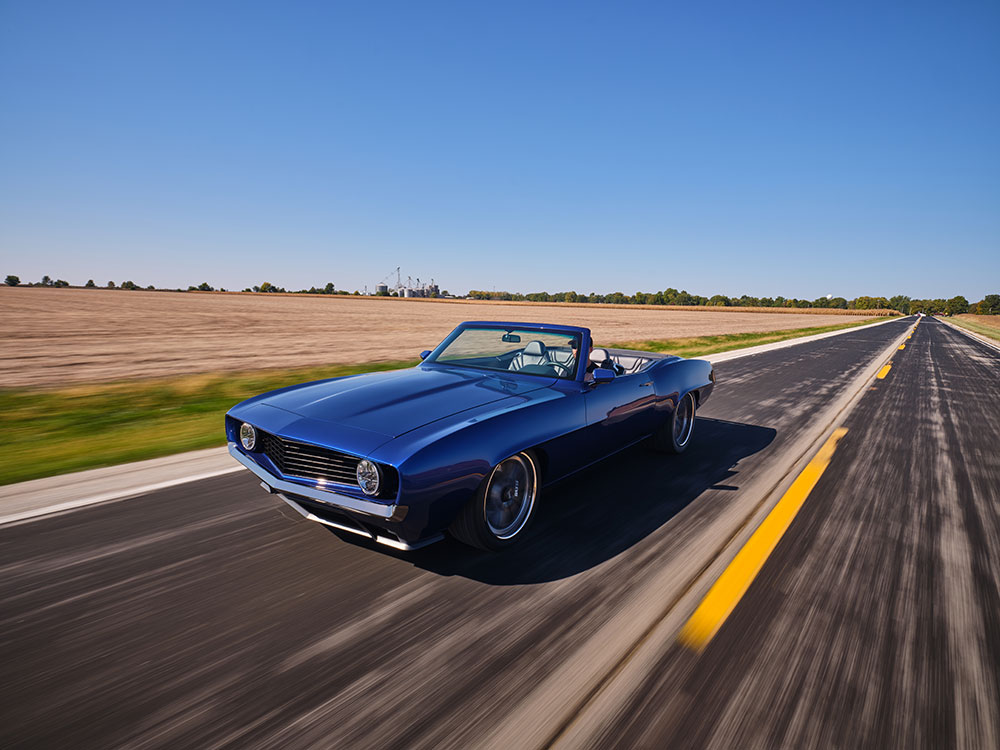 A quick review of the BBT sheet metal work performed is substantive. Along with the liftoff top there was more aluminum handiwork such as the hood and engine bay panels. From here the front valance, rocker panels, taillight panel, rear lower valance, rear spoiler, and front and rear bumpers were devised. More one-offs include the taillights, door handles, mirrors, and exhaust tips along with flush-mount windshield and back glass. Once this metalwork was accomplished, the final body- and paintwork was handled by Dutchboys Hotrods in Michigan. The BASF Bentley Moroccan Blue Pearl was sprayed under the watchful eye of the father and son team of Joe and Paul VanNus of Dutchboys Hotrods. All the appointed black chrome comes by way of Ogden Plating in Utah.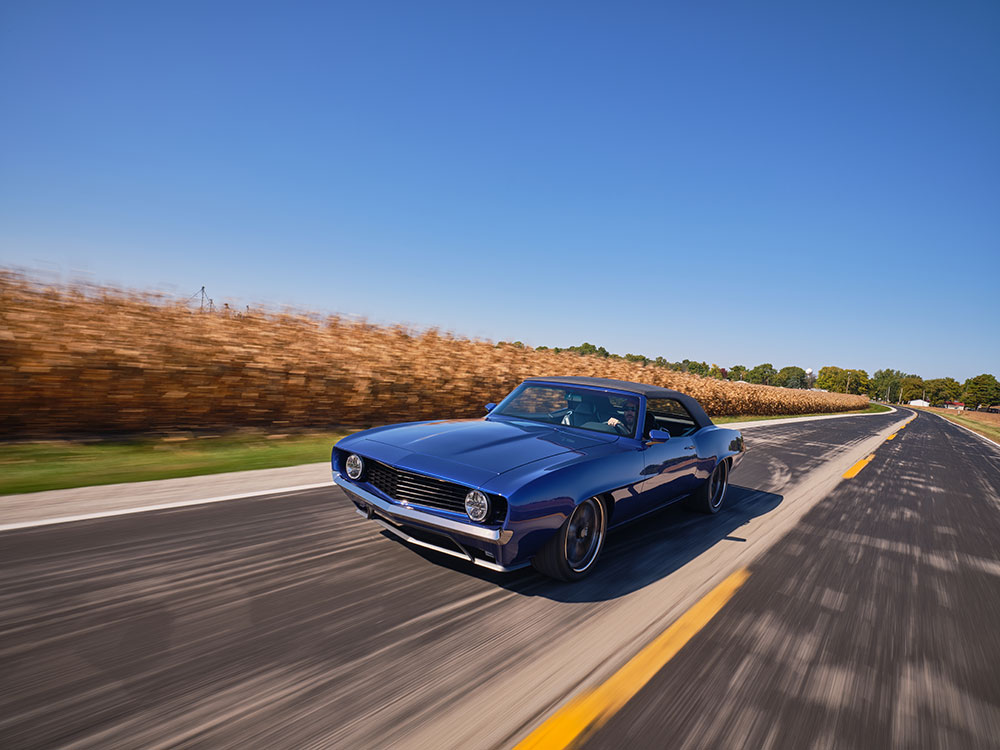 We've mentioned the oversized wheel and tire package, which not only required enhanced wheel tubs but also sheet metal work that consisted of 1-1/2-inch widened, per side, rear quarter-panels. The stretched quarter-panels are now the new home for the GT3C Forgeline wheels and Michelin Pilot Super Sport tires. The rear wheels measure 19×12 with 345/30R19 rubber while in front the wheels measure 18×9.5 with 265/35R18 rubber in back. Pressed into service behind the spoked Forgeline wheels are Baer brake kits including 14-inch drilled-and-slotted rotors with six-piston calipers.
Read More: Strauss' 1955 Chevy Bel-Air With a Classic Touch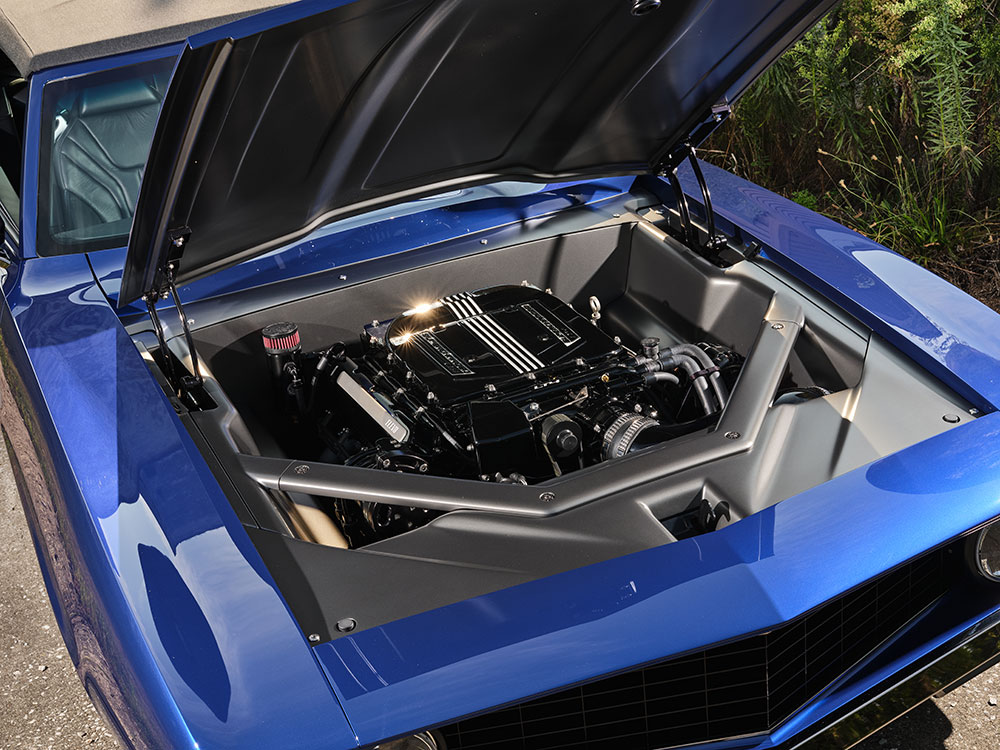 Working our way to the interior we can see there is, again, a handful of custom touches and one-off fabrication by BBT. The interior is based on the hand-fabricated aluminum dashboard and center console. From here the instrumentation is based on one of the latest Dakota Digital HDX platforms utilizing a Speartech wiring harness. It is a custom setup prepped by DD within the BBT-designed gauge bezels/cups then machined by EVOD. Other dash-related items include the ididit steering column topped with a MOMO steering wheel. The BMW M4 seats were sectioned and then stitched by Cato's Custom Upholstery of Atlanta, Georgia. Cato handled the seating as well as the flooring, steering wheel wrap, door and kick panels, and the trunk. Moore and Giles charcoal gray leather with light blue stitching was used throughout. The removable aluminum top and the dash were covered by Upholstery Unlimited in Clinton, Iowa. Additional BBT one-off aluminum work includes the machined custom AC vents and controller for the Vintage Air AC, dash knobs, shifter bezel and knob, speaker bezels, A-pillars, package tray, and trunk panels. Additional one-off aluminum inserts include those in the door, floor mats, quarter- and kick panels.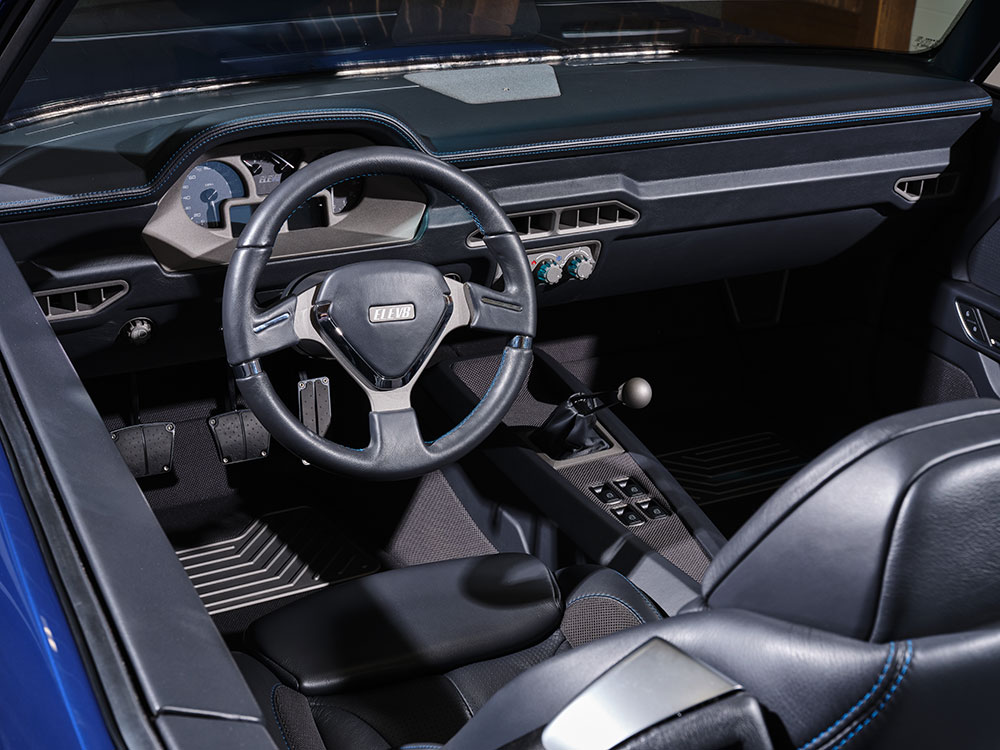 The chassis that hauls this modern-day Pro Touring '69 Camaro convertible around is based on a Roadster Shop Fast Track. The 10-gauge boxed steel frame rails feature the Roadster Shop Independent Front Suspension that includes their upper and lower control arms, C7 (Corvette) spindle and hubs, and a 1.25-inch splined front sway bar with Corvette end links. The frame is also equipped with a center crossmember featuring 3-inch exhaust ports and a dropout transmission mount. The rear is based on an Roadster Shop provided Strange rear end with a Moser center section equipped with an Eaton Truetrac spinning 3.73 gears and 31-spline stainless steel axles. Centering the rear end package is a Roadster Shop large-diameter four-bar rear suspension. Found at the four corners are Penske single adjustable coilovers with Hyperco springs.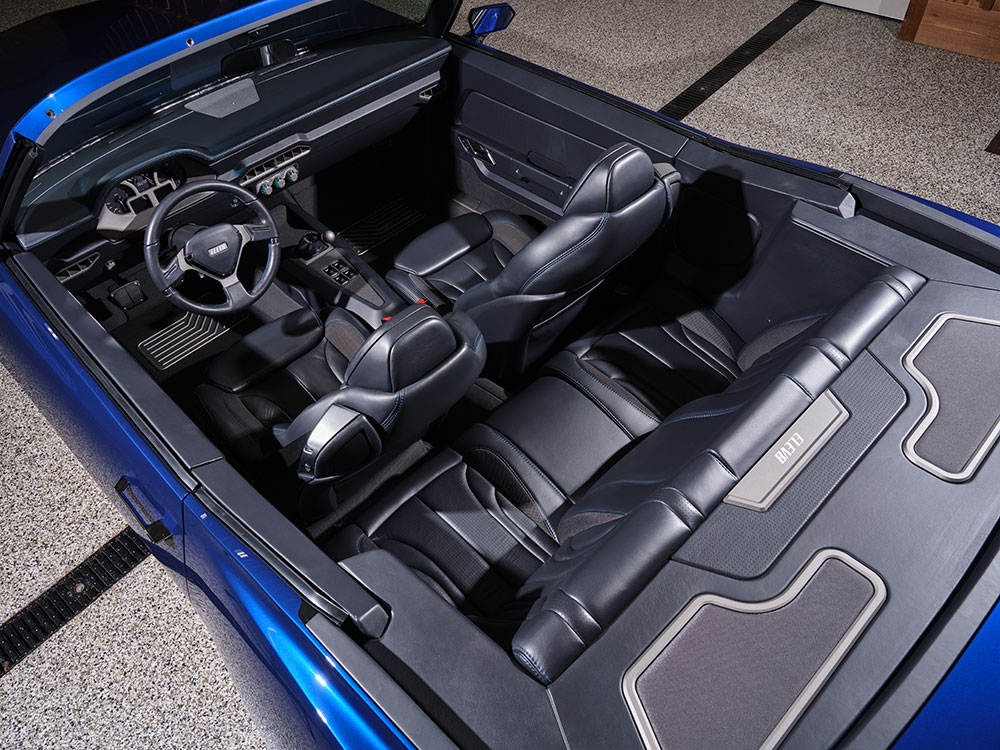 Let there be no doubt that the heart of any hot rod rests under the hood. This '69 Camaro convertible is powered by a Chevrolet Performance LT4 crate engine. It is the second most powerful engine ever offered in a regular-production Corvette. The C7 Z06 package displaces 6.2 liters (378 inches) and is supercharged via a 1.7L Eaton R1740 TVS supercharger. With 9 pounds of boost, it can produce 640 hp and 630 pounds of torque.
To the crate engine there is a Wegner front drive, Katech valve covers with BBT machine inserts, a smoothed-over intake lid, Ultimate headers, relocated coils, and tuned by Carma Performance. A PRC radiator along with a C&R racing heat exchanger are also used. A GM ZL1 fuel pump is employed along with stainless steel fuel lines and stainless steel brake lines. More stainless steel can be found in the exhaust pipe along with the Borla mufflers. The LT4 engine is backed up to a combination of a QuickTime bellhousing, McLeod clutch, and the Bowler Performance Transmissions prepped TREMEC T56 Magnum transmission.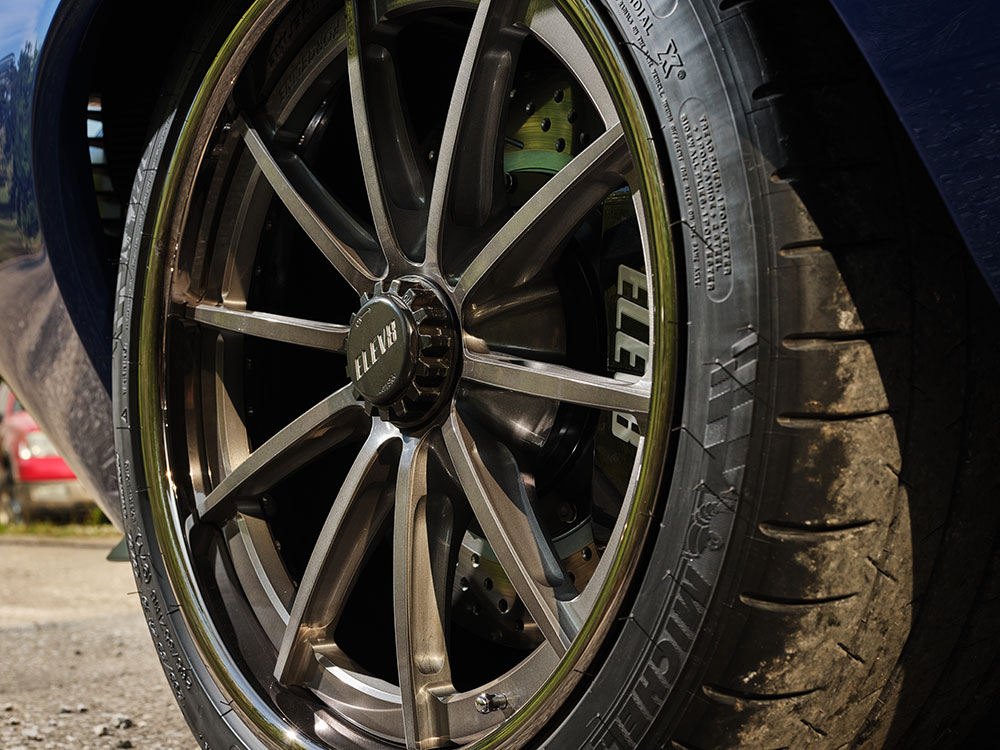 Read More: Matt Jones, was hand-selected by Art Morrison, to purchase the controlling interest in AME
When you spend time in the Sunshine State, enjoy hot rods, and want to get out there and drive 'em your lot is cast. What better choice than this '69 Camaro Convertible with all the handling and power one could use or wish. MR
Florida's Finest 1969 Chevy Camaro Convertible