Norman Carrera's 1955 Chevy Panel Truck
By Marco Patino – Photography by the Author
What's old is cool again.
The custom car culture of Southern California has so many choices when it comes to figuring out your signature ride. Will it be a muscle car, a lowrider, or some cool classic truck from yesteryear?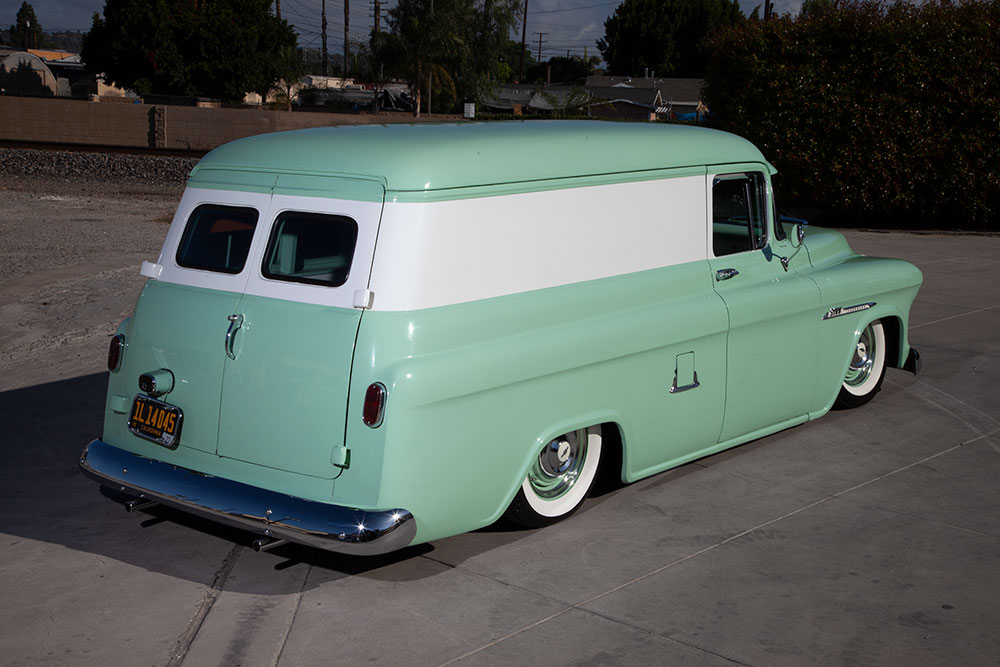 For Norman Carrera of Downey, California, it was the latter. In the '70s, when Norman was younger, he and his family would be out cruising in his older brothers' rides. Now with a family of his own, Norman set out to find the perfect vehicle to be his statement in the custom world: this perfect panel, a 1955 Chevy Truck 2nd series. While out and about Norman came across the 1955 Chevy at a body shop in East Los Angeles and noticed a For Sale sign on it. Though there was a lot of potential to the truck, there was still a ton of work to be done to it. Luckily, he scored the panel truck for less than $1,000.
Read More: 1958 Chevy Task Force Family Heirloom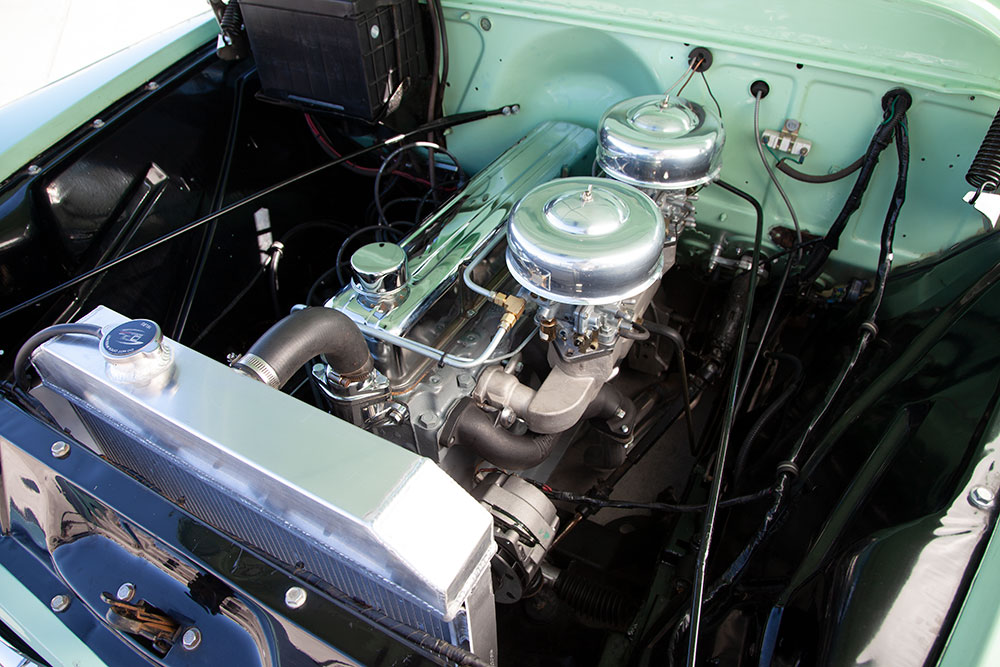 Carrera had Jesse Cisneros of JC Auto Restoration in Huntington Park boogie on the bodywork before applying the two-tone PPG finish of seafoam and ivory paint to the exterior and some of the interior. Enrique at JC Auto Restoration had the metalwork on the trim sent out to be either polished or re-plated. Norman chose not to do any major cosmetic work to the Tri Five but he did want it to have a nice ride as well as be able to lay it low when hitting those cruises and truck shows that he and his boys like to participate in.
Eric Toyoshiba at Advanced Design Fabrication in Whittier, California, dialed in the suspension work. Eric fabbed in a Mustang II front clip to the otherwise-stock chassis. The air suspension includes dual pumps, Firestone 'bags, and four switches to the setup. A set of custom Yokohama tires with 3-inch whitewalls and 16-inch steel wheels round out the chassis package.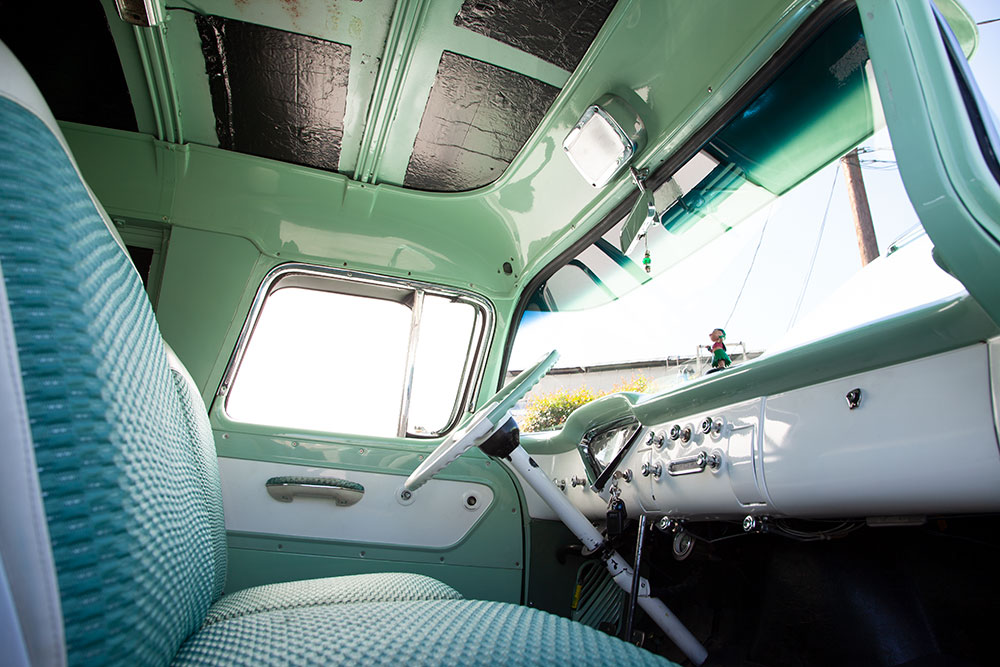 Joe Epstein of Epstein's Muffler & Auto Restoration in Montebello, California, had a hand in both the new dual exhaust system and engine work. Epstein massaged the 235-cid engine into a peppy performer. Features include dual Weber carburetors and a set of Fenton headers on the engine make a big difference in the performance department, as does the sturdy Muncie 4 speed transmission.
The recovered factory seating and interior work was also done by JC Restoration, while audio guru Al Cabral of Paramount installed the combination of Pioneer, Hi-Fonics, and Kicker components for the tasty tunes in the truck cabin.
Read More: The Forgotten Tri-Five Chevy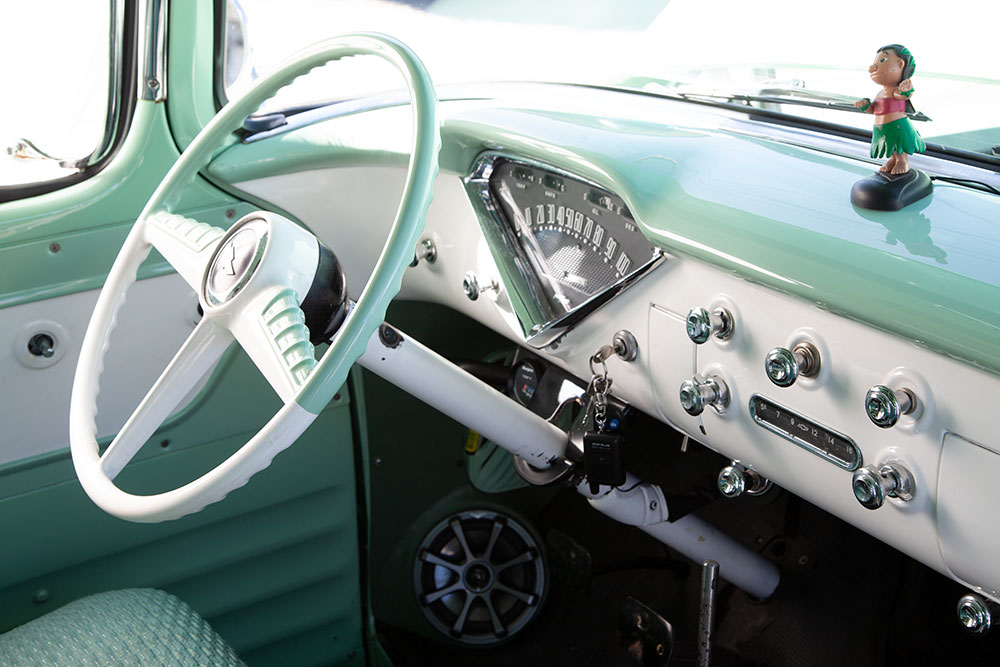 In six short years Norman was able to finally have his day on the boulevard or just enjoy an afternoon at a swap meet where he likes to indulge in vintage automobilia and die-cast cars (buying, selling, or trading—always adding to his growing Hot Wheels collection). But none can compare to his number one hot wheel that sleeps in his garage.