A true Nomad… Or so the '56 Chevy Once Was
By Brian Brennan – Photography By John Jackson
There was a time when the Tri-Five Chevy really meant the '55 or the '57 Chevy. There are lots of '56 Chevy cars and wagons out there and rodders have always built them but it was the '55 and the '57 that were deemed "most desirable." Not so anymore. The '56 has really come on strong within the past 10 years or so; couple this with the already-desirable Chevy Nomad Wagon and you are looking at one of the hottest properties in the mid-'50s buildable cars, like Larry Olson's '56 Chevy Nomad.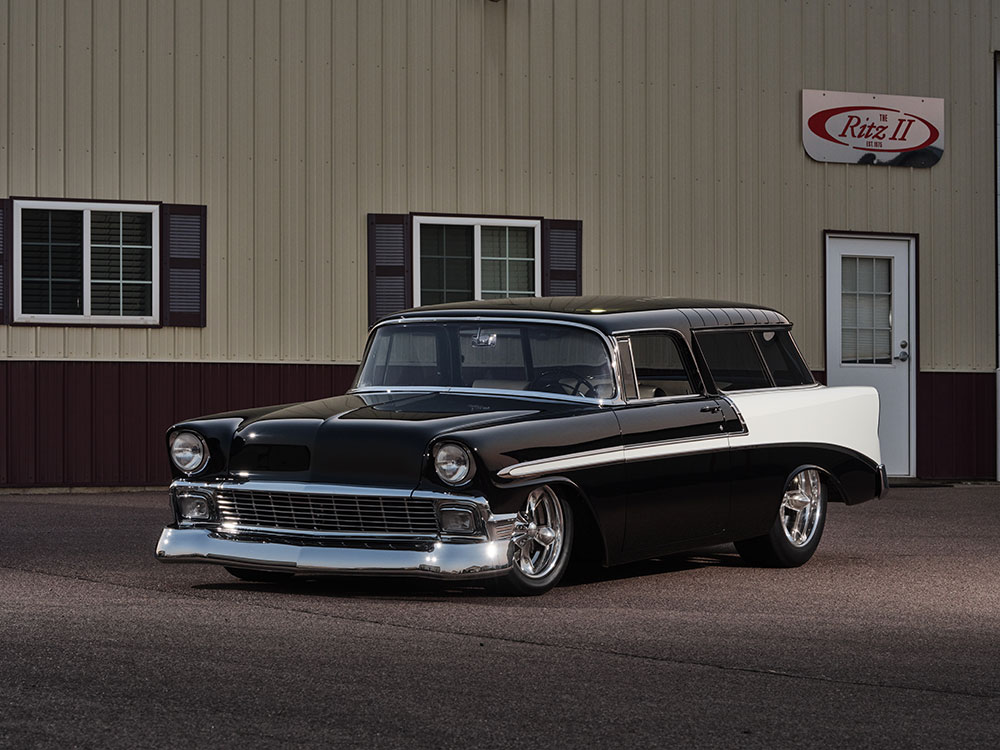 Larry hails from South Dakota and is our featured car owner this month as we have two of his cars before you as well as featured on the cover. As far as pre-'49 cars go he has a truly prime example in the '33 Ford Vicky featured on page 14 while the '56 Nomad makes up the post-'48 "bookend" and is as fine an example of what a Tri-Five can look like. It's not just us here at Modern Rodding gushing over this build, as it took home a handful of topflight honors this past summer. It was awarded a Top 25 and a Top 5 while at the Danchuk Tri-Five Nationals and while there also took home Modern Rodding Top Bowtie. The Nomad also took home Top 25 honors at the Shades of the Past Hot Rod Roundup this past summer. While Larry had another Nomad that was slated for the build, he came across this California-based Nomad and since it was a much-better (solid) car the build was transferred over.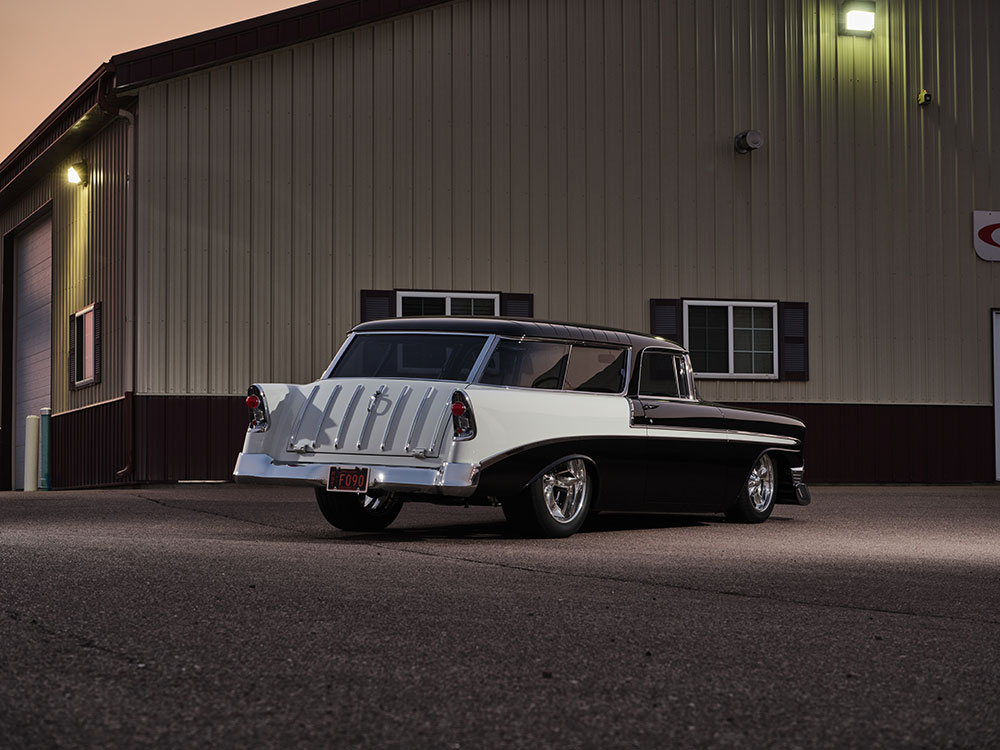 Read More: How To Make Custom Headlights For Your Hot Rod
The Nomad sits on an early version of a Roadster Shop chassis that has undergone a handful of changes that make this Nomad sit much lower than originally intended. The radiator core support was relocated, the center crossmember was raised, which includes the K-member redesigned to allow for the low stance. It should also be noted that at the time this frame was built it utilized a Heidts Superide Independent Front Suspension with polished tubular upper and lower A-arms along with a collection of other Heidts suspension components that include a ¾-inch chrome sway bar, 2-inch drop spindles, power rack-and-pinion steering, and Viking coilovers. The Ford 9-inch rear end is stuffed with Truetrac limited-slip 3.25 gears and 31-spline axles. The housing is in place with a triangulated 4-link and more Viking coilovers with 450-pound springs.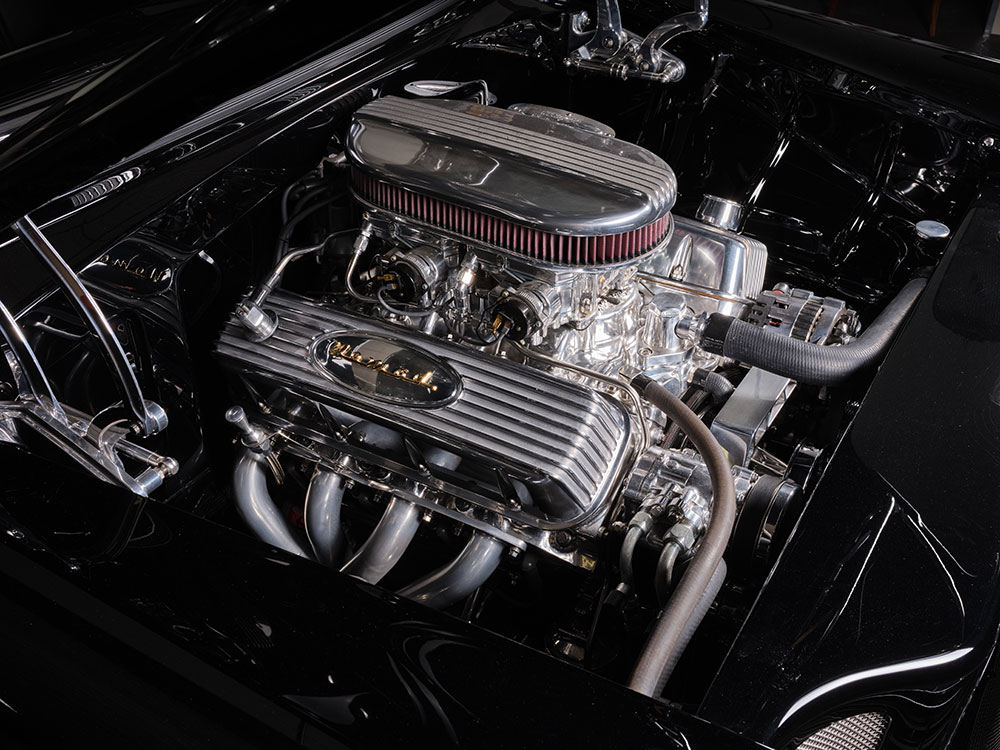 At the corners you will find Wilwood brakes with 13-inch drilled-and-slotted rotors in front with 12-inch drilled-and-slotted rotors in back with polished Wilwood calipers. The braking system is operated through the use of factory Wilwood pedal assembly and master cylinder. Holding this hot rod up you will find a set of Billet Specialties wheels (17×7 and 20×10) polished five-spoke wrapped with Kumho rubber in front measuring 215/55R17 and Michelin in back measuring 285/50R20.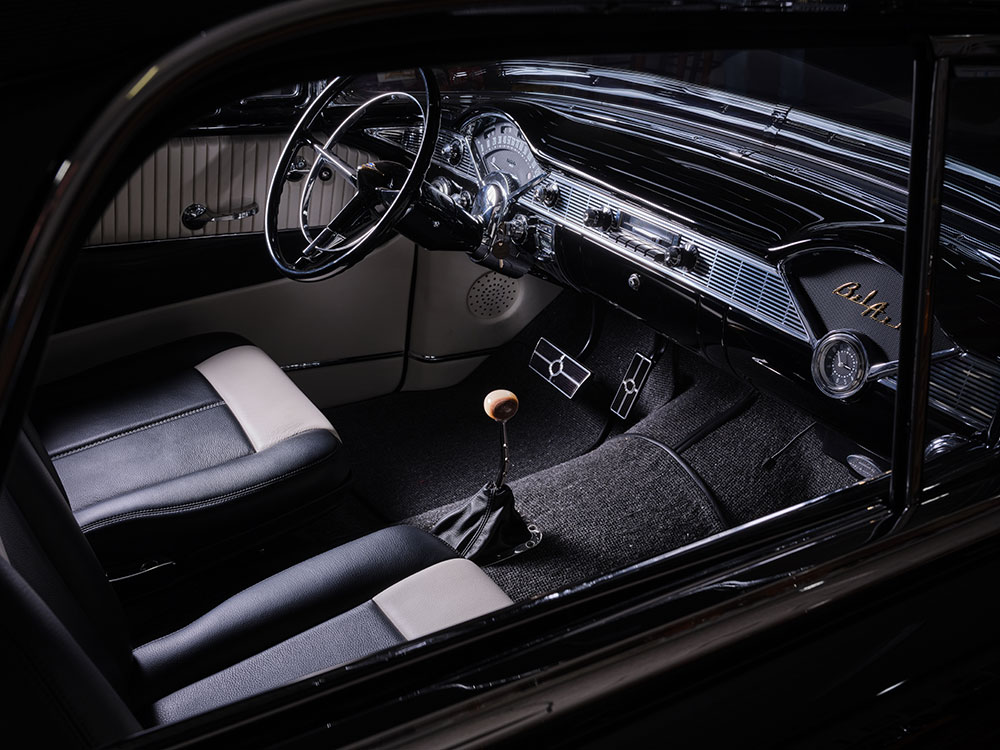 Nestled beneath the sheetmetal and between the 'rails is a nearly 600hp 454-inch big-block Chevy V8. Larry likes using Tim Mathern for all of his block machining followed by a balanced rotating assembly while there are plenty of other goodies, including a custom grind Crower roller cam, Edelbrock polished aluminum heads, and lots of ARP bolts. The dual four intake is another polished Edelbrock item, this time topped with dual 650-cfm Demon four-barrel carbs followed by an Edelbrock fuel pump, Mooneyes valve covers and air cleaner. Look closely at the valve covers and you will see badge work expertly handled by GW Taylor that states "Nomad." Maintaining the proper engine temp falls to a Bowman custom built radiator made from German silver and copper and brass while a electric SPAL fan moves the air about. The condenser is a Vintage Air unit. Moving the power rearward is a Coan Engineering 2,400 stall speed converter matched to a Turbo 350 transmission and then through a Driveline Service driveshaft.
Read More: Cutting-Edge 1955 Chevy Cameo
Once onto the sheet metal the emblems were removed, mini-tubs fabricated by Bowman to handle the rear rubber and wheels, the front and rear bumpers were tucked tightly against the body, the driver side tail light was modified to accept the filler to the custom Bowman 10-gauge aluminum gas tank, and the hood modified with its ornament removed, additionally the body is slightly channeled over the frame at the cowl area. The sheetmetal is painted in PPG two-tone black and white by Gavin Bowman, Kevin's son, of Bowman Real Hot Rods after handling all of the bodywork.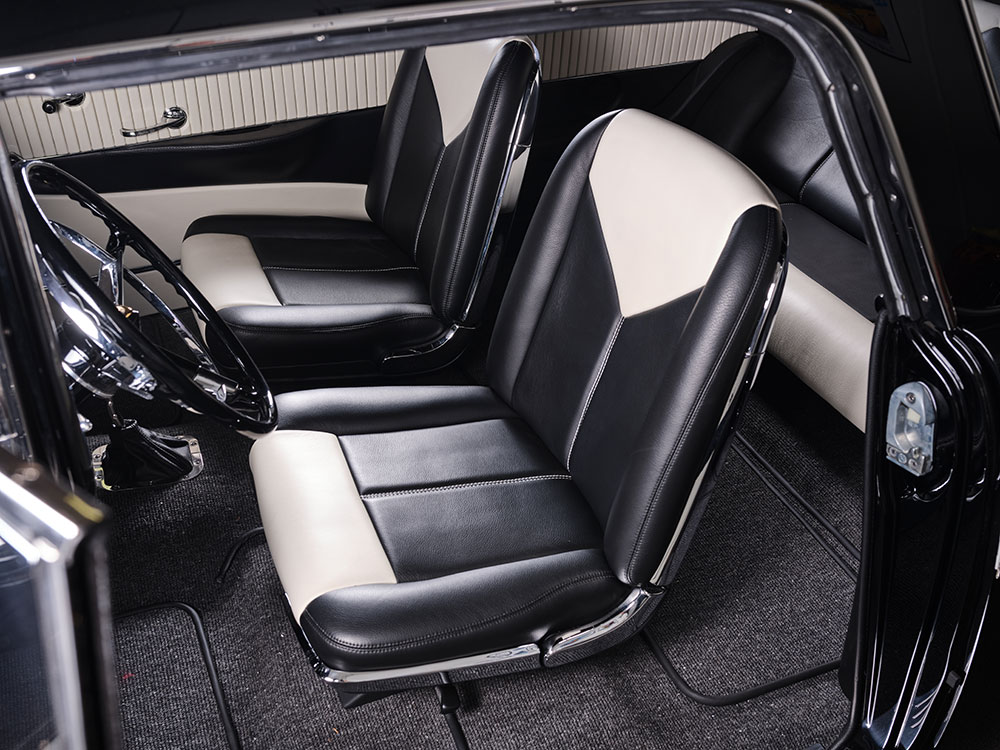 The interior is understated but features abound and the workmanship is befitting a car that has received so many awards. First look at the stock dashboard and it will reveal the use of Classic Instruments gauges and a passenger side–mounted clock along with the use of Vintage Air AC controls and registers while a Flaming River steering column rests in position topped off with a modified factory steering wheel. In case Larry isn't in the mood (shame on him) to listen to the rumblings of the big-block Chevy, there is a RetroSound Wonder Bar stereo mounted in the factory position. Bringing all of the interior and exterior electrics to life is an American Autowire fuse panel and wiring system wired into place by Neil Erickson of Bowman Real Hot Rods. A floor-mounted Genie shifter can be seen between the Thunderbird bucket seats that are expertly upholstered by Steve Holcomb of Pro Auto Custom Interiors in a two-tone (black and white) leather. The rear bench is custom fabricated by Bowman to look like a factory stocker but it now fits over the mini-tubs that were added. It too folds flat like a factory seat exposing more cargo space to haul home all of those awards! The headliner is a black cloth and the carpeting is a black Daytona weave showing off more Holcomb stitchwork. Throughout the interior and outside you will find plenty of brightwork—it's a '50s car for Pete's sake—and this mountainous job fell to Dan's Polishing.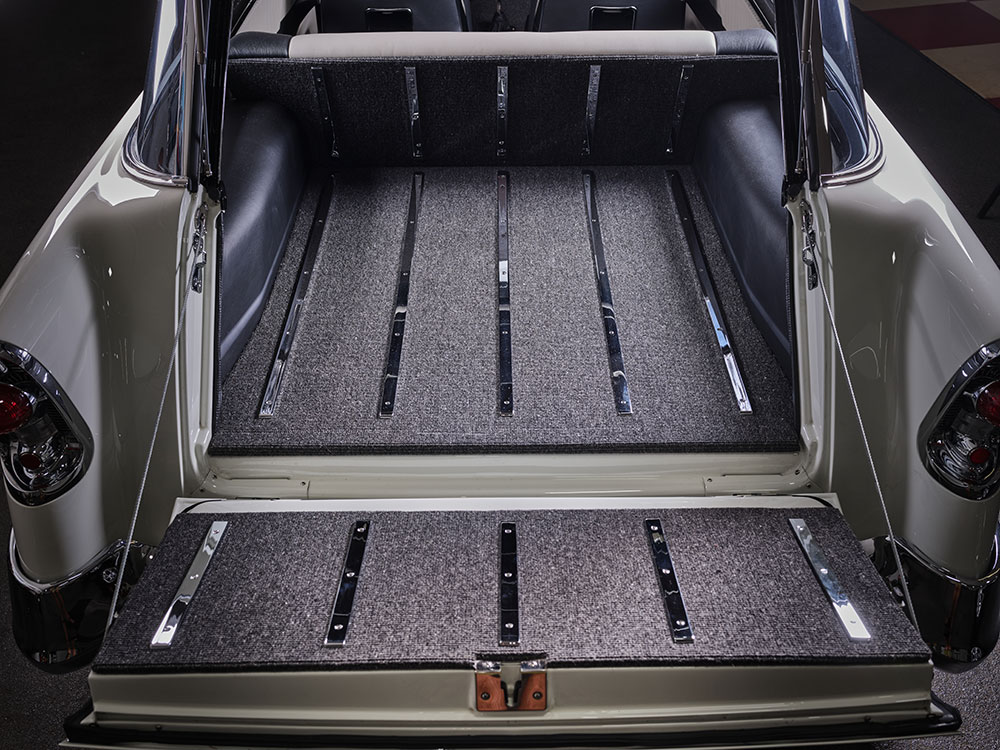 Read More: 1958 Chevy Impala Ragtop Redux
What was once the forgotten member of the Tri-Five Chevy family is clearly not forgotten anymore. MR